See my other Holiday Gift Guides under the Holiday Tab :
FOR THE JETSETTER // MONOGRAM JEWELRY LOVER // FOR THE GUYS 
LAZY GIRL // OPRAH'S FAV THINGS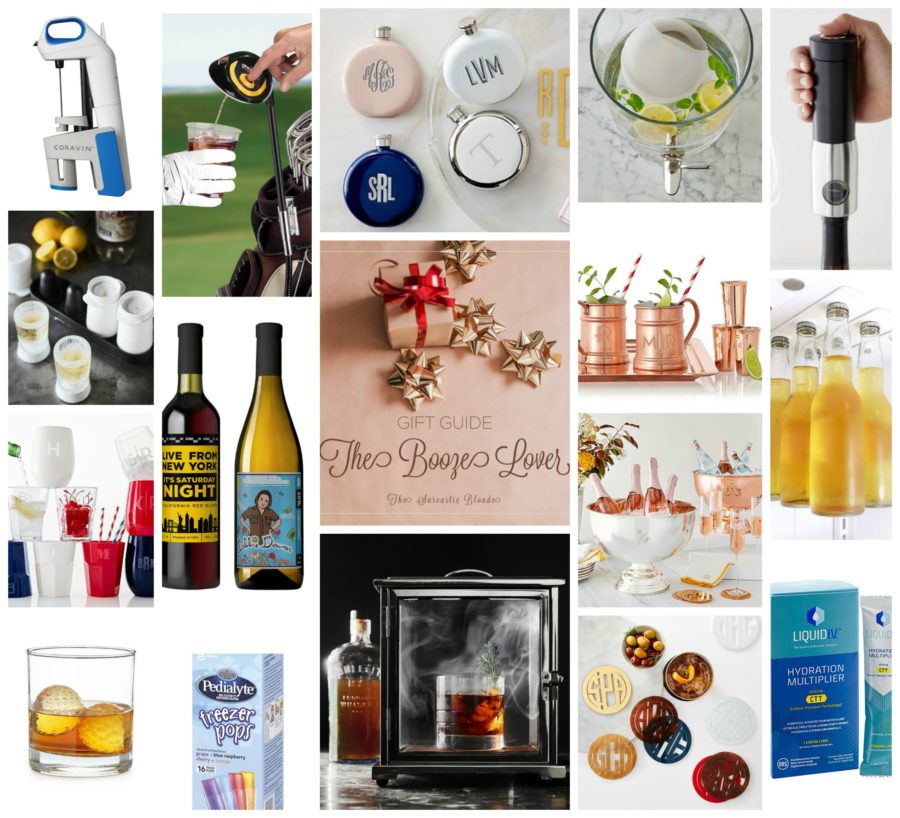 column one : WINE SAVER // SHOT GLASS ICE MOLD // MONOGRAMMED STEMLESS ACRYLIC WINE GLASSES // GOLF BALL ICE MOLDS 
column two : GOLF CLUB // SATURDAY NIGHT LIVE WINE // PEDIALYTE FREEZER POPS 
column three : MONOGRAMMED FLASK // COCKTAIL SMOKING BOX 
column four : BEVERAGE DISPENSER ICE MOLD // COPPER MONOGRAM MUGS // PERSONALIZED BEVERAGE BUCKET // MONOGRAM ACRYLIC COASTERS 
column five : RABBIT WINE SAVER // BOTTLE LOFT // LIQUID IV HYDRATERS 
Wine Saver – The technology keeps getting better and better with wine savers! The newest thing is using a needle to insert through the cork, so you can keep the wine fresh for up to a year. There are different levels, but starting at under $200 this would be the perfect gift for the wine lover. You can shop all of the models here.
For a more simple (and inexpensive) option, I love Rabbit's Wine Preserver on sale for under $60! 
Enamel Classic Monogram Flask – These are classy flasks for classy ladies.  Monogrammed perfection.
Saturday Night Live Wine – If you have any SNL fans in your life (which should be EVERYONE, because if you didn't grow up watching SNL I don't know you) these character wines would be a great gift.
Beverage Dispenser Ice Mold – This would make such a great gift ! At parites everyone has though beverage dispensers with a seasonal cocktail or two, but filling it up with ice completely waters it down!
Enter this ice mold to keep everything looking pretty and staying chilled!
Cocktail of the Month Subscription – This would be a great gift that is something different from the typical beer or wine of the month club.
Celebration Beverage Bowl – I have a vintage version of this that I use for parties and I get compliments on it all the time.
Portable Beer Pong Table – Not just for the college kids….. everyone's favorite game.
Wine Chilling Wands – These chill a glass of wine 20x faster than the refrigerator!  As a white wine only girl, I love anything that can keep your vino cold!
Copper Mugs – For the Moscow Mule lover in your life.
Acrylic Coaster Set – Love the tortoise shell especially!
Drink Dispensing Golf Club – I love "hidden" flasks and think they are such fun gifts.  This would be perfect for any man in your life!
Bottle Loft-   Magnetic strips hold bottles suspended from the roof of the fridge to save space.  Great gift for the college or twenty something that can never fit enough beer in the fridge
Acrylic Stemless Wine Glasses – I have always loved these glasses and think they would make such a great gift.  Nice enough for everyday use, but also perfect for the beach with the acrylic.
Golf Ball Ice Molds – Whenever you don't know what to get someone, I feel like ice molds are the way to go!
The Bulldog Ice Molds are a favorite for any UGA fans, and for the ladies, they have Rosebud Ice Molds too!
Cocktail Smoking Box – So fancy and so fun! This cocktail smoking box  is the gift for the true cocktail lover.
Shot Glass Ice Molds – Fun stocking stuffer!
Glass Tumblers – Beautiful glasses with a built in way to remember whose drink is whose.
iFlask – This is a flask that looks like an iPhone; I feel like it would probably work perfectly for your college football tailgates!
…… and some Stocking Stuffers for the Love in your Life who Loves to Drink!
Because helping the hangover is just as important as the night of partying!
Milk Thistle – I take these the night of drinking.  They boost liver function.
Activated Charcoal Pills – I take these in the morning, but I know some people take these the night of too? They absorb toxins
Pedialyte – Just realized that they now have Pedialyte Advanced Care (whaaat!? they have caught on to this being purchased solely by adults for hangovers…) and they also have Pedialyte Freezer Pops! YES – FREEZER POPS!
Liquid IV – These are packets that you add into your water bottle and it is supposed to hydrate 2-3 times faster (so one bottle of water is like drinking 2-3 bottles of water.)  Haven't tried them yet but they sound amazing!