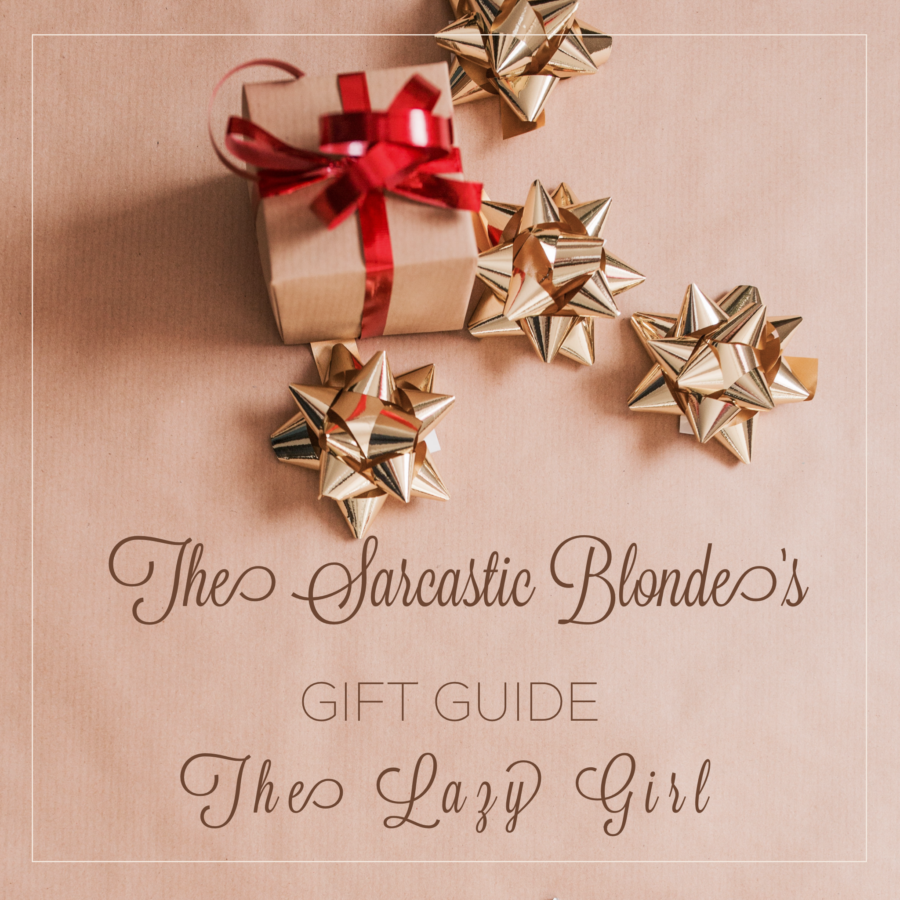 With Thanksgiving behind us, it's time to get my ass in gear and get back at the gym
to begin the Holiday celebrations and continue with Gift Guides!
I already posted a Monogram Gift Guide, and all guides can be found under the Holiday tab in the top menu.
oh, and a Guide to Oprah's Guide
Today's Gift Guide is for The Lazy Girl.
Coming off a week of eating and pure laziness this seemed like the perfect time! 
It seems like other guides are for the "Homebody", but I think I'm talking about something different.
Yes, the robes and throws and mugs can fit a guide for the Homebody, but the lazy girl wants to veg during the day AND still go out at night.
 I love to stay on the couch and veg with a blanket as much as the next girl, but when it's time for dinner out at a new restaurant or drinks with friends I am the first one to jump off that couch and maybe hop in the shower.
Because #FOMO and because #Wine.
So, call it "Homebody", but I think that's just a fancy word for Lazy.
At least in my life it is….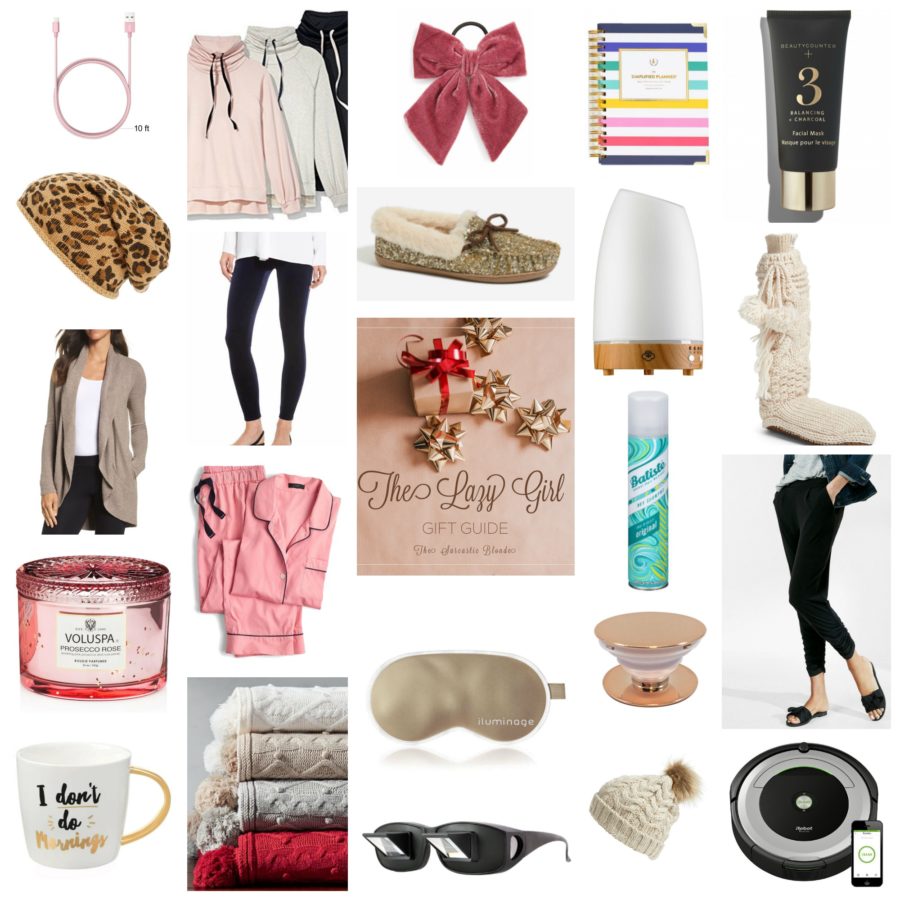 EXTENDED CHARGING CORD // PULLOVER // VELVET BOW // EMILY LEY PLANNER // CHARCOAL MASK 
LEOPARD BEANIE // SPANX LEGGINGS // SLIPPERS // OIL DIFFUSER // SLIPPER SOCKS 
CARDIGAN // PAJAMAS // DRY SHAMPOO // JOGGERS 
CANDLE // MORNINGS MUG // BLANKET // EYE MASK // PRISM GLASSES // POP SOCKET // POM BEANIE // ROOMBA FLOOR CLEANER 
Dry Shampoo : Let's just start with what's most important in life. If you aren't using this you are lying.  Or you really need to be.  It's not only a God-send, it makes your hair look even better. Batiste is my favorite because it is cheap, it works, and Amazon Prime delivers it in two seconds.  It also comes in travel size cans which is a lifesaver when traveling.
For a texturing spray, I go for Oribe which is pricier, but I only use this when I need extra hold for a night out and one can lasts me almost a year.
A Cute Planner : This may seem contradictory for a "lazy" person, but I love to be lazy and nothing excites me more than my planner.  Who doesn't love to make lists of what they need done, keep everything organized, and then continue to procrastinate and push things off while they dive deep into a Netflix binge?
I use the Emily Ley Planner for my actual planner and this Lilly planner to log my food + workouts.
Prism Glasses : Um, WHAT!?! Ultimate stocking stuffer for the lazy girl in your life.  And it's under $10!  You can read and watch TV laying flat on your back!  LAYING DOWN AND LOOKING UP! No more strained neck! I am ordering these just to try and see if they work (If the amount of excitement I have over this item doesn't prove that I am the laziest human being alive, I don't know what does.)
editors note : also, the reviews are half from people recovering from neck surgery. Uh I'm the worst. #LAZY. 
Cozy blanket : The competition for the coziest blanket is a stiff one.  I have had this throw for years and years and love it so much.  I have also been eyeing this cute pom pom throw blanket all week!
or if you want to go all out, this faux fur sleeping bag is ah-mazing. 
Clothes that work equally well on the couch as they do running a quick errand (whether that errand is to pick up food, no judgement) are important. The following are a few favorites :
Cozy Cardigan // Pullover : You can't go wrong with a cardigan with over 1,000 Five Star reviews.  100% Yummy, gaurenteed. Or an adorable pullover (Oprah approved!) that can take you from workout to couch or couch to out.
Spanx leggings : if you get the spanx leggings, it's like you are working out without ever moving a muscle.  they suck it all in and you lose inches without having to move an inch.  genius, I know….
If you want something other than a traditional legging, I have the active leggings and love them (size small) but if you want to feel fancy, the leather leggings and suede pairs are great, too!
Joggers : For a bit more breathing room than the Spanx, a pair of joggers are the perfect way to to go from couch to out (and back to couch) in no time.  This ruched ankle pair is adorable + look polished if you have to head out, but there are other great options at here and a velvet pair form Gap.
Face Mask : There's nothing to kick off a new week on a Sunday night, or to just feel productive while still sitting on the couch or in bed, than a luxurious face mask.  Plus, they are fun to snap a pic of and send to your friends? You're working on your skincare without lifting a finger. I am still MADLY in love with my Black Head Mask.  My husband (who never reads this, secret is safe with all of you) and I do it every Sunday together.
Pop Socket : Okay. I Know.  This sounds like something only the instagram obsessed millennial would need.  But it has become a game changer for me.  I 'inherited' the giant 6+ that used to be my husbands work phone when my old iPhone died for good and it is impossible to hold the thing with one hand.  I was dropping it and nearly shattering it constantly.  This makes it so easy to use the phone like a normal person.  These would be a great stocking stuffer – so cheap and you don't even know you need it til you have it!
Extra long phone charger : Enough said.  We all need it.  We never have it.  We all need to exercise that finger muscle and finally get one.  Bonus points for a pretty rose gold.
Cute coffee or tea mug : Feel free to put something cute on the mug, or maybe something motivating to see if it will actually entice you to leave the couch and go outside and live your best life.
Steamer : I do not iron.  This will get your clothes fresh and wrinkle free in no time at all.  This one in particular is my favorite because it works internationally, but I also love the My Little Steamer and used it for years before needing one for European outlets.  You'll see this over and over again on my list of favorite things.
Hair Accessories : Throw your hair in a pony tail with a cute suede bow, or grab an adorable beanie to cover up the lack of curling iron. Love this cableknit beanie with the pom top.
Roomba : This is a new gift in my life and I love it.  What's not to love about someone/something else cleaning your floors?  It may seem like an investment, but it's a hell of a lot cheaper than a cleaning lady. Preach.  Plus, people can comment on how clean your home is and you can act like YOU were the one that spent all day vacuuming.  Plus, it's endless entertainment for you and your husband to comment on and watch (I know that sounds crazy, but when it's new you kinda watch it and follow it like a dog. #SadButTrue)
Cozy Pajamas : The cuter the better.  And extra points for monogramming.
Slippers : For me this is more because I hate to be barefoot on hardwood floors than anything else, but cute slippers make shuffling over to the fridge that much more fun. I mean, if you have to walk that is. You can go traditional, furry and fun, or a mix of both, but they are definitely a lazy girls necessity.
Candles // Aromatherapy – If you aren't scrubbing your dirty dishes and are staying in the same place all day, perhaps light a candle. And a beautiful Voluspa Prosecco candle does the trick. Or, jump on the fancy bandwagon of oils and aromatherapy diffusers.
Eye Mask – To take your cat naps to the next level.  (aka climbing back in bed in general).  Make it a silk one with a pillow and you'll be doing double duty to help your wrinkles. And copper is the new trend in eye masks, too!
I got this under $10 eye mask for traveling and it has space for you to blink and everything underneath + stays put.