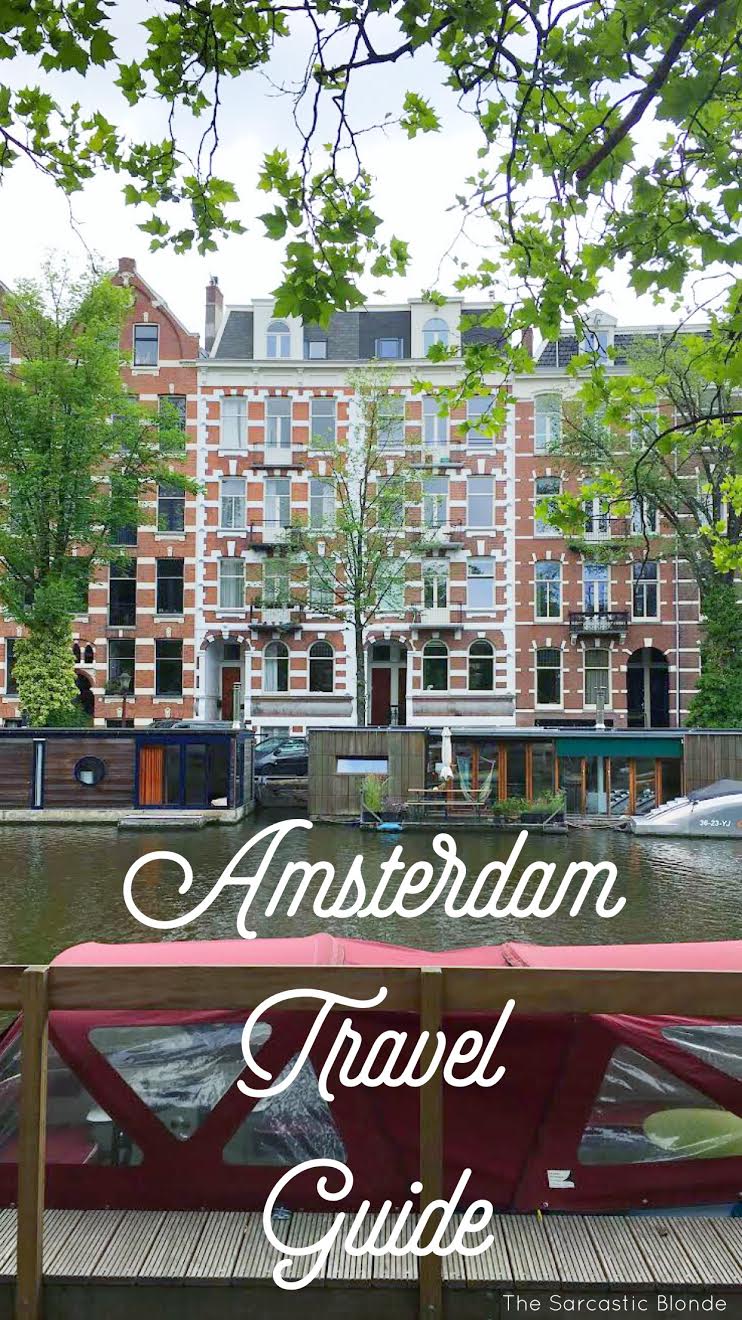 Whew.  Making this post almost made me cry because I loved this part of our trip so, so much.  We made such incredible memories and it made me miss Amsterdam so much already!
We landed in Amsterdam on a Saturday morning after an overnight direct flight from Atlanta, and we stayed through Wednesday morning (when we flew to Milan to meet up with Kip's family for the Italian Wedding and Family Vacation).  You definitely do not need 4 days to see Amsterdam – we just didn't want to do anything but relax and enjoy ourselves before 11 days with family, so we didn't want to train anywhere or anything like that.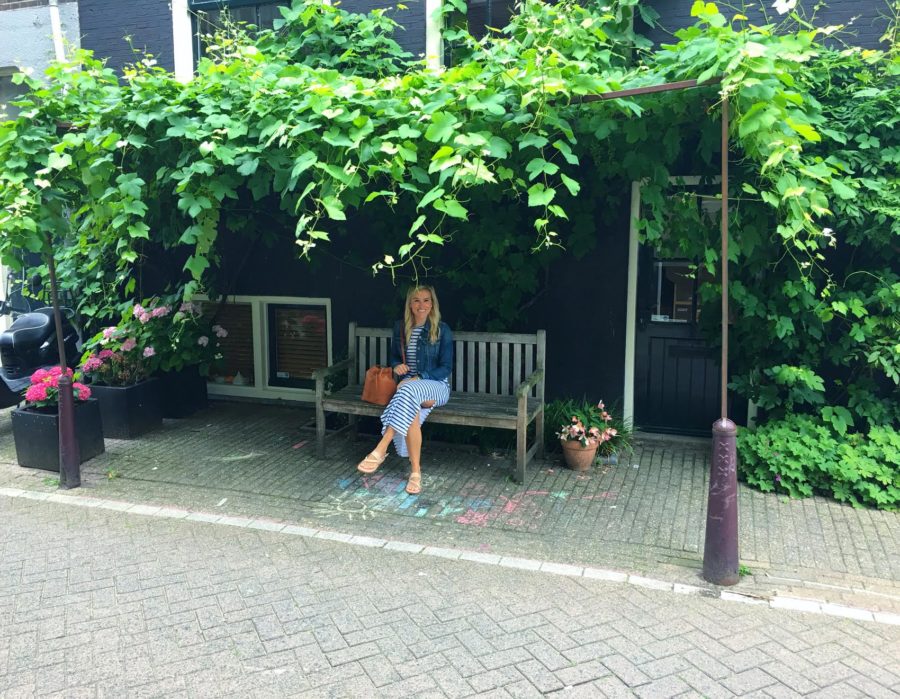 Since we were staying for a few days, we knew we wanted to do an Airbnb so that we would have more space and a spot to eat breakfast, etc.  I'm a big fan of Airbnb's because when you are home between a full day of being out and about, and before heading back out for the night, you can have a fridge filled with Pinot Grigio and can grab something simple from the grocery store to eat at home for Cocktail Hour while you shower and get ready.  Or to just have a living room sofa to sit in and veg after a long day out.  Being stuck in only your hotel room makes that down-time part of the vacation feel like you could be right down the street from your house, but in the apartment you still fully feel on vacation mode.  I know it isn't for everyone – but we love it.  I also love being able to make my own breakfast if I want, or for Kip to make his Coffee while he showers and gets ready, and to have space to spread all my crap out and get ready instead of being crammed into one tiny hotel room (especially in Europe where the hotel rooms can be teensy tiny).
When we did Venice-Siena-Florence-Rome-Amalfi Coast, we stayed in all hotels except for Rome and I think we made a good call with that.  We were going place to place to place for the first part of the trip, there are stunning hotels everywhere, etc.  So it definitely depends where you are going and how long you are staying there.  
:: Where We Stayed :: 
We stayed in the Jordaan neighborhood / Canal District which had come highly recommended by friends and readers.  This it the exact Airbnb we stayed in and we were super happy with the location and the space.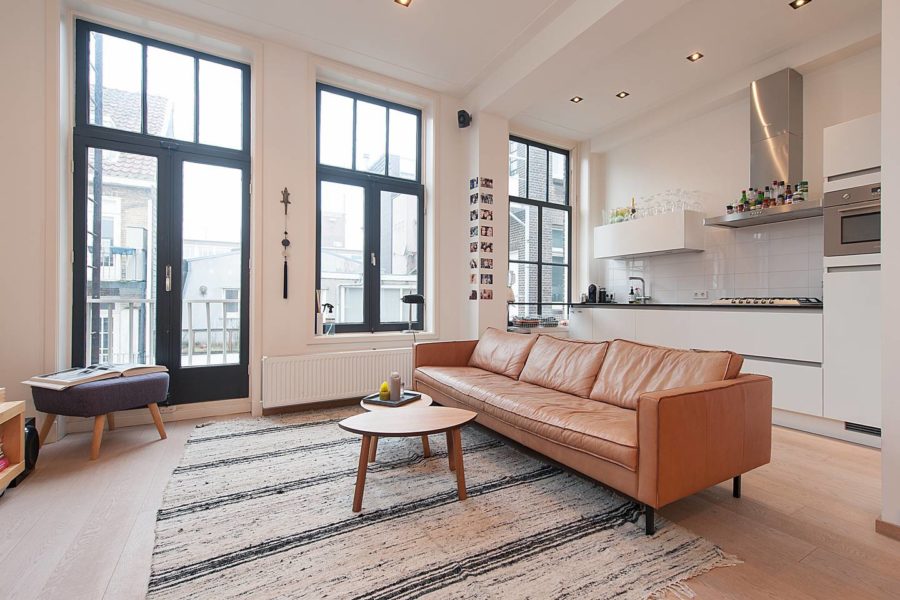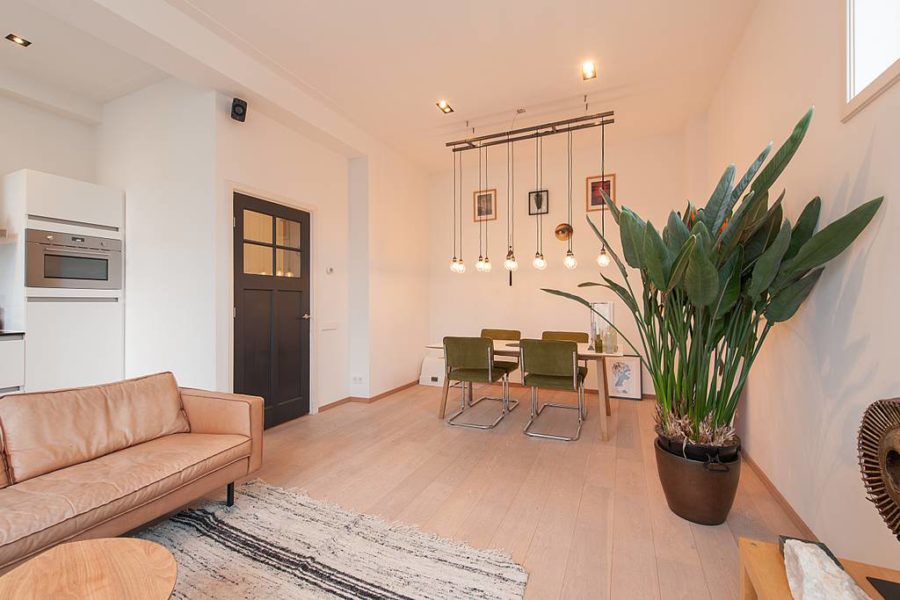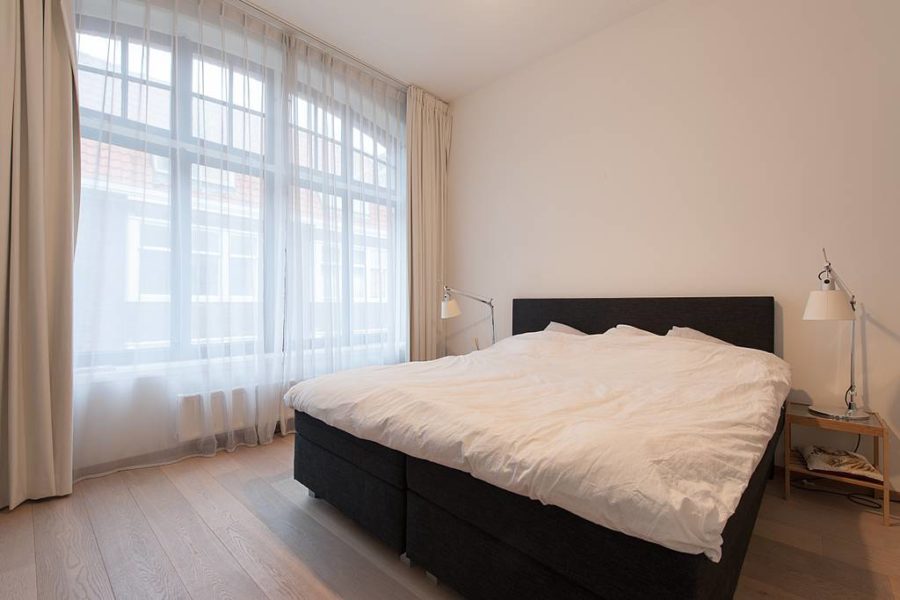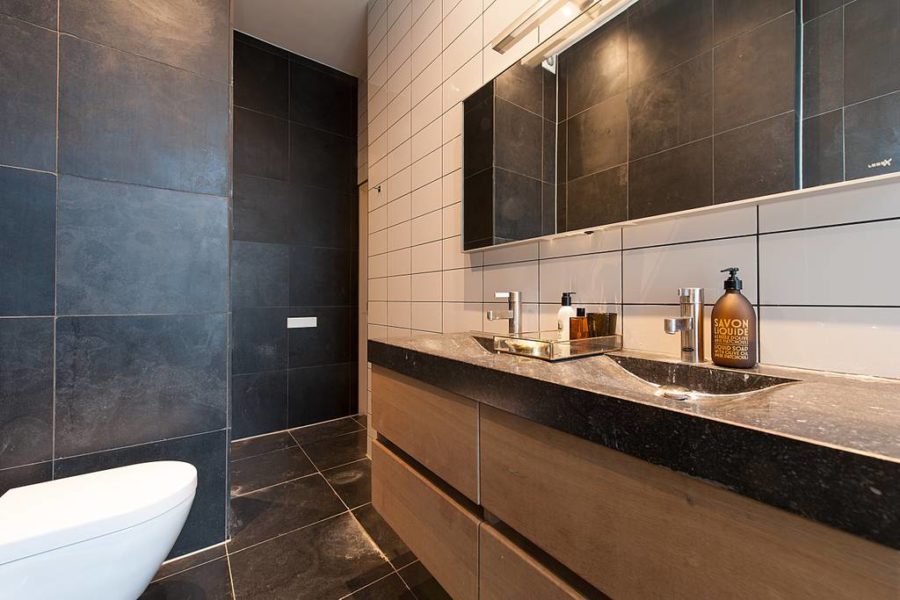 We booked our Amsterdam trip very late as a solo-addition to the family Italy trip, so a lot of the places we found were already booked.  So we lucked out getting this one because our options were dwindling by the hour when we were trying to find something.
But overall, Jordaan and the Canal District is where I would recommend staying and what was the overwhelming recommendation from others. We just loved the neighborhood.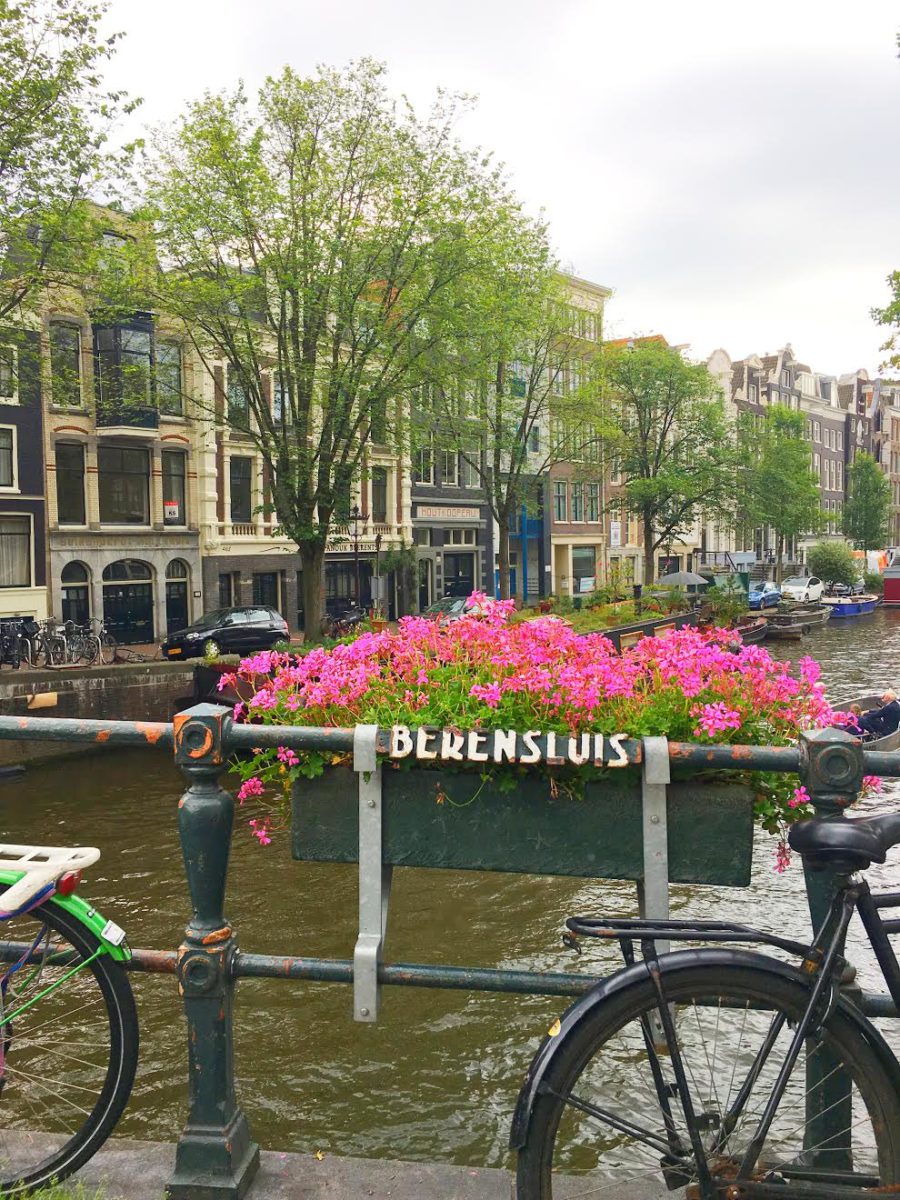 :: Travel Tip :: 
It's not necessary to pay for daily wifi when abroad, and we didn't when we did Italy two years ago, but we did pay for it this time and it was a huge help.  I have a killer sense of direction, but your first day somewhere it is all so confusing and there are so many teeny tiny little streets everywhere!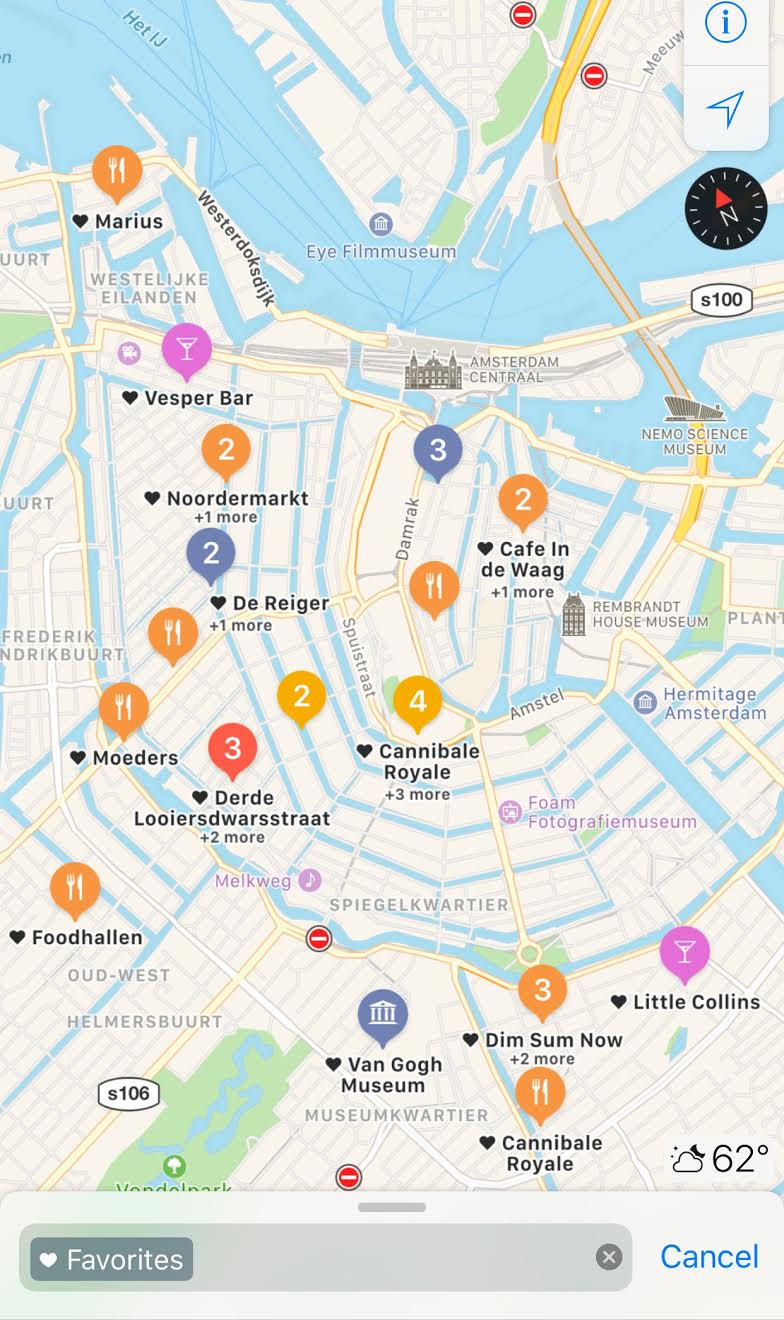 I just saved restaurants/places/etc under Favorites on my iPhone Map (just heart the location) and then it keeps all of them stored for you.  Having this map with everything stored in it was a HUGE help.
:: What We Did :: 
Anne Frank Museum – an absolute must.  They sell tickets online for designated times two months in advance.  Do this! We booked about 5 weeks before leaving, so needless to say everything was all sold out. You will wait in long lines, but it's a must and obviously an experience unlike anything else.
A Boat Tour on the Canals – I think this was our favorite thing that we did the whole trip. There are tons of different boats that you can hop on for an hour tour along all of the canals.  One boat (others boats will look like it, but they aren't!) is 15 Euro for endless drinks during the one hour tour of the canals.  It was the most affordable, and beautiful, thing we did all week! You get an entirely different view and new way to experience the city when it is from the canals.  We actually ended up going TWICE during our four days there.  Don't judge – it was great and cheap!  We loved our first one during the day, so we went back for happy hour before dinner another night and they actually went down different canals for part of it so it was a whole new experience with sunset and happy hour.  You can hop on Boat Amsterdam right in the Red Light District area.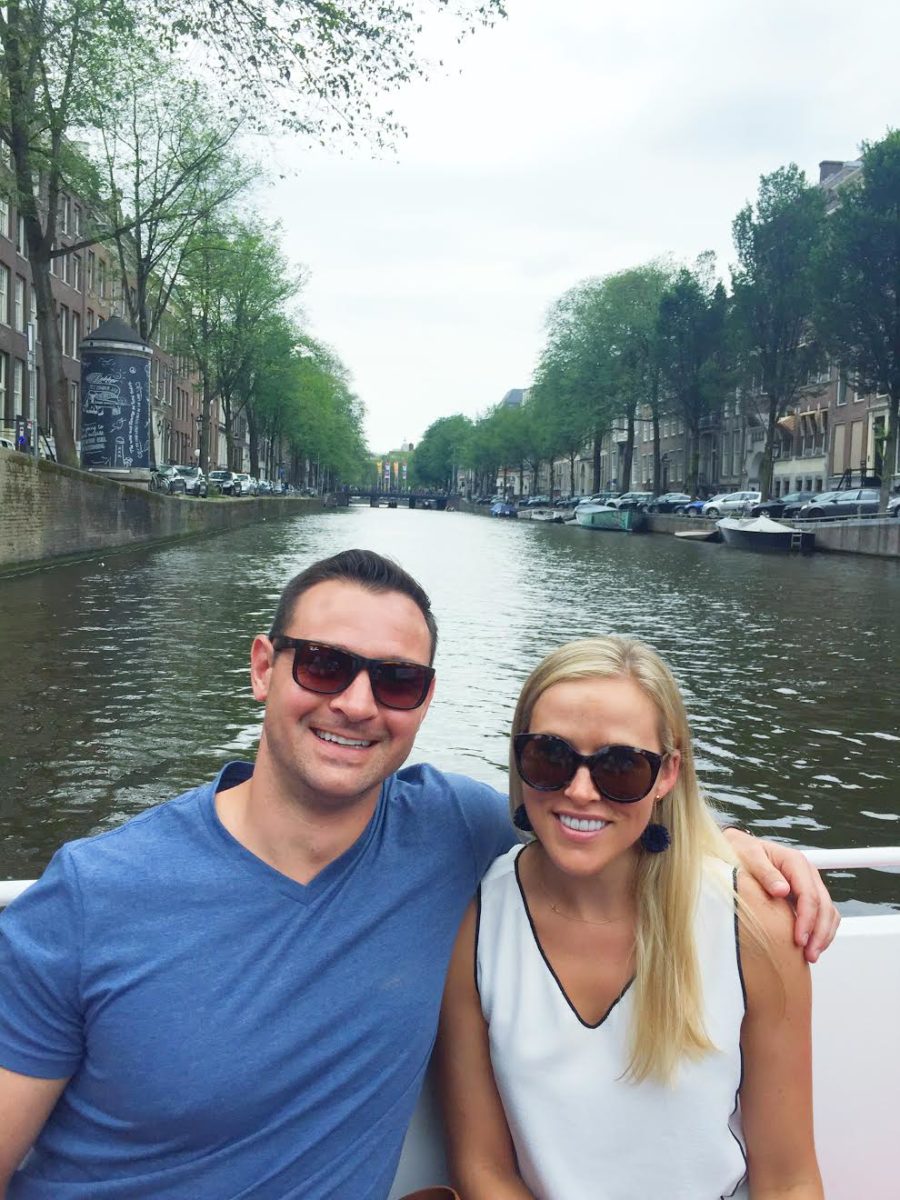 Flower Market – The huge tulip fields that you see when picturing Amsterdam were not in bloom when we were there in July, but they have a flower market set up that you can walk through along the canal.  This is also a great place to stock up on any knick-knack's and souvenirs, and of course to buy any flowers if you want to take buds home with you.  I got a vase and little ornament for our Christmas tree here, and a lot of the shops are all the same, but at the front and back there were some beautiful shops with gorgeous flowers.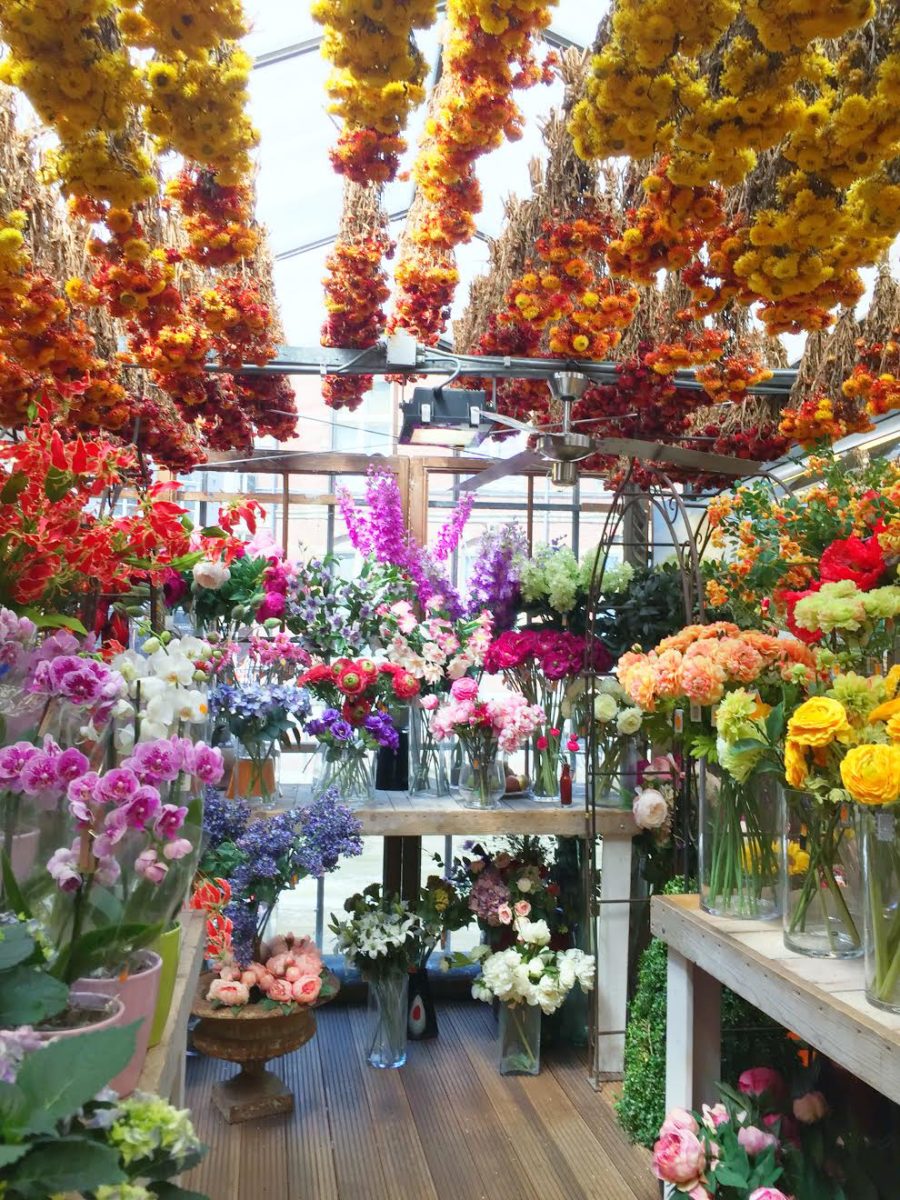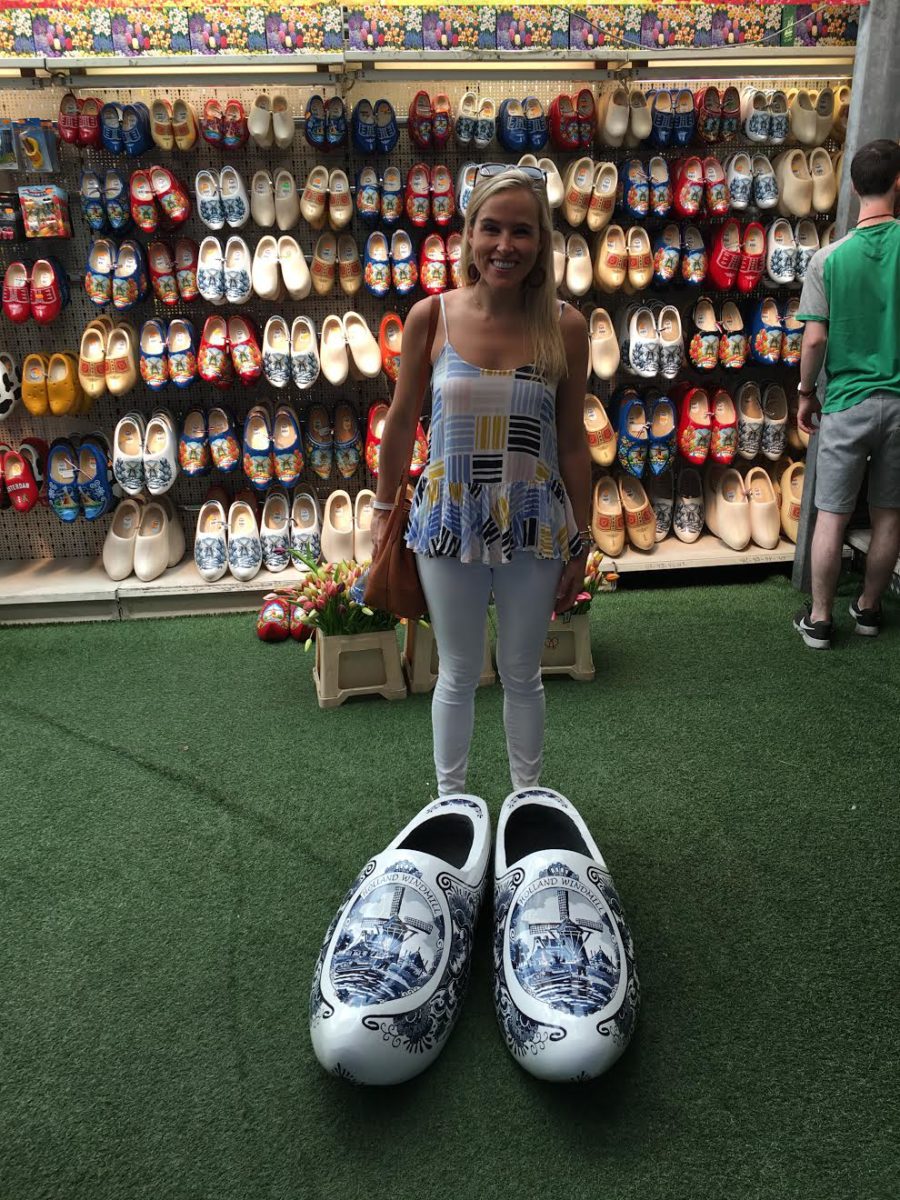 Red Light District – Of course we spent a night in the Red Light District!  I was excited to see what all of it entailed because it's just so crazy to wrap your head around!  We got a little boozed up (on our second boat tour for happy hour :D) and walked the streets.  It's crazy.  Kip and I laughed our tushes off that night.  I don't really know what else to say about it!  The highlight of my red light district experience was seeing an older gentleman (about 75) in a full suit come out of one door saying 'Thank you, thank you so much, thank you" to the girl and then turn and take 5 steps directly to the other side of the street without even looking up and go straight to another door and open it to another gal.  And the other highlight was going to a bar after walking the streets and being there for TWO HOURS drinking before realizing we were in a gay bar.  (See….. those 15 Euro boat trips really give you your moneys worth).  It was one of the most fun nights of the entire two week trip, Italy included.
Coffee Shops – They are everywhere and they are an Amsterdam experience!
Vondelpark – We grabbed some croissants and drinks and walked through here while venturing to a different part of the city, De Pijp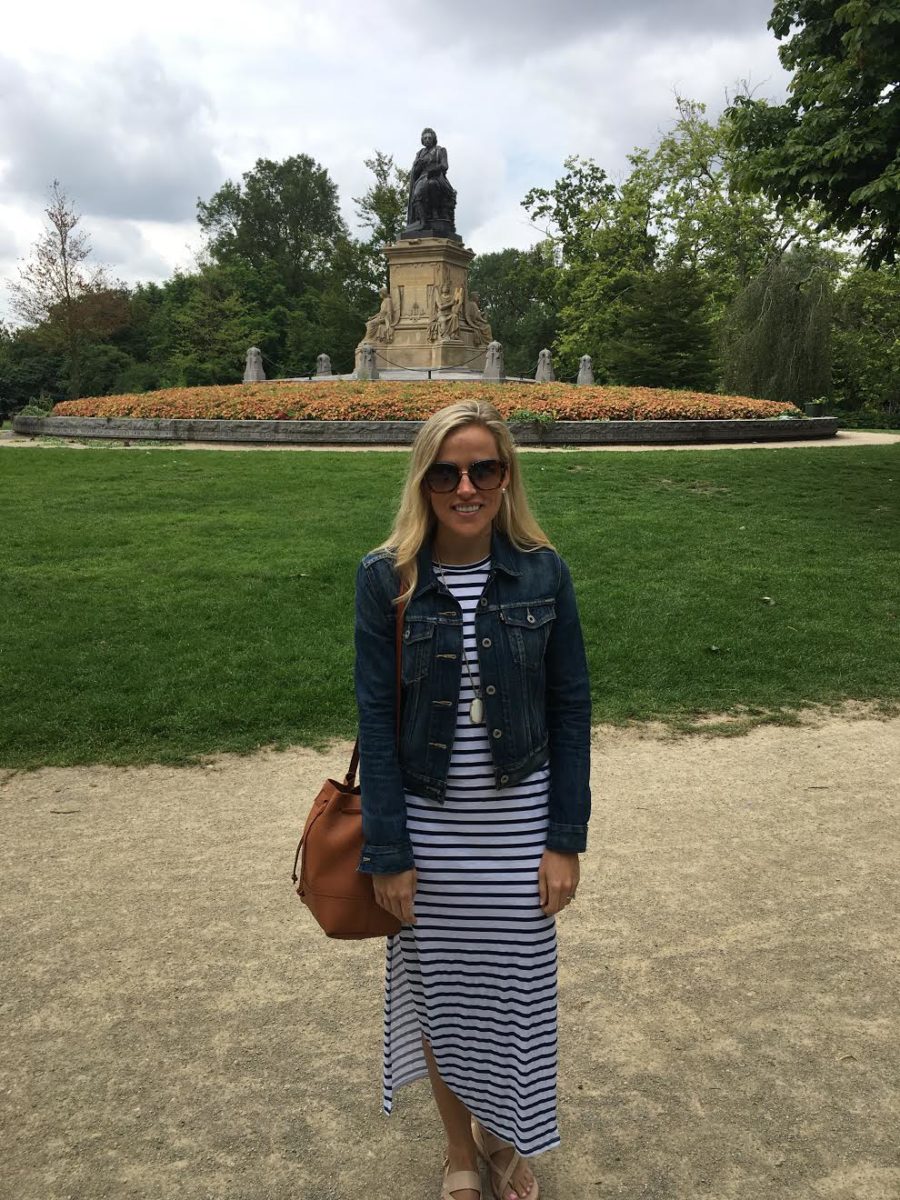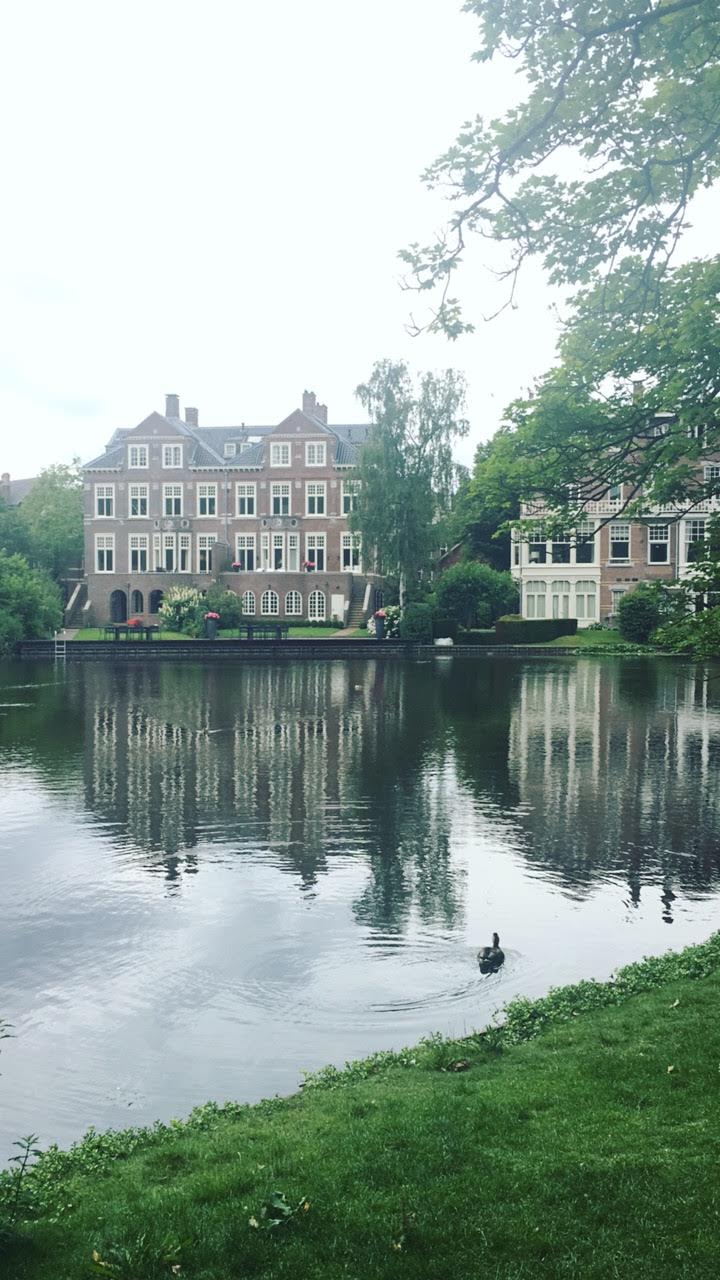 We did a whole lot of nothing for four days and it was absolutely glorious.  Well, we did things…. but it was a lot of just walking (some days more than 20,000 steps!) and playing it by ear, which is the opposite of our action packed trip to Italy two years ago – so it felt that much better.  Amsterdam was so gorgeous when we were there, we really lucked out with the weather, and so other than seeing the Anne Frank Museum we just wanted to be outside.
Other recommendations from friends, and people who actually do things and don't want to be lazily wandering  :
Van Gogh Museum 
Rent Bikes – I was too terrified.  I almost got killed by the bikers when I was on two feet, so I decided biking would not be my best move.  I would definitely do it to bike out to the windmills or tulip fields or something, but not on the streets in town where we were!
Head out to the Windmills
Go to the Tulip Fields if you are there when they are in bloom.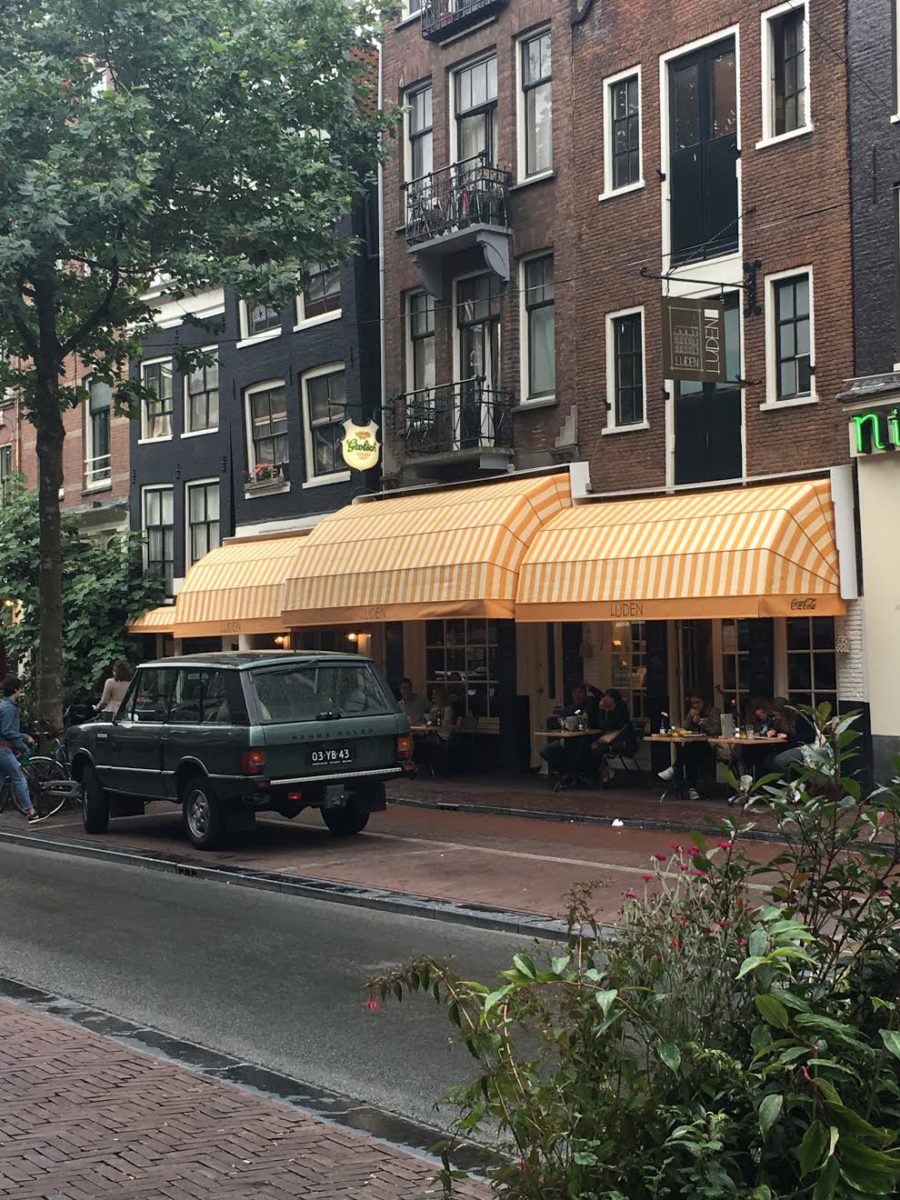 :: Where We Ate ::
We had a bunch of great lunches and snacks just wandering the streets with whatever looked good to us, but here are a few specific places.  The food overall was great so you will have no problem finding options!
Kantjil de Tigre – I loved this meal so much.  It is an Indonesian restaurant and you basically get tons of different things on your place to sample.  It was spicy – I am a spice baby – but it was insanely delicious and fun change from anything I have ever had for dinner.  Completely understand why it was on so many lists!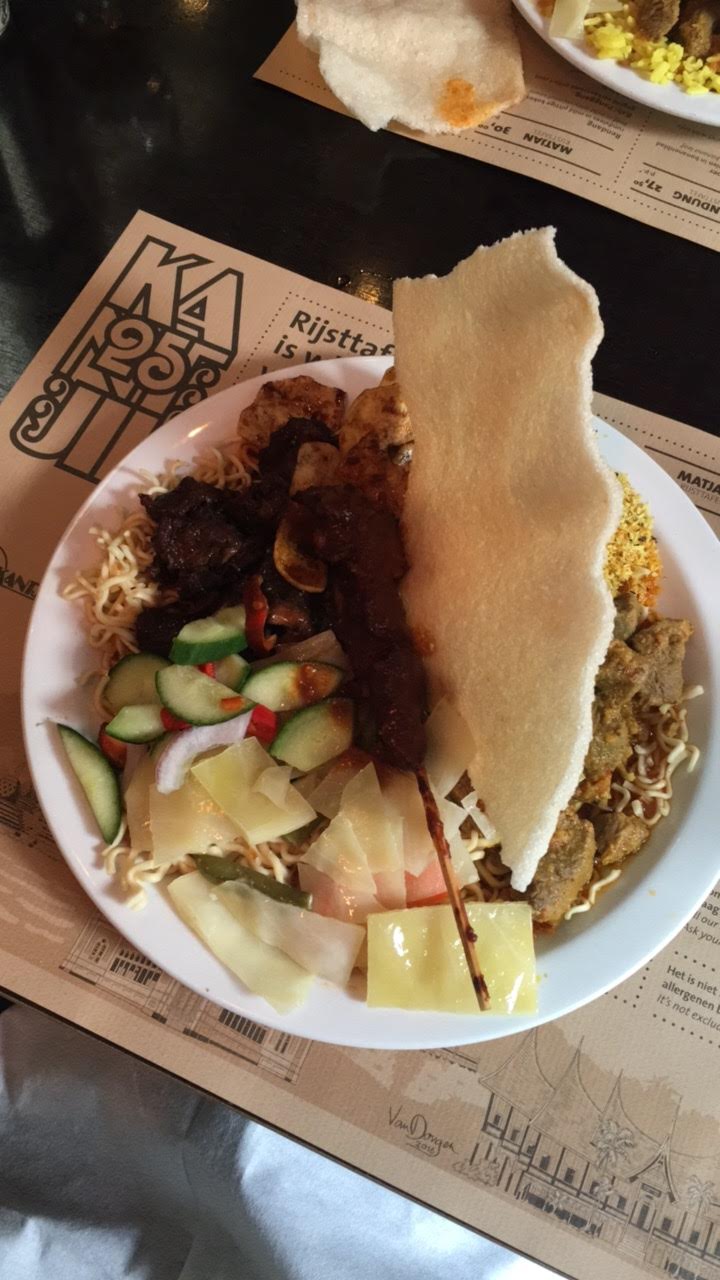 The Pancake Bakery – We went here for late breakfast/lunch/brunch and absolutely loved it and we were lucky to snag outdoor table right on the canal. It seems touristy by the name, but it comes recommended by everyone and all the travel guides I read and it was a great easy and delicious meal! Kip got a savory pancake (cheese and something else) which savory seems different for pancakes but the waiter said the savory kind are what they are known for and his was AH-mazing.  I got a more traditional and loved it as well, but the savory was hands down the best!  Plus their coffee and espresso comes with a stroupwaffel so that was an added perk.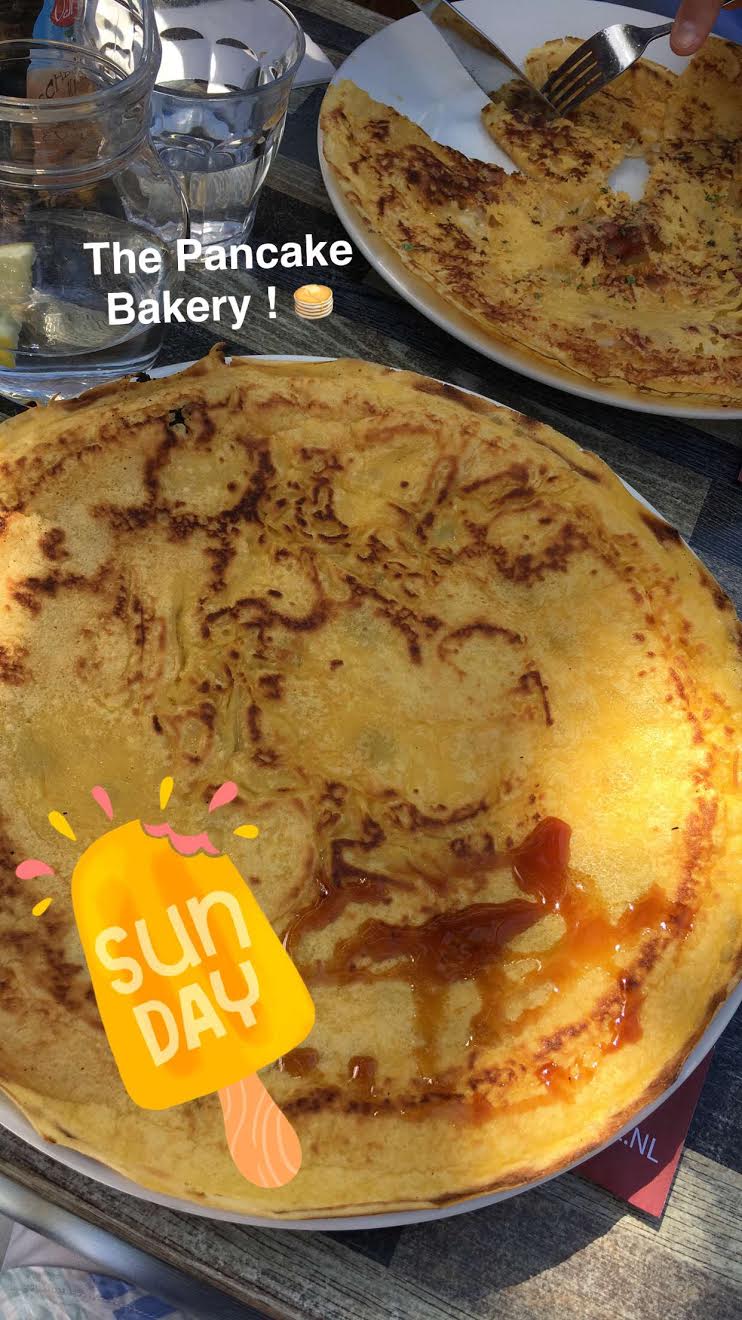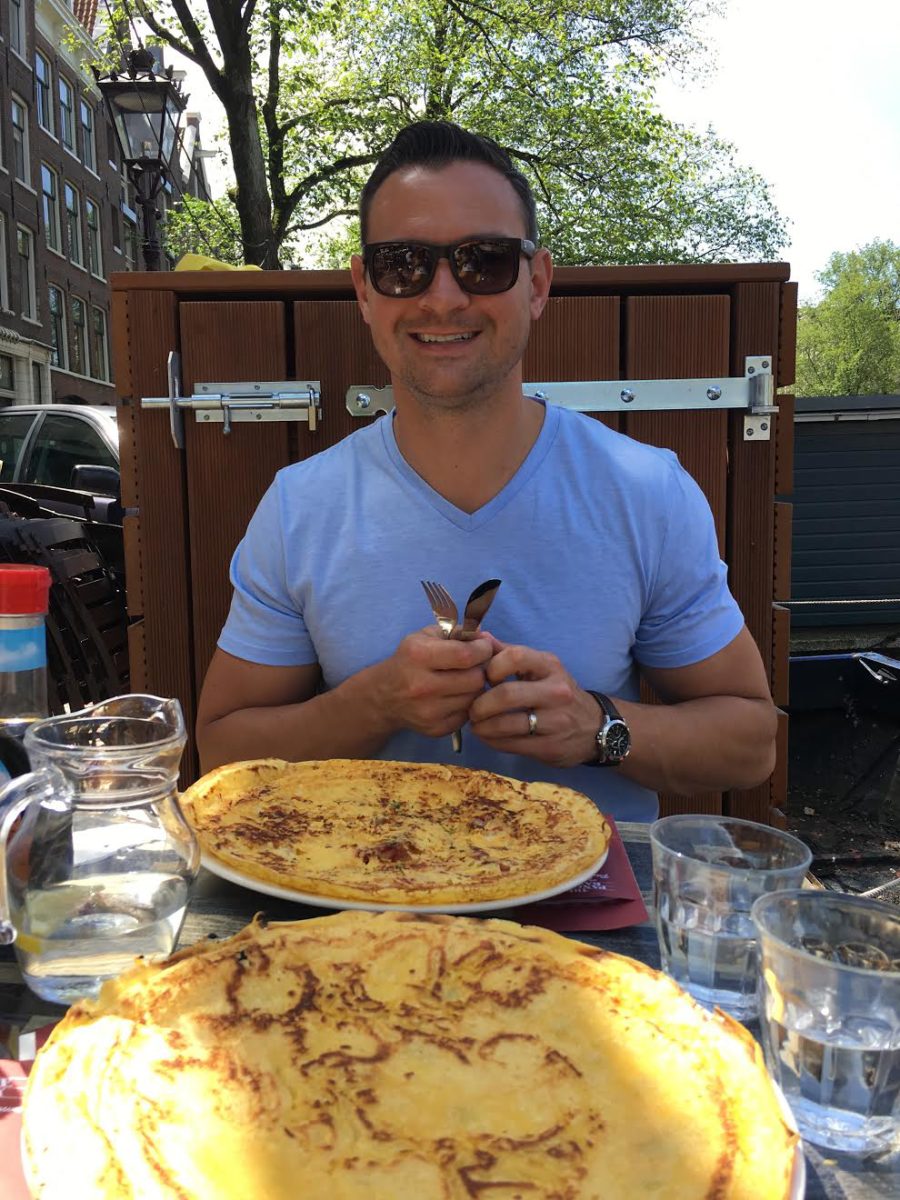 Cafe de Jaren – We saw this corner when we were on the boat cruise and it had beautiful little restaurants with outdoor space right on the water.  Bord'Eau is a fancier place on the corner, but right next door is a beautiful outdoor garden and the perfect place for drinks (or food, we just didn't eat!) and to watch the boats go by.  It's right on the other side of this restaurant below.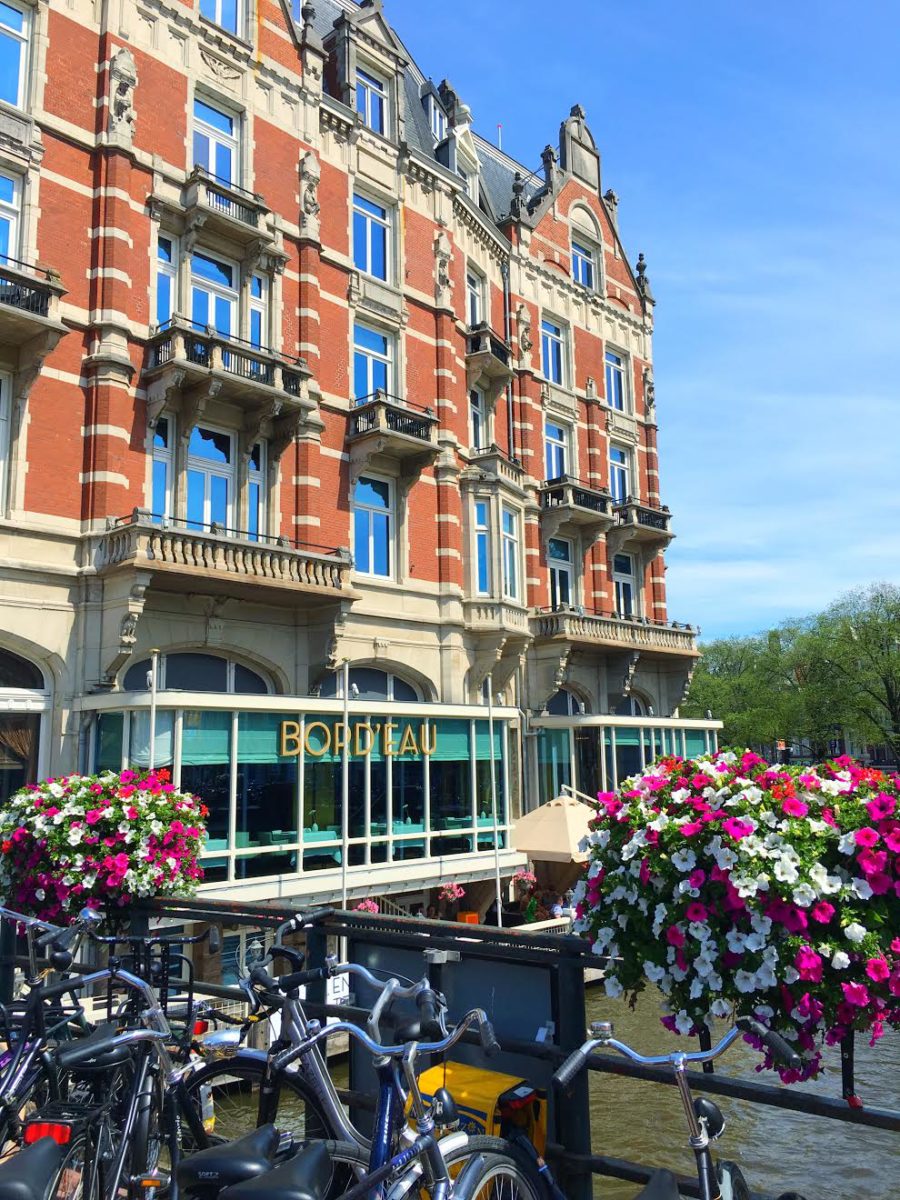 Cafe Fontyn – this is a little bar right off the red light district in a cute little square.  We came here for cocktails before going out in the Red Light District for the night.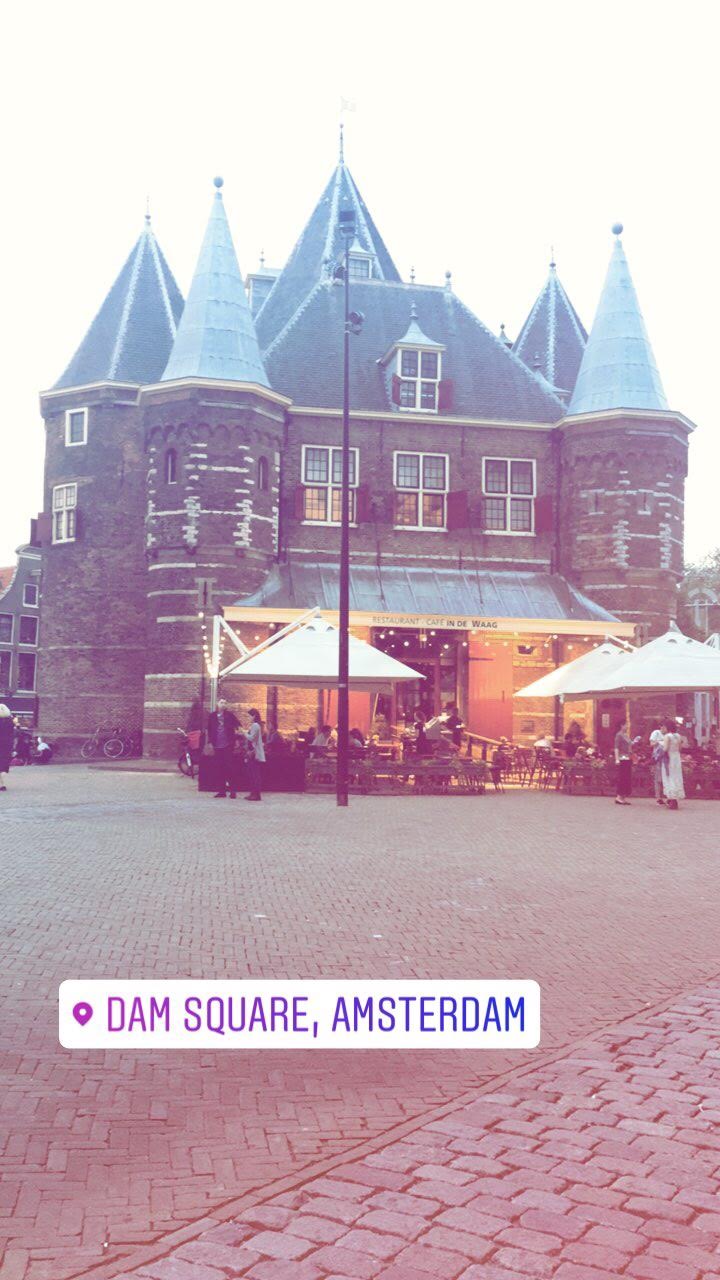 Stroupwaffel + French Fries – two things they are known for that are insanely delicious!
The Pulitzer – this came recommended from someone and it is a beautiful hotel that we snagged cocktails at one night
Kaaskamer – You'll see cheese shops all over the place – they are adorable.  Worth a peek inside and to pick up some cheese to bring back to your place for when you're getting ready for the night.
Cannible Royale – tried to make it to this one one night, but we were having a great time sitting outside a bar so just stayed and ate closer to our Airbnb, but this is recommended by lots and looks delicious and fun.
Balthazaar's Keuken – This came recommended by readers, and was actually right next to our Airbnb.  I'm sure it is absolutely wonderful, but it wasn't for us.  Other than sushi I am not a fish eater and pretty much everything in the set menu had seafood in it.  BUT I know others rave about it, so don't take my word for it!
De Kas – this requires a taxi, and Kip didn't want to venture far, so we opted out but this place looks amazing.
:: OUTFITS :: 
Day 1 :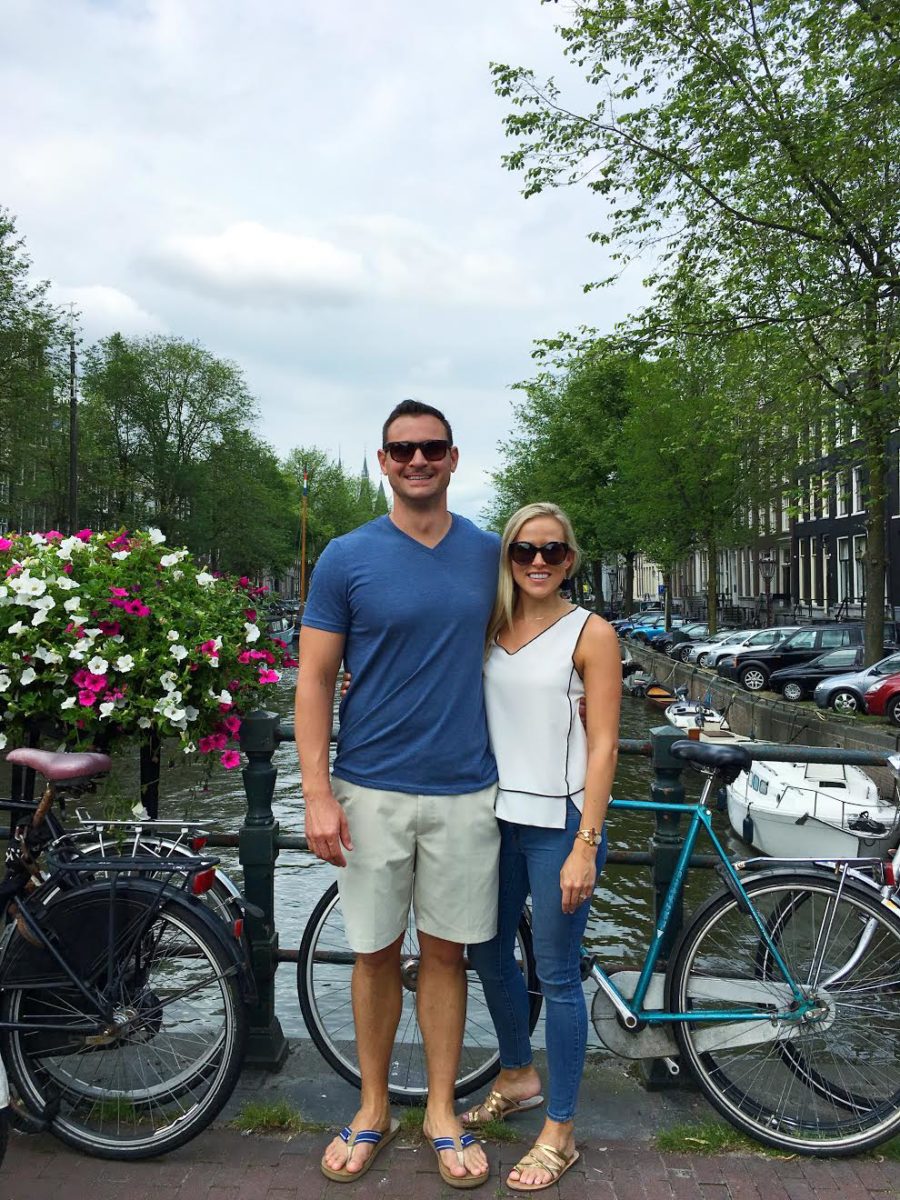 //STRETCH DENIM JEANS // ZARA TOP //  GOLD SANDALS // 
Night 1 :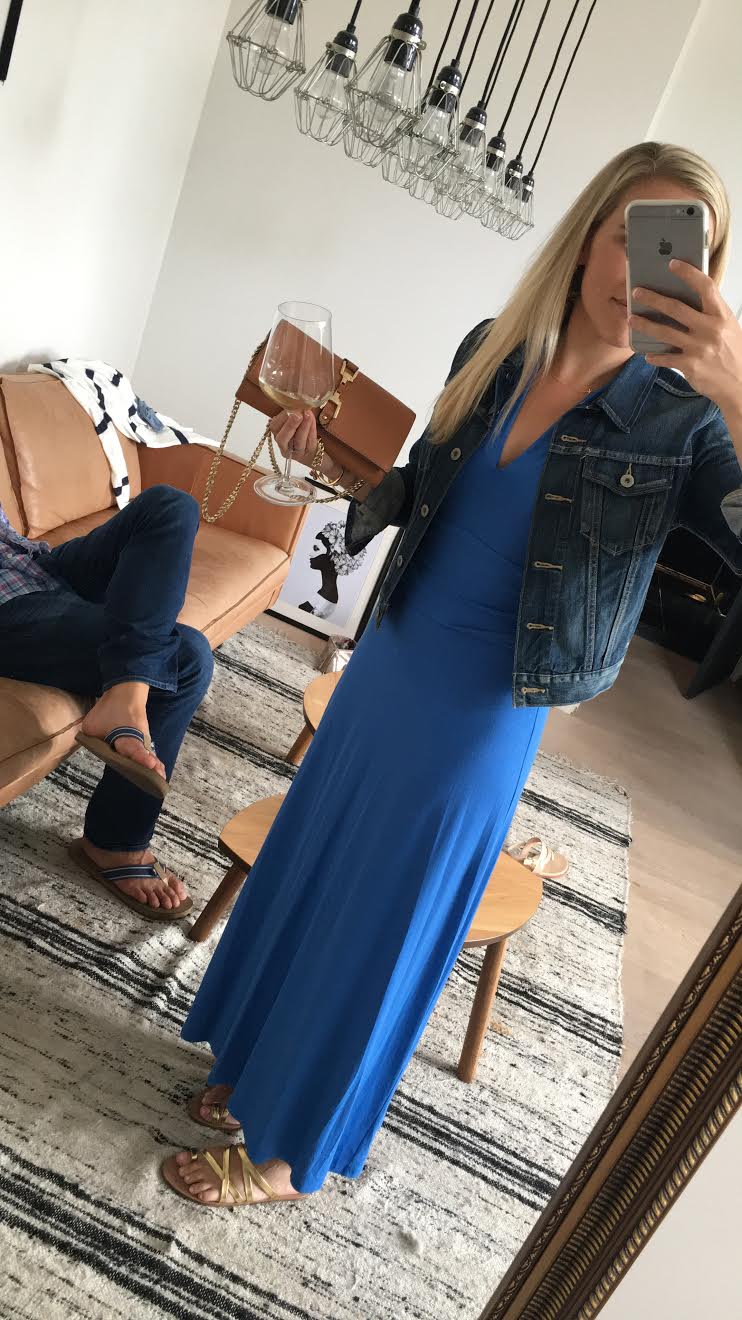 //BLUE MAXI //CLUTCH WITH DETACHABLE CHAIN  //  GOLD SANDALS // 
DAY 2 :
The morning that I fried myself with my travel curler/straightener combo and had to use the wine in the fridge to try to help cool the burn.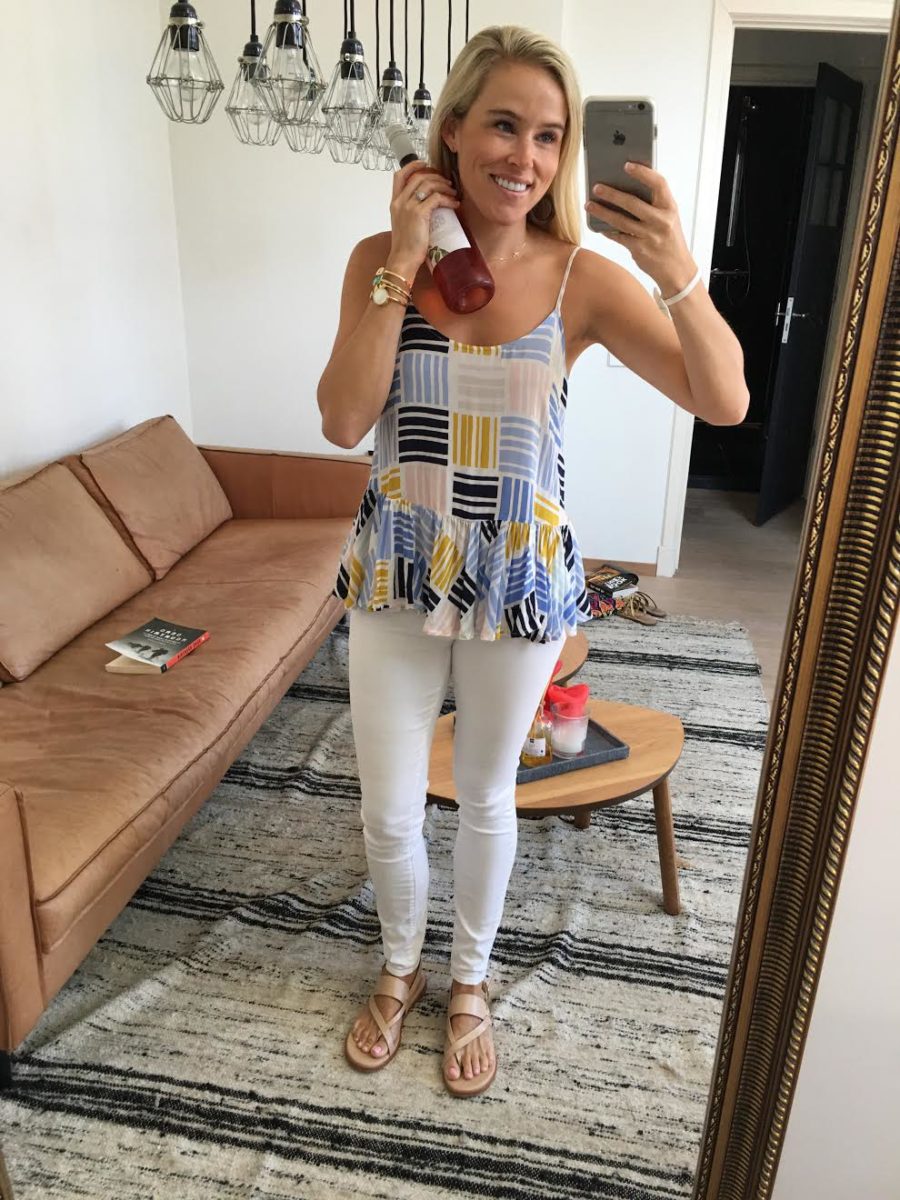 // OLD, OLD NAVY TOP //  WHITE DENIM JEANS //
Night 2: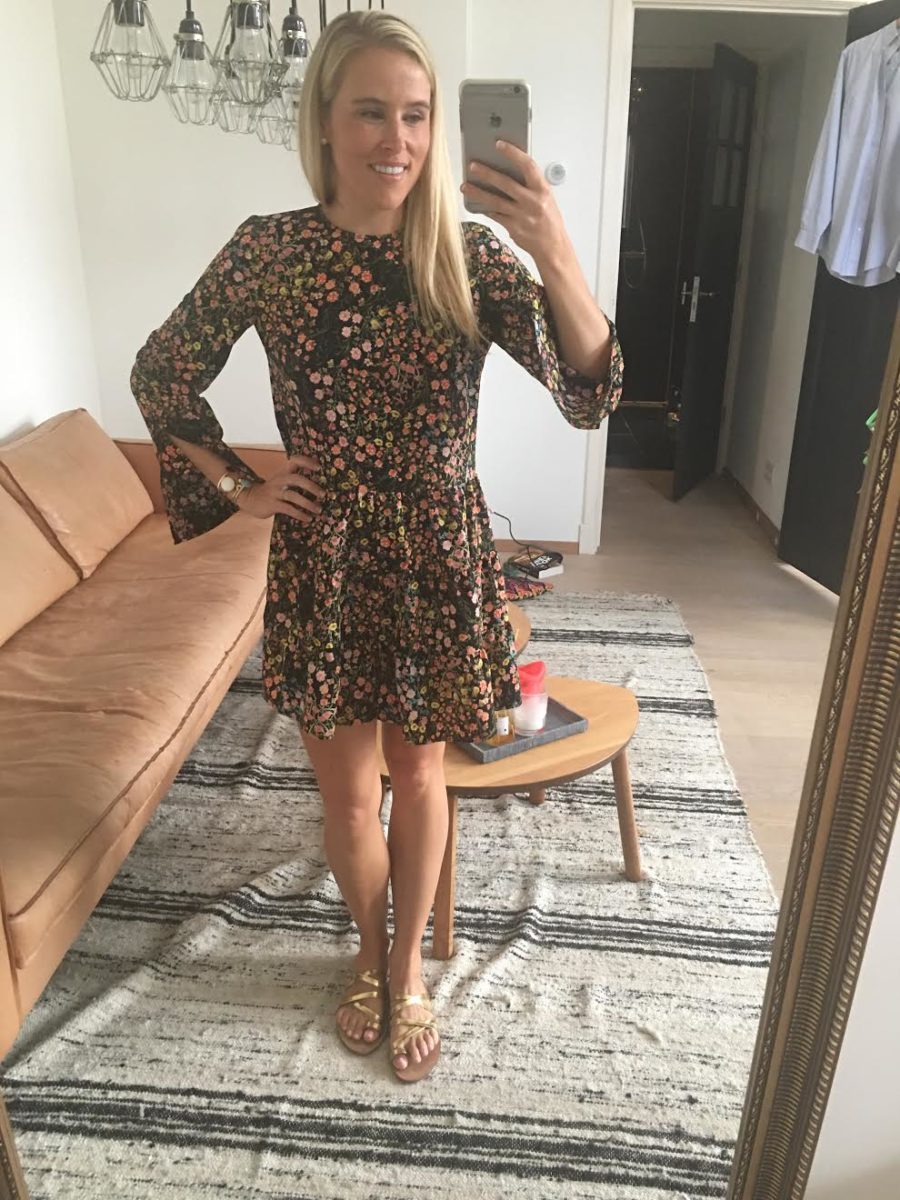 // ZARA ROMPER // GOLD SANDALS // 
Day 3 :
No photo (?) Can't remember!
Night 3: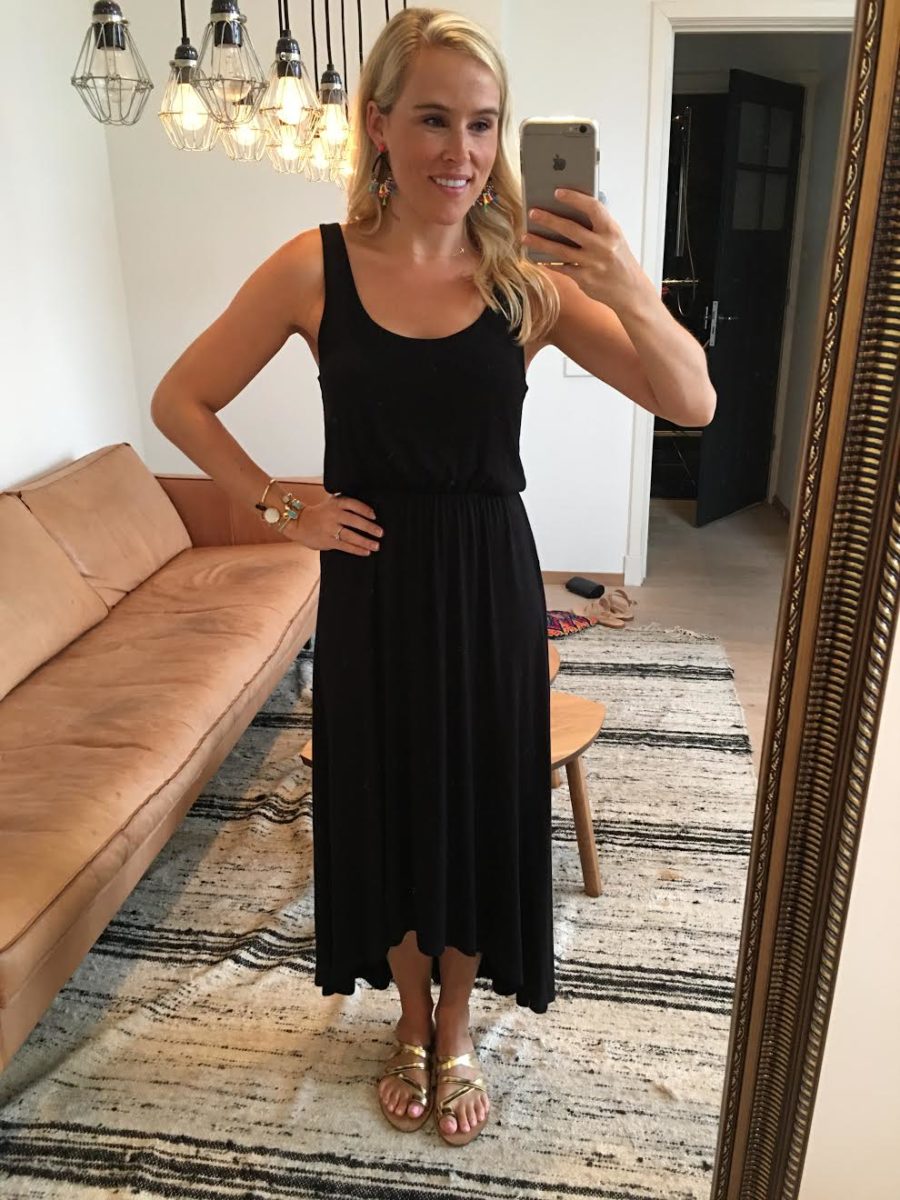 //BLACK HIGH LOW MAXI  //   GOLD SANDALS    // BAUBLE BAR TASSEL EARRINGS //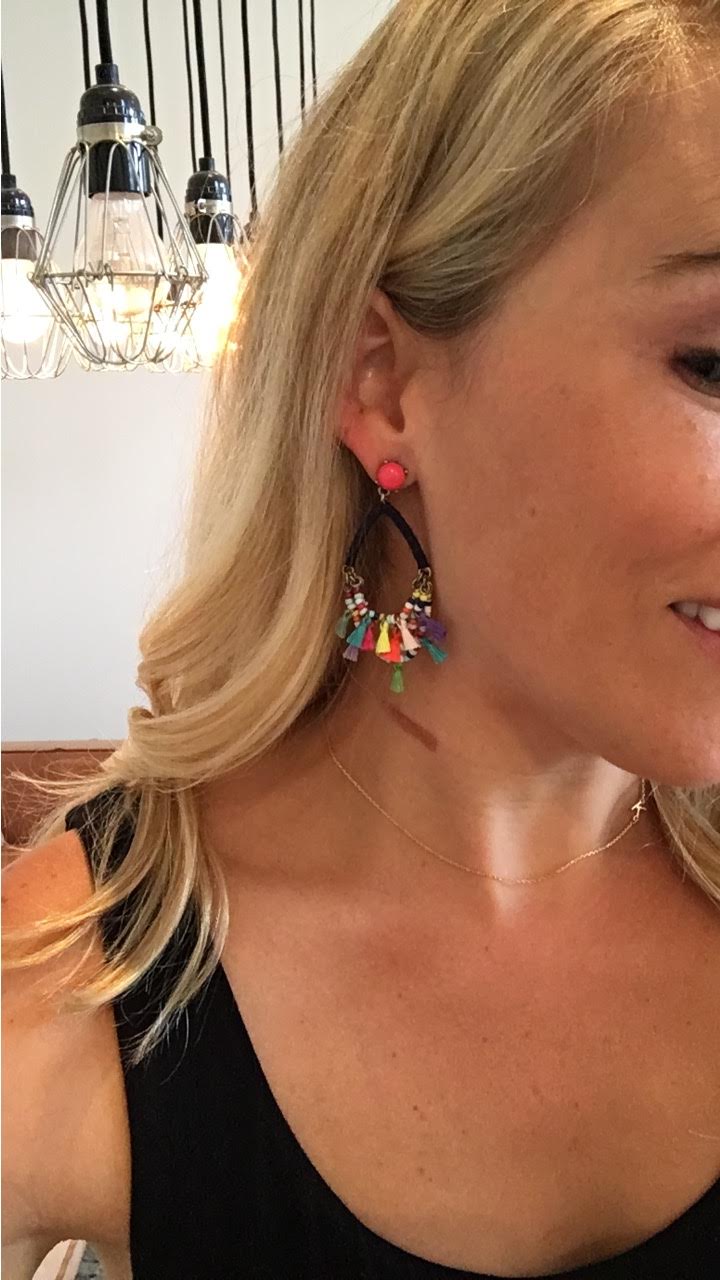 Day 4 :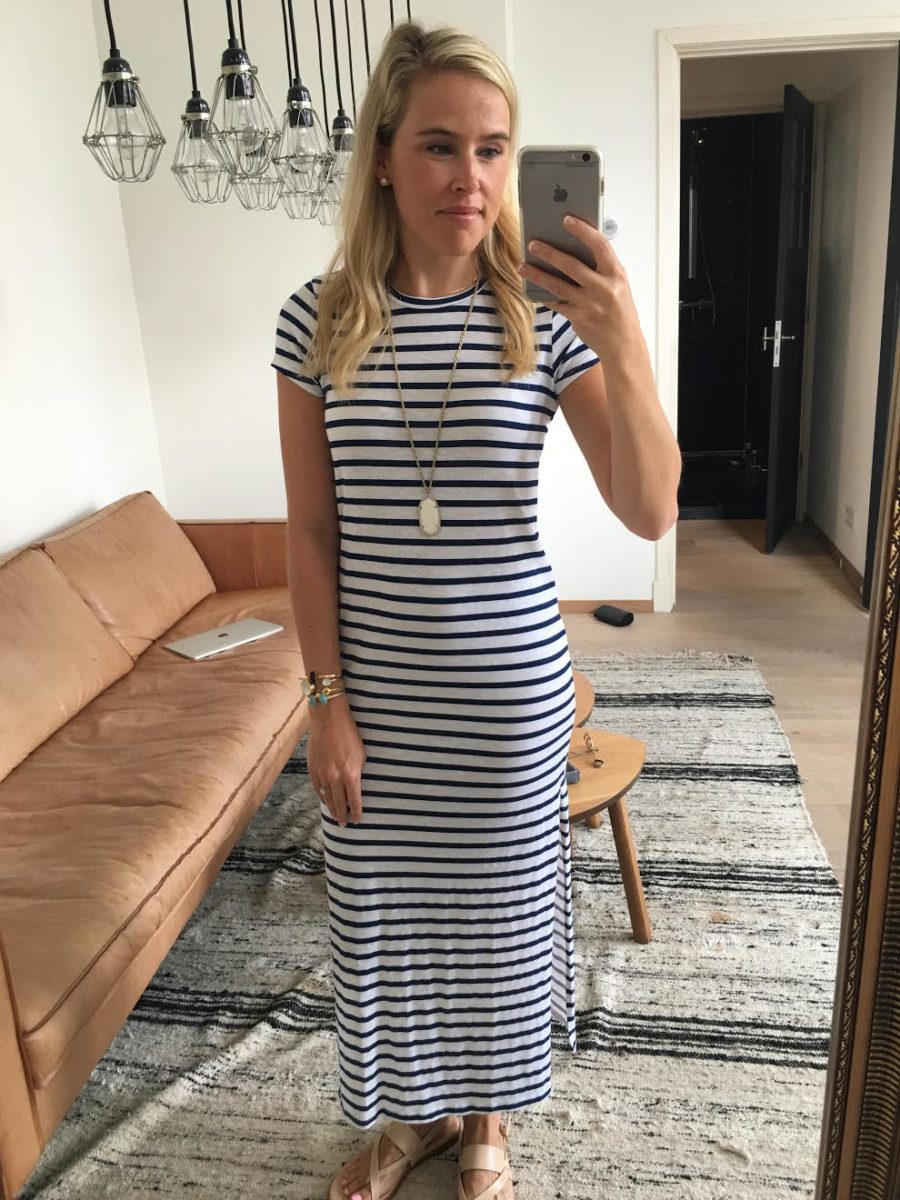 //STRIPED DRESS  // NECKLACE // TORY BURCH STUDS //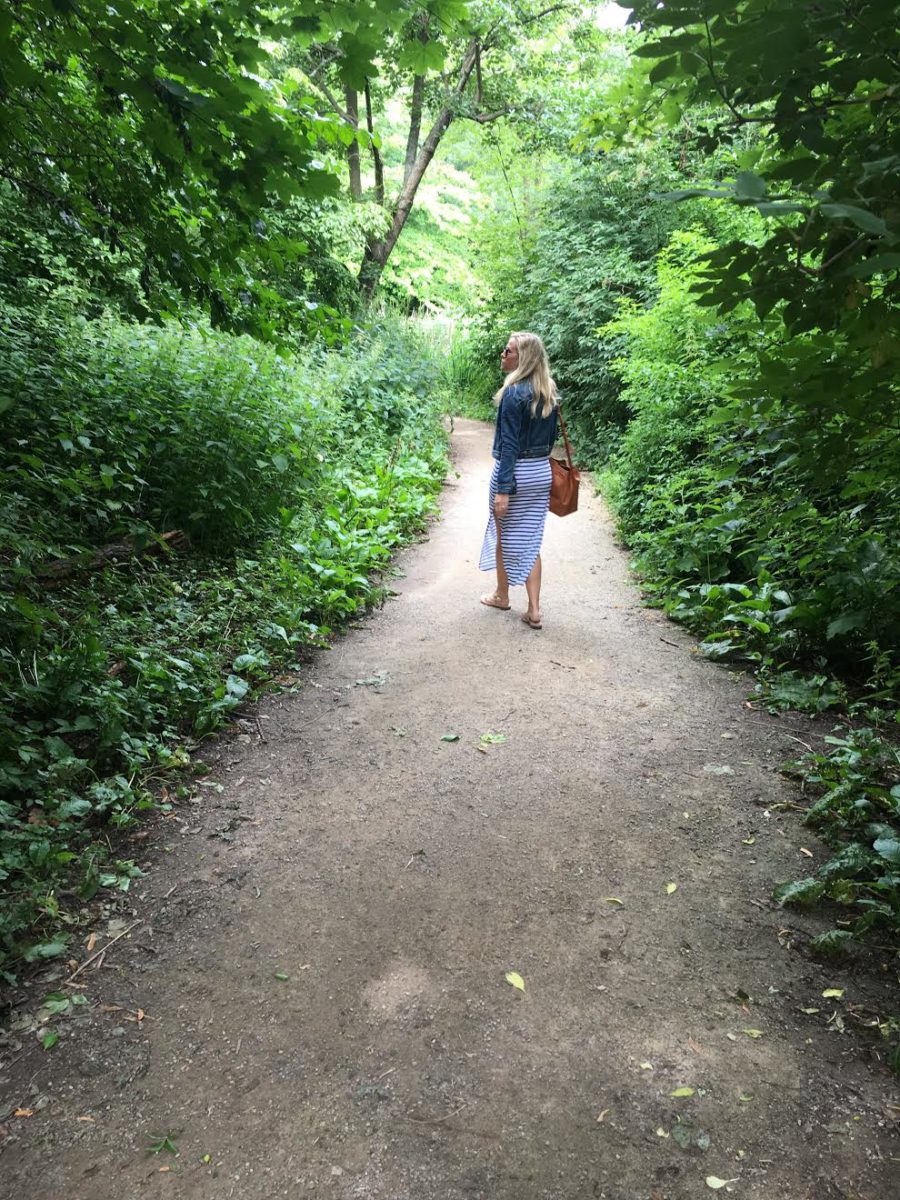 lunch next to Teri Hatcher….. the only person in all of Amsterdam to know and/or recognize her…..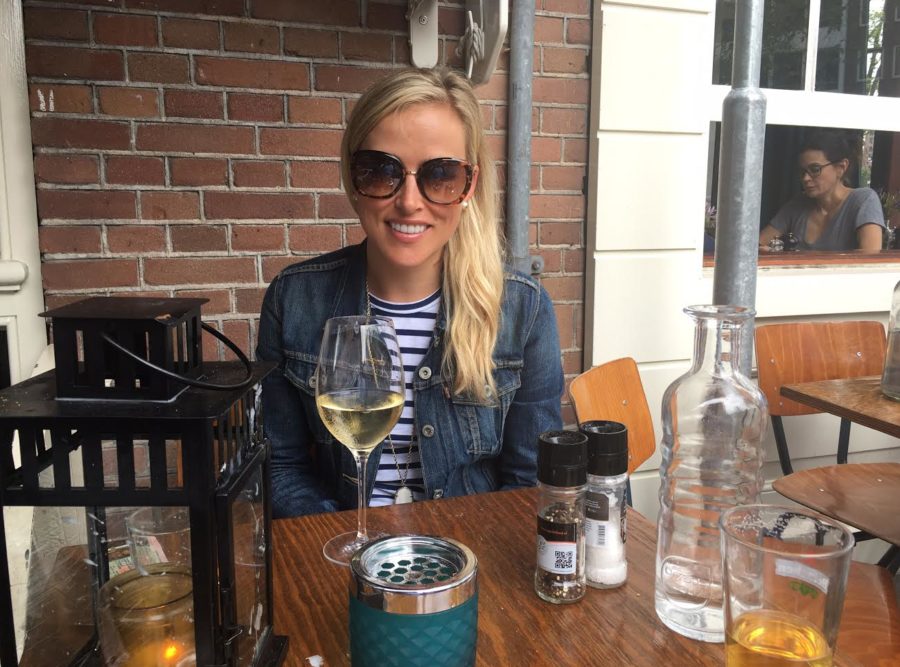 We loved our time in Amsterdam so, so much.  It was freezing and raining when we left Wednesday morning for our flight to Milan – which kind of made it a lot easier to leave and made us that much more grateful for how beautiful it was when we were there!
I always do these posts and think of a million other things that I had wanted to share! So I'll continue to update it as I think of more!  I hope this helps for those of you reaching out with questions!!
To see more of my travel posts, click here, or check out the specific guides below.
Packing for 2 Weeks in a Carry On (Amsterdam and Lake Como)

Packing for 2 weeks in a Carry on (Venice, Siena, Florence, Rome, Positano, Amalfi Coast)

Venice Recap // Siena Recap // Florence Recap // Positano Recap I // Positano Recap II 
Next up : Lake Como posts!