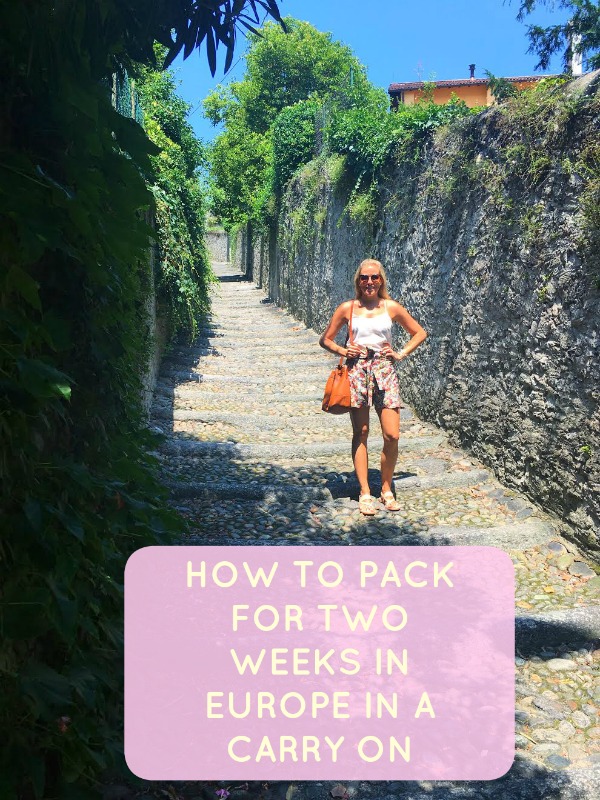 Today I have a highly requested packing post for you! The hardest part of a two week vacation is figuring out what to pack.  When we went to Italy two years ago, we went to 5 cities and were taking trains and ferries from place to place – we couldn't have big suitcases to be dragging all across the cobblestone streets from place to place.  So I learned how to get very smart with my packing and fit everything into a carry-on suitcase!
You can see my Packing for 2 Weeks in Italy Post from two years ago here.
It gets very, very specific! 
So today I am going to share how I did it all again – for two weeks spent first in Amsterdam and then in Italy.  This time was harder because I had to pack for cooler temps in Amsterdam, a wedding (which meant an additional pair of shoes just for the wedding) and extreme heat in Italy.  With no AC.   
But trust me, if I can do it, you can do it!
Always start by making a list.  And make the list in advance! I write everything down so that I can make sure I won't forget anything and can see what I need more or less of.  Then I start laying everything out, ideally in a separate room.  I used the office as a place to set everything out.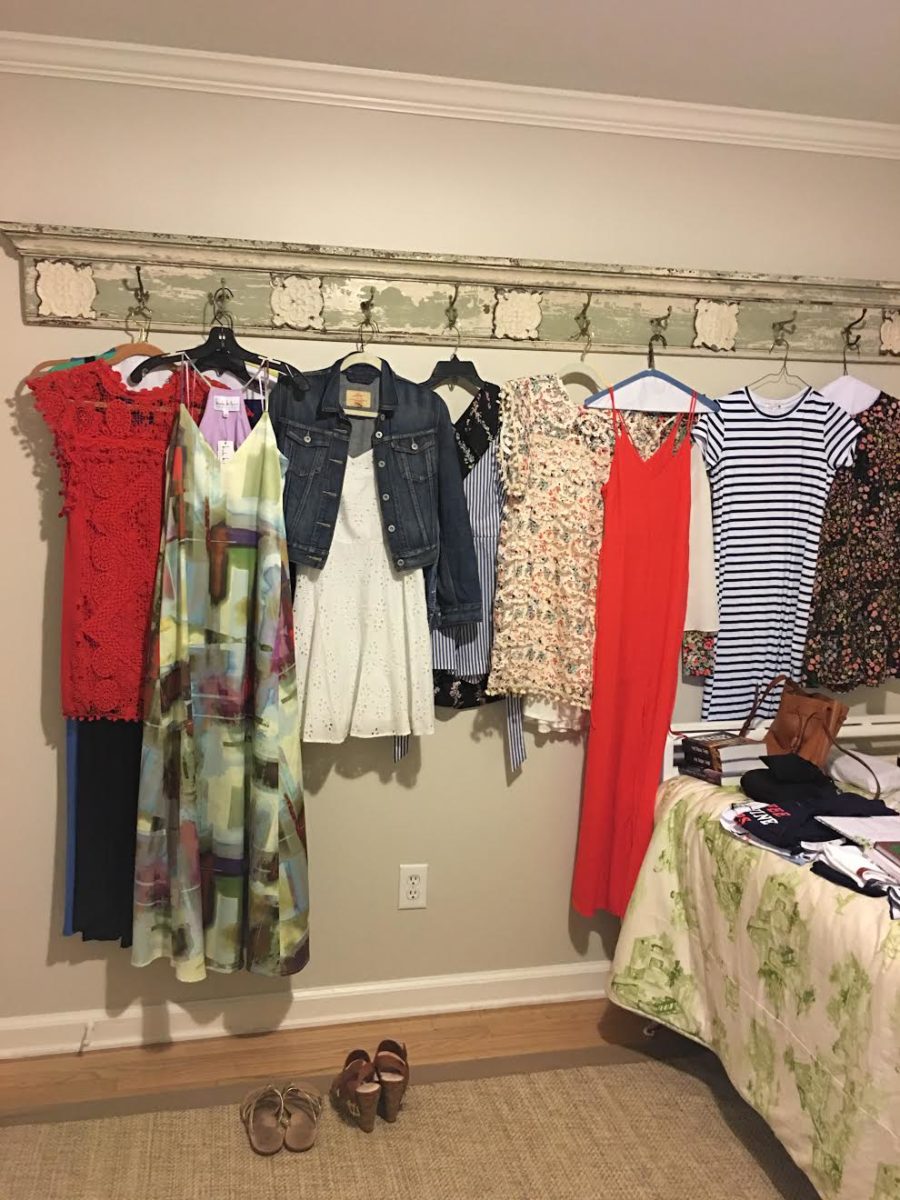 For the suitcase, I roll everything.  Then I pack everything into packing cubes.  We have one set of compression packing cubes that I love – they are a great space saver to get all of the air out -and  another regular set of packing cubes.
I used both regular and compression cubes for this trip.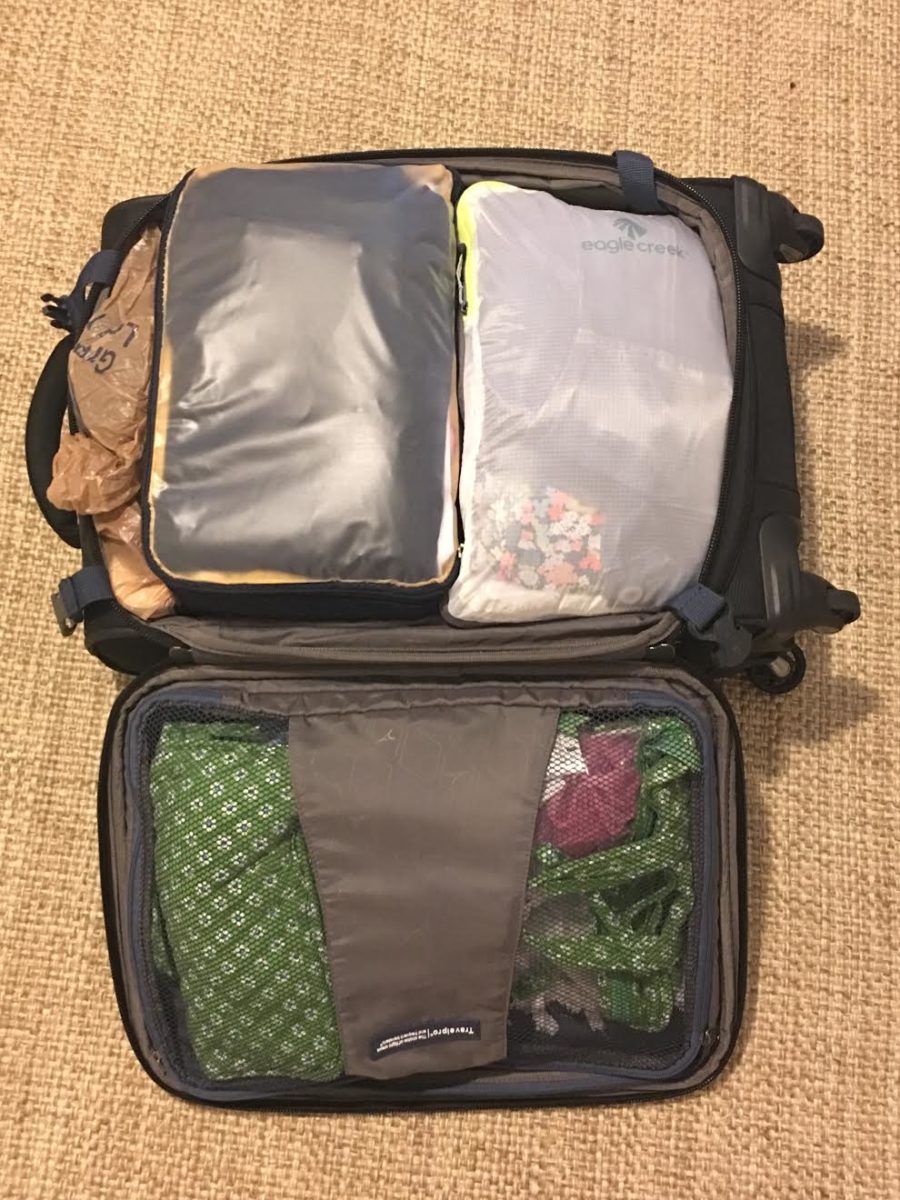 My most important piece of advice is to be very smart with your carry-on purse.  I use this weekender bag and swear by it.  I have talked about this bag a zillion times before but truly I would never be able to pack in a carry-on suitcase alone if I didn't have this bag as my "personal item".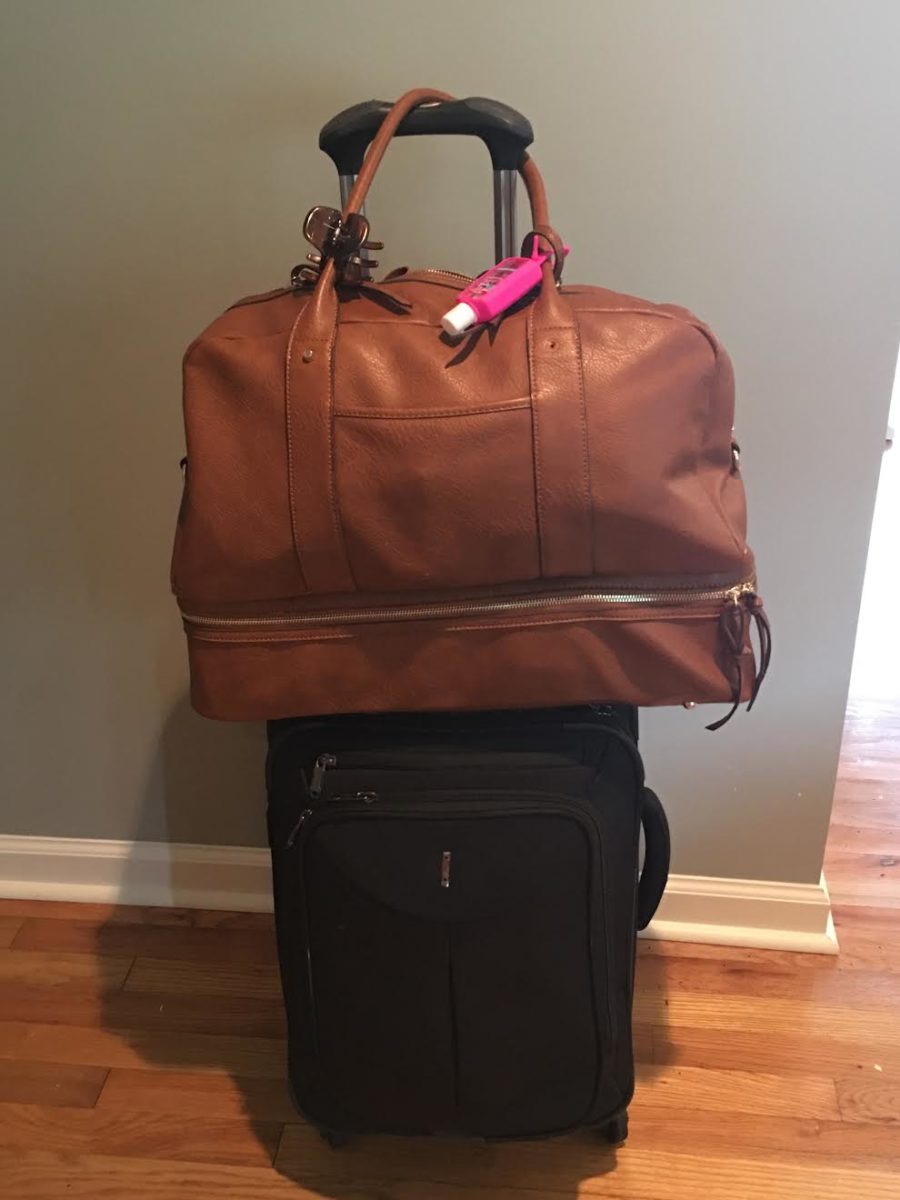 // SOLE SOCIETY WEEKENDER BAG // 
  It fits under the seat in front of you, but of course for these international flights you'll want to put it in the overhead bin.  A big thing for this is to pack in lots of pouches or zippered bags, that way you can get to something easily and know right where it is instead of rifling through 50 pounds of your crap!
And pack your purse – that is packed inside the carry-on and ready – with your inflight essentials.
Here is what I fit into the carry-on bag :
Two purses:
One bucket bag for daytime, and one clutch for night that has a detachable cross-body strap.
The bucket bag is great because you can fit so much when you are walking around all day – water, book, a camera, etc.
For the flight, I packed the bucket bag with what I knew I would need during the flight (book, neck pillow, etc.) and kept that at my feet.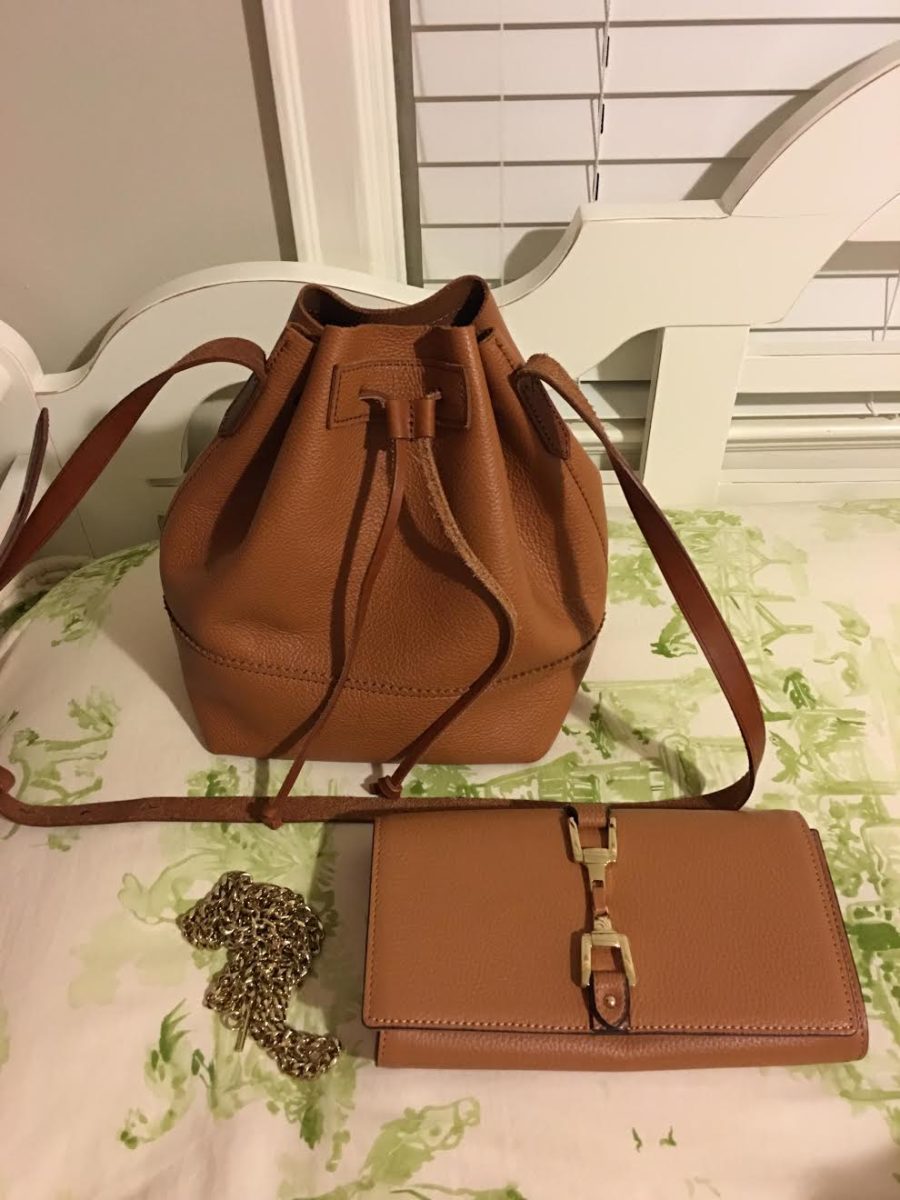 // SIMILAR BUCKET BAG // CLUTCH WITH DETACHABLE CHAIN //
clutch is currently 50% off! 

A hat, Bose noise cancelling headphones (borrowed and loved them!) eye mask, ear plugs, inflatable neck pillow.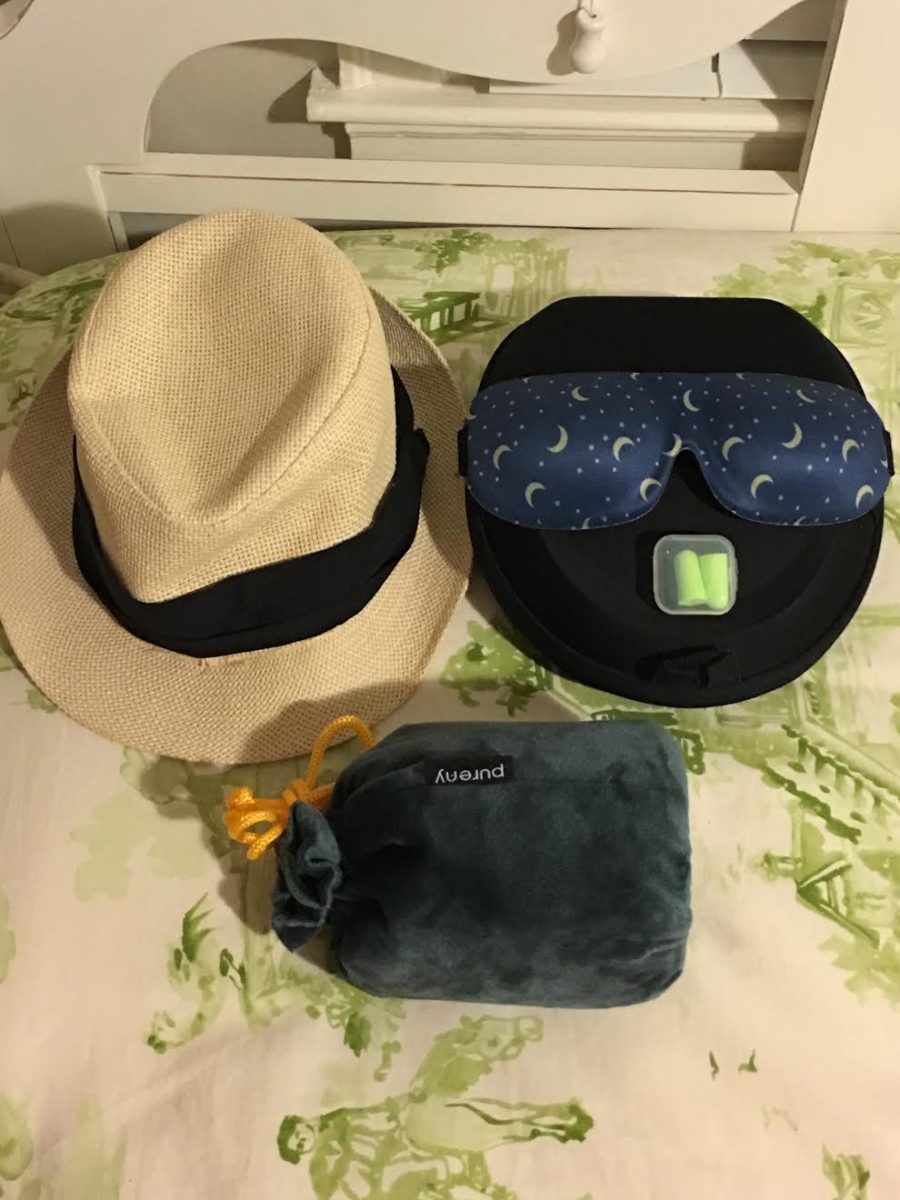 // NECK PILLOW // EYE MASK // 
And here is everything that I put in the carry-on bag!
Pouches are the key – I swear.  I kept all of my vitamins and medicine and granola bars in one pouch, make-up in one,  essentials like earbuds and converters and chargers in one, and then things like tissues and hand cream and hand sanitizer and hair ties and all that in another.  When everything is in a pouch you know where it is and can get to it much more easily.
My jewelry is also in a blue travel jewelry case and goes in my carry-on.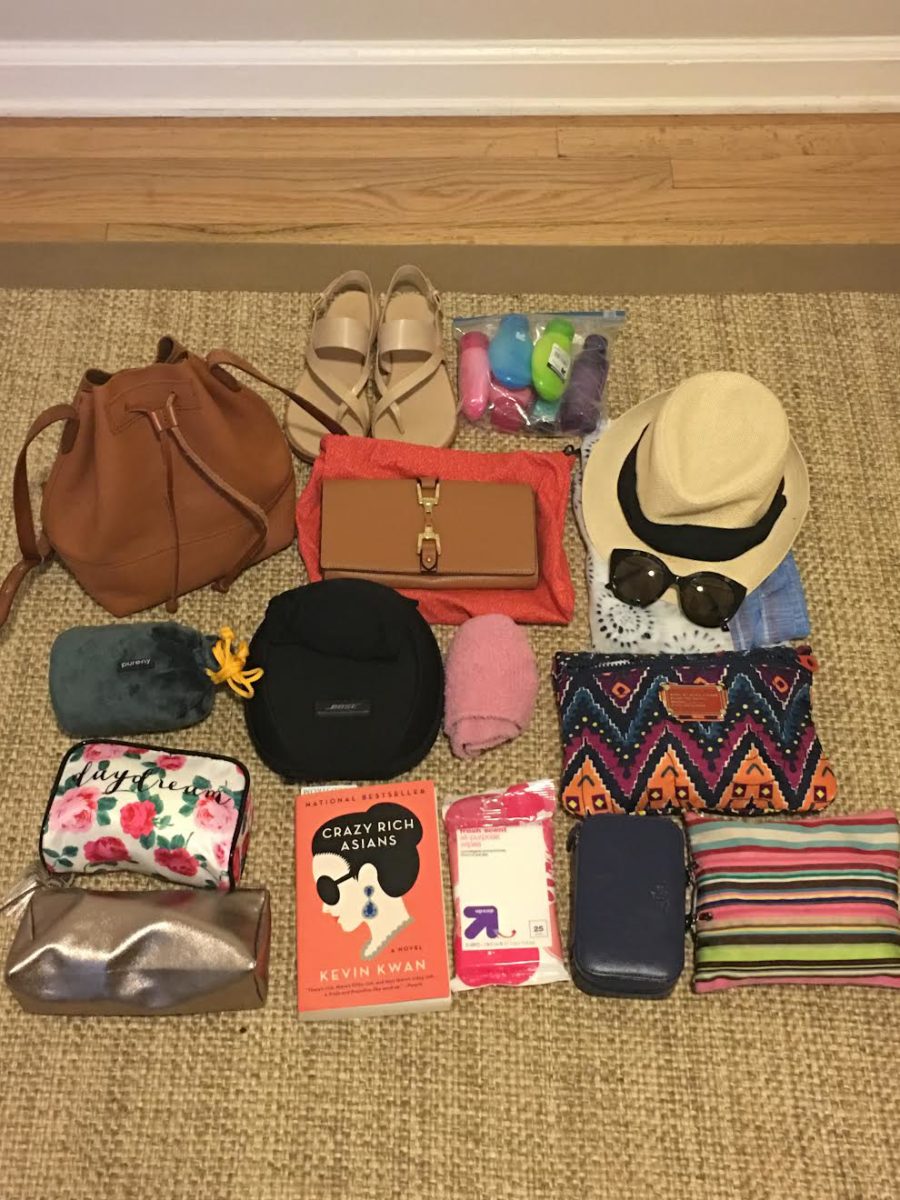 Additional necessities – cleansing wipes to wipe down everything at your seat (call me a lunatic, but planes are disgusting and the last thing you want on a vacation like this is to be sick!), big comfy fuzzy socks, scarf, and toiletries ready to pull out for security check and then you can put them in the carry-on-suitcase.
I also had my laptop and charger so that I could blog while there, but unless necessary, I obviously don't recommend bringing a computer!
Here are some details of what I packed for the trip :
2 sets pajamas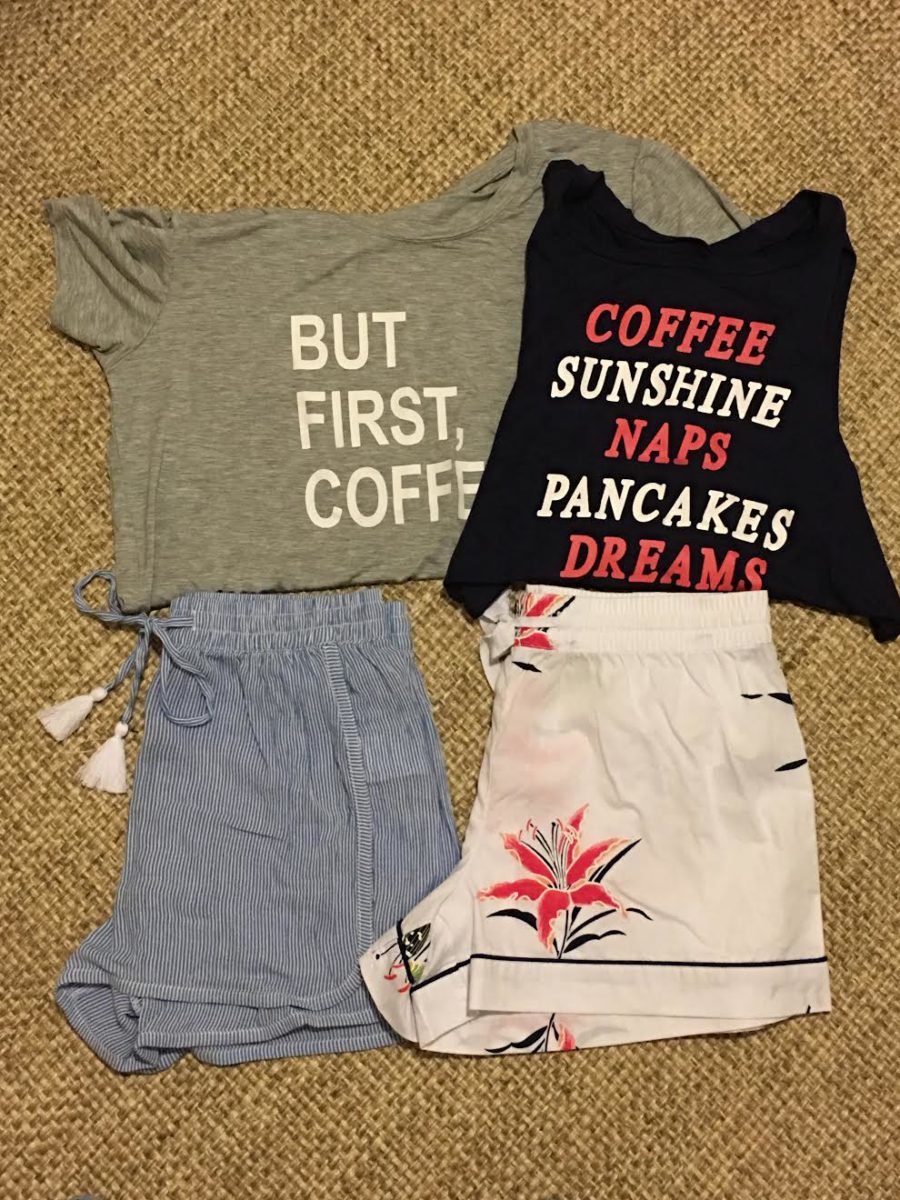 // BUT FIRST COFFEE SHIRT // STRIPED TASSEL SHORTS // FLORAL SHORTS // NAVY SLEEP TANK // 
2 bathing suits (I also added in a strapless bikini top, not shown)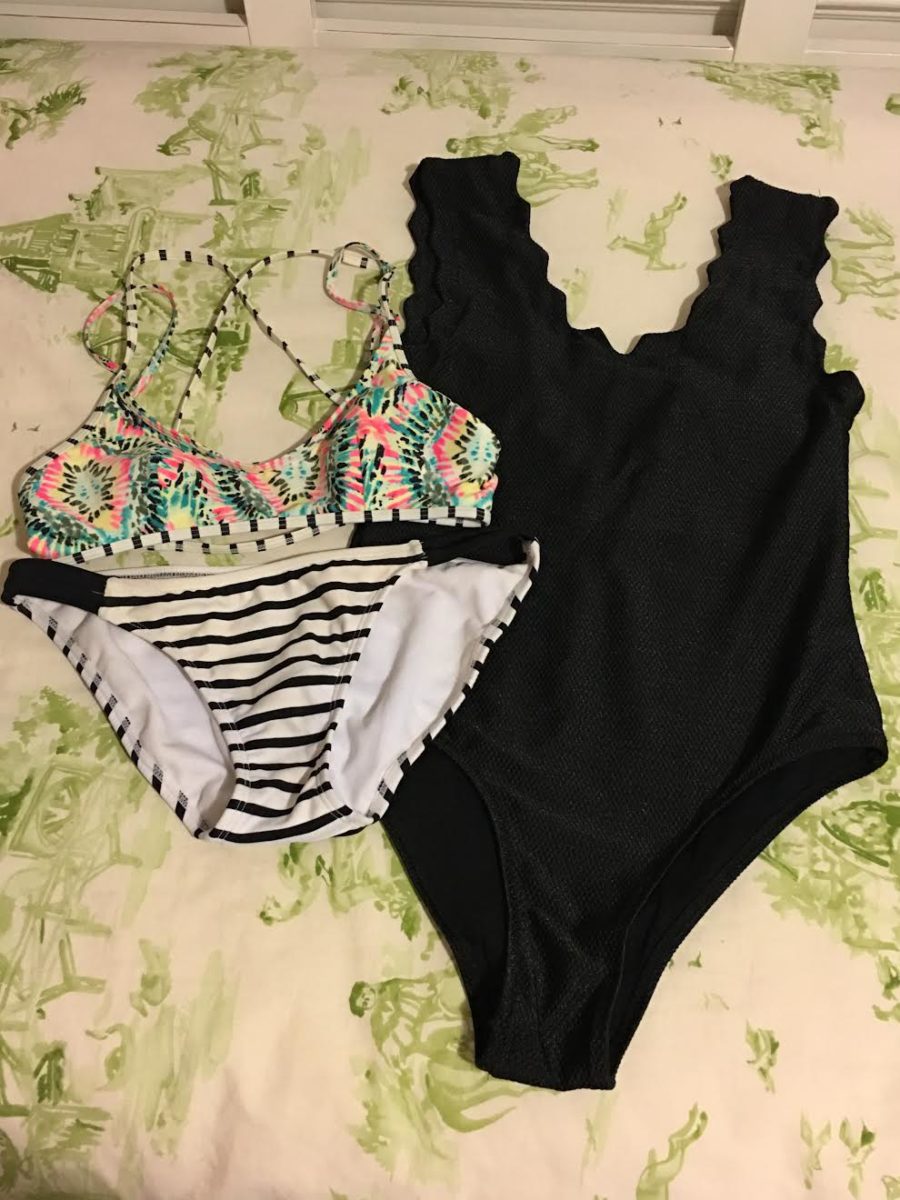 // BLACK DESIGNER KNOCK-OFF ONE PIECE // 
2 scarves.
2 pairs of jeans, three tank tops, two shorts
3 pairs of shoes (2 sandals, one wedge for the wedding)
don't judge my gold sandals, they are clearly very worn and loved – they were a godsend on our last Italy trip!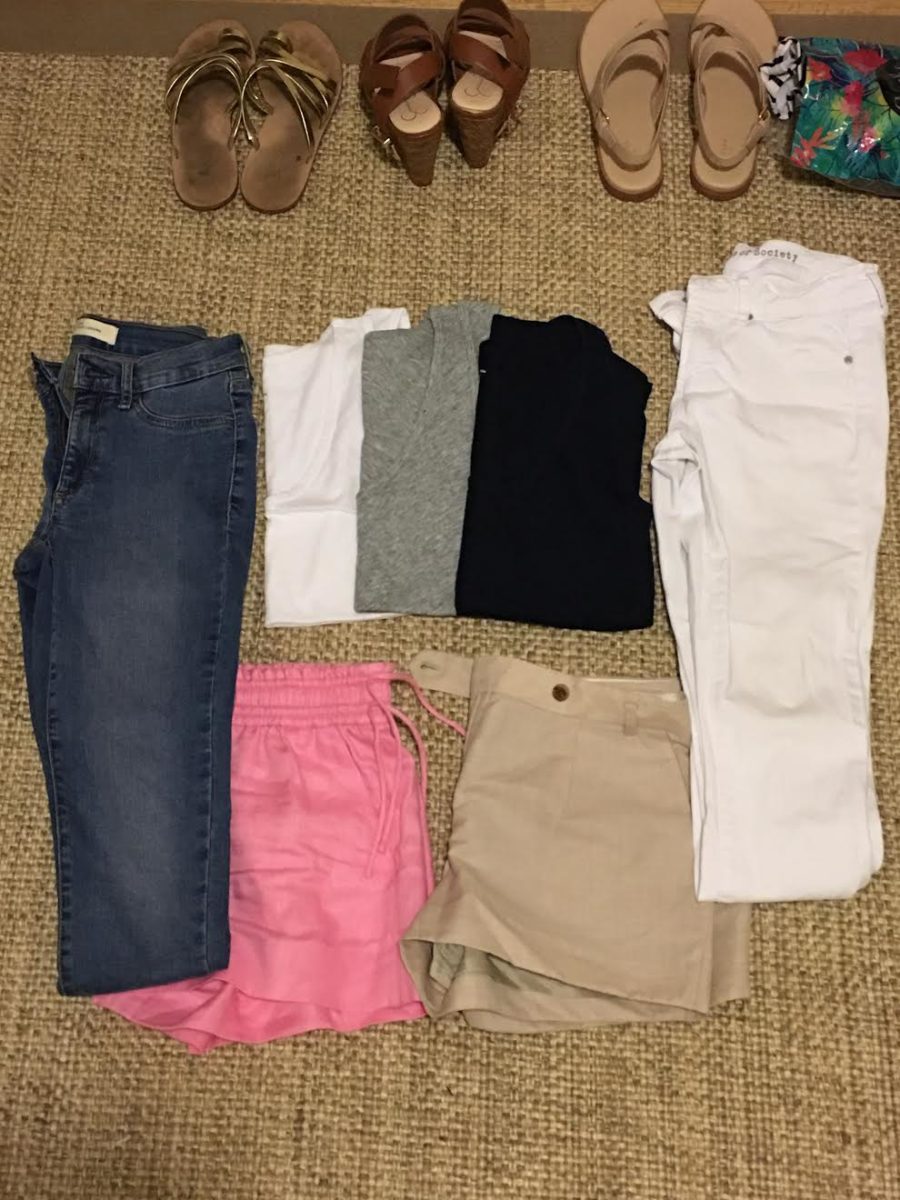 // STRETCH DENIM JEANS // WHITE DENIM JEANS // TISSUE TANK // 
Workout Clothes – as much as you want or need.
8 Dresses.
Solid color dresses are a safe bet when making the most out of a carry-on wardrobe because you can wear them multiple times and change your accessories up to make different looks.

// BLACK MAXI // BLUE MAXI // RED LACE DRESS // WHITE LACE DRESS // STRIPED DRESS // 
One pair of nice shorts and silk top.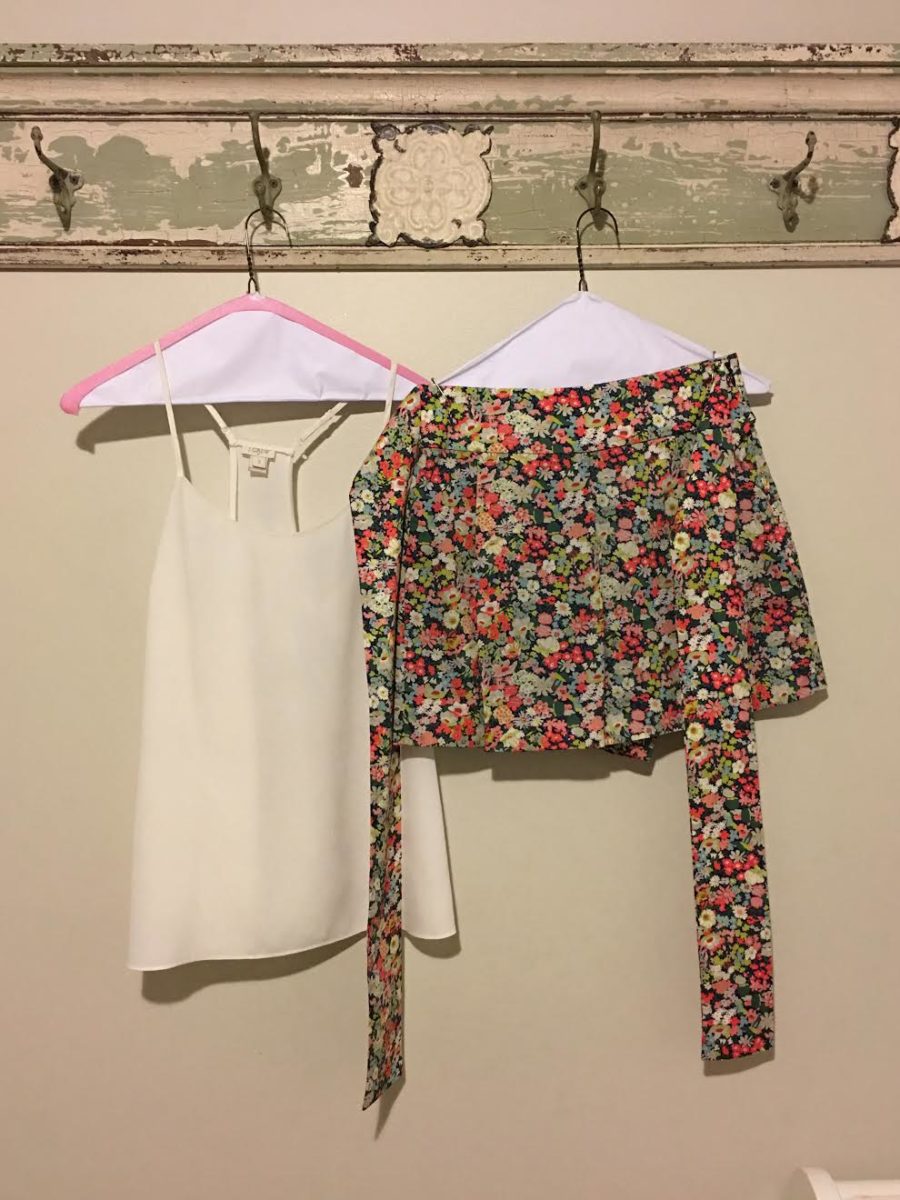 // SAME SHORTS, BUT IN PINEAPPLE PRINT //     // WHITE SILK CAMI //

Chambray one shoulder and Chambray button down
the chambray button down is always an essential!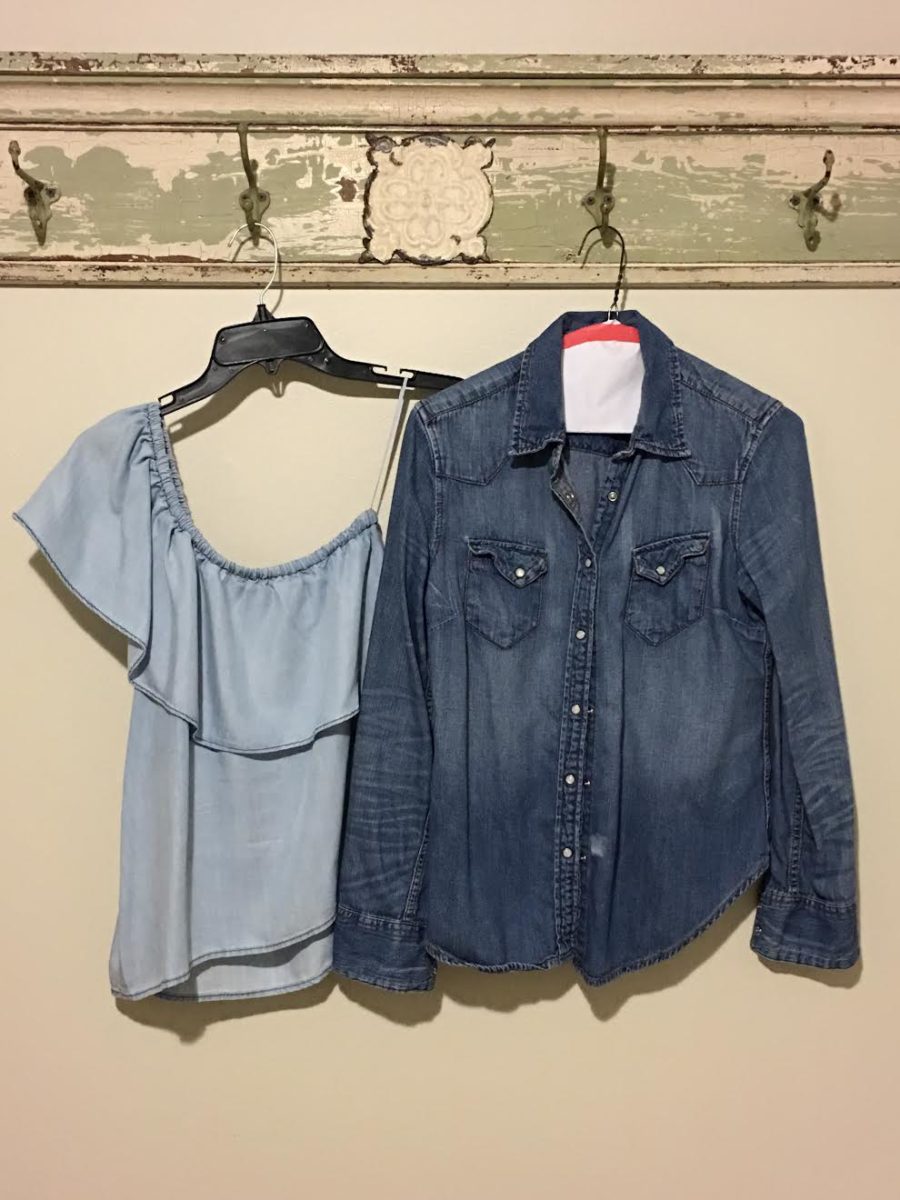 // ONE SHOULDER TOP // 
Two rompers.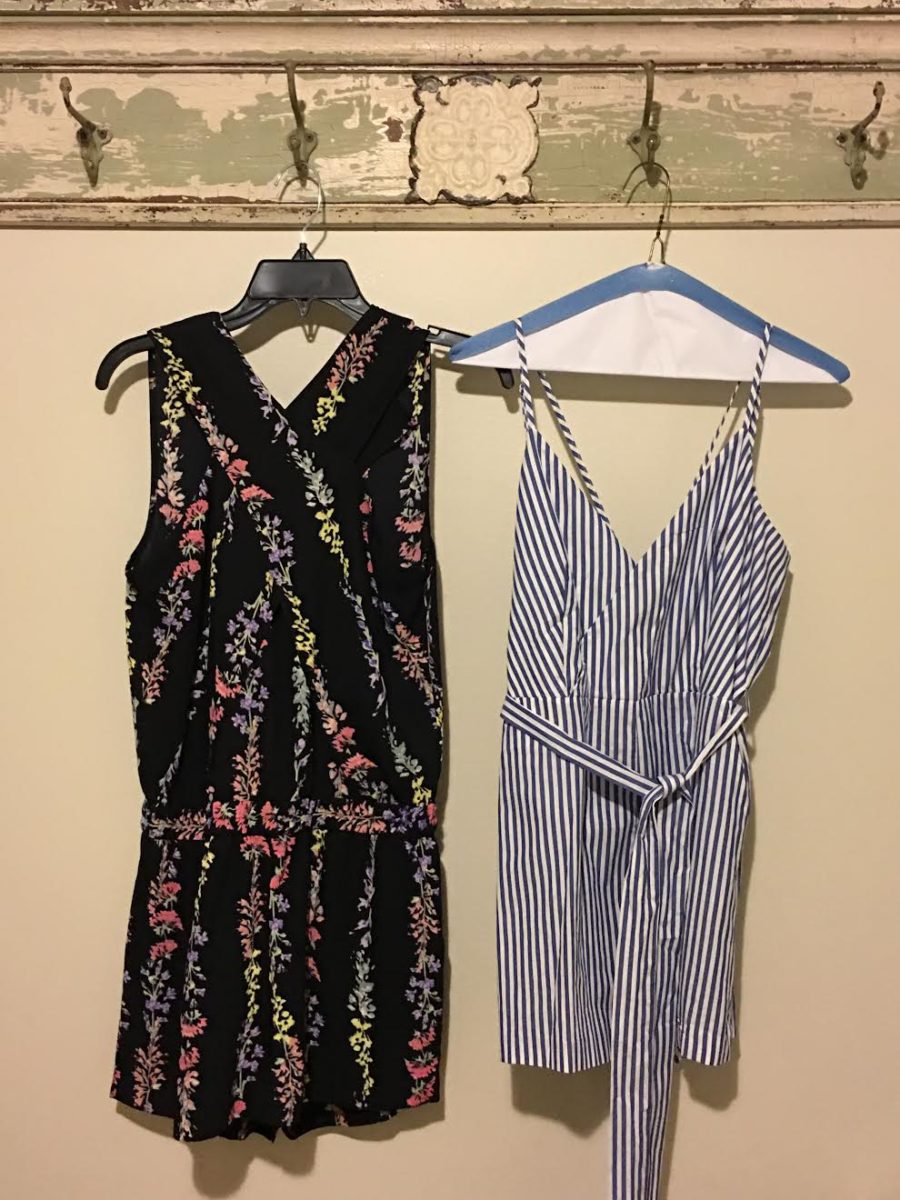 // FLORAL ROMPER // SIMILAR STRIPED ROMPER // 
One dress for the wedding.
I was obsessed with this dress.  I want to wear it to the wedding we have this weekend too but feel like it's too soon and that is a fashion faux pas??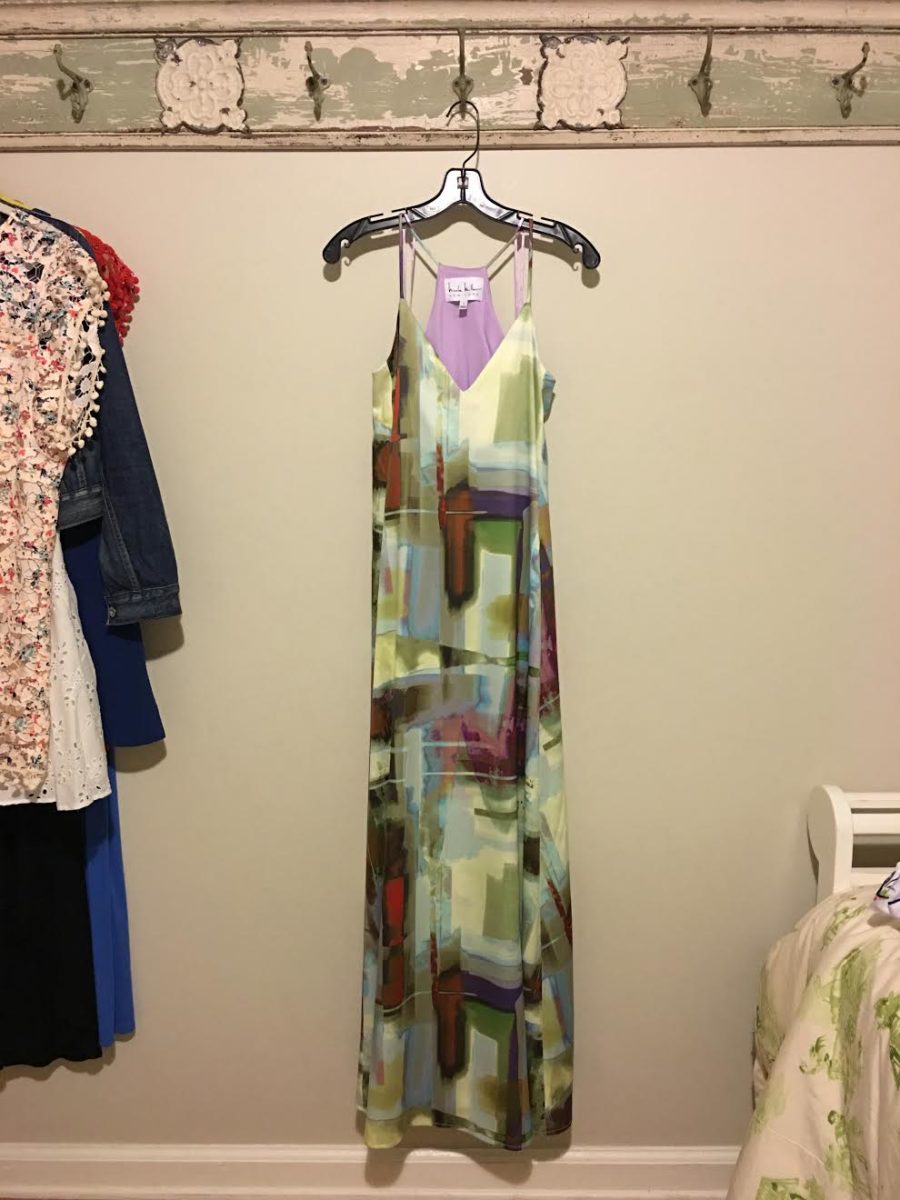 // NICOLE MILLER DRESS //
runs very large, size down – I got a 0 and still had to alter it. 
Jewelry.
I leave all delicate, expensive, or important jewelry at home (except for my wedding rings) and put a heavy focus on earrings to change up outfits and make my solid colored dresses more fun.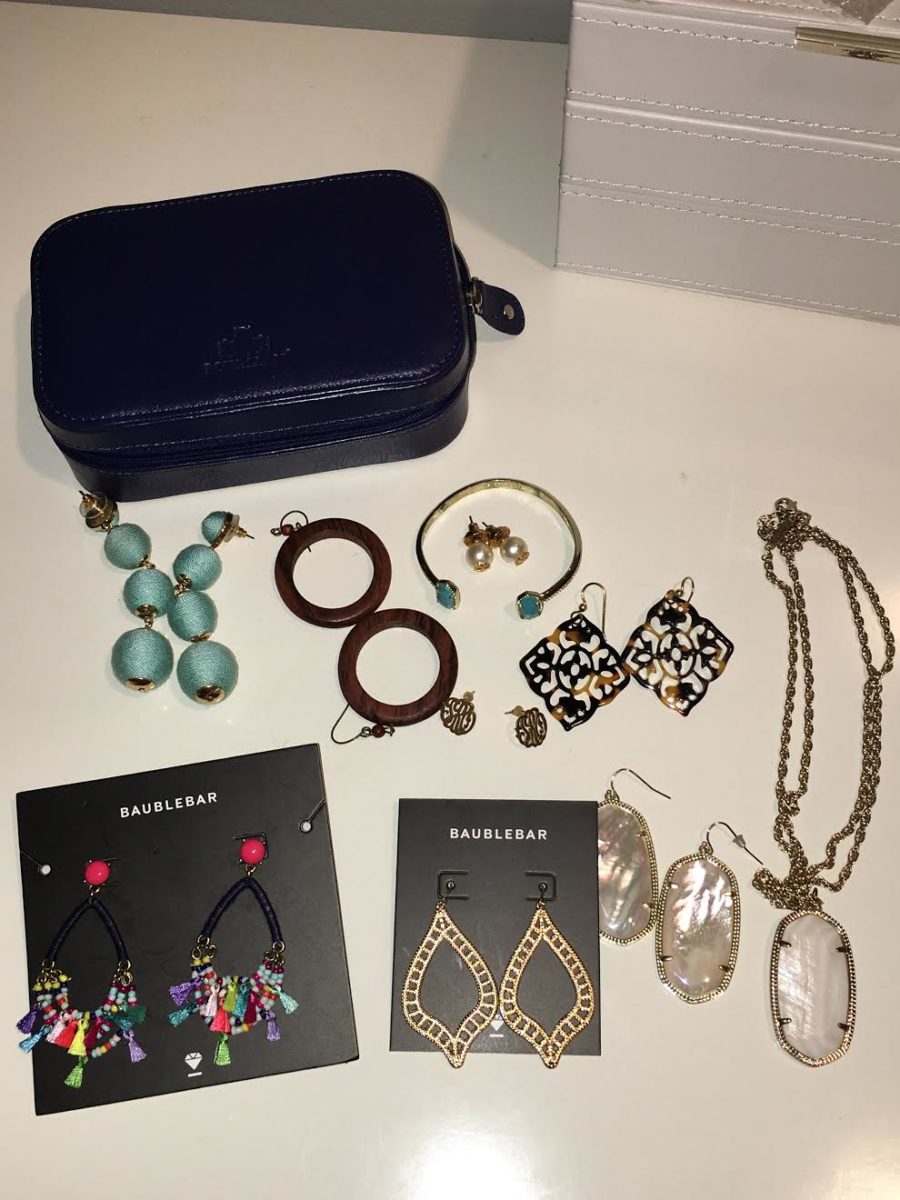 // BAUBLE BAR TASSEL EARRINGS // 
Most curlers/straighteners/blow dryers are not dual voltage, so check yours before bringing it.  I got a cheap dual straightener/curler on Amazon for the trip.  We also are addicted to our steamer and never travel without it – to us, it's a necessity. This little mini travel steamer barely takes up any space at all and is a dream.  It's also dual voltage so it can be used internationally.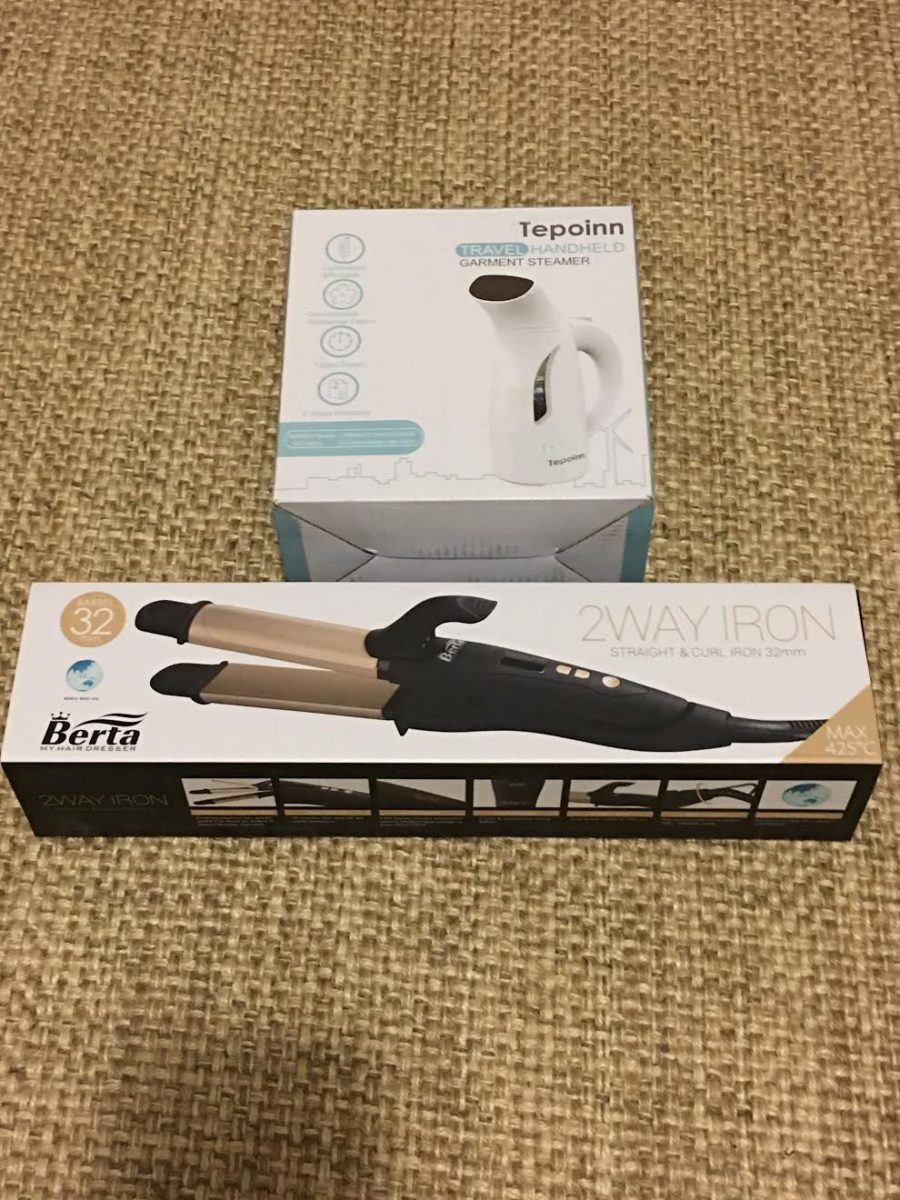 // TWO WAY IRON // TRAVEL STEAMER // 
I also packed a jean jacket and two thin long cardigan sweaters but I don't have a photo of those!
To end, a summary of some packing tips! If you are doing a big trip to Italy and going city to city, check out my other post for super specific packing list! 
Tips for Packing for 2 Weeks in a Carry-On Only :
Try to stick with solids or a main color scheme so that you can re-wear items as needed but change it up for a different look.
Do laundry as needed.  We brought a small travel size Tide and had access in our AirB&B to laundry, but last time in Italy we washed our underwear in the sink and then hung it to dry across the hotel room.  Classy. But whatever works!
One hanging toiletry bag works best for small bathrooms and easily being able to pack and go from place to place.
It's not the time for trendy and fabulous – unless you want to check a bag.
It's also not the time for anything expensive or that would devastate you if lost or damaged.  when moving cities and switching hotel rooms or air b and b's constantly you could easily leave something behind like that necklace or earrings
Accessories are the best way to change up your looks if you have to wear a dress or an outfit more than once, and jewelry takes up barely any space at all in luggage.
Packing cubes are a dream.  They also come in handy as the trip progresses for keeping dirty clothes separate from clean clothes.
I'm a roller not a folder; I roll everything I can to maximize space and I also pack socks and underwear into any nook and cranny I can find and into shoes to maximize space.
Wear your bulkiest items on the plane to save room in your suitcase. Also, wear layers on the plane – it goes from hot to very cold easily.  Have your socks and scarf ready and waiting in your carry on for when the cold temps kick in!
Pack everything you will want to have with you at your seat on the place in your purse that you put in your carry-on bag.  Then just pull that out and stow your bags in the overhead compartment to have optimal foot room.
Wrap your shoes in shower caps from hotels or plastic bags to keep them covered. Pack socks and underwear into shoes to save space.
Don't forget converters – and more than one.  With phones to charge and hairdryers to switch over, you'll want at least two minimum.
If you can, leave room for souvenirs along the way, or pack a collapsible bag so that you can check a bag on the way home and have room for everything.
I hope this helps! Oh, and I never wear make-up on these flights, which is another tip.
So ignore my shiny face below!