Cheers to Friday!!!
Today's "lewk" is a step outside of my comfort zone and into the extreme comfort of these ruched ankle pants.  I feel like I could call them joggers, but then I just hear the boston accent saying "jah-gah's" and I'm like "eemmm that may be too far out of my comfort zone." But yes, they're like a jogger.
And they feel LIKE BUTTAH.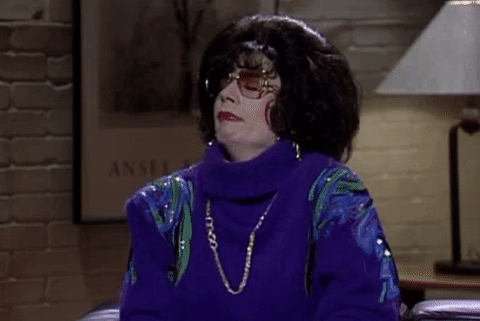 I first wore these to and from the beach for Christmas with a simple V-neck tee and I fell into a deep deep love.  They are SO cozy and work just as well with sandals and a tee as they do with heels.
I decided to try them out in a dressier outfit with heels but kept it simple with a tank and jean jacket.  I'm excited to see how else I can style these in the coming months! I feel like a denim jacket is a staple you have to have.  I have had this dark wash shrunken jacket for 10 years, but I also have a distressed lighter washed denim for a more casual look.  There are so many great options right now that I keep seeing so I'll link some below!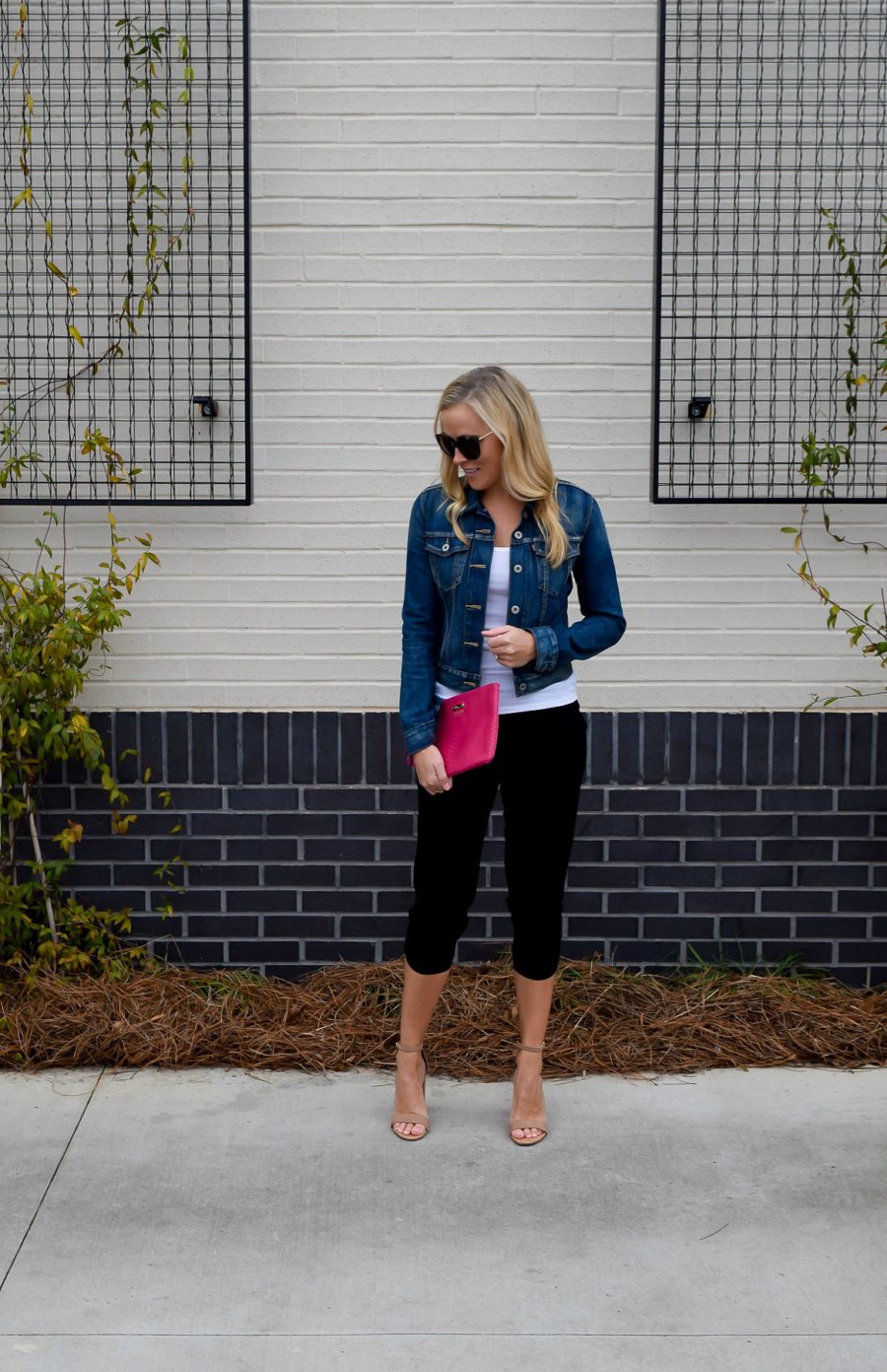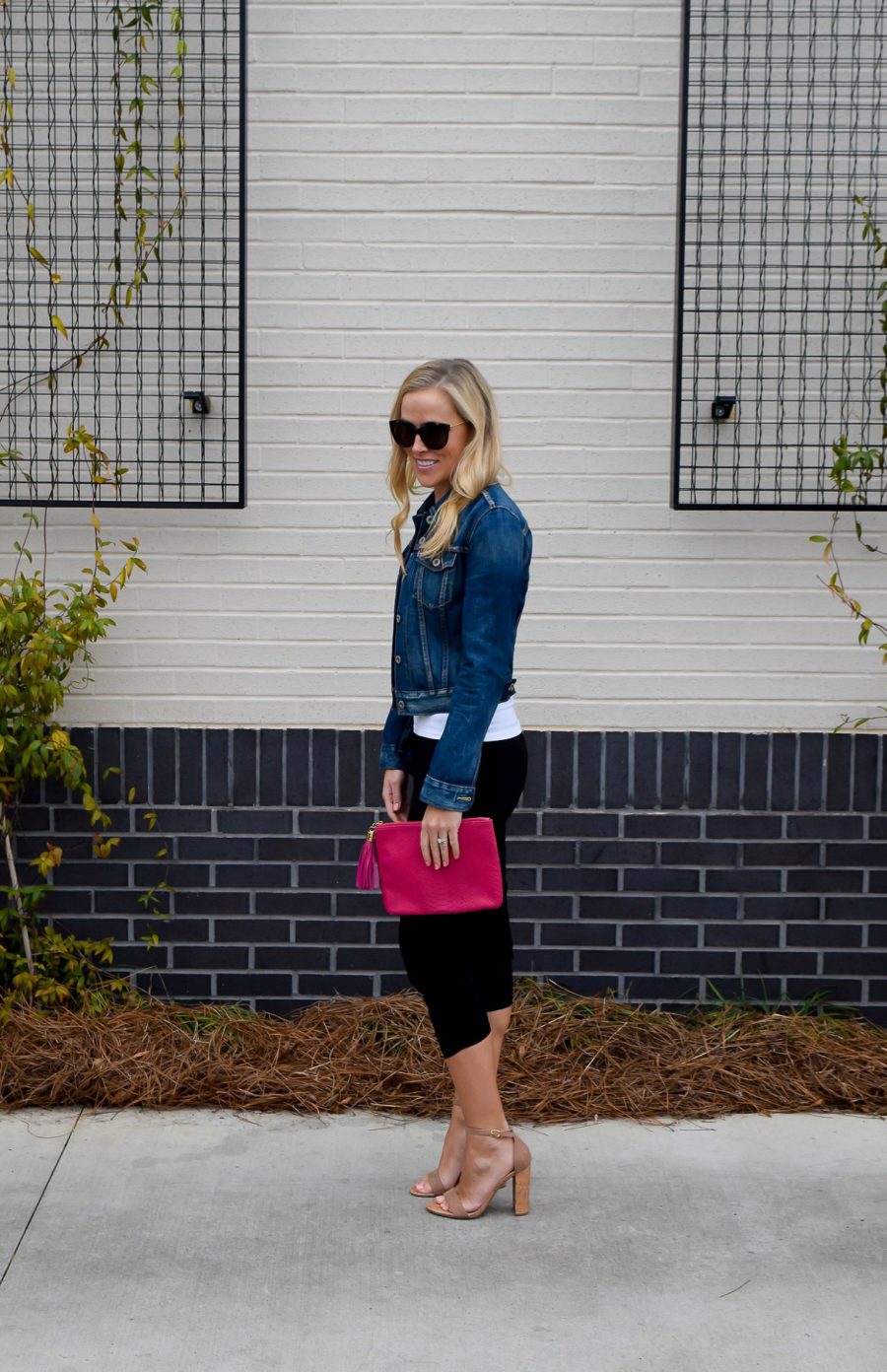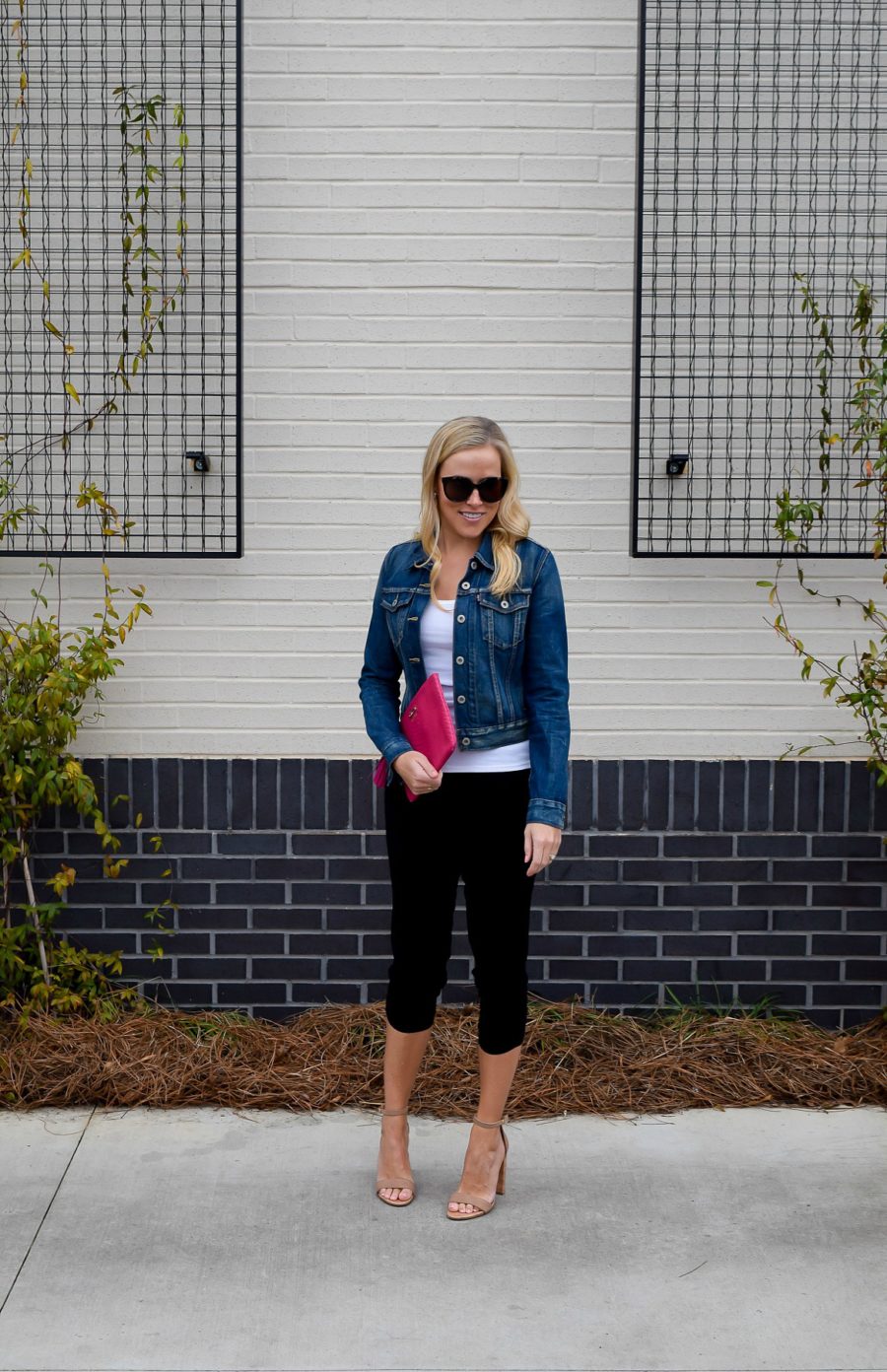 // RUCHED ANKLE PANTS  aka Jah-Gah's //  size down one – run large!
// SIMILAR DENIM JACKET // CORK + SUEDE HEELS under $30 // PINK MONOGRAMMED CLUTCH on sale //
similar denim jackets all under $100
(and this one has a ton of 5 star reviews, as well as one from me!)

:: FAVORITE FINDS ::
One of my favorite dresses is in a gorgeous new color (and still in tons of other colors too!)
And there's a new gorgeous green color of another favorite dress of mine too!
Would love to have this Coffee Table Book – all of the best views in NYC – such gorgeous images! 
I snagged this wrap front romper for 40% off to try at home; I love how formal it is for a romper!
Adore the delicate details in this under $25 sweater.
Serious designer sunglass sale going on right now. 
I can't believe these sconces are from Target – I'd love to have these in our bedroom!
A great relaxed shirt to pair with denim for daytime.

This purse has interchangable fronts so you can have multiple looks for one purse. 
Easy transitional dress, perfect for any occasion from church to cocktails, for a total steal.
This navy top is so versatile; would be great for work with pants or a skirt, and equally great with blue jeans now and white denim later.
Love the simple detail on these high waist (fav) workout leggings
Gimme this color coat.  Such a gorgeous pop of color.
an under $25 top that works for work or weekend.
Such a unique top – longer, belted, striped – that would great with white denim, leggings, or even as a swim cover up.  All for under $50!
This robe is on sale for only $22! Just in time for V-Day.
How cute is this under $20 pink satin sleep set!?
   also love this PJ set! I am clearly a sucker for PJ sets …. 
:: LINK LOVE :: 
I saw this NFL Year in Review on Facebook and thought it was pretty funny! ( I have only seen the first bit when posting this, because it's about 8 minutes, but what I saw was good!)
Love advice from women who've been married over 40 years. 
What a nutritionist eats when she starts to feel sick (because I am uhb-sessed with not getting sick, more than ever.) And surprisingly, NACHOS are on her list! Yay.
5 Things women with perfect hair do before bed (Key: Dry Shampoo BEFORE bed, not right before running out the door.)
Bedtime Hacks successful people swear by (found this one in Cupcakes & Cashmere's link list last night…. while NOT practicing successful bedtime behavior….) 
A $45 Million Hamptons Estate. 
8 Romantic Comedies to watch for Valentine's Day (I have seen none of these!?) 
:: THE SARCASTIC BLONDE :: 
In case you missed any posts this week, here is a round up :
SUNDAY STEALS AND DEALS // LEATHER LEGGING OBSESSION
WISH LIST WEDNESDAY // COFFEE TALK // HAND BAG FLASH SALE
Have a wonderful weekend!!!!!