Leather leggings.  A staple for winter wardrobes.
I have had a pair for a few years from BLANKNYC, but had been wanting to get a pair of the control stop super skinny leggings that everyone raves about.  The Spanx leather legging is the one that is the overwhelming popular vote, but I have ordered them twice and sent them back.
I thought my first pair was "off" and that is why I ordered them a second time to try again, but nope, they just don't do it for me.  To me, they don't look like leather.  They are a grittier material – not smooth and supple like a faux leather.  They also don't look black to me – they are a very dark grey, ALMOST black but not quite back.  I know everyone seems to love them, but I'm here to say Nay Nay to the Spanx leather legging.  but feel free to give them a try because I seem to be in the minority! z
Instead, I feel in love with another leather legging – the Commando Leather Legging.
I tried to show in the images below the difference in the color and texture between the two, but it wasn't the best lighting (and I had to get the other pair returned while it was still free shipping!)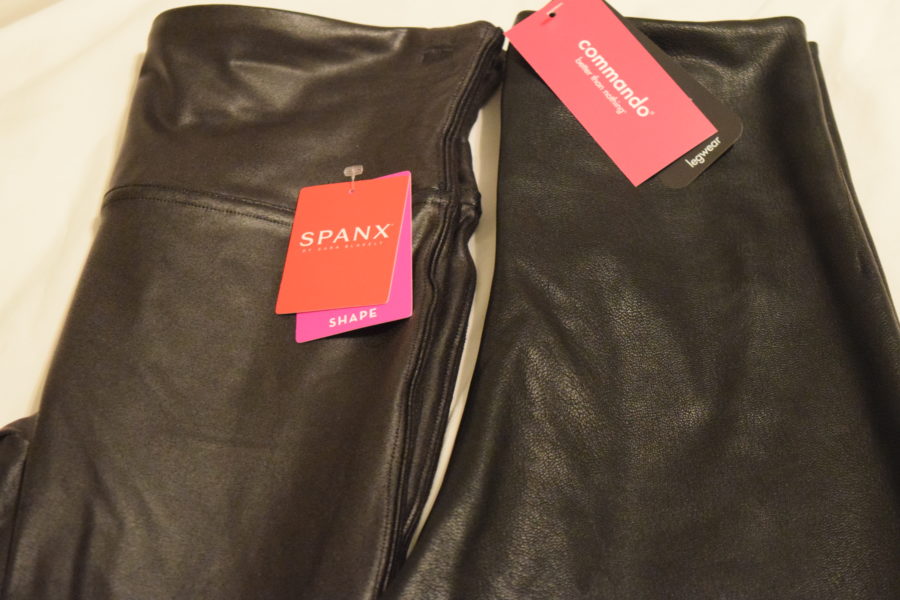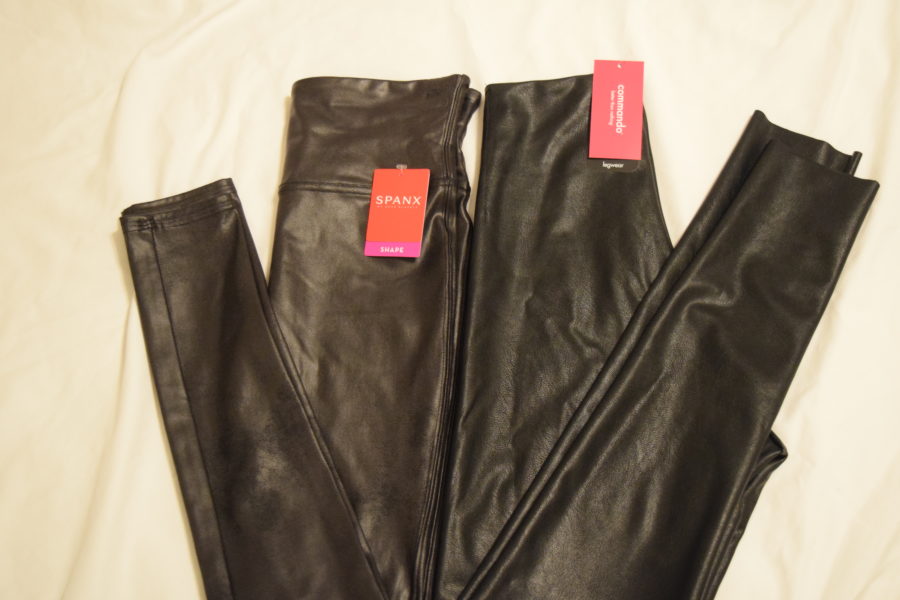 I came across the Commando Leather Legging and thought they would be worth a try, and they DEFINITELY are! They are so soft, as comfortable as it gets, slimming and hold you in without having the top roll down when you sit or bend, and they look like the faux leather legging that we all want!
I can't recommend them enough (and I am so glad that I didn't settle for the Spanx (no offense Spanx…. I love your underwear & everything else – just not the leather legging….))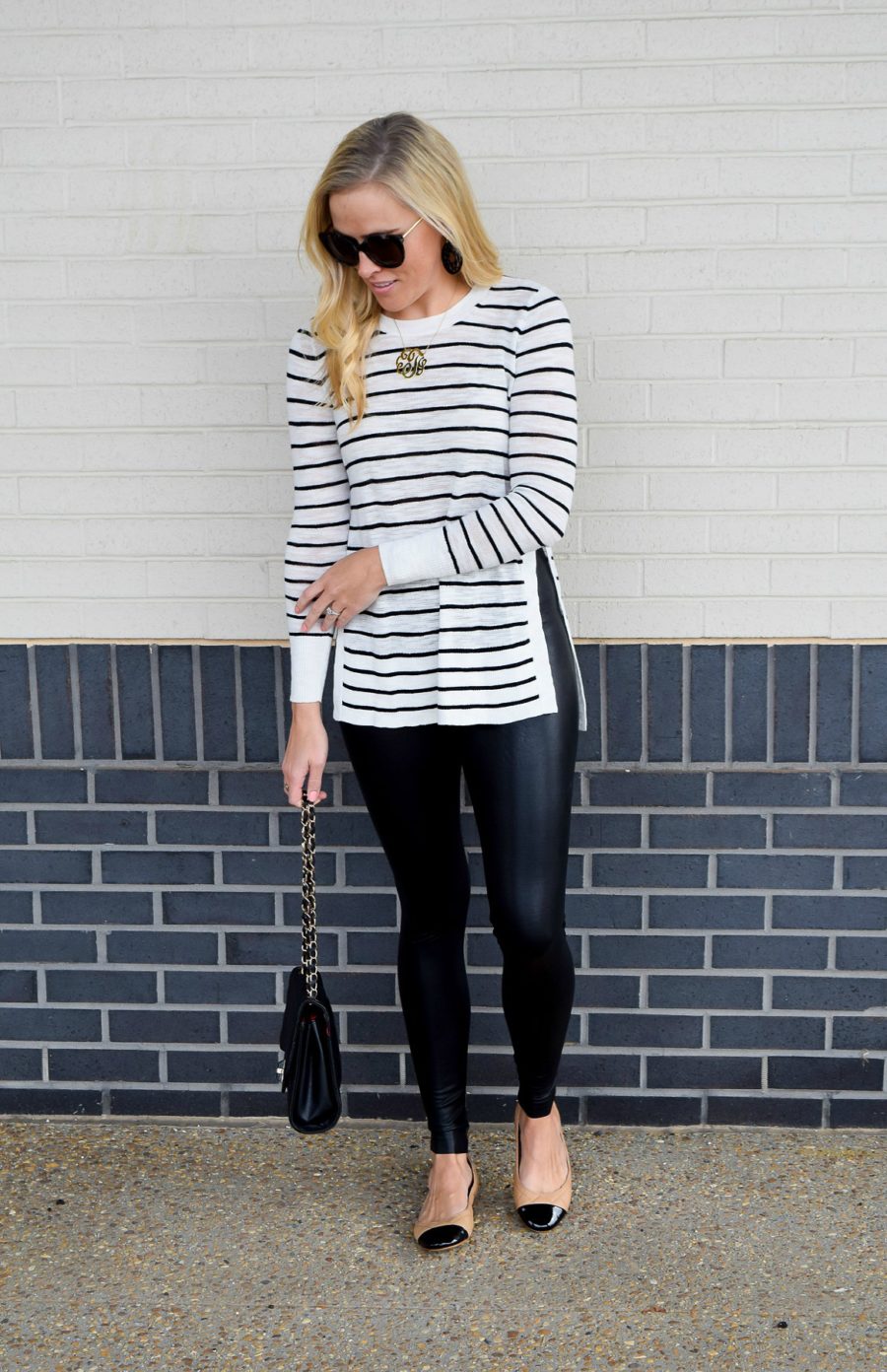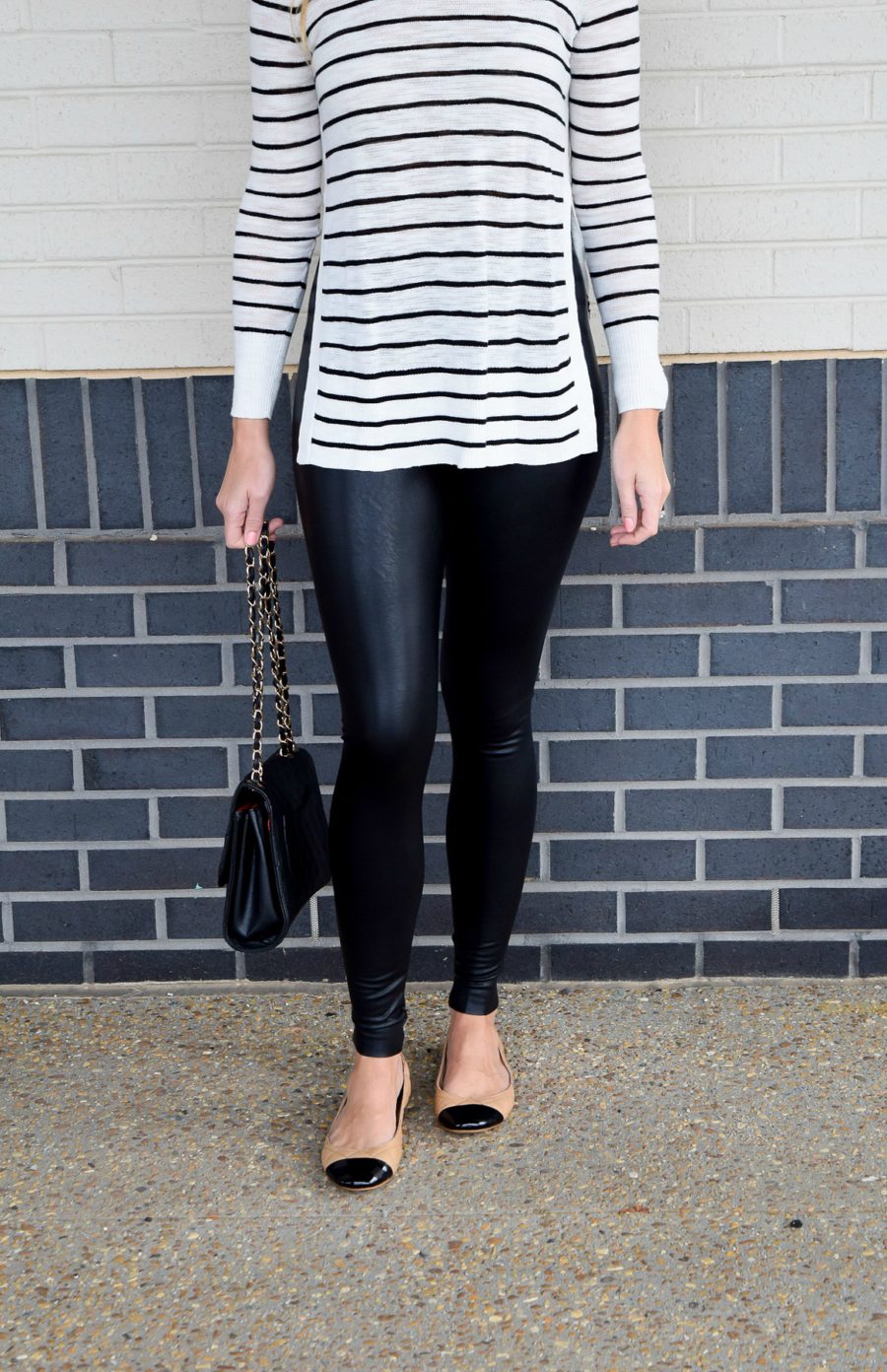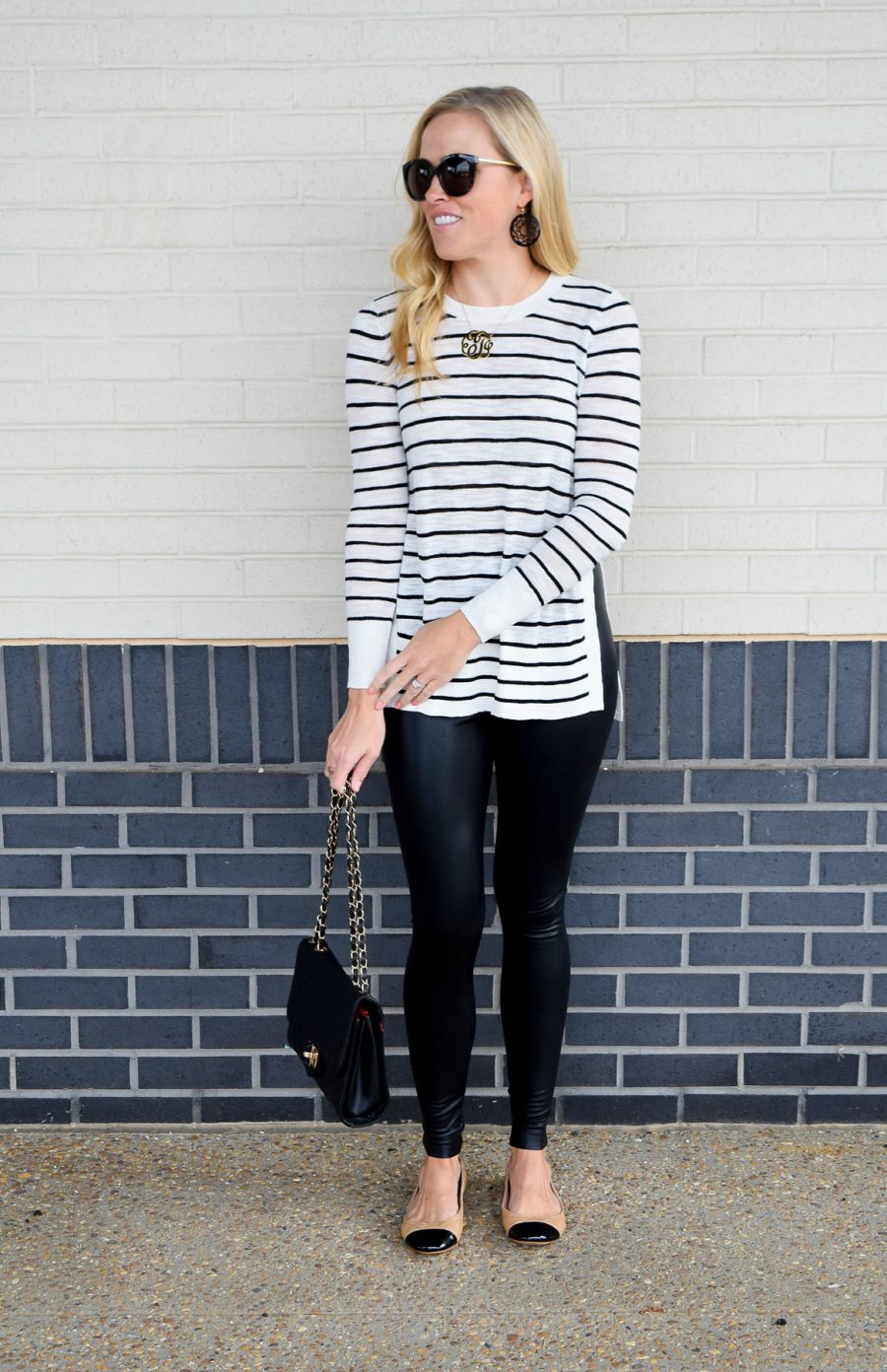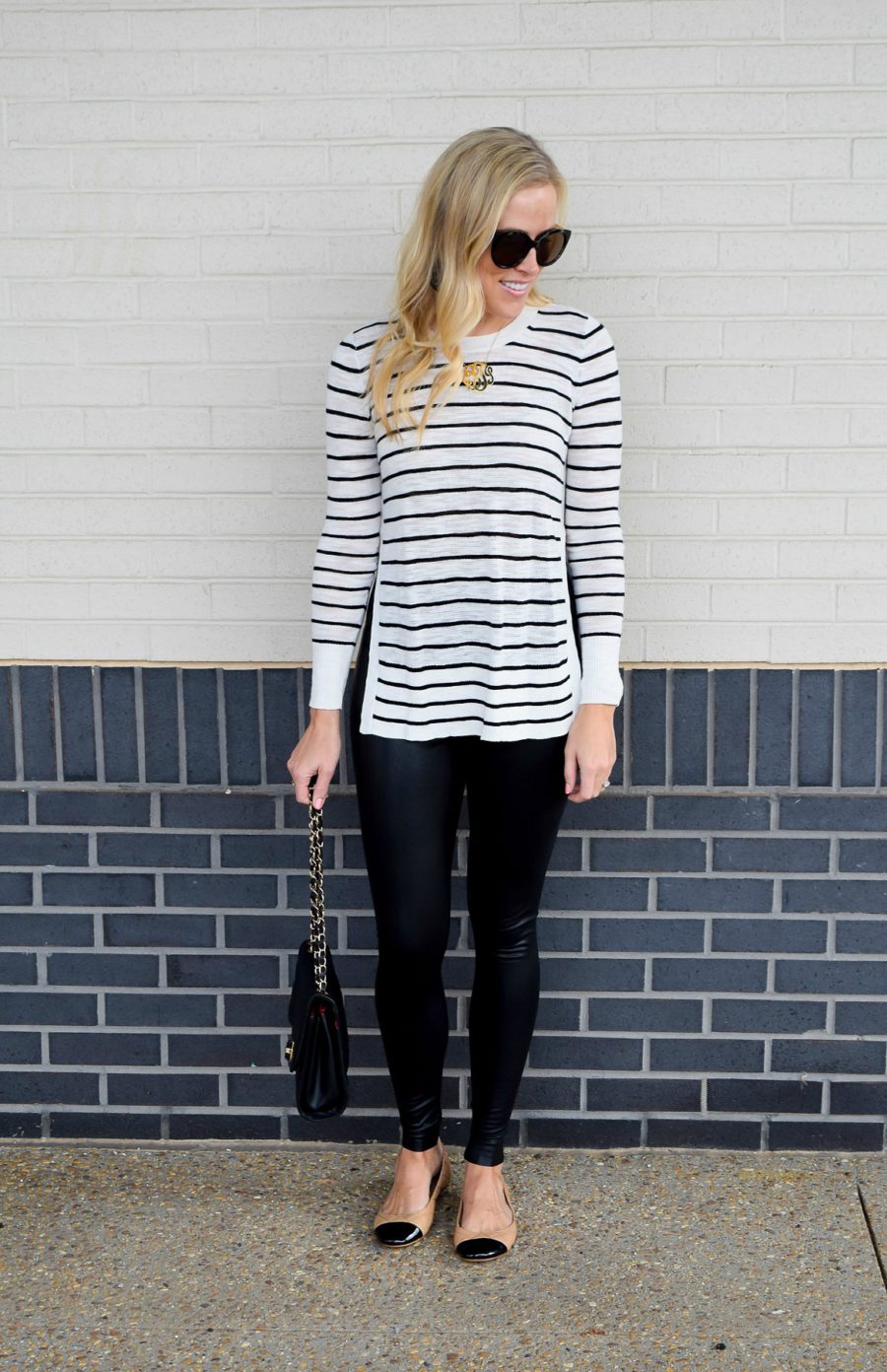 // COMMANDO LEATHER LEGGINGS //they run true to size – I'm in a size S
old Splendid sweater // old Steve Madden flats
// ALMOST IDENTICAL FLATS UNDER $100 and SIMILAR BALLET FLATS and SIMILAR BALLET FLATS // SIMILAR PURSE // 
SIMILAR PURSES :
SIMILAR STRIPED TOPS (or not similar, but striped tops I love!) :
and I promise,
no strange noises on couches, and no lotion or baby powder
forming a paste required to get these back on!