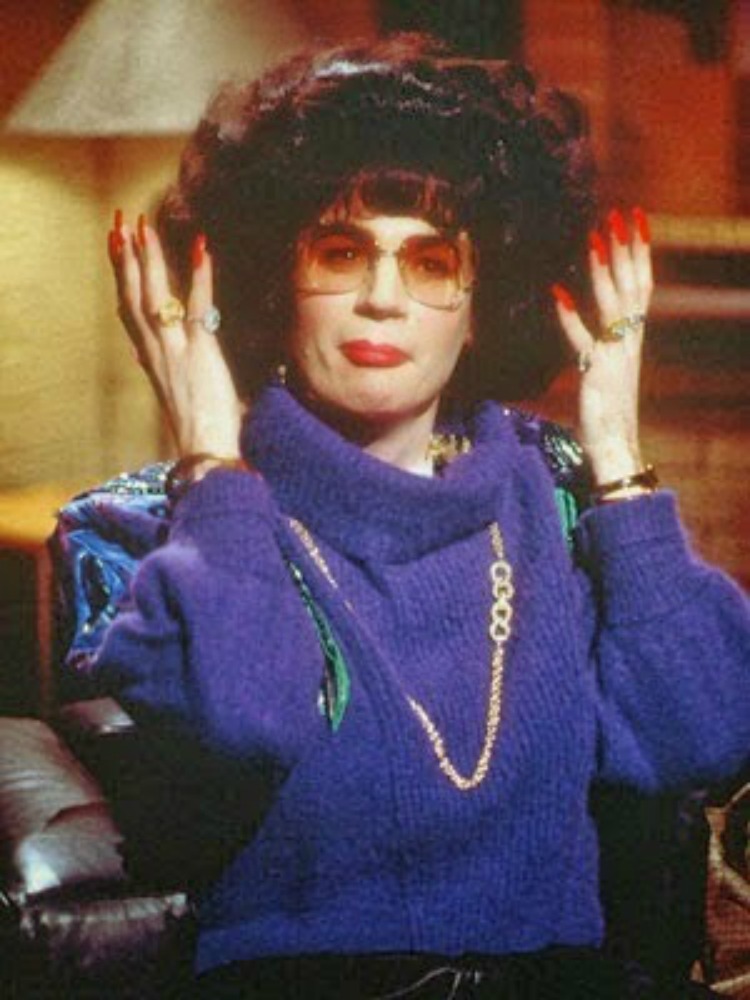 DISCUSS AMONGST YA-SELVES……
:: The Bachelor ::
We've arrived in Paris, so that the ladies can squeal and act like loud children in another country that already hates Americans and thinks we all act exactly like this and the way the Jersey Housewives behaved in Milan.  How nice!
Lauren B, the girl that came out of nowhere last week, was chosen for the first date: A day wandering Paris in complete and utter silence.
Lauren B is very pretty, and very reminiscent of Emily Maynard – the Bachelorette he fell in love with, but Lauren B has absolutely NOTHING to say. Not a damn thing.  Not a comment on the artisan crafts or jewelry they are passing by in the open air market.  Nada.
I'd love to see the 27 producers sitting and watching this date of pure silence and losing their minds.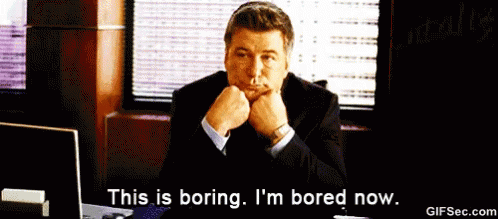 We make it to the evening date and just can't wait to watch what unfolds….. Oh….. well, they talk a little bit…. They literally just talk about how crowded it was that day.  YAWN.  And that Lauren B was scared? Why was she scared walking the busy streets of Paris? If they are referring to fear of terrorist attack, I get it and I'm 100% on board with that…. but Lauren is so meek that I am wondering if she is actually just terrified of walking around?!
If you don't have anything to say to one another when you are walking around Paris and through markets and sight seeing, what in the heck are you going to talk about in your kitchen eating dinner after work?
although…. I prefer to listen to a podcast while I make dinner and then we've summed up our days about 10 minutes into dinner and find a mututally compatible TV show instead… so who am I to judge! we talk on dates I promise….. and we used to talk when we were young and dating (although he probably ignored everything I was saying)…. but honestly – I have Bravo to watch people!!!! 
Right as we hear for the 900th time that it's "hard for her to open up" and I am about to fall asleep on my couch, Arie drops a BOMB.  Like, one that I don't think anyone knew before this(!?!?!) He says he had FATHERED A CHILD with the previous woman he was dating (one of the single moms) but she had a miscarriage and then dumped him.
WOAH.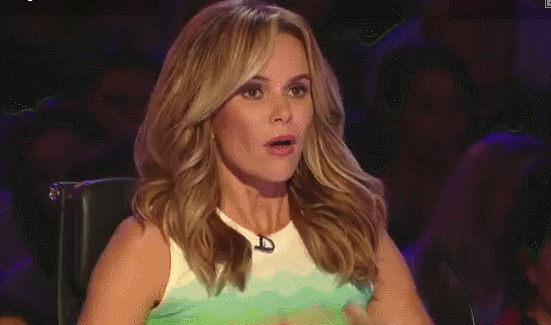 I don't know if I am more shocked with this news or the fact that he actually spoke and said something other than THE DUMBEST filler comments ever, but I AM SHOCKED.
She follows it up with a broken engagement, which would have been something, but, sorry Lauren B, not even close.
So….. after all that "opening up" – they forget that they literally had ZERO things to say to one another and she gets the rose.
The Group Date: Moulin Rouge
The girls arrive at The Moulin Rouge.  The amount of squealing and woo'ing and screaming is even more embarrassing than I had anticipated.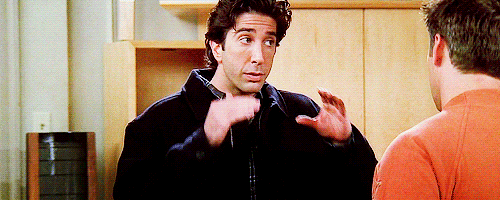 I'm shocked the instructor walked out smiling.  Even for the Bachelor, this was excessive.  Do you think ANY of them are embarassed about having to act like this? Or are they just this young? Or drank the Kool Aid?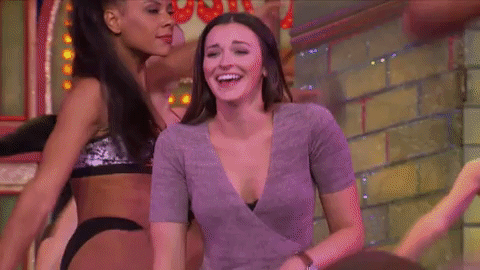 Speaking of young and drinking the Kool Aid, they are all dressed in bra tops and thongs.  I would DIE. I would literally walk straight off the stage.  Would never, ever happen.  Although…. they all walk around in crop tops so I guess only the tush part is something new, but seriously, I WOULD DIE.  Of course they all look amazing, but shockingly none of them seem to have a problem with the ensembles.
well…. except the comfort level……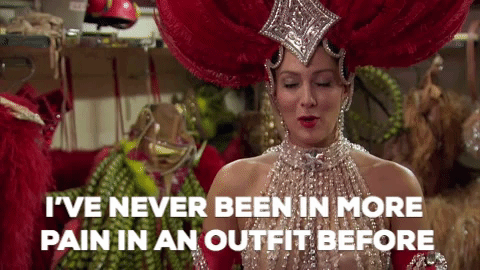 Baby Bekah wins the rose for the date and gets the stage time with Arie, and as nuts as she makes me, she was made for this.  She puts on a show onstage like it's her job.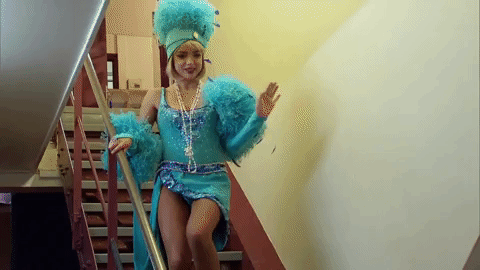 side note : she looks great as a blonde!?

Which is probably why she drives me so crazy – she is always SO animated and smiley, as if she is always on a stage performing.  but seriously, not to sound like a permanent RBF, but does ANYONE smile that big ALL THE TIME?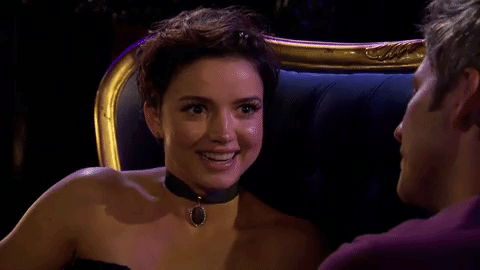 The Two on One Date
Speaking of giant fake smiles, Krazy Krystal has been looking forward to this date all week.  Of course, the villain is always on the two on one, so she isn't surprised.
They go to a French Estate and kick off the date by having the girls search for him in a garden maze.  There isn't really a prize for Krystal finding him first except that now Kendall has to just wander aimlessly.  Again, sometimes I think these things are just the crew placing bets and coming up with ideas to make their long days more enjoyable.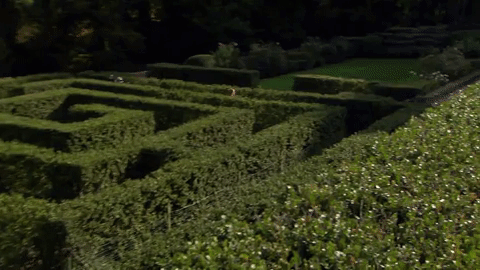 Krystal continues her rambling motivational speeches of nonsenese that she probably read on Pinterest that she preaches to the other girls and now with Arie :  "I don't wanna throw away all of the color and texture and depth of our relationship."  Now… what color IS your relationship?  Is the texture, like, a smooth suede? or a smooth leather? Or is it rough but nice like a Chanel tweed? Lemme know……
I think what I can't stand more than her raspy fake voice is the Mmmmm Mmmm Mmmmm agreeable noises to everything.  STAHP. Please.  I'll take your nonsensical words over noises for words.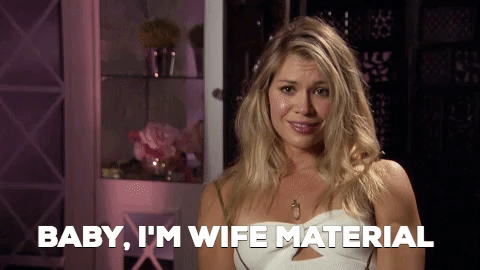 She throws Kendall under the bus saying she isn't ready for marriage, which he then repeats to Kendall.  Instead of Kendall getting mad, she is strangely so nice to Krystal and says she can empathize with her (yettttttt sorry not sorry she still seems like a strange bird that collects Taxidermy and would eat people…but I did enjoy her this week)
When Krystal tries to act like she doesn't even understand why she is there she turns the tables and says that "saying something hurtful to someone or about someone else doesn't mean you win, it just means you are hurting someone."  Krystal has no idea how to respond to someone being honest AF about her bullsh*t but kind to her at the same time to her and suddenly she is pretty speechless.
Arie dumps Krystal – which is Ah-mazing….. yet we don't get too much out of her…. so it was also a huge let down…. DAMN.  And now she's gone! The next few weeks are gonna suck!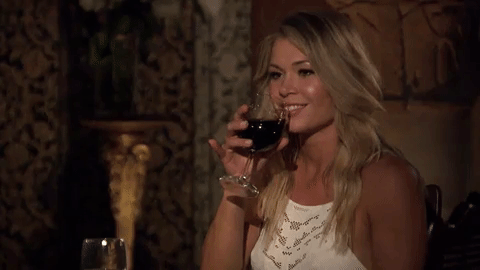 One on One with Jacqueline
I love that the car breaks down 2 seconds into their date and the car guy can't fix the car.  I'm sure it was something complicated, but I enjoyed that a bit.
Jacqueline also came out of nowhere. She does A LOT of hair flipping and head tossing – so much that I am worried about the state of her tiny neck and hope she sees a chiropractor on the reg. (Does she also always have eye make up under her eyes that is smeared? Or make up that has yet to be removed? Something is going on here……)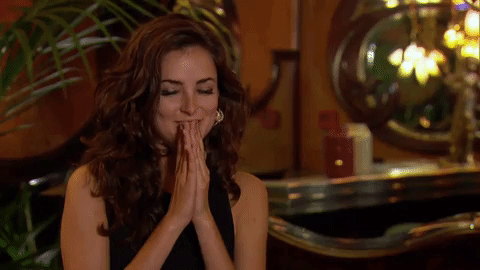 But, they bond despite their completely different lives and he gives her a rose.
She seems far more intelligent than him, like Sienne, so perhaps he is keeping the quality women around because they make him seem smarter or maybe because the producers need some legit options for the next Bachelorette.
Now that Krazy Krystal is gone….. I don't even know what to look forward to…..
I do not watch the previews because they show EVERYTHING.  It's insane!? Why do shows do this!? Like, in case any of you wanted to see the new 50 Shades of Grey movie, just watch the trailer, I've seen the whole movie about 97 times because they WON'T STOP PLAYING THE COMMERCIAL.

I've never seen any of those and feel like I need to get on the bandwagon….. (but again…. I know everything that happens from the trailers…..)
but I digress…….
:: Update on Baby Bekah on Missing Persons List ::
So, in case you missed the news, Bekah was listed on the Missing Persons List by her mother (presumably when she was on The Bachelor) and the story went viral last week.  Oh, and look. at this. pic.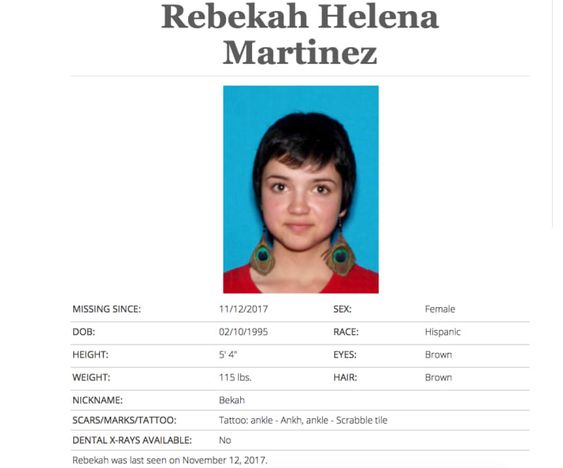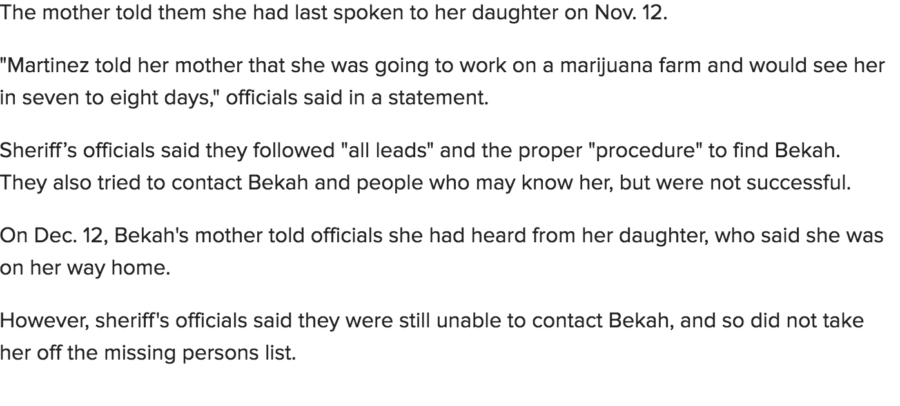 It was an interesting report, particularly the news that she can be identified by a Scrabble Tattoo (but of course) and that she told her mom she was "going to work on a marijuana farm and would be back in 7 or 8 days."  I mean…… this just really cannot get any better.  apparently she is now removed from the list after it all went viral, and she tweeted out  "MOM. how many times do I have to tell you I don't get cell service on The Bachelor??"
:: Queer Eye :: 
Is back on Netflix – but with new guys, not the OG's.  I LOVED this show so much with Carson Kresley and the original people, so I have high hopes for this.
But really, Carson was the best.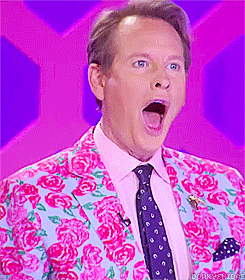 :: Vanderpump Rules :: 
The only thing I really want to talk about this week is Tom's three brothers that come to visit from Yulee, Florida, but I will do my best to discuss other things.
I really want to know more about these 30 year old triplets that live at home and never seem to get on airplanes.  Like, a LOT more. THIS would be a spin off I would be interested in.
Tom Sandoval goes on a shopping spree for them, which should come as no surprise for Tom Sandoval, but with whose money I'm not sure? The outside of this "suit place" looks RULL sketchy. And by sketchy I mean sketchy but I also mean super cheap and gross.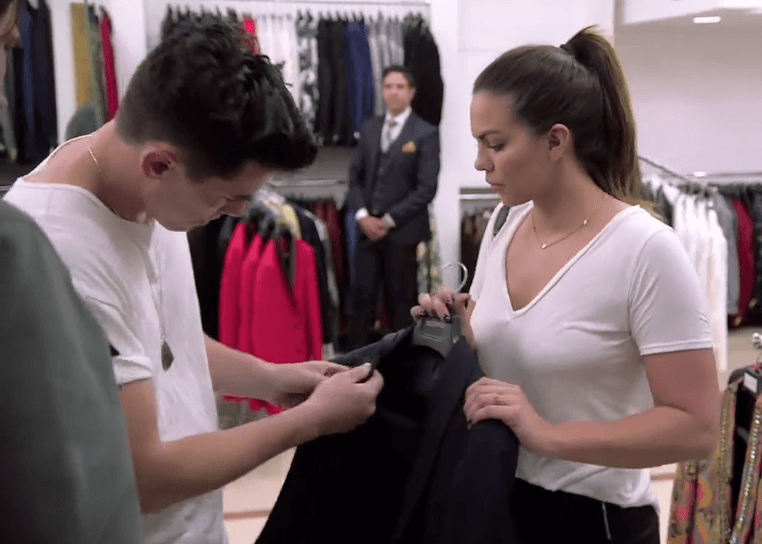 After shopping for the man-boys, he then lines up clothes and shoes when they arrive to "style" them in.  He gets them UNDERWEAR and everything.  Again… so many questions about these triplets.  I'm trying to be as polite as possible….. and it's getting difficult.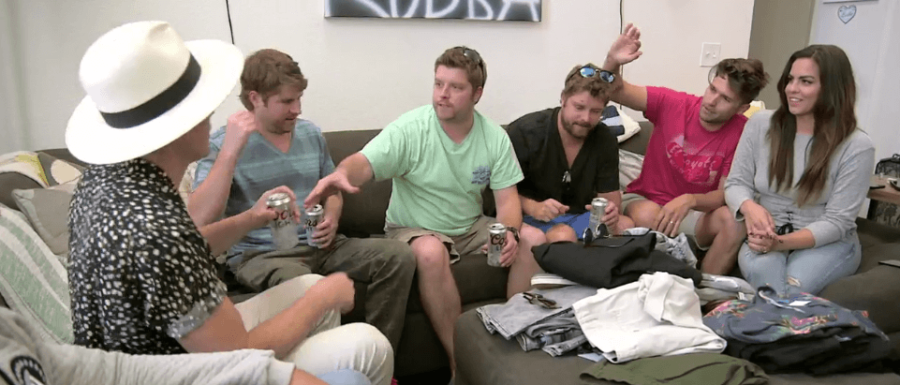 But I am confused? Are they a charity case or just a hopeless case or what? What message is this sending to them that they can't even have underwear, it must be picked out for them?  Maybe Tom just thinks he is trying out for the new season of Queer Eye and wants to be the wardrobe stylist.
At one point, they get haircuts #sponsored by Priv in the middle of Katie and Tom's living room.  They put nothing down on their FURRY SHAGGY RUG and let the CHUNKS of hair just fall ALL OVER IT.  I am so disgusted.  (seriously how much does Priv pay for all of these plugs?! It must be insane!?)
BUT.  The highlight of my Triplets episode is when Tom says "alright guys, lets get you dressed!"  The camera cuts over to one brother that is TRYING to put on his JACKET and needs assistance.
HE CANNOT GET A BLAZER ON.
HE NEEDS HELP.
PUTTING.  ON.  A BLAZER.
Tom has to tell him to take it down the one arm a little bit in order to get the other arm in.
I. CAN. NOT.
Okay I will stop now because honestly that makes me wonder a lot of things and perhaps I should not be commenting at all…….
To end on a high – the triplets look great and could not be happier to spend time with these awful d-bags of people in Los Angeles.
What else happened……I'll try to find topics other than the brothers to discuss.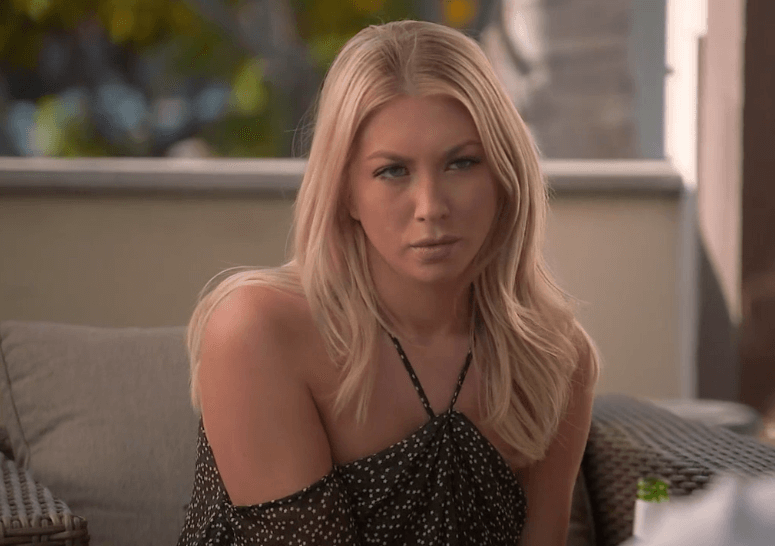 Stassi is going to interview her transgender coworker Billie and it brings up all the stuff that has gone on in the press with her choice of words and ignorance.  I bet she is freaking out that all of this is airing and being brought up again because I think she had a lot of battles and lost sponsorships the last few months.
Lisa is having an event (with Tiny Mark from BH Magazine! Yay for more Tiny Mark!) and everything is going horribly because she relies on her Sur staff to work it.  Lisa…. this should be no surprise. The only time they "work" at Sur is for filming and half the time they are drinking and smoking and yelling in the back alley, not working.  Not the smartest move for a magazine that is supposed to be super swanky and "Chi Chi Chi"
There's a real awkward moment when Katie is serving drinks and Kevin Lee makes a comment to her about her weight. And then not only that…. he doesn't stop.  He goes so far as to say "I can tell you've gained weight. You have to work on it. Seriously, I'm telling you as a friend.  It's out of control now I can tell."  YOWZA. (I read that LVP isn't following him on instagram anymore…. could this have caused a big uproar?!)
Jax says "fight'ed" in his diary confessional thinking it's a word.  And then chips his tooth on a beer bottle.
and I know with these posts I should be the last to judge grammar, but I promise, it's because I am lazy and sick of reading my own words, not because I have the IQ of Jax.  I assure you…. just very, very lazy.

We end with Jax doing his fake "reiki" session with Kelsey, who is a pretty girl that stands in between his legs and touches him for an hour and keeps her face mere inches from his… so hmmm …. wonder why he is committed to that…….
My husband came in the room when Jax was saying he was a model and he said "He's a model?" in shock.  And I agree, the years have not been kind to Jax.  Nor has the plastic surgery.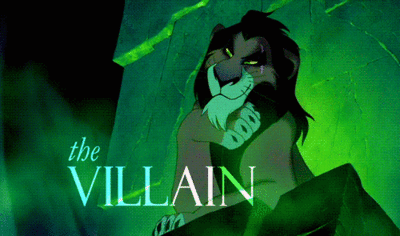 Then he says to call him his real name, Jason, and my husband got very confused when I tried to explain that one.
When they show the modeling photos, with his killer body, it's like UM YEAH maybe you should go by Jason because if Jax was your modeling name you look nothing like those photos.  Sorry, not sorry.
:: RHOBH :: 
My one nice comment about the Kemsley's for the week: I actually love that PEE-KAY says that Boy George only sings with people that can't sing.  She laughed it off, but I'm sure it was a blow.
She gives him her birthday present for him.  No, not the multi-million dollar car we had to watch her talk about and test drive for 10 minutes.  It is a $1500 3D figurine of her and the kids….. and Phoenix's head gets knocked off the second she gives it to him.  I'm not going to lie, I laughed a little too hard.
The majority of this week is devoted to the "who is better friends with whom" debate between LVP-Kyle-Dorit.  Dorit is still peeved about Kyle defending Teddi on the "yacht" (see notes below) and basically says that Lisa can butt in to the conversation but Kyle cannot.
Kyle gets very emotional over the convo and begins to cry.  While Dorit consoles Kyle, LVP just up and leaves the table.  Straight up throws a fit and is done because she didn't get to talk about her husbands sexual assault lawsuit being dropped.  (hmmmm if I were you I would quit drawing attention to it entirely, but what do I know…)
LVP could not be more childish.  When she can't be the center of attention and the star of the show, she seems to want nothing to do with it.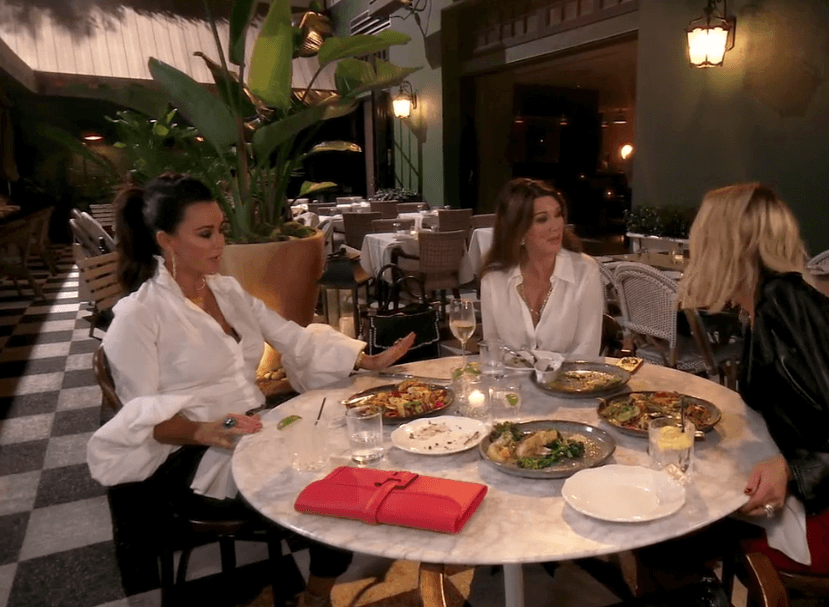 Kyle and Dorit bond over their shock with this behavior but Kyle gets really upset when she realizes that she doesnt know about LVP's upbringing or her jewelry line.  Kyle tries to get the last word in with "trust me Dorit, I've known her way longer than you and been friends with her way longer."
This is the stupidest thing I have ever seen in my life.  She's not that great – so quit fighting over her!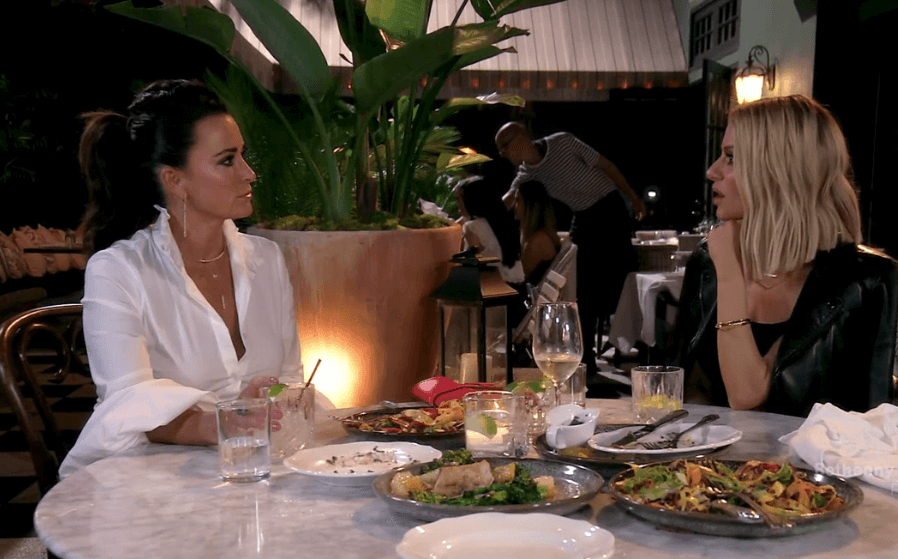 We make it to Teddi's Pot Luck sleepover at her Manhattan Beach House.   I'm mixed about the "pot luck" party.  What's the big deal about a pot luck!? No biggie! But these are Beverly Hills women, so, no thanks?  And they are all driving being chauffeured in traffic for who knows how long to get to this place, so something tells me that's not the time and place for a potluck.  And I also don't think corn hole on the beach works with these ladies or their ensembles…… (editors note: I don't even know how to spell chauffeured apparently, so clearly I am the person that WANTS to play games on the beach and bring myself some crack cake and a mayo based dip. So, Teddi, rich BH ladies are not your crowd clearly if this sounds right up my alley.)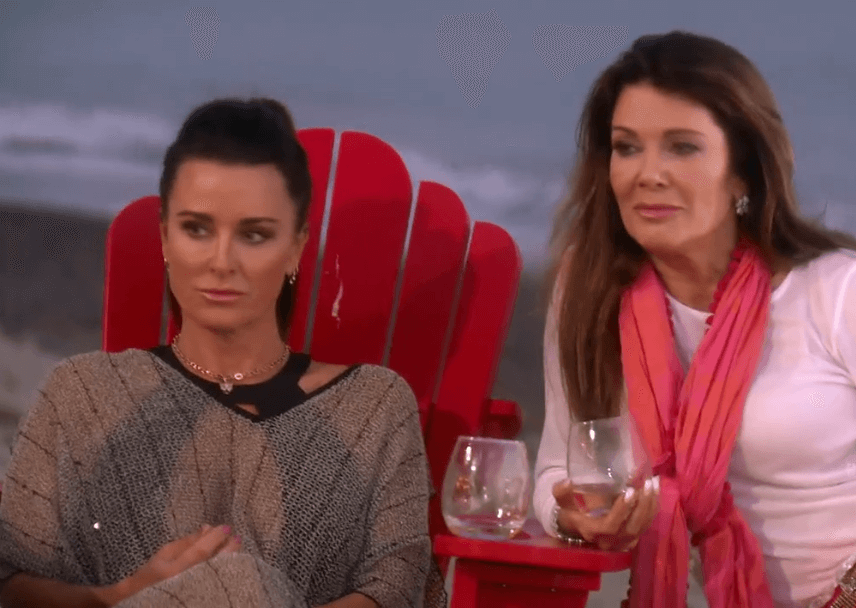 Why does Dorit act like this beach house is such a shack? There are less steps to the ocean here than there are to her front door from the driveway in BH!
OH.  But wait…. I have one more nice thing to say about the Kemsley's! Look at me!
That was very kind of her to bring all of that food to the pot luck that her mother-in-law made.  Tons of it! Very nice.
I'm also really not into Erika being friends with Dorit this season….. just really not into it…..Erika is fading fast this season….
:: PEE-KAY birthday Update ::
So…. I listened to Bitch Sesh, a Housewives podcast that I love, last week after already publishing posting Coffee Talk but I just had to share a tid bit!
One of their friends was ON the boat for the birthday, because her dad and stepmom or something of the sort know them.
Now, I'm not saying the party wasn't very nice, but that was definitely not a "yacht" that they were on.  They LANDED on a yacht on the Helicopter, but that boat for the party didn't look like anything uber-chic.
But the main thing is – after all of this disdain from Dorit over a server bringing her a drink in the wrong wine glass : The woman seated next to the girl had A FULL LATEX GLOVE IN HER SALAD when it was served to her.  A full on complete hand latex glove.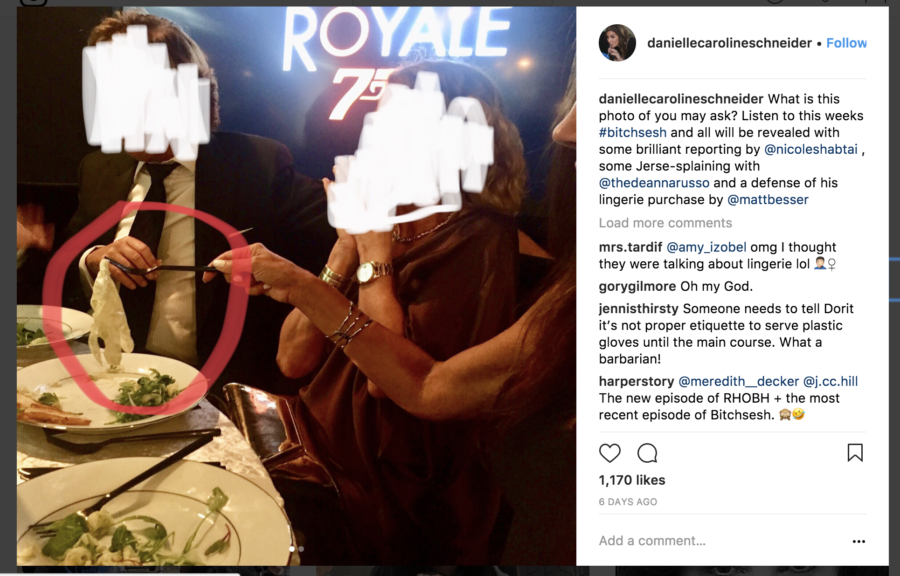 CAN YOU EVEN!? I just would LOVE if this would go as viral as possible so that my-boyfriend-Andy-Cohen could bring it up right as Dorit harps on about the wrong wine glass and continues to pretend she has an ounce of manners in her……
but I digress……
:: Jackhole of the Week ::
I can't handle these Kardashian baby names.
Stormi? Seriously?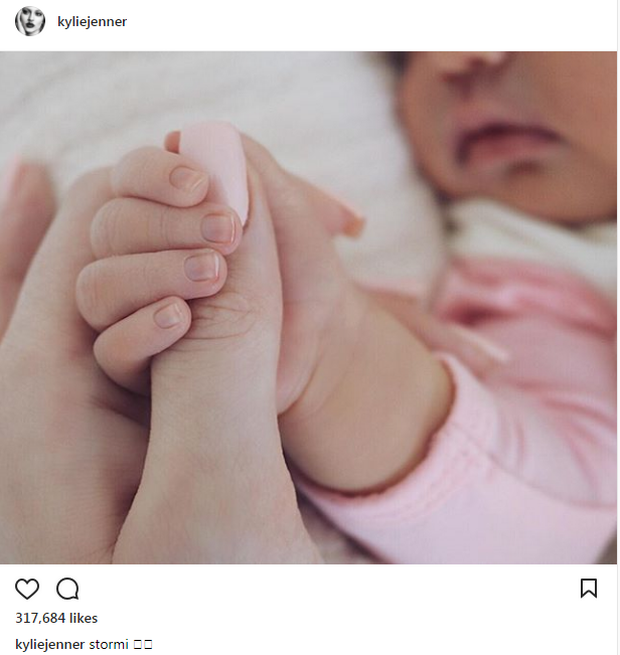 :: Mazel of the Week :: 
Sonja Morgan is now in the SHOE BUSINESS!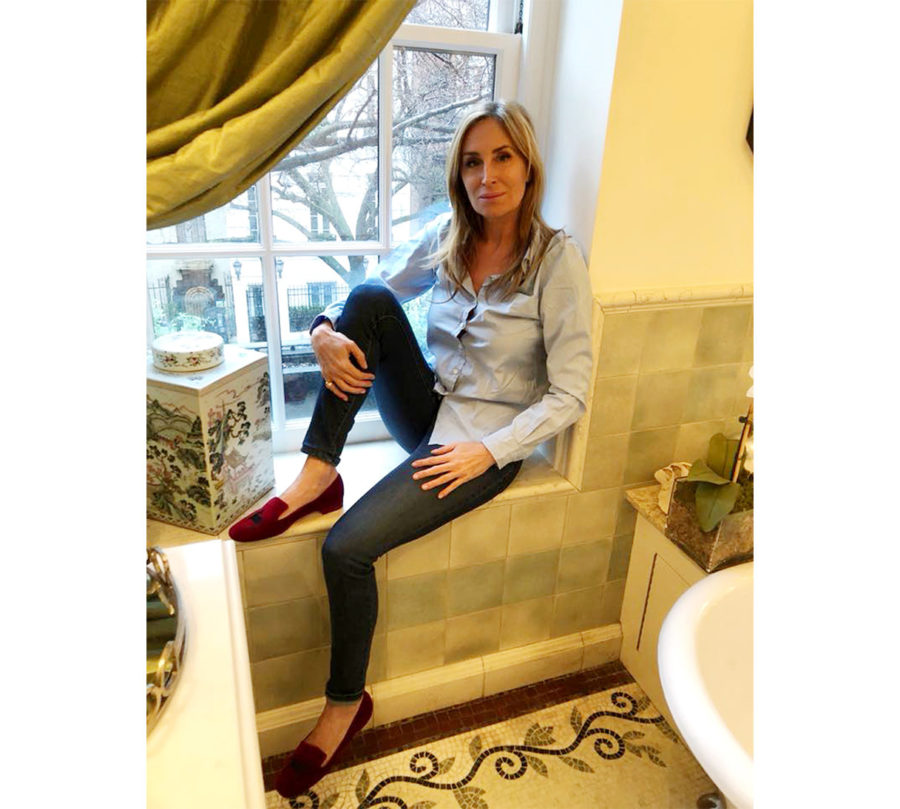 How DOES she find the time to juggle all of these business endeavors!?
She's a true entrepreneur!
PS. So excited for RH of NY I can't stand it! 
:: Celebrity Big Brother ::
Now, if you'll excuse me, I am off to watch the first of 3 nights in a row of BB.
and what on Earth are you wearing Julie Chen!?
:::::::::::::::::::::::::::::::::::::::::::::::::::::::::::::::::::::::::::::::::::::::::::::::::::::::::::::::::::
:: Editors Note ::
As always, ignore my own blatant grammatical errors
whilst I make fun of others poor grammar during Coffee Talk on a weekly basis.
#HYPOCRITE   #SORRYIMNOTSORRY
I write these posts late at night while simultaneously watching Bravo, taking snaochats of my snoring husband, and making to do lists of everything I was supposed to do and didn't do that day, and likely won't do the next day either.  Or the day after that.
IMAGES FROM : BRAVO, GIPHY, US WEEKLY, PEOPLE