Cheers to the weekend!
I wanted to share one of my outfits from our vacation before I recapped the rest of our weekend!
I ended up wearing this dress two times while we were gone, and now I know that I need to get it in more colors and also get the long sleeved version!
When I find something I love, I always get multiple colors.
Well… when I find something I love that is around $50, I always get multiple colors 🙂
I wore it one night with heeled booties out to dinner, and it works just as well with sandals for daytime!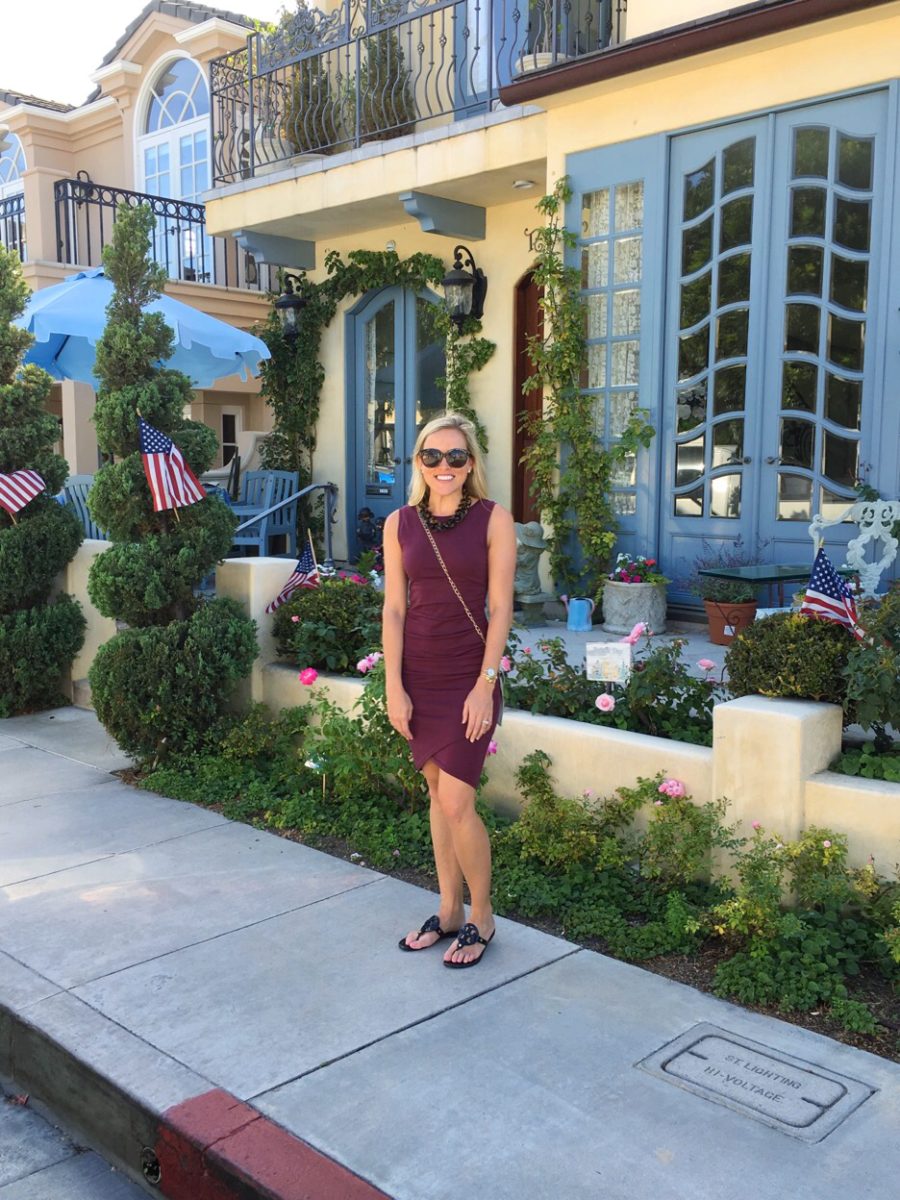 // RUCHED TANK DRESS //   // necklace, J.Crew, SIMILAR HERE for only $24// 
dress comes in 10 colors and is *fully stocked!!*  runs TTS or can size down
This dress also comes in a LONG SLEEVED VERSION 
Yesterday I recapped our time in Napa and San Francisco.  Before today's link love I wanted to quickly share some pictures of what we did in Southern California.
As I mentioned yesterday, my thoughts and prayers are with all of those affected by the wildfires in California.  It's devastating to think about the places we just drove through that were so beautiful being completely gone. 
:: San Fran —> Newport Beach ::
Kip's office is right on Fashion Island, so we stayed at the Marriott there for Sunday and Monday before flying home bright and early on Tuesday morning.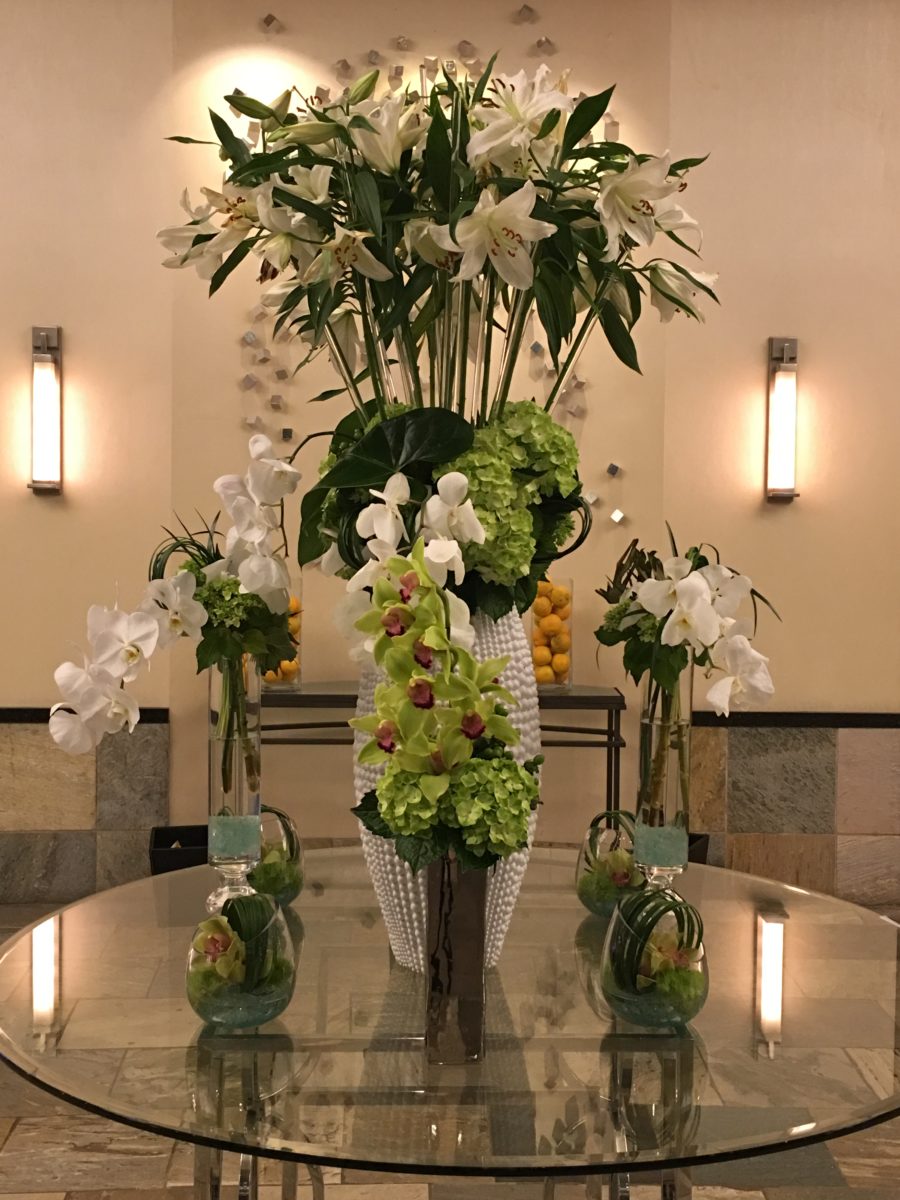 He has been there a lot for work, so we headed where he hadn't been before.  We took a short 5 minute uber from the hotel over to Balboa Island to walk around and have lunch.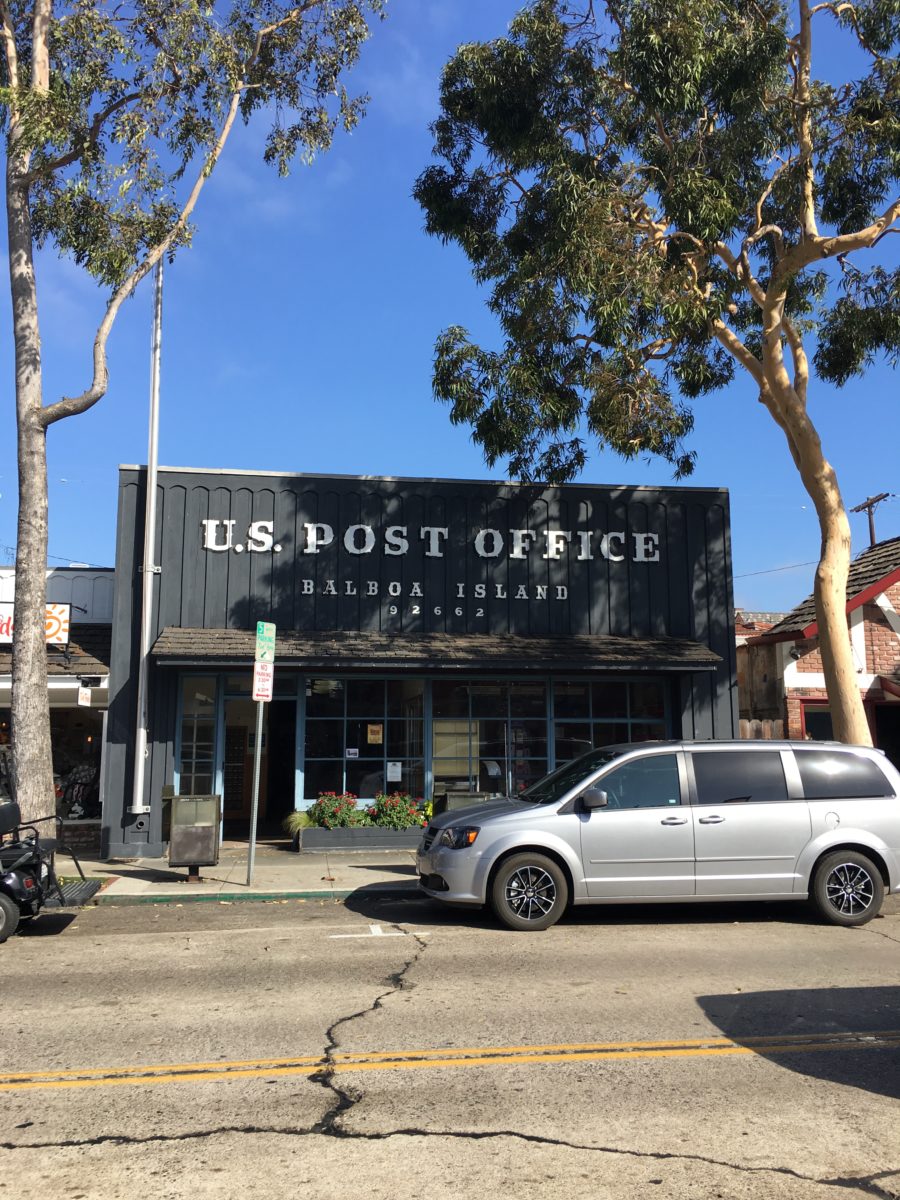 Just a heads up: There is Balboa Island and Balboa Peninsula; you do not want the Peninsula side with the pier.  It has like a 'Fun Zone" with carnival games and that side is very touristy and …. quite frankly… gross? Sorry. But not sorry, because trust me you want Balboa Island.  You'll want to be where the shops are and the cute houses all face the water and you can just walk around the whole thing.  We had lunch at a cute little sandwich shop and walked around for a few hours.
The houses could not be more adorable.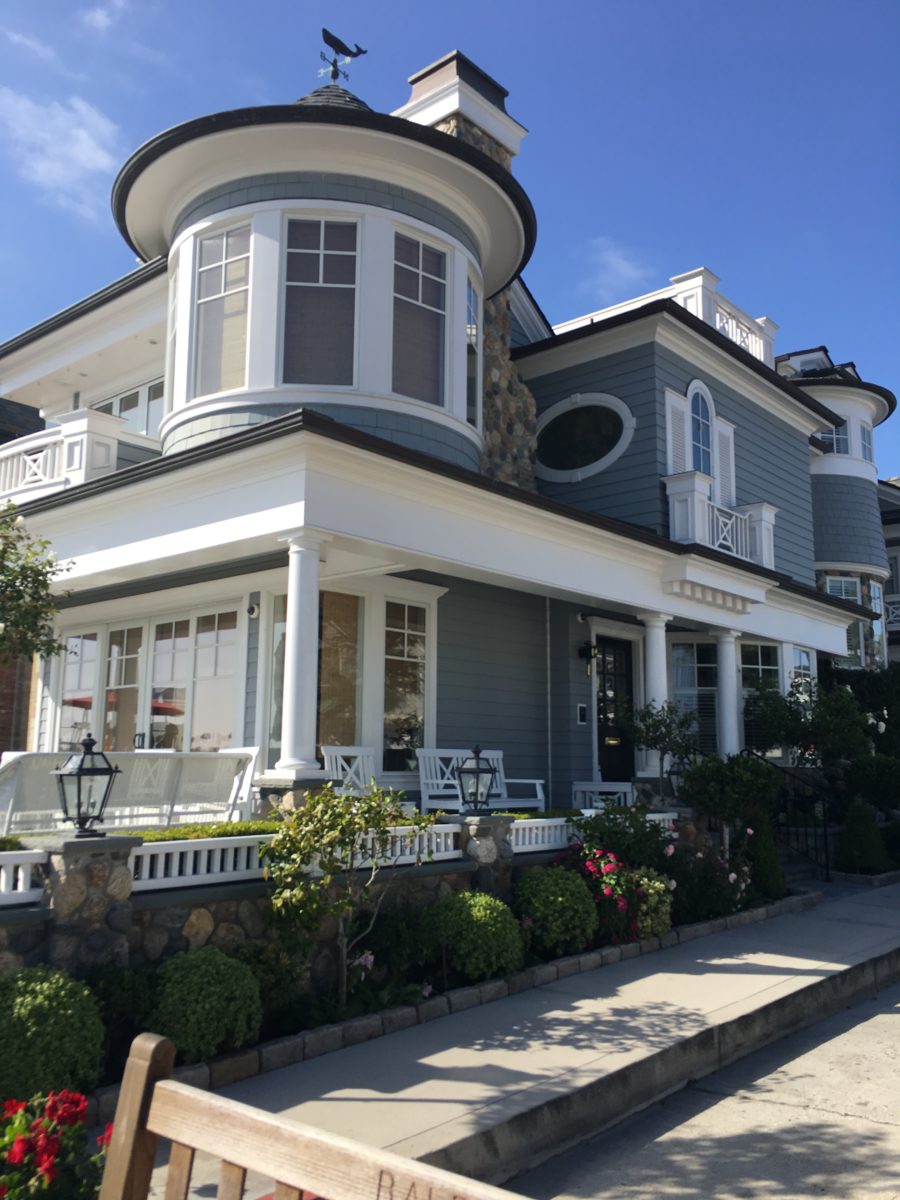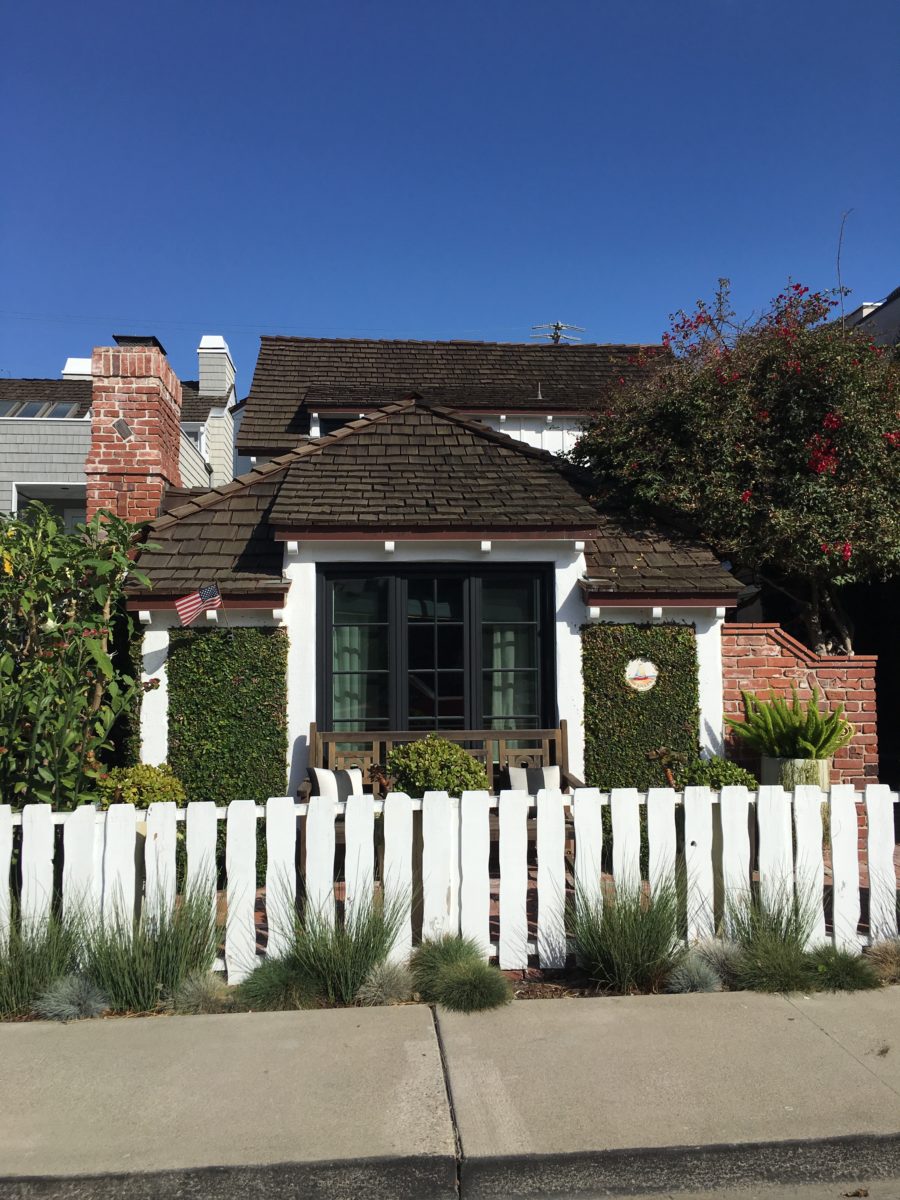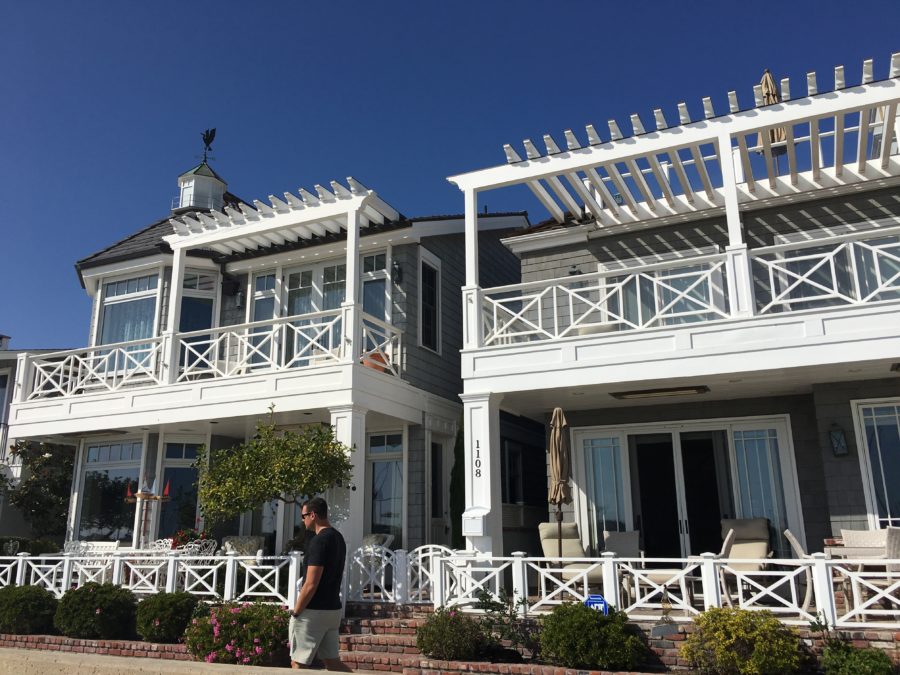 One of the things I loved most when we were walking around was seeing all of the plants and flowers. (Seriously, am I 50? Who am I?)  But really…. they were gorgeous. There were all of these plants and flowers I have never even seen before.  I would have more photos of the plants I have never seen before, but my husband was moritified at how many pictures I was taking of the houses so I gave him a break and layed off for a bit.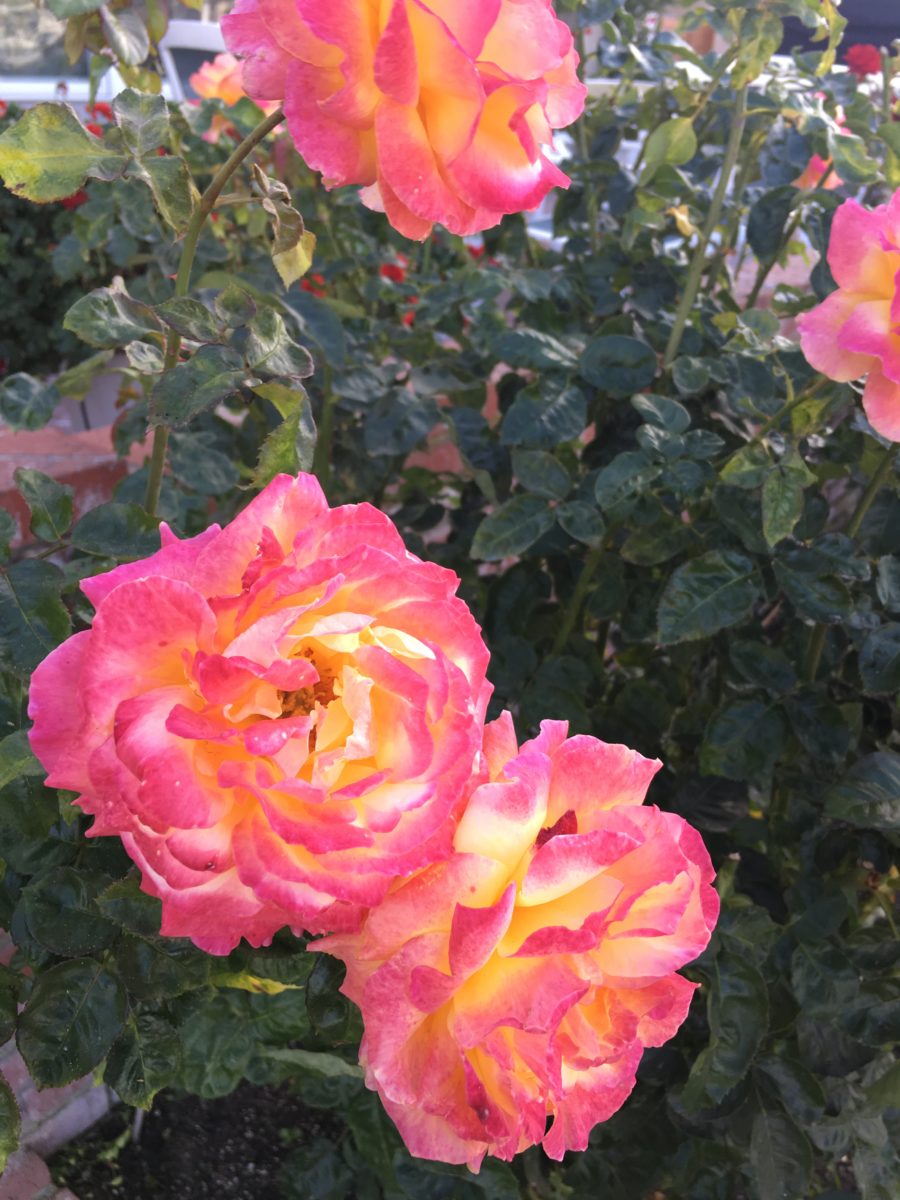 But these flowers for example, this is a Hashtag No Filter photo.
There were colors I have never seen before everywhere!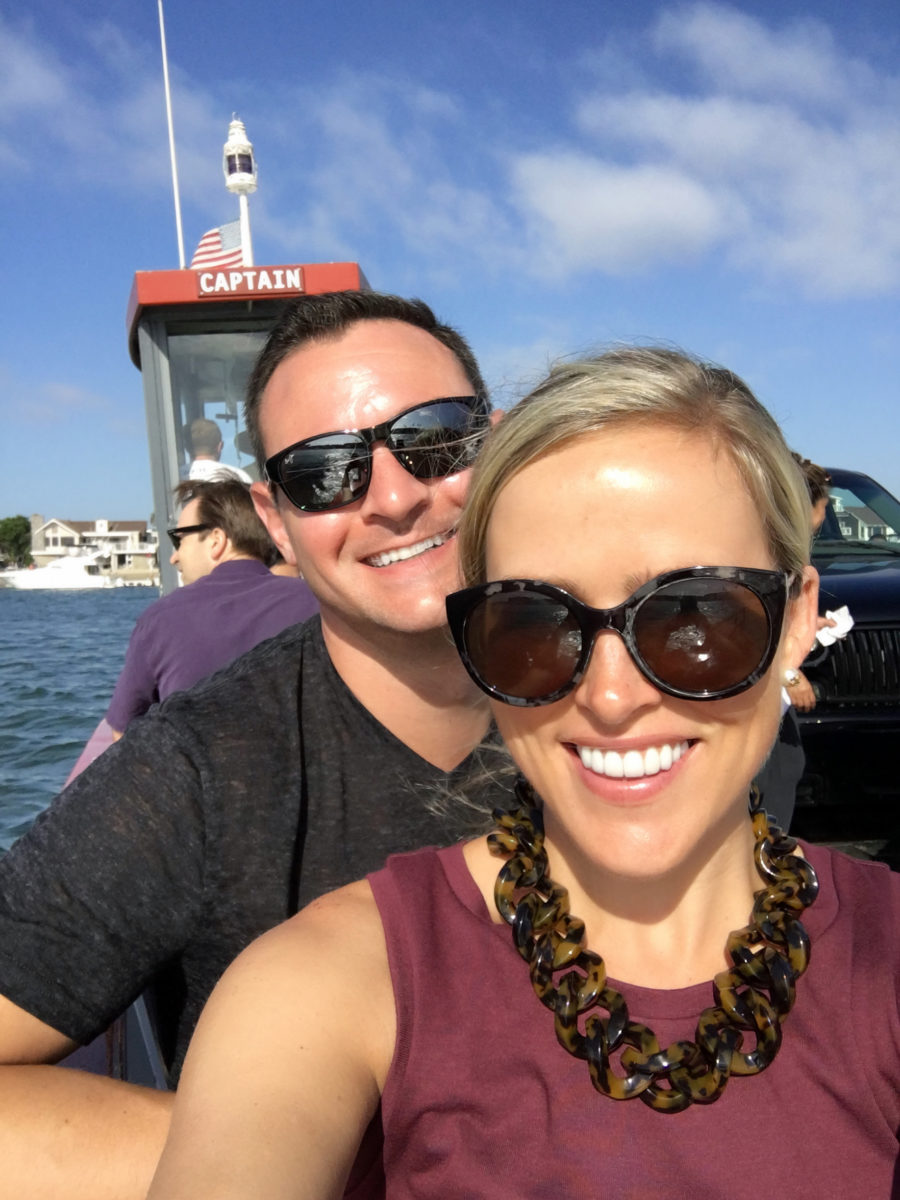 One of the great things about the hotel we stayed at is that you have full access to all of the spa amenities for free! So we each went to the men's and women's locker room to do some steam and sauna for a little bit while we were there.  I had never even been to a spa until earlier this year, so I was so excited to be able to just pop in and out while we were there.
At night we went to dinner at Kip's favorite spot The Cannery.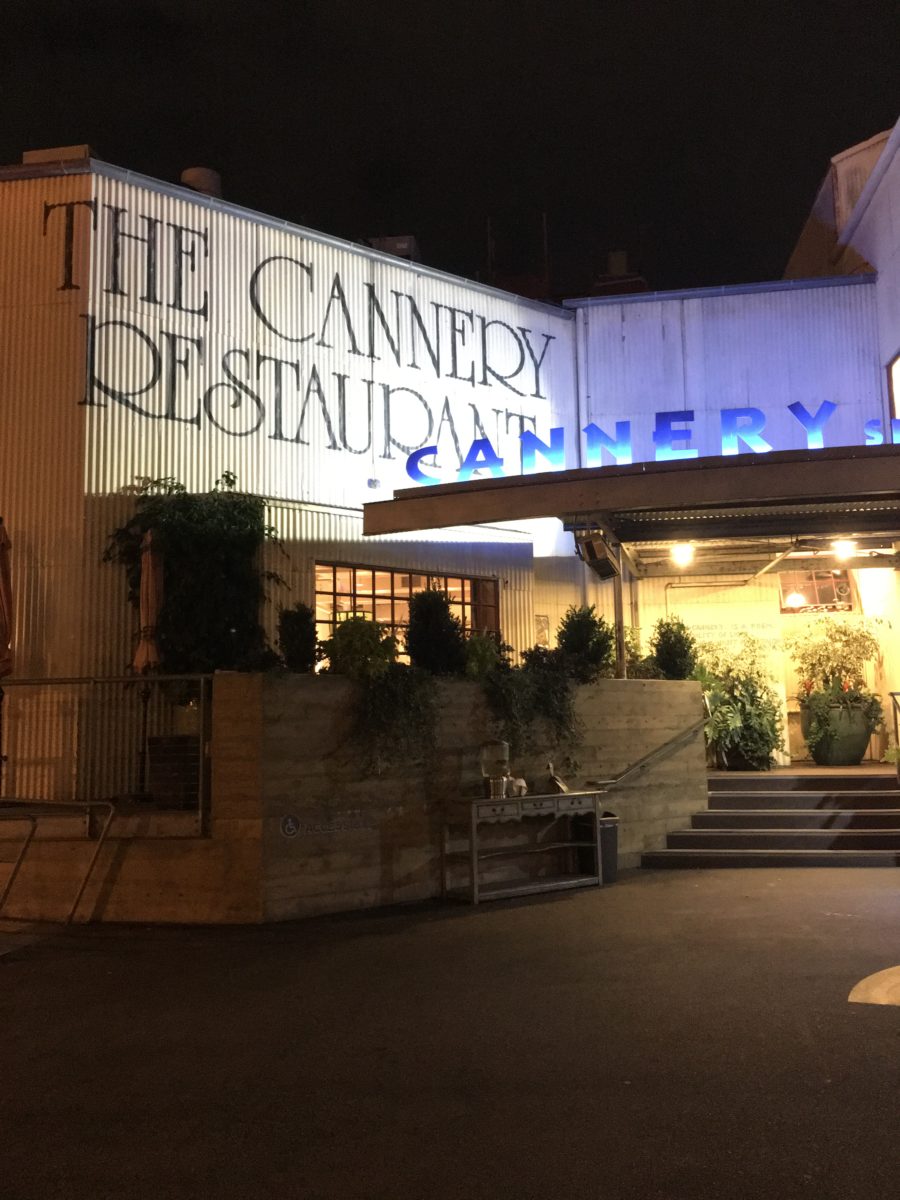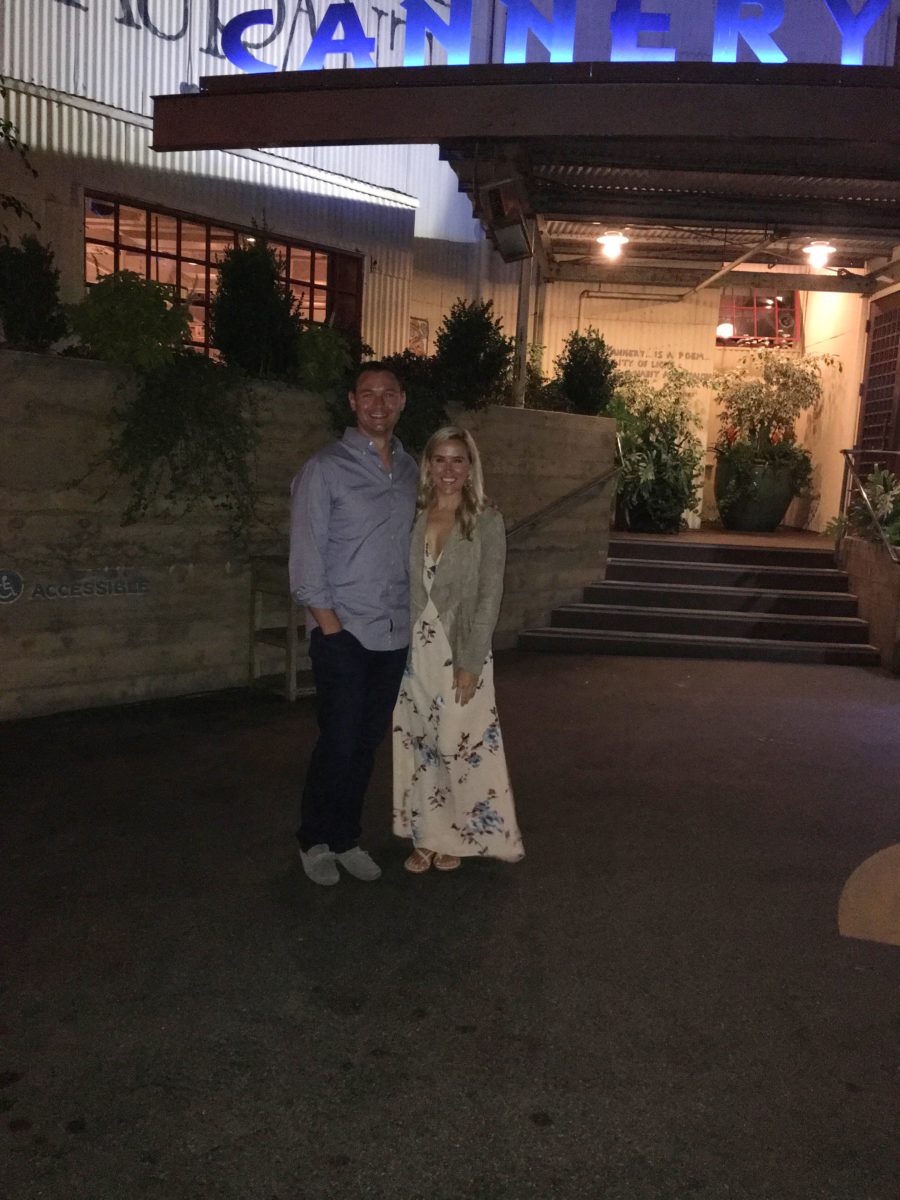 (Javier's is another popular choice, but he's there a ton and I have eaten at the Javier's several times in Las Vegas, so I wanted to try his favorite spot!  People recommend Mastro's too, even just for a drink and people watching.)
Monday Kip had a full day of work and meetings and a work dinner, so I was on my own for most of the day.  Luckily, Nordstrom + all of Fashion Island faced the hotel! And let me tell you, this was probably the best Nordstrom I have ever been in! Fashion Island was so pretty – a giant outdoor shopping mall with all the shops you could ever want, plus tons of restaurants, outdoor sofa's and chairs everywhere as you go from shop to shop.  It was just so nice seeing all of the greenery and plants everywhere.
I had lunch at Lemonade, which offers quick + healthy options and you can build your own lunch plate.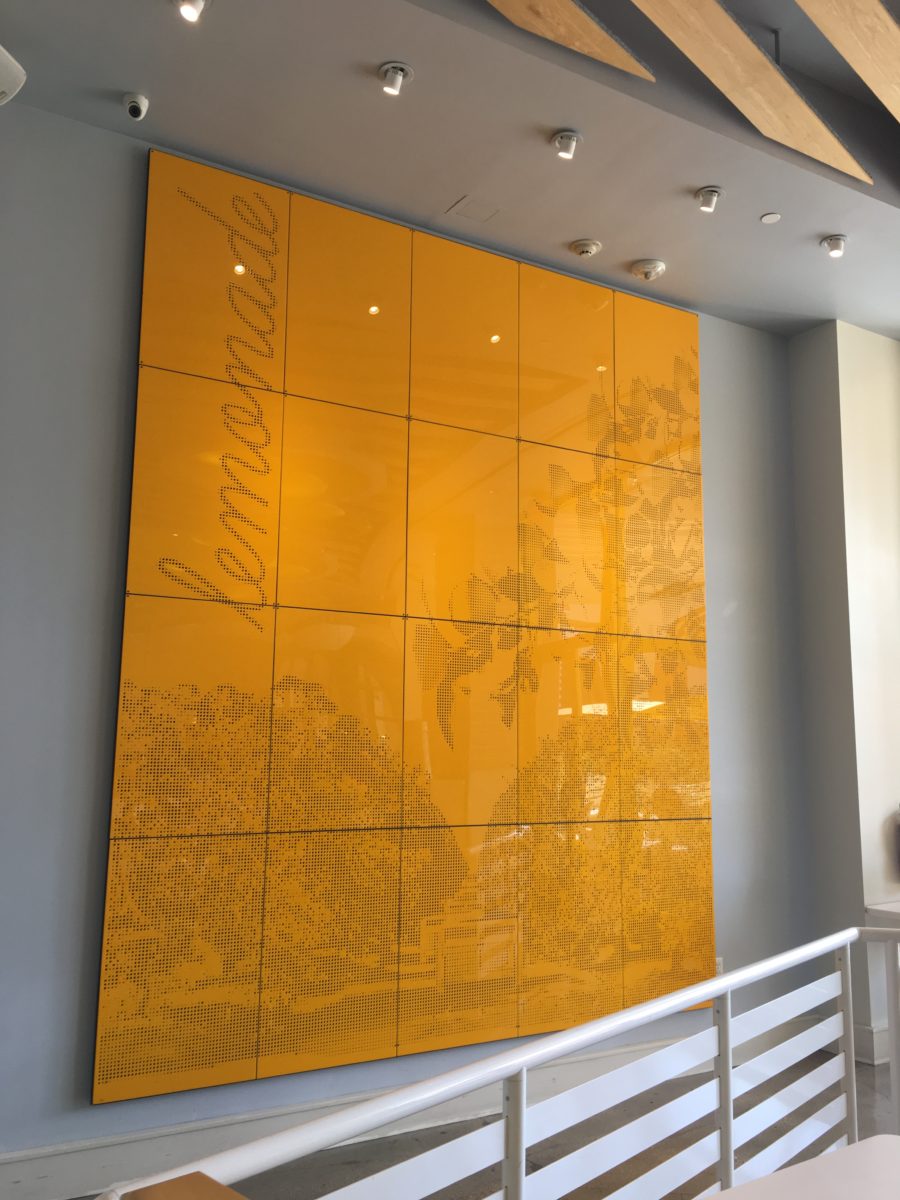 That night I went to Red O next to Fig & Olive for their happy hour and had some wine and an early dinner while I read my book on the patio.  Their happy hour can't be beaten – such good prices!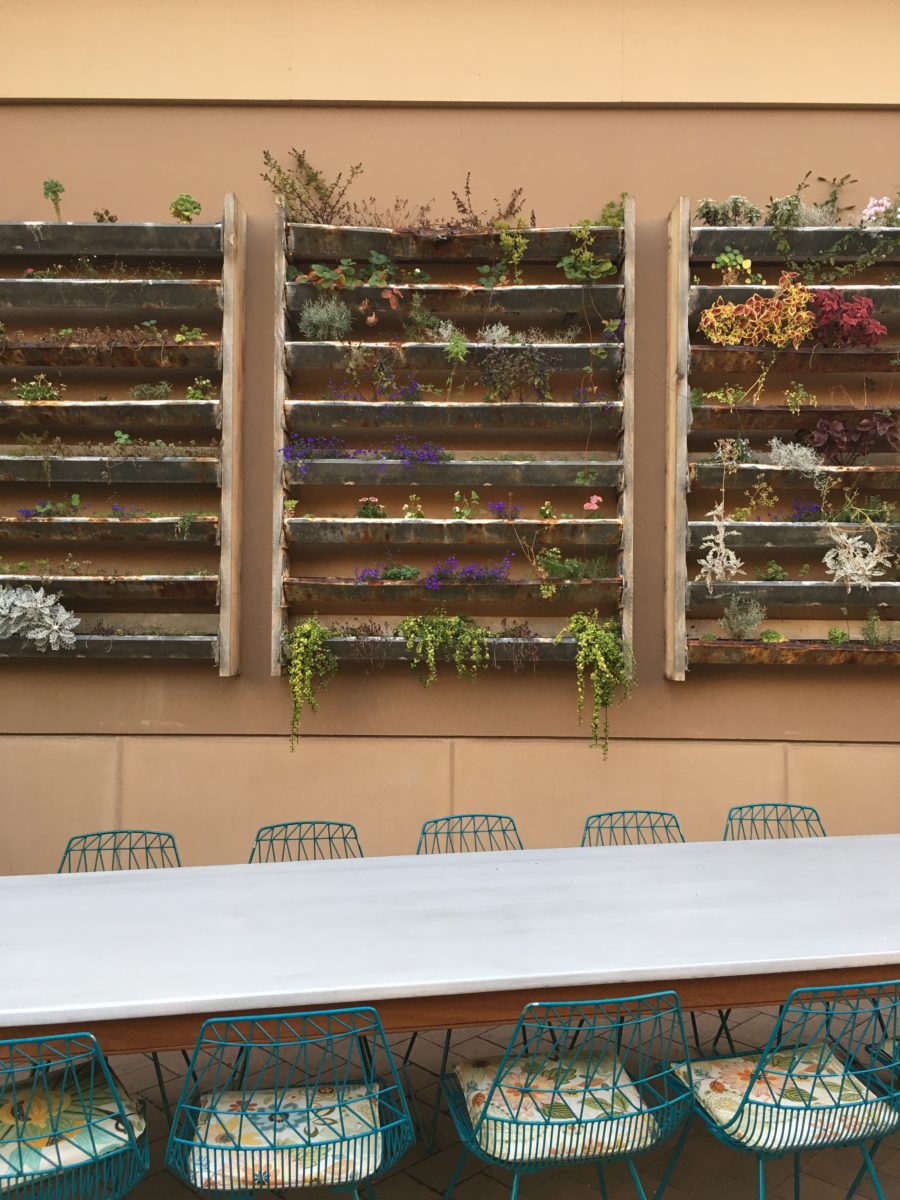 I was going to go to Corono del Mar for dinner solo, but since we had such an early flight I thought I would take it easy.  I  watched Dancing with The Stars (and cried listening to all of the "most memorable years") in the hotel room until Kip got back and we crashed before our 5 AM wake up call to head back home.
It was such a fun couple of days exploring California!
:::::::::::::::::::::::::::::::::::::::::::::::::::::::::::::::::::::::::::::::::::::::::::::::::::::::::::::::::::::::::::::::::
I have a new obsession for the week.
I opened my Juicy Scoop podcast to listen to on the way to work Wednesday and realized that the guest has a mini-series podcast of his own called Dirty John. So I immediately stopped listening to Juicy Scoop and went over to download Dirty John.  I am three episodes in and love it.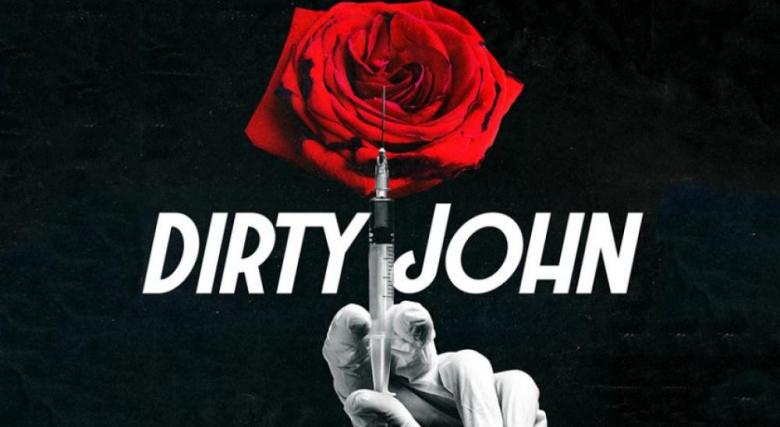 It focuses on a divorcee who meets a man that sweeps her off of her feet through a dating app, but things turn out be not at all how they seem.
Highly recommend it as your next go-to mini podcast (6 episodes)!
:::::::::::::::::::::::::::::::::::::::::::::::::::::::::::::::::::::::::::::::::::::::::::::::::::::::::::::::::::::::::::::::::
All of the pieces (that better not sell out the second they hit the internet!) for Chip + Joanna's Target line have now been revealed! A few of my favorites below.  My favorites are the galvanized chargers and we need some lanterns to decorate the patio.

::::::::::::::::::::::::::::::::::::::::::::::::::::::::::::::::: Friday Finds :::::::::::::::::::::::::::::::::::::::::::::::::::::::::::::::::
Obsessed with this leather wrap skirt.  My mind is blown that it's under $100. 
A layered sweater dress with some spice with a lace hem skirt.
I've eyed this dress for so long, and it's now 60% off!
These suede tan booties are fully stocked in all sizes and would be the perfect go-to shoe, especially with the stacked heel.
I love this sweater blazer  in every color; perfect way to look polished but stay comfortable.
The J.Crew classic coat that everyone loves, for under $100.
striped turtleneck perfect layering piece for fall
Denim jacket are always the perfect go-to.
A few affordable options :
ONE // TWO // THREE // FOUR // FIVE
The only bodysuit you need for fall + winter : Velour. 
Great booties in one of my favorite colors: wine. 
This  button back sweater dress  comes in so many colors and is such a great staple.
I got this ruffle neck pullover sweatshirt last fall and absolutely love it.
If money were no object, this strapless gown would be on my list for fall + winter wedding options.  The subtle skirt detailing is gorgeous.
Super flattering (and REVERSIBLE!) one piece swimsuit.
Suede tassel loafers, in 3 colors, for under $100 are the perfect shoe for fall.
::::::::::::::::::::::::::::::::::::::::::::::::::::::::::::::::: Link Love :::::::::::::::::::::::::::::::::::::::::::::::::::::::::::::::::
16 pumpkin decorating ideas that (hallelujah) don't involve carving a pumpkin.
My friends have all sent address requests through Postable the last few years and I don't know why I haven't used it yet? I got an annual email today from a friend's account just checking that info is the same, and my Chicago address was still listed, and it reminded me for the 10th time that I need to do this! Easiest way to get all of your friends and family addresses before the holidays!
Longterm celeb couples give their marriage advice.
Joanna Gaines reveals her favorite design element in her kitchen (and I knew before I even clicked the link it would the piece I always freak out about every single time I see her kitchen! I'm uhb-sessed…. although the image doesn't show why I am in love it with – the quatrefoil detail seen here.)
Take a peek inside Sting's $50 million NYC pad. 
Have a great weekend everyone!