Before discussing our trip,
I am so, so sorry about the terrible fires in Napa and Sonoma.
My thoughts and prayers are with all of those affected.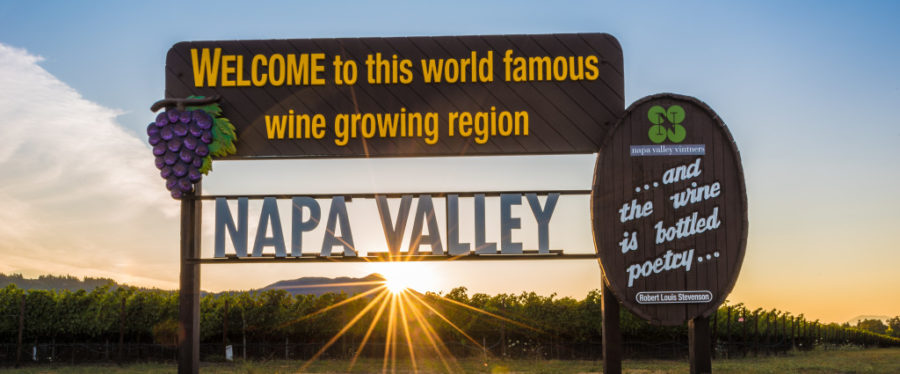 Today I am going to recap our time in Napa and San Francisco!
We flew from Las Vegas into San Francisco on Thursday night, and checked into our hotel The Stanford Court, which could not have been more perfect.
My friend that spent many years in SF had sent over recommendations, with The Fairmont being one of the most iconic and famous SF hotels.  That was definitely out of our budget for the weekend, so I got hunting once I knew the area to be in.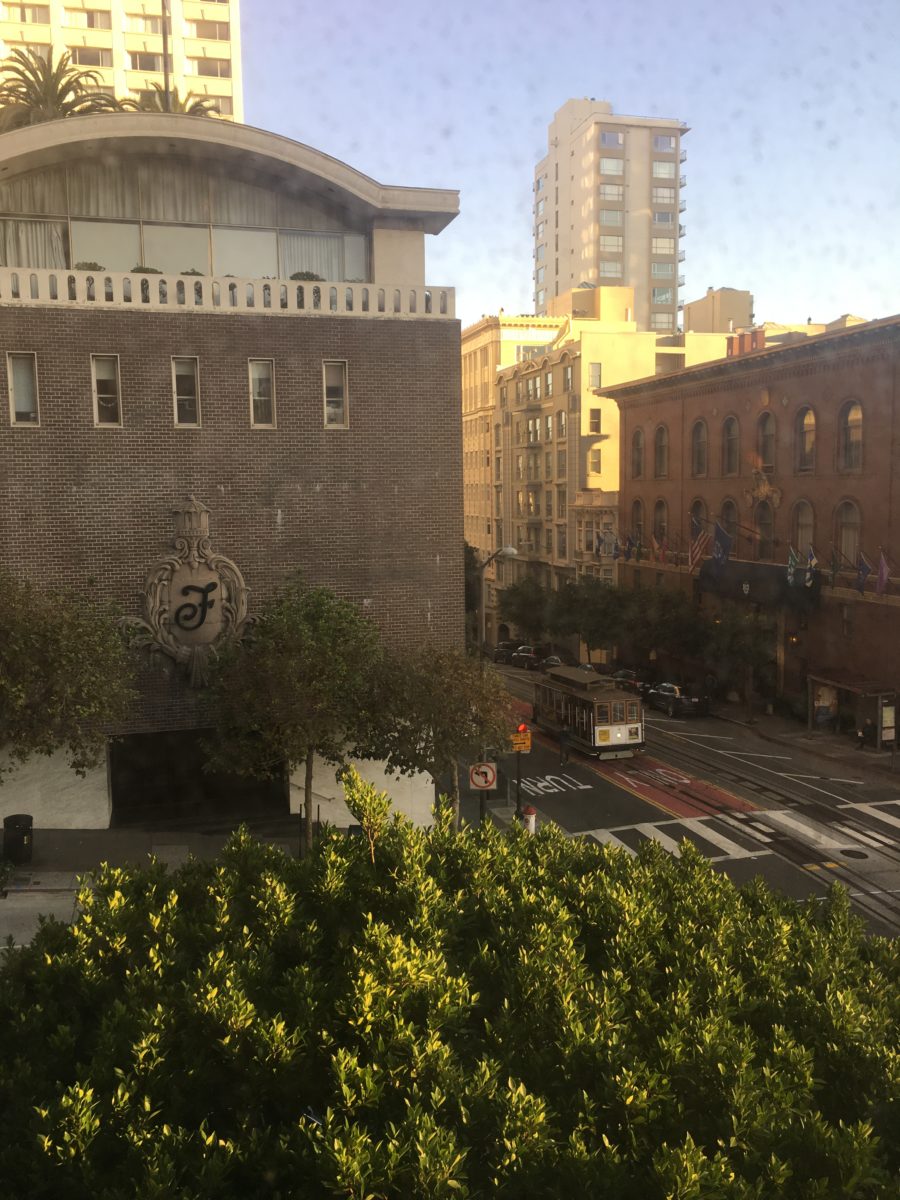 The Standford Court is next to The Fairmont and The Intercontinental, right at the "top" of Nob Hill basically, and has two cable car lines easily accessible in the front of the hotel.  I don't think it could have been in a better location!  Our room was actually huge – I had been expecting NYC size rooms, and we got a corner unit that was twice the size I was expecting.  We overlooked the Fairmont and even had views of the bay.
For dinner, we got in late and were getting up early for our day in Napa, so we just walked down to the North Beach area.  We had heard great things about North Beach, and we were going to grab a quick pizza either Tony's (famous pizza), but instead we stopped at Tacolicious next door.  We sat outside and got to watch all the locals coming and going, which sounds silly but I miss just sitting and watching everyone on a weeknight like I used to do in Chicago.  Their tacos were delicious! 

Friday was our all day Napa Tour.  We went down to meet the group at The Ferry Building and were on the road by 9 PM.  I had searched all over for a wine tour, and everything for Saturday was all booked up since we booked so last minute.  I came across this open air cruiser and knew it was perfect.  Kip gets very antsy, and this was my birthday gift for him, so any way to make sitting in a van in traffic on a Friday morning was a must! This made the ride out of the city, and the short drive from vineyard to vineyard so nice because we were essentially in a convertible and could take in the views.  The other great part was that we got dropped off at the Ferry at the end so we got to get back to the city easily in a fun way with with no traffic!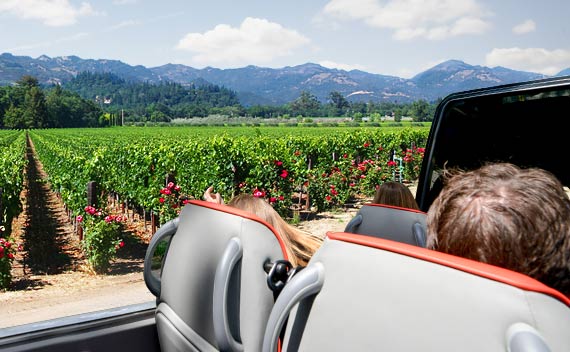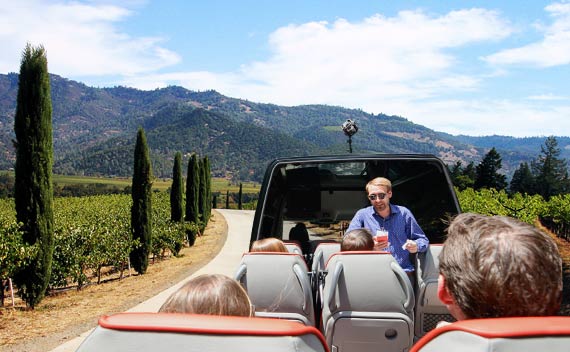 Booking our own private car for 2 was way too expensive for a full day – if we had been with friends it would have been perfect though.  If you can go that route, and can then pick the wineries you get to go to, definitely do it! Hopefully we'll be back in the future with friends!
It was kind of like an open air bus tour for the drive out of San Francisco – the driver told us all about where we were when we were driving and we learned about the city.
editors note: a personal highlight for me was stopping at a light next the same homeless man we had seen the night before, kicking cars and cursing everyone out like he had been doing the night before outside Tacolicious.  ah, city life! I miss it so much! 
We made a pit-stop at the Golden Gate Bridge for pictures and had such a gorgeous view.  The photos we got were horrible, but the memory and views in person were amazing.  Driving over the bridge with the top down on the car and just looking up was so really cool.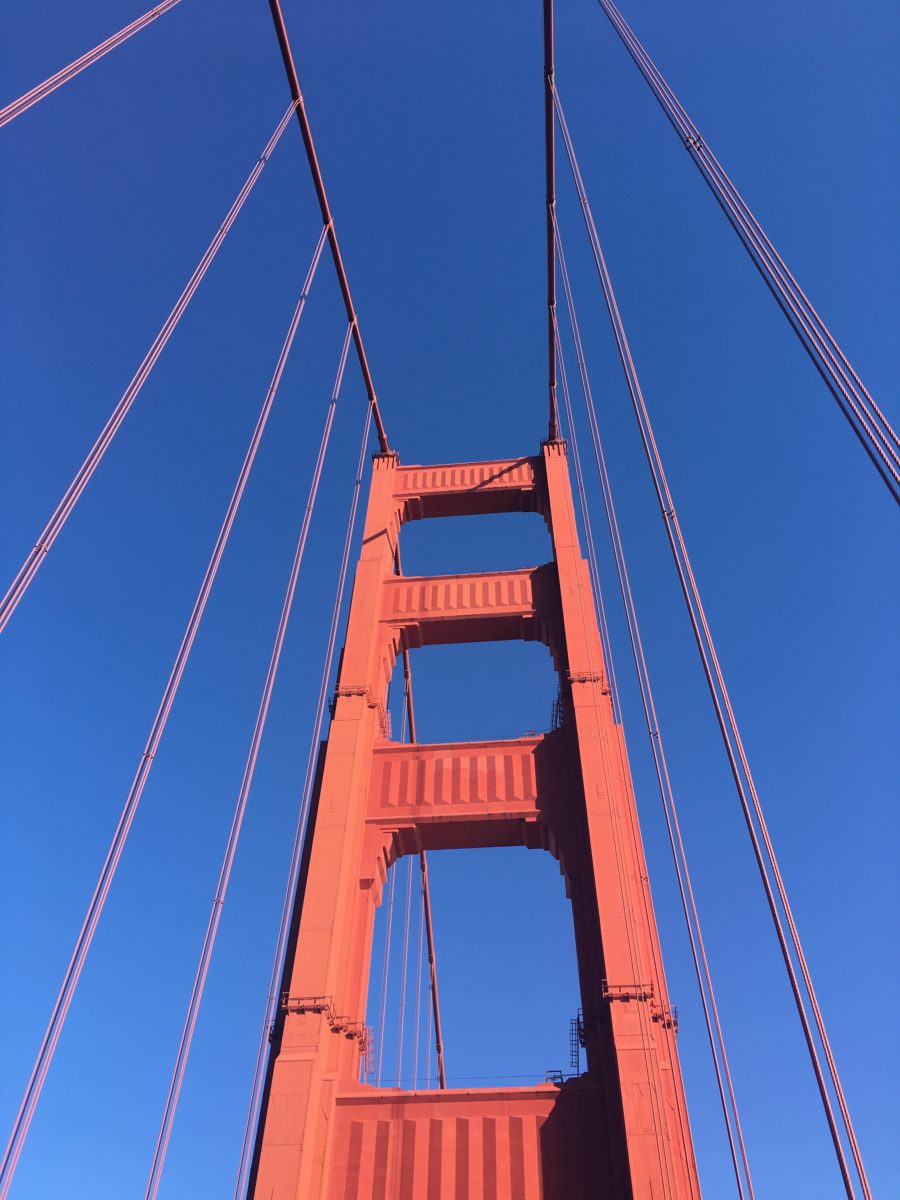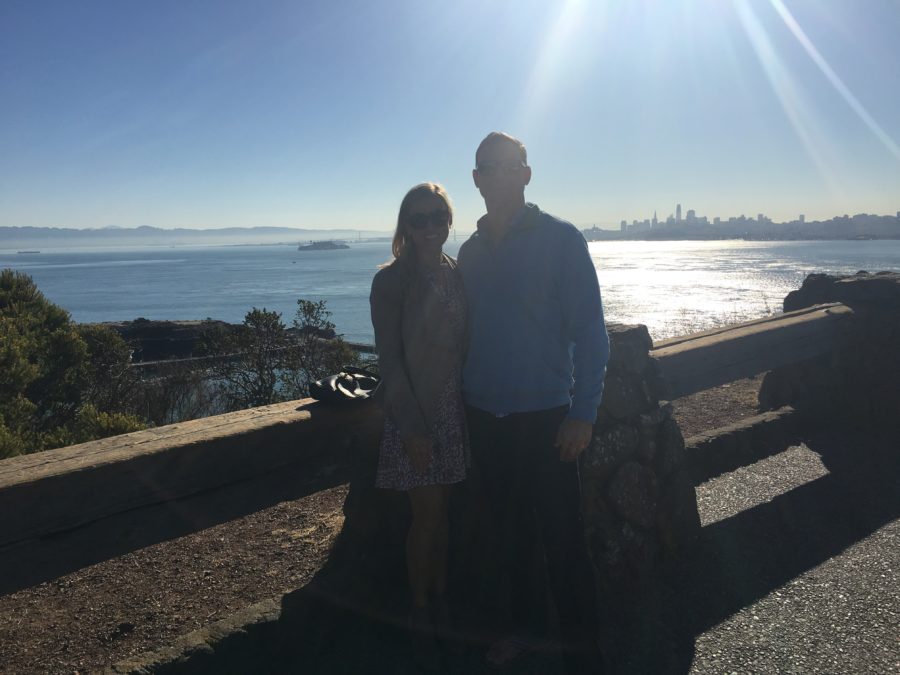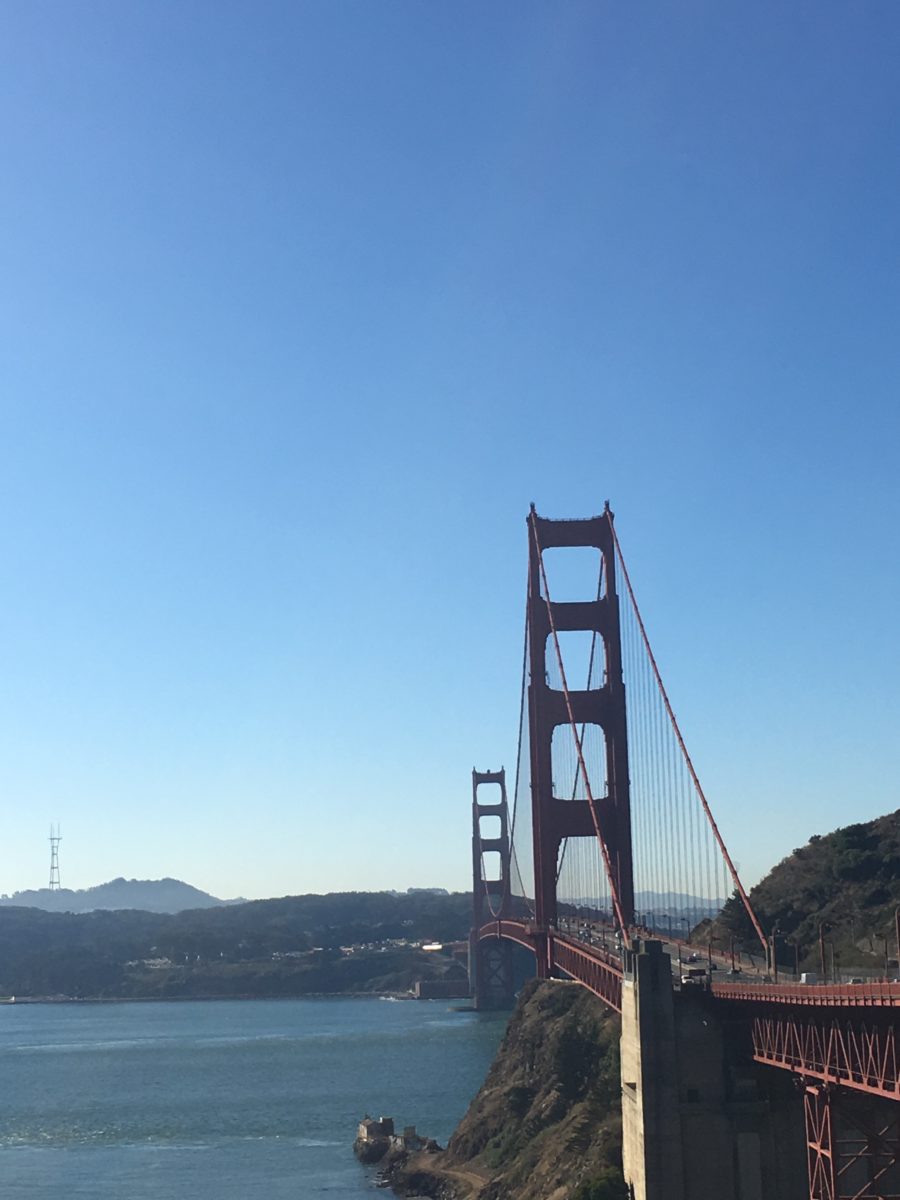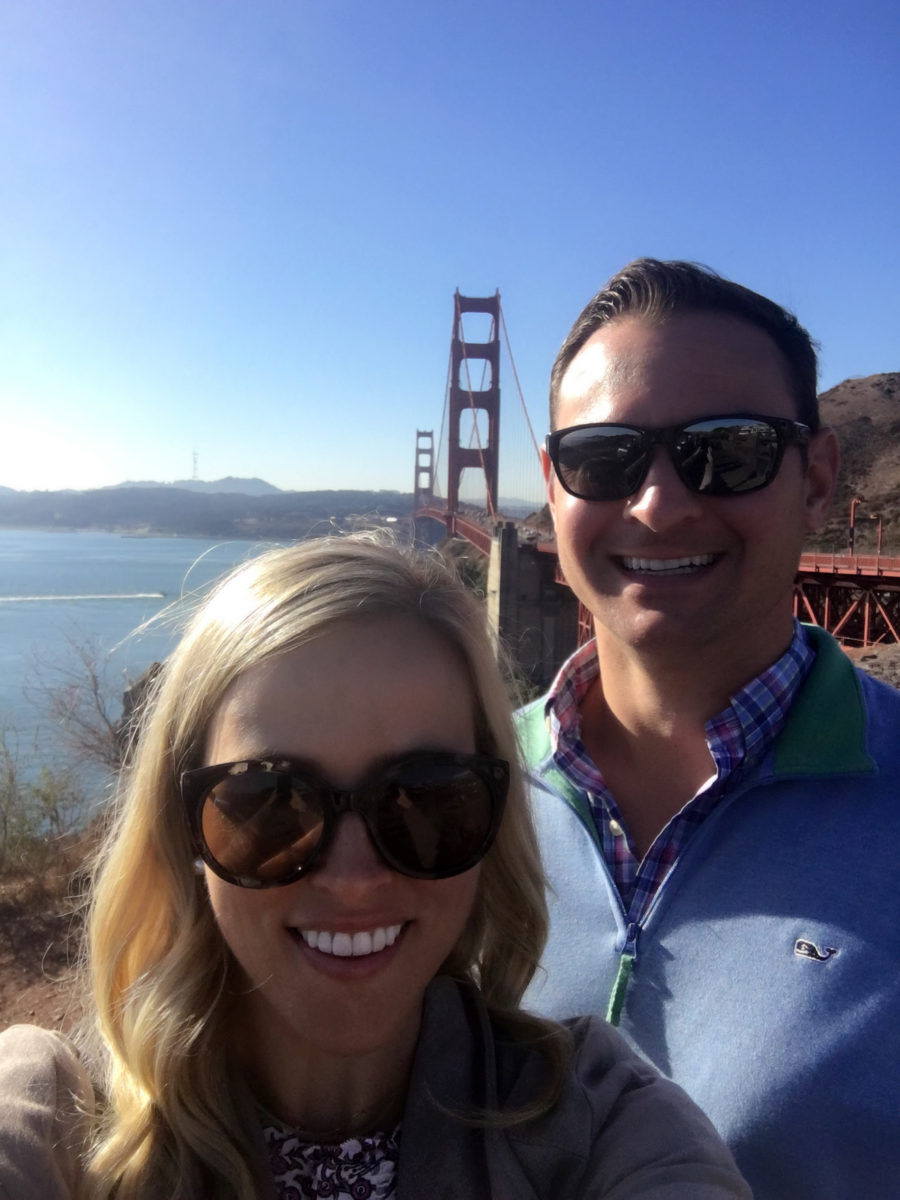 The car took us around to 4 different wineries.
It was the most absolutely gorgeous day – started out cool, then got hot and sunny, but felt great and in the shade it was perfect.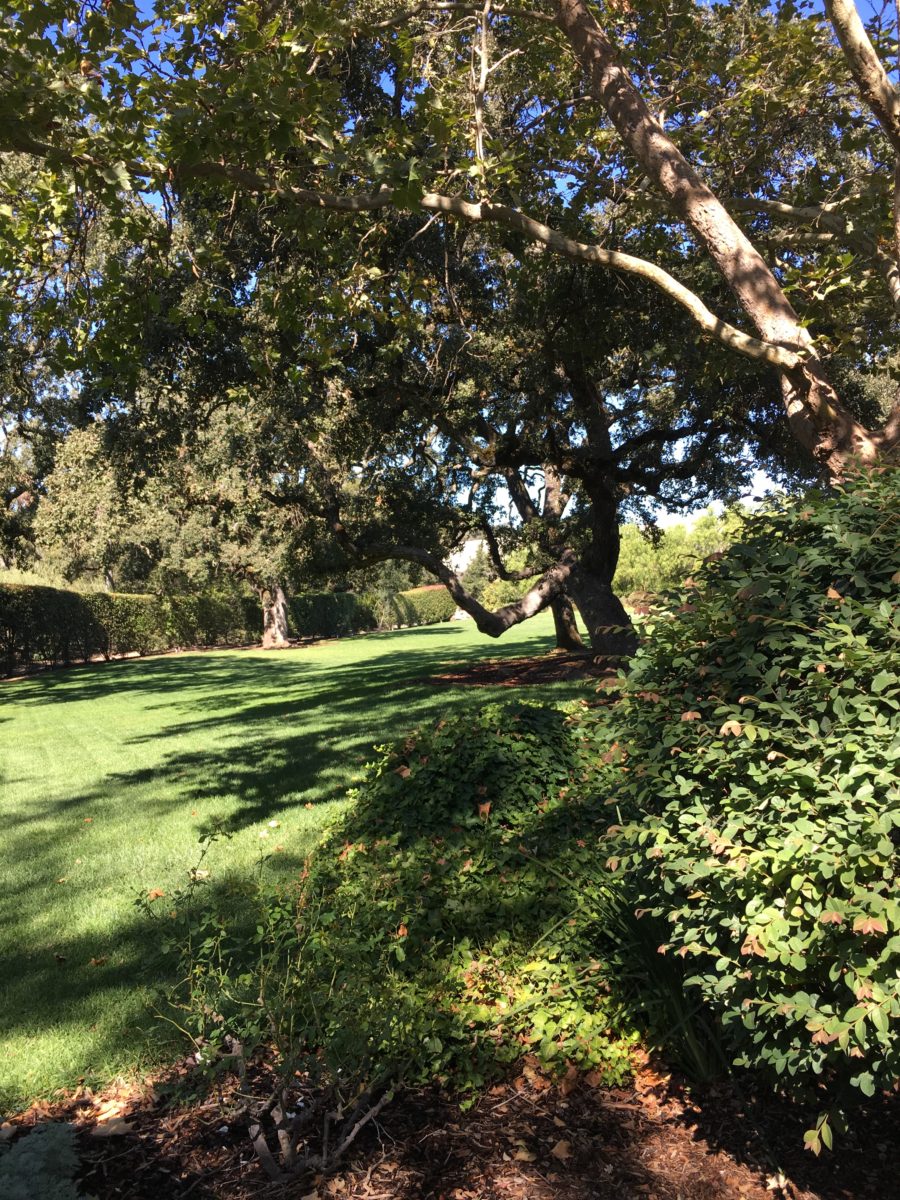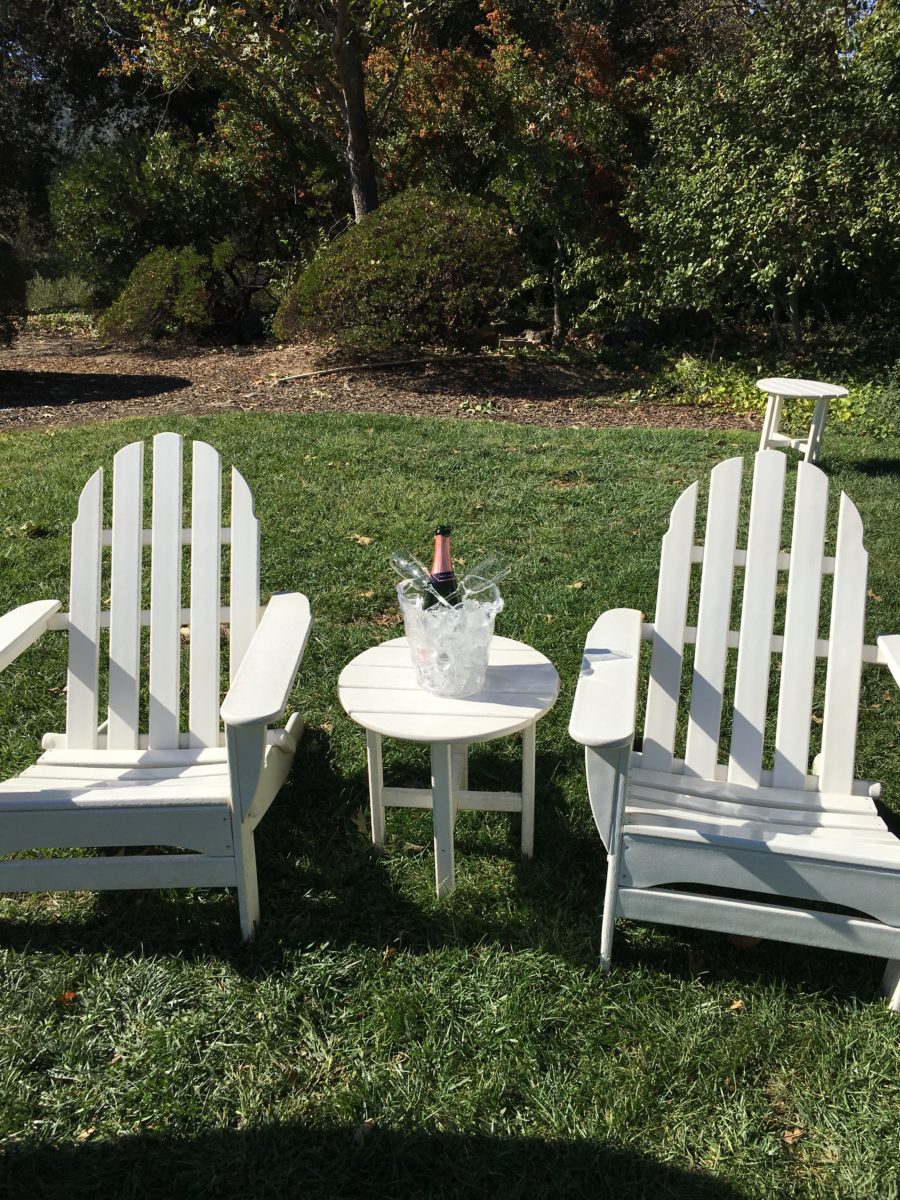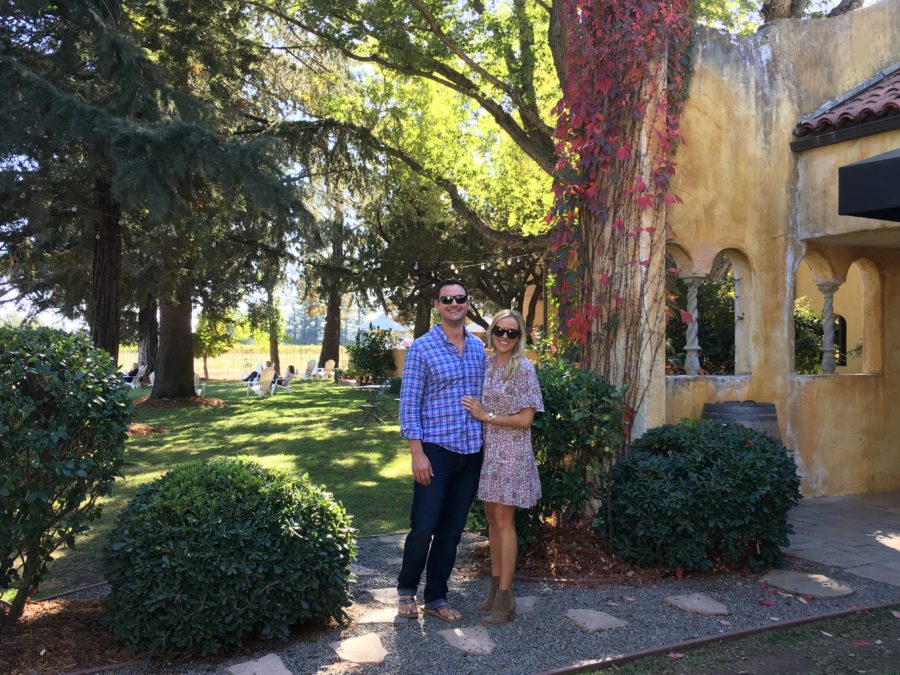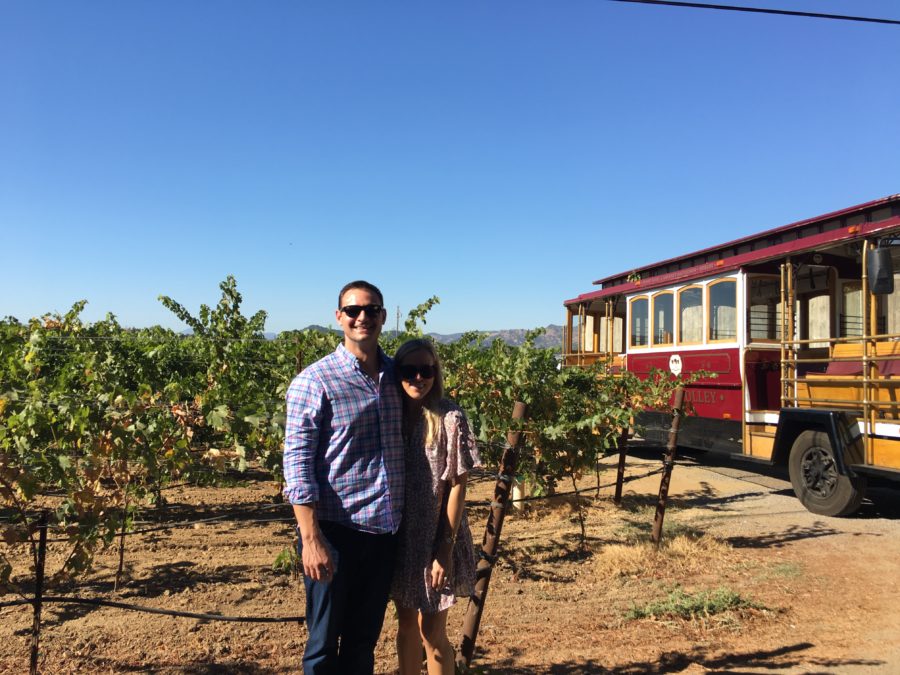 We spent the whole day there until catching the 5:45 Ferry back to San Francisco which dropped us off at Fisherman's Wharf.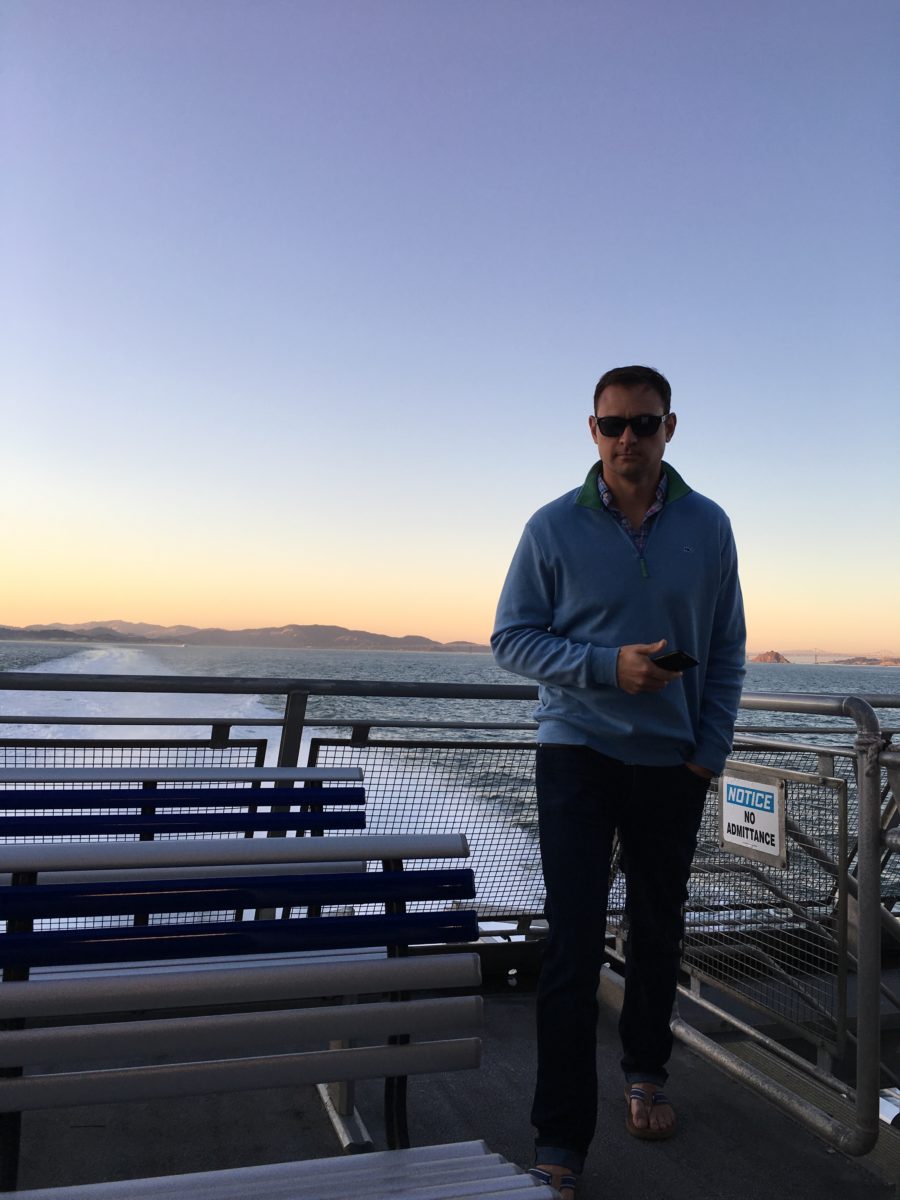 That night we had dinner at Park Tavern in North Beach which was delicious – one of the best burgers and fries I have ever had.  It was lively and packed with people around our age and had a fun bar to wait for our table. 
Saturday we woke up to another perfectly gorgeous day.  The weather seriously could not have been better the entire vacation. We got up with plans to take cable car down to Lombard street, grab brunch and walk around for a bit.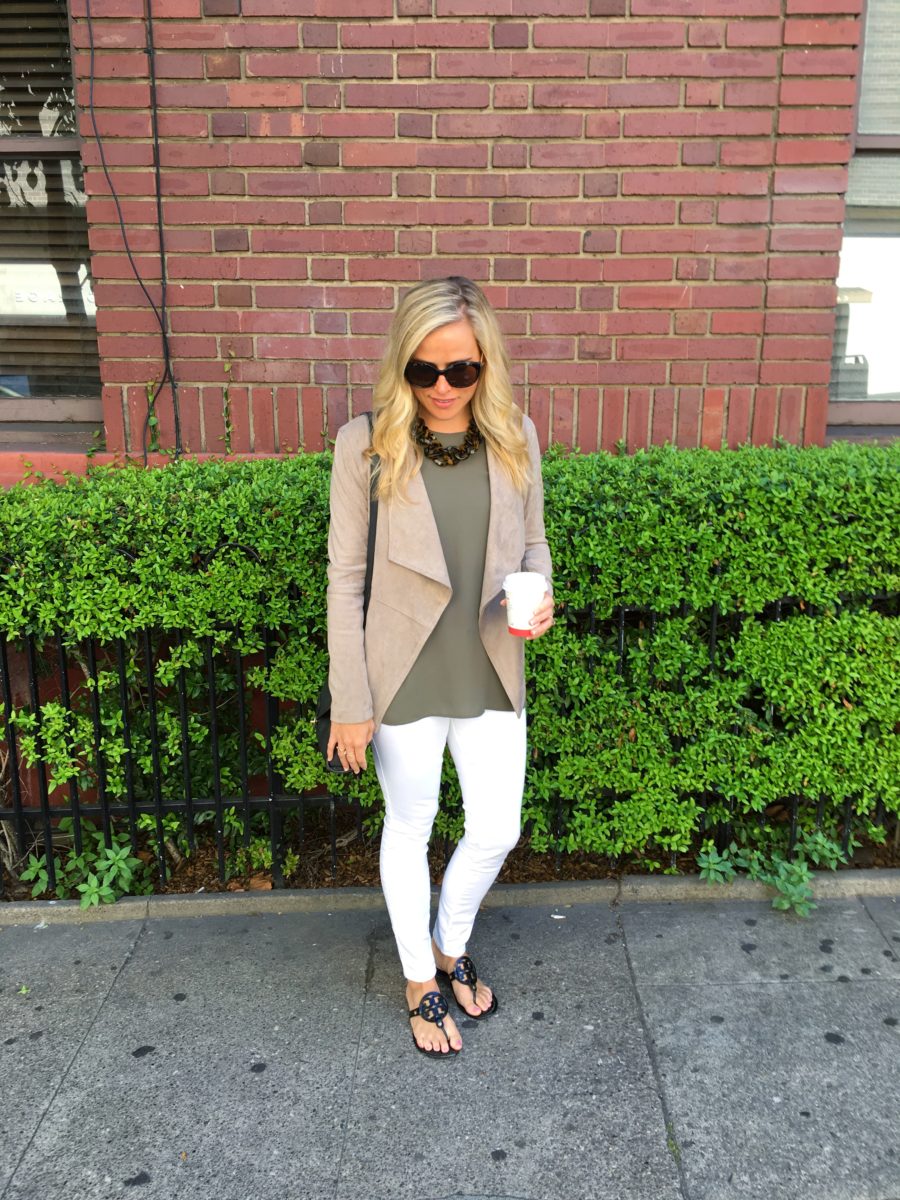 photo snapped whilst waiting on second completely full cable car…… sipping my daily vacation double espresso, despite hating coffee and never drinking it in my daily life.

Well…. little lesson.  Unless you get up super early, do not expect to just hop on the cable car at the top of the hill and be able to take it down to Fisherman's Wharf/Lombard/etc.  We waited for 2 cable cars which were all full, so we decided to start walking down a few blocks (the opposite way of our destination) towards where they were coming from to hop on at an earlier stop.  Another full car later, we just decided to trek to the bottom of the hill and hop on where it starts, figuring that would be the easiest way to get on.  Whattaya know? There was a HUGE line of people just waiting to get on, like it was an amusement park.  We aborted mission real quick.
So, we walked ALL the way back up to the top to the hotel, left our jackets because now we were sweaty, and walked back out.  We were ordering an uber when a cable car with open spots pulled up!  It wasn't the line that took us exactly where we wanted, but it was close enough,, so we hopped on!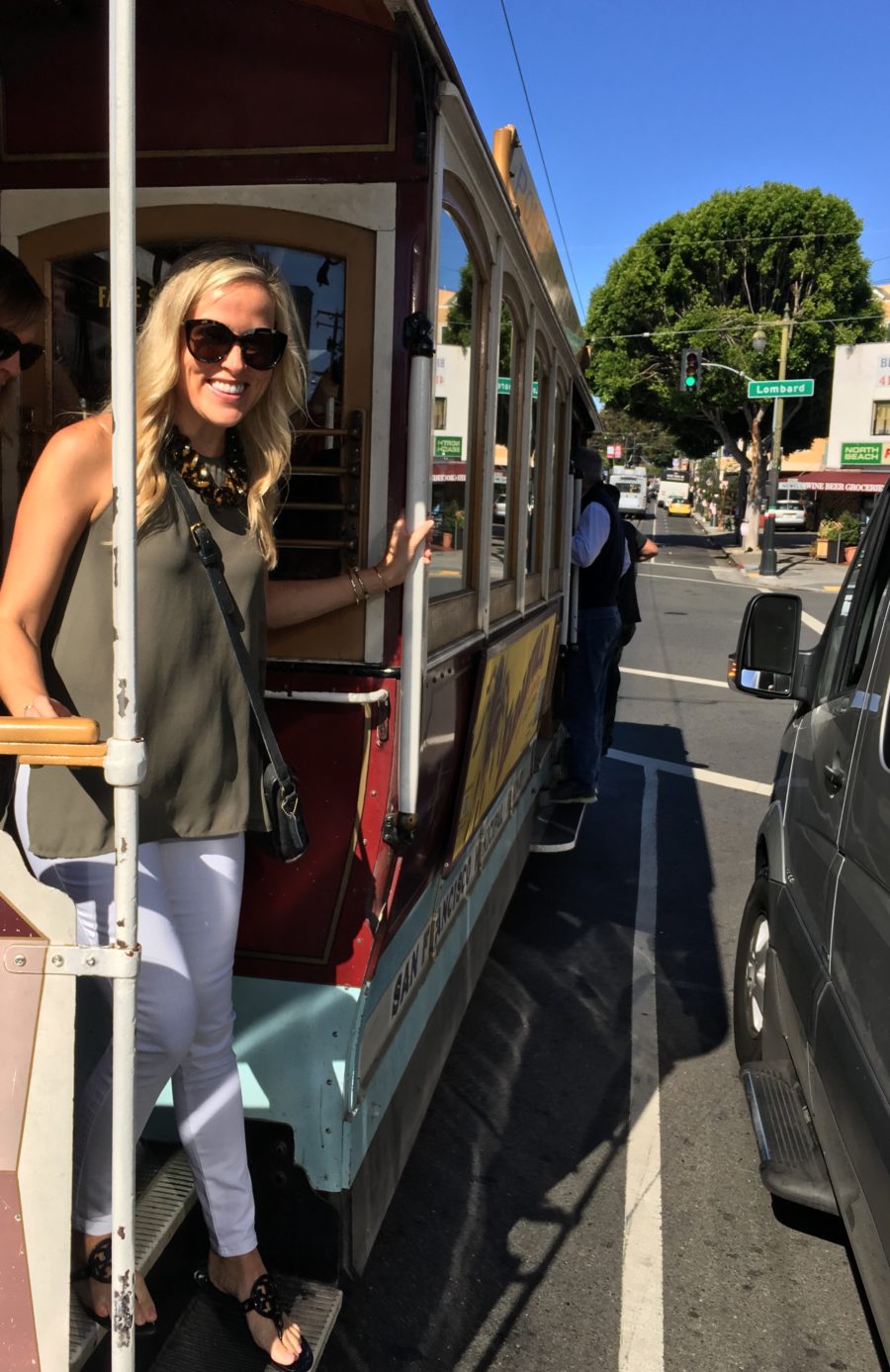 We took it to Lombard, walked UP…. and I mean UP, like a stairmaster UP 5 blocks to see the curvy Lombard road, then walked down to Fisherman's Wharf and Ghiradelli Square.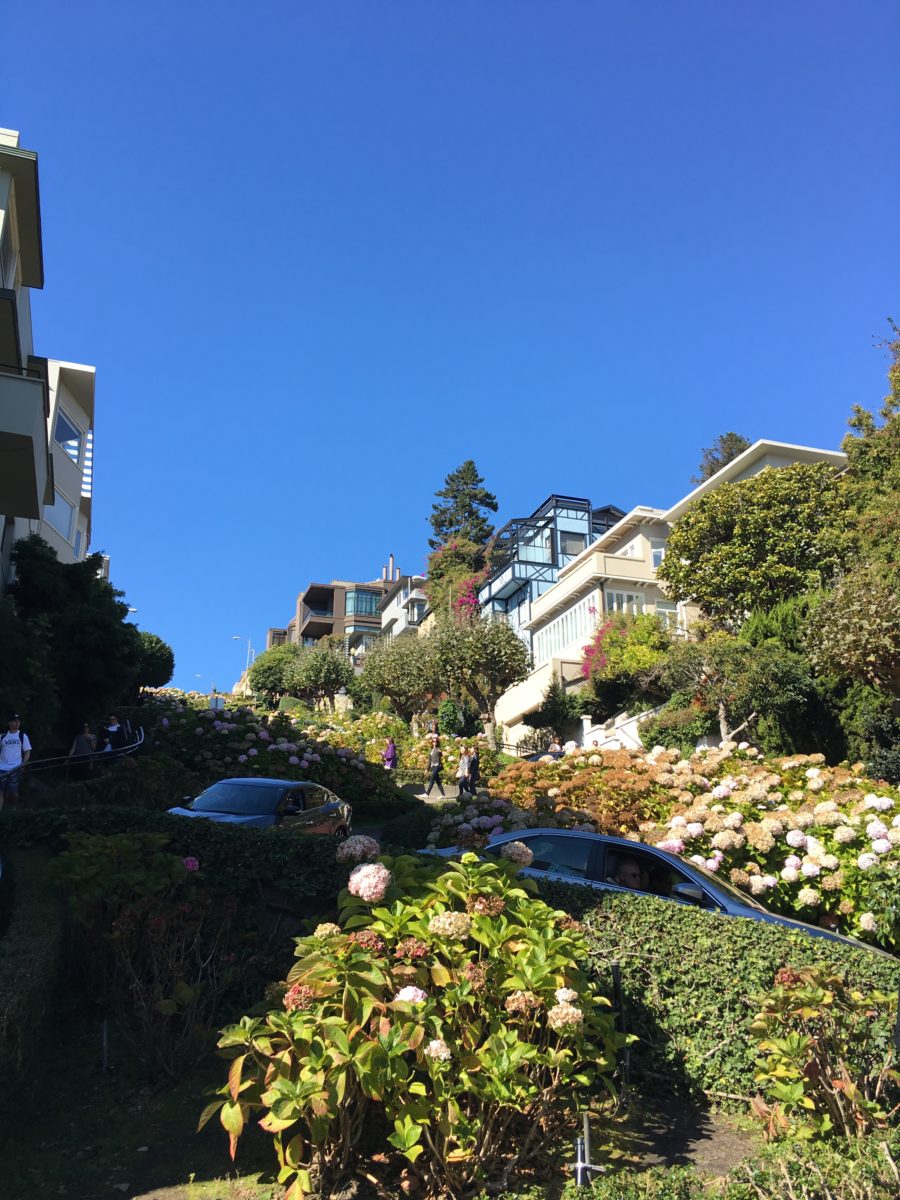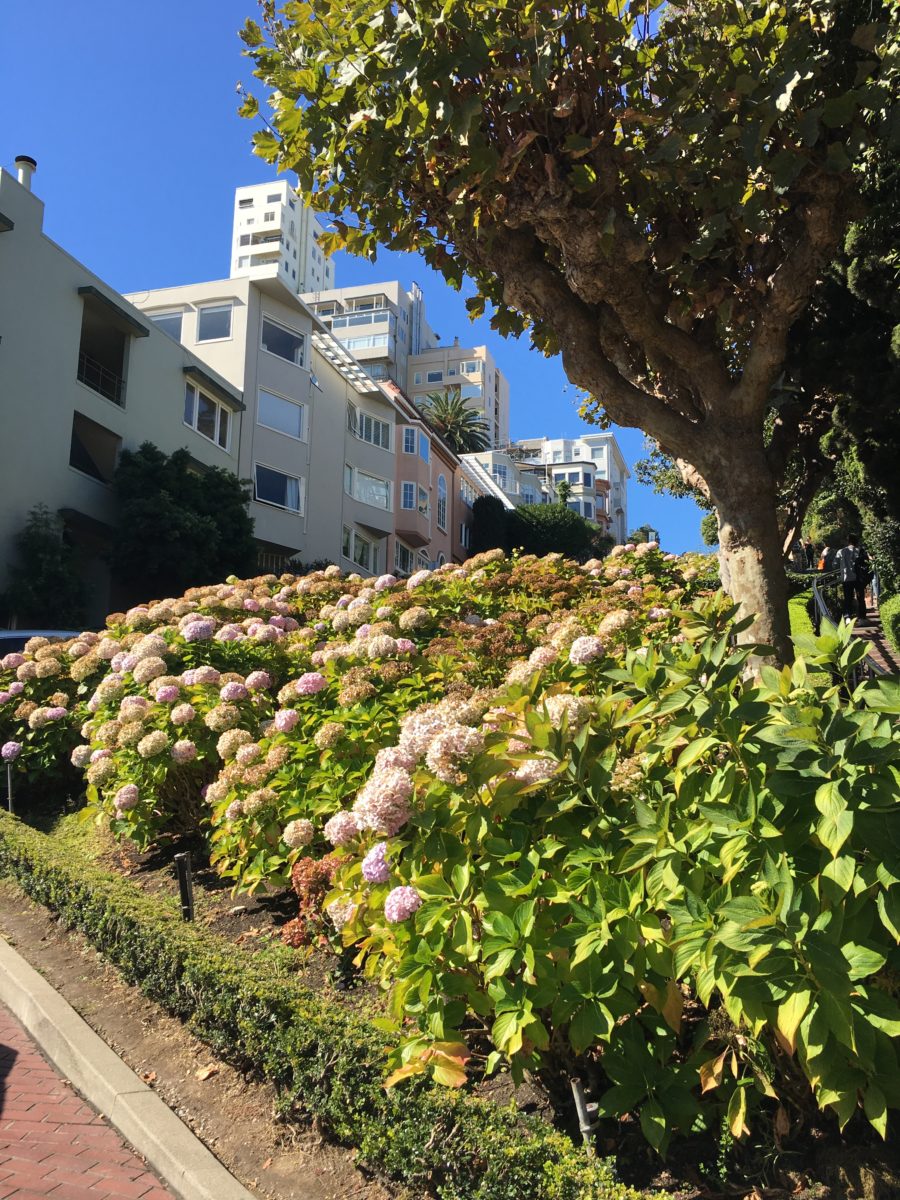 kip refuses to take pictures with me about 9/10 times,
so this is how I captured a beautiful couples shot in front of Lomnbard Street:
wait for him to sprint past and take 97 pictures so I get him behind me in one of them 🙂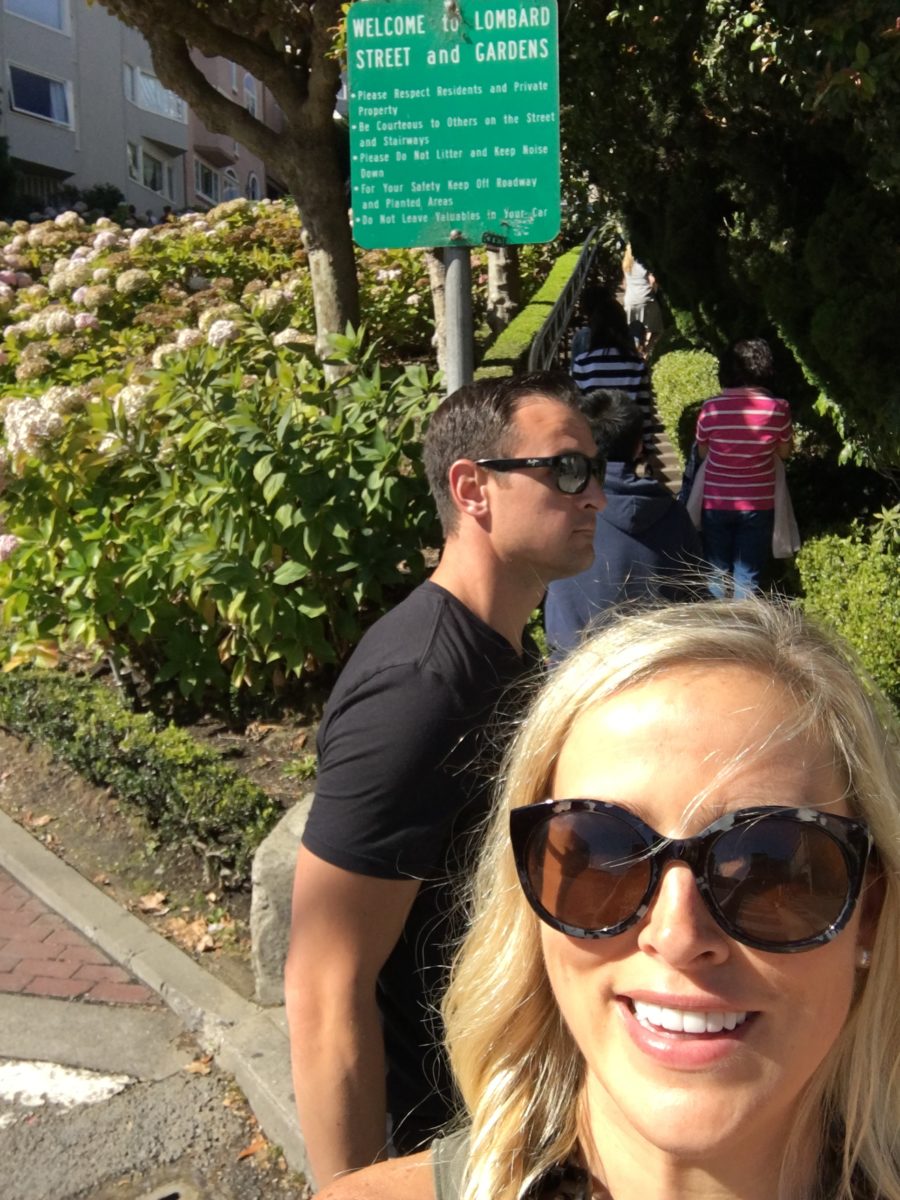 After Lombard, we kept walking downhill and we went to The Buena Vista Cafe, the famous establishment credited with introducing Irish Coffee to the United States.  There are two bartenders that just line up a million glasses and go up and down the line pouring them up.  It was so fun to see and hang out for a drink.
I am trying to figure out how to put my instastory video's that I got into this post but it isn't working.
I loved watching them make them!
They were strong and delicious!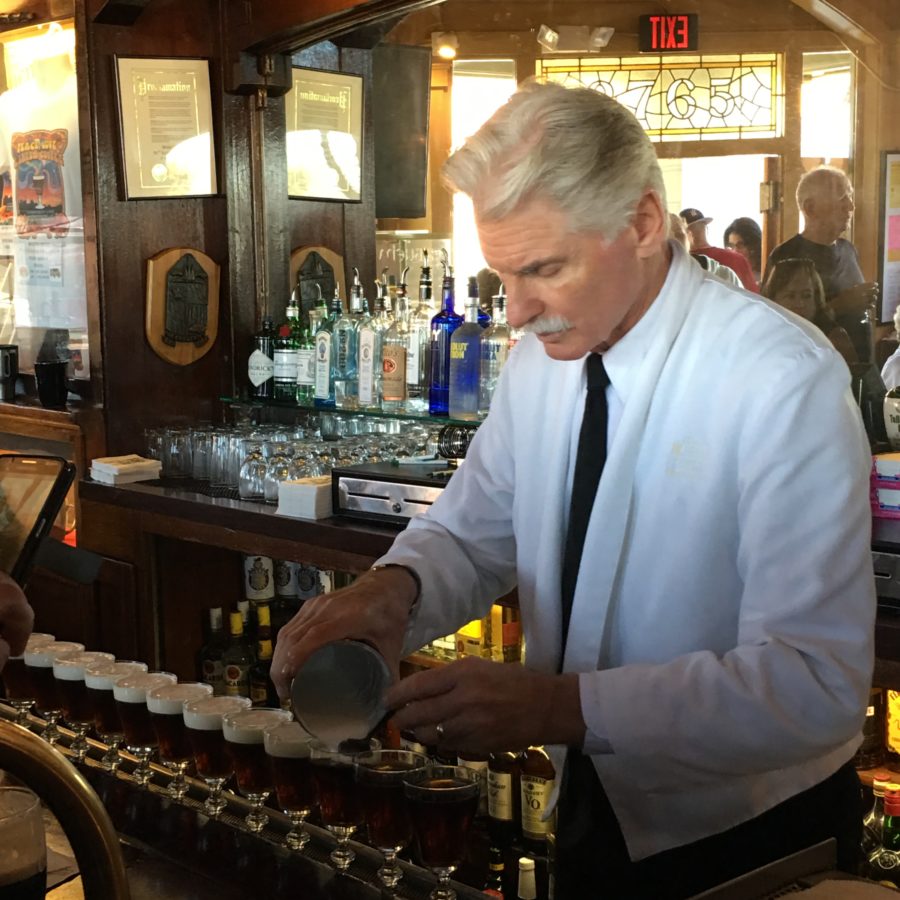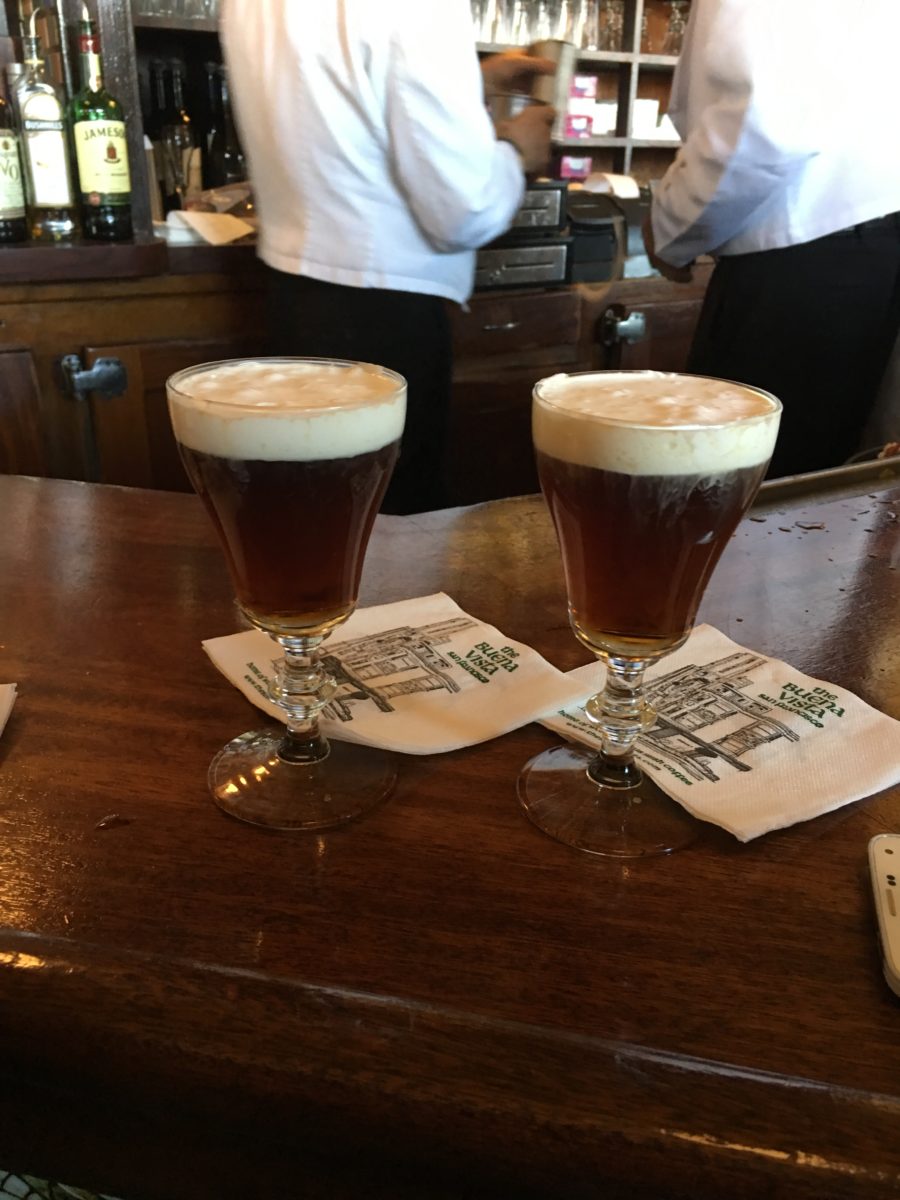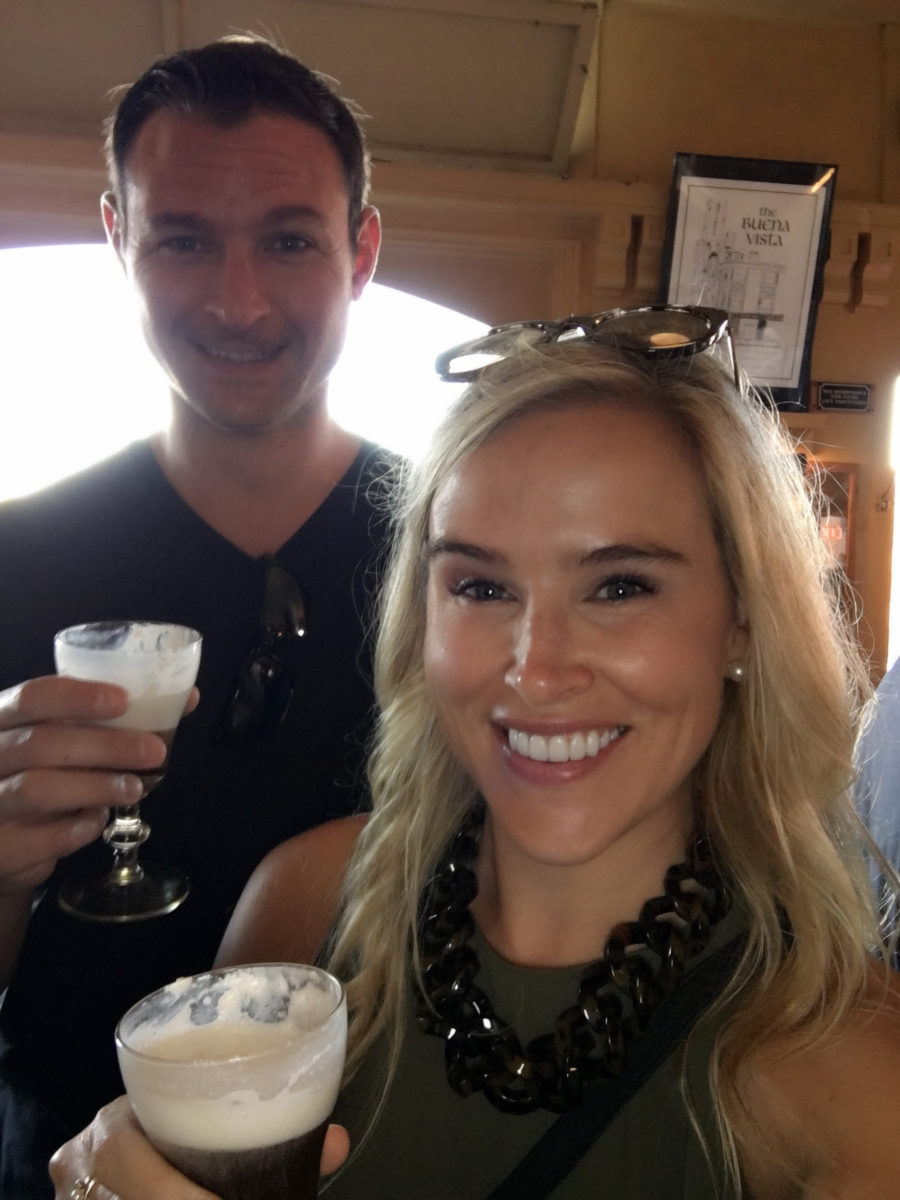 It happened to be the Air & Water Show weekend (seriously best luck ever – this is one of my all time favorite weekends every year in Chicago!) . We grabbed lunch at one of the waterfront restaurants at Ghirardelli Square and were able to watch from lunch and then stood in the grassy area and watched some more from there too.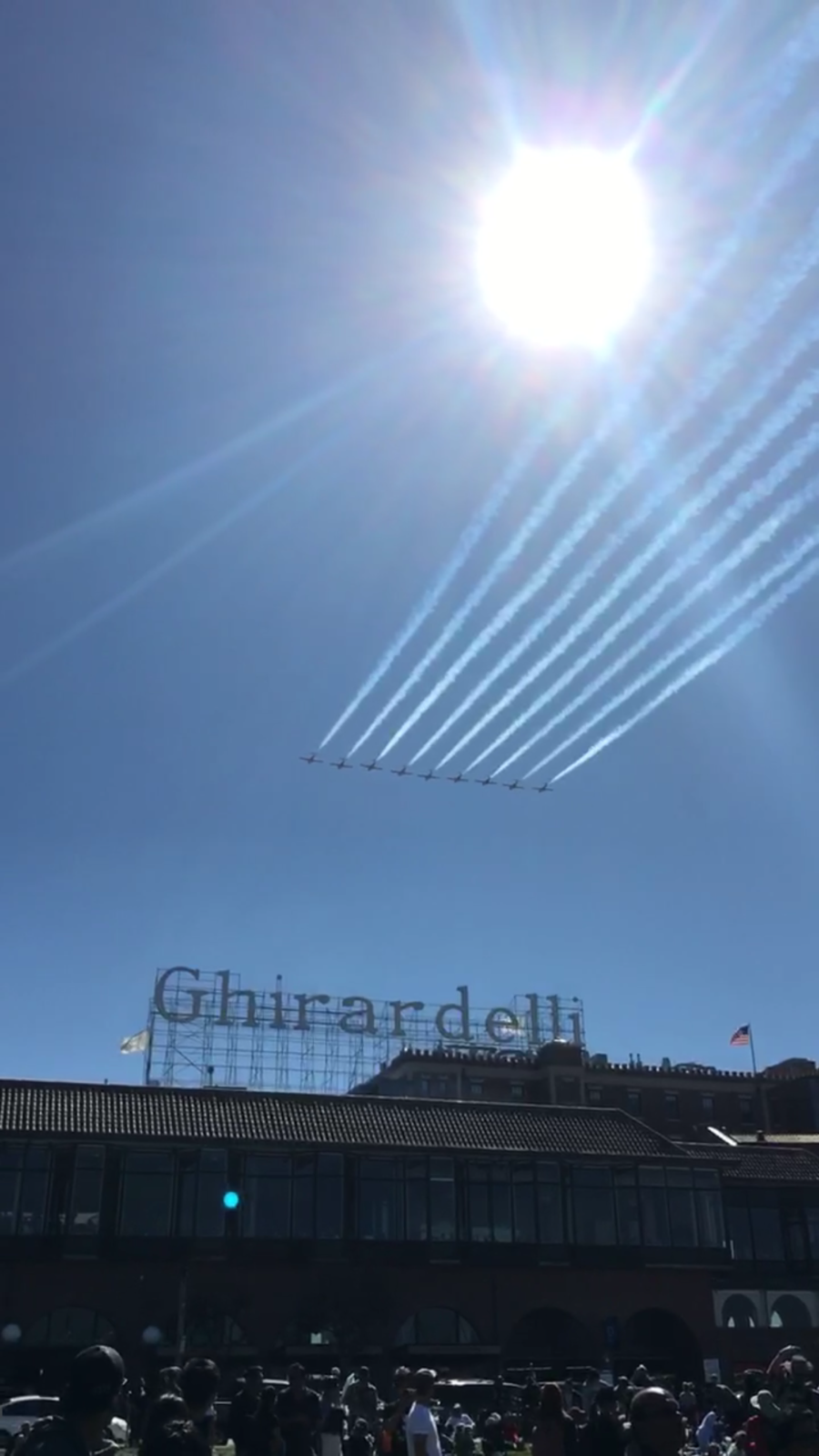 I am so sad that I can't figure out how to put some videos in here, so I will work on it, because the air and water show videos were so good. 
I have never experienced Air & Water show with the timed music playing and, more impactful, I have never heard the pilots talking to one another and giving the signals while you watch it.  I don't know if this is new or that I was never at North Beach in Chicago but instead on a rooftop or boat watching, but it changed everything.
I cried! There was one moment where you hear the pilots saying this is for the men and women who protect us every day and then signal the other pilots to fly over the Ghirardelli building, with the best One Republic song playing, and it was seriously breathtaking.  So cheezy, but I've seen a lot of air and water shows, and this was a completely different experience!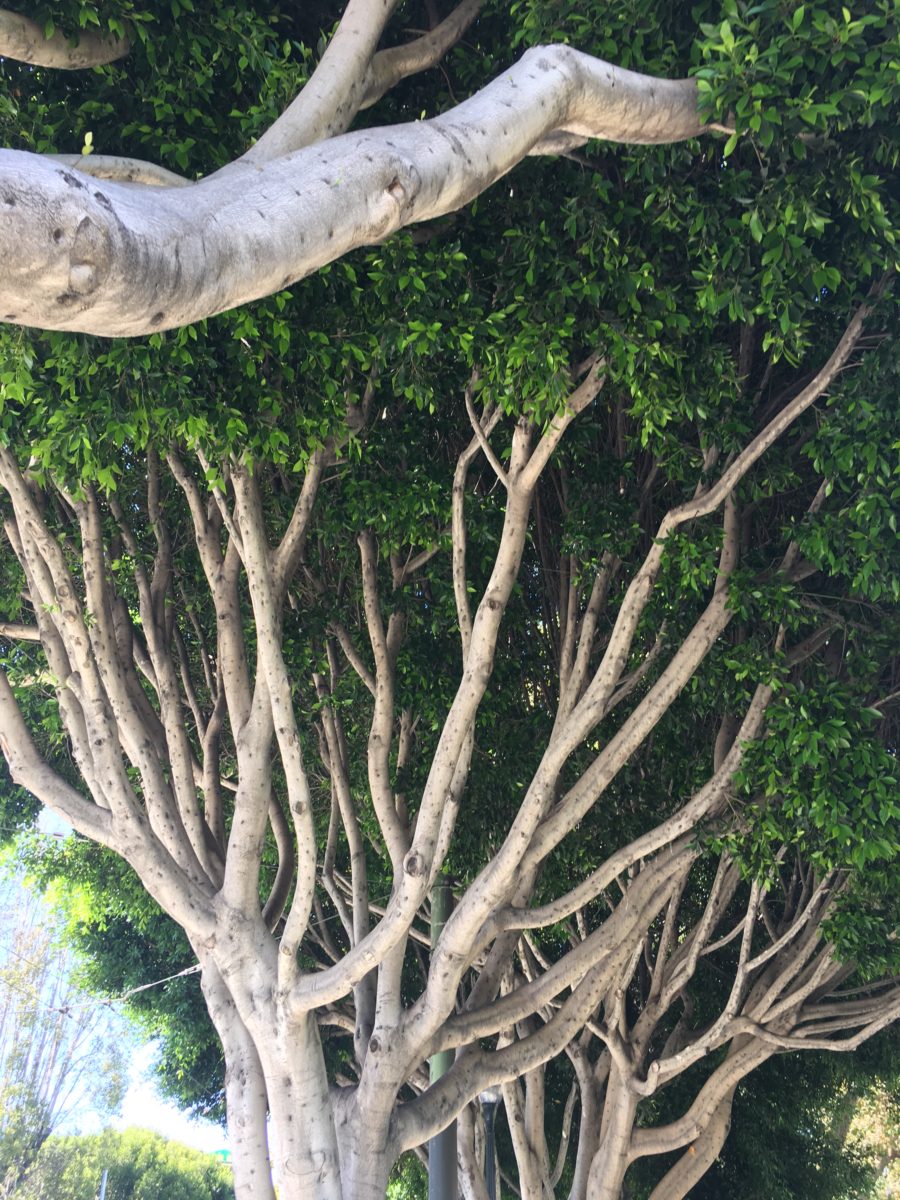 Walked back to North Beach, found an outdoor patio Pelligrini where we had semi decent views for the rest of the show and had a drink and hung out.  The weather – we were SO lucky!  When it was time to head back to the hotel, everyone was walking from the waterfront so we knew we would never get an uber or a spot on the cable cars, so we prepared for our second fully uphill from bottom to top walk of the day.  We definitely got our workout in!
We had gorgeous views of the bay while we walked up though!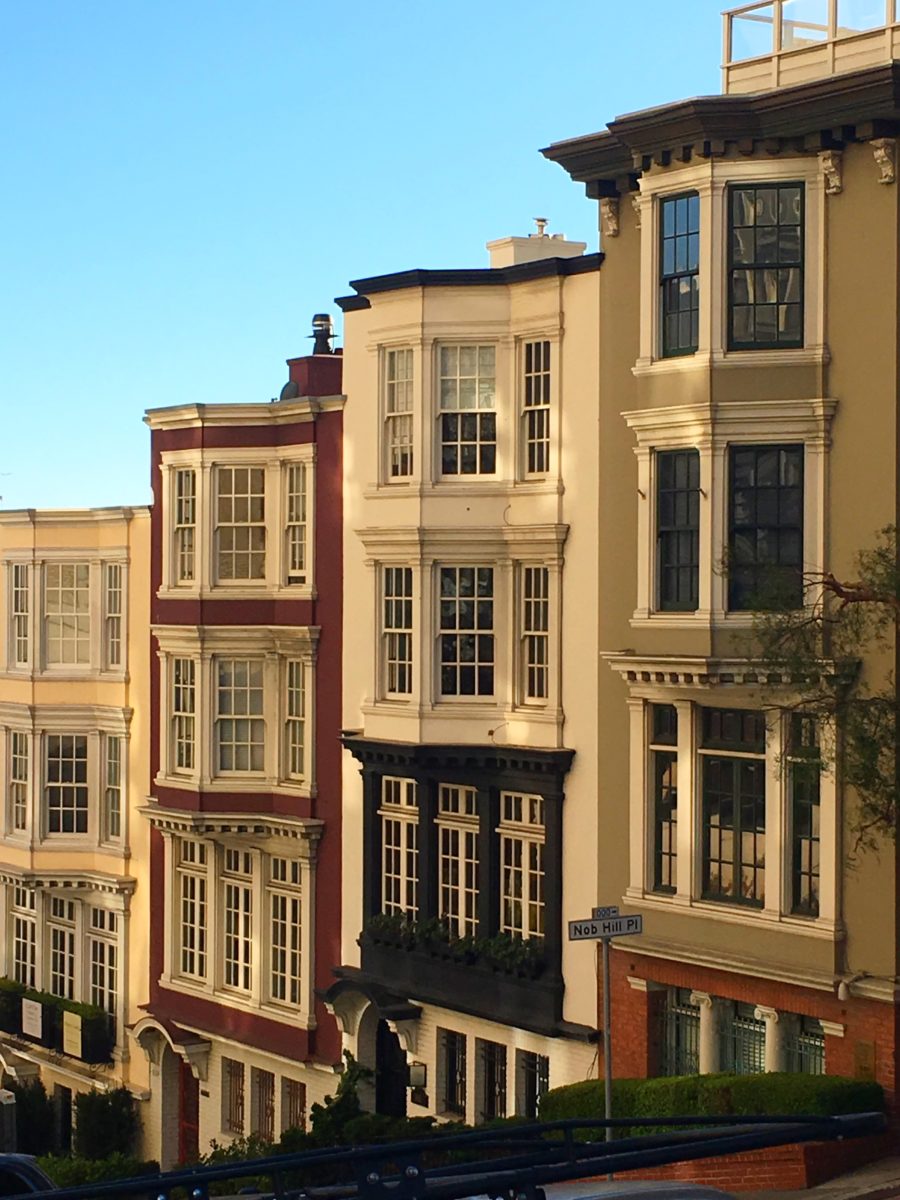 We changed for the night and I had big plans for our reservations at the secret bar Wilson & Wilson, which is located inside the other secret bar Bourbon & Brand.
We headed next door to The Fairmont to grab a drink at Tonga Room first, but there was a wedding happening, so we crossed back next to our hotel to Top of The Mark, but again, a wedding had the bar rented out.  Oh well!
So we grabbed a drink at a hotel Kip had stayed at before and then headed to our reservations at Wilson & Wilson.  This was THE coolest experience ever.  Seriously.  Even Kip, a man of few opinions (kinda like me? right?) thought it was one of the highlights of the trip!  You can get a reservation online (book in advance) and they give you a secret password to get in.  We used the password to get into the first bar, and then they took us through that bar to a far back door with a lock, and then the girl used a key to get us into the tiny bar Wilson & Wilson.  There is no cell phone use or photos allowed which made it great because you really soak in the entire experience.  There were only 4 other people there when we arrived, and only 2 more that came while we were there.  (3 others came in at one point and were immediately kicked out for either pulling out their cell phone or being too loud. They mean business).  We got 2 bar stools and a giant menu of bourbon (ew for me, yum for him) and a list of cocktails that they make.  I am normally not a cocktail person – not my thing AT all.  But these were THE BEST drinks I have ever had.  And surprisingly reasonably priced too.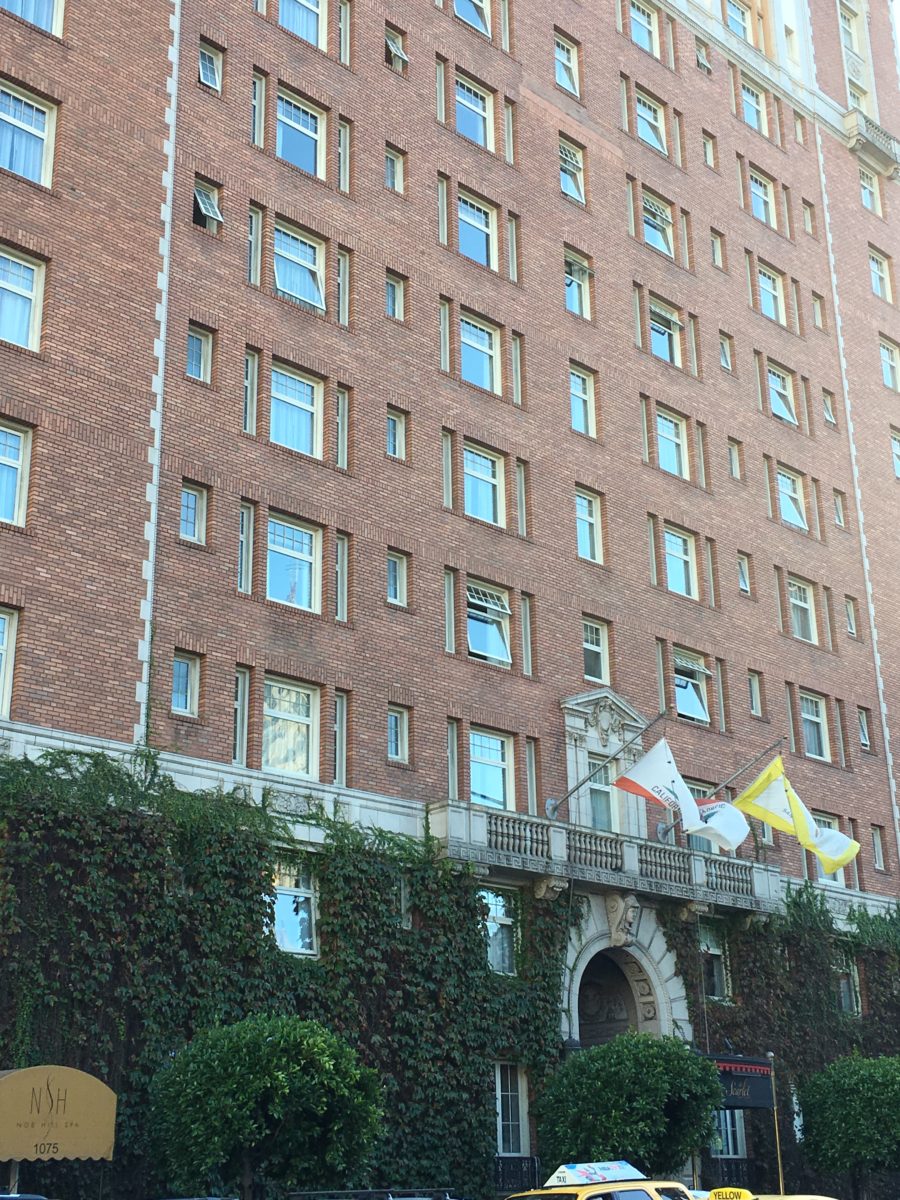 The bartender was amazing and just watching him make the drinks was an experience in and of itself.   You could taste each little element and actually understand why they all complemented each other.  I will definitely be sticking to my wine/vodka at bars because cocktails were disappointing before, and they will definitely be even more disappointing now.  No drink will ever live up to these!
After drinks, we headed to a late dinner at The Saratoga.  This was a great meal, also in the Tenderloin neighborhood.  But: there are certain areas of this neighborhood you want to avoid, so have someone at the hotel or a friend inform of before you go walking around everywhere! We just uber'd from spot to spot.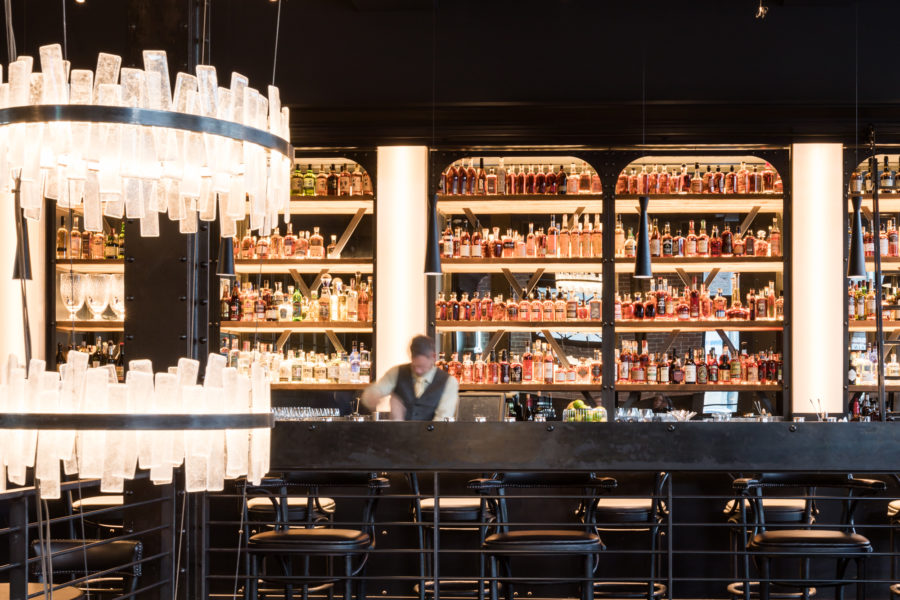 We had wanted to do lunch in Chinatown and had recommendations for R&G Lounge and House of Nanking but with the Air & Water Show it didn't end up happening.
We decided to fly out early Sunday morning to Orange County versus midday, since it wouldn't leave us much time to do much in either place if we kept our 2 PM flight.
I'll share about our time in Southern California tomorrow with my Friday Randoms + Link Love! 
A great resource for finding hotels + bars to visit if you aren't as in to researching as I am is Victoria's blog page with her giant roundup of places to go and things to do!
I am soooo behind on my TV that I just couldn't Coffee Talk today – so sorry!
I have barely seen a thing – just Dallas, but am very excited to catch up this weekend!