I'm back today with another travel recap for you from our trip in July:
A guide to 24 hours in Milan!
After 4 days and nights in Amsterdam, we flew to Milan, where we spent a full day before heading to Como for the wedding weekend of Kip's family friend to begin.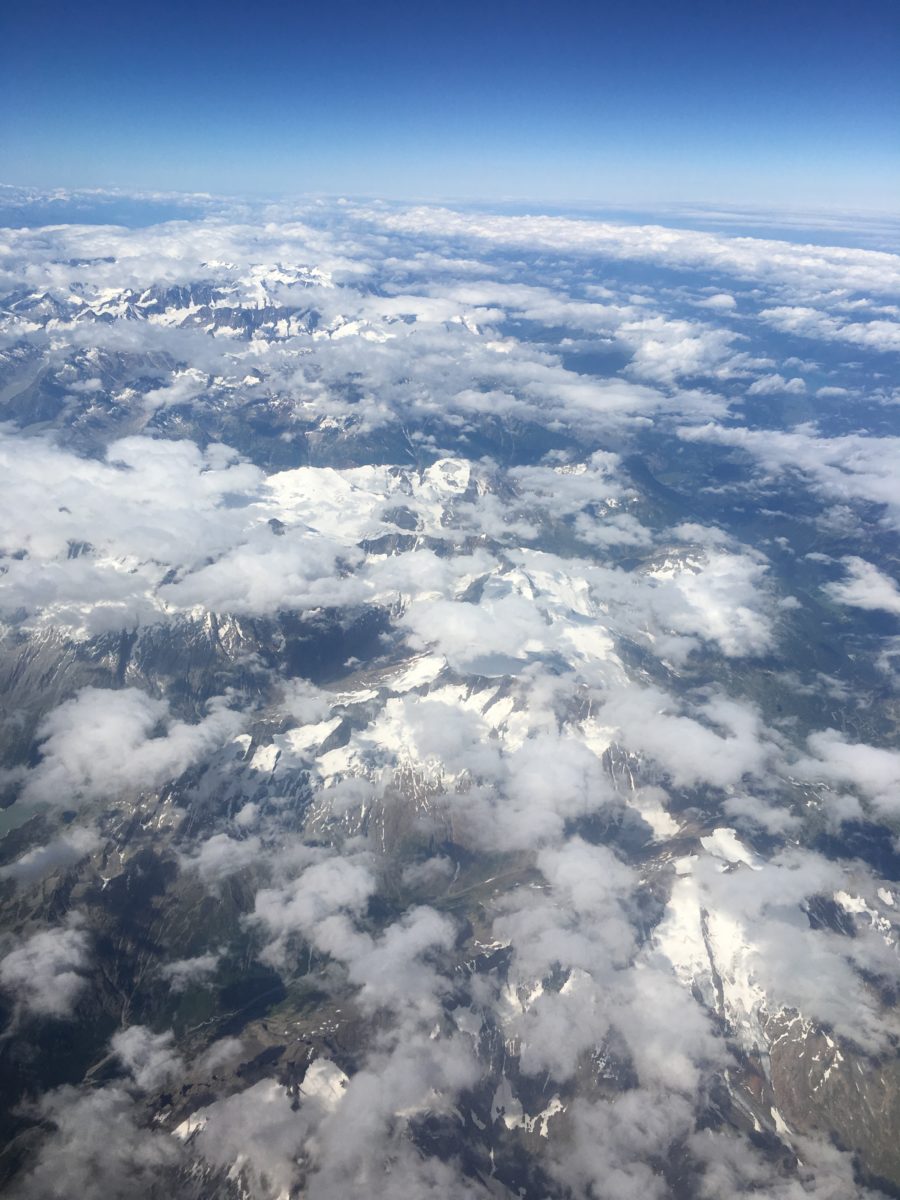 We flew on the beautiful upscale airline EasyJet, which was as bottom of the barrel as I have ever experienced.  We had gotten up at about 4:30 AM for our flight, so I was exhausted and started to fall asleep on the plane.  When my head hit the back of the seat Kip kept saying "Don't do that!!! You'll get lice!!!" He is a germ freak…. but these seats were um, very alarming.
Just wanted to paint a full picture for ya.  Cheap flights at their finest. But it was hundreds less than the Delta flight!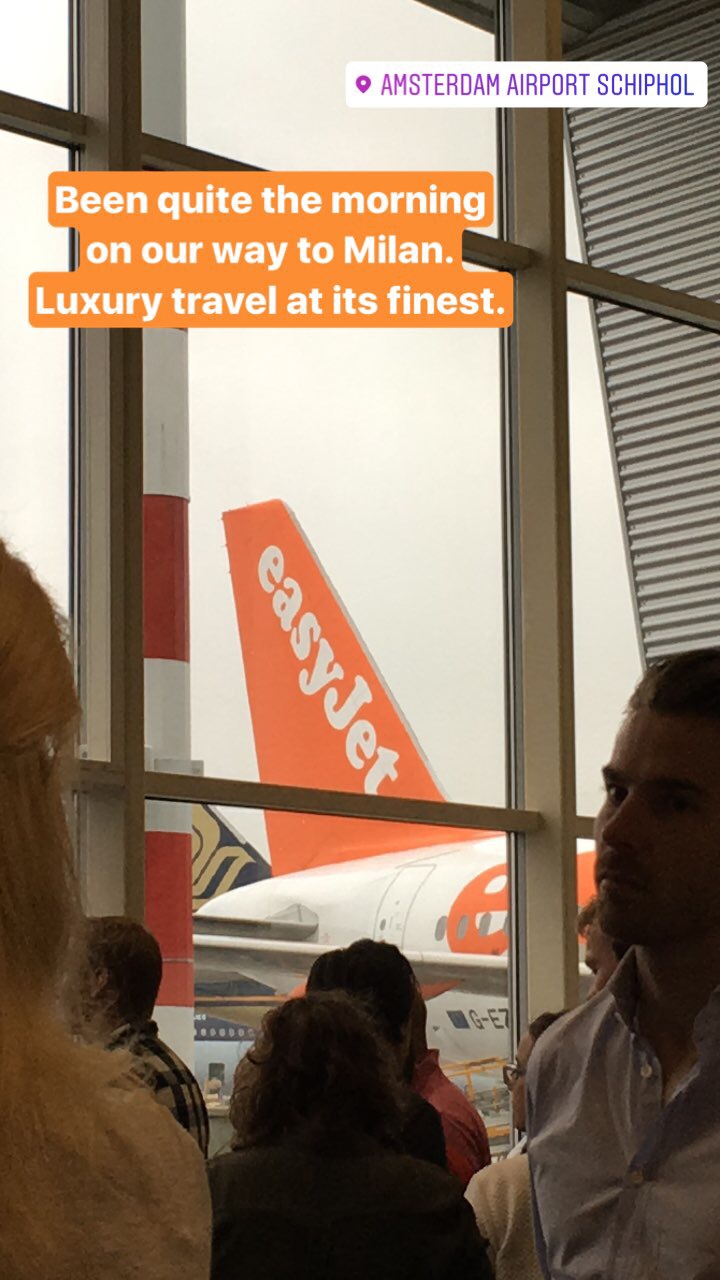 Going from the quaint, quiet days in Amsterdam to a bustling city was definitely a jarring change! But Milan was beautiful.  I will say, it's nothing you need to see on an Italian Adventure in our opinion.  (Venice, Rome, Florence, etc are all much more worthy of your time!) But it's the main airport to fly into for much of Northern Italy, and it's a perfect way to spend a day in Italy after a long flight and get your bearings, or at the end of a trip before flying back home.
:: Where We Stayed ::
We stayed at the Hotel Milano Scala.  We really liked the location in City Center; it was far enough away from the very busy areas, but a very quick walk to the Duomo and Galleria Vittorio Emanuele. We were able to take a train from the airport and walk 10 minutes to the hotel.  It's a cute boutique hotel and we were also sold when we saw that they had a rooftop bar and a beautiful courtyard. The rooms had a gigantic shower and tub which was amazing since we knew the rest of the trip in AirBnB's and the Bed and Breakfast that was unlikely.  A big shower (with big towels- score!) are something of a rarity.
The size of the towels kills me – it's like a face towel for your body.
Before we went to dinner that night, we went up to the rooftop bar for Apertivo.  It was beautiful!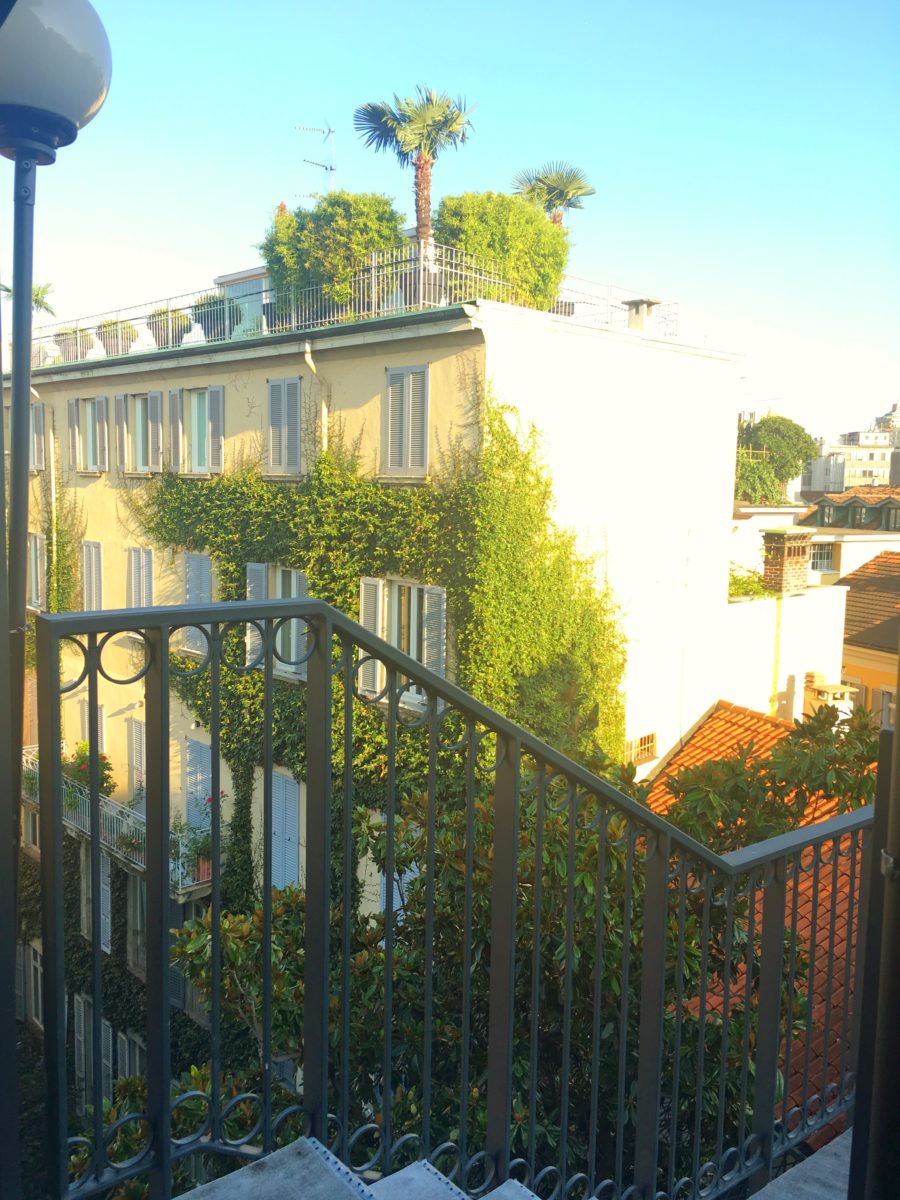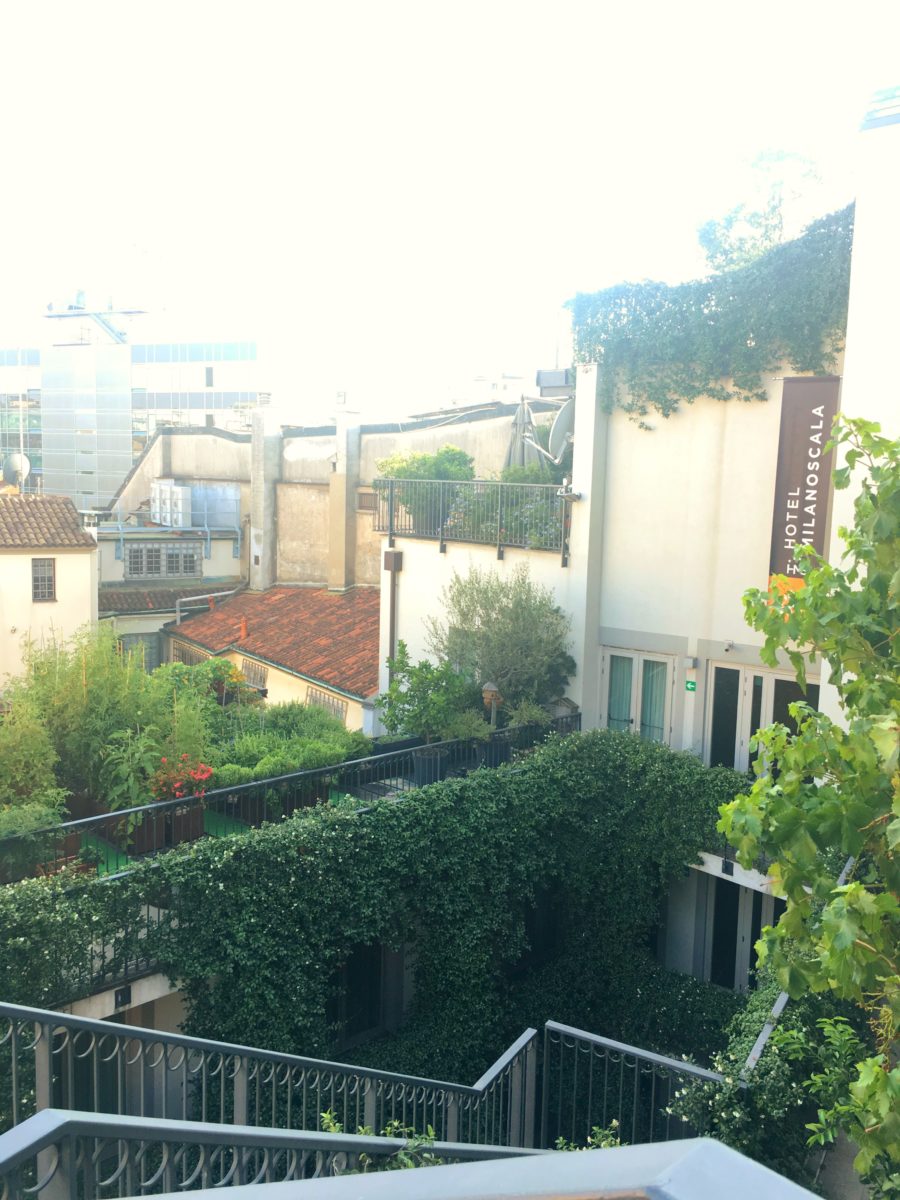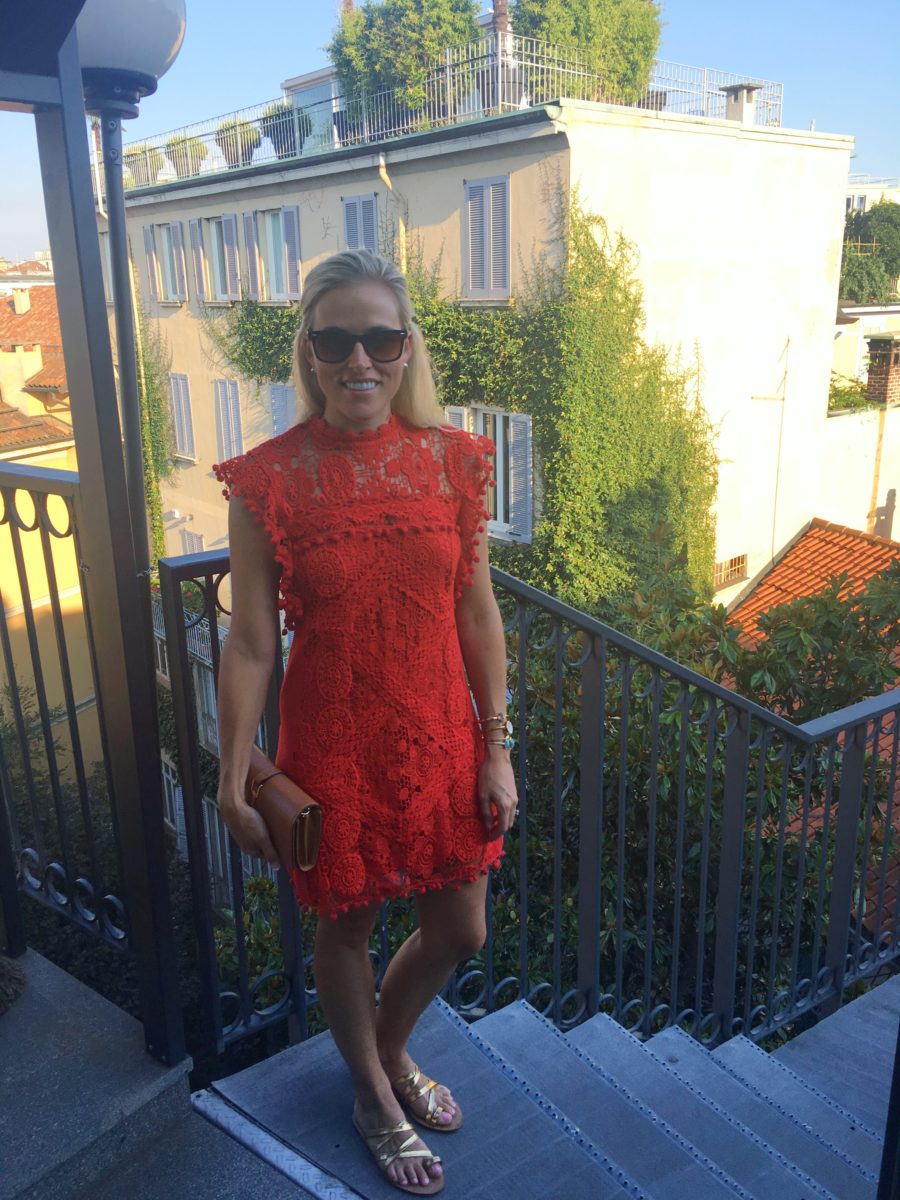 // RED LACE DRESS //

and the Apertivo samplings were very generous!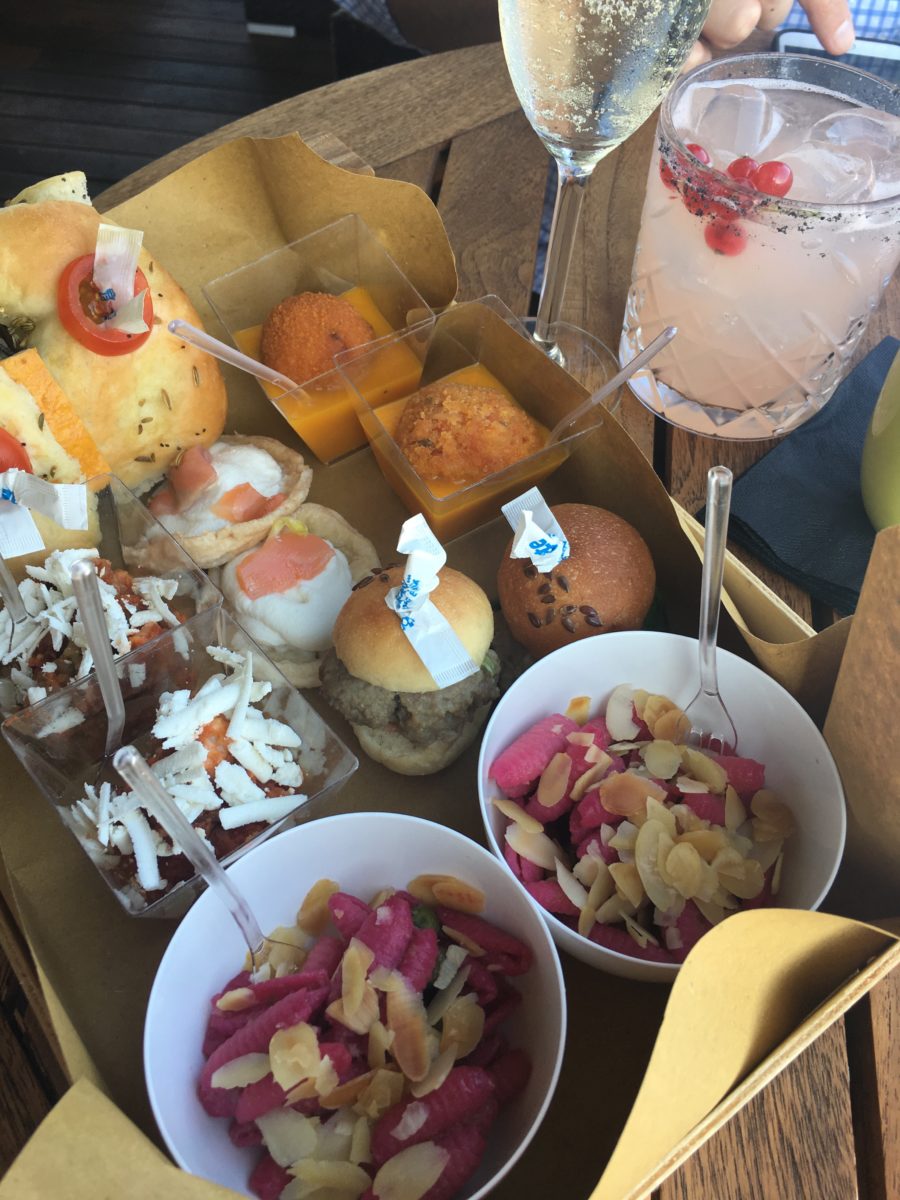 Other Hotel : Many people recommended the Park Hyatt in Milan. We used Kip's hotels.com points from work travel to book Hotel Milano Scala!
:: What We Did ::
Again…. this is very different than our last trip to Italy where it was go-go-go.  We wanted to just wander and relax before the wedding + family trip began, so that's exactly what we did.  Plus it was hot-hot-hawwwwt in July.  I'm sweating just thinking about it.
Oh….. this was also the ONLY night's sleep during two weeks that we had AIR CONDITIONING….in mid-July….. so just let that simmer around in your mind for a bit…. 
I just wanted to see the pretty shopping areas 🙂 If I'm going to walk and wander in a beautiful place, doing some incredible window shopping is very much preferred.
Via Montenapoleone and Via Della Spiga
These are the streets that you can walk around and window shop.  There were absolutely gorgeous shops – anything and everything from Patek Philipe to Chanel to Van Cleef & Arpels and everything in between.  I can't think of a single luxury store not there!!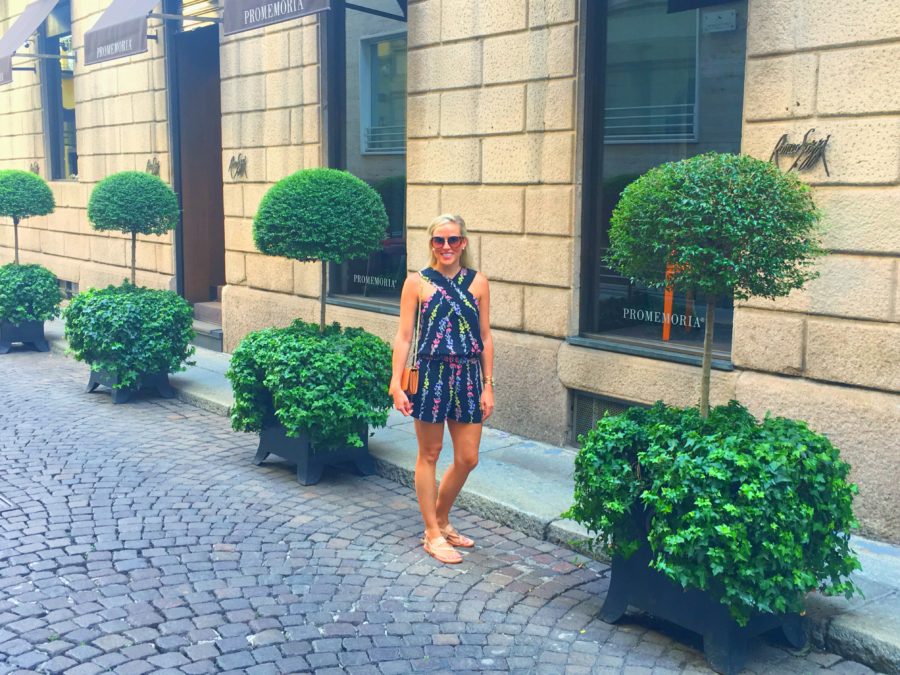 // FLORAL ROMPER //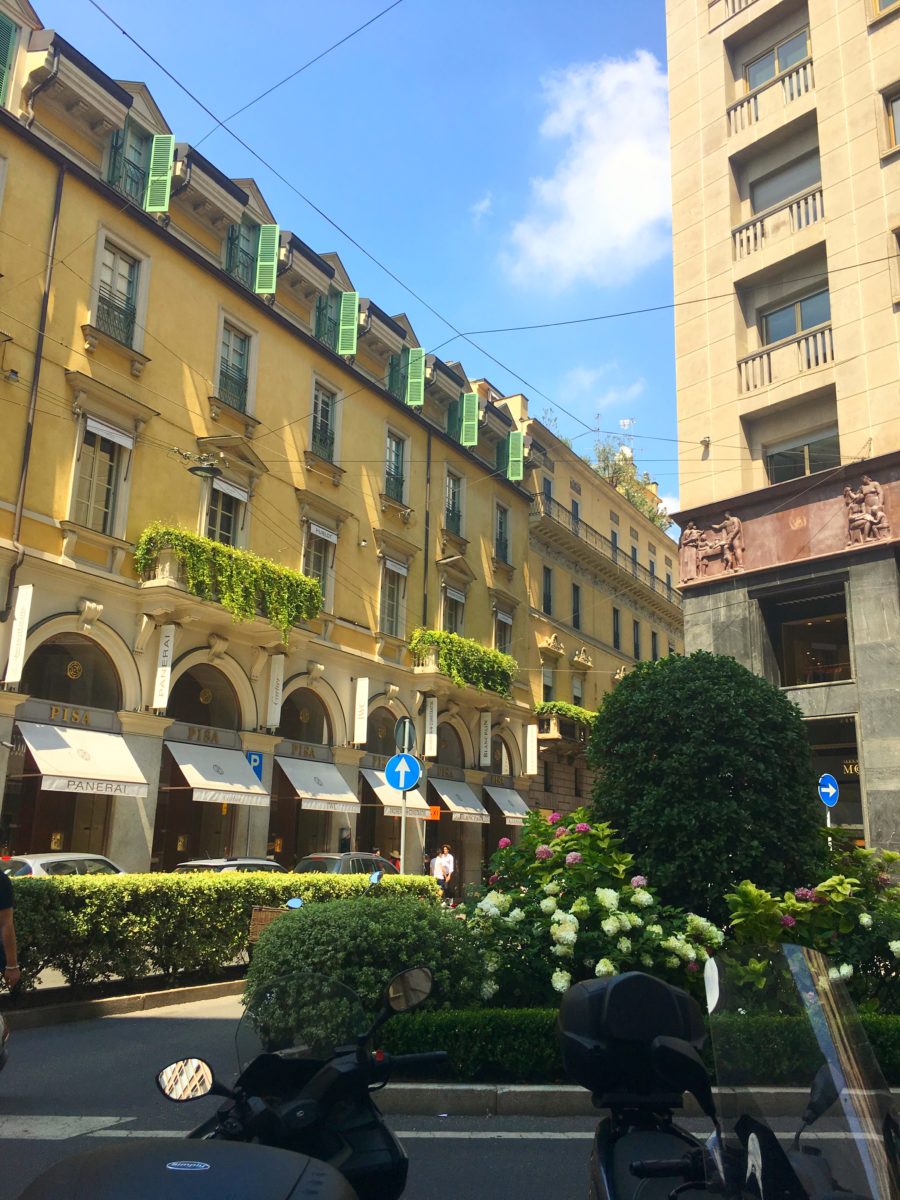 Galleria Vittorio Emanuele
This is the oldest "shopping mall" in the world and it's just gorgeous.  Definitely not what I would consider a mall per-say, but just walking through here is incredible.  It's right by the Duomo and everything as well.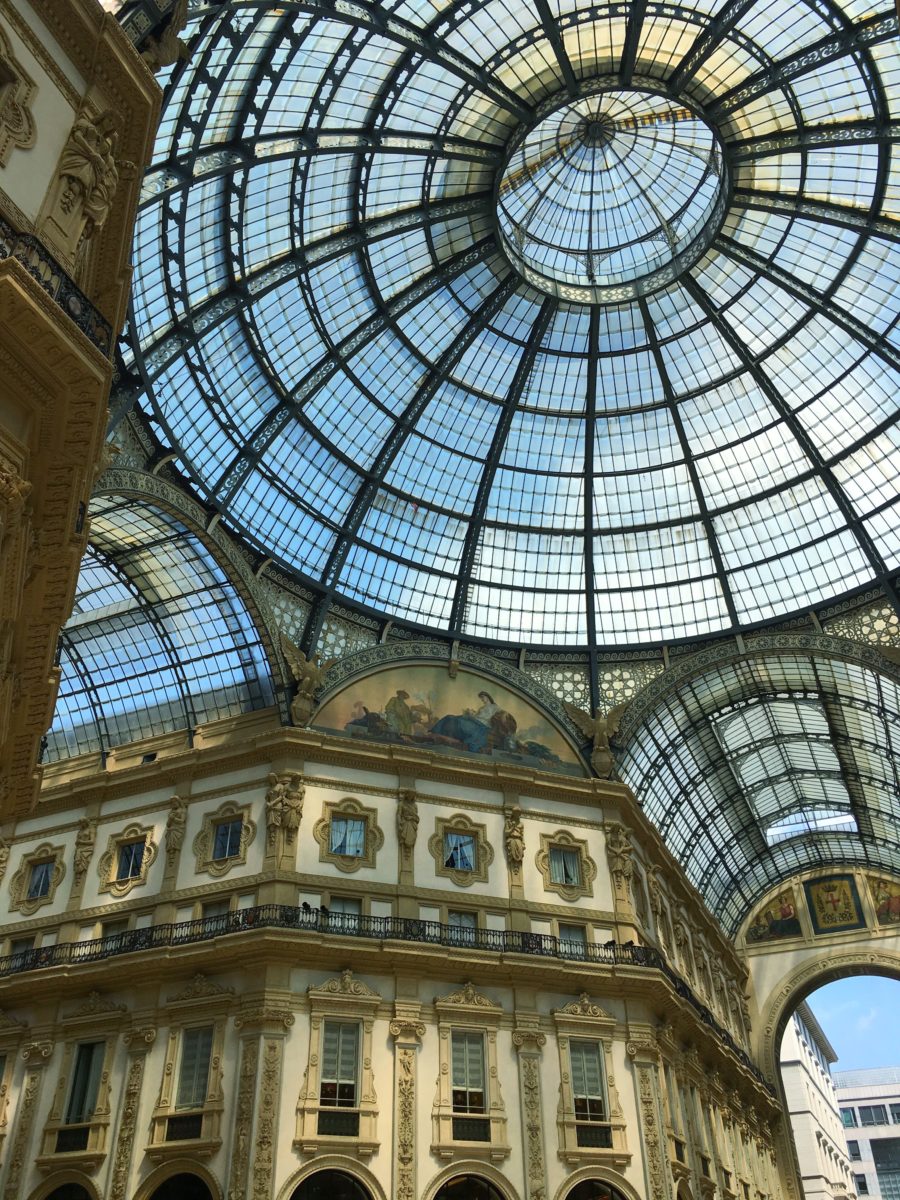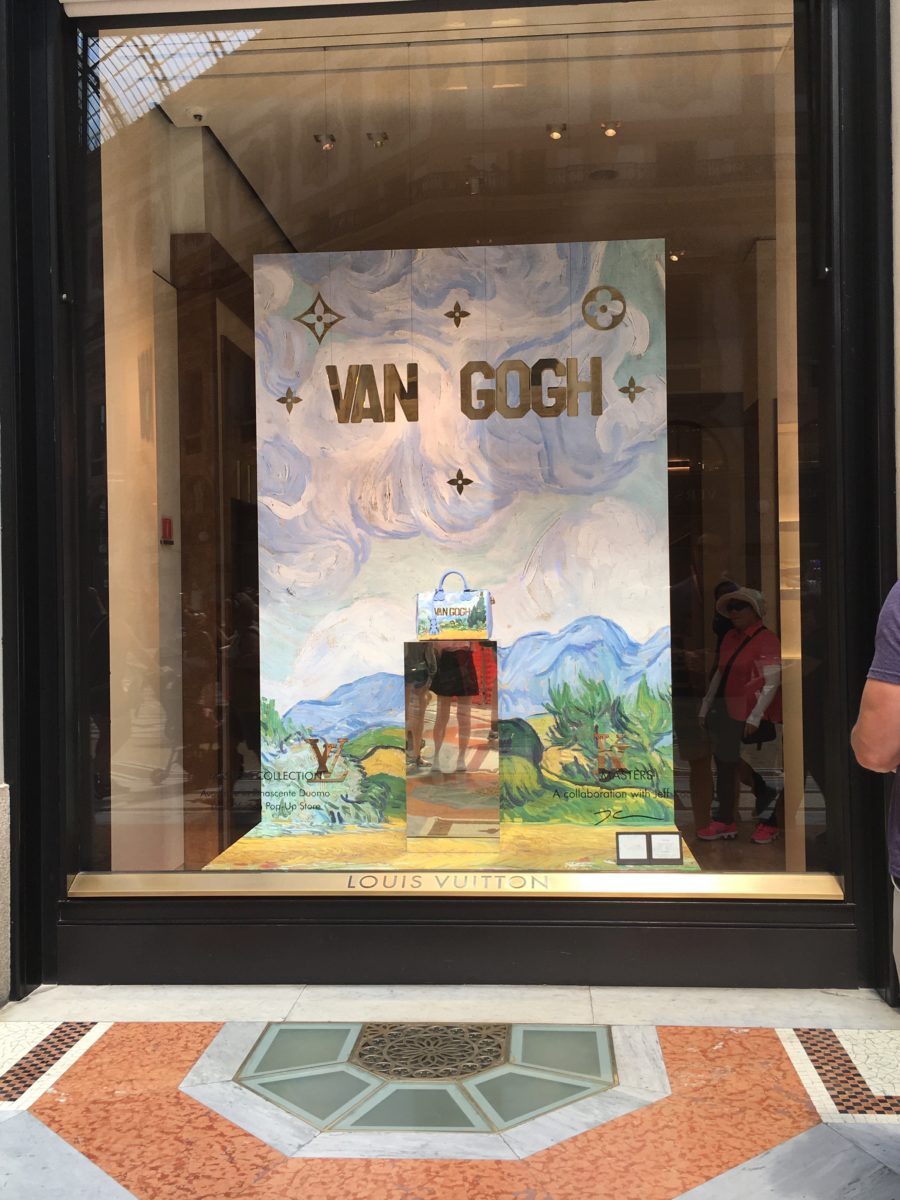 The Duomo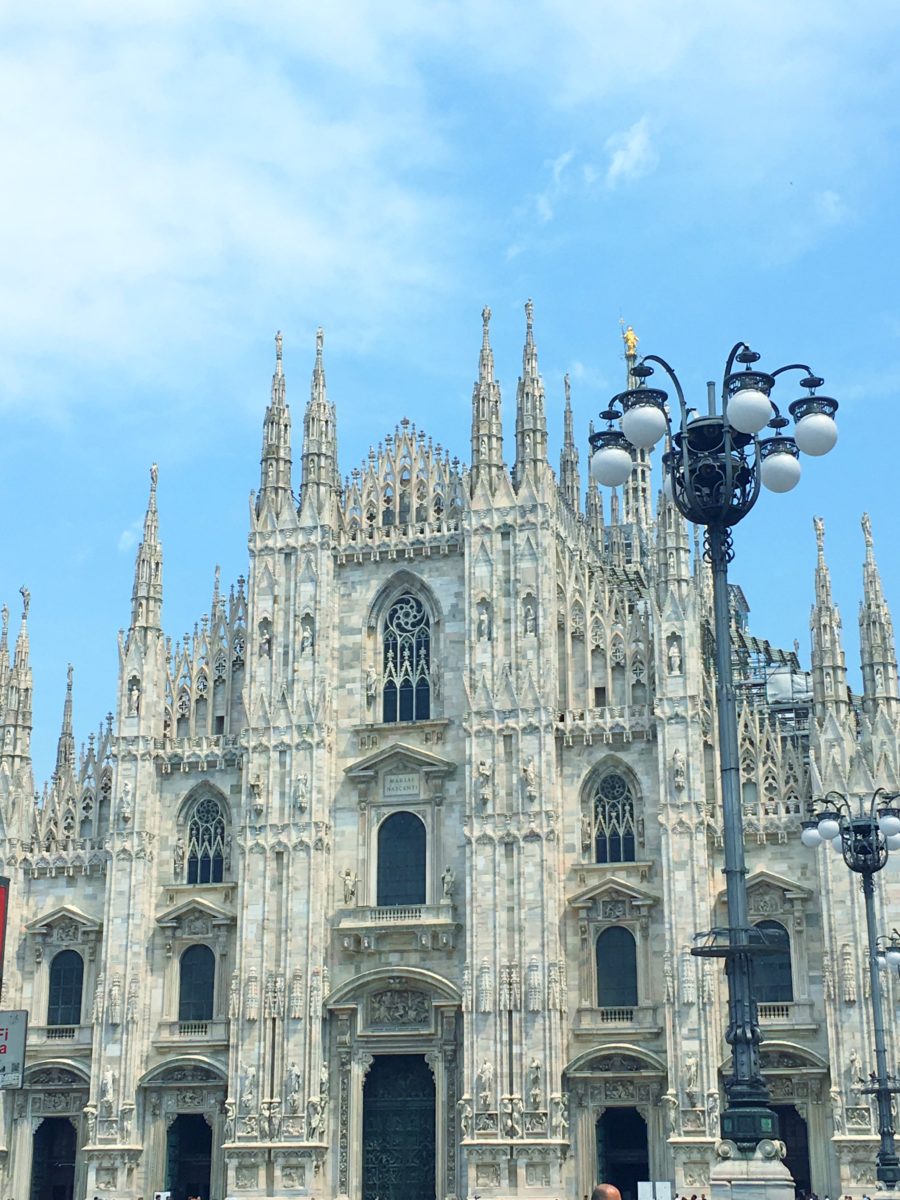 Canal District
This was a bit of a walk for us, but the groom that lives in Como (whose wedding we flew to Italy for) had recommended this.  It was a cute area with little shops and restaurants and very quaint away from the mayhem of cars and hustle and bustle of the city (there are two canals on the map when you look, one is NOT it, take my word for it :D) .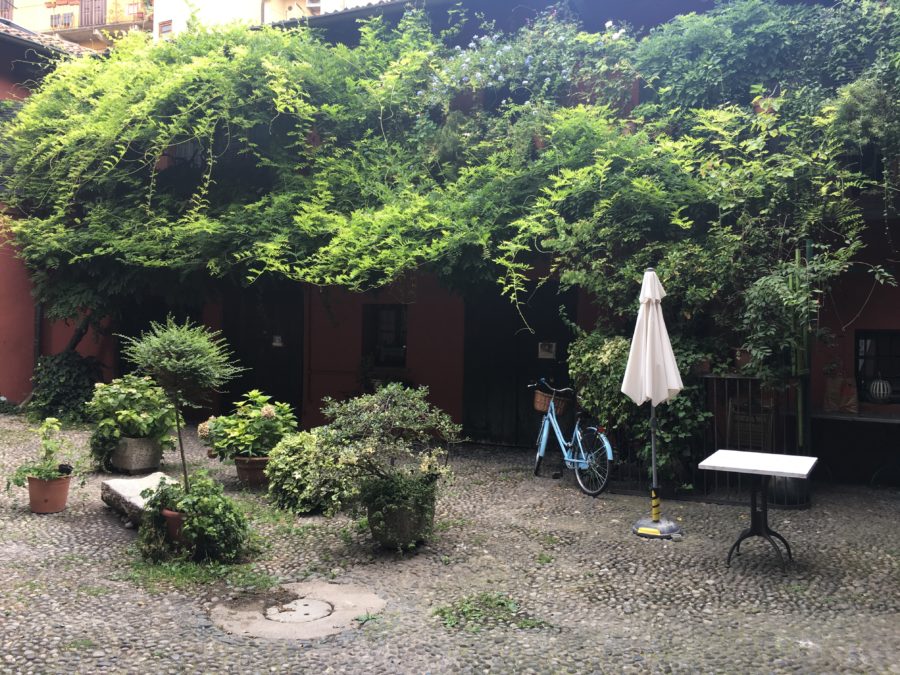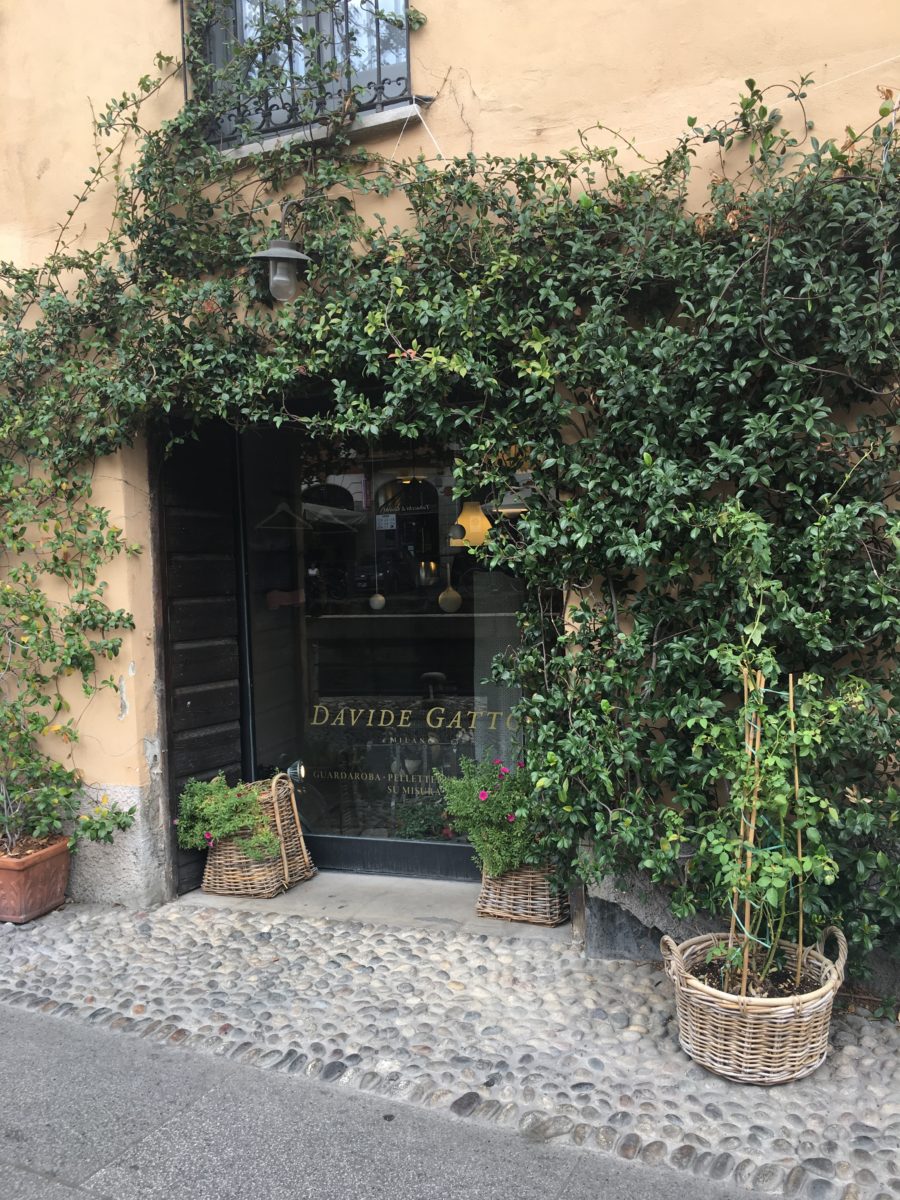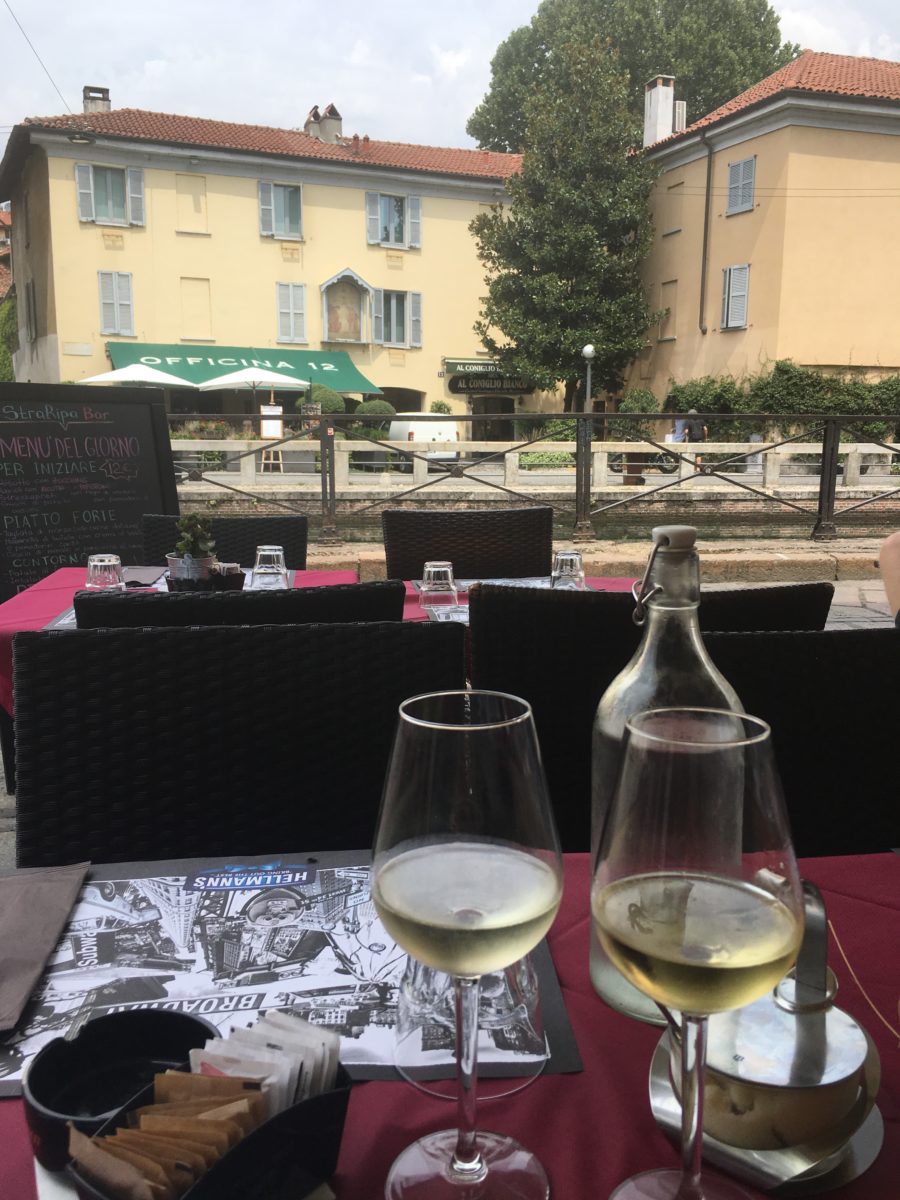 also recommended by others :
Shop at 10 Corso Como, see The Last Supper, Gothic Cathedral, Sightsee around the Duomo and Galleria Vittorio Emanuele,  Ambrosian Library, the Medieval Piazza dei Mercanti, and Castello (castle).
To Eat: 
Hostaria Borromei
We went here for dinner the night we were in Milan.  This was a recommendation from a reader who called it her "best meal of the trip" and we definitely loved it.  Request to sit outside on the patio – it's beautifully covered in a huge lush ceiling of greenery.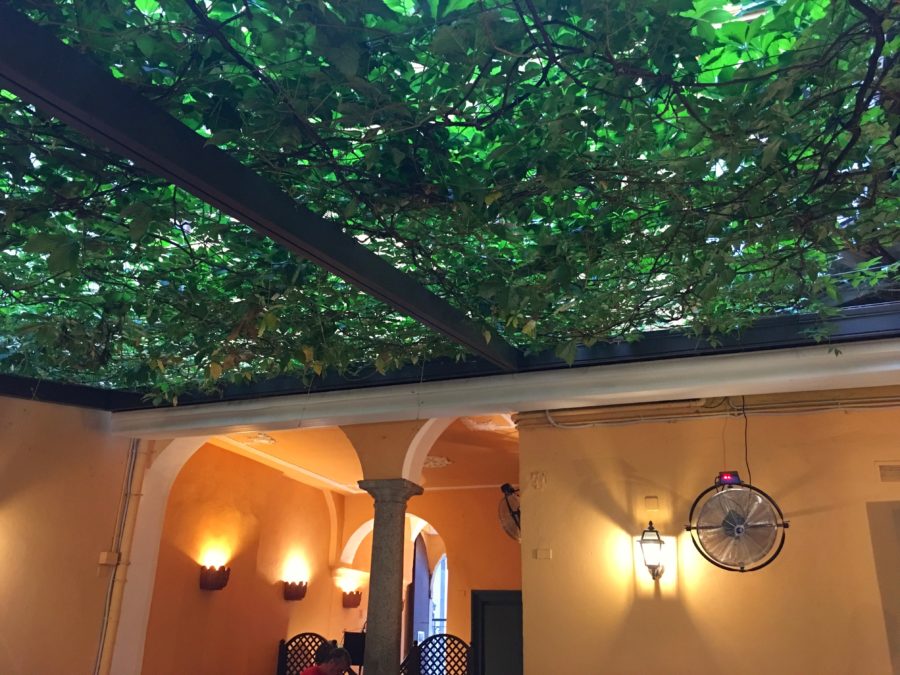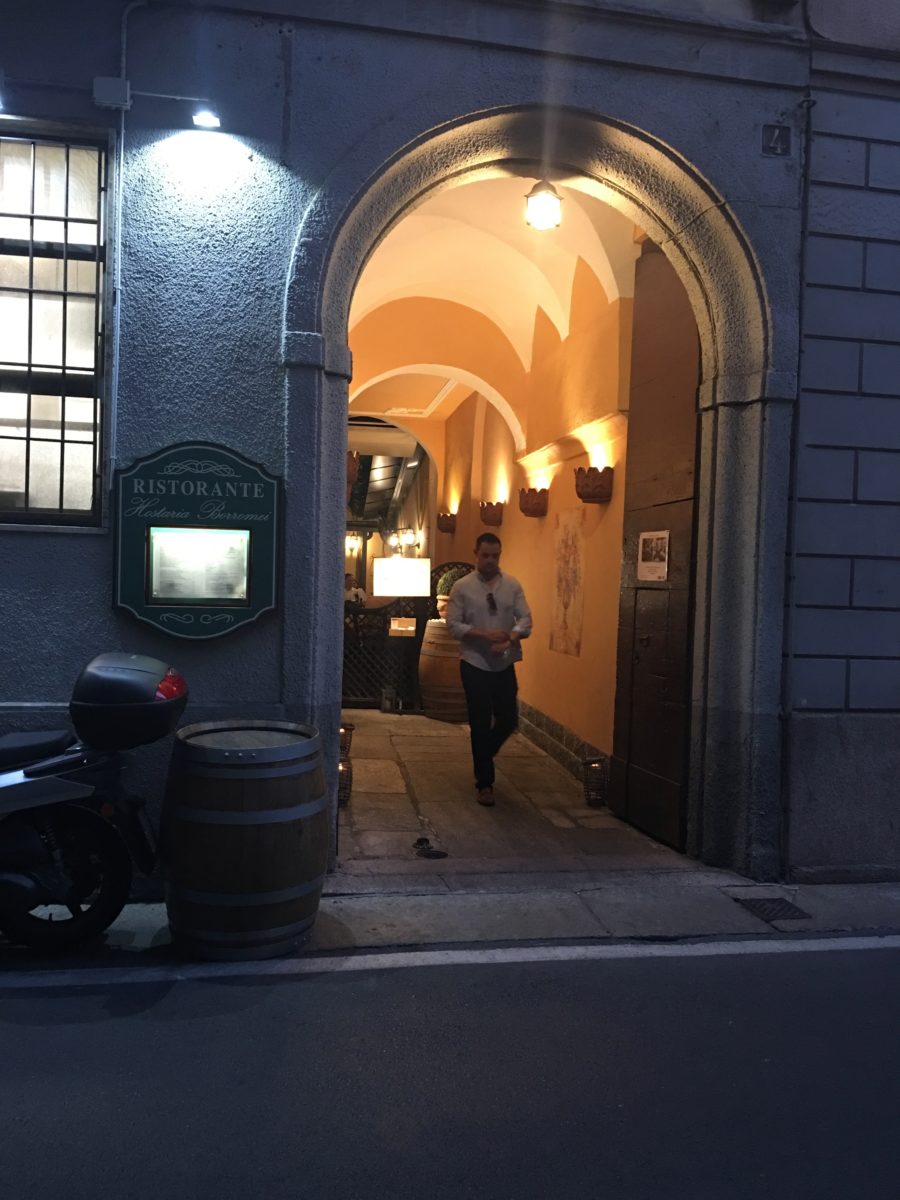 The art on the walk home from dinner back towards our hotel was simply remarkable.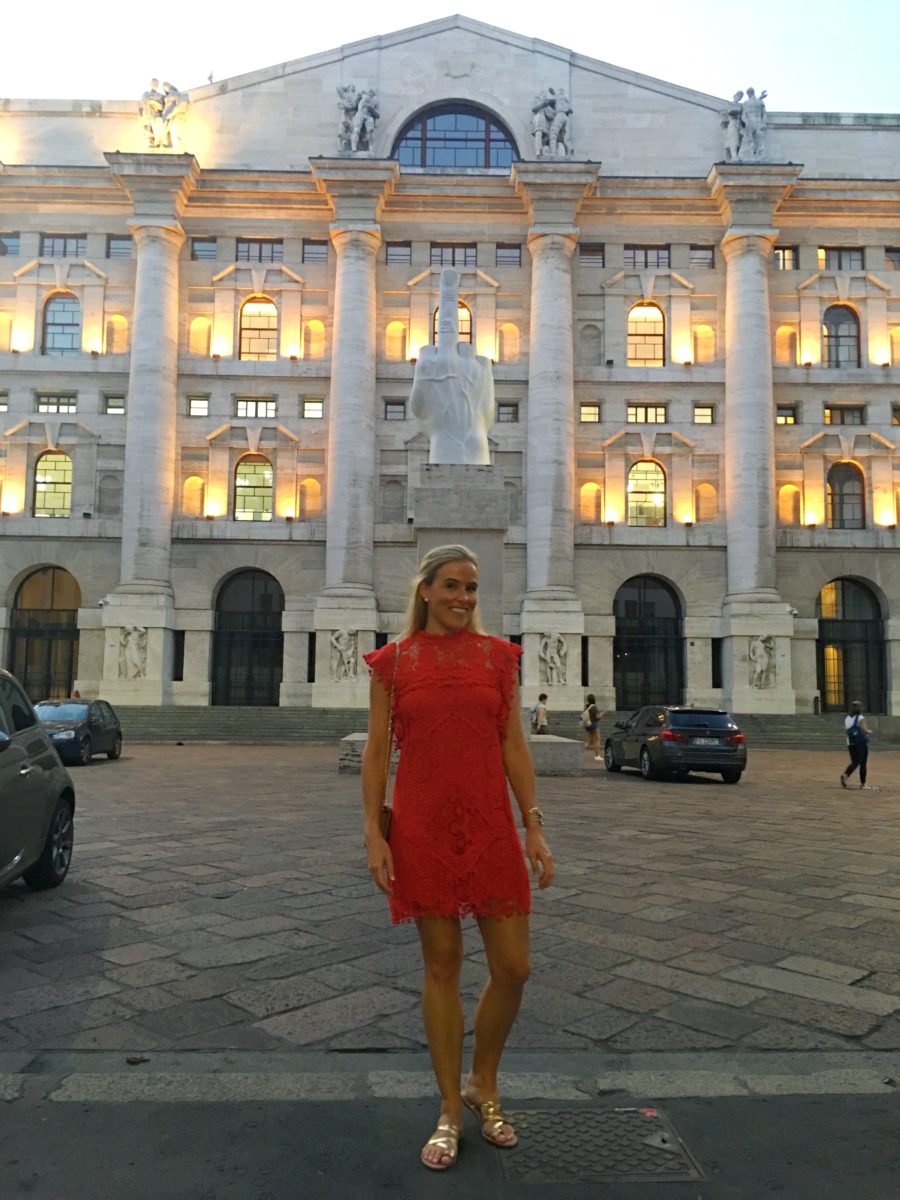 Luini 
We went here for lunch pitstop.  This is a quick, cheap place where you order at the counter place right next to Galleria Vittorio Emanuele (the gorgeous "mall").  They serve panzerotti, or basically deep fried dough filled with whatever you like.  It's like crack – I'm still thinking about it.  You walk out of the mall and past a McDonald's (seriously there is a McD's right next to like Prada it's great) and then run right into Luini.  The concierge at our hotel told us about it when we dropped our bags and changed and wanted a quick bite.   It was truly incredible.  It's unlike anything deep fried you can imagine, and you can get sweet one's or savory one's.  We got a few deep fried savory sandwiches and it was one of the best things I ate the whole trip (and the cheapest!) Luini is the perfect first pit stop to fuel up for a day of sightseeing.
Drinks on Corso Como

An area with some nightlife and bars and restaurants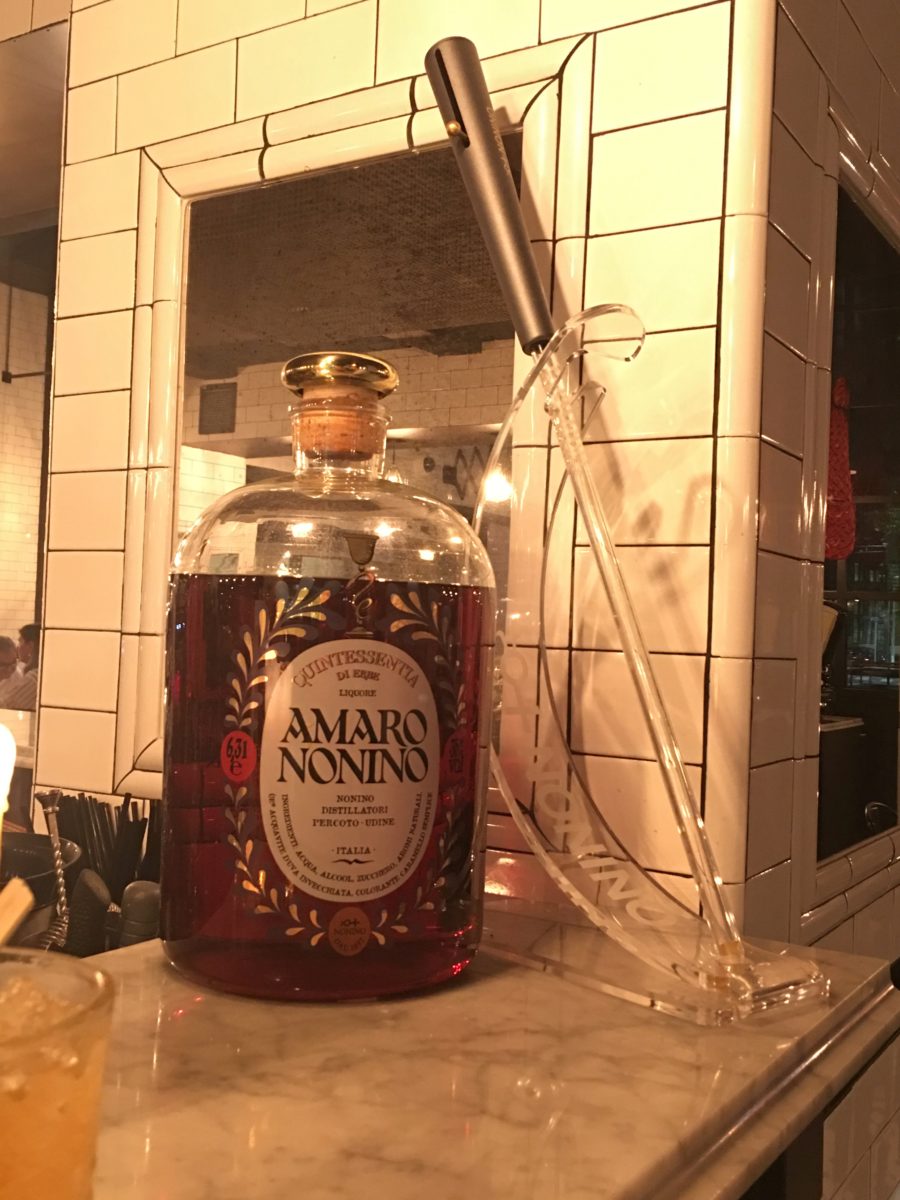 Outfits from Milan :
I have worn both of these pieces a dozen times and love them so much.
The red lace I have worn from everything from a wedding to date night to a party.  You can easily dress it up and down.  And the romper is so silky and lightweight that it was perfect for the extreme heat and long days outside!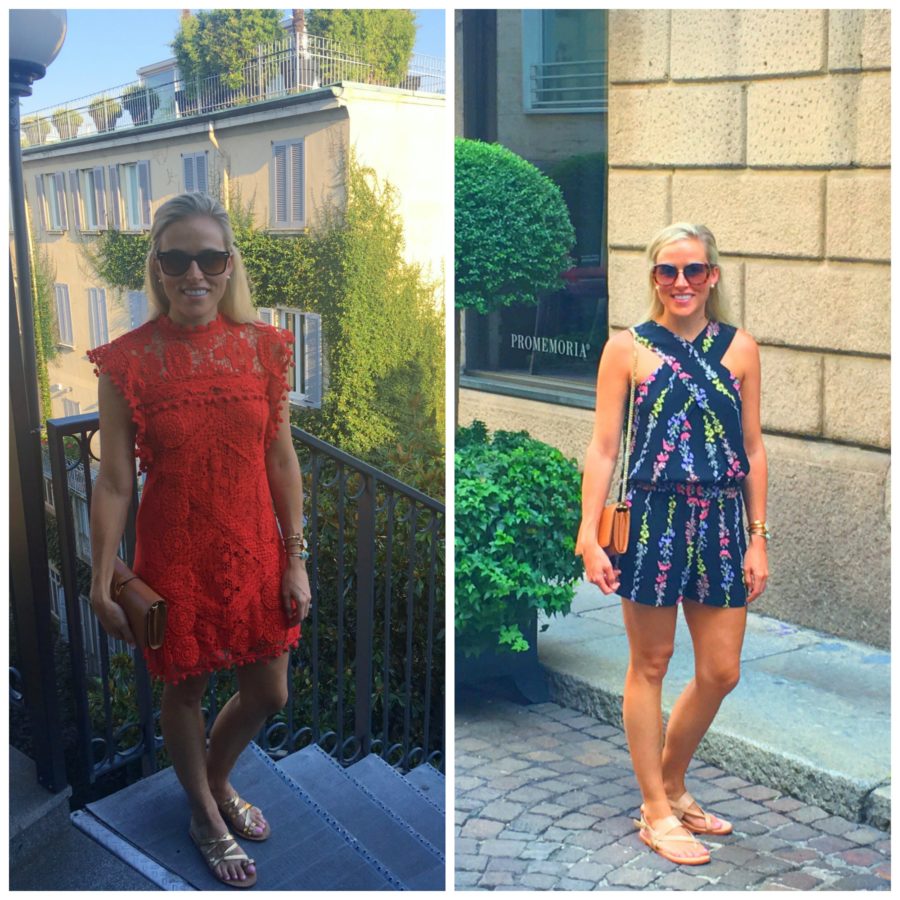 // RED LACE DRESS //      and          // FLORAL ROMPER // 

We had a great time in Milan – but we were ready to head out of the city life to get to Como and Wedding Weekend! I'll share more pictures from our trip next week with the wedding, and then our stay in Tremezzo on Lake Como!