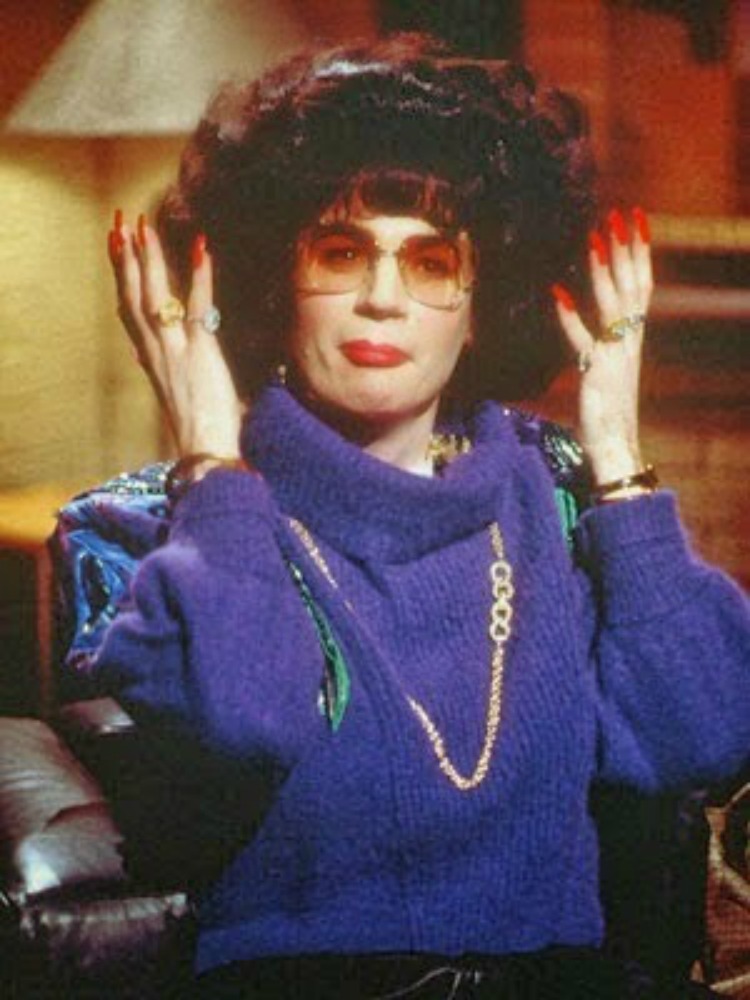 DISCUSS AMONGST YA-SELVES…….
:: BACHELOR IN PARADISE :: 
Let's just kick it off this week with the most important news going on in this Nation.
Bachelor Nation, of course.  What else would I be talking about?
Unless you have been living under a rock, you heard about Bachelor in Paradise suspending filming and sending everyone home after an alleged sexual encounters and an investigation by Warner Brothers is now under way.  If you don't know about this, you have stumbled upon the wrong website, and honestly it has even been the news blurb daily on my Comcast TV Screensaver – so even Comcast thinks this is IMPORTANT NEWS.
The situation that occurred involves Corinne and DeMario and them hooking up in the pool.  I don't want to go into the NSFW details,  but don't worry because the articles do it all for me!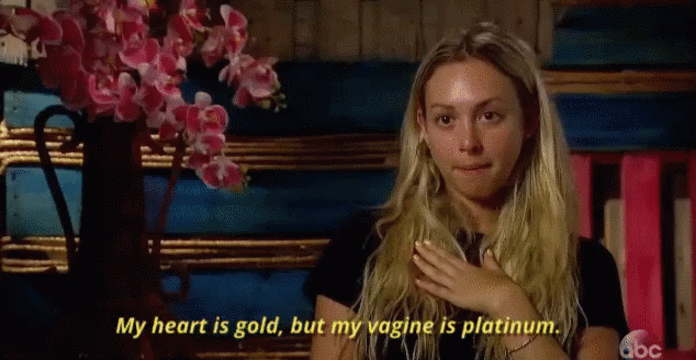 So, in the past few days more and more is coming out and it has gone from something happening in the pool to her being unconscious and him doing things in the pool.  That's the PG version.  All sides say heavy alcohol was involved.  DeMario denies all allegations and is calling for the tapes to be shown.  Corinne has now broken her silence.   She says she was too drunk to consent to any of what occured and has hired a big time fame lawyer.
Articles I read earlier in week talked about how Corinne had a boyfriend back home and was supposed to be getting a spin off show like The Twins did and all sorts of things and that this has obviously changed everything.  I keep it light ant breezy here at Coffee Talk and avoid all serious subjects like the plague. That being said, of course any non-consensual sexual acts are wrong wrong wrong.  But more disturbing to me is the production.  I think if this passed out/unconscious stuff is true then the entire production crew is just as horrible as they are portrayed on UnReal on Lifetime because who sits there watching all of it and lets something go that far? This show is so messed up.
However, following that statement I would like to say that I personally am devastated that this has happened and led to the possible ending of one of the greatest reality shows of all time.  BIP is the best part of these entire franchise and I really don't know what to do without it in August!! And poor Jorge the bartender!? Is he out of a job!?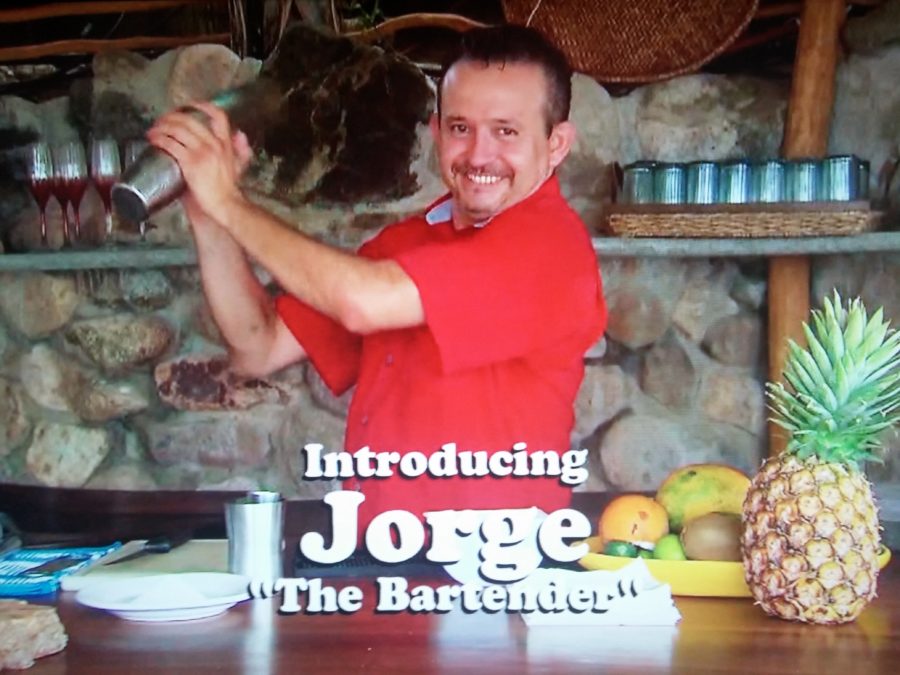 ps. an example of how awful these producers are? they wanted to can Jorge and use a BIP person as bartender.
They are SAVAGES.
Well.  I don't know what to say.  These BIP fools want fame and time on TV more than anything, so if this doesn't teach people to just keep it in their pants, I don't know what does.  LOCK IT UP PEOPLE.
Hashtag RIP BIP.
editors note: I stand corrected.  My husband lives under said rock.  Surprise Surprise. He just came in and I tried to explain "Ya know – the beach show! the one I love the most! with all the rejects!"  and I just got a blank stare…… but I guess I can see his confusion because me saying "it's a show I love the most" is complete and utter nonsense.  
:: Last Week's RHONY ::
Warning…. I really wrote a lot on this because I wrote as I watched.  Sorry not sorry.  Buckle Up. 
We are back for Berkshires Part III and the end of Ramona v. Bethenny.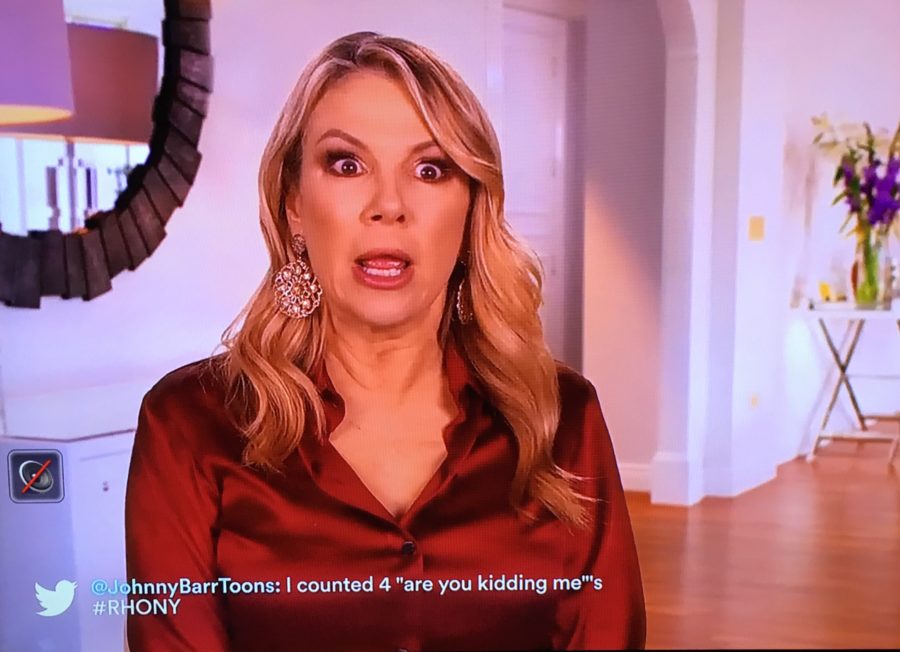 I have been meaning to comment on Ramona's ensemble in her diary sessions wearing this hideous red silk button down with her hair flatly greased against her head.  I can't figure out what it is (well…. it IS the shirt and the hair, but there's more that I can't put my finger on and it's just not good.)
The things that come out of Ramona's mouth during this are unreal.  Mostly because they are so off base that she doesn't have a leg to stand on and she is all over the place with allegations.
She says Bethenny is only successful because she slept her way to the top.  And we all know that a man is definitely not how any of this happened? Season 1 Bethenny was hustling cookies and doing whatever she could post Martha Stewart's Apprentice.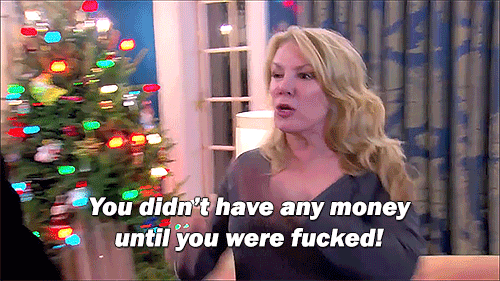 She keeps bringing up the "waterbed" and the soft core porn stuff and Bethenny is like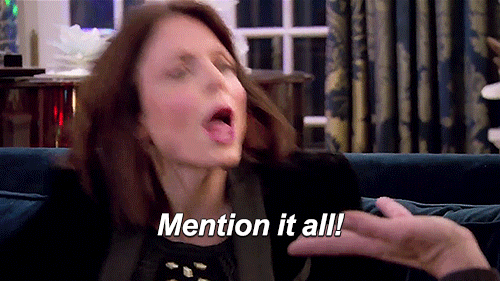 She attacks Skinny Girl and her company saying that her brand is over and that Ramona had Ramona Pinot Grigio way before Bethenny had booze, and then starts talking about the number of cases of Pinot she sells.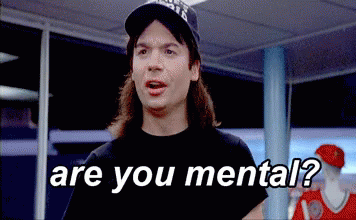 What has Ramona been drinking tonight because she is saying such blatant BS that it's embarrassing?  It has to be something stronger than the Pinot Grigio?
Then, of course, we switch over to the fake tears and making it about her and Mario.  Because it ALWAYS must go back to that.   "You've never been married for 25 years you don't know!"
And it goes on, and on, and on.  It is truly incredible television.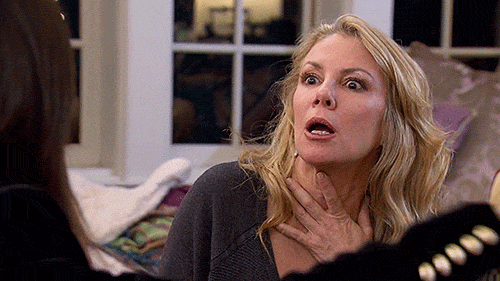 When it finally ends, she goes into the kitchen to rehash the scene with the ladies and tells a completely different version from what just occurred.  One of my favorites was telling Carole "She's using you she said she doesn't even like you being with you! She said you're boooooooooooooring" while she shoves her face into Carole's.
And a perfect way to end the mature argument: "You started it!"
Slow clap Ramona.  Thank you for this gift of a two part scene in the Berkshires.
I still don't quite understand why Bethenny always has to leave? It wasn't that bad?
But Bethenny packs up and throws on her Abominable Snowman Jacket to tell Ramona that she will "never speak to her again."
Uh.  Oh.
I saw that fear in Ramona's eyes after that!!! She even recognized a bad thing through all that booze! She had the Jill Zarin fear; the realization that "uh oh! if Bethenny is never speaking to me again….. and Bethenny runs this show….."
She stammers "I said I was sorry."
Ramona, when will you learn. Don't mess with the B.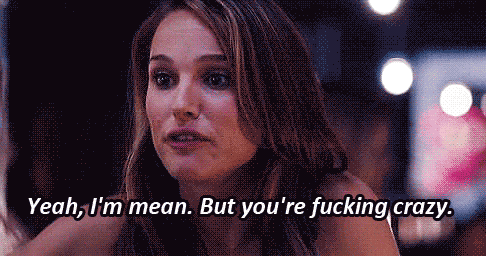 The next morning Dorinda tells Tinz about thinking Sonja was dead because she came downstairs to find her asleep sitting up in the dining room.  WHAT!!!  Sonja escorted her up to bed and Sonja was trying to kiss her all the way up the stairs.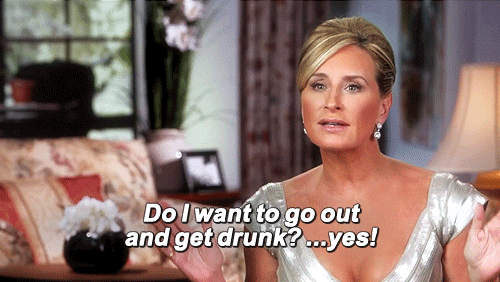 Sooooooo???  Do the cameras stop and then Sonja drinks? It's just a no drinking on camera thing?? Is this understood by all of production or was this a sneaky attempt? Let me know your thoughts.
Ramona comes down in the morning and is still telling lies and making up excuses about her fight with Bethenny.  She says to Dorinda that she "thinks she was upset because Bethenny had slandered John!"
Dorinda is like…. um No.  "Well you did the same thing"   Ramona protests and Dorinda just shuts her down.
She is even this crazy sober the next day?! What?!
Sonja comes down after surviving the dining-room-pass out wearing Dorinda's silk pajamas that were a gift from her deceased ex husband.  She just found 'em and threw em on.  Dorinda really is a good hostess she is just letting anything fly – chicken juice chairs and burning down the house with broken fireplaces included.
I don't know what is worse, Sonja in the silk pajamas or LuAnn in her bedazzled Soon To Be Mrs. D'Agostino.  rhetorical question…. we ALL know which of those is worse.  I honestly can't get over all of  this tacky wedding stuff with LuAnn.   And with that Berkshires trip comes to an end.  Tear.
We learn that Ramona ripped light fixtures off of the walls at the Berkshires house and left her room destroyed.
Dorinda even is crying over it. Dorinda! Crying over it! I am like fuming inside for her!
Cut to some stupid scene with Adam photographing a Sexy Salad.
Ugh.  I just wrote that :  A Sexy Salad?!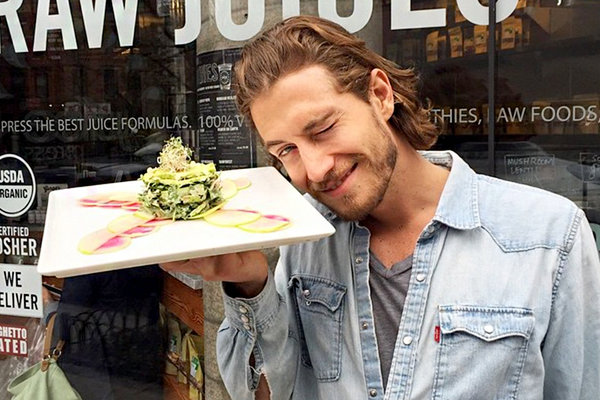 I truly can't believe Bravo airs these Carole and Adam scenes.  Even her being BFF with my-boyfriend-Andy-Cohen shouldn't allow this garbage!!!
Then we see BOBBY AND JILL ZARIN (to be read in the JILL ZARIN loud New York accent voice). 
Are they at lunch? or dinner? What is this restaurant? They're like shoved in a dark room in the back.  This is like the worst "triumphant return" ever.
Jill just can't help herself and is overcome with joy.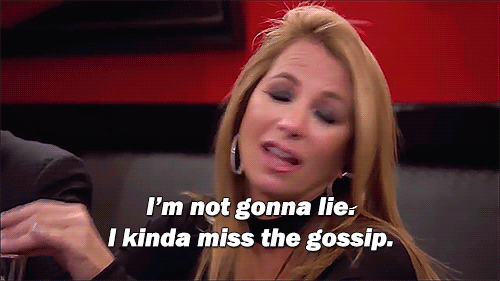 Sigh. We know Jill.  We all know.  You're like salivating at the mouth.
Tom is awkwardly explaining himself and his behavior and all of his single lady friends and he has darting eyes all over the place.  All over this hideous lunch/dinner room.  Zero eye contact with anyone.
I really do love these flashbacks of old school RHONY when Jill was on the cast – Ramona with her hair in a high pony secured by a giant black scrunchie.  It's amazing.
Okay shut up Tom. Quit blabbling about liking Ramona, this is such BS.  And LuAnn saying "Aw you're such a gentleman" Oh yeah, thats exactly how everyone would describe Tom.  Such a gentleman!
Where are everyones eyes at this lunch? Tom is all darty and then Jill is discussing Ramona being unhappy with her eyes up in a long lost corner of this awful black + red private room.  Dorinda is totally shutting Jill down for it – I love Dorinda just calling people on their crap – but Jill's eyes are like up in the corner of the ceiling going back and forth back and forth.
"Why didn't you invite Bethenny I would have liked to have seen her."
Jill?! Have you been taking whatever crazy pills Ramona is popping?!
"Oh…. Bethenny did something involving LuAnn and Tom? I guess I forgot about that"
YOU ARE SO FULL OF CRAP JILL.  YOU FORGOT ABOUT BETHENNY CALLING TOM OUT FOR CHEATING AND SHOWING PROOF OF IT? IT WAS THE ENTIRE SEASON?!  I'm so embarrassed for her.  Is she really that oblivious to the whole world knowing she'd die to be back on this show that she fakes the entire opposite extreme???
Okay.  I love how this was "THE Return of Jill" all over the place and that was the most lackluster scene ever.  She really hyped this whole thing up and it was preeeeeeety much nothing.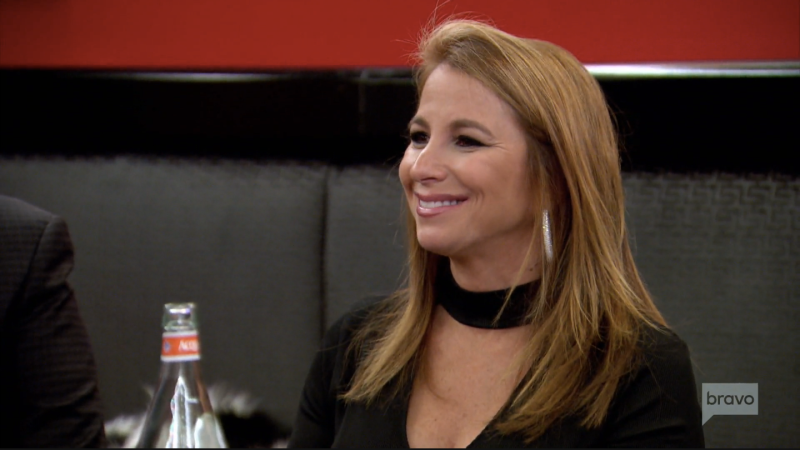 Also…. seriously this is the exact face she always makes.  Always.
I remember seeing it constantly from her seasons like it was yesterday.
The ladies attend an art gallery opening to view Topless Carole in Multicolor.  Bethenny and Ramona will both be in attendance.  Dorinda is explaining to the ladies that Ramona trashed her house (I seriously cant believe this.  What is wrong with her!) and then Ramona of course comes galavanting in with her coat off her shoulders as though she is a Hollywood Starlet on the red carpet with a fur draped seductively off of one shoulder.  Why does she always do that with her jackets?! And Ramona, it's a white puffy coat you could like ski in, not a fur stole. Nice try.
Dorinda calls Ramona out for what she did to her house and she tries to deflect it and go right into talking crap about Bethenny and Dorinda gives her a look that is a perfect "if looks could kill" look.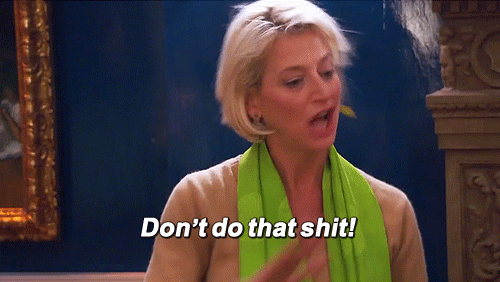 GAH I just love me some Dorinda!
Ramona doing her laugh, when she says a bad joke and opens her jaw to dental exam proportions releasing that high pitched laugh, is now officially my nails on a chalkboard.  Between Bethenny and Dorinda, I am full blown riled up and ready to be DONE FOREVER.  SUE HER DORINDA!
Ramona again is trying to defend herself against Bethenny and she isn't even making sense.  When Sonja says she really got herself into a doozy this time Ramona's like "Wha? No? No I didn't."


Um. Girl.  Yes you did.  Let the panic set in.  Call up Jill Zarin and start asking for tips.  You're going to need them.
She goes from saying to Dorinda in the Berkshires that her anger about Bethenny was about John, and now saying to Sonja that her anger towards Bethenny was about the way she treated Sonja.   Even Sonja is like MY GOD. Give it up.
We get one more gem of a scene with LuAnn and Tom before the episode is over.  They hop in the Black SUV to whisk them to the airport for their flight to Palm Beach and the wedding.  LuAnn's voice IMMEDIATELY goes to the same voice as last seasons "I'm getting married" and "We got the yacht!" as she's like "We're on our way! Miss the city are you kidding! I'm so happy to go to Palm Beach!" What is this voice?! I wish I could slip audio into this.  It is SO necessary right now.
LuAnn comments that the girls had said the night before the wedding they should sleep separately.  Tom immediately starts talking about calling up some guys for a late night.  He said "in that case, he's got a hall pass chuckles gallore."  Yeah.  Real funny Tom!!! Hilarious!!!   LuAnn is so delusional. She says:  "There are plenty of girls dancing at the ball! But I got the glass slipper! That's why they're all pissed off."
I don't know what to comment on first – the fact that she thinks the girls are jealous of her and that's why they keep saying things OR the 975th example of her acting like this is either a Quincinera or she is a 22 year old bride.  Are you going to wear a tiara and glass slippers down the aisle after your 6 foot tall daughter walks down throwing rose petals as the flower girl?
They end the show with previews of things to come and let me just say: I am so excited for this Mexico Trip that I cannot stand it.
:: THIS WEEKS RH OF NY ::
The wedding day has finally arrived (and I know it aired last night. sorry!)!! I'll be recapping for next week – If it was half as good as Part III of the Berkshires, it was a great episode.
OH.  And LuAnn and JILL ZARIN (to be read in the loud obnoxious accent voice JILL ZARIN) were on WWHL but I saved that to watch post RH as well!  Can't wait to see how Jill plays it…. because you know she probably hasn't slept in weeks awaiting her "return" to Bravo.
:: BAI BAI BAI ::
I know these are not new, but I am obsessed with this commercial and laugh my head off every time.

They play it almost every commercial break on Bravo and I will stop fast forward just to play it.
:: SOUTHERN CHARM :: 
Hashtag Carpenter Craig and Naomi are back in couples counseling, and both are looking pretty awful to be honest.  Wait, DID Craig just wake up ? Because his face and voice are particularly horrific in this scene and it really seems like it.  Poor Naomi looks like she's been up all night crying her eyes out.  Uh oh.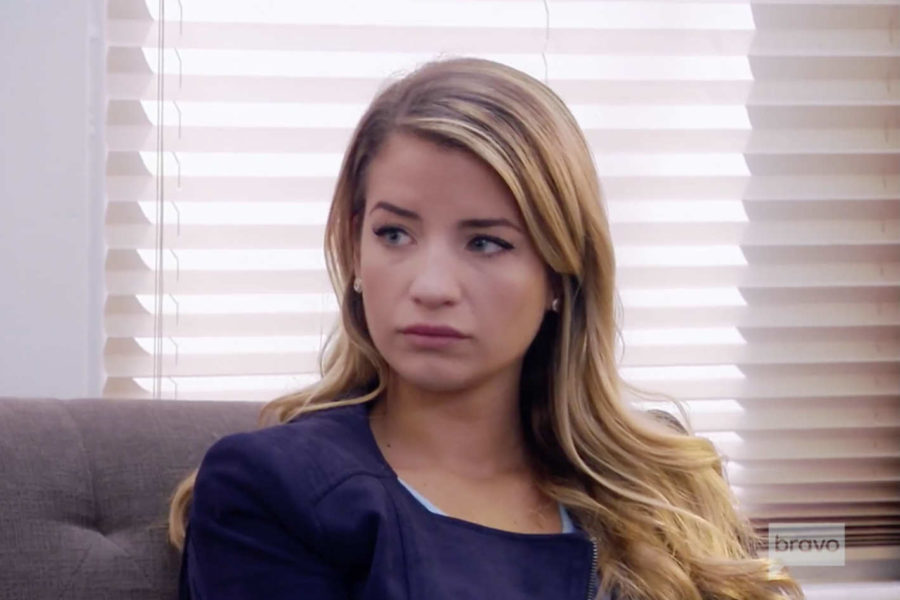 Why do they continue to even show scenes with JD on this show? It's basically this: loud obnoxious talking and laughing at himself saying things like "Kathryn is Landon's biggest fan! HAHAHA….. NOT!!!"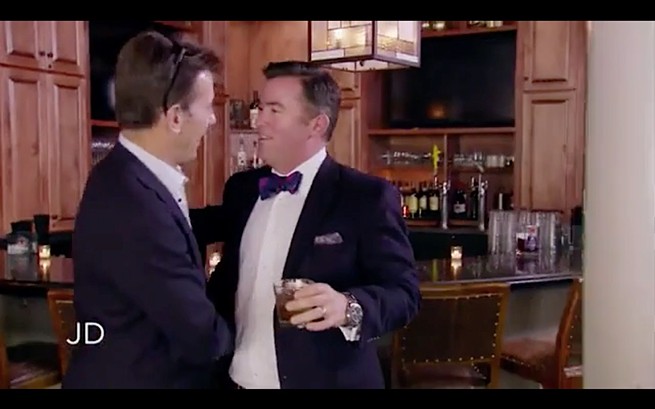 Good one JD! Real knee slapper.
and then "Gentry Bourbon Gentry Bourbon Gentry Bourbon."
I am very confused (well…. it's producers but still) as to why Chelsea, who never knew Kathryn and is definitely not friends with her but rather BFF with Cameron who couldn't stand Kathryn, is now the go-to for styling her and shopping with her.
Landon goes to check out her dads work site and he is basically trying to hand her free commissions up to 100K and she's crying woe is me. She's upset about him offering her easy work and money while she just spent a year plus building a website that doesn't even have legal rights to it's name.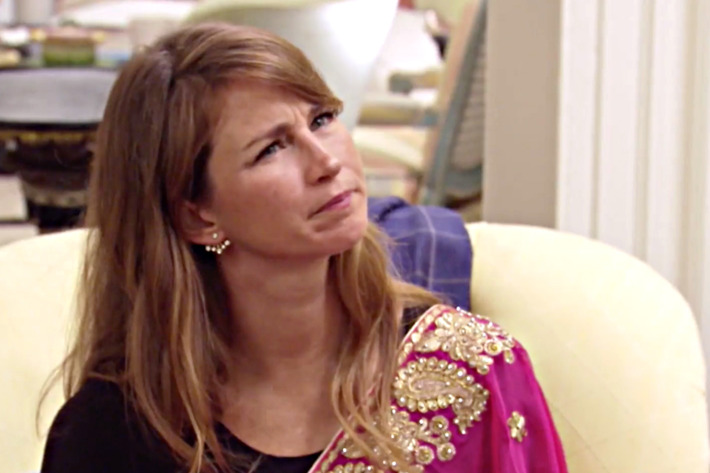 Landon. Sweetie. We are exhausted; I can't imagine how your poor father feels.
Kathryn is giving some attitude in her commentary this week (while wearing her sassy purple Herve Ledger dress!) regarding modeling. She's eye rolling and giving the stink face left and right and I love it.  She's "not a J.Crew bitch".  I am confused as to what modeling insult this is, but I think she should embrace the look; nothing is wrong with J.Crew and they somehow think at 25 she should be doing parenting modeling (which almost makes no sense to me?)
Kathryn really does look great in the outfit she picked for the photoshoot.  Anyone catch Cameron's dig of "I actually like that one!"  when it was her third outfit out of the dressing room?  The whole outfit try on scene was super awkward, from Cameron and Chelsea drinking to Cameron and Chelsea talking and basically ignoring Kathryn to Cameron then inviting Kathryn to Key West.  Yowza.  Can't wait for that trip.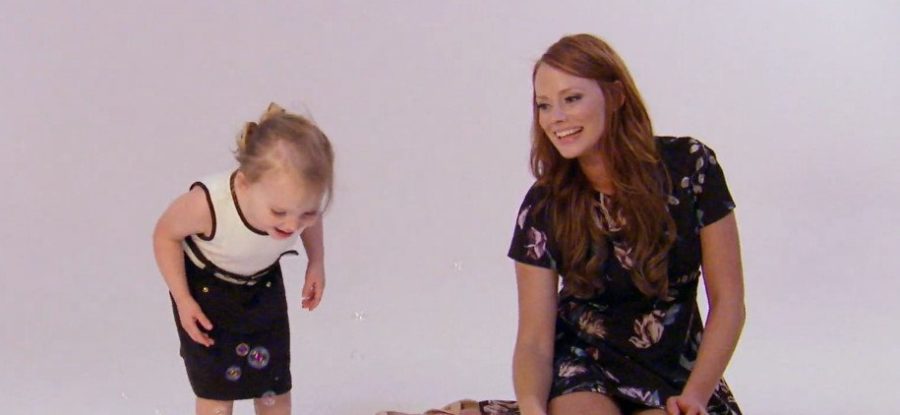 Why is this whole photoshoot and all of this prep for one outfit being shot? Didn't she need to get a whole new book of photos together? Or is she just acknowledging that modeling is not going to be happening?
Chelsea tells Austen about Shep pulling her out back the night before when they all were out together and trying to kiss her.  He also tried to act like Austen is into Landon and basically just manipulate the situation for the hundredth time.  Austen is so upset and rightfully so.  He was just talking about introducing her to his parents! Poor thing.  He is way too into her compared to her into him and this can only end badly.
Shep is such a little sheyite for trying to ruin this.  At the bar when Austen brings it up, he is even WORSE.  I honestly can't believe the way Shep is acting! First he tries to act like he hit on her on Austen's behalf.  Then he changes it over to saying yeah what's the big deal he just did what Austen did first (which…eh… is kind of true.  But Austen wasn't trying to steal anyone or hide anything and he has real feelings for her.)
Hashtag Carpenter Craig needs to get his jabs in and he's like "Yeah Shep! Uhh! You tried to sleep with Naomi the night you met her to!"  I want to be like hush up Craig you're so annoying, but he's right and Shep is such a jerk he admits that yes he did.  Also, in the middle of all of this Shep is like "haha I know those (20 something) girls at the bar haha".  Keep it in your pants Shep! My Goodness!  What is wrong with him!?
Shep tells Craig he's "no lothario" and I laughed so hard when Craig is like "Come on man you know I don't even know what that means!"
I'm very disturbed by how much of an ass Shep is this whole night.  He then flips out about Austen accusing Shep of saying Austen wasn't good enough for her because he doesn't have money.  Which – roll the footage – HE SAID.  He denies denies denies and gets so mad the way a female bravo-lebrity on RH might.  Shep.  You can't be this dramatically pissed off about something you did say and that, once again, IS ON CAMERA.
I feel like Cameron is equally to blame for all of this Shep stuff.  Any time he seems to maybe drop it she is just pumping it right back into his ear. Just drop it. Both of you.  Enough!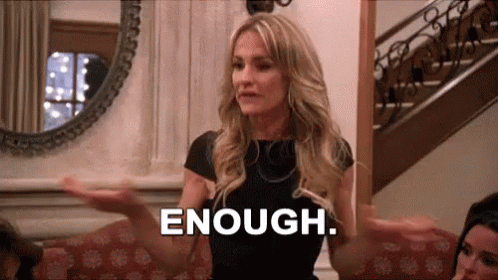 Most importantly….. who is this level headed tall, dark, and handsome friend named Beau?
Because I could totally deal with him being an addition to the show….. just sayin'……..
I. am. so. excited. for. Key. West.
If only Kathryn and Thomas could shack up in a moment of reconciliation for baby number three….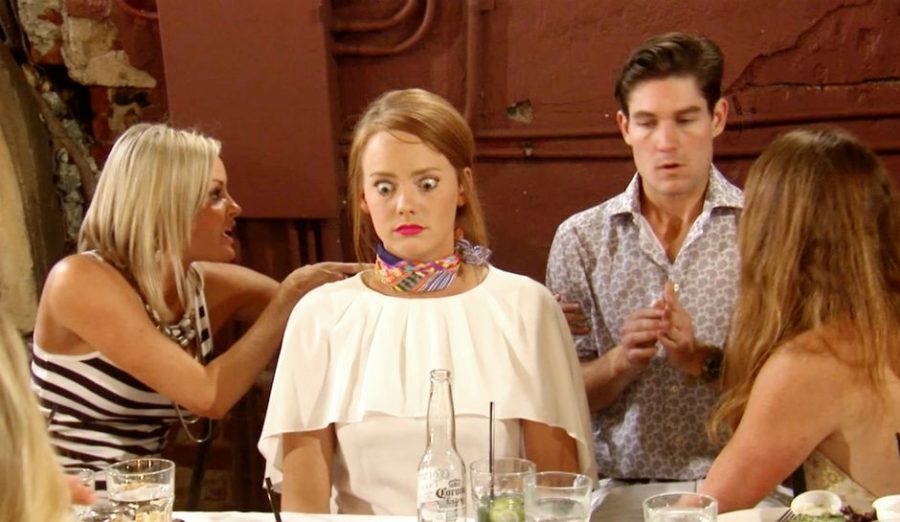 KIDDING. Kidding.
well…. not kidding, it would be great, but no baby this time! 
 :: GOOP SUMMIT GONE WRONG :: 
People are shelling out big time cash for a one day wellness Goop-inar called "In Goop Health" and it sounds like a complete disaster and waste of money.
This article explains the day they just had in LA.
It's actually worth a read wether you love or despise her and/or Goop.

This Jimmy Kimmel interview is mentioned in the article as support for what she is saying is a bunch of BS.
:: HASHTAG THROW BACK THURSDAY :: 
My mom just came across the tape of Yolanda making the music video on an airplane to David Foster and sent it to me.  It brought back wonderful memories and I feel like I need to start sharing some #TBT wonderfulness to end each Coffee Talk.

I still can't believe she changed her name to Hadid……
:: JACKHOLE OF THE WEEK : CHEF ADAM :: 
I had to comment on Below Deck after so many weeks in a row of this Adam stuff building!   I mean….. I didn't think it was possible for someone to come off as a bigger jackass than Bobby on Below Deck.
But then we meet Adam.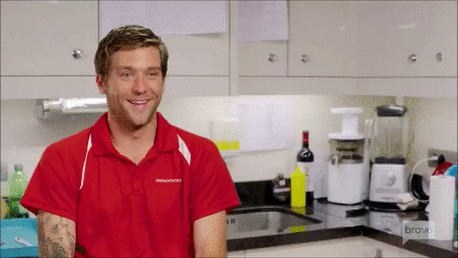 He is a pathological liar and seems like a true sociopath.  He truly alarms me.
Bobby is just a douche than needs to realize he is not girls top choice by a long shot,
but he is coming off with gold stars compared to Adam.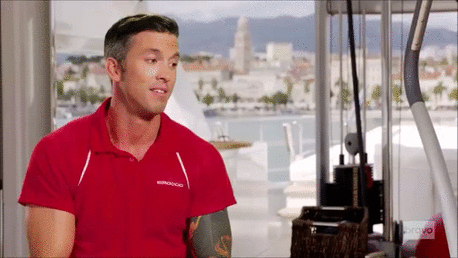 Even this guy from last year, the drunk lazy eyed "model", was better than Adam!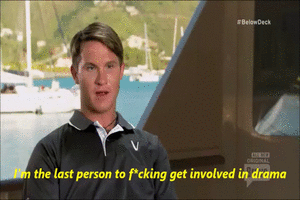 :: MAZEL OF THE WEEK :: SONJA MORGAN AFTER SHOW :: 
Want an extra 15 minutes of Bravo in your life?
Because you haven't given Bravo enough of your time and undivided attention?
Sonja was in full blown Sonja Mode on WWHL After Show this week, and it is getting me VERY excited for these upcoming Mexico scenes on Real Housewives.
I had the video embedded but it kept starting immediately, which is how your boss finds out you aren't working, but instead reading blogs.  Don't worry girls – I got you. Click here instead.
Alright y'all.  That's all I've got.  I'm tapping out.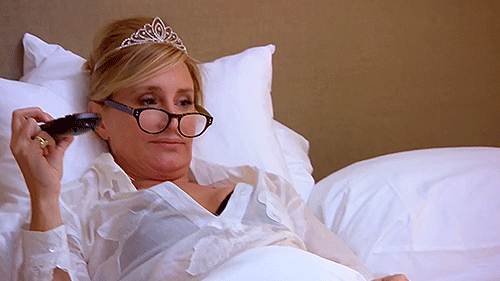 Fingers crossed I proof read this post for all of you before hitting publish in the morning because the nonsensical run on sentences are bountiful tonight.
I truly don't understand how some of you read these posts in their entirety because by the time I am finished I see how long it is and am like "Eh….. I'm sure my copy and pasting notes from my phone/e-mail/laptop from 72 different thoughts and fragments about shows compiled perfectly and makes complete sense…. no need to read through it once!" 
:: Editors Note ::
As always, ignore my own blatant grammatical errors whilst I make fun of others poor grammar during Coffee Talk on a weekly basis.
#HYPOCRITE   #SORRYIMNOTSORRY
I write these posts late at night while simultaneously watching Bravo, taking snaochats of my snoring husband, and making to do lists of everything I was supposed to do and didn't do that day, and likely won't do the next day either.  Or the day after that.