I have two delicious blueberry "cakes" to share today! One is healthy, and the other is not quite as nutritious, but it does involve Angel Food Cake which is definitely the healthiest of all of the cakes 🙂
I love my Tone It Up Protein Powder for my smoothies and pancakes.  They post lots of recipes using the protein powder on their instagram, so when I saw these Blueberry Breakfast Cakes I knew I had to try them.  Blueberries are my favorite to incorporate into baked goods. These are quick and easy to make, and are a great option for a protein packed snack or breakfast on the go.  I do recommend adding pure maple syrup or honey on top when you are ready to eat because they do need a little bit of sweetness.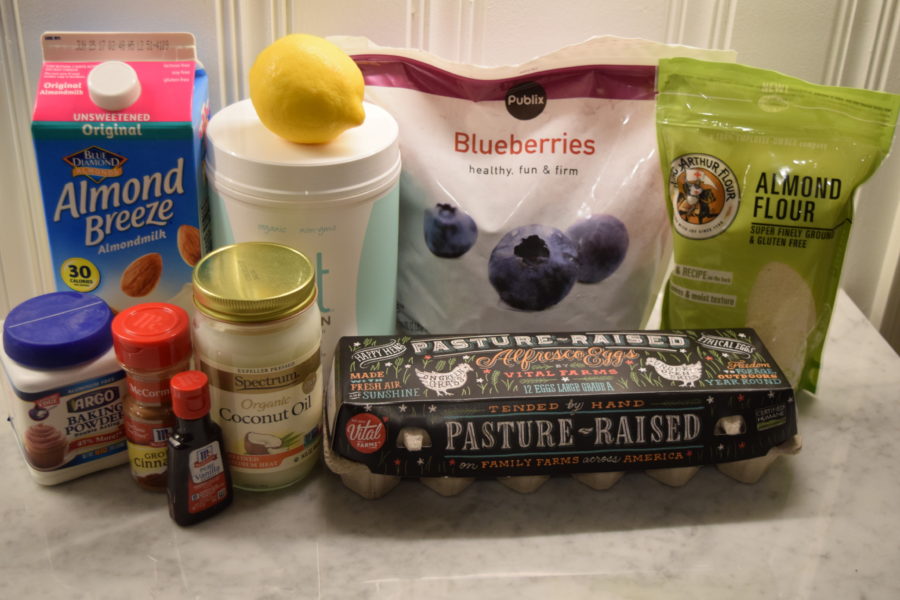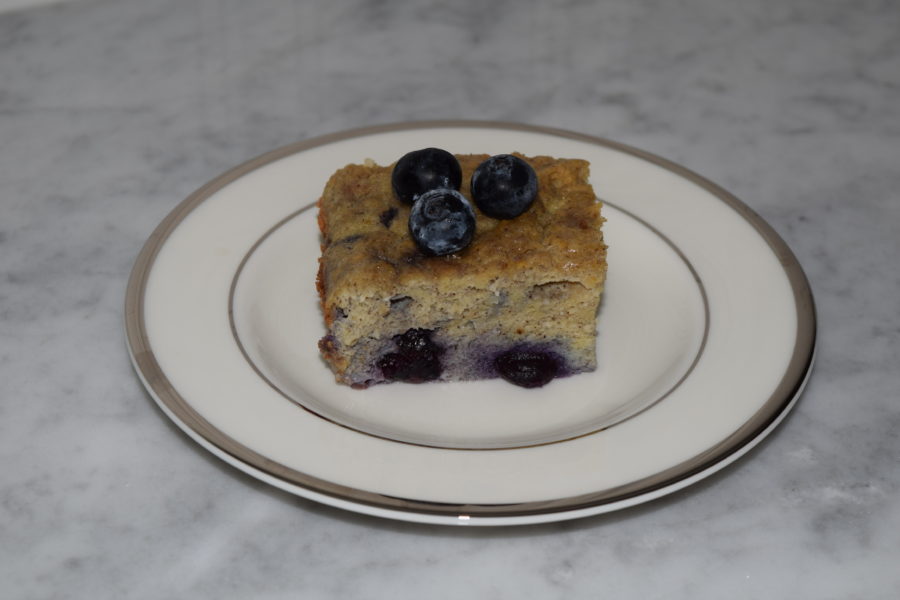 Blueberry Breakfast Cake
Author:
Taylor // The Sarcastic Blonde
Prep time:
Cook time:
Total time:
Cake for Breakfast?! Protein Packed Breakfast Treats
Ingredients
4 large eggs
¾ cup unsweetened almond milk
1 tsp. vanilla extract
2 Tbsp. coconut oil, melted
½ lemon, juiced
½ cup almond flour
¼ cup vanilla Tone It Up Protein
1 tsp. cinnamon
½ tsp. baking powder
¼ tsp. salt
¾ cup frozen blueberries
1 lemon, zested
coconut oil spray
Instructions
STEP 1: Preheat oven to 375 degrees.
STEP 2: Mix all wet ingredients in a bowl. Add lemon zest. Add dry ingredients and whisk until well combined. Gently stir in blueberries.
STEP 3: Spray a baking dish with coconut oil spray. Pour batter into the baking dish.
STEP 4: Bake for 35-45 minutes. Slice into individual pieces and store in glass containers for the week.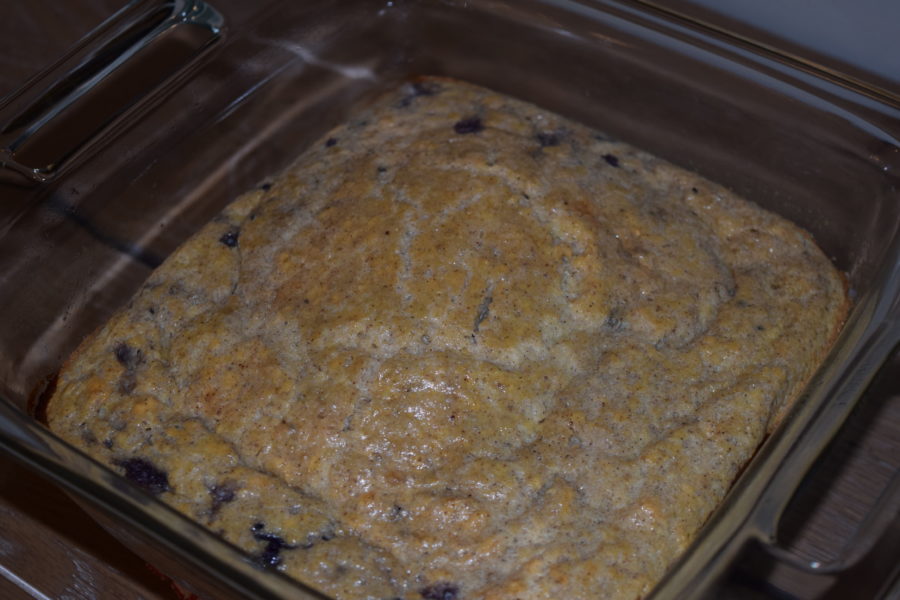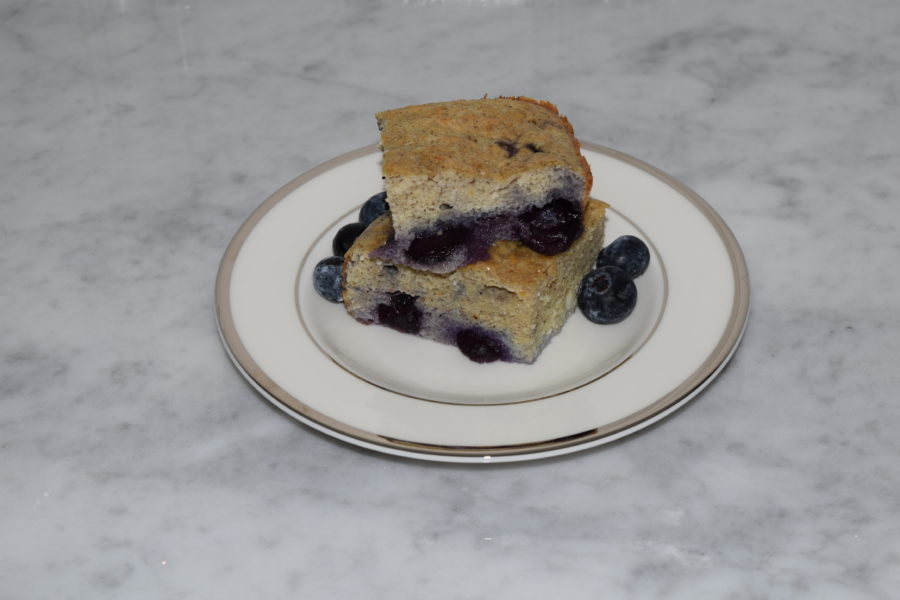 This next recipe came at the perfect time! I was hosting Book Club Wine Night last night at my house, and needed a quick dessert to put together.  I didn't realize Publix would be closed all day for Easter, so I needed all the time I could for dinner and had less time to prepare a dessert.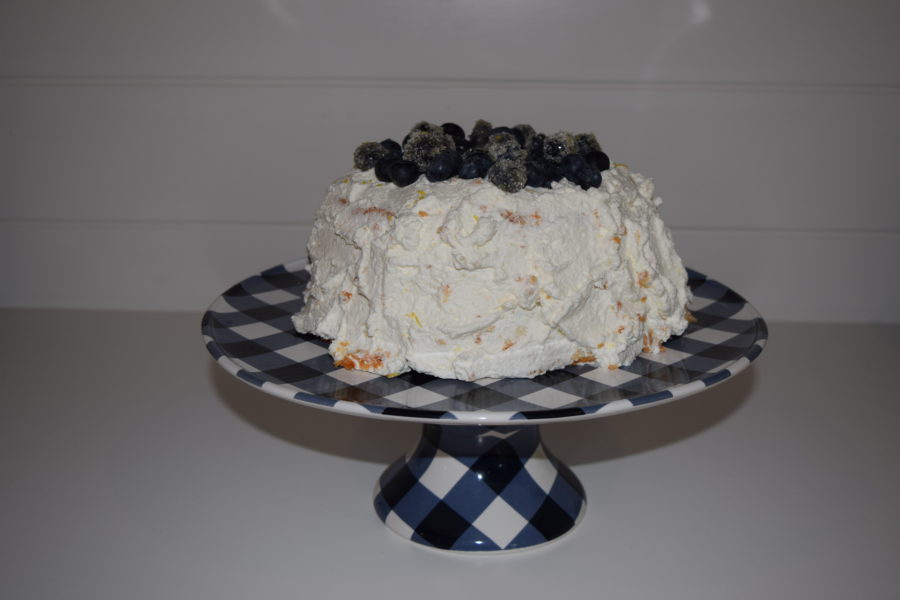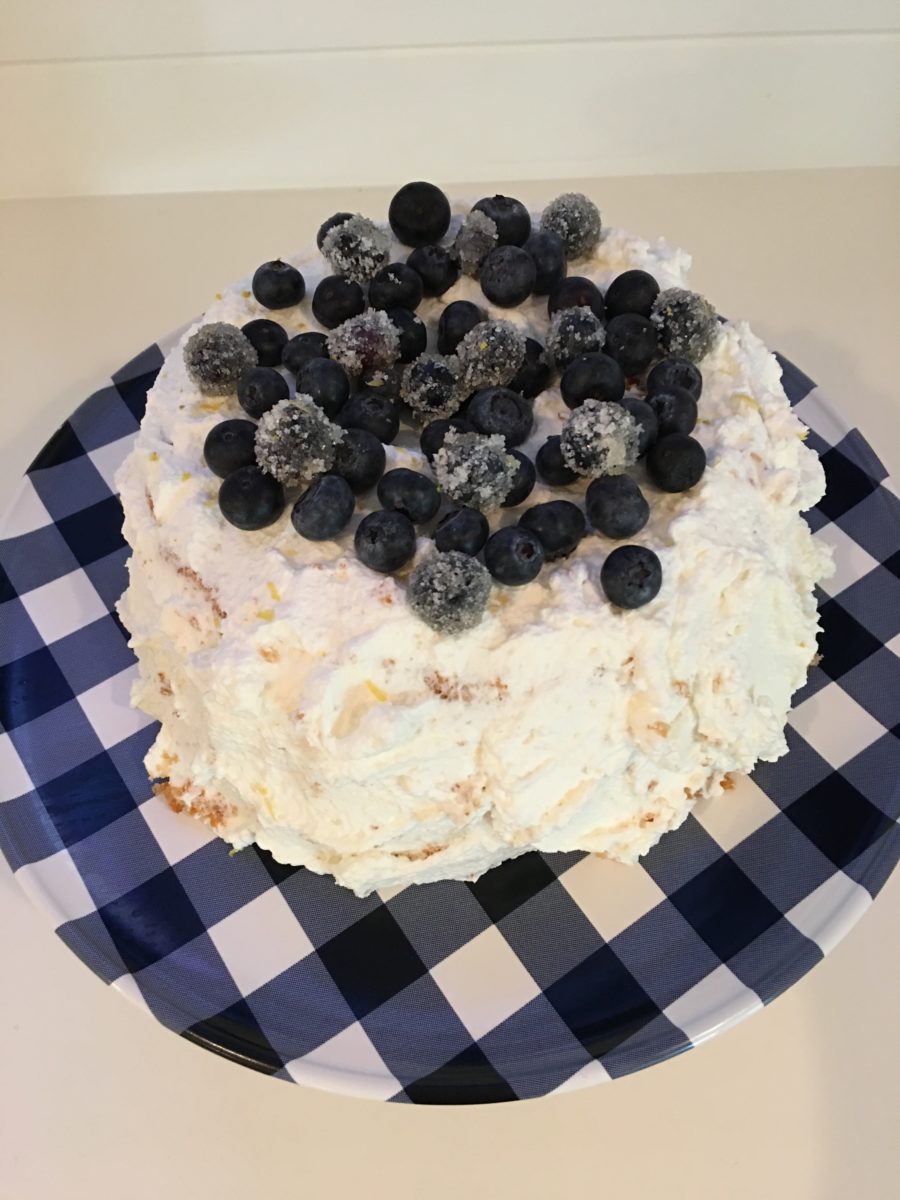 Liz from Sequins and Stripes had posted this incredibly gorgeous Blueberry Angel Food Cake over the weekend and I knew it would be the perfect option.
Plus, I thought it would look cute on my gingham cake stand 🙂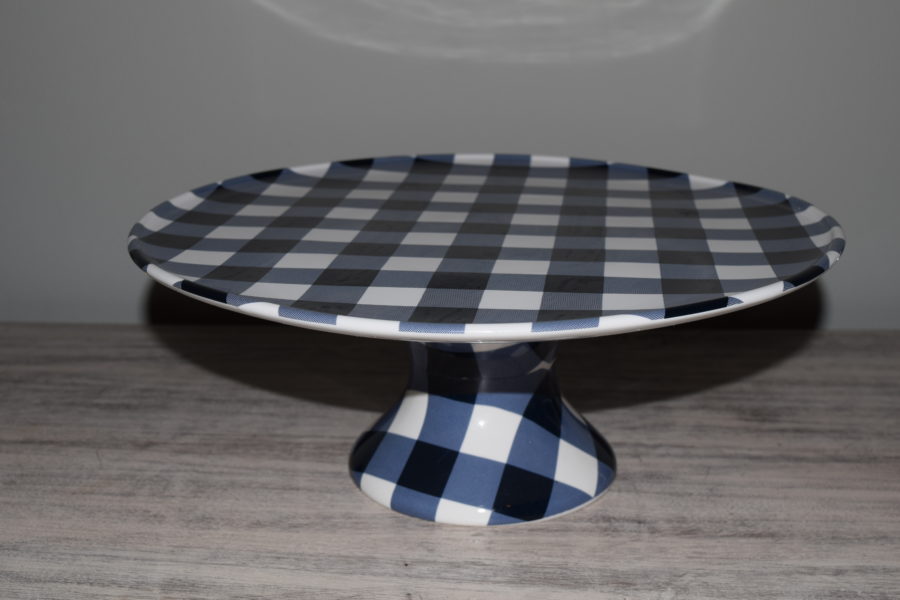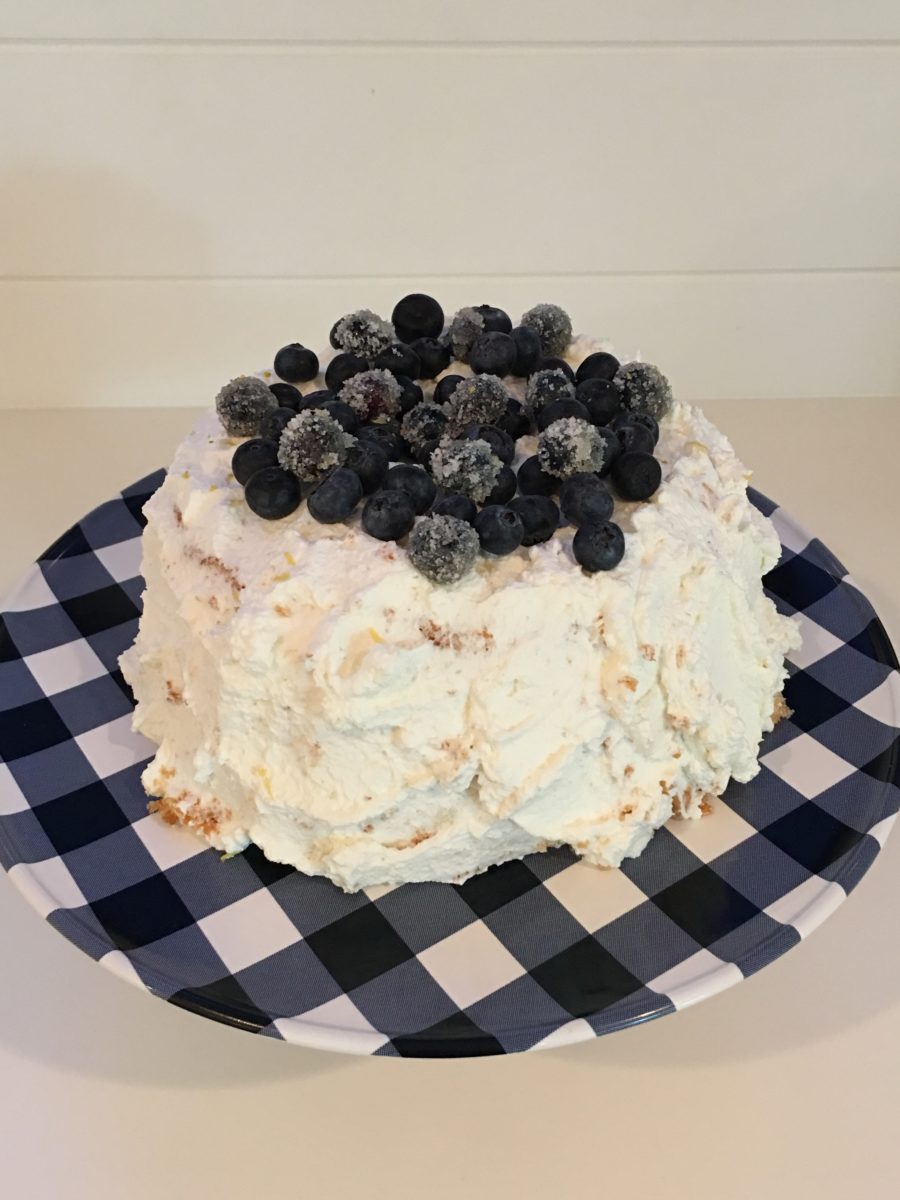 Oh. My. Goodness.
This cake was so delicious.  I have done similar cakes with whipped cream and fruit in the past, but never with the lemon whipped cream + cane sugar.  It made all the difference.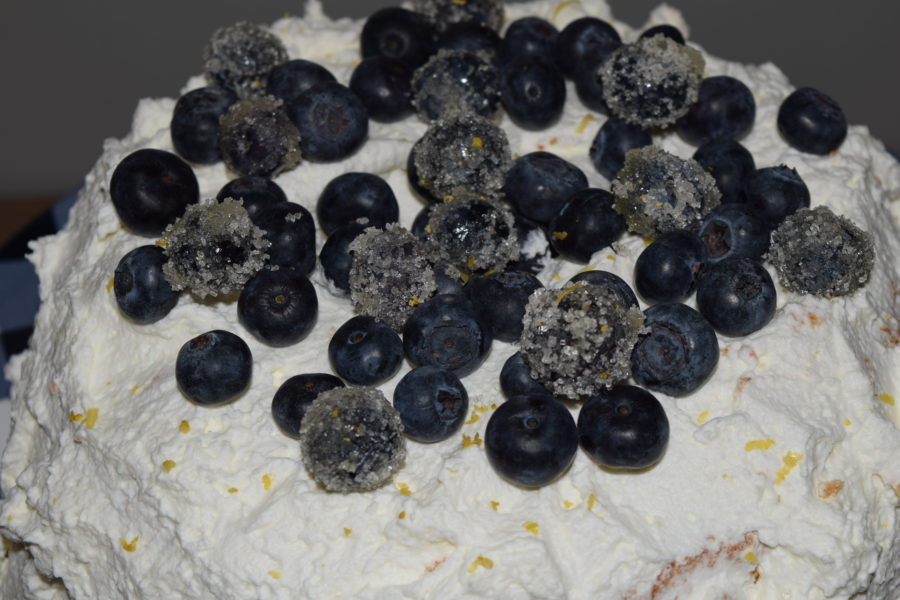 It was so light and refreshing after our dinner
(and made quite the impression with the sugared blueberries on top if I do say so myself!)
Thanks for all of the love on our DIY bar yesterday ! You all clearly like a bar as much as I do (I knew I liked you!)
I was sure to let Kipper know that everyone was impressed by his handy man skills on instagram.
A few things from the weekend that I didn't get to discuss yesterday :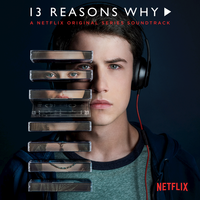 I jumped on the bandwagon and watching 13 Reasons Why on Netflix; I am 5 episodes in….. Clay is just adorable.  I'm hoping I can finish it next weekend!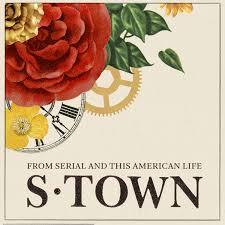 I had started listening to S-Town when I was in the Caymans and thought it was awful and stopped after 1.5 episodes.  Then, of course, I got back home and kept seeing more and more people talking about how much they liked it!? So I decided to try it again and finished it in the car yesterday.  I ended up liking it and I am glad I gave it another chance.
The best part of the entire thing – hands down – and don't worry this says absolutely nothing about it:
The long rant in Chapter V with the Opera music playing in the background.  It starts at the 48 Minute Mark (47:45 technically) Even if you don't listen to this podcast, I feel this minute is worth of your time.  And don't stop until the end of the Opera music at 49:00.
I mean….. I died laughing so hard and replayed it about 6 times.  It is pure, Oscar-Award worthy monologue.  I can't wait to play it again later this week…. I deleted all of the episodes off of my phone except that one so that I can replay it when I need a good laugh 🙂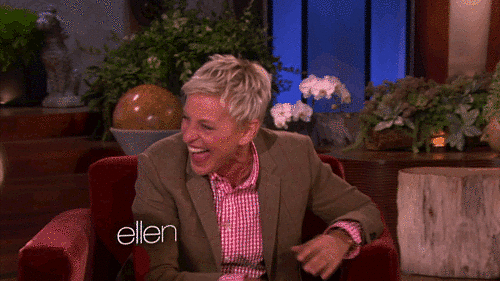 OH. and this is not a funny podcast.  But I tend to seek out the moments like this in everything.
That one minute alone was worth THE ENTIRE podcast.  And those of you that listened probably have no idea what I am talking about.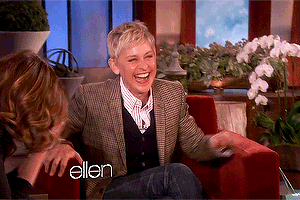 A little Fitness Update :
Many of you had asked about what I thought about my Orange Theory Fitness from over the weekend. so I wanted to share what I thought!
Warning : I ramble and this gets a little wordy! (shocker).
I liked it, but likely will not be going again.  Let me preface by saying each class is different, so I may have just had one that wasn't my speed, and I have lots of friends that love the class and go regularly.
In short, Orange Theory Fitness is a workout that combines treadmill, rowing, and floor/weight/TRX work. It's all about heartrate and being in a certain zone and they strap a heart rate monitor to you for the class. For my class, we alternated between rowing and then doing 1 set of 4 exercises on the floor and then another set of  4 exercises – and after that I did the treadmill portion.
The exercises are not led by an instructor but rather a TV screen and we did 12 reps of each before moving on to the next – everyone was kind of all over the place and didn't have a "station".  Despite everything being numbered, no one went from their rower # to their weight lifting area #, which as a newbie who had no idea what was going on was very confusing for me and I felt like I was in everyones way because no one was at their station.  I'm a rule follower! Can't we just go to our numbers!?  I had hoped for the floor work to be more instructor led? Everyone was on different exercises at different times with feet near heads and etc was just a bit annoying.
The treadmill section was all together in one giant chunk, which is difficult for me.  I like the switching back and forth from floor to treadmill in shorter increments(like BLAST or SHRED415 do).  25 minutes straight is not only hard for me, but mentally just boring.  I also felt strange being considered as a "runner" in this class? I was able to do the runner speed the entire time, whereas in other class I am definitely a jogger.  It was a great ego boost that I have gotten better at running, but in reality, I'm really not a runner? Not in my mind, and also not in BLAST or SHRED415.  So their categories seemed off to me.
The main reason I likely won't go back is the rowing.  My back gets bad easily so it makes me nervous, and also I was SO sore afterwards that I was thinking something was wrong with my chest. No joke! It was a soreness that was very different than "these are new muscles being sore from a new workout".  It like felt like I had bronchitis when I took a deep breath because this one little muscle was so tweaked. I realize that makes me sound insane, and I laughed at myself for thinking I was sick, but that is how it felt. I know that's just me using muscles I'm not used to using, but again, just wasn't for me.
OH! And most importantly! I clearly was unsuccessful despite my best efforts because I was almost NEVER "in the orange".  I was drenched in sweat during the running portion and only when I was sprinting at 9.0 MPH did I get an orange point. Throw me a bone here people! So much for my after-burn of calories the next 24 hours…..
OH! And ACTUALLY! One of my biggest beefs : THEY DO NOT GIVE YOU A DARN TOWEL.
WHAT? Sorry not sorry if I sound like a Negative Nancy but that is asinine to me.
I don't expect perks and freebies from studios (although I really like the complimentary water bottle at BLAST, and my ice cold towel (some studios with lavender scent!) awaiting me after spin) but I do expect a towel.
Also, do you just want peoples sweat all over the place? So gross.
BUT. First class is free. So go give it a try because I think I'm in the minority with not loving it.
editors note : I'm like "I hated it, go give it a try!" But really… try it? 
Workouts I have been loving :
BLAST : This is 60 minutes alternating between treadmill and floor, with each class being different.  They do different blocks of time each class, but the longest you'll ever be at one is 15 minutes, and the class just flies by for me.  I love, love, love it.  The music is always great too which helps a lot. I only go 3 times a month right now because I use my ClassPass but I am debating paying for additional classes.
SPINNING : I alternate between several different studios with ClassPass and then switch studios where I buy unlimited months depending on who has the best offer. I bought unlimited months at Cyclebar for February and March, because they were a new studio with great pries, but this month am doing unlimited classes elsewhere because the times fit better with my schedule.  I love Flywheel but it is the most expensive so I only go to that through Class Pass 3 times per month.  Spinning has been my main workout, other than my Tracy Anderson DVD's at home, and I try to go 4 times per week.
and then after all of the sweaty work, treat yo-self to some blueberry cake, either protein powder packed or sprinkled in sugared blueberries!