I am crazy lucky to have an extremely handy husband.
A man that can fix things and knows his way around a tool box is a real #ManCrushMonday
He can do and build pretty much anything.  Just ask him.  He built the house that they lived in in college (and he will happily tell you that).  But seriously, it is amazing.  He is loaned out to girlfriends and family on many occasions – so Atlanta ladies, let me know if you need help with anything.  He prefers to be barefoot and shirtless outdoors, so if you have projects that allow that, he will be there in a heartbeat.  
We turned the dining room off of our kitchen and living room into a den, because we don't really have a need at this time for a dining room.  (I posted in the past about the table I got that transforms into a dining table when needed when I shared our living room!)
We were dying to do a built in bar on the empty wall in there – similar to Ramona, I need my Pinot Grigio! – and thankfully my husband – who also loves himself some Friday Happy Hour – of course said to just leave it all to him.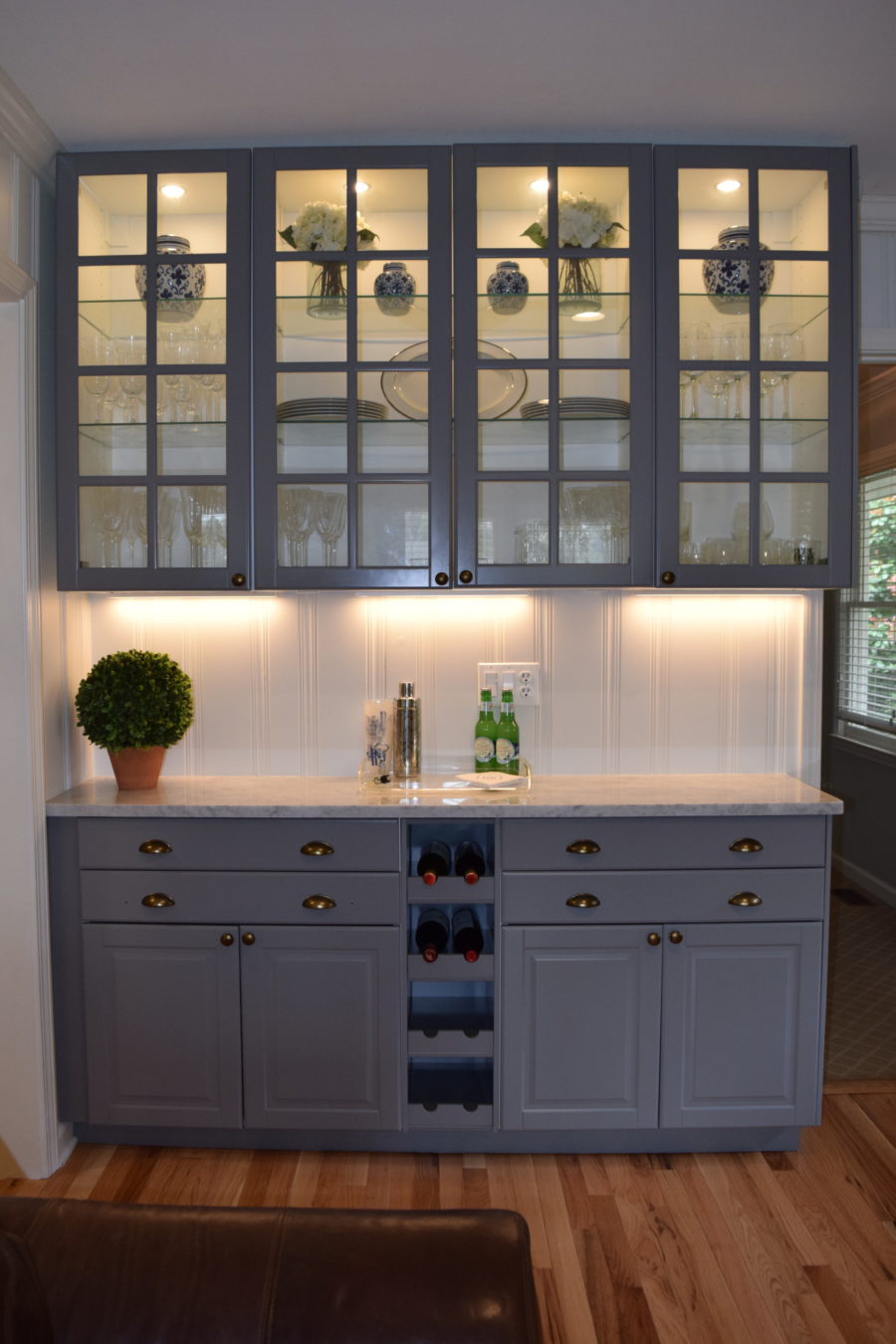 We went to Ikea to get the cabinets, and to be honest, I had expected it to be a bit of a nightmare, but it wasn't! We found these great grey cabinets that we loved, decided on the cabinet style, and then someone helped us design the whole thing on a computer once we knew what we were looking for.  Right down to the built in wine rack!
It was a one stop shop – which was amazing.  We went that day, picked it all out, loaded up the truck with a gazillion things, and headed home.
(oh…. we were there a long enough time to be starving…. do NOT get food whilst waiting for your parts to get wheeled out from the pick-up area.  I don't know what these rumors are about "good food", but what we had was horrifying.)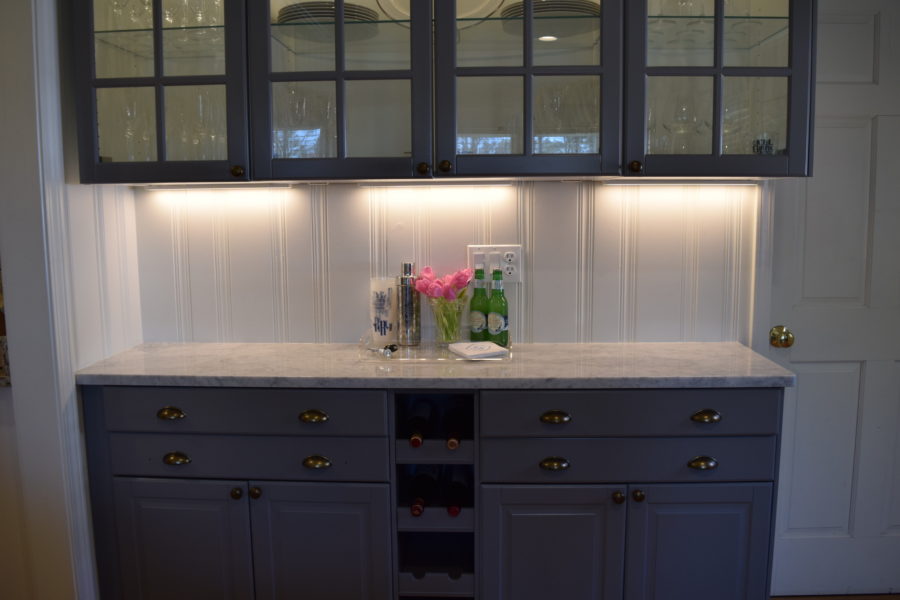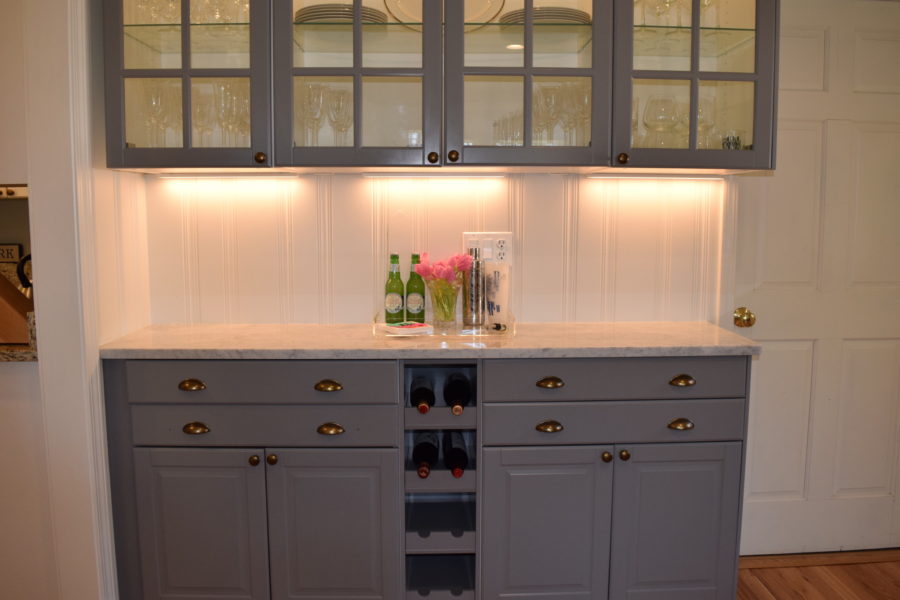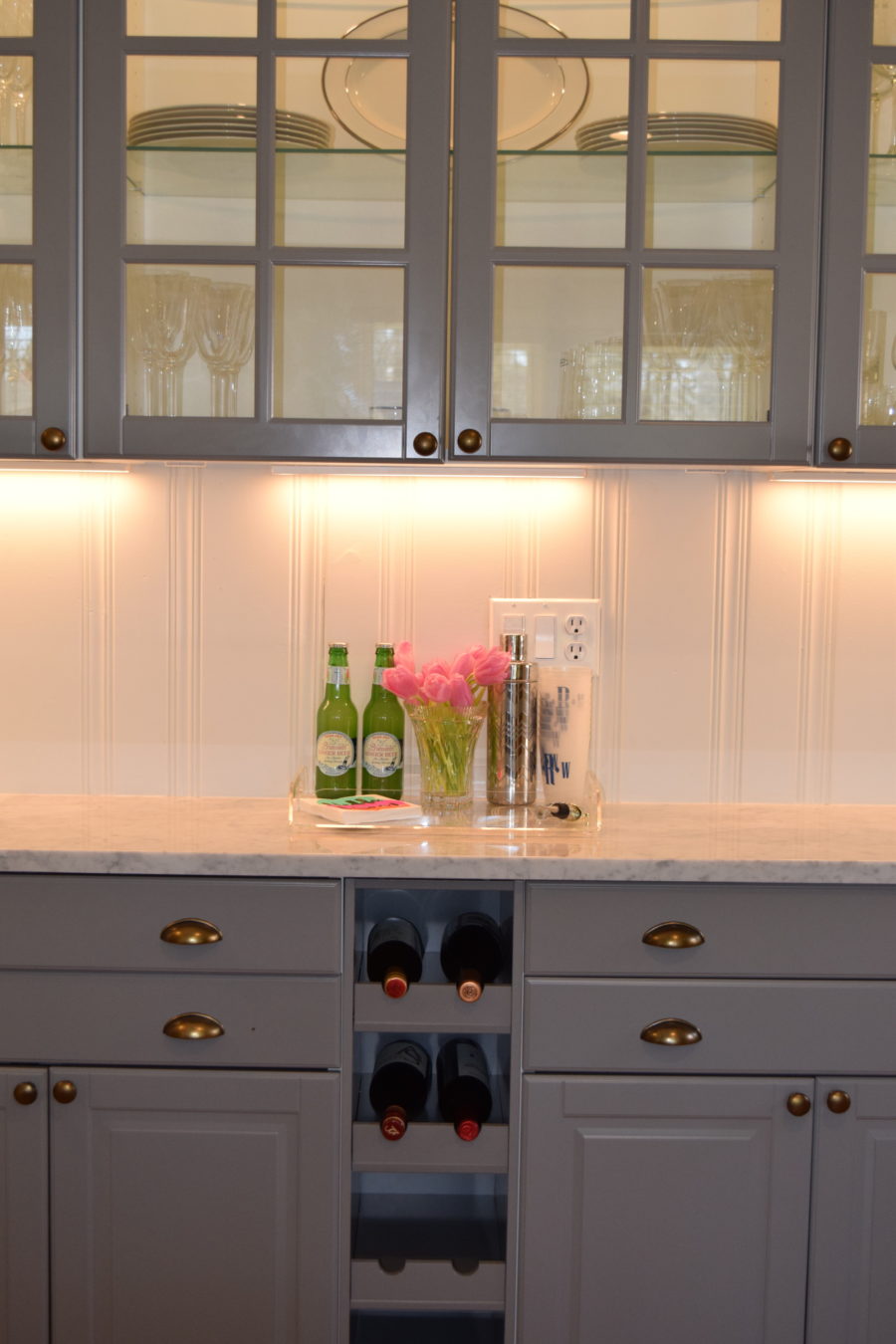 Kip built the cabinets in no time.  I was shocked how fast.  There were some slight issues with height and width being off – it was Ikea after all – but we were he was able to finagle a few things and get it to work!
The hardest part was the lighting – he installed all of the lights inside the top cabinets and the under mount lighting, but we had to have an electrician add some things into the wall for us since the wall didn't have what we needed (see how technical I am? I clearly have no idea what we didn't have and needed, but it got fixed!)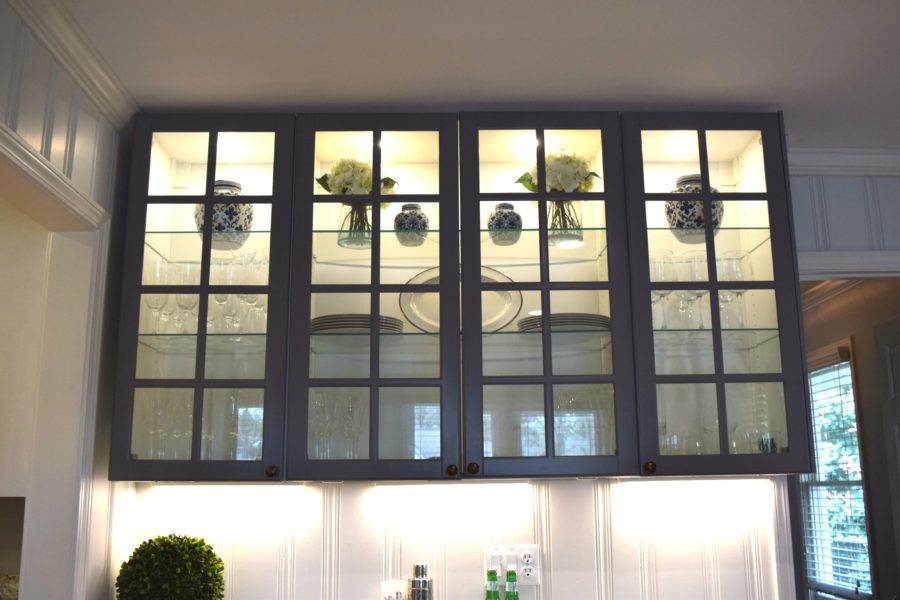 Finding a countertop took a little thinking, because no one could work with us since we only needed such a tiny slab.  I came across Stone Solutions in Marietta and was able to go to the warehouse and look through leftover pieces and have one cut and delivered and installed.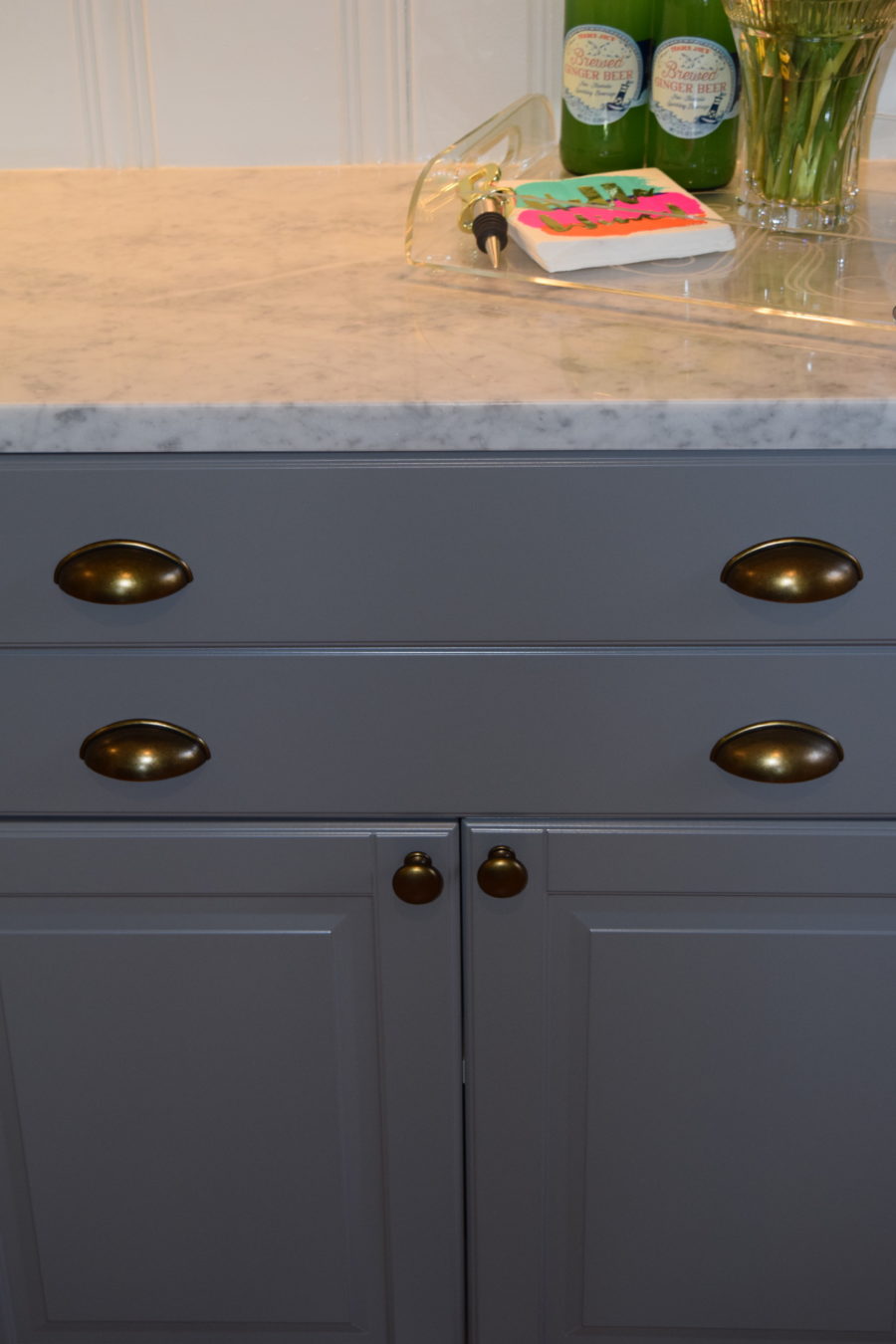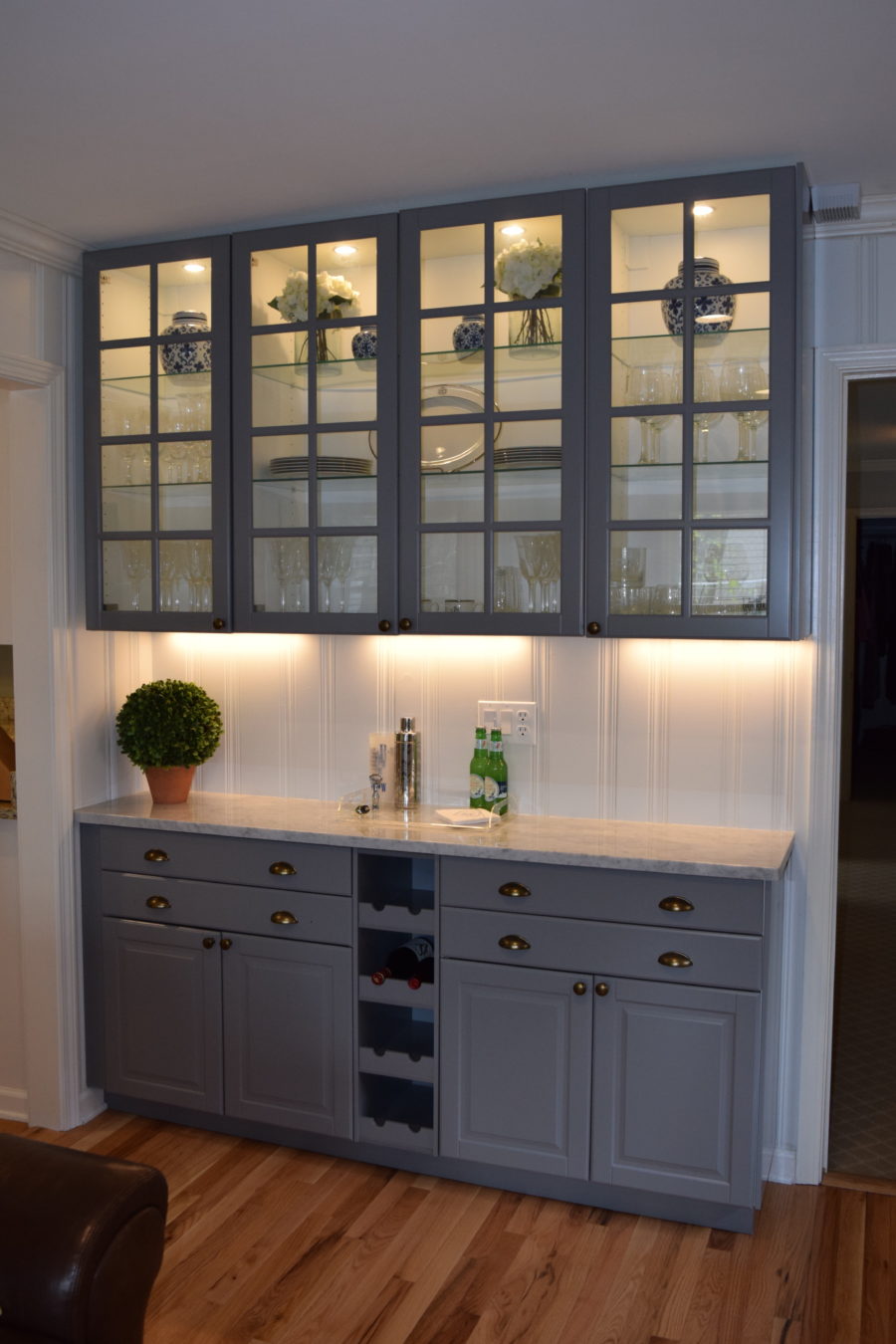 I am so obsessed with the bar – it completely transformed the room.  We would have loved to have put a wine fridge in, but it is way too narrow . We actually had to use upper cabinets on the bottom because it is such a tiny space so no fridge would fit.  We have a mini fridge hidden in the other corner of the room with a mirrored tray and accessories on top – so that works well for us! I'm still working on the rest of the room – it's a compilation of pieces from Chicago like our leather couch from the basement, and pieces from my moms house and our old beach house all thrown together.
We got the cabinet knobs and draw pulls all from Lowes.
That's actually what took me so long to share the bar  since it's technically been done for months! 🙂 We didn't put the hardware on the drawers for a while because we couldn't find the right finish – no stores had anything but silver or black – and then we stumbled across it finally in a completely wrong section of the store one day!  
I am still working on styling the bar and adding more of my china and crystal and such, but we get so much use out of it! For now, I moved my ginger jars from the living room built-in-bookshelves over and some flowers, but I am on the hunt for pieces to put up there.  A few things I snagged from my moms house don't fit, so those went into the living room instead.  As always, thanks mom for letting me "borrow" things every time I leave the house 🙂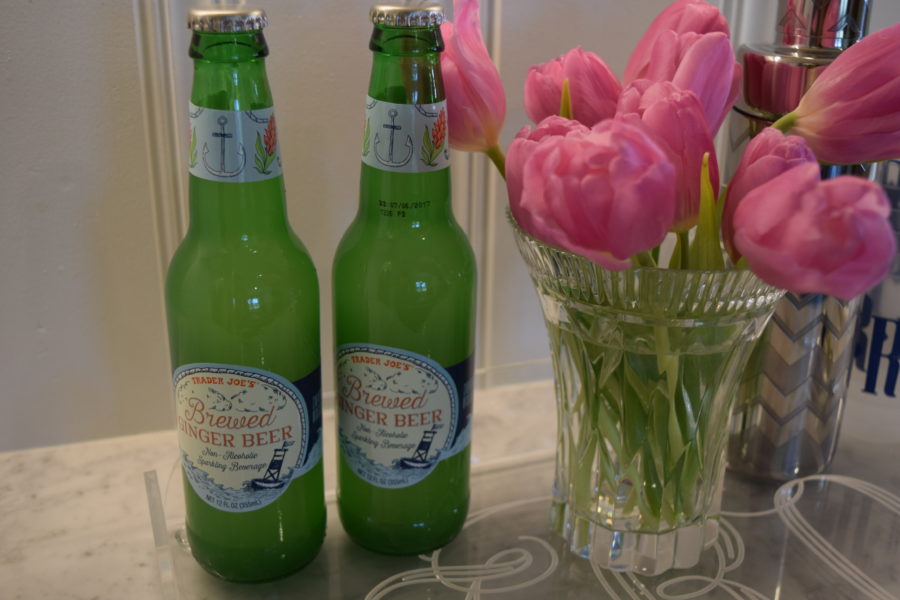 also, I am obsessed with these Trader Joe's Ginger Beers. Isn't the bottle gorgeous?
I try to keep them stocked since they look so pretty on display!
We have lots of other home projects that we hope to complete, but this has definitely been my favorite so far.  For this room we still need to get new rug, recover a chair, etc, but I don't even care when that is done because this is the focal point of the room and luckily is immediately what everyone sees.
we are working on sprucing up the back deck now, and got an outdoor sofa yesterday! the deck still needs to be replaced, but until that gets done, we decided not to hold off anymore on outdoor furniture since it is already so gorgeous here and fully patio season! 
Cheers to Happy Hour!!
ps. my absolute favorite Pinot Grigio,
arguably better than Santa Margherita and a much better price, is Kris!
and  Total Wine sells it for a STEAL – always at least $5 less than Publix or the liquor stores!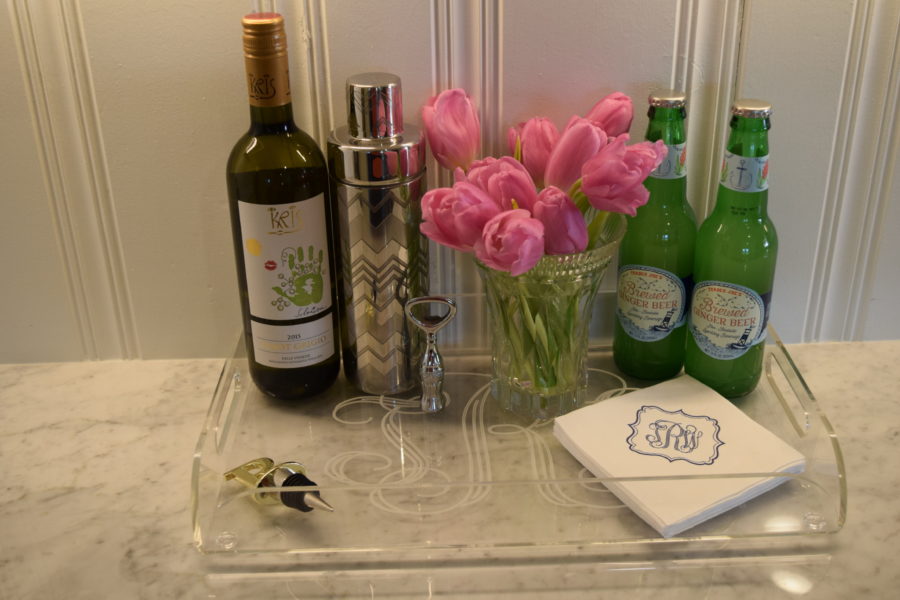 Cheers to Handy Husbands!
Happy Hour starts promptly at 5 at Casa Richmond!
Hope you all have a great start to the week!