Cheers to Friday!
We are officially into December and into the swing of the Holidays! YAY!
This weekend I am going to the Virginia Highlands Tour of Homes with some girlfriends and can't wait. I have never done any of the home tours before, so I am excited for a girls day and some lust worthy houses, followed by cocktails!  The Highlands is such a gorgeous area and I love just walking and looking at the outside of the houses, so I can't wait to get to see behind the closed doors.
I also need to get on my Christmas list this weekend.  My family doesn't do gifts since we go to the beach , although now we do gifts for my niece and nephew of course,
but Kip has a large family so the planning for gifts begins!
And they are really hard to shop for, which I'm sure a bunch of you can relate to with your in-laws! 
:: FLORAL BLOUSE ::
I wanted to share an amazing under $60 blouse with you all today! This blouse comes in 10 different solids and prints, so your options are endless, and it has such a great asymmetrical ruffle hem that is really flattering.  It's a great go-to option with jeans and can easily take you from work to dinner and day to night.  I like to wear white jeans as much as possible, especially with the warm weather, but I'll definitely pair it with my dark wash denim next. I loved the grey and blush in this floral print, but I think the black would be worn constantly, and I love the deep red for the holidays.
Top runs slightly large, but is meant to have a flowy fit, but I sized down to an XS.
I got these OTK boots from Forever21 a few years ago, but they are back and almost identical.  They are such a great steal and look just like the pricey designer boots!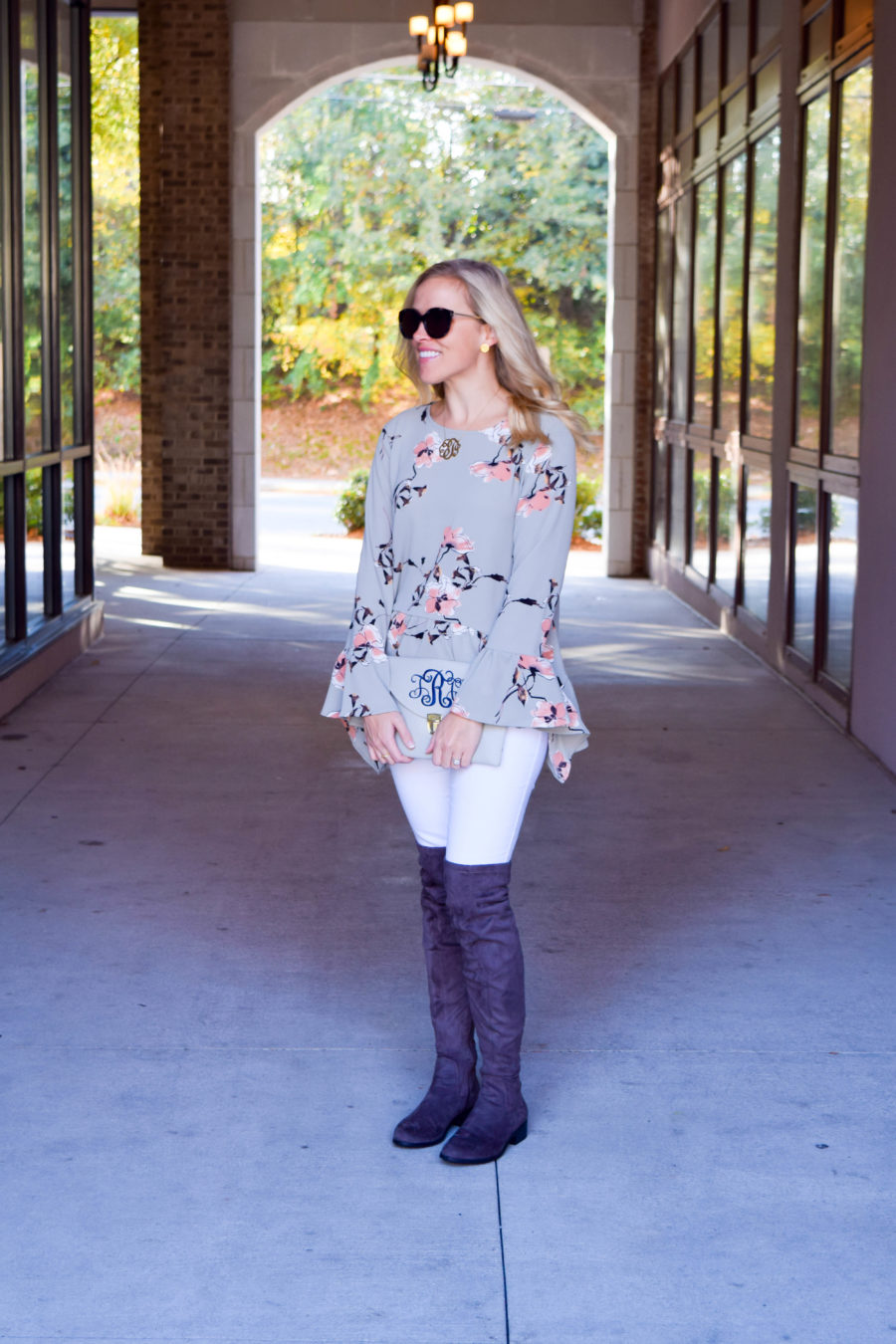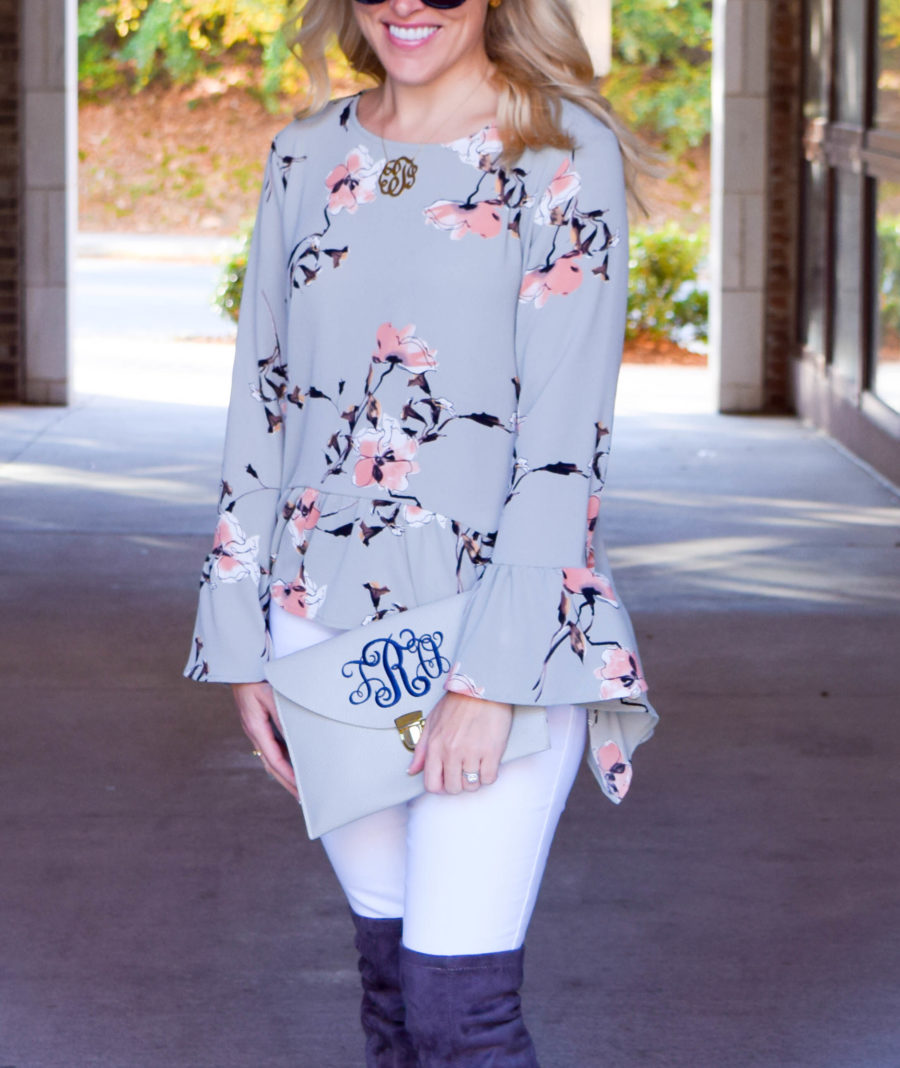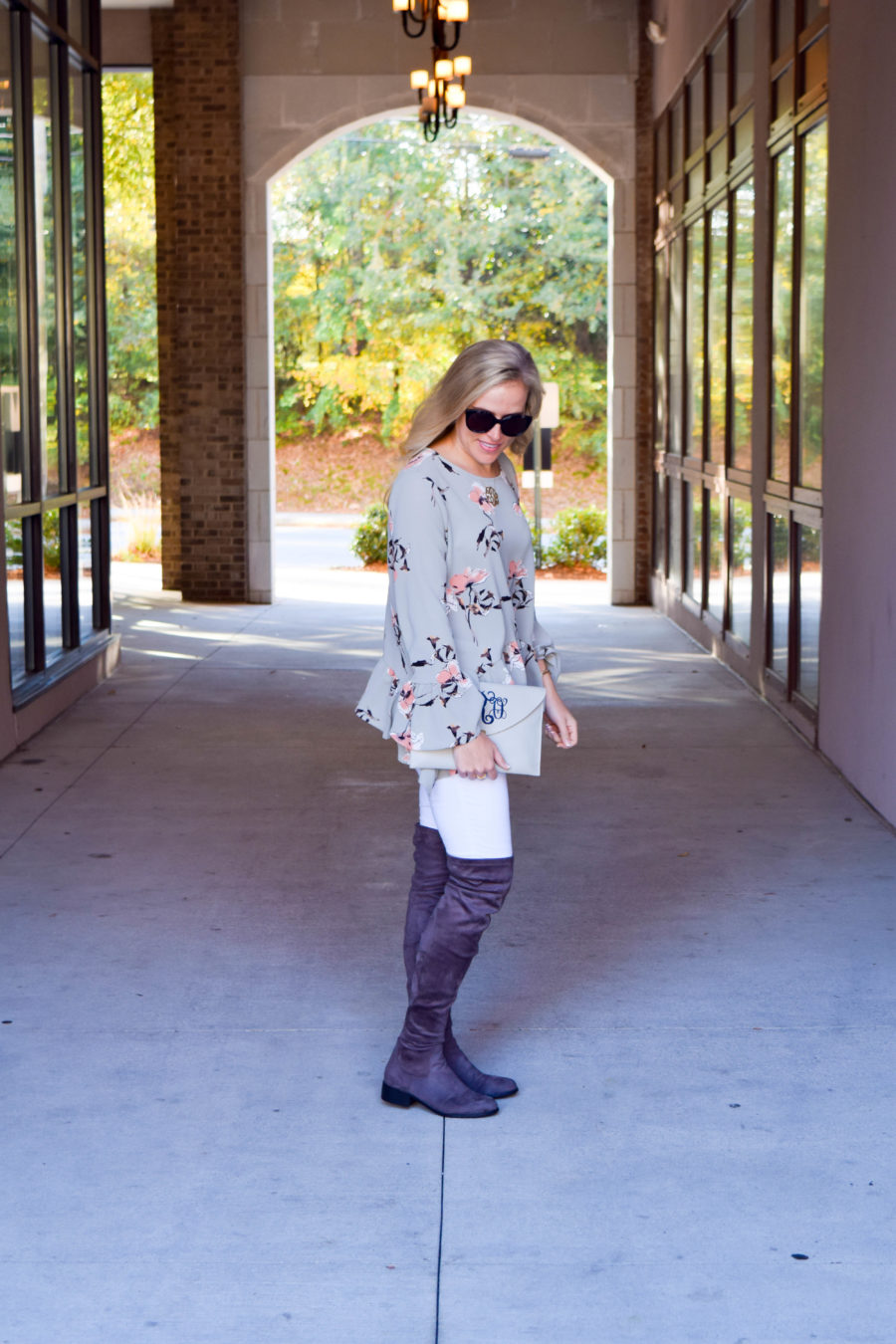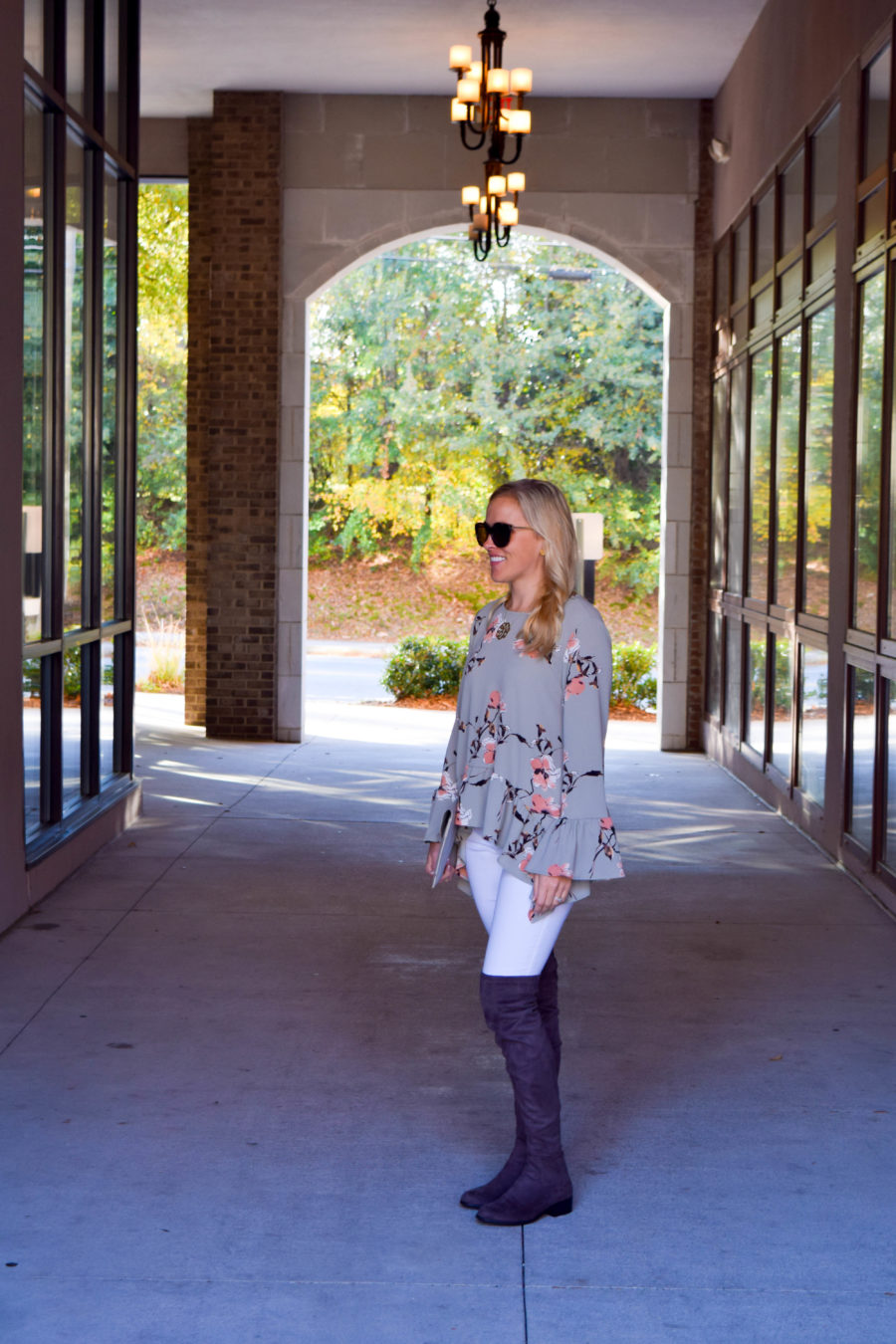 // FLORAL TOP, comes in a bunch of solids and prints, size down // WHITE JEANS, old navy – love these, run TTS and ON SALE // Forever21 BOOTS, here in BLACK and CHOCOLATE boots run TTS// MONOGRAM CLUTCH // MONOGRAM EARRINGS // SIMILAR MONOGRAM NECKLACE // 
:: Floribama ::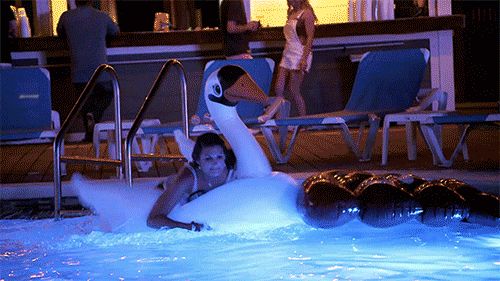 I mentioned in Coffee Talk a week or two ago that Jersey Shore was having a new spin-off set in Panama City Beach with a group of 21-25 year olds.  I was at my friends house last night for dinner, a fellow TV lover of course, and she said we all should watch it.  Who am I to say no to some trash TV? Or any TV for that matter? I watched the first hour of this week's 2 hour premiere and OH-MY-GAWD.  You MUST watch.  I thought I was going to think it was trashy, or am I too old to find the antics of a 21 year old anything but horrifying, but I was wrong. So, so wrong.  And I don't admit to being wrong often – just ask my husband.  I couldn't look away, and the one liners that come out of these people's mouths are worth watching alone.
PLEASE do yourselves, and me, a favor and watch this weekend so we can discuss next week!
I guarantee you watch the first 20 minutes and you'll just have to know what happens.  Educational TV? No. Riveting TV? Oh yes. 
:: This Is US :: don't worry – never any spoilers! 
I was able to catch up on a few shows this week, and I loved this week's episode of This Is Us.  I always love it, but I had missed my Randall and was excited after 2 weeks without much of his character to have the 'Number 3' episode.  He is just the sweetest character ever.   Also, I just love the way they film this show – that all three weeks were the same day or scenes in each year as babies, teens, adults but from each child's point of view – it's so neat how they film it.  It's so nice having a show that gives all the feels. 
:: At Home Ring Cleaner ::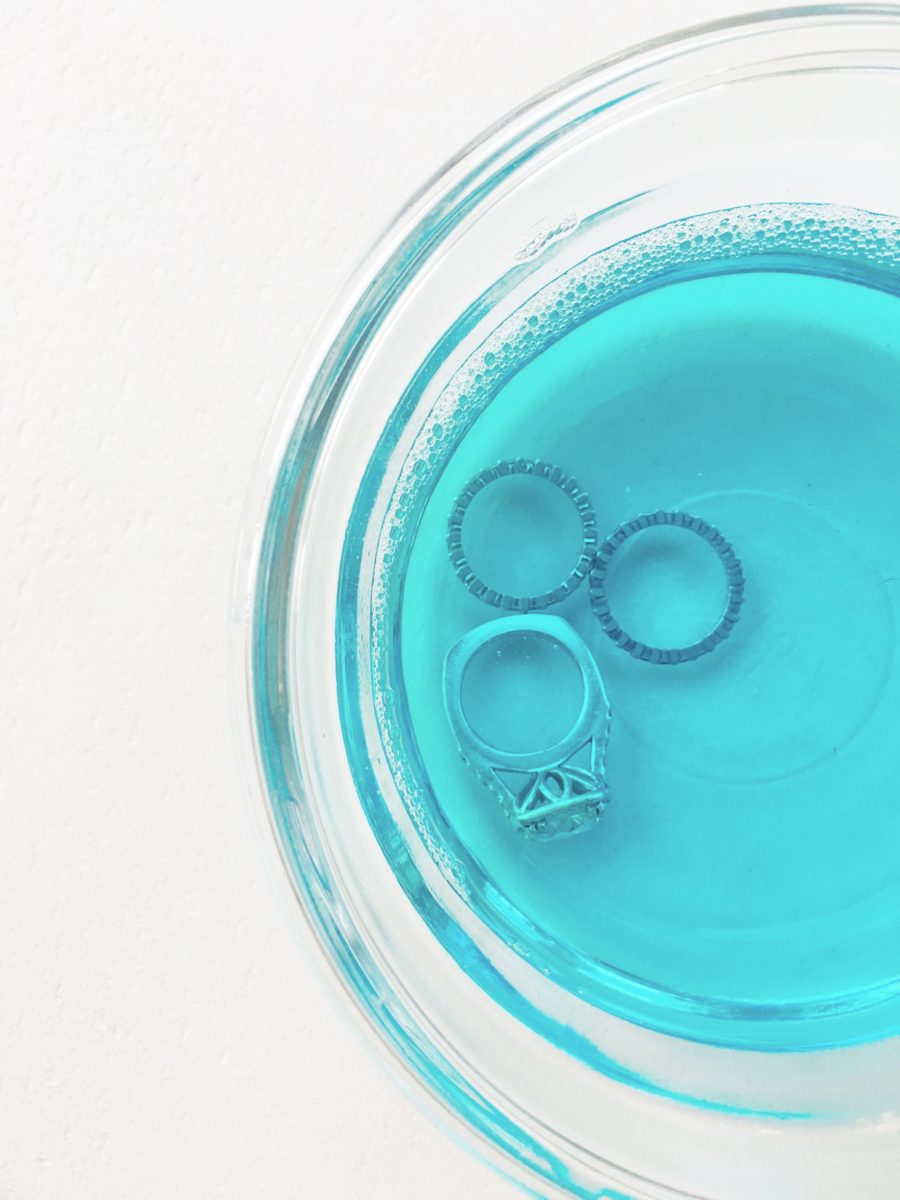 I saw on Megan at Holy City Chic's instastory that she was doing Living with Landyn's At Home Ring Cleaner Solution called Bling Wash and raved about it.  The only thing I clean less frequently than my jewelry is my make-up brushes.  I had done a similar jewelry cleaner in the past that my friend told me about, just dish soap and water, but this one worked much better thanks to the other 2 ingredients : windex and a clean toothbrush!
You just microwave a bowl of water with some dish soap and windex for 1 minute, then soak your jewelry for 20 minutes, then rinse and scrub it with a toothbrush.  Instant Sparkle! (well, 20 minute soak, then instant sparkle!)
The toothbrush was able to get underneath the mount of my ring and get the gunk that when I previously soaked it before, and it was shinier than it ever was after just soaking it in my store-bought ring cleaner and using the tiny brush that one came with.  The bristles of the toothbrush were firmer and able to really get everything from the under the mount that never would soak off before.
Love it! I am officially hooked! Now hopefully I actually do it more than I was my make up brushes (read: never. ever.)

:: Vintage Flip :: 
With Fixer Upper ending, I keep clinging to all the other Home Shows that I can get my hands on!! As I'm typing this, Vintage Flip is on, which I haven't seen in forever.  It's another cute couple and I love that they focus on retaining charm and older homes.  (Although…. if I'm honest…. I recently watched A LOT of The Vanilla Ice Project on DIY and enjoyed it….. I meannnn y'all what is happening to me!!??)
:: FRIDAY FAVORITES ::
Gimme these striped pumps and gimme em to me now.  
Um. Never seen a holiday dickie before, or ever thought I would say that, but I kinda like it?! 
This pink top is a great punched up neutral – and would be a year round go to.  It would go with everything!  
I have last year's version of this handbag and love it – it's a perfect fall + winter go-to for under $60. 
An amazing jumpsuit in a great holiday color (with a surprise back!) 
This feather sleeve sweater strangely reminds me of the Grinch (???) yet I love it. 
This long sleeve swim tee is the most stylish SPF I have ever seen! (#Thisis30) Love the scallops and the white especially. 
A perfect holiday LBD option. 
My girlfriend got this workout pullover I've been eyeing and loves it – perfect with leggings or jeans. 
I can never get enough of drape front cardigans and sweater coats – this looks like the perfect weekend staple.  This is another great under $100 option. 
My favorite high waist workout leggings in 5 styles. (I do love the basic black though!) 
Halston is one of my favorites for something special.  I love, love, love their dresses for weddings and fancier occasions. They are having 30% off sitewide with code HOLIDAY.
This black jumpsuit is my favorite thing of the whole week. It is simply stunning.  
Some of my favorite picks :
RED FLOUNCE SLEEVE DRESS // DEEP V DRESS // STRIPED ONE SLEEVE PARTY DRESS
and gowns :
FLOWY GEORGETTE GOWN // SIDE TWIST DRAPE GOWN 
This basic bodysuit comes in black and white and looks like the perfect t-shirt; a must have for layering and would be perfect with all skirts and denim. 
If you're a distressed denim fan, you can't beat these under $100 Levi's. 
Great statement earrings under $50 in lots of fall neutral color options. 
The deep-V of this cozy neutral sweater perfectly balances the puffed sleeves.
These heels are a little bit of a splurge at just under $200, but goodness they are adorable. (I should spend money on shoes not dresses I wear one time, but never do) 
:: LINK LOVE ::
I had never seen this Ryan Gosling Won't Eat His Cereal montage and I could not stop laughing.  Some of them are so perfectly spot on.  It's SO stupid and yet I am SO hysterically laughing at it.
Dancing with the Stars Tour is coming to Atlanta in January.  UMMMM.  I need to go.  I must.  I don't care if I go alone, IT'S HAPPENING.  #ThisIs50+ and #NoShame
25 Most Classic Christmas Movies of All Time.
7 Habits for eating Mindfully during the Holidays. 
Anna did a blog post about hunting for the best Natural Deodorant and I feel like I need to jump on this bandwagon, but the "experimental" stage always sounds like a nightmare for people.  I don't want to take the time trying out a bunch of failures to find one that works!
7 Must have Beauty Products that work while you sleep.
This 71 year old Bodybuilder is unreal.  That's some serious aging goals (well….. I'd take a little more bathing suit and little less muscle, but I'd take it!)
The story of Prince Harry and Meghan Markle's relationship – in case you haven't had enough already. 
Hope you all have a great weekend!!!!!