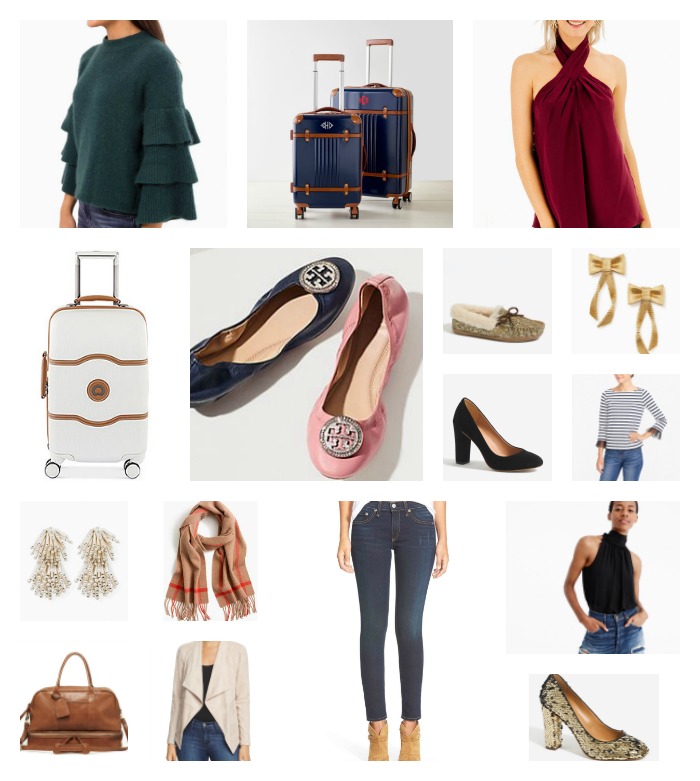 row one : RUFFLE SWEATER // MONOGRAM SUITCASE // SILK TOP 
row two :  DELSEY CARRY ON // TORY BURCH PAVE FLATS // GLITTER SLIPPERS // SUEDE PUMPS // BOW EARRINGS // STRIPE TOP 
row three : FIREWORK EARRINGS // CAMEL + RED SCARF // RAG AND BONE JEANS // BOW TIE HALTER TOP // MASON TRAVEL BAG // SUEDE DRAPED JACKET // SPARKLE PUMPS 
I have this draped suede jacket in two colors (black and grey) and have ended up wearing it every since weekend in past weeks. It is the perfect layering piece and goes so well with dresses, tops, and more. You can see it worn here).
and this leather version is 50% off currently! 
My favorite pair of jeans are 30% off – these rarely ever go on sale – and I get asked what jeans they are all the time.  Perfect stretch, no front pockets so they don't add bulk, and are super flattering.  Worth every penny.  (They last at eternity too and wash well!)
These booties are on sale even more, I have them in black but love them in brown too.  They are down to 50% off with the Black Friday sales added in !!
My Mason Travel Bag is my #1 Travel Accessory MUST HAVE.  Literal MUST HAVE.  Regular readers know that I talk about it constantly and have been singing its praises for 4 years now.  If you all haven't bought it by now you are insane (sorry, not sorry)- ask all of my friends that have converted, including the constant business travelers! 
Pieces I have ordered or have my eye one from the sales :
I fell in love with these pave encrusted logo tory burch flats the second they appeared in my inbox.  Could there be a more perfect shoe? And with 30% off now is the time to snag em!
I have been lusting after these earrings for a few weeks now.  I have their old version of "bow earrings" that I wear all December long and get constant compliments on them.  I love these EVEN MORE!
This bow tie neck top is a piece to go to again, and again, and again.  The only problem is deciding which color to get it in! It's an item that you can wear no matter the season or temp, but the bow makes it just perfect for the holidays.  Great with jeans or tucked into skirts!
If you are wanting one that is absolutely perfect for the holidays, you can't beat it in this style. 
If you need a cozy sweater to live in all winter long, let it be this ruffle sleeve sweater – the green would be my pick!
If you've had your eye on monogrammed luggage – or some new luggage in general – now is the time to snag this adorable carry on (or the set!).
The always gorgeous Delsey Luggage is also on super sale! 
This camel + red scarf is the one thing excluded from sale prices – which I didn't realize until I had already fallen in love with it, damn! – but looks like a million bucks; you could throw it on and it would make your entire outfit.
The neckline and color on this silk top scream holidays.  So gorgeous and flattering.
I haven't bought a chambray shirt in awhile.  I have one that I love and is a constant go to, and one that has kind of an awkward fit and I can only wear with certain pieces.  Because of that, I hadn't wanted to order another, but the reviews on this shirt are all RAVE five star reviews.
I have never seen a pair of earrings quite like these fireworks earrings – I love them in all four colors and think they would make any outfit elegant and party ready.
These suede pumps would be the only shoe you need for winter.  They are so feminine and the perfect thick heel to keep you comfortable and on your feet all night long.
However…… the same pump, but bling'ed out, would be the absolute perfect party shoe.  I had to order these to see for myself in person – they look so fun!
These slippers are the perfect gift for yourself or for any lady in your life.  You can't beat the price tag and they are super warm with the faux fur lining, but so fun with the sparkly finish. They also come in this style.
This dress comes in black or red and is the ideal shape for every body type.  It shows enough skin, but not too much, to be your go-to for everything from an office party to a night out with friends.  And all of the reviews are 5 stars!  The only decision you need to make with this one is which color to choose (and at 2 for 1 pricing, you might as well get both!)
You can never have enough striped tee's in your closet, amiright? This one has a little something special to set it apart from all of the others.
This sequined skirt works great as an option for the holidays, but works just as well in spring and summertime as well.  You would get so much use out of it!