I have some healthy crack of the week to share with you today!
I received so many questions about this recipe when I put a picture in my instagram story so I am here to share it today!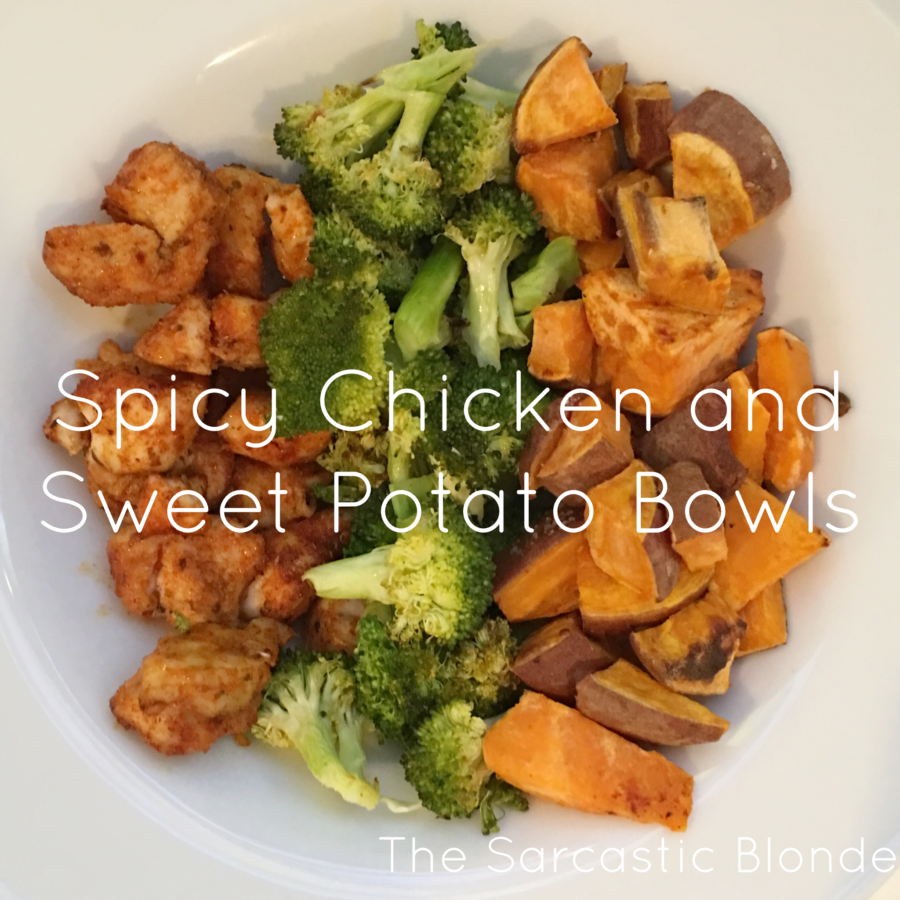 These bowls are super clean and healthy but pack tons of flavor with all of the seasonings that are added to the chicken.  I have made it twice since, and actually made it last night to meal prep some work lunches for the week.  The first time I used just broccoli and sweet potato, but for this week I added in some cauliflower rice that I needed to use before it went bad.  My husband liked his with brown rice (The 3 minute frozen Trader Joe's brown rice is my favorite.)
I used a pre-chopped container of sweet potatoes to save time and make it even easier.
The other thing I love about this recipe is there is virtually no clean up.
You line the pans with foil and can just crush up the foil and put it into the trash when finished!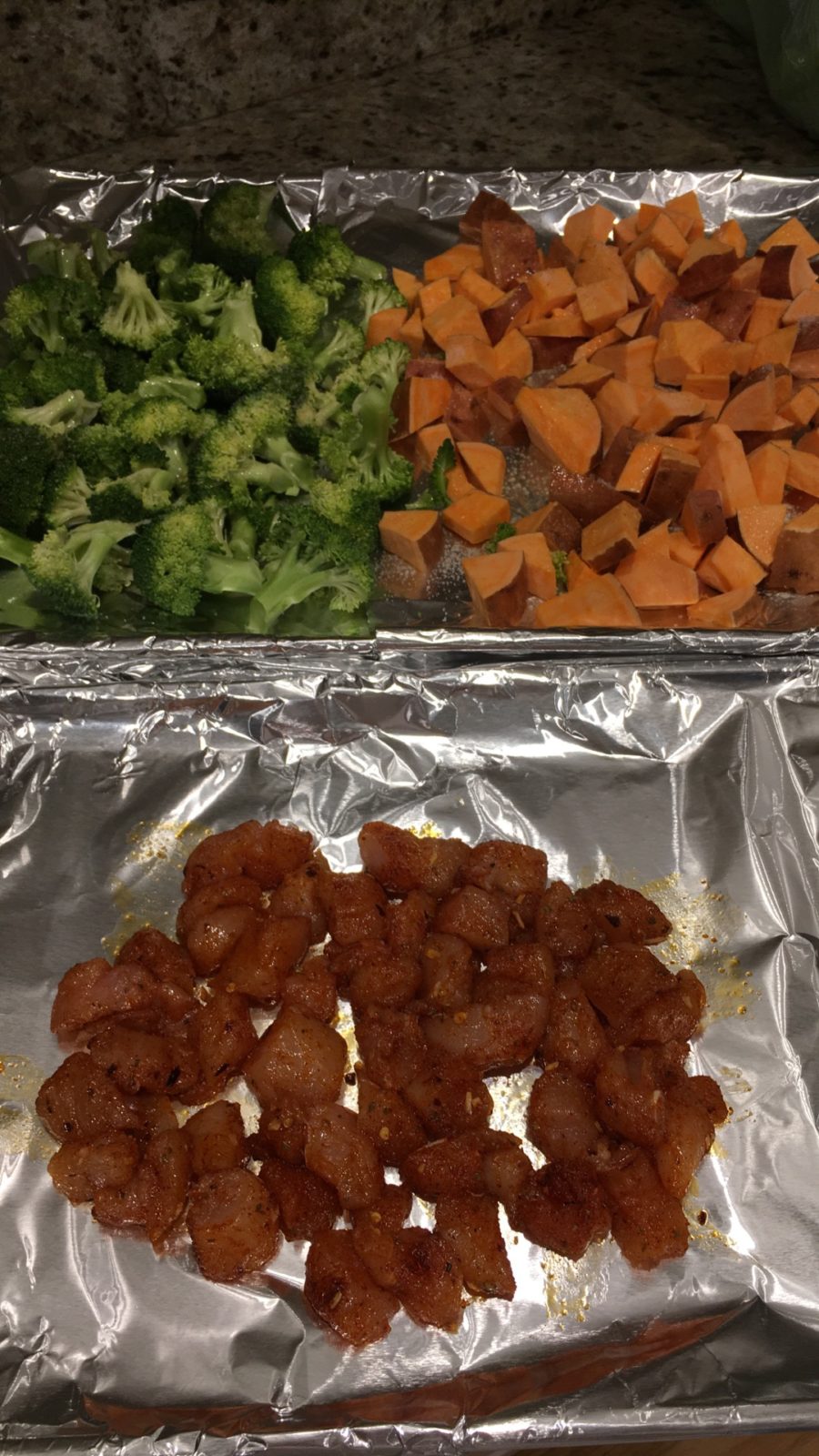 recipe originally from Pinch of Yum, seasoning mix from AllRecipes
Spicy Chicken + Sweet Potato Bowls
Author:
Taylor :: The Sarcastic Blonde
Recipe type:
Healthy Meal Prep
Prep time:
Cook time:
Total time:
There is so much flavor packed into these bowls and you change them up with any different vegetables you like! They're perfect for meal prepping in advance to have a lunch or dinner ready in moments!
Ingredients
2 lbs. boneless skinless chicken breasts, cut into small pieces
3 tablespoons spicy seasoning mix (see below)
a few tablespoons of olive oil
3 sweet potatoes, peeled and diced
5-6 cups broccoli florets (broccolini FTW)
coarse sea salt and freshly cracked pepper
anything you want to add to your bowls : avocado / hummus / lemon juice / chives / olive oil for serving
Instructions
Preheat the oven to 425 degrees. Toss the chicken pieces with the spices and a quick stream of olive oil. Stir to combine; store in the fridge for about 30 minutes while you prep other ingredients.
Arrange the vegetables on their own sheet pans (preferably ones with edges to catch drips, etc.). Drizzle with olive oil and sprinkle generously with salt. Arrange the chicken on a separate sheet pan.
Bake all ingredients for 12-15 minutes. Remove the broccoli and chicken. Stir sweet potatoes and roast another 15 minutes or so.
Done! Divide your servings out into containers and be happy you have meal starters ready for the week!
For the spicy seasoning mix, you can use Perfect Pinch Cajun Seasoning, but I used a homemade mix of the following :
Seasoning Mix : 1 teaspoon salt (original calls for 2 tsp, feel free to add more if needed!), 2 teaspoons garlic powder, 2½ teaspoons paprika, 1 teaspoon pepper, 1 teaspoon onion powder, 1 teaspoon cayenne pepper, 1¼ teaspoons dried oregano, 1¼ teaspoons dried thyme, and ½ teaspoon crushed red pepper flakes (optional)
This is a perfect recipe to make in advance to meal prep healthy lunches to take to work or to have dinner ready and waiting for you when you get home!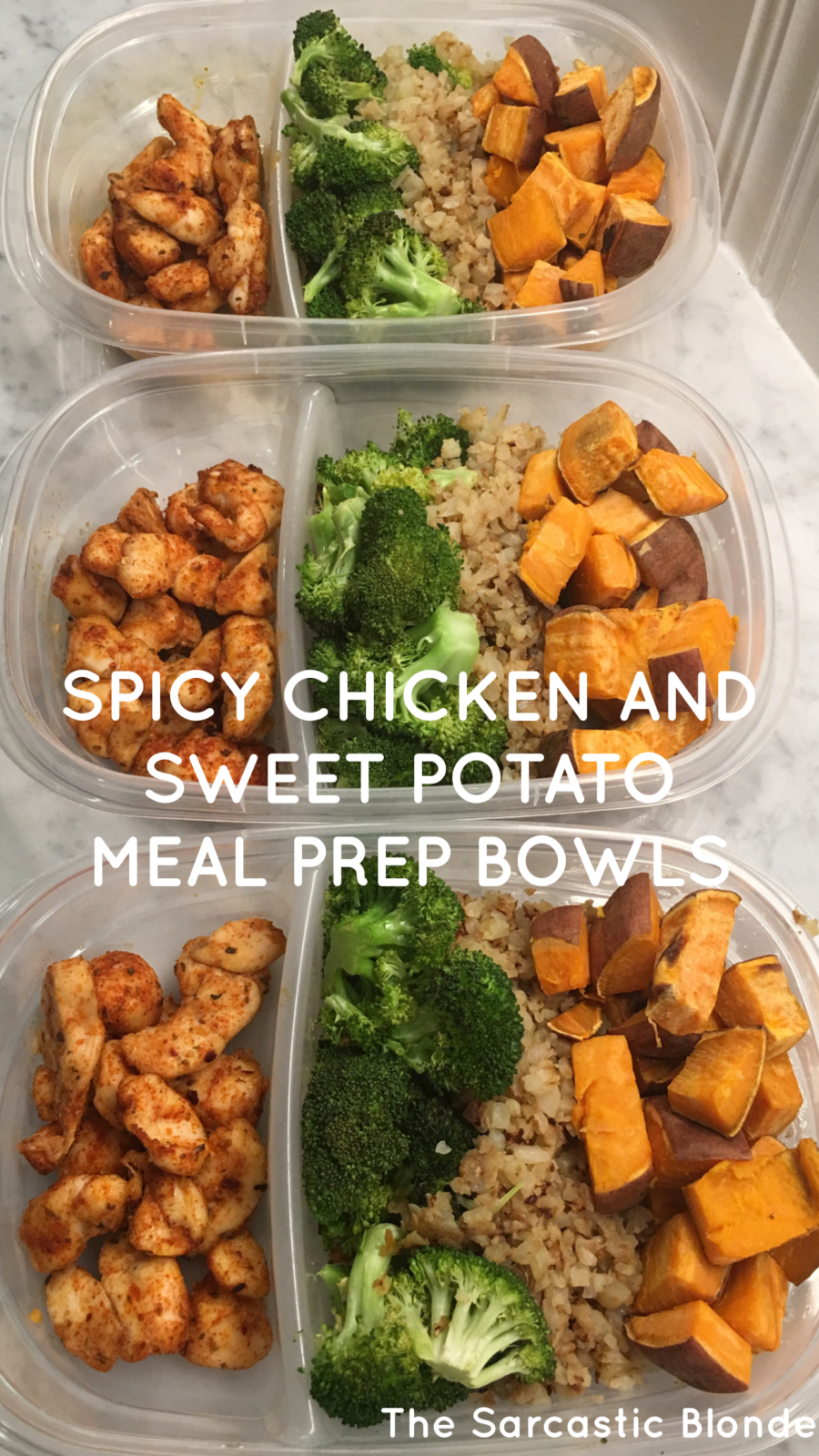 I love having recipes like this on hand for quick and easy meals to throw together last minute or to prep in advance to save more time during the week!
What are your favorite quick and easy meals to have on hand during the week?