Today I wanted to share some of my favorite things from February that I have been wearing repeatedly, so I've rounded up a big post of outfits.
I am in love with this Sam Edelman Chain Bag.  (more of the outfit to come this week!)  I feel like it has the look and feel of the YSL Clutch, but I actually like it even better (and of course the price is 10x better) . The chain can be removed and it can be used as a clutch, and it easily fits all of the essentials for a night out.    The color is a beautiful camel brown – it looks slightly different in the photos than it does in person, but it also comes in black and a ton of other colors!  AND I found it for 30% OFF on Zappos while it is still full price on all other sites!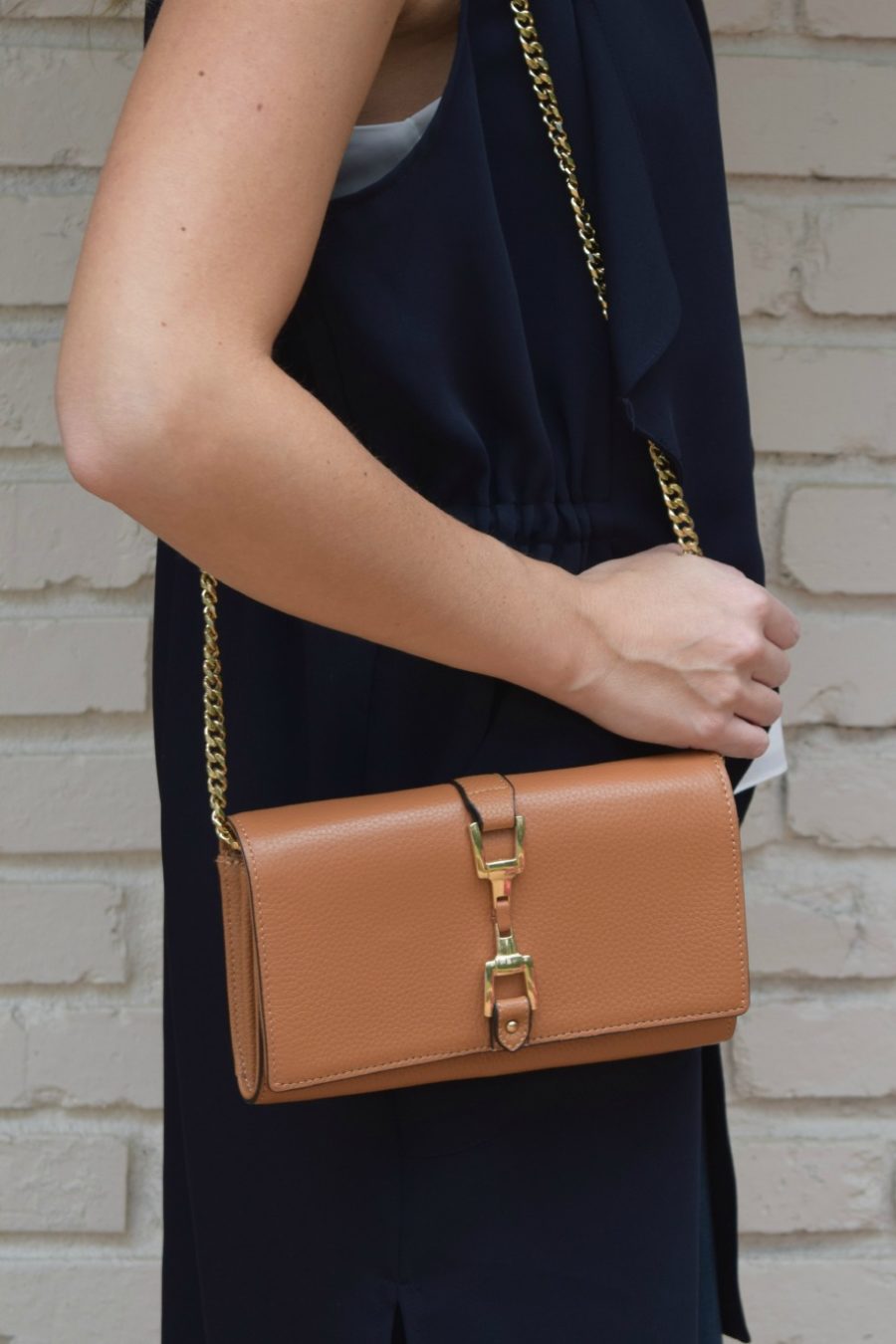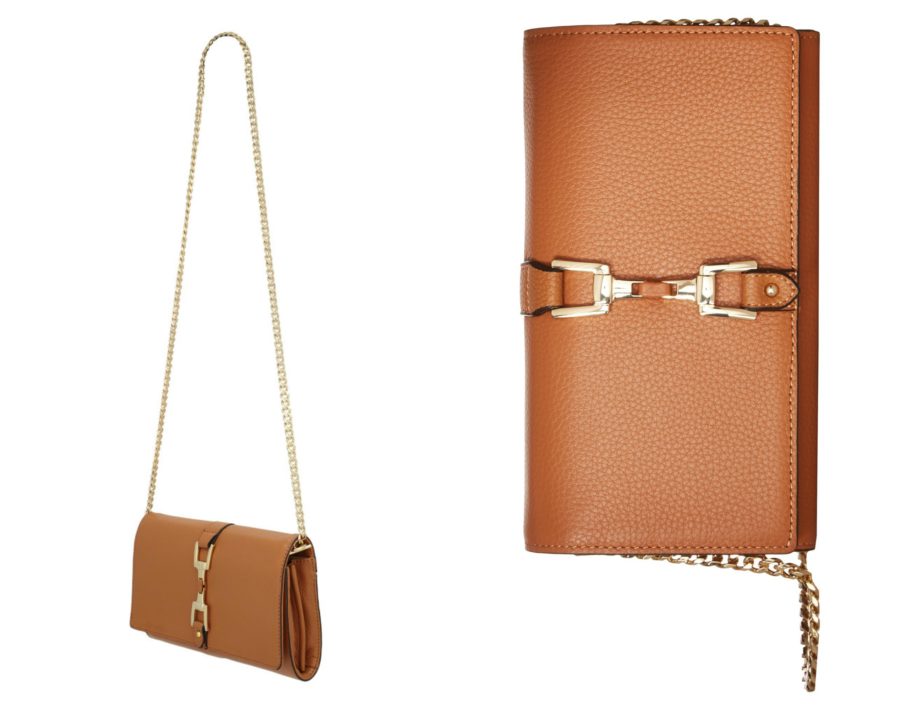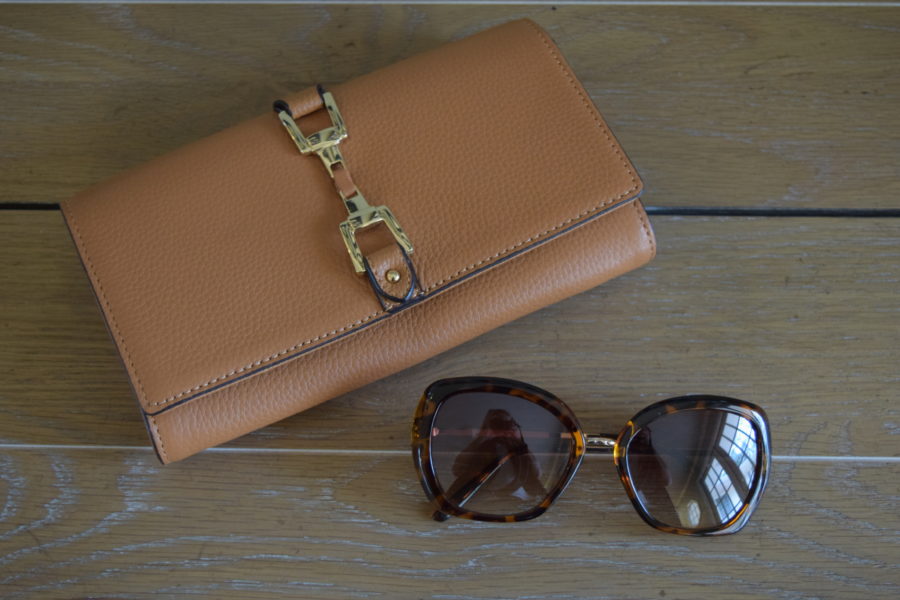 CLUTCH PURSE,  30% off!! // they also have the purse in an adorable navy stripe and yellow stripe! // TORTOISE SUNGLASSES  
Another favorite shown with the clutch above is this pair of tortoise shell sunglasses that are only $12! Yes, $12!  I am also completely in love with this other pair that is also only $12!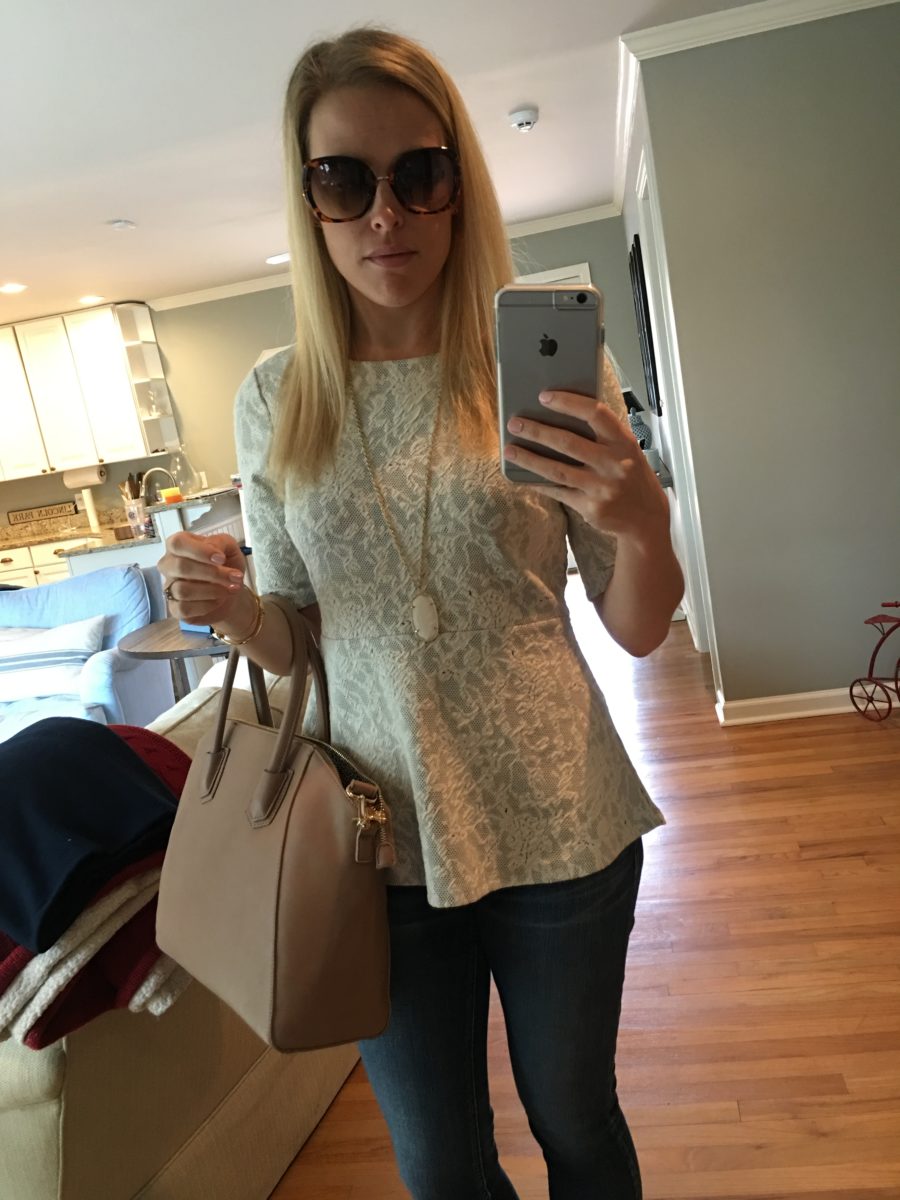 TOP FROM STEIN MART  // PURSE // JEANS // SUNGLASSES // NECKLACE
I finally found the perfect V-Neck Tee shirt that is insanely flattering and insanely soft.  And the price is perfect too.  They come in a bunch of different color options.  I have the white and grey but will likely get more because it really is the perfect staple.  I wear the tee's with jeans out and about and also at home with these super soft leggings.  These are the perfect lounge pants.  I loved them so much I got another pair in pink.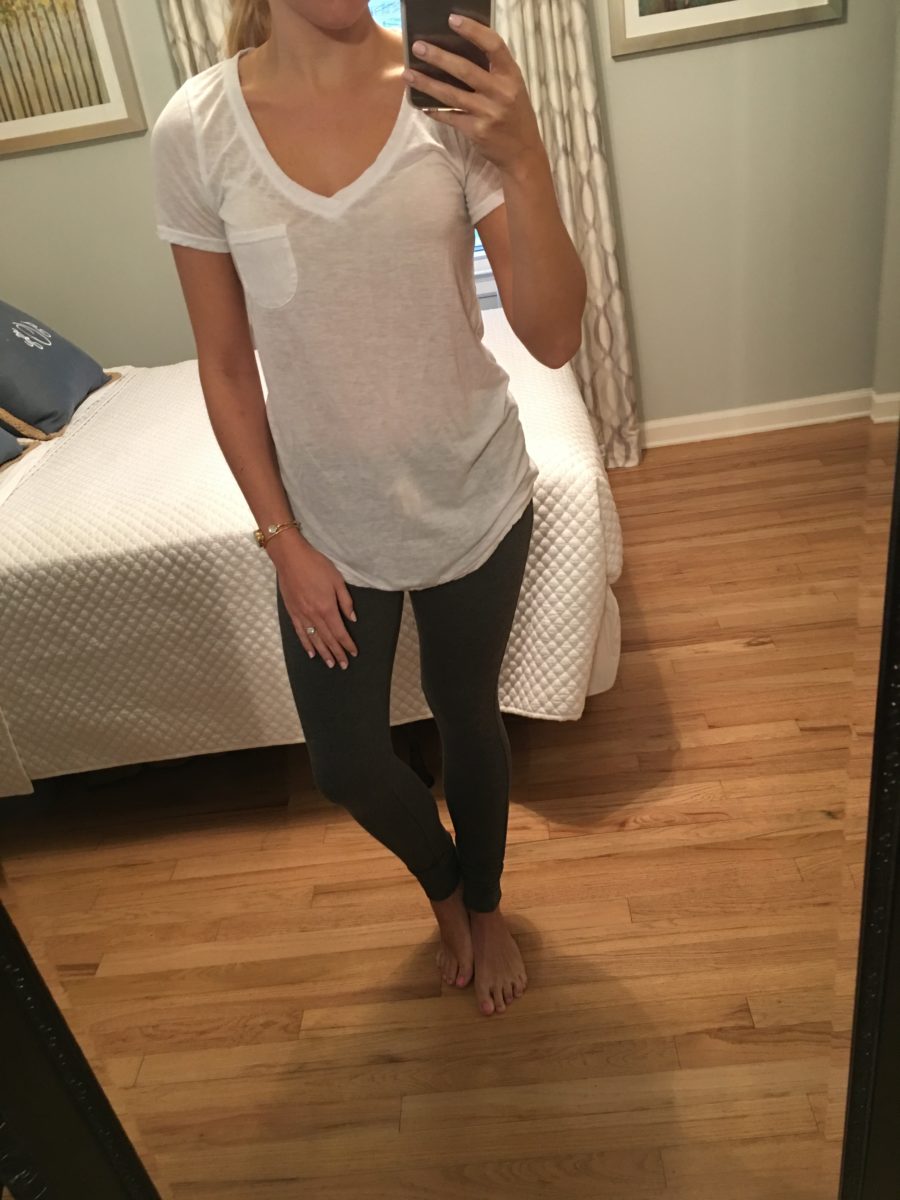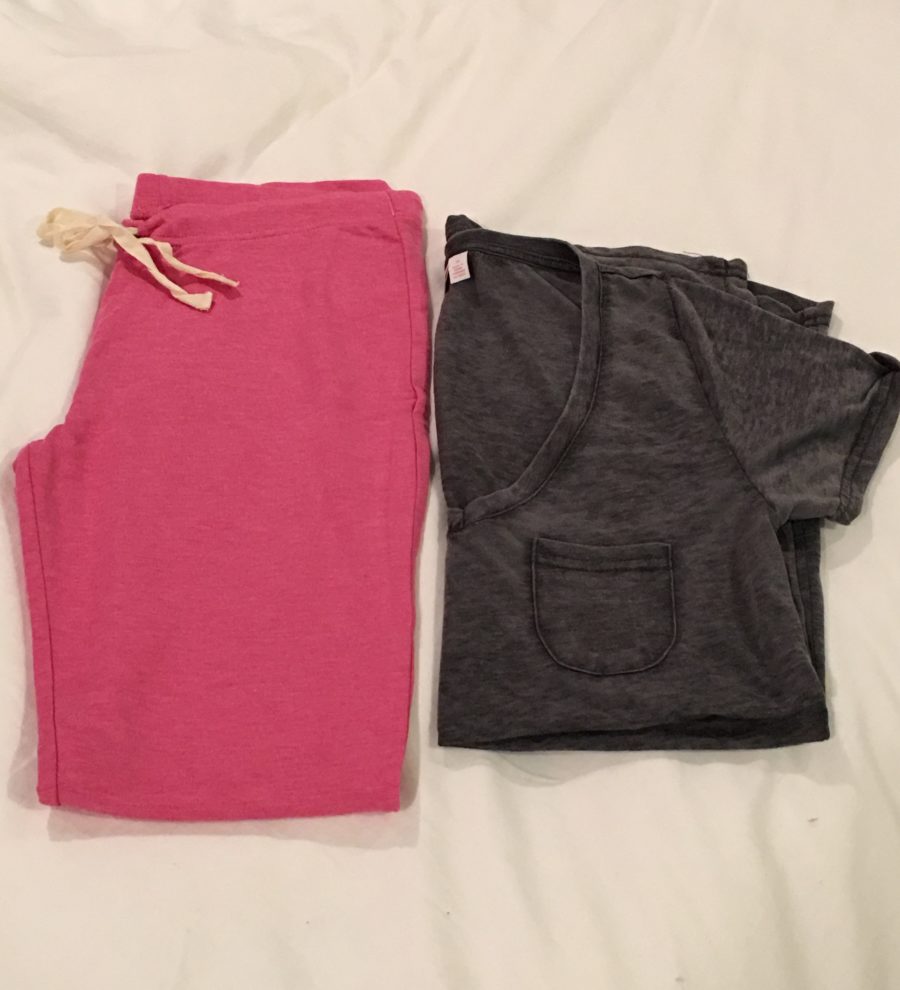 TERRY LOUNE PANTS   //   V-NECK TEE SHIRTS 
I wore this Zara romper (that looks 100% like a dress) out in Arizona and I can't wait to wear it again.  It was so freaking comfortable!!!
I wear the outfit below too many times to share.  I love the lush tank tops and have them in a few colors, they are the perfect thing to throw on and you can dress them up or down.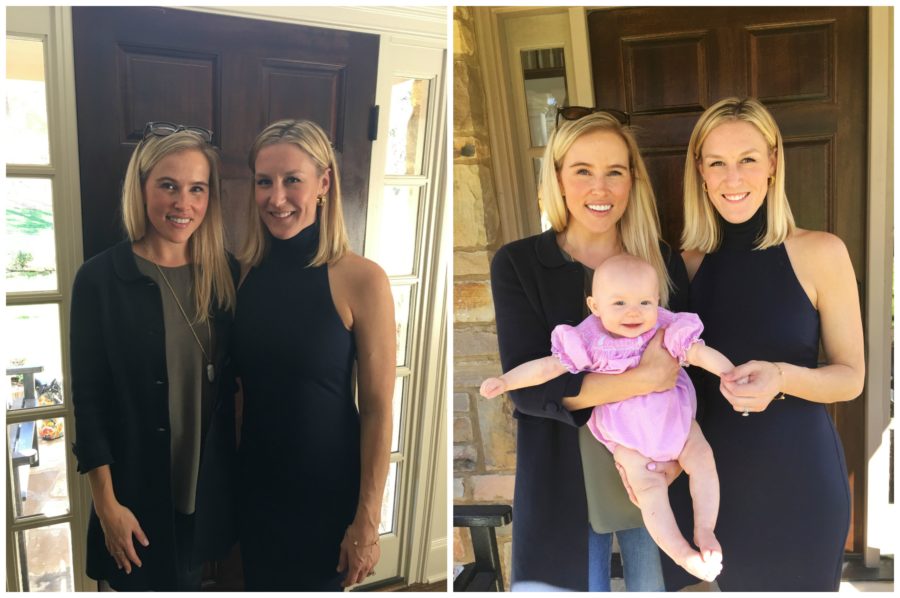 GREEN SIDE SLIT TOP, on super sale only $20 // NAVY SWEATER COAT, old 
The green jacket gets more use than any jacket I own I think.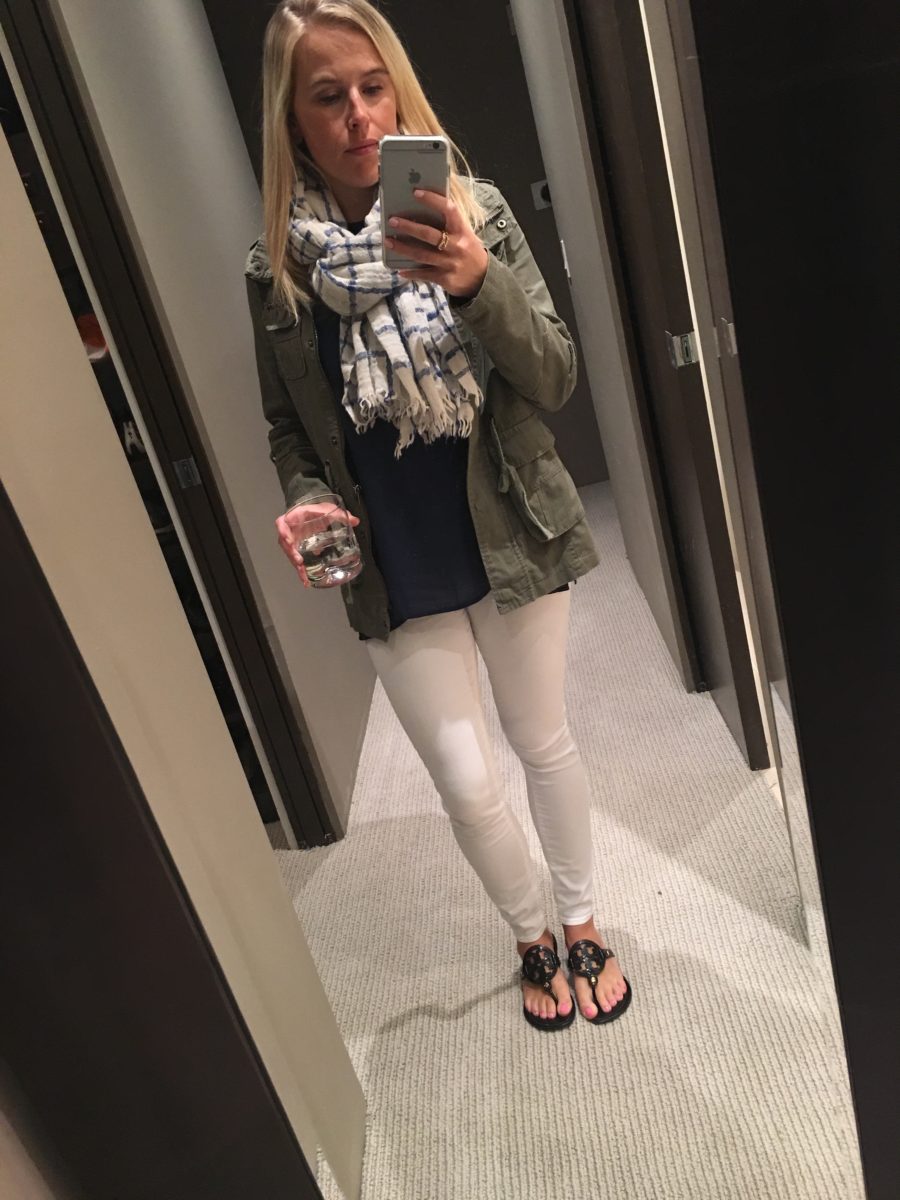 NAVY SIDE SLIT TOP // WHITE JEANS  under $60 // SANDALS // GREEN JACKET + SCARF old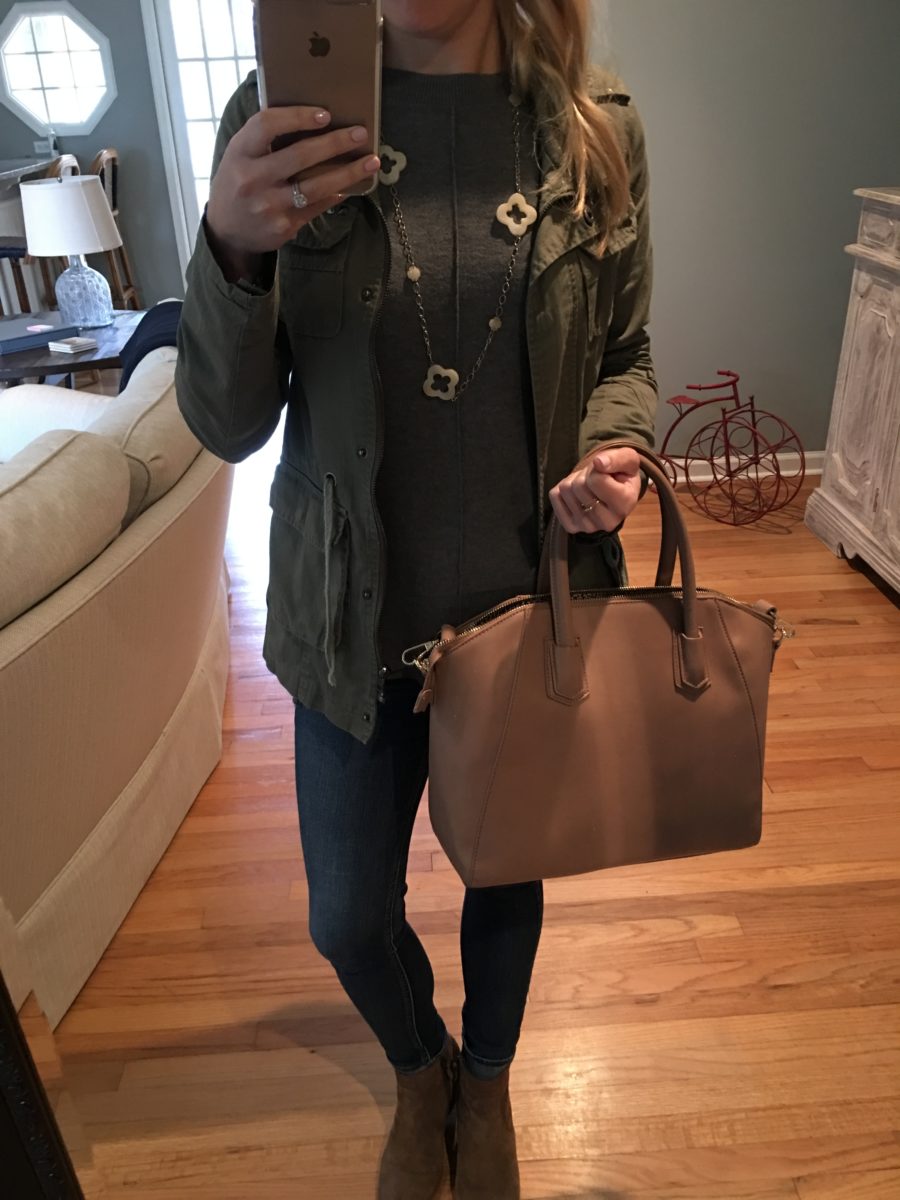 SWEATER // JEANS // BOOTIES // PURSE 
This weekends outfits :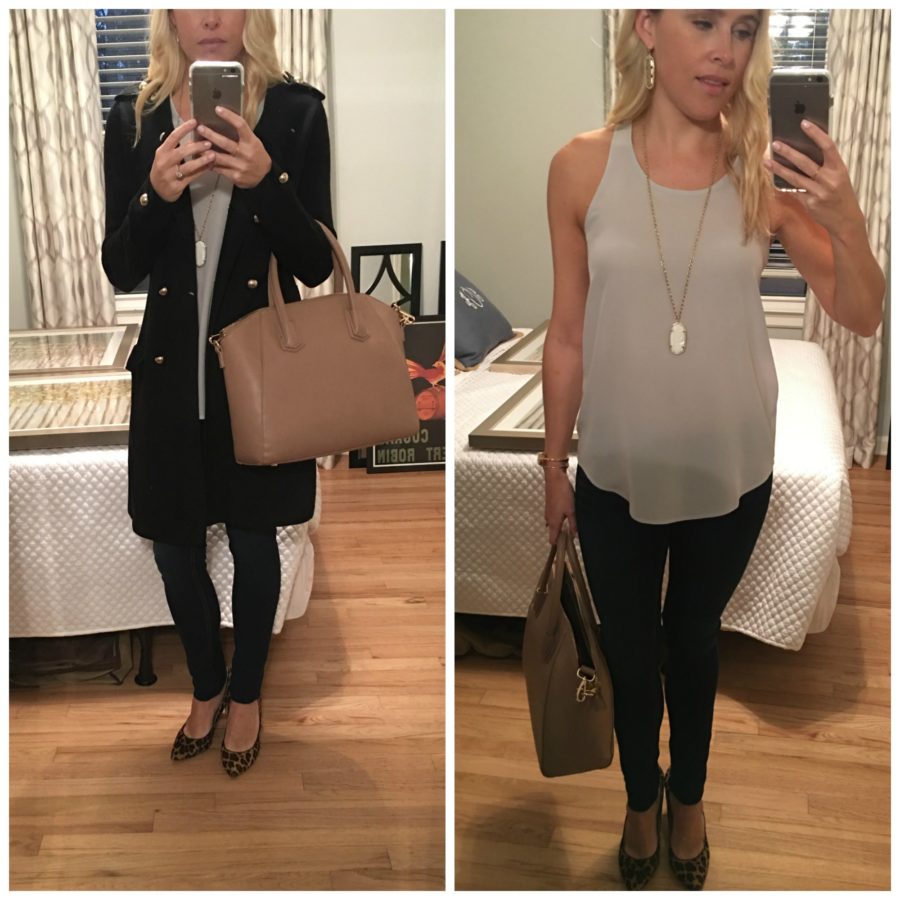 BANANA REPUBLIC SWEATER COAT, old// CLUB MONACO TANK , old// JEANS //  PURSE // HEELS // NECKLACE
I wear this white tank with the black bow constantly.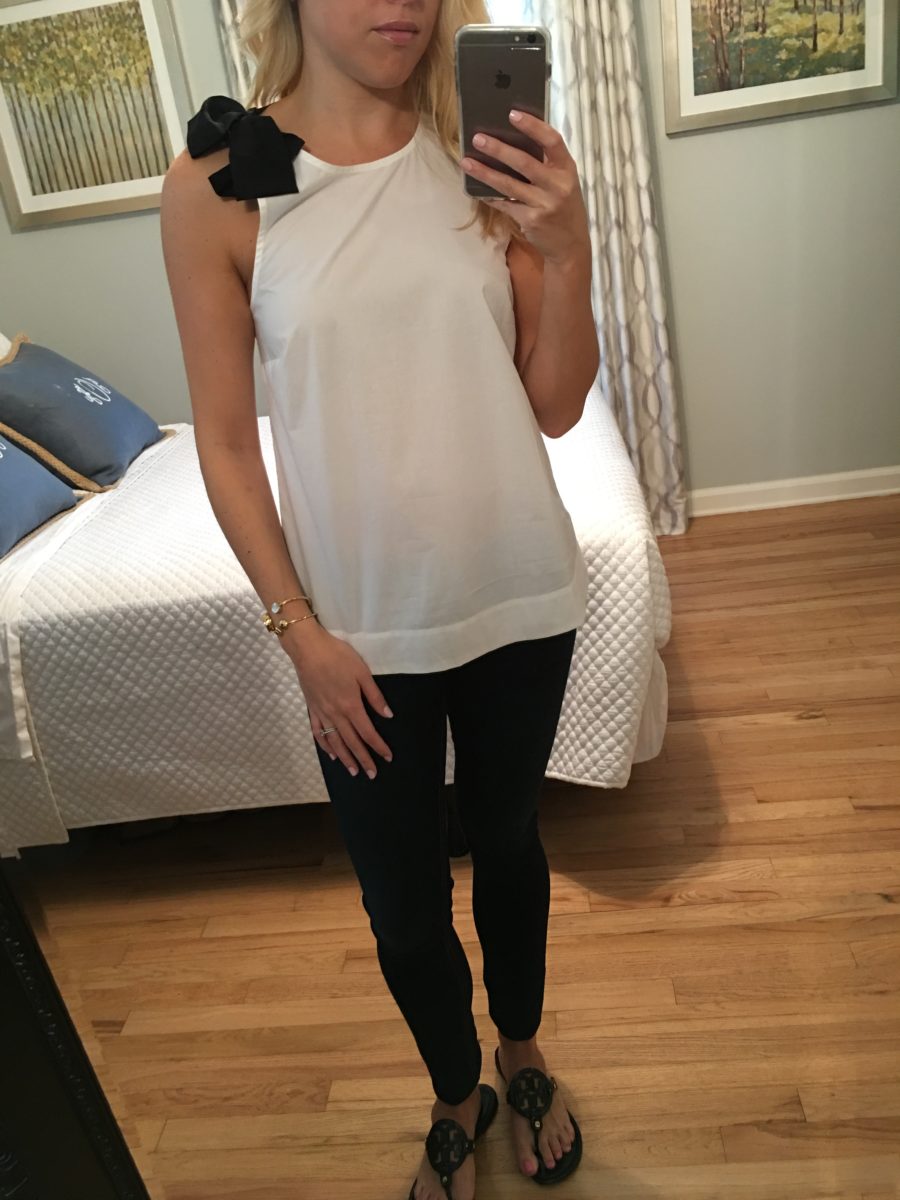 BOW SHOULDER BLOUSE // JEANS // SANDALS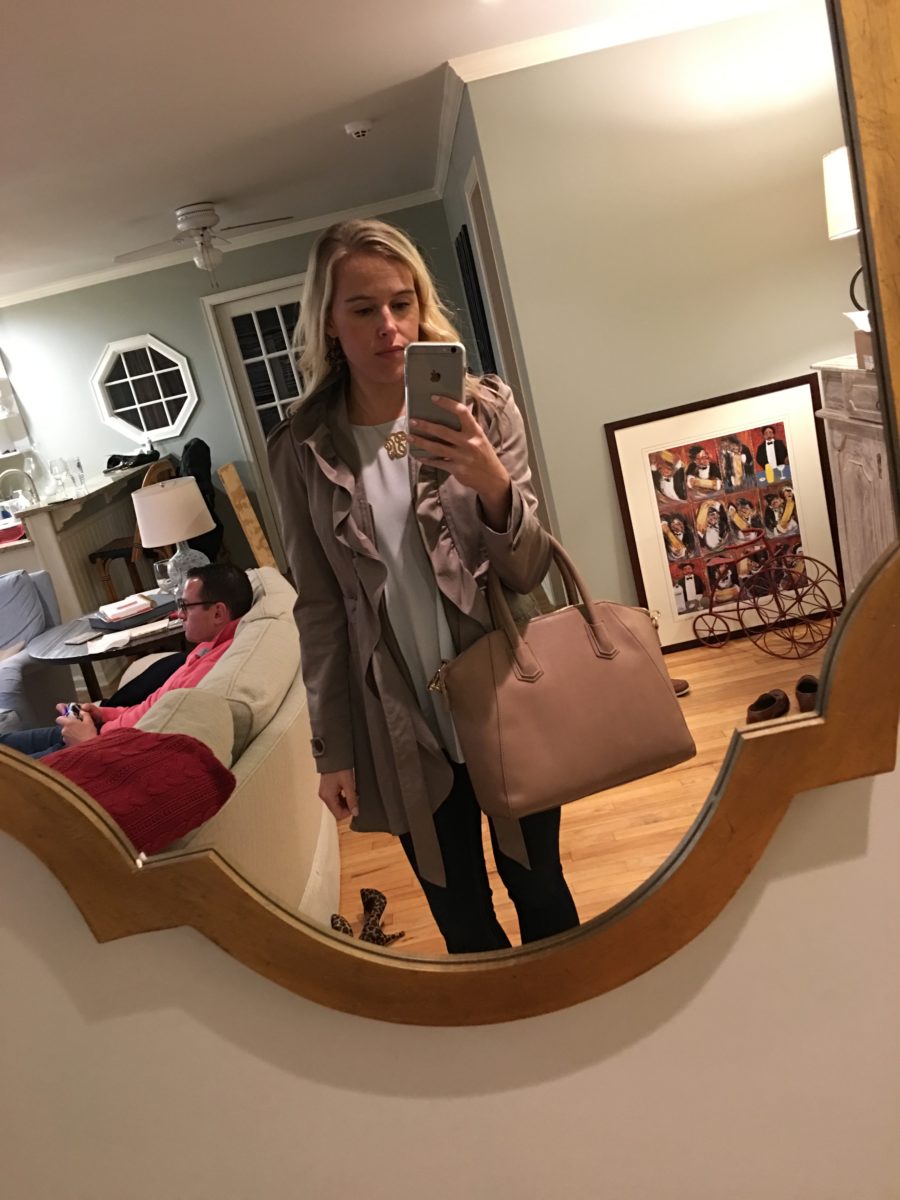 ANTHROPOLOGIE RUFFLE TRENCH, OLD // JEANS // REBECCA MINKOFF FLUTTER SLEEVE BLOUSE // PURSE 
That gold beauty is our new mirror that just arrived on Friday! I'm pretty in love with it.  Now I just need to find a table to put underneath it and that can be checked off of the never-ending home project list.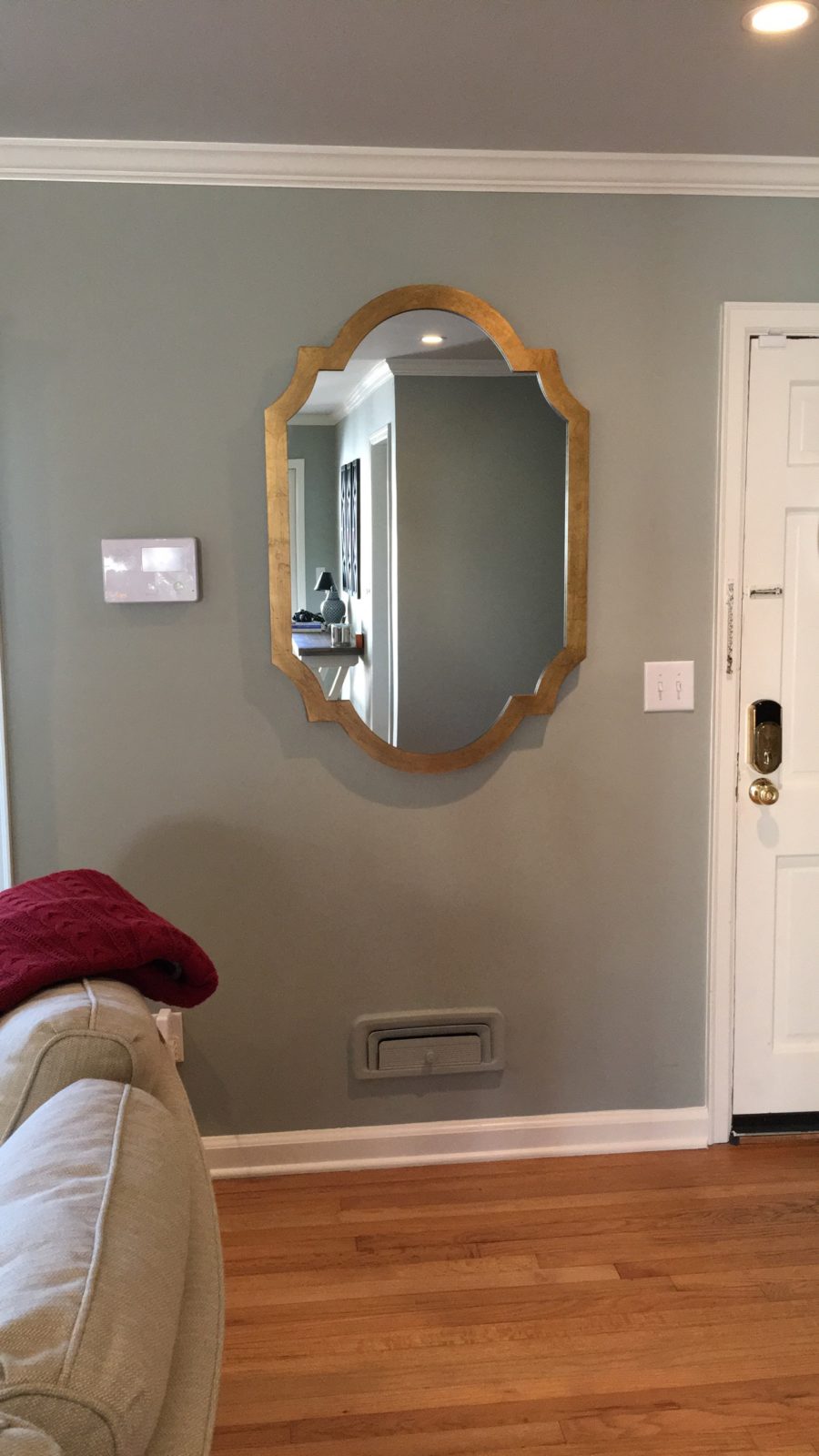 // BRUSHED GOLD MIRROR  // 
My biggest obsession of the month is the dark wash denim in the most recent photos above.  I ordered a new pair of Rag + Bone jeans in the Shopbop Sale and I realized that my other pair I always wear must be about 4 years old.  They have changed their stretch fabric and it is 10x better than it was before – they are my favorite jeans all over again.  They are so much more comfortable, they hold it's shape and don't stretch out, and they suck you in perfectly.  So glad I finally got a new pair!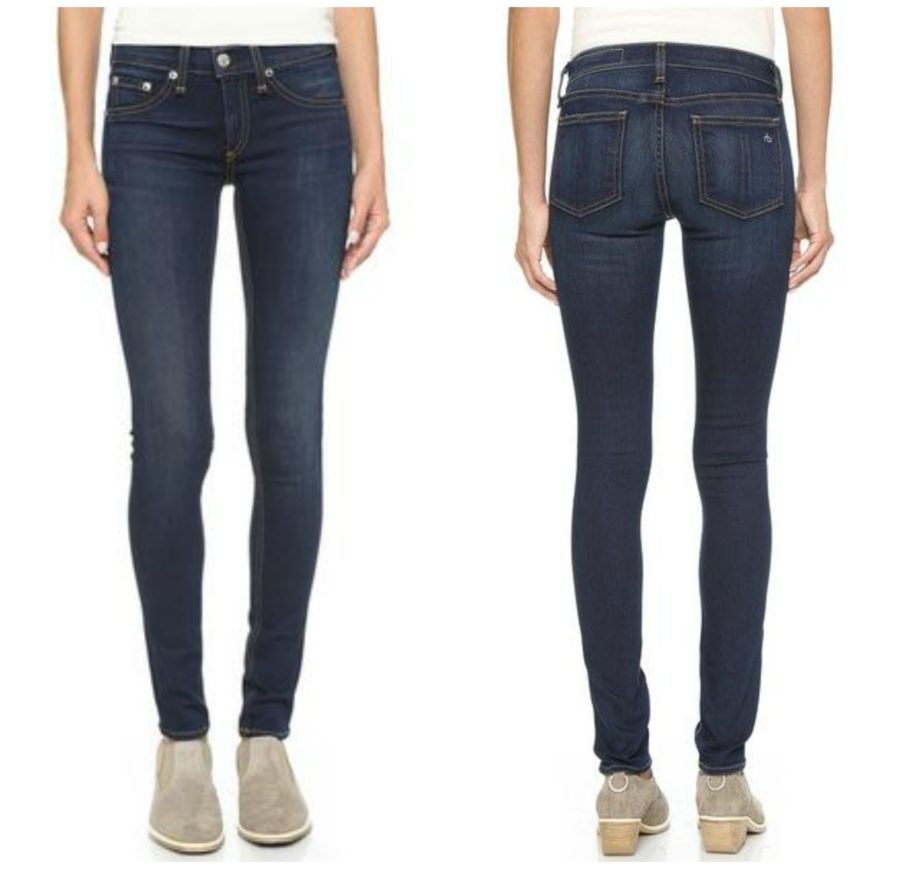 Hope you all have a great Monday and a great start to the week!