I had requests for a healthy dessert after last week's dinner recipe, so I pulled out Gwyneth Paltrow's It's All Good Cookbook to check out her dessert section.
I have loved the recipes I have made from this book, so I was excited to try out a dessert.
I'll share some delicious not so healthy recipes next time to keep the balance!
A lot of her recipes for desserts require one or two ingredients that I wouldn't have on hand, but these cookies are all normal ingredients and only took minutes to throw together.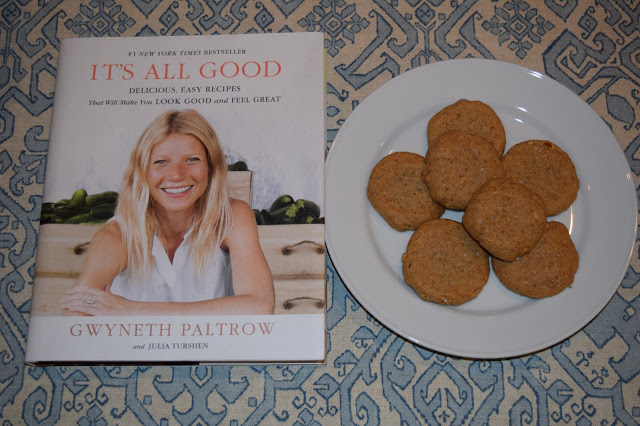 ps how pretty is our ottoman recovered? can't wait to show it! I'm in love!
I loved these and Kip liked them too.
The consistency is a bit different than regular cookies because of the syrup and almond butter, and the lack of butter-sugar-oil, but they are tasty nonetheless.
insert eye roll. I know. No butter. No oil. No sugar. I love all of those things and would never bake these as a treat for a party or to bring to someones house – BUT – hear me out 🙂
if you want something that is salty and sweet, AND delicious, to eat during the week for dessert and still be eating healthy, these are PERECT.
They satisfy any craving immediately.
These really did surprise me with how good they are for how many of my normal baking ingredients are missing.
Especially if you love salty and sweet, the almond butter and salt are a perfect mix!
notes :
If you have an almond butter you like to eat, I'd recommend just using that.
I know a lot of people like smooth for baking, but I use crunchy almond butter to give it extra texture!
And definitely DO make sure you have Coarse Sea Salt (I didn't have "Maldon"…. I'm assuming that's like Ina talk for "good", I just used Public Coarse Sea Salt and they were delish)
I did use the Cup4Cup Gluten Free Flour that she recommends, so I would suggest a gluten free flour or else the measurements may be off!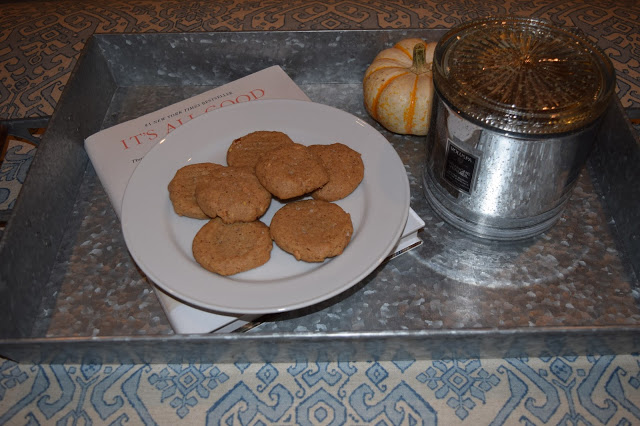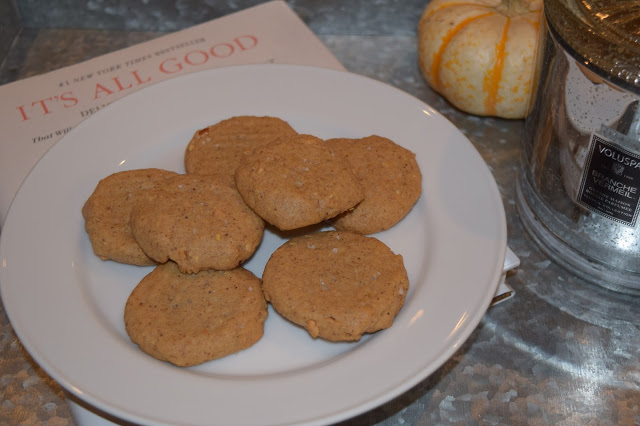 :: ALMOND BUTTER COOKIES WITH SEA SALT ::
From
It's All Good
, by Gwyneth Paltrow
MAKES 2 DOZEN
Ingredients:
1 1/2 cups gluten-free flour (if the flour doesn't include xanthan gum, add 3/4 teaspoon)
1/2 teaspoon fine sea salt
1 teaspoon baking powder
1 cup natural almond butter
1 cup good-quality maple syrup
1 teaspoon pure vanilla extract
1/2 teaspoon Maldon sea salt or any Coarse sea salt on hand
Directions:
Preheat the oven to 350 degrees and line 2 baking sheets with parchment paper.
Whisk together the flour, fine sea salt, and baking powder. In a separate bowl, whisk together the almond butter, maple syrup, and vanilla extract. Thoroughly combine the wet and dry ingredients. Using 2 spoons, form the cookies into small balls (each about 1 generous tablespoon) and space them 2 inches apart on the prepared sheet pans. Wet your fingertips and press down on each cookie, smoothing the edges so each is a nice little disk. Sprinkle each cookie with just a bit of the Maldon salt.
Bake until the air is fragrant and the cookies are just firm, 10 to 12 minutes. Let them cool on a rack before serving.
* I did one batch for 12 minutes, one for 14 because I thought maybe my first were a little underdone – bit didn't make much of a difference, but I think the 14 made them a little firmer which I liked better!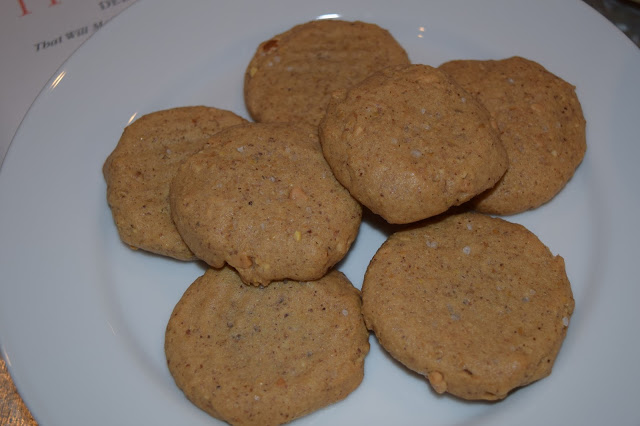 Save
Save
Save
Save