hope you all had a great long weekend celebrating the 4th!
I'll share some pics from our weekend later this week, but wanted to pop in to share this yummy potato salad recipe that I made for our family BBQ last night.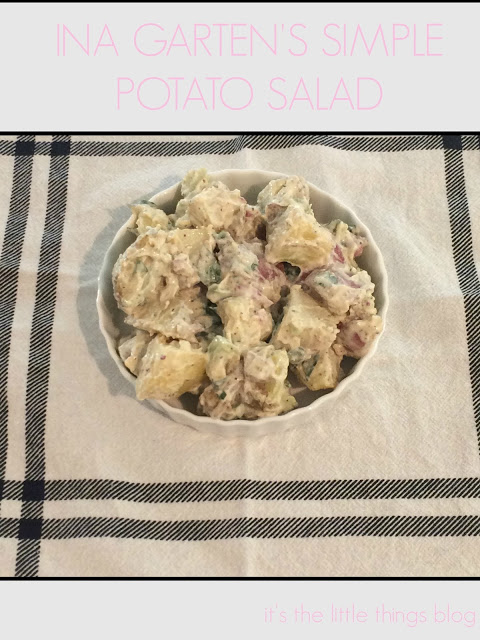 have you missed my food photography!? I know you must have!
I forgot to take an after photo so I just pulled some leftovers out
and took this while I made breakfast 🙂
I obviously went straight to my girl Ina for a recipe since she can do no wrong. This recipe is simple but it originally called for Dill. The store was completely out of fresh dill, and dill isn't my favorite in potato salads anyway, so when I looked at her other recipes and saw she used parsley in some I decided to use some of that instead. But of course, feel free to use the dill if you are a dill lover!
Everyone in my family loved this and said it didn't need anything else – including my brother in law who said he hates potato salad. It really is a perfect potato salad recipe to please everyone because it has a lot of flavor but nothing is overpowering – it was a perfect side to go with our steaks and chicken. It makes a very large batch and I know the leftovers today will be even better!
:: Ina Garten's Potato Salad ::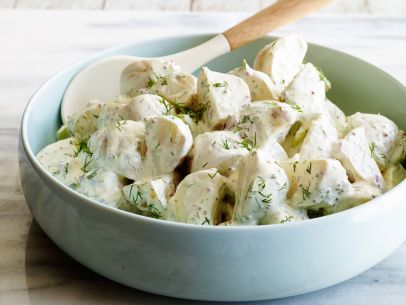 3 pounds small white potatoes**
**I used 2 lb white 1 lb red for some extra color
1 cup mayonnaise
1/4 cup buttermilk
2 tablespoons Dijon mustard
2 tablespoons whole-grain mustard
1/2 cup chopped fresh dill
**I omitted + used parsley instead
Freshly ground black pepper
1/2 cup chopped celery
1/2 cup chopped red onion
Place the potatoes and 2 tablespoons of salt in a large pot of water. Bring the water to a boil, then lower the heat and simmer for 10 to 15 minutes, until the potatoes are barely tender when pierced with a knife. Drain the potatoes in a colander, then place the colander with the potatoes over the empty pot and cover with a clean, dry kitchen towel. Allow the potatoes to steam for 15 to 20 minutes.
Meanwhile, in a small bowl, whisk together the mayonnaise, buttermilk, Dijon mustard, whole grain mustard, dill, 1 teaspoon of salt, and 1 teaspoon of pepper. Set aside.
When the potatoes are cool enough to handle, cut them in quarters or in half, depending on their size. Place the cut potatoes in a large bowl. While the potatoes are still warm, pour enough dressing over them to moisten. Add the celery and red onion, 2 teaspoons of salt and 1 teaspoon of pepper. Toss well, cover, and refrigerate for a few hours to allow the flavors to blend. Serve cold or at room temperature.