Cheers to Friday!
First up, I wanted to share this top that will take you from now through spring + that is currently 40% off!
This pearl accented bell sleeve top is a great option for work and the weekend alike. It has great structure to it and a super flattering cut that isn't too tight or too flowy thanks to the crisp fabric.
And I have been living in these $15 sunnies all month long!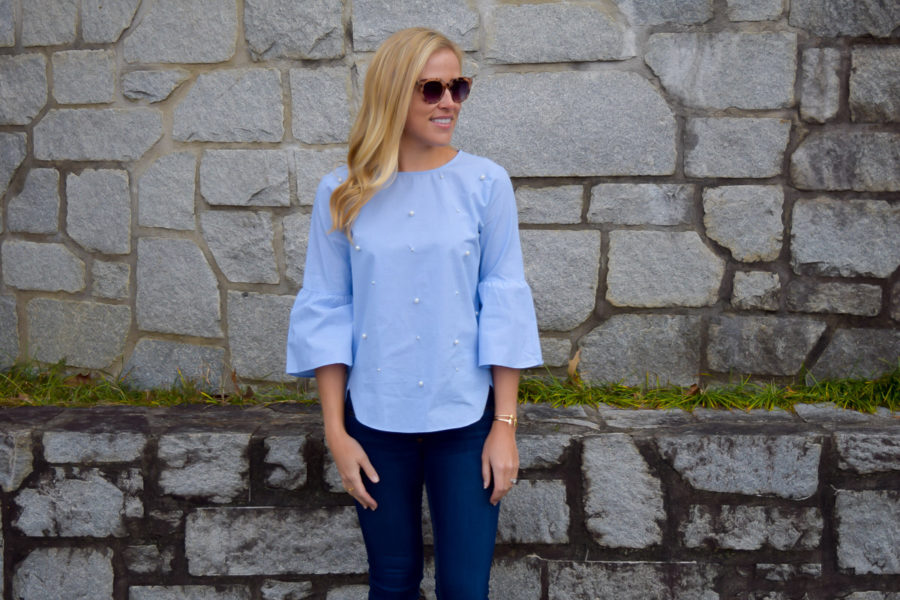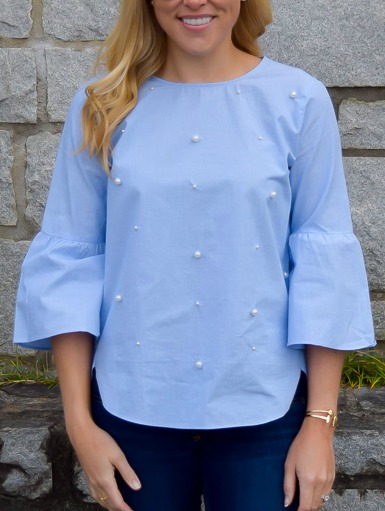 // PEARLIZED BELL SLEEVE TOP // wearing size S
on sale 40 % off with code FRESH
// SUNGLASSES , ONLY $15 // JEANS //
:::::::::::::::::::::::::::::::::::::::::::::::::::::::::::::::::::::::::::::::::::::::::
I was treating this like the first week of the New Year and man, did it exhaust me!
I made it to spin 3 times this week, and even woke up for a morning barre class (today) and a morning workout at Sculpthouse.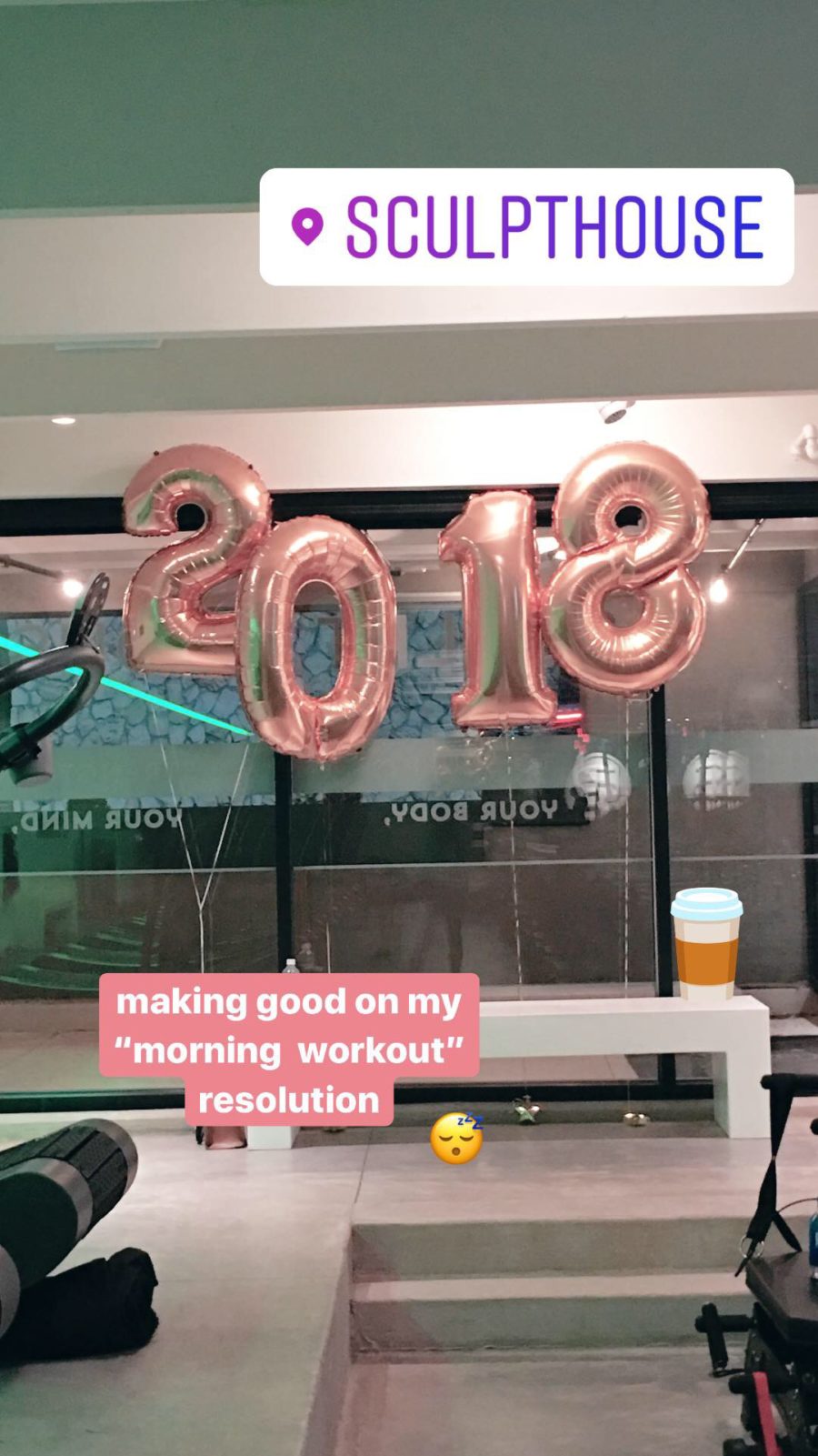 I am still sore from Sculpthouse! I have only ever done their Cardio360 class which is 25 minute on the M3 and 25 minutes on the Curve Treadmill (which is an ass kicker) but this time I did the ALL sculpting class which is 50 minutes on the M3.  I meannnnn serious burner.  My tush felt completely numb for a good 36 hours.
while I was in Chicago I took a Lagree class which is the same machine and same thing – it is insane how sore you get from these workouts!

I posted on instagram when I was finally taking down the remaining Christmas decorations off of the porch, and I got so many questions about this blue and white nativity scene and my sideboard.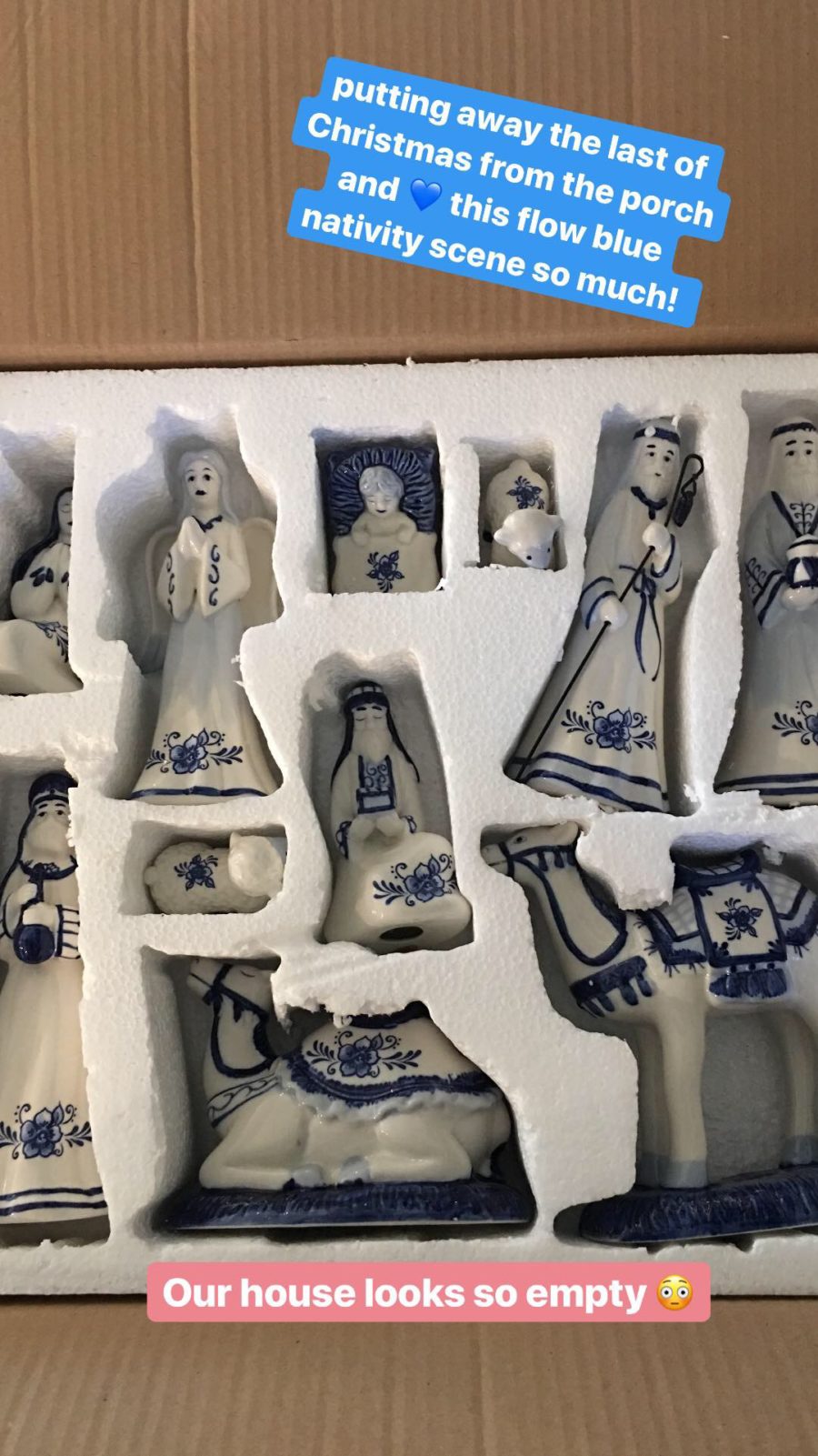 Unfortunately the nativity set is old, but I was able to find it on Ebay.  It is Kurt Adler.  I of course cannot take credit, it is another gift from my favorite store, Nance's (my mom's.)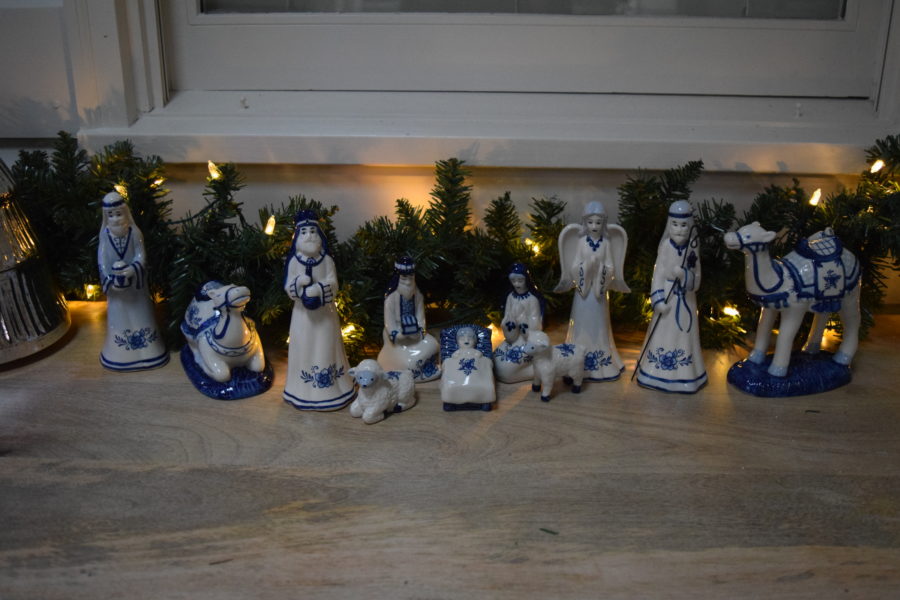 I also got a lot of questions about our sideboard. It is from a store called Nadeau – they have a few locations here and a couple others nationwide (they have one in Chicago – it is where I got our grey hutch that I love so much!) They always have great finds and the inventory constantly changes.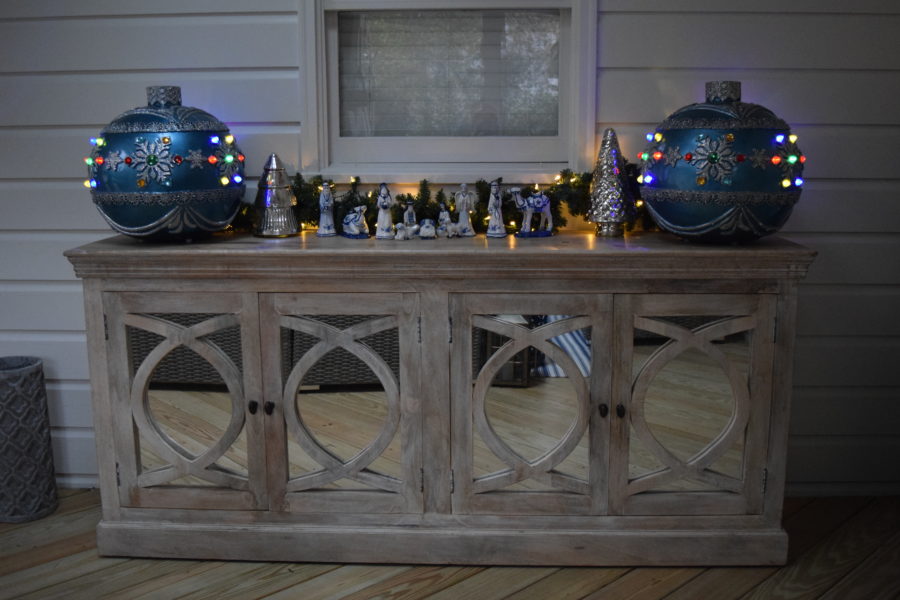 shop the giant christmas ornaments here

This was one of my favorite purchases we have made for the house for several reasons. First, I just think it's gorgeous! But the main reason is that Kip found it and was the one that really wanted it.  He can never believe any piece of furniture could ever cost over $100 (men….) and HE was the one that really wanted this for the patio. It made my heart go pitter patter.
editors note : We've come a long way in seven years…… before getting the grey hutch for our Chicago condo I had to drive him all over town to like 6 furniture stores to show him what things cost so that he would realize the damaged clearance piece I wanted was an insane bargain!  
Kip was supposed to be out of town on business until Saturday but was able to come back a bit early, so we're hoping for a sushi date night tonight!  Other than that we have a laid back weekend planned so I am hoping to start tackling my "organization" resolution with a closet or two
editors note : and by "hoping to"  I mean #woof nothing sounds worse…… how much wine is too much wine to make cleaning the closet sound enjoyable? do you think the cable cord for the TV can stretch all the way into the closet? 
:::::::::::::::::::::::::::::::::::::::::::::::::::::::::::::::::::::::::::::::::::::::::
:: FRIDAY FAVORITES :: 
An under $50 jacket for now + spring with 300 rave reviews!
The best looking hoodie I've ever seen.  Dying over the back!
Adore this yellow spring wedding guest dress; I rented one just like it for wedding a few years ago and it still tops my list of favorites!
A perfect wear now, wear later layered dress.
This under $40 shirtdress (also on sale) looks just like a pricier designer option I've had my eye on.
I'd love to get my hands on this splurge worthy one piece.
Ooo and this one too!
You could wear this top for literally anything and all year round – I love it and it's only $36! 
A great twist on a classic shirt dress. 
Love this polished but sexy wrap skirt for under $60.
The ever popular spanx leather leggings never looked like leather to me – they are like a metallic fabric? I tried three times and no dice  – so I ordered these control top leather leggings to try instead. Fingers crossed!
A LND that works for any occasion – the eyelet detail in the sleeves make it perfectly unique! 
Love this buttery drawstring tote in three perfect neutral shades.
The perfect cami with a deliciate touch of lace.
This colorful under $90 printed caftan has me ready for the beach.
A dare I say – chic!? – navy and white athleisure pullover.  Classic and gorgeous.
Can't get enough of this textured and tailored coat.  And it's 40% off! 
Waterproof booties with rave reviews.
A great blouse for work, weekends, anything – in tons of colors and patterns.
Gimme this draped knit jacket, especially in the green color!
This super popular statement top is back in stock in a few sizes!
A combo of two of my favorite things : floral + stripes. 
Classic and super affordable bodysuit (on sale for only $24!) 
:::::::::::::::::::::::::::::::::::::::::::::::::::::::::::::::::::::::::::::::::::::::::
:: LINK LOVE :: 
Attention Housewives Fans : You can now RENT Sonja Morgan's townhouse.  Who wants to go in on it together and have an ultimate Bravo Vacation!? Dibs on washing my bras in her bidet …… 
Ultimate purging inspo : Making thousands of $$ from cleaning out your closet.
  similar : Ask these 5 Questions to clean out your closet.
The correct order to apply your skincare products (oops…. I was doing my eye cream dead last!)
An interview with the anti-aging beauty Christie Brinkley. 
6 easy things to do on Sunday to improve your week. 
All the looks from the Critics Choice Awards (not gonna lie…. most were pretty bad.  sorry not sorry).
The best workout for you, according to your zodiac sign. (though I disagreed with mine….)
How to change your shopping habits in 2018 and save major bucks. 
6 Scientific Hacks to keep you focused at work. 
Anyone else always enter to win the HGTV Dream Home Giveaway? 
The best drugstore beauty buys of 2018. 
:::::::::::::::::::::::::::::::::::::::::::::::::::::::::::::::::::::::::::::::::::::::::