Cheers to Friday!!!
I hope you all had a great week!
I wanted to share an amazing sweater with you that is on sale right now for 40% off making it an even better steal!   I love the mixed media sweaters ,where it's the faux built in layers and no added bulk.  I'm always on the hunt for more since I wear them so frequently during the cooler months.  This one is nice and lightweight and the a very flattering slightly longer length. (the tops are SO short lately! and I have a short torso?! I'm not trying to wear crop tops every day and blend in with the Bachelor contestants!) Plus, with the black color, it's so easy to throw on and go.  You could dress it up with black trousers for work and I would love it with black faux leather leggings for date night and weekends!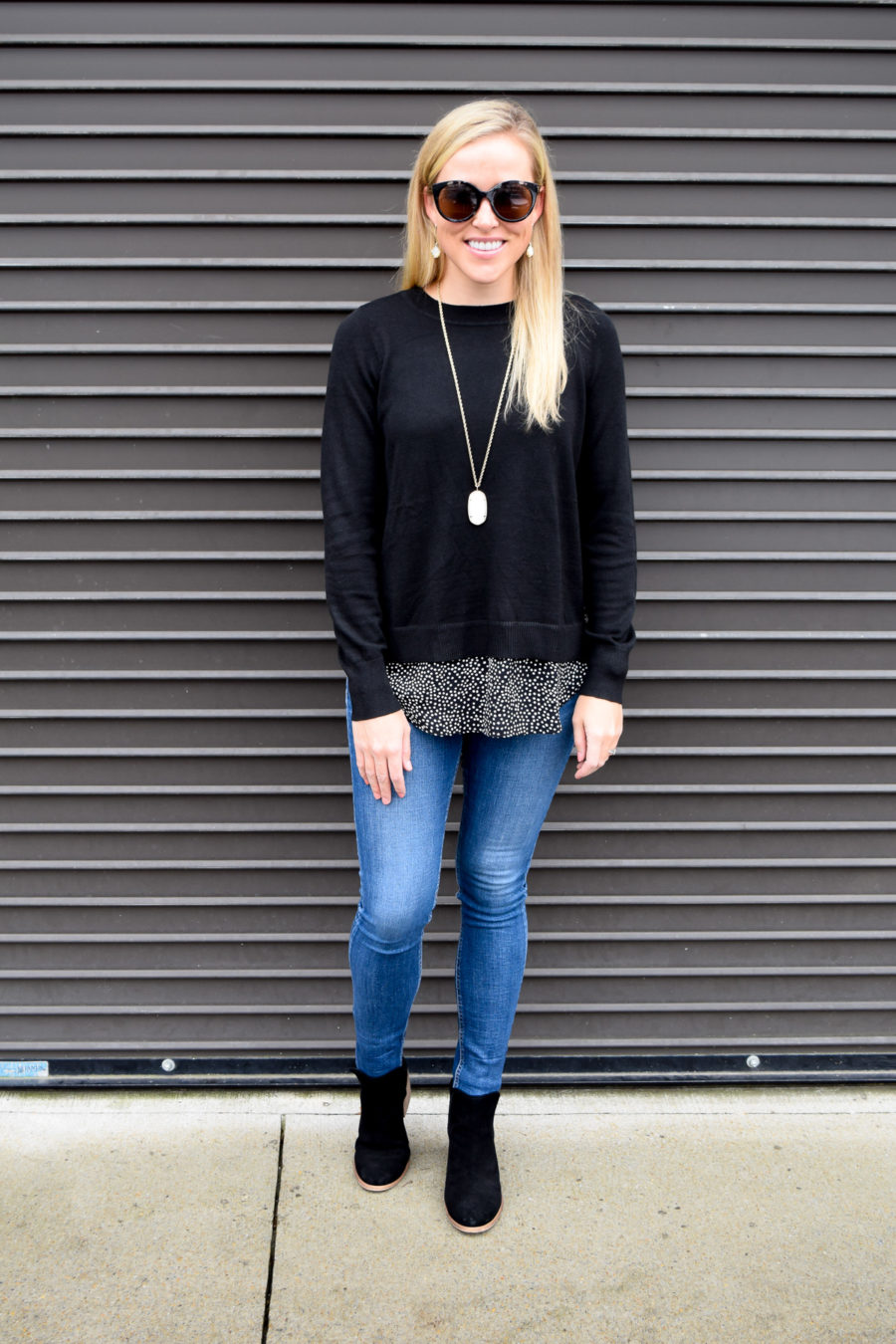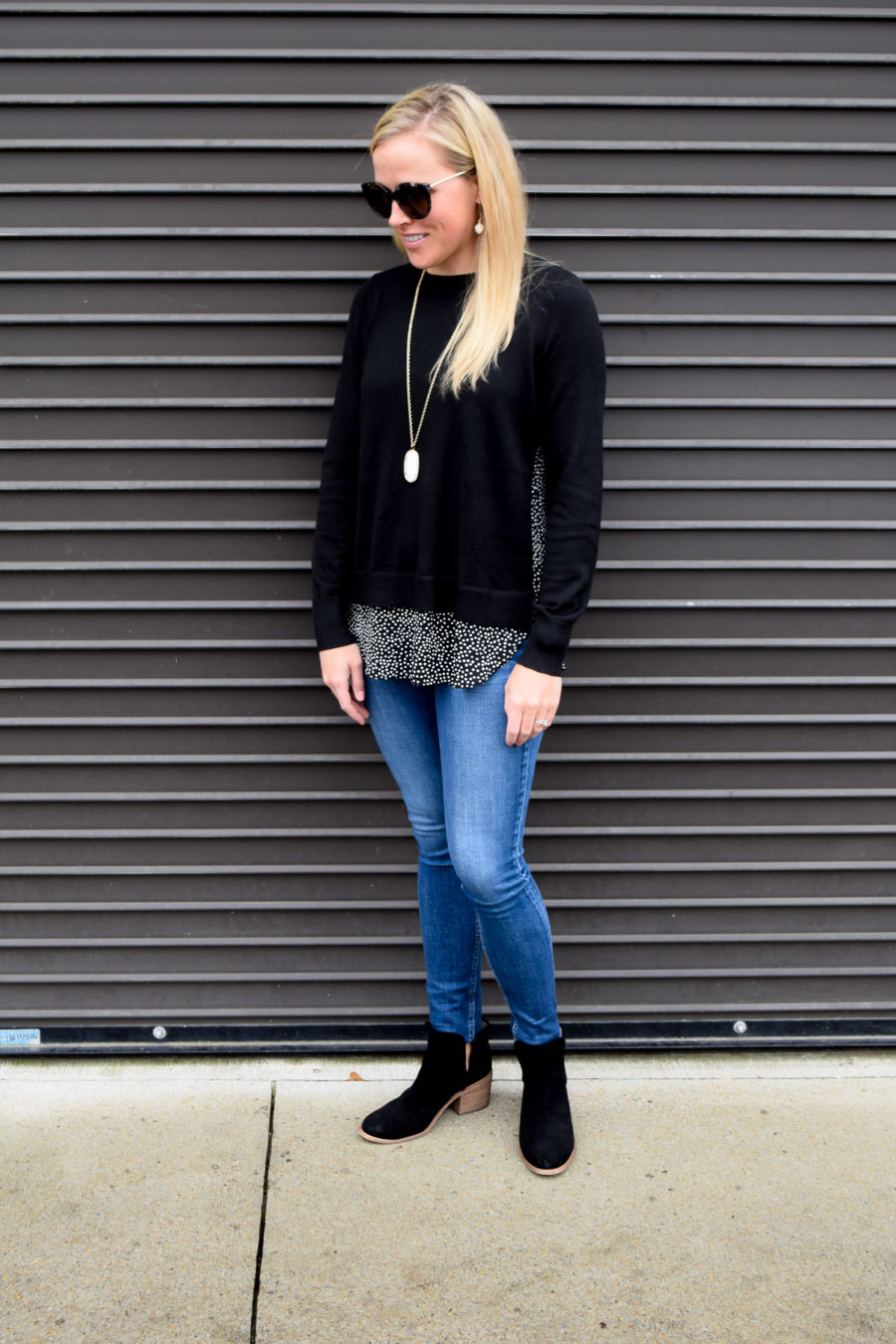 // DOTTED MIXED MEDIA SWEATER //
size down one, runs large, returned this S for an XS
// RAG AND BONE JEANS // BOOTIES //
I wanted to share a better image of the back;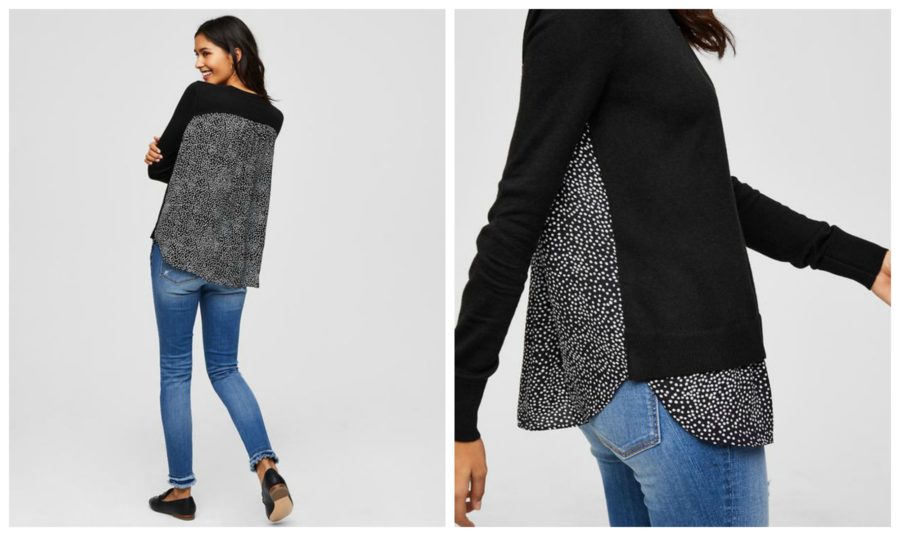 the back ionly has the sweater material at the shoulders,  and the rest is the thinner breathable fabric
:::::::::::::::::::::::::::::::::::::::::::::::::::::::::::::::::::::::::::::::::::::::::::::::::::::::::::::::
I'm going to update on my 31 Day Challenge next week, but week one has been great! (isn't the first 5 days always great though? especially when they don't involve going out at night or weekend nights!?) But I have gone made it to classes for Spin, Blast, and Barre and have had my smoothie for breakfast every morning.  I definitely have felt great so hopefully I won't let this weekend derail it all!
I shared this on instagram but wanted to share here – for those of you with sweaty workout clothes, and especially with sweaty husbands – this Tide Sport detergent was a game changer for us.  The Free & Clear just wasn't cutting it anymore!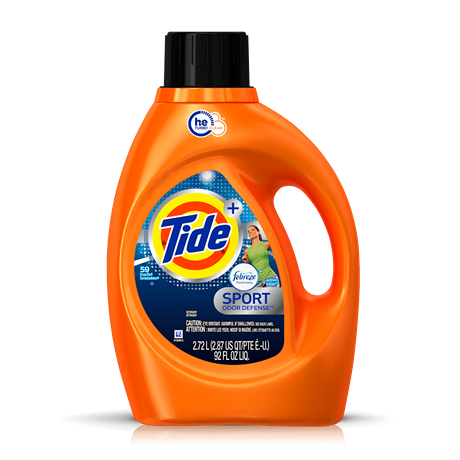 :: Coffee Talk Update ::
This is very important!
I had a mid-day Coffee Talk update to yesterdays post that you may have missed!
A lovely follower messaged me on instagram and told me some SERIOUS news about Vanderpump Rules that made the "It's NOT about the PASTA!" line over and over again make SO much more sense.
Apparently, pasta is the code word while filming for Cocaine. Like….Booger Sugar. Like…. The Powdery White Stuff.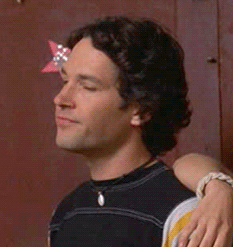 I had NO idea. When I got the message I did the jaw on floor and then the dumb "ohhhhhhhh" because it makes WAY more sense. Yet I never once thought it could be anything but pasta, despite the fact that not one of them ever eats pasta, let alone eats an entire plate of someone else's.
AND I realized that Scheana did something on her instastory this week (don't ask why I follow her, hashtag loser) and she was making jokes and being all cheeky about the Pasta while eating at SUR (but she was actually eating the pasta) but I feel like she was saying things like "everyone can never get enough pasta they're always talking about the pasta and I kept thinking "What? I thought everyone talks about goat cheese balls? I never hear pasta I hear goat cheese balls?"
this was the best thing I saw on instagram yesterday: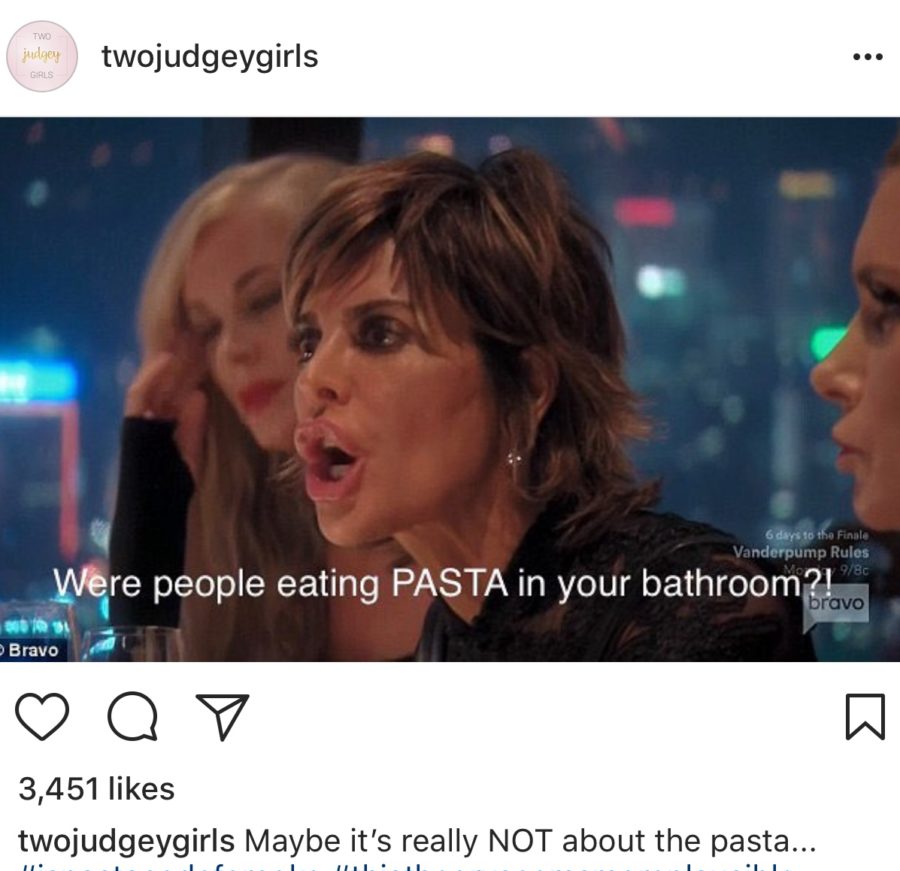 I truly died when I saw this.
Bless you sweet readers for informing me about the "pasta" and then for sending me this meme.
It made my week!!
I got a mid-week pick me up this week when one of my best friends was in town for work and came to stay with me Wednesday night! It was such a nice treat.  We didn't get tons of time together but stayed up late on the couch catching up. I hadn't seen her since her wedding, and she just got back from a 2 week African Safari Honeymoon only a few days ago, so I was lucky enough to see pictures and hear ALL about it.  To say that I am desperate for a trip to South Africa after Wednesday night is an understatement.  I am mad at myself for not going to South Africa for our Honeymoon because it seems like something we will never convince ourselves is worth the splurge! Ha! (Although at that point we had only been on one trip together for 3 days to Mexico, so that would have been too much for us probably!)
But note to Brides : It definitely made me see the allure in not doing the Honeymoon the day after the wedding but waiting a little bit if you can!
I have a low key weekend planned after a packed one last weekend when friends were in town,
so hopefully I'll get a lot accomplished and get lots and lots of sleep!
:::::::::::::::::::::::::::::::::::::::::::::::::::::::::::::::::::::::::::::::::::::::::::::::::::::::::::::::
:: FAVORITE FINDS :: 
I *finally* found Pink Asics! Yay!  These beauties are on their way to my door.
My favorite favorite FAVORITE jacket is now REVERSIBLE! Two for one and under $100!
Pretty sure these boots are going to be the "new" Rag & Bone competition for best boot and worth the splurge.
THE most perfect dress for spring weddings.  I am in love with every inch of it.
One of my favorite silk blouses from last year is now in 3 different colors of sweaters! 
Love these under $20 earrings. (and this nearly identical pair of earrings too.
I saw this removable-neck turtleneck in my instagram promotions and fell in love.  Such a cool concept!
The ever popular booties are fully restocked! Snag while ya can.
The podcast Skinny Confidential is always talking about how amazing these are, but I've yet to try it!
The knotted bow on these cutout mules is so unique – the blush color is my favorite.
I have never heard of this affordable brand and am in love with this dress! 
Love the bold, loopy bow on these d'Orsay flats. 
This affordable eyelet top is a great wear now and wear later option.
A pearl studded iPhone case that you'll never tire of.
The cutest tie waist shorts with beautiful contrast stiching for under $75!
The sexiest, yet covered, cover up I've ever seen. 
The seaming on this fit & flare dress is as beautiful as the color.
A ruffle hem mini dress for only $55.
An under $100 gown that shows a 'lil skin. 
I have an Old Faithful Navy Knock off of Marysia Swim that I love, but it's showing its age – I am desperate to get my hands on this suit or this suit or this fun new style suit.  So in love!
:: LINK LOVE :: 
I fell into a deep dark hole searching for products for my melasma to help with my brown spots (although a killer laser is really the only thing to do it, which won't be happening).  This article has 9 products with Hydroquinone (HQ) which is supposed to be one of the best to help. If anyone knows any good products let me know!
also, one of these brightening serums is only $7!? Worth a try! 
6 ideas for organizing your closet. 
If you and your significant other battle over blanket hogging and temperature, Ikea has solved your problems with a TOG-ether duvet.   I seriously need this….. my husband steals ALL the covers and I like to keep the room cold at night
The newly engaged Princess Eugene is already having to move her wedding back thanks to the other Royal Love Birds.
Because I strangely love seeing what people are eating, Miranda Kerr's grocery list. 
5 stories that prove it's never too late to change careers.
A walking treadmill workout that works (perfect for those post-work instagram scrolls!)