I wanted to share a few of my favorite things from 2017 today!
These are items I use or wear weekly if not daily and love to pieces,
so I know you will too!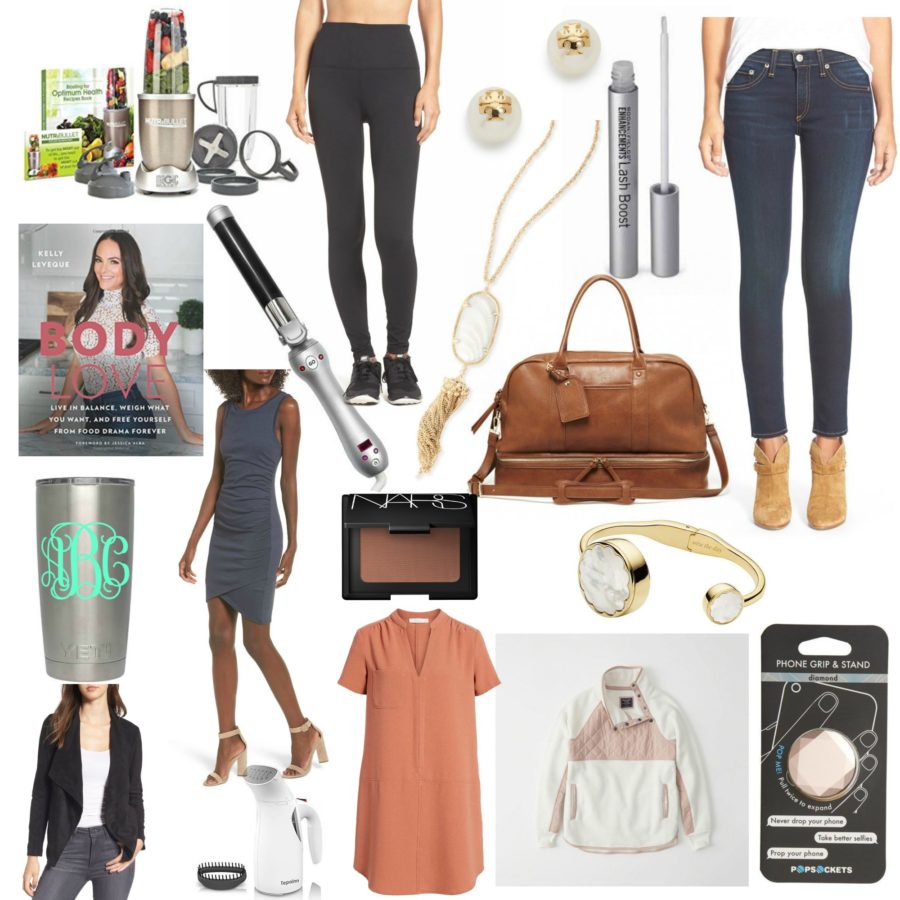 Asymmetrical Snap Pullover – The pullover you have undoubtedly seen over the last few months is my favorite.  So much so that I keep adding colors as it comes back in stock! It is great for workouts and equally great with jeans and boots in these chillier months.  The asymmetrical neckline and snaps are my favorite.
Rag & Bone Jeans – my favorite designer jeans every year.  Worth the extra $$ and they last for years.
Workout Leggings – I love wearing these for workouts but also wear them with sweaters and tops with boots.  The high waist smooths and sucks you in!
Fitness tracker – I love wearing this bracelet daily, mostly because it just looks like a gold bangle!
Tory Burch Earrings – I wear these pretty much every Monday through Friday, and on weekends if I'm not getting dressy enough to change my earrings.
Mason Bag – Best travel bag, third year running.  I talk about it constantly so I'll just leave it at that!
V-Neck Crepe Dress – I have this in several colors and wear it constantly.  One of my favorite dresses of the year!
Nars Bronzer – my favorite bronzer for the past decade.  I use Casino, which yes is very dark, but I apply lightly and it gives the perfect bronzed glow.  It was the only thing on my list for Secret Santa!
Away Suitcase – My husband got me my very own Away Suitcase for Christmas and I love it!! The built in charger was a godsend when we had to spend 6 hours in the Ft. Lauderdale airport when traveling from Grand Cayman to Chicago on Christmas. get a $20 credit with this link : http://fbuy.me/hu1UY 
Beachwaver – My favorite curling iron of all time.  I can curl my hair in less than 5 minutes and the clampless feature makes it a dream!
BB Dakota Jacket – I love this suede drape front jacket.  It's the perfect layering piece!!
Steamer – I know, I mention this a lot, but we use it daily and love it. It's as great for getting out smells as it is for refreshing your clothes before a night out and it's perfect for travel (local and international)
Nutribullet Pro – I use this every morning to make my smoothies and I am able to tuck it away in the cabinet.  I like that it doesn't take up much space at all and still makes a great single portion smoothie. This is THE BEST gift to give yourself if you are wanting to start on a health journey for 2018.
Kendra Scott Necklace – Other than my daily monogrammed necklace, I wear this white necklace more than any other. The white works in summer and winter and goes with everything.
Body Love Book – I'm going to share health favorites for the year in another post, but I really loved this book and it introduced me to my favorite Breakfast Smoothie and got me to cut down on fruit.
R and F Lash Boost – My favorite beauty product of 2017 by far.  And by far, I mean times a million.  If you haven't tried it, what are you waiting for!? My lashes look the best they have EVER looked, with no irritation at all like Latisse gave me when I used it pre-wedding. It's taken me from little nub lashes to long and gorgeous with compliments that come constantly! You can get your hands on a tube here.
Ruched Tank Dress – Another favorite purchase from 2017!  Also available in Long Sleeve. 
Monogrammed Yeti – I can't surivive without my Yeti, especially to make sure I get my dose of water
Popsocket – This is silly, but ever since I got the iPhonePlus hand me down from my husband, I need this little button/knob to hold the giant thing with one hand.  (oh, and having the giant phone is the other thing I love from 2017! I don't think I can ever go back to the regular sized iPhone again!) You can even get cute decals and monograms for it too.
EBates – I don't know why I waited so long to sign up for this!? EBates are the best way to shop and get money back instantly.  It has alittle button, just like pinterest, right in the corner of your broswer and gives you cash back along with sharing any coupon codes that you can use before you click "purchase".  Use this code for $15 instantly.  You will kick yourself for not signing up sooner.