I hope you all had a Merry Christmas!
I'm sorry that I have unplugged for so long, but we have gone from the Caymans to now Chicago, and there hasn't been much laptop time!   I'm enjoying some time away, but wanted to pop in with a treat you all can make for parties or for New Years Eve.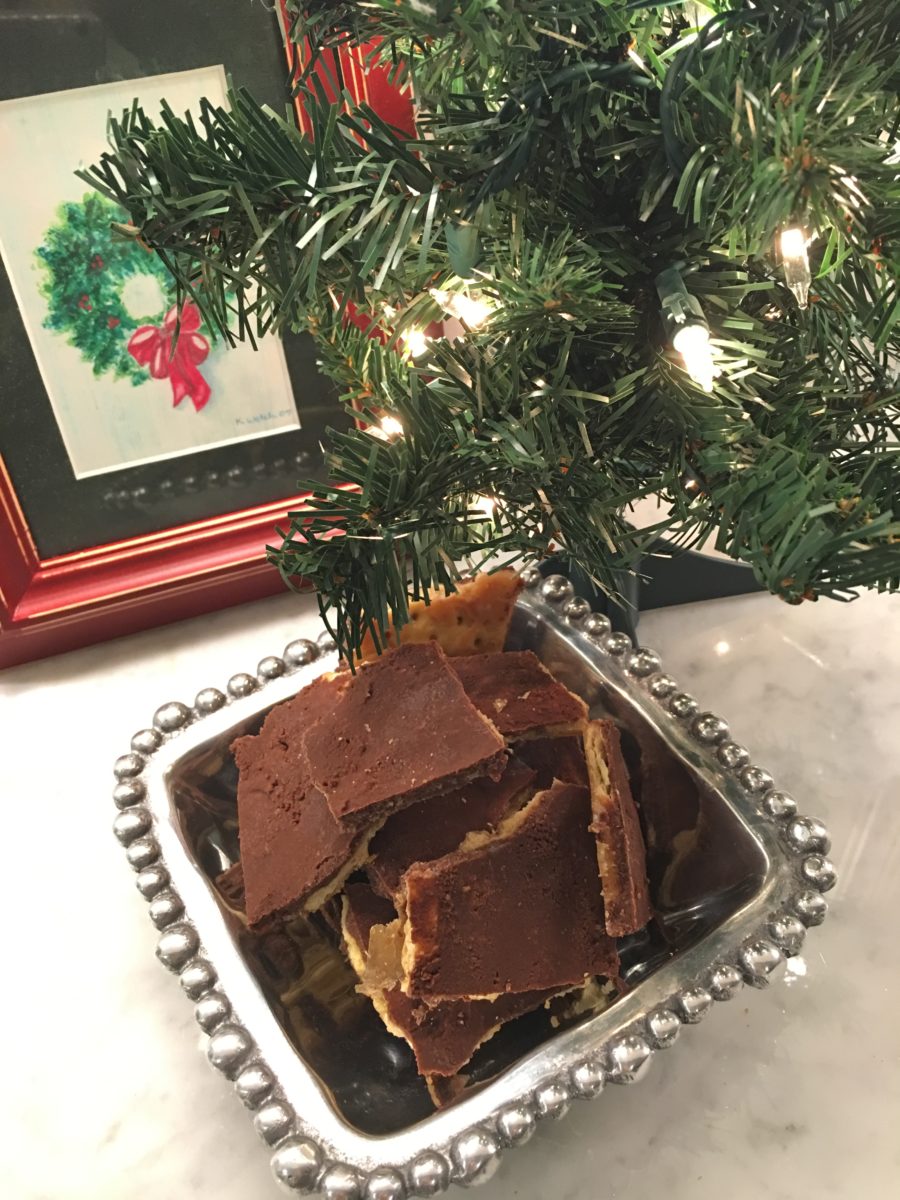 This is one of the easiest desserts to make, and you likely have all or most of the ingredients on hand!
This is the perfect treat to set out in little bowls or bring to as a hostess gift.
Warning : It is ADDICTIVE.
:: Christmas Crack : Saltine Cracker Toffee ::
Author:
Taylor The Sarcastic Blonde
Easy and Addictive Saltine Toffee
Ingredients
35 to 40 saltine crackers
2 sticks (1 cup) butter
1 cup light brown sugar
8 ounces semisweet chocolate chips (about 1⅓ cups) *I used more
Optional Topping : Chopped pecans, crushed candy cane pieces for holidays, etc
Instructions
Preheat the oven to 425 degrees F.
Line 1 large or 2 small jelly-roll pans with aluminum foil, spray with nonstick spray and arrange the saltines salt-side down in a single layer.
In a medium saucepan, melt the butter and brown sugar together and boil until it turns a caramel color, a few minutes. Remove from the heat and pour over the crackers, covering them evenly.
Put the jelly-roll pan into the oven and bake for 3 to 5 minutes, or until just bubbly, watching carefully.
Remove from the oven and pour the chocolate chips over the crackers. When the chips melt a bit, spread them over the crackers with a knife.
Transfer the pan to the freezer for 15 to 20 minutes, or until completely cold. They will form one big sheet. Break up into pieces. Store in an airtight container.