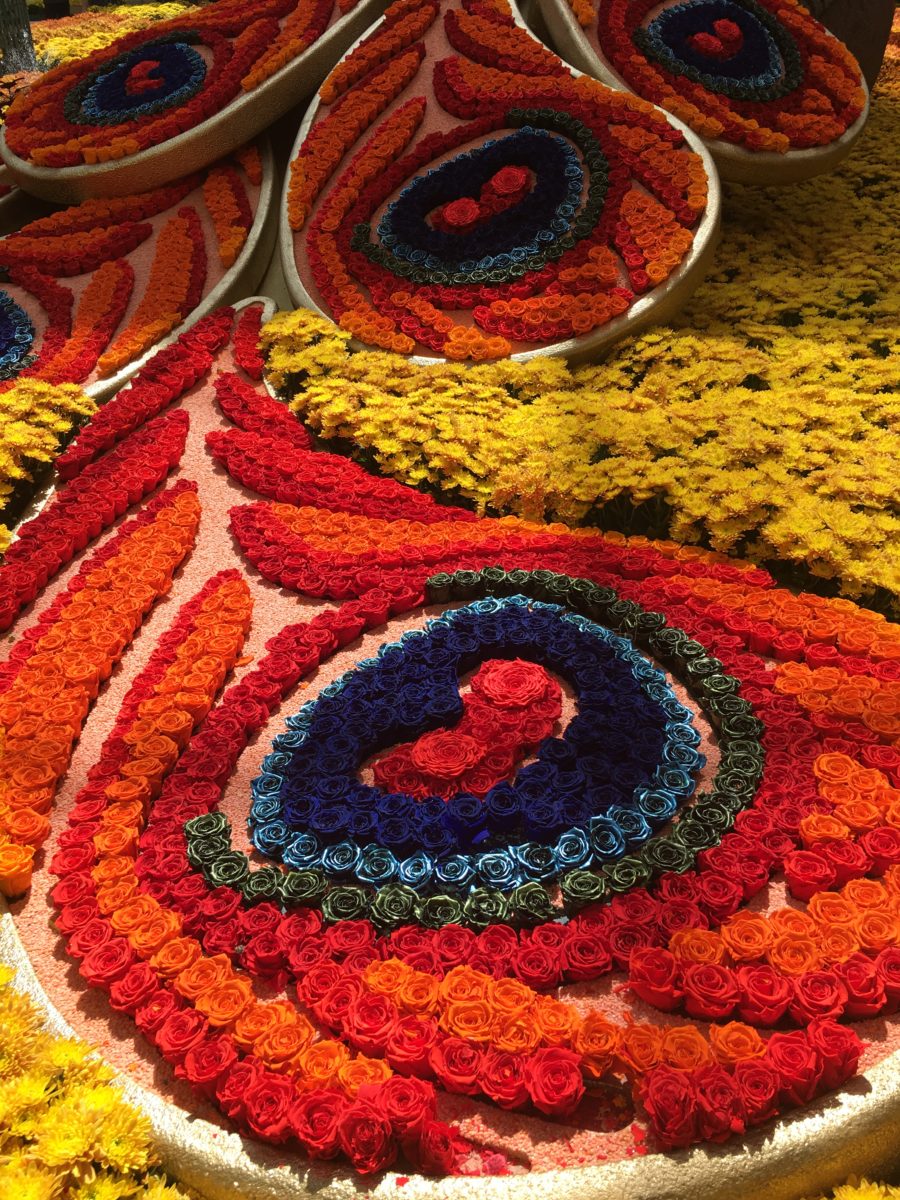 I hope everyone had a great week!
As you may know from my instagram stories, I headed out West Wednesday night,  and we flew to San Francisco Thursday night.  I have somehow never been to California and I am so, so excited.  He is in California constantly and I have never been able to make my work schedule line up where I can join him.  Finally it worked out!
We are doing a full day in Napa today!
Tomorrow and Sunday afternoon we will explore San Francisco,
and then fly to Newport Sunday night for Kip to work on Monday.
Thanks for all of your suggestions with everything – you are a huge help as always.  It's definitely a packed couple of days with 4 flights in 6 days, but we are squeezing in as much as we can.
Feel free to leave any additional San Francisco tips! And I'm on my own Monday at Fashion Island, with only a Soul Cycle class planned, so any recommendations for that too! 
:::: FRIDAY RANDOMS ::::
I stopped in to Abercrombie & Fitch last weekend
(did I just say that? am I 15 years old again?)
Let me tell you…. it was a blast from the past.
I went to return this uber comfy pull over, which I ordered in all colors to try (hey, free shipping)
but am keeping the grey + navy.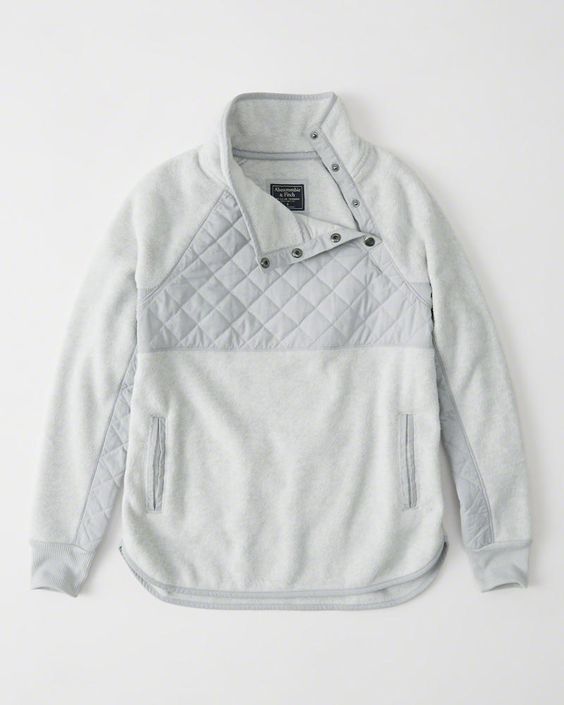 They are having 40% off the entire store for the weekend!
I found these two dresses and am in love.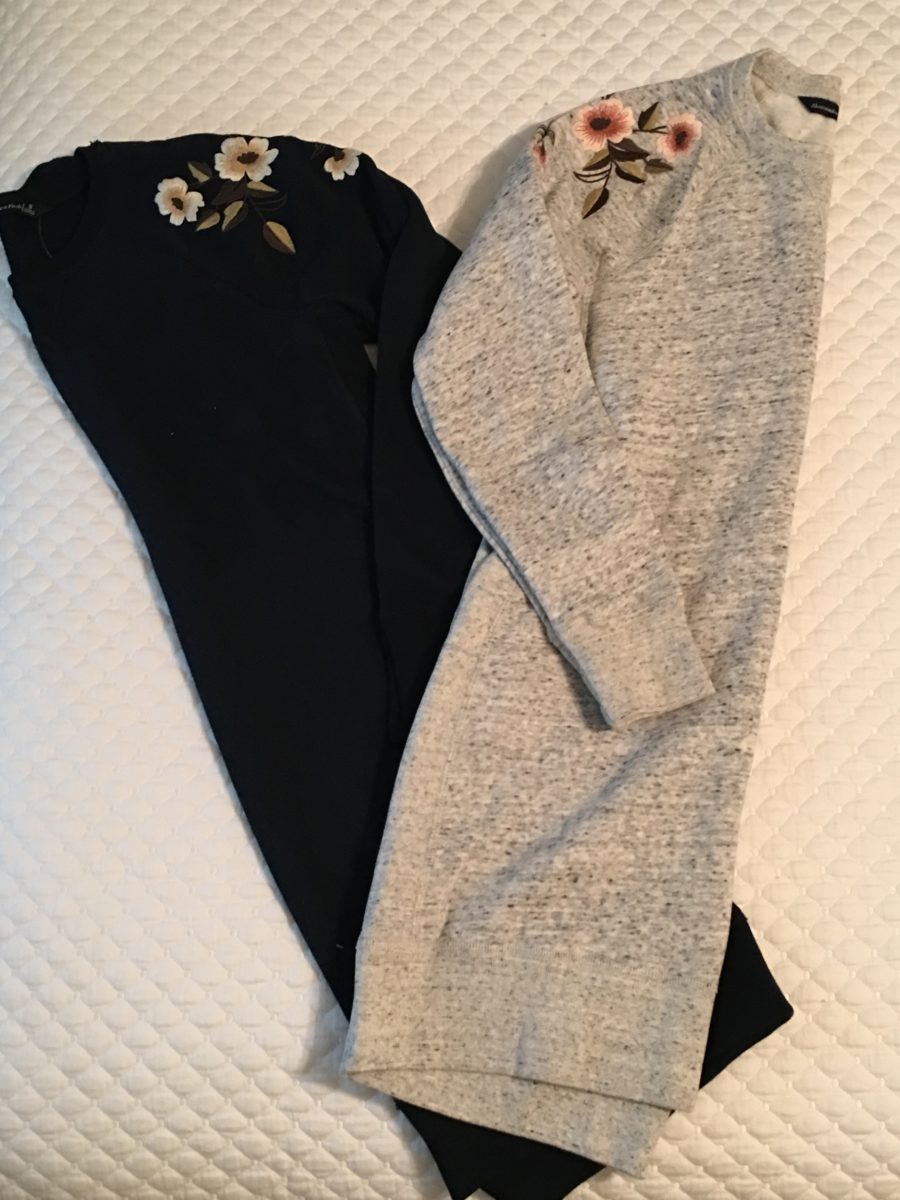 // EMBROIDERED SWEATSHIRT DRESS // 
runs slightly large, I got an XS 
I loved this uber soft cardigan.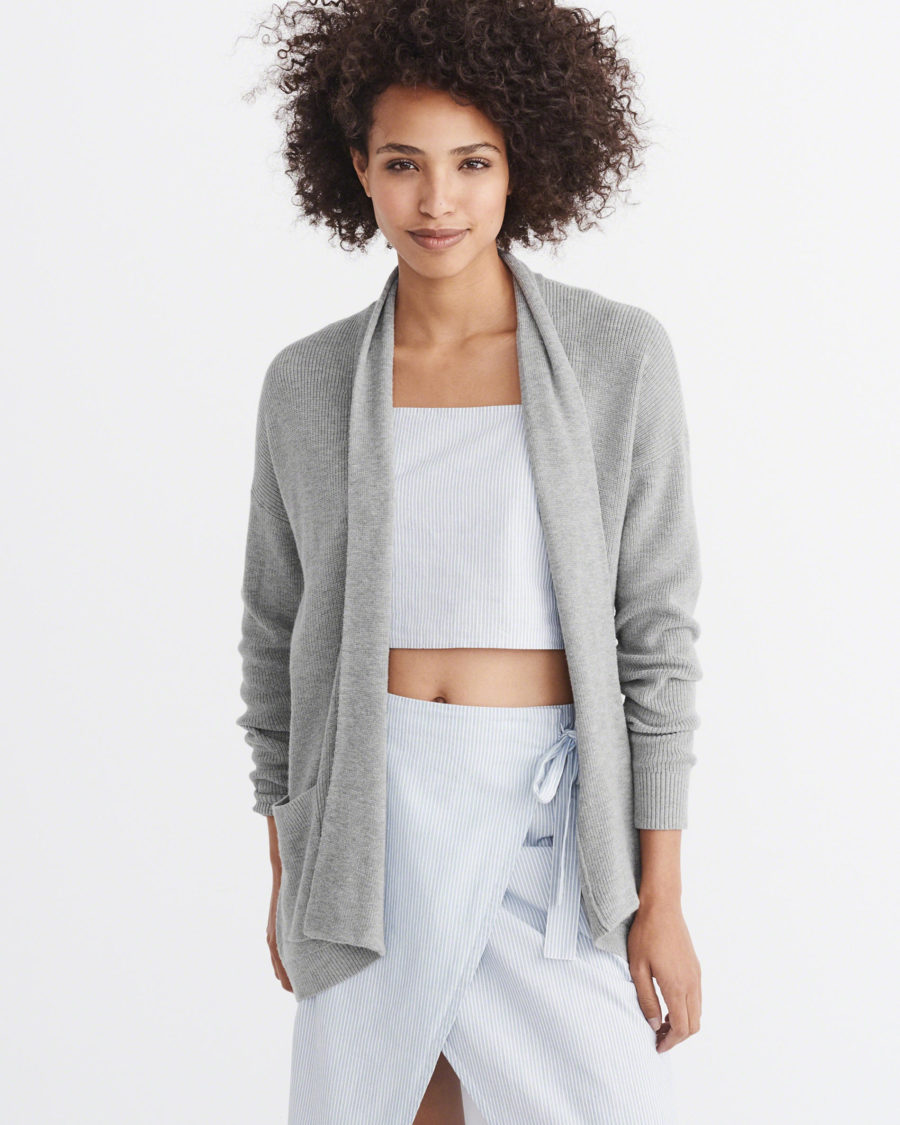 // OPEN FRONT CARDIGAN // 
runs slightly large 
And fell in love with this blush trench, that also comes in khaki.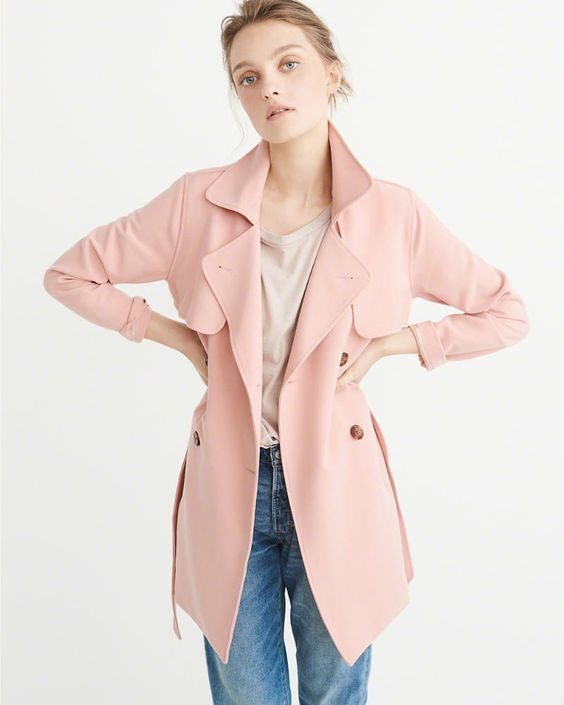 // WRAP TRENCH // 
They have this crazy new dressing rooms at the store at Lenox Mall (the girl told me it's one of only three that are like this so far) but you can change all the lighting settings a million different ways and they are super fancy and pretty.  Definitely the nicest fitting room I have ever been in!
But still…. I can't believe I am shopping at A&F.
OH.  And the employees that work their are just as attractive as they used to be.  Both the girl in the fitting room and the girl that checked me out looked like models.  So there's that…..
fun fact : Apparently my husband was one of the guys that stood in his boxers at the front of the store during the holidays.  would have loved to have proof of this with a photo of some sort….. 
:: FRIDAY FINDS ::
This dress screams Kate Middleton to me.  This would be so perfect for fall weddings or holiday parties (sorry, I know we still have tons of time, but there's no such thing as shopping too soon :)) . This similar sleeveless black dress is so classic too. 
I know oxblood is always a favorite fall color, but the gorgeous green of this sweater always catches my eye even more.
Stiletto sandals that are perfect in both leather or suede, navy or nude.
I want to live in this party dress.  Particularly the green one!
Perfect hair accessory for the coming months, in 4 color options.
I have bought a couple dresses for my friends Black Tie Optional wedding at the end of the month, but none have worked.  I am so in love with this black gown it isn't even funny. 
and I love this denim popover shirtdress  and I love this
The draped back make this creamy cozy cardigan a constant go-to.
I can't get enough velvet, and this high neck velour dress is no exception.
If you're looking for a great winter coat to invest in, this is simply gorgeous – I love the tie waist detail.
A bow knit sweatshirt  in 3 colors to layer up in style.
In. Love. with this velvet tank. 
Love this black and white cardigan to throw on over jeans and a tank.
Fit and flare, scallop and lace, this dress has it all. 
A shirtdress that'll never go out of style.
If you're a tunic lover, look no further. 
The velvet waist tie + midi length of this dress make it perfect for so many occasions.
A great example of dressed down animal print, perfect with jeans.  
the color and cutout location of this gorgeous sweater make it a total statement piece.
:: LINK LOVE ::
The affordable makeup line we all love, ELF, has released a line of inexpensive sweat-proof and gym-frriendly make-up.  No clogged pores and you can actually look cute at the gym! Sign me up for the under eye concealer. 
10 tips for keeping your Fiddle Fig as fit as a fiddle.  (This would have been good to know… but I don't know if I trust myself to buy another one!)
Reese Witherspoon has become the Queen of taking best selling books and turning them into movies (and TV series with Big Little Lies!) This is a great list of her favorite books, some that are coming to the big screen in the future. 
I'm dying to make a pumpkin floral arrangement when we get back home to put out on our back porch. (we have the tiniest front stoop ever, and it's blocked by bushes so no one would see anyway!)
Want a bod like J.Lo?  Rhetorical question, obviously. Here is a workout from her trainer you can do anywhere! 
Justin Timberlake + Kate Winslet are joining forces for a new Woody Allen flick.
Everything you need to know about the Royal Family and their dinners. 
32 Fall home decor items to snag from HomeGoods
(seriously, is HomeGoods not the best place on Earth? I haven't let myself walk through the doors since Fall decor arrived because it's more dangerour than Target!)
Why the new season of The Bachelor could get pushed back. 
::::::::::::::::::::::::::::::::::::::::::::::::::::::::::::::::::::::::::::::::::::::::::::::::::::::::::::::::::::::::::::::::::
I hope you all have a great weekend!
Follow along on instagram to see our California weekend adventures!