We got home last night from our California adventures and had the most amazing time.
I'll be sharing everything we did and everyone's suggestions on the blog tomorrow!
Packing for weather in Las Vegas + San Francisco + Napa + Newport Beach in October in a carry on can be difficult, but you know about my refusal to check bags! I actually feel like trips like this are harder to pack for in a carry on alone  than going abroad! 
There was one article of clothing that went with all of my outfits: My draped faux suede jacket.  It was lightweight enough to not make me hot but enough to keep me warm when the temperatures dropped, and was so soft and buttery and cozy that I loved putting it on each day.
I wore it with dark jeans + a tank, my white denim, my sleeveless ruched dress, my short dress for our day in Napa, and over my long floral maxi….. literally with every single outfit I wore on the trip!
I had been lusting after draped suede front jackets for fall, and had done a post rounding up some of my favorites, and I ordered this one to try and loved it.  I am so, so glad that I had it for this trip and know I will be wearing it over and over again throughout fall.
There are so many great neutral colors to choose from when picking a jacket like this,
but the grey was perfect for matching with every single color and outfit.
It's possibly the most versatile piece of clothing I have bought all year!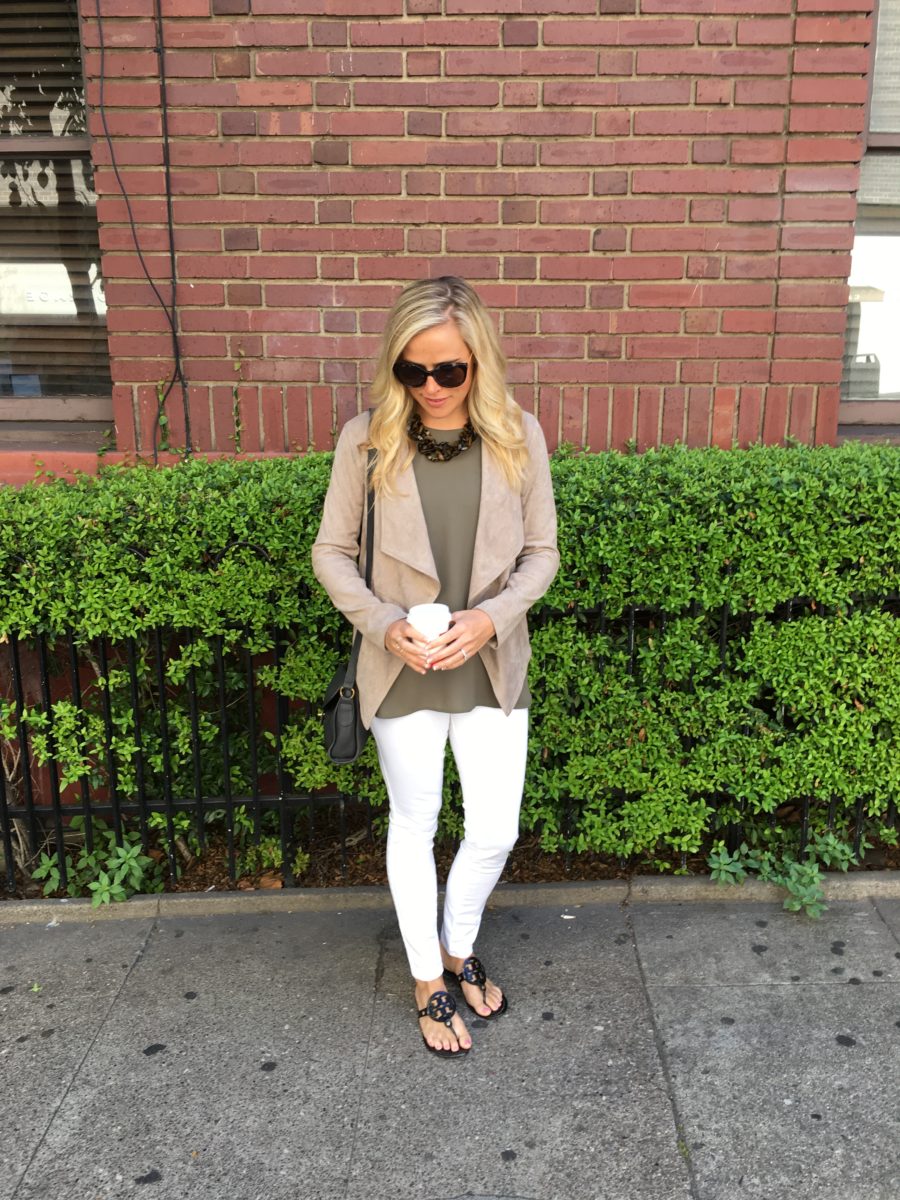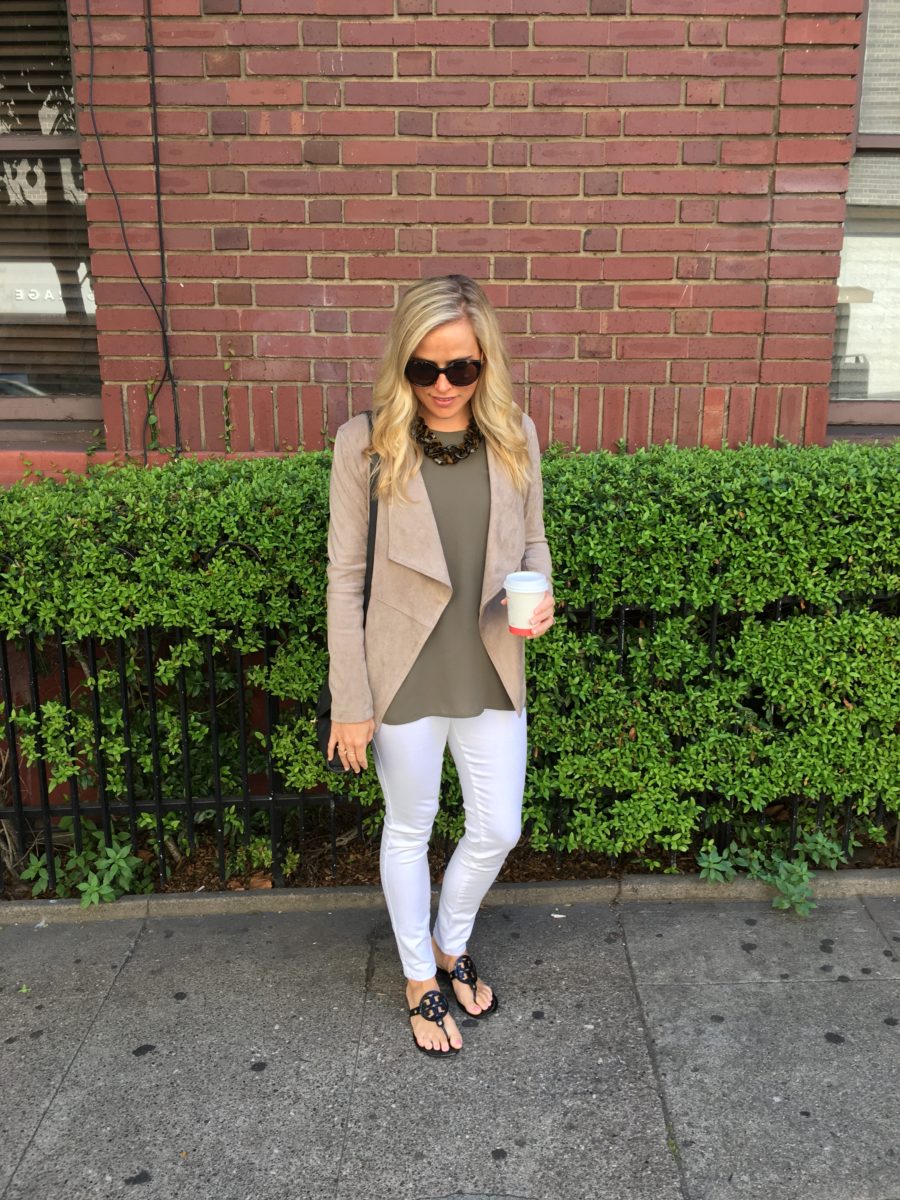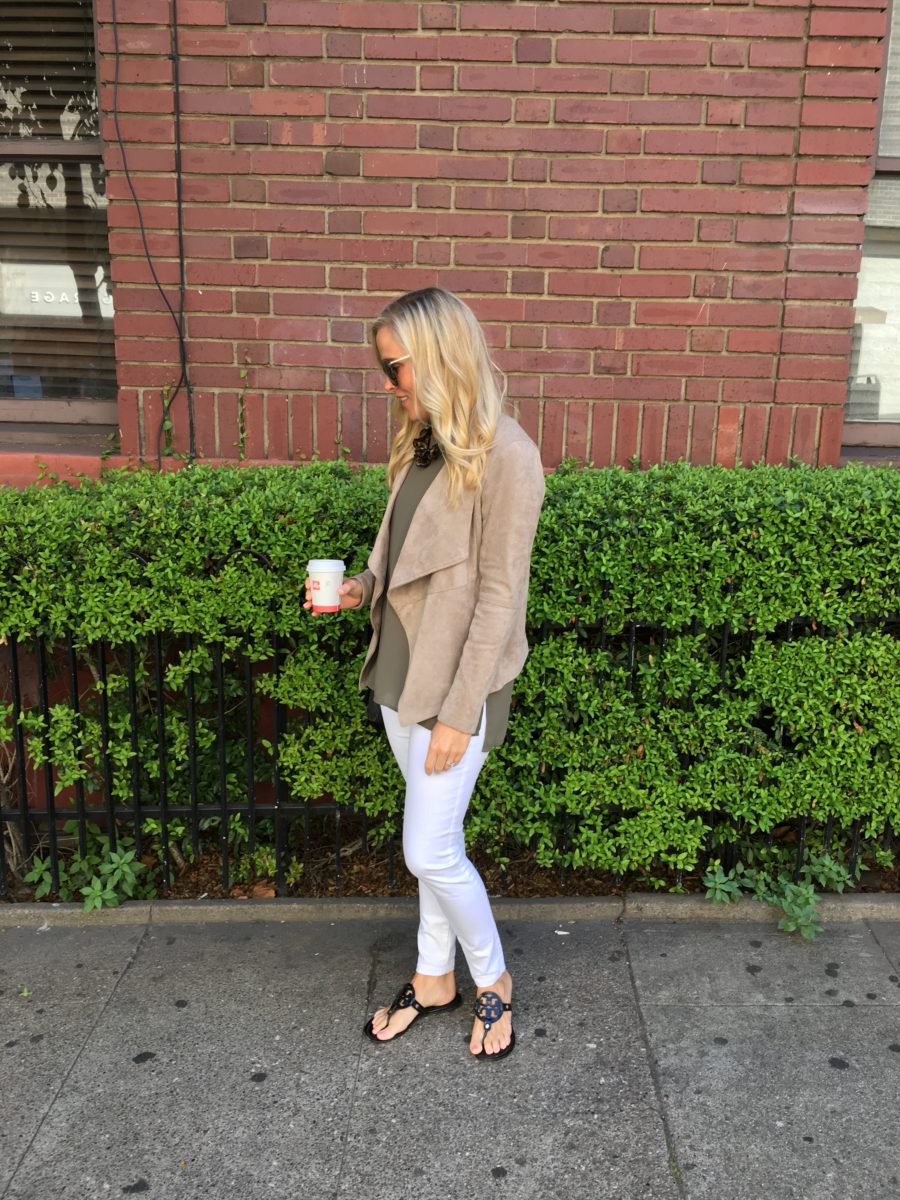 // DRAPED FAUX SUEDE JACKET //   // LINK NECKLACE, ON SALE IN OTHER COLOR //
I am wearing a size XS in jacket, but the S barely fit differently – could have gone with either size!
mine is the color Toffee
also AVAILABLE IN ALL SIZES HERE
and in a few sizes HERE and HERE
more information on the white jeans below!
for similar finds,
scroll the jackets below :

 :::::::::::::::::::::::::::::::::::::::::::::::::::::::::::::::::::::::::::::::::::::::::::::::
Another great piece, that I wore with the grey draped jacket in California, was this dress from Loft that is on sale for 40% off!
The dress is great with sandas, boots, booties, and easy to layer with sweaters or jackets.
I always size way, way down in Loft clothes – I find them to run sooo big.
I almost always order petites (and the petites are almost always still fully stocked and then go on super sale!)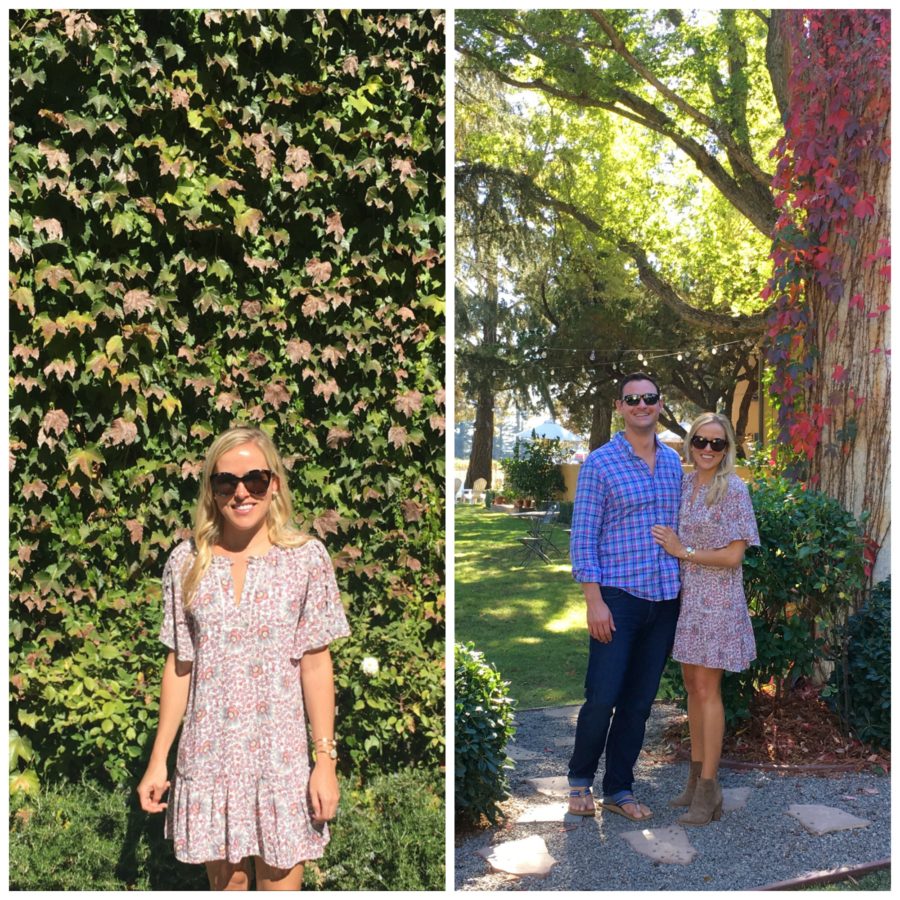 // FLOWERBUD PRINT DRESS //
I am wearing a petite XS in this!
I also love this print on an adorable blouse   and an infinity scarf!
which are currently 40% off! 
:::::::::::::::::::::::::::::::::::::::::::::::::::::::::::::::::::::::::::::::::::::::::

Another great piece pictured above that I wore repeatedly on the trip was my white denim jeans.
they are currently ons ale for under $30! 
This was a new pair, I used to always wear my Articles of Society Jeans, but these are even better!
I snagged two pairs of them because I got them for such a steal and loved them so much.
These have have a higher waist (no need to be careful in bending and snapping), maintain their shape without stretching out, and have special stain wicking powers!
I can't say enough about them.
Leave it to good Old Ol' Faithful -aka- Old Navy to save the day again.
snag 'em while they are still fully stocked and on sale for only $29!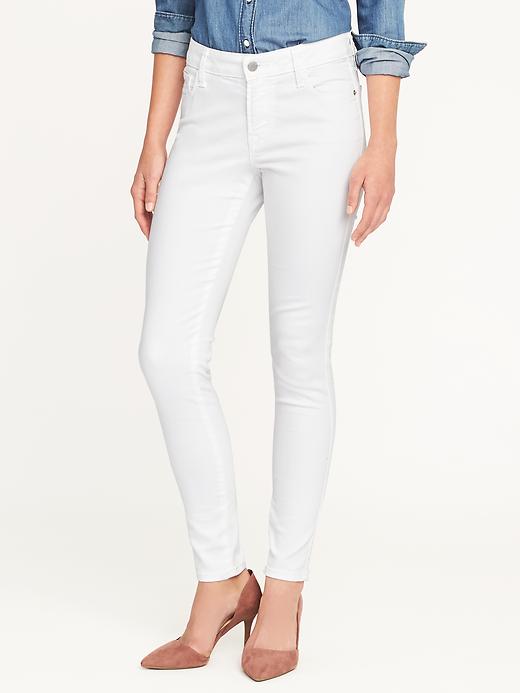 // WHITE STAIN RESISTANT JEANS //
I am a size 2 in these, run slightly smaller than their normal jean sizes