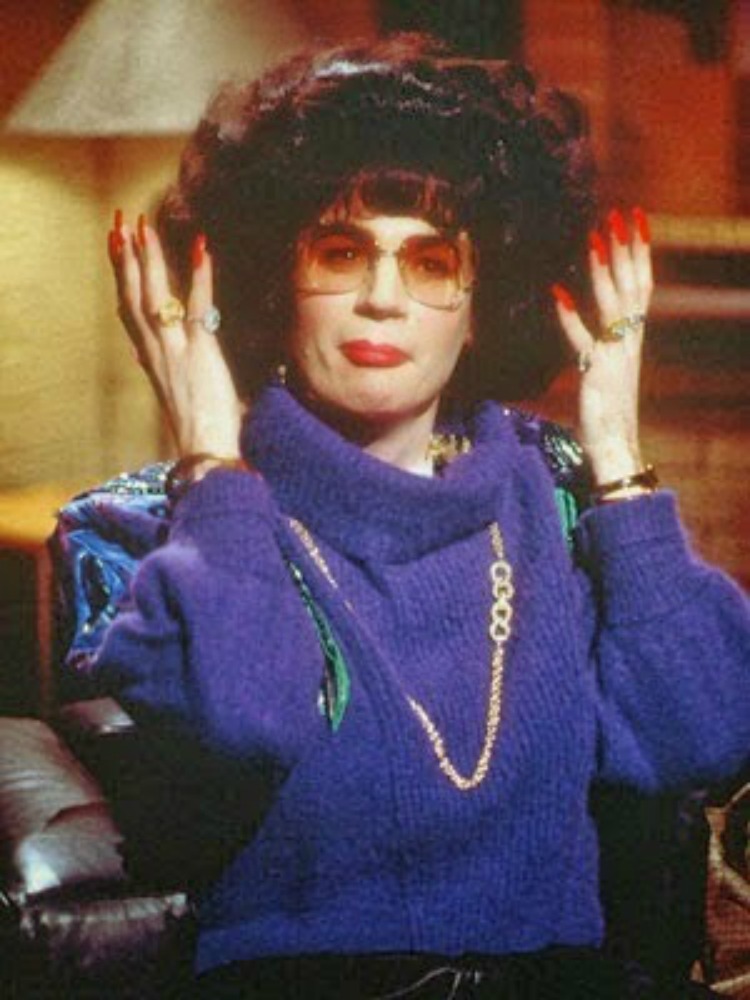 DISCUSS AMONGST YA-SELVES……
As my-boyfriend-andy-cohen said on WWHL, my heart, thoughts, and prayers are with Las Vegas, so please know that this blog and these posts are always meant to be a distraction from the real world;
some light nonsense to lighten things up for a few moments and distract from the sad and awful, but never to undermine it.  xx 
I'm writing this week's Coffee Talk from 30,000 (?) feet in the sky, en route to meet my husband on the West Coast. He's working here this week and next (and always it seems) so I am flying out to celebrate his birthday weekend!   While I have endless live Bravo TV – hallelujah! – and wifi on board, the internet can move rull slow, so searching for images and having time to edit is limited.  My apologies!
:: RHONJ ::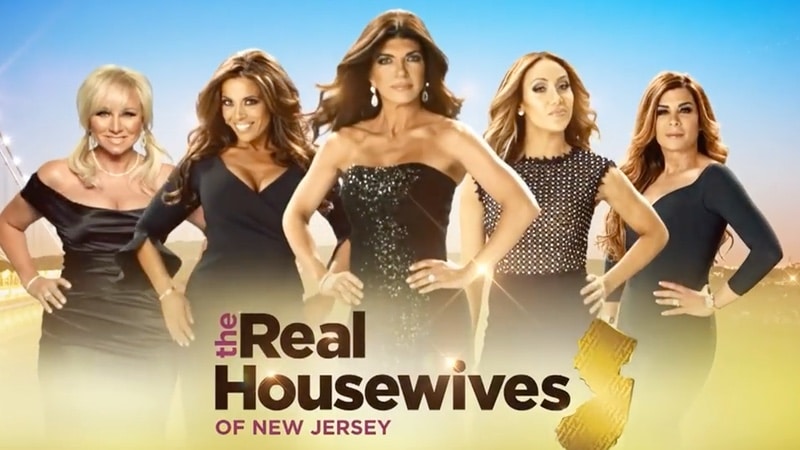 I had taken a few years off from NJ when it just got to be nonstop yelling, but I began watching again last season.  (I missed the years with the twins and when Dina made a comeback and all of that).
Siggy is my new favorite.  A highlight was her climbing in the car and saying "Sir, can you please put on some air? I no longer have a uterus."  Classic.  I'll be saving that one in my pocket to pull out in the future.
The saying through tears "I think I'm the most talented person on the face of the earth….." line….not so much.
But I do love her.  She walks right in to dinner in Boca and just causes the biggest scene – greeting everyone at their table and then taking food from another table to hers – it's just perfect.
The return of Danielle Staub (from season one and all of the infamous table flipping scenes) blows my mind.
They must have been replaying season 1 this past week because I turned the TV on to a scene with her two daughters and it was a blast from the past.  But it made me really sad for her girls and made me wonder what they are up to (lovely readers, you always know, so feel free to share in the comments!).  Danielle Staub is usually the type that leaves me with no words, but, I found some.
When she came out in Boca and did her opening diary line of "That's right bitches, I'm back." I just thought, wow, you should get your money back on the latest boob job because whatever is going on there is not looking good.
Each breast looked INDIVIDUALLY bigger than her head.
Danielle and Teresa being friends makes zero sense.  And if Danielle is hoping for apology from Teresa it's not going to happen – ever.  She won't admit any guilt or apologize for what her and Joe did to get their jail sentences; so trust me, she won't apologize to you.
And Dolores is somehow the only one who thinks Danielle's crazy and that this is a bad idea.
What do we think of this blonde pig-tailed newbie?
:: RHOC :: 
Last week I had commented about how VIcki was for sure looking to get herself some sympahty in the form of a cheezy, bubbly casserole for her Influenza B diagnosis, and whattaya know:  this week VIcki blatantly says that she expected a damn casserole! She even brings her medical records in her purse to prove it was INFLUENZA B! B PEOPLE! B!
B = casserole.  Obviously.
I fear that I spoke too soon last week when I was finally, 12 episodes in, pleased at the end of the hour.  Because yet again, this weeks leaves much to be desired.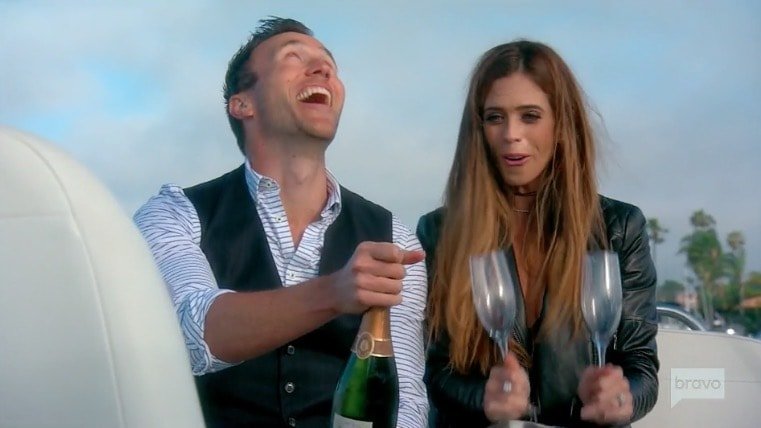 To Summarize: Doug finally go this balls cut off.  Well, had something cauterized.  Lydia finally explained she knows that the balls remain intact.  Tamra and VIcki, the grandma's (literally) of the show, are trying to drag out their feud in hopes that it drags out their contacts on the show.  Shannon continues to just be having the worst time ever with David and now is saying she isn't over the affair (a far cry from her insistence previous seasons that she was passed it and never thought about it at all – which was so clearly untrue.) And as they always do, they have their spats in front of their kids at the dinner table, this time with Shannon's mom too.  Peggy and Diko continue to confuse everyone, now including the husbands, about wether or not Peggy had cancer and then get pissed at being for being confused.  And Meghan and Kelly Dodd were kind of just bystanders this week.
Is anyone ever at Cut Fitness? Ever?……… Like, other than Eddie?
Does anyone actually care if Vicki and Tamra make up? (editors note: NO)
When is Tamra's behavior going to match what she preaches about with being a "sister in Christ"?
Does this mean it's the end of all of the Ball Talk from Lydia? What will her story line become now?
Do you think Lydia came up with Ball Voyage all on her own? Because I don't think she could have coined "Snip Gift" as the male counterpart to a Push Present AND Ball Voyage all by herself.
Is Shannon ever going to just leave David? Or the other way around? How long is this marriage-merry-go-round going to go round and round before something happens, positive or negative?
…. and most of all….
Does everyone know that Shannon gained 40 pounds because of Vicki Gunvalson? Not David?
…… Mmk good…..just wanted to make sure everyone knew.
:: Lionel RIchie ::
Lionel Richie has spoken out regarding his daughter dating Scott Disick.
"I'm scared to death, are you kidding me?"
"Have I been in shock?! I'm the dad, come on."
No surprise there.  But don't worry, Lionel, I'm sure it won't last.
:: RHOD ::
Just to start this recap on a positive note: I am extremely impressed with the amount of tequila these ladies are able to throw back.   Wowza.  Between the "tasting" on the beach and then dinner, I would have been puking under the table before the appetizers were served.  And I like to think I can throw down.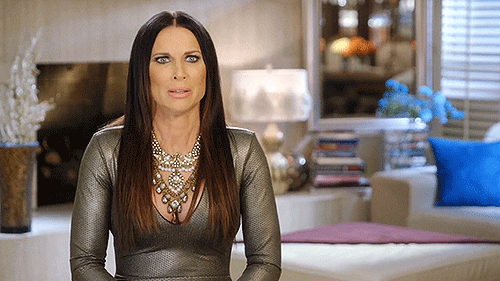 So, we pick back up in Mexico with the ladies for a fun filled vacation, which we all know will soon become a scene of yelling at one another across a dinner table in a beautiful setting while half a dozen poor staff stare in dismay.
Brandi is up to her usual antics, which this trip involve a giant dildo being hidden in D'Andra's purse and pulled out on the beach.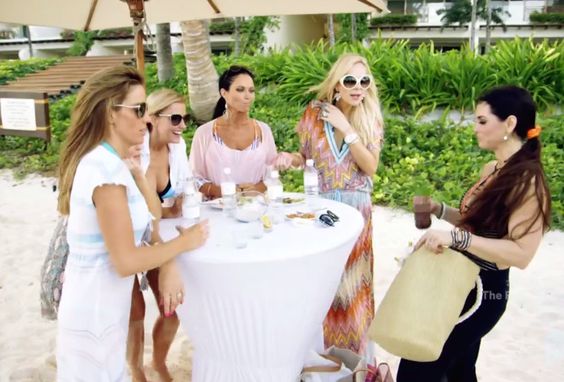 Kameron is not pleased with it at all, and runs away from it as Brandi chases her.  While I do think Kameron is likely no fun, and I would way rather hang with Brandi, there is a part of me that understands.  There is a staff of like 15 men standing in a row staring at them as this happens which is mortifying to me.  But just go with it Kameron!  You're causing a bigger scene by running around the beach and making her chase you.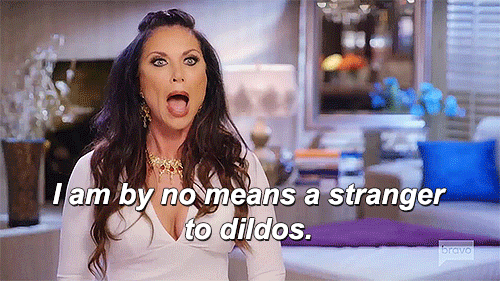 I hope these poor staff members are getting tipped better than Ramona tipper the staff on her Mexican vacay. 
D'Andra finally reveals why her and LeeAnne are so close.  They have bonded over a fear of dying alone. womp womp, debbie downer. I mean, she said it dead seriously too. Some heavy stuff going into tequila round 2.
LeeAnne has introduced a new diary ensemble.  She is a skin tight dress and she poses on the edge of the seat leaning forward as though she is going to come through your television screen as she discusses strangling people with her bare hands.  It's lovely.
Why did no one lick a finger and de-smudge Brandi's eye make up that had made it way down below her eyes? Or at least tell her to go to the bathroom to fix it?  Stuff like that drives me nuts.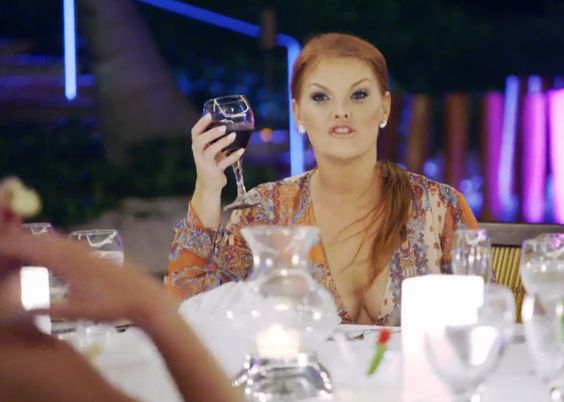 Note: please, always always tell someone when there is food in their teeth or something in their nose or make up smeared across their eyes.  It's the polite thing to do – not rude! 
Cary throws us all for a loop at the end of dinner by attempting to go after LeeAnne for the "hands" commentary, but then turning on Brandi.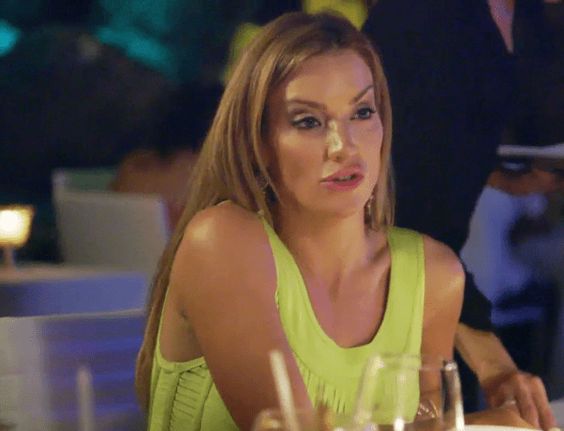 Cary denies ever saying anything about Brandi's plastic surgeon having killed someone on the table.  She says she would never say that.  What?! Why would Brandi ever make that up!? Then in Cary's diary session she says "if she did say that a surgeon killed someone, well, she wouldn't have made that up."  What?!   I'm interested to see how these two settle this, because Brandi never would have come up with that on her own.  Ever.
LeeAnne really calmed her Carnie Crazy this episode……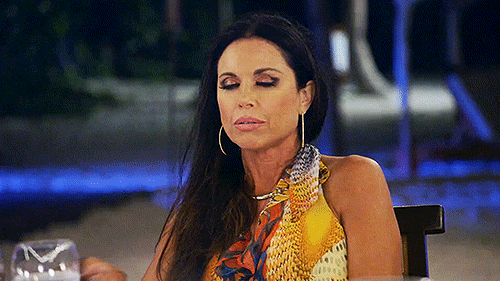 :: KUWTK :: 
The new season premiered on Sunday night and I am devastated.
Why did Kendall do her lips!!??
Apparently I live under a rock because they were showing footage from months ago, but I don't follow any of them on social media so this was my first Kendall sighting except for runway shows.
WHY!? She is so gorgeous and now all you see is LIPS.
Do they not understand that plastic surgery when you are young and pretty makes you look old and crazy!?
:: Jackhole of the Week ::
Kim Catrall. 
Sex and the City 2 was one of the worst movies I have ever seen in my entire life, but that doesn't mean I don't want a third one.  It seems like she is the sole cause of there not being a third and final installment.  And she is bashing SJP along with it.
Seriously though, wasn't the 2nd movie just hands down the worst? But I would LOVE another one.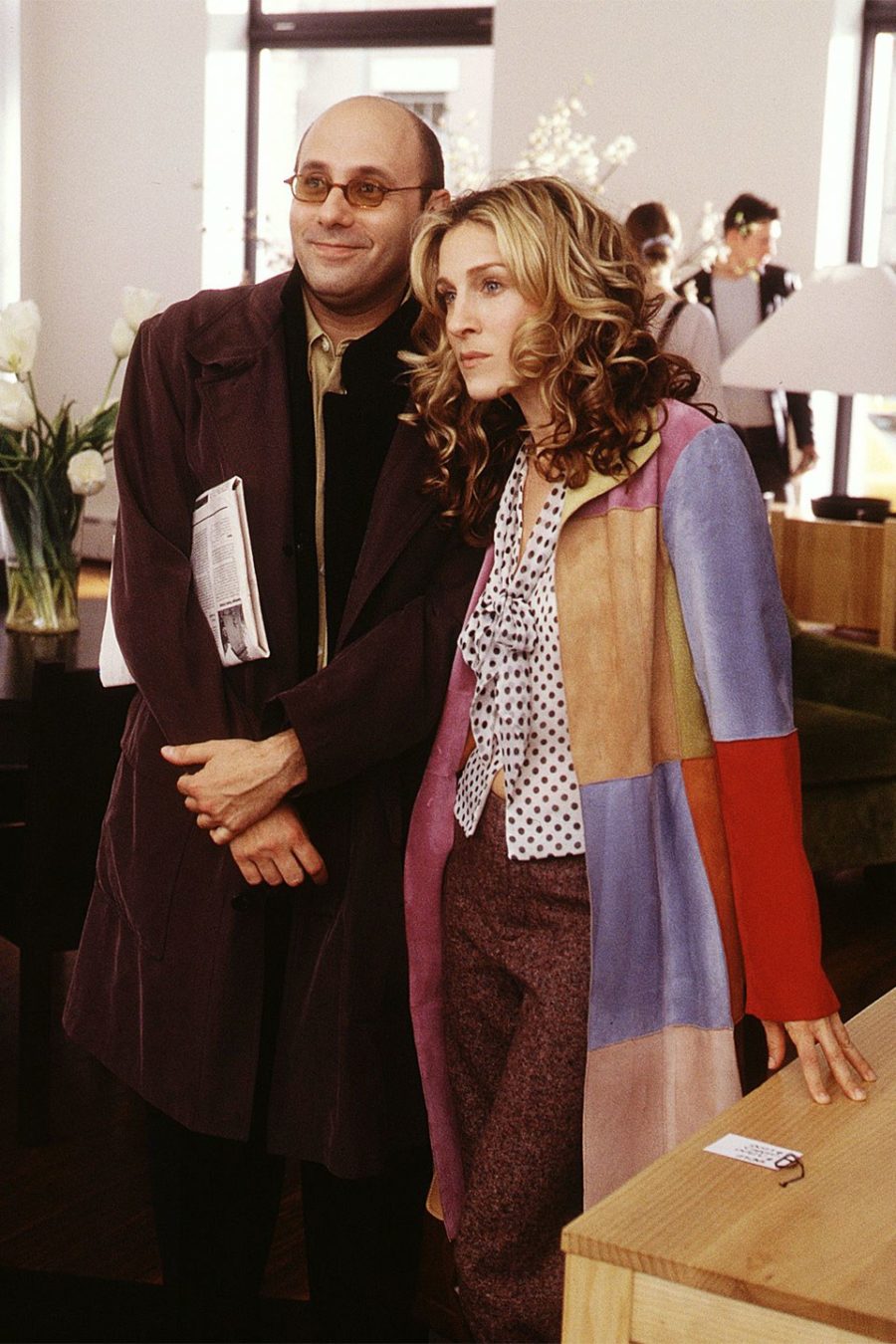 and now Standford Blatch is chiming in and it's getting even juicier…..
:::::::::::::::::::::::::::::::::::::::::::::::::::::::::::::::::::::::::::::::::::::::::::::::::::::::::::::::::::
:: Editors Note ::
As always, ignore my own blatant grammatical errors
whilst I make fun of others poor grammar during Coffee Talk on a weekly basis.
#HYPOCRITE   #SORRYIMNOTSORRY
I write these posts late at night while simultaneously watching Bravo, taking snaochats of my snoring husband, and making to do lists of everything I was supposed to do and didn't do that day, and likely won't do the next day either.  Or the day after that.