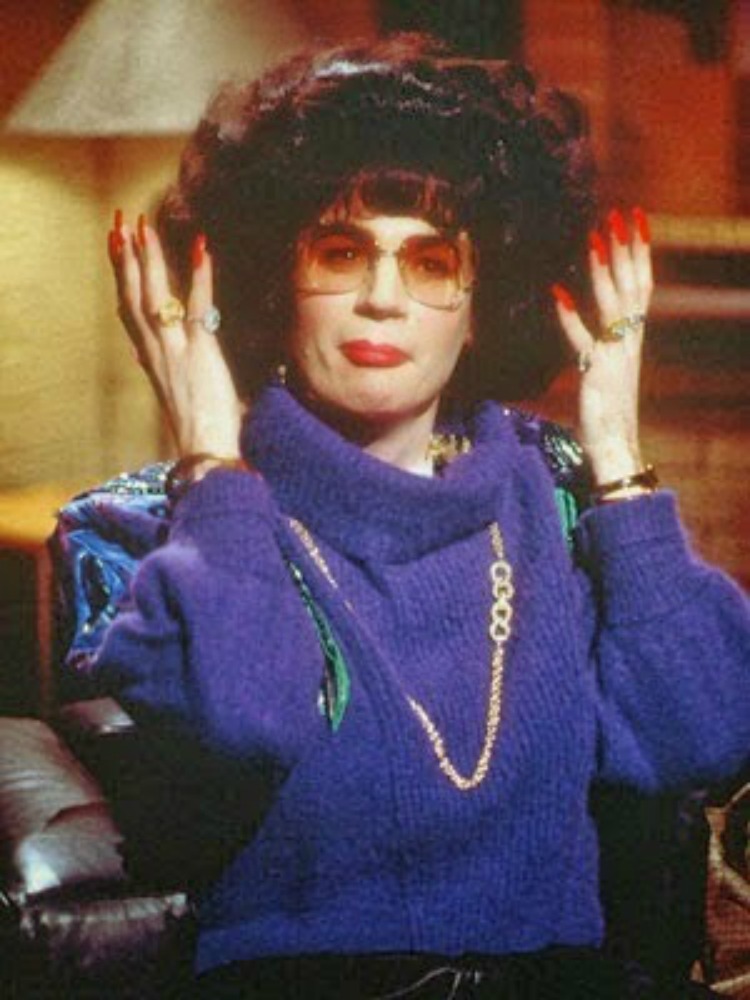 DISCUSS AMONGST YA-SELVES……
:: REAL HOUSEWIVES OF OC :: 
Oh em gee y'all. Is OC almost over? Because I'm ready for some Beverly Hills and done with these ladies.
Peggy and Diko's entire story line is still about her not knowing slang.  WE GET IT.  It's been 15 episodes of this. Have they watched too much Newlyweds: Nick and Jessica?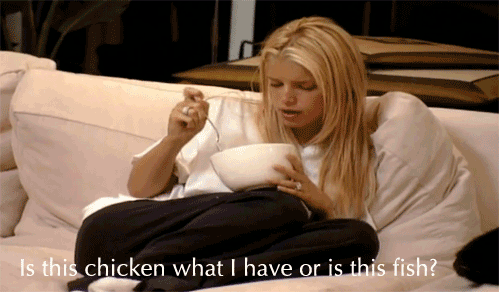 I will give props to Peggy for her gorgeous necklace that went down her back last week for their anniversary party! Loses points for flaunting gifts in front of all of their guests at the party.   Open your ugly matching watches at home!
We are treated to a montage of moments where VIcki goes nuts on everyone during the past 12 years. (Is this her exit montage? Please? I hope so? Although some of those moments were great…. the "You brought a Family Van!?" really brings me back).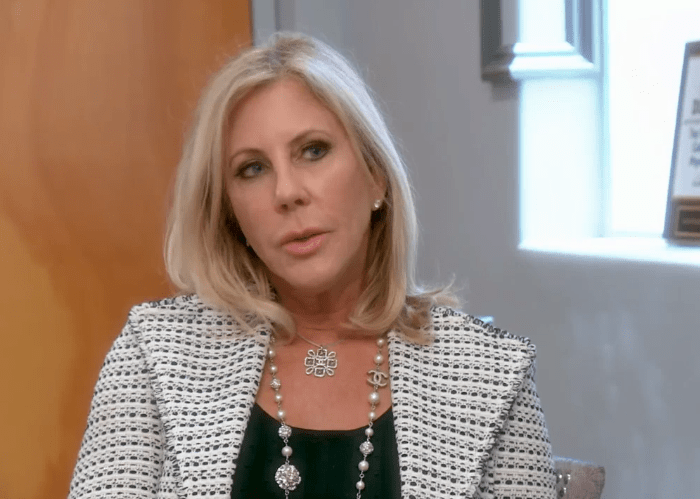 Vicki is riding the Influenza B train right on into the cardiologists offie.  She needs a full check of her heart.  This woman will do ANYTHING for a casserole. I wonder what illness she will get next week?
Meghan King Edmonds is perhaps the only saving grace of this episode, because she introduces us to the one and only MYSTIC MICHAELA.  I mean….Wow.  Michaela, a psychic and aura reader, is straight out of an SNL skit. And an SNL skit where she is played by Kristen Wiig.  Hands down.  The way she talks and her spastic nervous energy is just not to be believed.  She seems like one of the strangest human beings ever with her nervous and awkward mannerisms.
The psychic starts reading aura colors and talking about yellow and who knows what. Shannon gets all excited and exclaims "Oh my aura is positive too" and Mystic Michaela goes "Oh well yours is kind of ummm" and kind of twitches all over the place.
It's like the Penelope skit (the one-upper character) in terms of her voice and behaviors.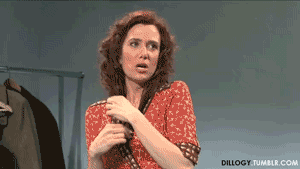 Peggy puts Mystic Michaela in her place pronto with some killer RBF.  She says she absolutely does not want a reading and OF COURSE she is good at reading people and very intuitive.  She knows.  She knows.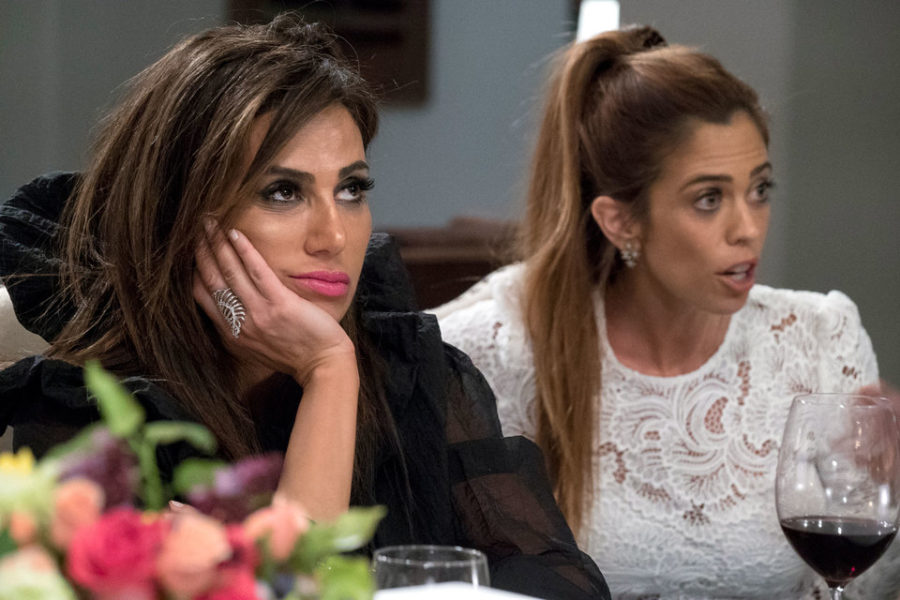 PS. Lydia's white wash skirt and top this episode was just….. wow…..

Vicki doesn't want to bring her heart problems to light with Mystic Michaela.  Especially because a physic was the one who started the whole thing about Brooks cancer being fake. So instead, Vicki hangs out with the only person in the group that is willing to tolerate her, Kelly, who seems to do this because Vicki is better than her husband.
We all know that Kelly is easily confused, so she asks about the hepatitis B.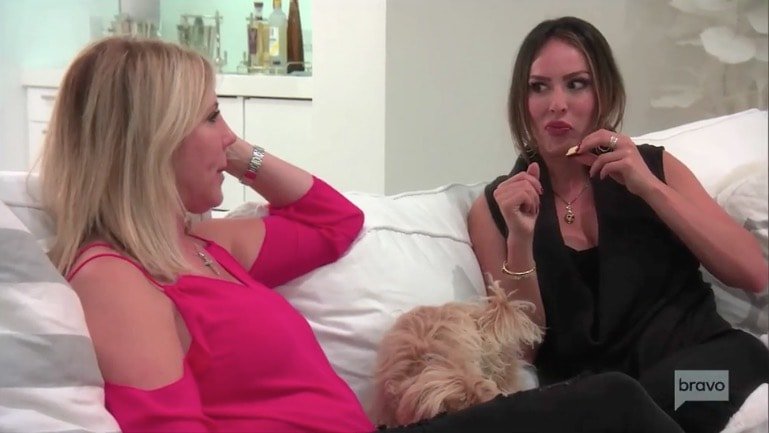 Suddenly, when Vicki's "influenza B" is being confused as "hepatitis B" she is able to classify it as the common flu, but before? NEVER. She was near death! She needed a damn CASSEROLE PEOPLE.
Shannon has officially lost her damn mind.  Well, we all know it's just the personal stress, so I understand and still love her, but my God woman LOCK IT UP.  You keep having the meltdown of the century every time someone blinks at you the wrong way!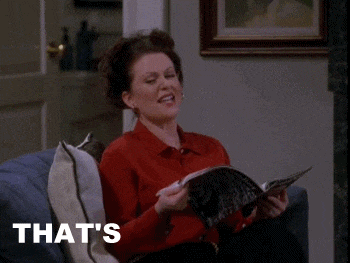 Meghan King Edmonds was totally trying to plan her own "Dinner Party From Hell" and solidify her spot on the show, or at least create a classic Housewives Dinner scene.  Nice try Meghan.  She just keeps stirring that pot this season…..  but no amount of effort will recreate the dinner at Camille's.  I didn't see an E-Cig in sight! And little Mystic Michaela looks like she'd be terrified to start any beef between any of the ladies, let alone start the trouble by calling out that people's husbands will never fulfill them.  She is no Allison Dubois.


Because my gawd that was the best dinner party ever.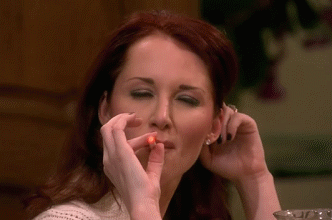 Vicki was on my-boyfriend-Andy-Cohen's WWHL with Rita Wilson.  Rita is a breast cancer survivor, and watching her comment on Peggy and the cancer story line and then say "who would make up cancer" and stare at Vicki was AH-MAZING.
:: REAL HOUSEWIVES OF DALLAS :: 
Dallas is the only saving grace for Housewives currently.  OC and Jersey can't hold a candle to Beverly Hills and New York, but at least Dallas is trying.  The worst part of this week was barely getting any time with Mama Dee.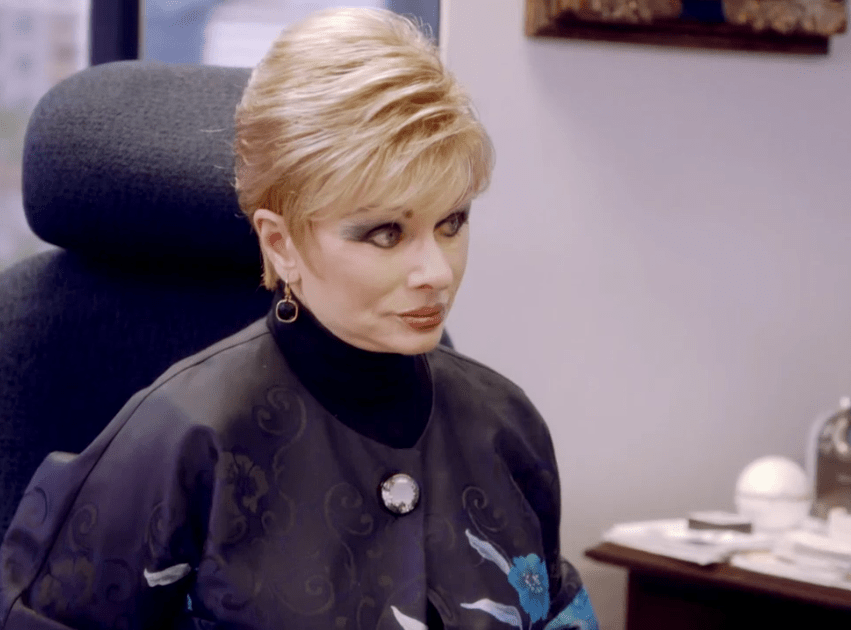 Cameron is taking her pink dog food business to the next level by going to "Booneville" to meet with a dog food manufacturing facility.  She feels like "a blonde alien visiting another planet" and I must say, the two men staring at her with her dog Louis in his purse must think exactly that.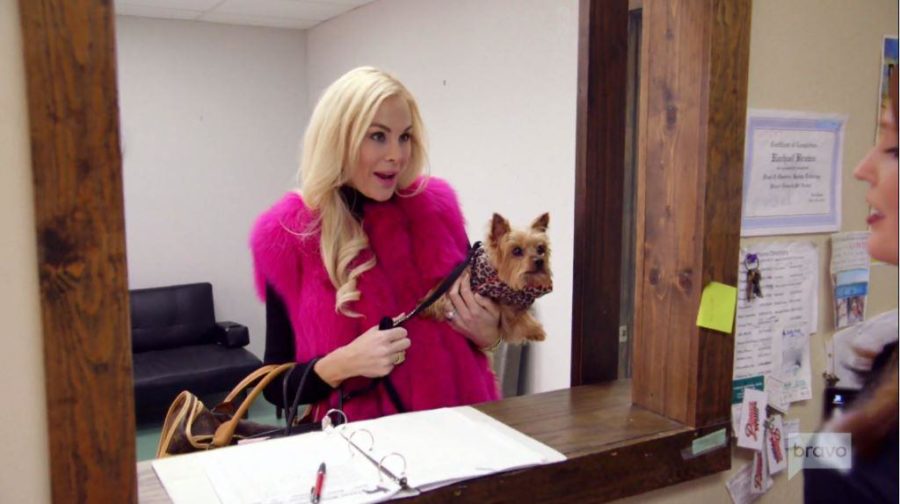 Brandi has an all white party for the ladies, which will be the first time everyone is together since their trip to Mexico.  Things are very rocky between Stephanie and Brandi versus Cary and Cameron, thanks mostly to Mr. Chocolate the sex toy and also to Brandi mentioning that Cary had said her plastic surgeon killed someone. Cary still vehemently denies ever saying that.  I still believe that she did….. how could someone ever make that up?! LeeAnne maybe would, but not Brandi. 
Cameron begins doling out her commentary on low class moves made by Brandi, starting with the realization that drinks are being served in plastic cups.  She later will realize why……
LeeAnne arrives at this party and she is so excited to throw down that not even sobriety and a flesh eating bacteria can stop her.   Literally.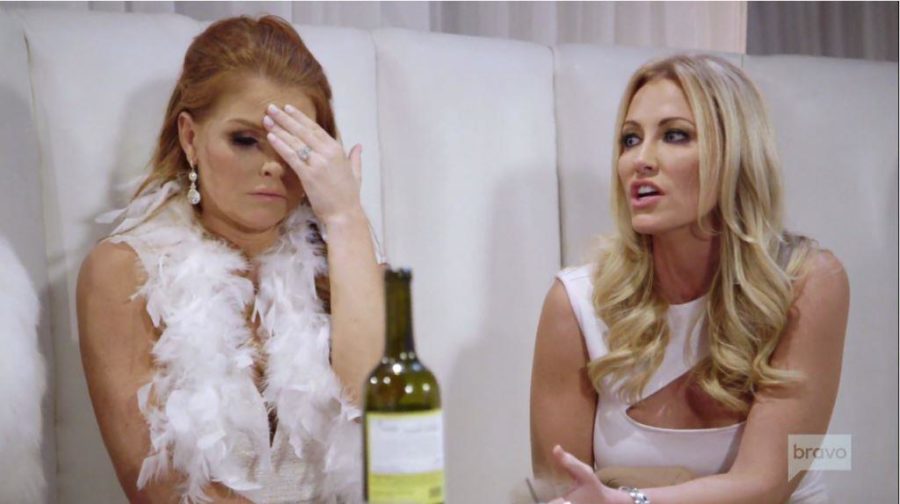 LeeAnne is ready to fight so they head down to the lower level of this party space where they can hear each other (slash where they can really get after it). I wish that Brandi and Stephanie and Cary could get over their stuff because the three of them should not be arguing!
LeeAnne brought note cards, so she isn't going to miss a beat.
And apparently her IV drip earlier that day gave her some serious strength, or maybe the flesh eating bacteria is feeding the Carnie Crazy even more, because she is even more intense than she is usually is! I didn't even know that was possible!  How is she more nuts sober than intoxicated?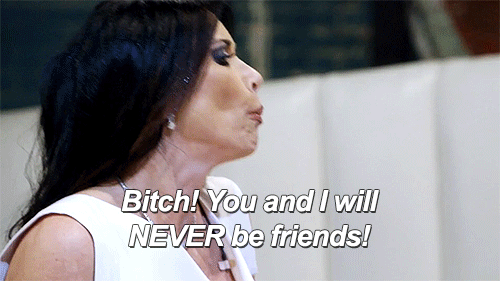 I don't know why on earth Brandi brings up Cary being the other woman before her marriage; how can these people be friends and then be so quick to throw each other under the bus!? Whether it's true or not, leave the truly hurtful + family destroying stuff to LeeAnne!
Speaking of destroying and LeeAnne, In case Cary doesn't know she means business, she takes her wine glass, stands up, and hurls it the ground so that it shatters all over the place.
I meannnnnnnnnnnn.
And on perfect cue, Cameron realizes "This is why you have plastic."
LeeAnne really scares me.  Legitimately.
But perhaps the most surprising words to come out of her mouth weren't those towards Cary, but those regarding Mr. Chocolate.  She says there isn't a man on the planet that doesn't like a D-eye-L-D-Oh. Gay, Straight, All Men like it.  Ummmmm excuse me?!?!
I'm with Cameron, "Oh my gosh – EARMUFFS"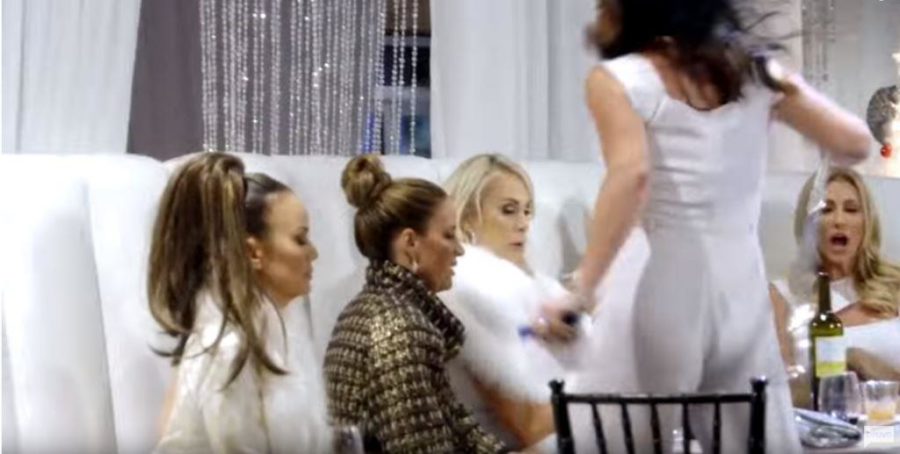 And all the episode leaves me thinking is, I think LeeAnne IS the flesh eating virus.
OH, and that yoga really works, because how Cary remains calm during a woman an inch from her face screaming is amazing to me.
OH, and I love Cameron re-applying her lipstick into her princess mirror iPhone case a few times throughout LeeAnne losing her Sh*te as though there isn't a woman going ballistic next to her.
:: DEMI LOVATO :: 
I really want to watch the Demi Lovato documentary.  I'm not an uber fan or anything, but I've always really liked her and feel like it will be a great cuddled up on the couch weekend activity.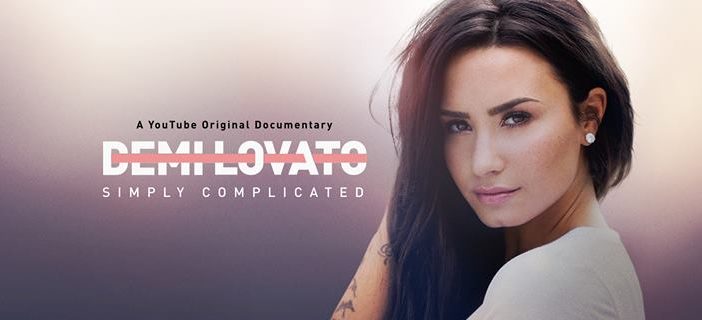 Plus, I've never watched any singer documentaries (Katy Perry, Beiber)
but everyone has always talked about how great they are.
You can watch it for free on YouTube.
:: Chyna and Rob ::
Blac Chyna has gotten Lisa Bloom on board as a lawyer  to sue every single member of the Kardashian family. I'm not even trying to defend the Kardashians by saying this, because I couldn't care less and they are just fine no matter what lawsuit occurs, but Chyna is straight up deranged.  Rob dating her and falling into this trap is the biggest example of a man thinking strictly dicktly if I've ever seen it.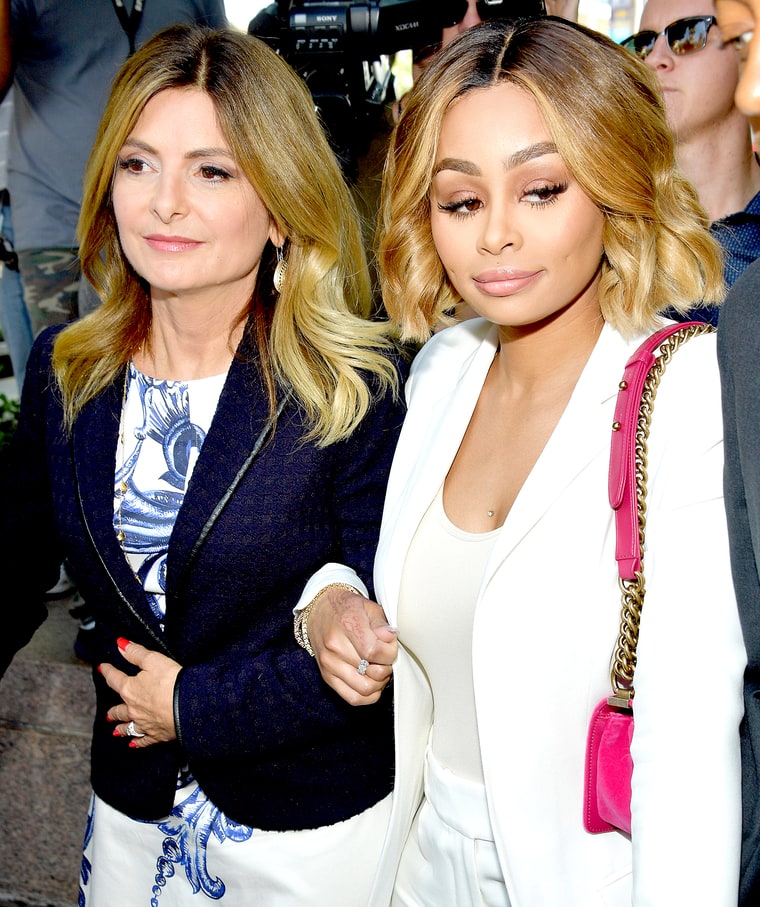 The article shares :
"They decided to start a war by trashing her online repeatedly, so it's on … and we are going to vigorously fight for Chyna in this case," Chyna's attorney Lisa Bloom told Us Weekly of Rob's family members being sued by Chyna: Kris Jenner, Kim Kardashian, Kourtney Kardashian, Khloe Kardashian, Kendall Jenner and Kylie Jenner, who she blames for the cancelation of her and Rob's E! reality series, Rob & Chyna. "Even though Chyna left Rob at the end of 2016, the network was still interested in doing season two of the show. How would these two live separate lives and co-parent a baby? Would they get back together? This is classic reality show material, but the show was killed. Chyna's rep was told it was because the Kardashian family would not allow it to go forward."
"It's not just she lost a lot of income by not getting season two or all the other seasons that would've followed, it's the endorsement deals, it's the appearances fees, promotion of her products," Bloom continued. "This is how reality shows can become very lucrative, and the Kardashian family knows well because they have exploited the economic benefits of reality TV better than anyone … and God bless them for it. I admire their business savvy in doing that, but they know very well how important it is to have a hit show so other things could flow from it. They knew what they were depriving Chyna of."
ARE YOU KIDDING ME?!?!?!
She's already going to be sitting back and cashing checks, and now she needs MORE?!
Their show was pure trash, but seeing gifs like these almost made it worth it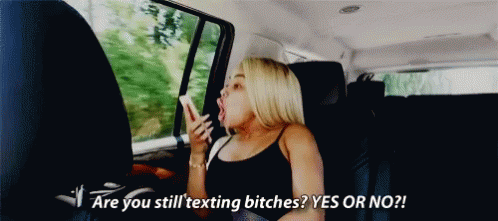 allllllllmost. 
:: Scott Disick :: 
Speaking of Kardashians, Scott is STILL dating Lionel Richie's daughter Sofia.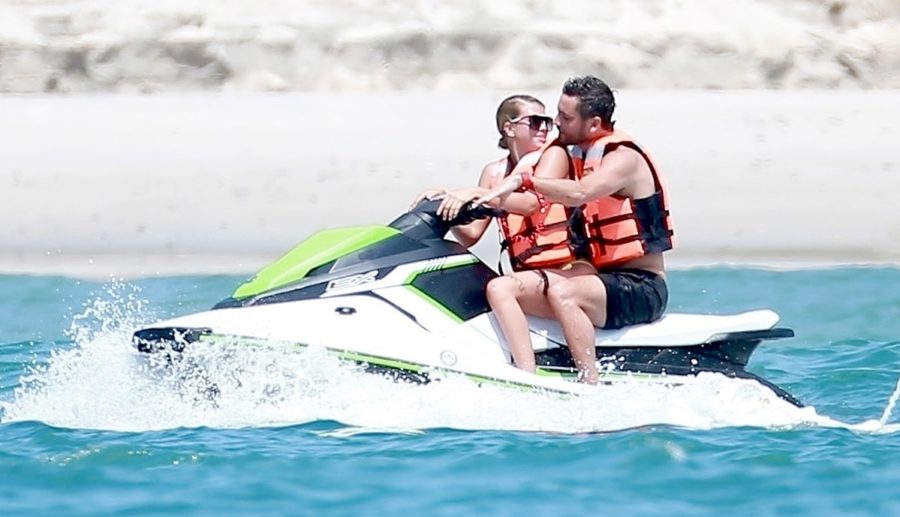 Seriously?!?!?
:: Billy Joel ::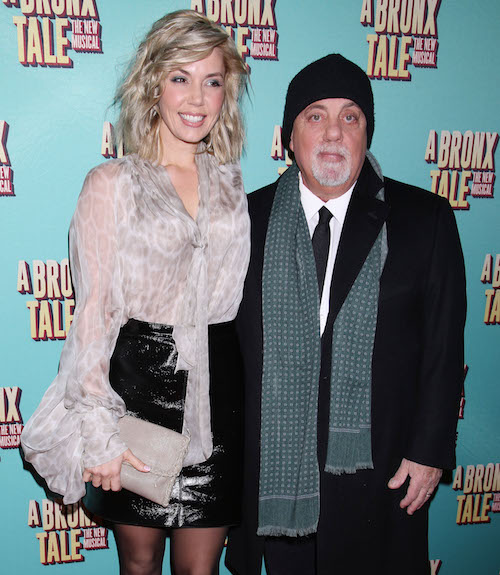 I know that men can have kids basically forever, but my gawd,
at 68 can we just put the mouse back in the house and call it a day?!?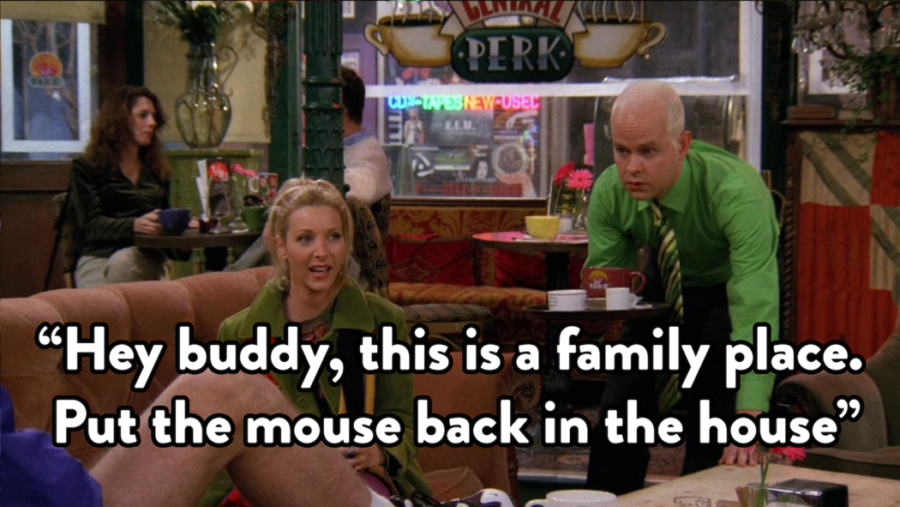 :: Mychael Knight :: 
I was so sad to hear about the news that Project Runway's Mychael Knight had passed away.
He was always so smiley and I loved him on the show.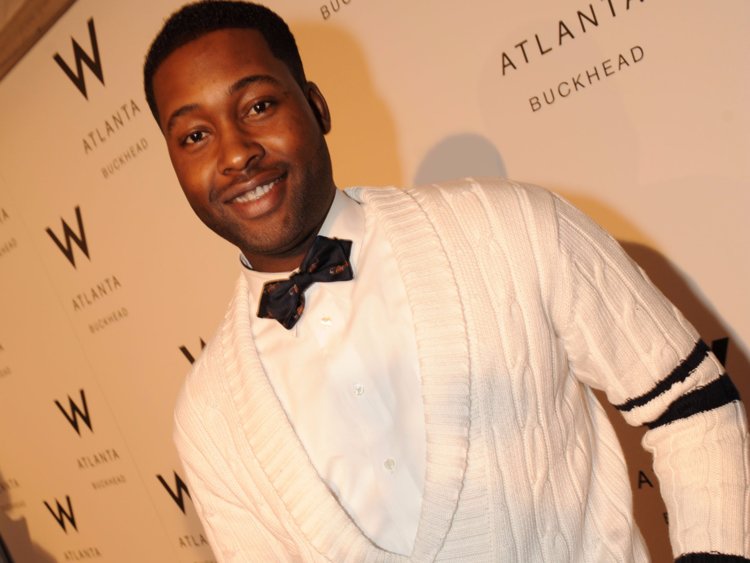 :: MAZEL / JACKHOLE :: 
No offense to the wonderful Joan Rivers (RIP), but I am not sad to learn the new that Fashion Police is ending for good next month.  After she passed, the show just got worse and worse and was a revolving door of people in and out.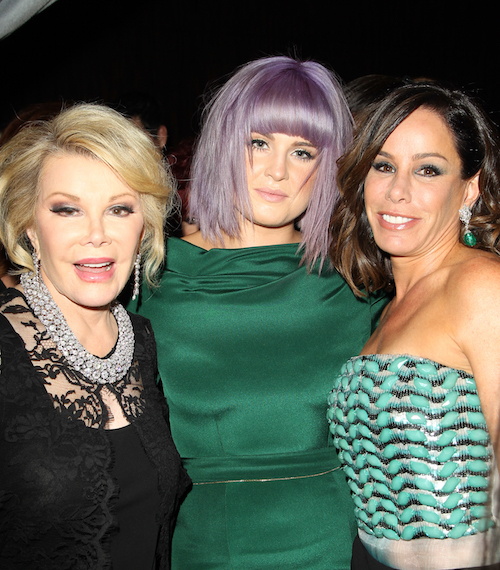 And listening to Kelly Osborne of all people give fashion advice for years was enough to make my skin crawl.
:: JACKHOLE pt. 2 :: 
I watched the premiere of Jersey Housewives  but haven't watched anything else…. I just don't know if I can do it! I never missed it the years I didn't watch, then watched last season and thought it was okay, but I don't know if I can deal with Danielle being back.  Is it really worth it? They all are just so….. much.  Too much.
But those watching let me know your thoughts and maybe I'll try a few more episodes.
also… on top of my phone being completely wiped in order to get it to turn back on
our internet keeps going out.  technology hates me this week!
I had to drive to Starbucks after re-setting the router 5 times this morning, my apologies for a late post! 
:::::::::::::::::::::::::::::::::::::::::::::::::::::::::::::::::::::::::::::::::::::::::::::::::::::::::::::::::::
:: Editors Note ::
As always, ignore my own blatant grammatical errors
whilst I make fun of others poor grammar during Coffee Talk on a weekly basis.
#HYPOCRITE   #SORRYIMNOTSORRY
I write these posts late at night while simultaneously watching Bravo, taking snaochats of my snoring husband, and making to do lists of everything I was supposed to do and didn't do that day, and likely won't do the next day either.  Or the day after that.