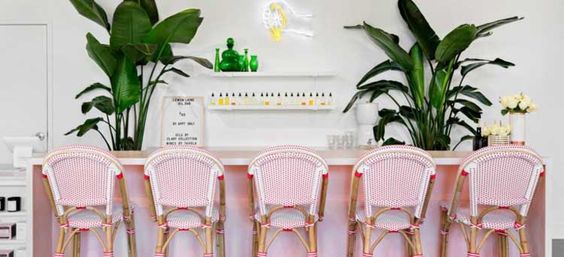 Cheers to the Weekend! and September!? Crazy! 
And a long weekend!  I keep forgetting that it is Labor Day Weekend for some reason?
Kip has been traveling for work and is gone for a Bachelor party in Austin this weekend, so I have a low key weekend ahead! FINALLY!
It'll be nice to be home and hopefully I can get some family + friend + sun time in!
I'm sorry I keep forgetting to discuss a zillion shows in Coffee Talk.  Big Brother HIT THE FAN last night. The drama was almost as big as the bird feather sleeves on Julie's awful top (I normally love her dresses!) And the low point was hearing Cody's voice in the Jury house….. 
:::::::::::::::::::::::::::::::::::::::::::::::::::::::::::::::::::::::::::::::::::::::::::::::::::::::::::::::::::::::::
Target has a new line out, A New Day, and I am loving a bunch of their pieces.  I am hoping to head there this weekend to see what they have in stores!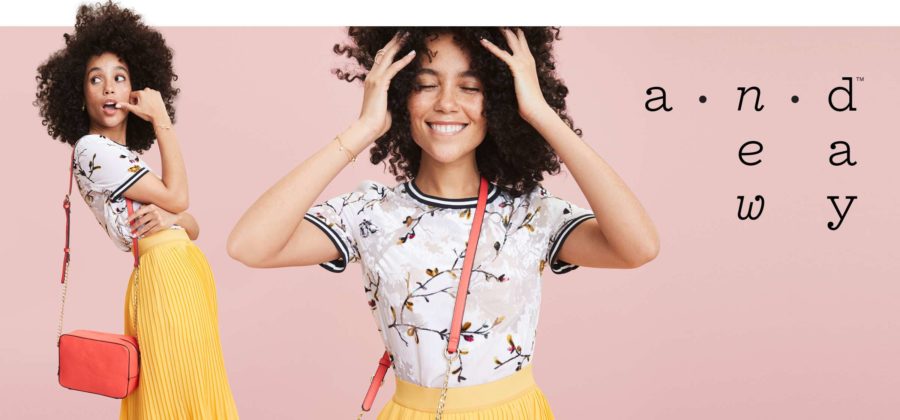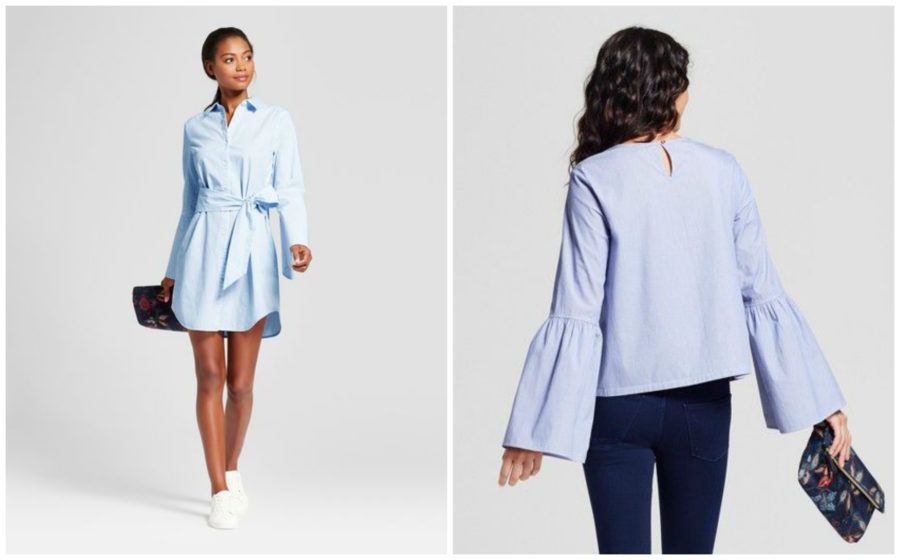 STRIPED SHIRT DRESS // STRIPED BELL SLEEVE TOP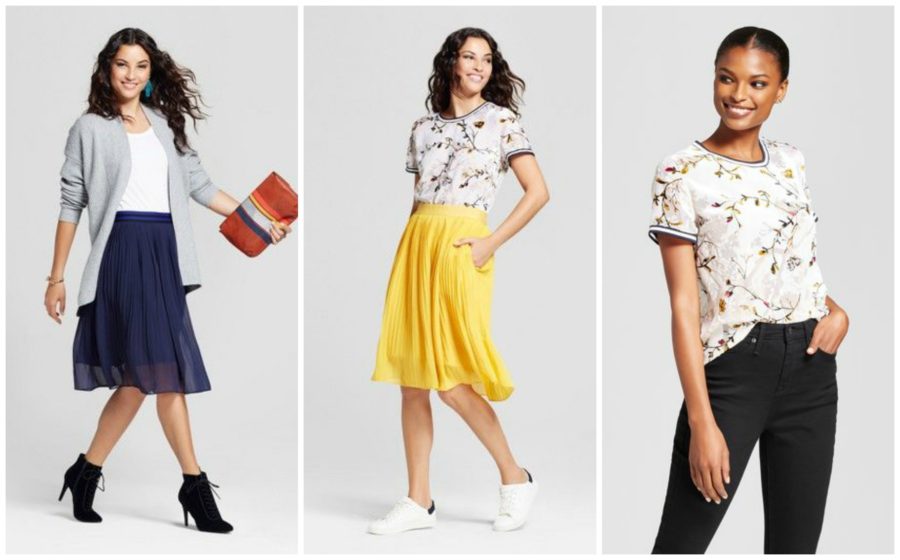 PLEATED MIDI SKIRT // FLORAL VELVET T-SHIRT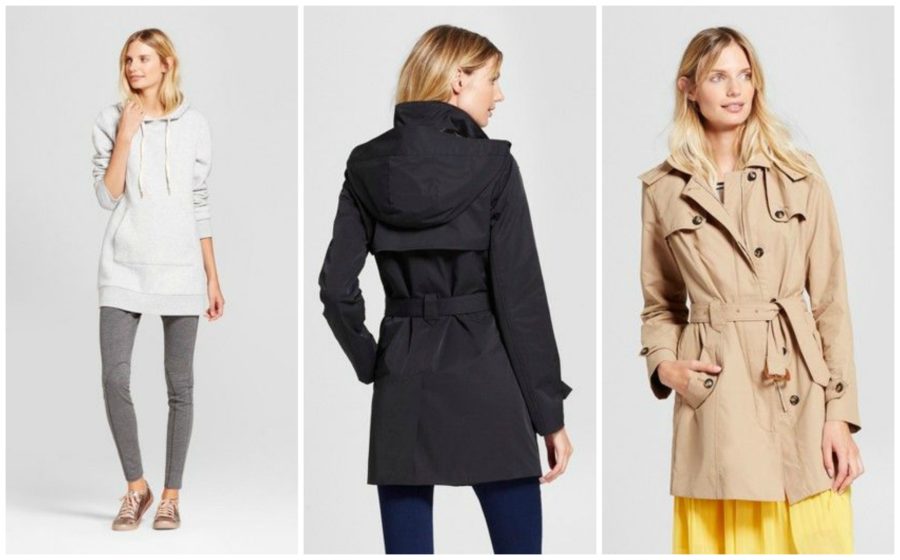 LONG SLEEVE HOODIE TUNIC  // HOODED TRENCH COAT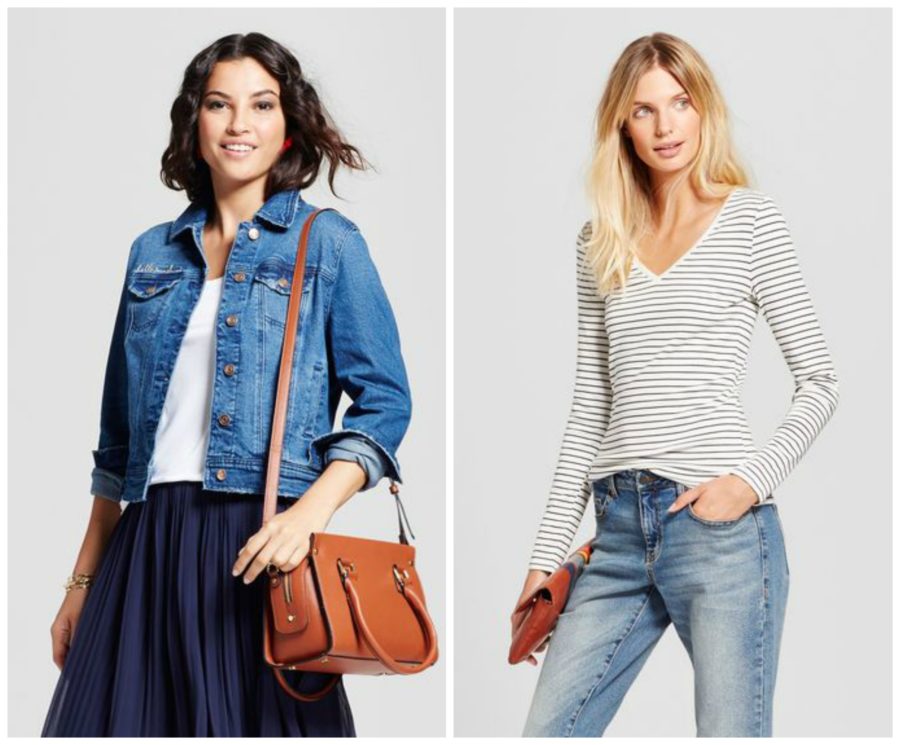 JEAN JACKET // STRIPED LONG SLEEVE TEE
….. and seriously SO much more.  I'll keep you posted if I find anything good in stores!
In my stalking about Target, I also stumbled across their fitness line Joy Lab that is coming in October. And a home line, Project62, coming in 2 weeks! Yes, please!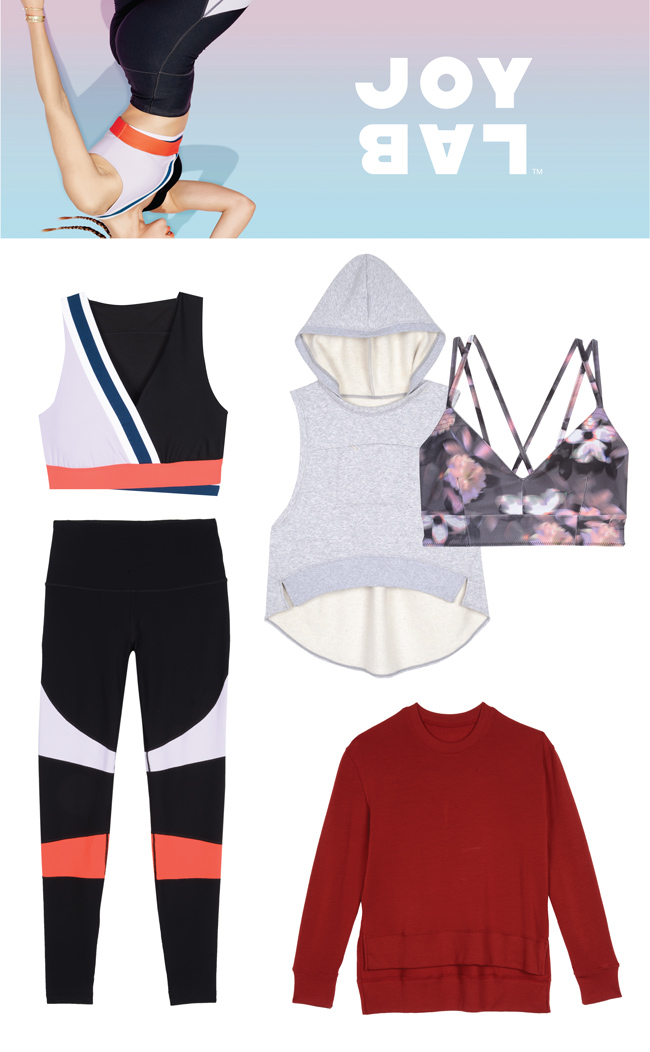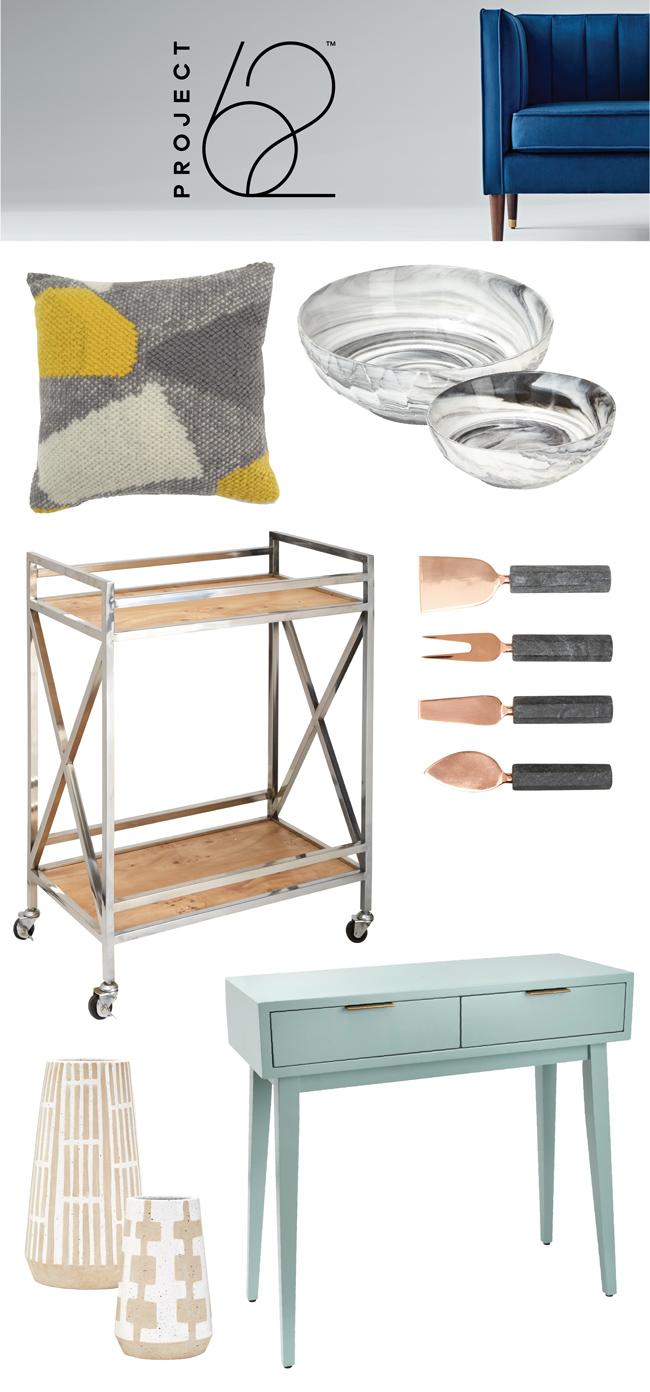 :: FRIDAY FASHION FINDS :: 
Sometimes you find those dresses that you know you will wear over and over again.  A jersey fabric that won't wrinkle, an almost black but slightly grey color, and a shirred side gathering that flatters the body from every angle.
These crystal earrings are under $50 but look like a million bucks – they are so elegant and I love the geometric shape.
Ordering this one immediately: Layered shirts + sweaters are one of my favorites for fall, but I have never seen one where you can actually separate the sweater and the top that are sold together! Two pieces for under $100? And they each look amazing on their own but even better together!
When we went to the lake last weekend, my friend was wearing a pair of Le Specs Sunglasses that were adorable.  I had no idea they were so affordable either! So many great (and tortoise!) styles to choose from.
I am so excited that jean skirts are back in style , like this inexpensive frayed skirt. 
The unexpected tie front of this under $100 Shirt Dress makes it less preppy and more unexpected than most.
It's no surprise I am a sucker for cute stud earrings that are easy to wear all day and night no matter your outfit.  I love that this under $40 pair puts a twist on the typical diamond studs.
also love this gold + pearl pair, they are similar to the pair I wear daily but I love the braided rope border on these even more. 
This delicate lace top with a button back is a great option for summer and transitioning into fall; it would look great with jeans, but I love the way the model wears it show it tucked into a mini skirt.
I fell in love with the little gingham hair bows that I saw over the summer but they all sold out before I could snag some.  It looks like velvet is the way to go for fall styles and I am loving it.
velvet pony wrap // velvet bow // velvet headband
This gingham one piece swimsuit is the cutest thing I have ever seen. The crisscross details and low back, plus moderate tush coverage, make it a perfect pick.
Big wrist cuffs look to be a huge trend for fall and I love this black + gold style.
update : oh em gee I found it in tortoise shell!
If more delicate bracelets that still pack a punch are your style, this pearl bauble cuff gets the job done. 
The simple border and waist detailing on this sleeved dress make it very sophisticated; a perfect work to dinner date option.
I have never tried this brand of denim, but I am loving the super-dark wash of these high rise skinny jeans. 
Surprise, Surprise : I can't stop perusing floral dresses! 
:: LINK LOVE ::  
UM. Do you love The Devil Wears Prada? Of course.  This deleted scene is causing a stir, it would have changed so much!
Everything new coming to Netflix today, September 1! I was ob-sessed with The Secret Garden when I was little. 
All the best looks from the Venice Film Festival.
Why the peel off masks everyone is buzzing about are actually bad for your skin. (I love my BeautyCounter Charcoal Mask instead that washes off!)
Corinne and DeMario are reunited and she's jumping all over him again (clothed and as "friends") for all of the paparazzi to see.
I miss Chicago regularly for a lot of different reasons, but finding out that Amazon Prime will deliver wine in under an hour there (and 11 other cities) makes me miss it even more!
I think Taylor Swift's new song is absolutely horrible (sorry, not sorry – take away the video and just have the song on in the car and it's rull bad), but the theories on the meaning of everything in her video is never ending.
The right way to cut a cake so it doesn't dry out.
10 movies to get you in the mood for Autumn. (I still haven't ever seen Dead Poets Society! It's coming to Netflix so I definitely need to.)
How your Amazon Prime membership will give you benefits at Whole Foods!
Everything we know so far about the Will & Grace Revival. 
:::::::::::::::::::::::::::::::::::::::::::::::::::::::::::::::::::::::::::::::::::::::::::::::::::::::::::::::::::::::::
I always love reading health and fitness articles throughout the week, so I thought I would start to incorporate a section with the health links separated incase some of you aren't into that kind of thing!
:: FIT FRIDAY LINKS ::
How to get the most out of your spin classes, according to a Soul Cycle Instructor.
How to motivate yourself to work out any time of day
10 foil packet meals for easy weeknight dinners. 
All you need for this workout is a set of two pound weights
I had never heard about The Fitness Marshall, and now I am ready to do a workout video ASAP.
12 meal prep ideas that aren't boring or basic.
:::::::::::::::::::::::::::::::::::::::::::::::::::::::::::::::::::::::::::::::::::::::::::::::::::::::::::::::::::::::::
I hope you all have a great (long) weekend! 
I'll be back this weekend with some Labor Day Sales + more !