DISCUSS AMONGST YA-SELVES……
:: RHOC :: 
The season of constantly humiliating Shannon continues.  We open with sounds of panting and sexy-time music playing in the background and moments later the music screeches to a halt and we are left with Shannon trapped on the spin bike, hating her life more than she already hates David.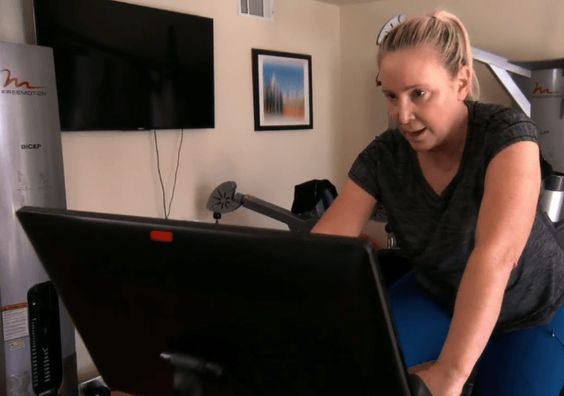 She explains that when she professed her hatred of spinning more than any other form of exercise, David promptly bought her a spin bike.
I mean…. I'm laughing… but it isn't funny. Damn that David!
Lydia has solidified her story line this season as not being about glitter and rainbows, but about her husbands vasectomy.  And week after week she continues to discuss Doug getting his "balls chopped off", so much so, that now I am truly concerned that  she believes a vasectomy truly is having your testes removed.
update: she was on my-boyfriend-andy-cohen WWHL and had to clarify that she does in fact know this… so she must be getting lots of this from people…. 
I will say…. I think it's pretty clever to call it a "ball voyage" party.  I think it's hilarious.  But hilarious if you are just going out with your girlfriends to be like "Hallelujah we're done with kids – cheers!" not to have an entire story line on a television show, throw a party, and take men and women out on your boat with your husband to celebrate the night before.  That…. that I think is weird.
(and you may argue Kelly did the same thing last week for her reduction…. to which I say…. yeah she did.  But boob cakes are always funny and Kelly Dodd is insane.  So…. there) 
Vicki found out that attention and flowers (and dare I say CASSEROLES?) were being sent Kelly Dodd's way post breast reduction, so she needed to get the focus back on her.  We learn through her raspy phone call with Lydia that she has been diagnosed with Influenza B.   I had no idea what she had said she was sick with – they subtitle everything on this show, and we can't get a subtitle for that? But later at the girls dinner, Kelly Dodd says she's sick with THE FLU.  And then it is explained she has "Influenza B" aka THE FLU.  She in UN-believable.
We realize that the two prior attempts at "cancer-gate" conversation that we saw earlier this season are long from over, and again, I am also extremely confused about Peggy and the "3 mm" "nothing" and then it turns to a "3 mm" "cancer" and then back.  I have no clue.  All I followed was that all of the women admitted to having HPV and basically cheers'ed to it.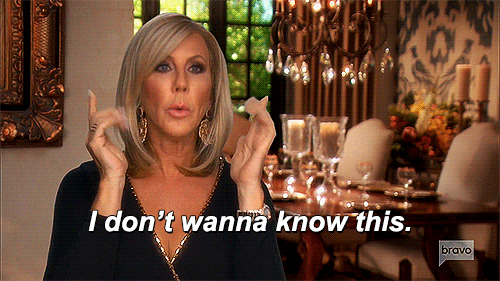 Shannon is making me crazy this season.  I love her, but she's killing me.  She is constantly causing problems and drama and then crying and screaming and acting like the world is against her.  Last week things ended with a big uproar between her and Lydia about, what else, boobs.  It seemed like it was put to bed after Shannon had a meltdown and basically forced Lydia from leaving until things were resolved.  So, after resolving things, Shannon then invites all of the women to dinner EXCEPT Lydia.  That is so mean! Take your anger out on David, not on Lydia! And in the whole Lydia v. Shannon debate, I am sadly on Lydia's side.  Shannon has been nothing but coo coo crazy around her, yelling and crying and running away.   WHY would you keep it going like this, when she has let you off the hook 3 times already?
This shouldn't be surprising though because this is what Shannon does with EVERY new housewife (even though Lydia isn't new, she is new to Shannon).
So, Shannon is mean girl'ing Lydia.  Then Lydia calls to invite everyone to the Ball Voyage. And Shannon immediately wants to know "Well, is Vicki going to be there?!"  Um??? You can't dictate a guest list for someone else's party? Especially someone that you aren't even friends with, and that you didn't invite to dinner the night before their party.  Sorry, lady.
Editors Note : Sometimes I go and read the blogs on Bravo to see what their reactions are to what is said about them, and also how they defend their behavior on these episodes and it's just laughable.
:: Kelly Dodd Divorcing Michael :: 
Kelly announced Wednesday that she is filing for divorce from Michael….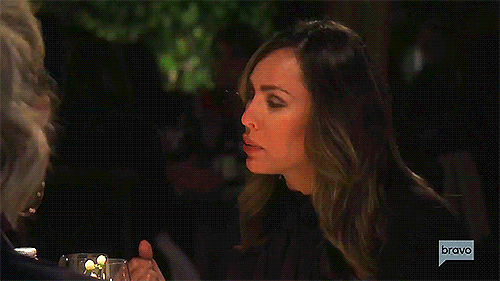 I can't help but think it's not going to happen or they will get back together.  I also fear for her behavior on the dating scene. Thoughts?
:: RHOD :: 
I am really loving Dallas.  And I am really, really excited for this Mexico trip.
Cary is back to butting heads with Mark and discussing their sex life.  "You know it's really bad if we're only having sex once a day."  I can tell you one thing, if my husband were reprimanding me for building a business with him and then needing to cut back on my work hours to spend time with our own child, the last thing he would be getting was daily sex.  You're making us look bad Cary! And I don't just mean with your perfect hair! (Seriously I catch myself just oogling her hair constantly….)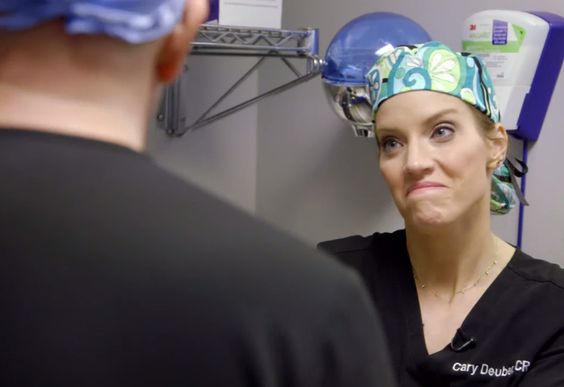 The plastic surgery theme from OC continues right on in to Dallas.
Brandi is driving LeeAnne to her plastic surgeon/vagina doctor – insert triple board certified debate – and we learn that Cary had done something similar to Brandi's doctor for her "mommy makeover" post babies.  Only hers was worse.  Cary said that Brandi's doctor had killed people on the operating table.  I mean…. I don't think she would (or could) make up blatant lies, so that is just a tiny bit terrifying.
The terror continues the moment they arrive at the OBGYN office slash Plastic Surgeon's.
He has A LEVEL.  Like, construction/hanging pictures level on the counter.
"We use a level…. It can be a bit confusing."
EXCUUUUUUSE ME??
WHAT??
If you're a plastic surgeon isn't it your job to know how to get nipples even WITHOUT a construction level?!
LeeAnne, get your head out of your ass and listen to Cary – RUN GIRL.
Brandi really cracks me up, especially when she has no filter and just cracks herself up in her diary sessions. She is talking about how perfect LeeAnne's rack is and how she shouldn't mess with it at all.  That she would walk around with it on display forever.  And since they basically show it, with just the bits blurred, I would agree.  Perhaps this is why Rich stays with the Crazy Carnie? 
And somehow, right before going under the knife at the hands of a vagina doctor, LeeAnne's concern isn't herself, but Cary.  We hear LeeAnne's words, growling and angry, through the mic behind closed doors.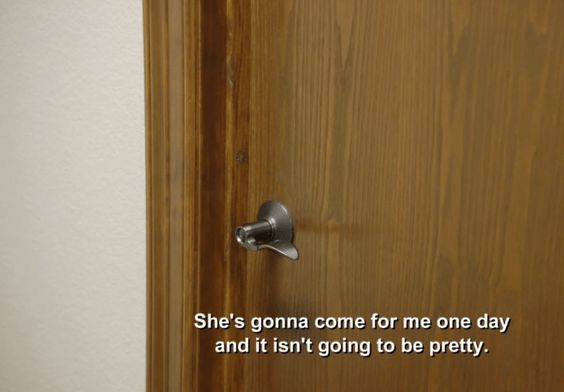 "She's going to come for me one day and it isn't going to be pretty.  Her husband gets his ___ s___ed at The Round-Up.  I know the boy who did it, I didn't grow up with a silver spoon in my mouth…. I grew up with a lot of things in my hands and they're not knives …..they're just hands. But they work quite well."
(If you didn't watch last season get on it. But really, you should see what she did on the girls trip to the Austin Lake House).  And we all know about the sandpaper police report…..
But seriously…. THIS is the person giving motivational speeches!?
Cary tells Mark that it's the last surgery she'll be participating in to his great displeasure, and I just keep wondering "when does the icy part go away enough for you to even have sex once a day??"
Stephanie meets with her life coach and discusses her kids and family life.  Side note: Stephanie's face is looking much more back to normal, and now I am believing her that she hasn't done anything. The first few episodes she looked totally different, which she said was puffiness from crying, so I'm glad to see that perhaps she didn't go too overboard with the fillers.
Cary and D'Andra go to the gun range with their husbands and the only thing that is important about this is WTF is on Cary's feet.  It was so awful it needed an iPhone photo of the TV.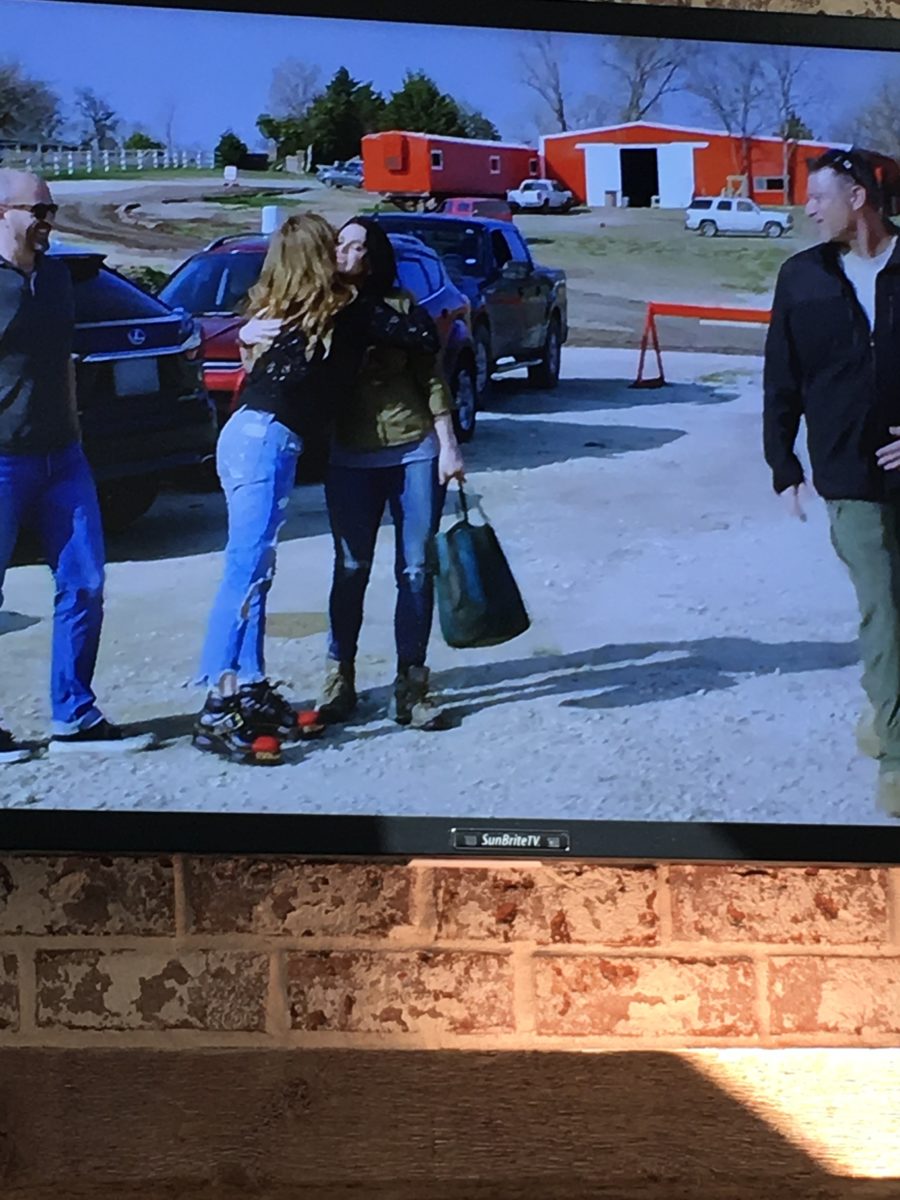 It's like combat boots meet clown shoes insprired by IT or something?
She made up for it by wearing a super cute striped navy and white maxi to Mexico later though.
Why is LeeAnne going to Mexico when her breasts are still wrapped in banages?
Is this better or worse than Ramona getting a chemical peel before Mexico? Somehow, I still think Ramona's is worse.
The ladies fly to Mexico! Playa del Carmen to be exact.
Brandi is already asleep in the van on the way to the hotel and  I don't blame her! You've seen how exhausting her little girls are!? Mama wanted some cocktails!
Cameron is wearing white jeans with the cutest pink gingham shirt and then she bends over to take her shoes off and we see that they match.  And sorry not sorry, I'm loving it.  I also just realized I loved not having really any scenes with Cameron this episode…. oops.  I think I'm fine with her when she's with the group, but all of her scenes at home with her family are kind of stupid and awful? Sorry.
If you thought the level thing was scary at LeeAnne's "plastic surgeons" office, just wait.
I truly cannot believe what went on at this plastic surgeon's office!
He told her to get a compact at the drug store and put it in between her breasts so there isn't any bulk there and then tape it to yourself — WHAT?!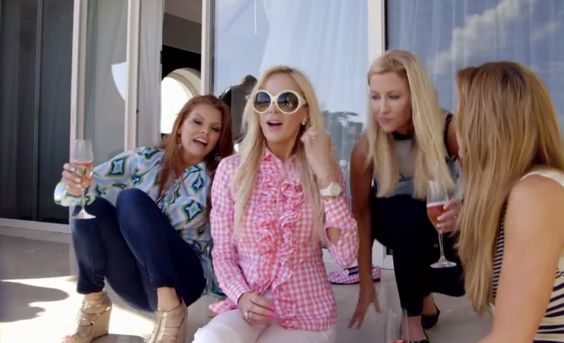 Cameron can't believe that Brandi is telling the girls about LeeAnne's growling threats, but I can! And dont forget – she never repeated the gay bar thing, which was the only actually hurtful thing – so Brandi was being a friend to both parties while still being honest, if ya ask me.
D'Andra continues her full time lecturing of LeeAnne, even though it never works. "If you keep saying the same thing over and over people are going to believe it."
UM YEAH.  I believe the Crazy Carnie and her threats!
dumb (even for me) editors note : how great would it be if LeeAnne's name really was Carnie? 
:: RHOM is returning…. maybe??  ::
There are rumors of Real Housewives of Miami making a comeback – with a twist of some sort – to Bravo. I mean…. I wouldn't be opposed to it…. I need some more Mama Elsa in my life.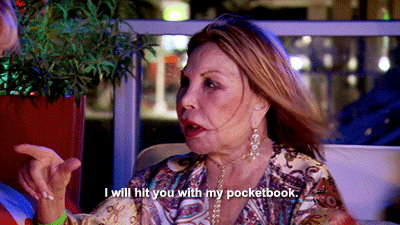 :: Big Brother ::
Meant to discuss last week that I have no faith in America after Cody won America's Vote on the finale.
NONE.  You all should be ashamed of yourselves.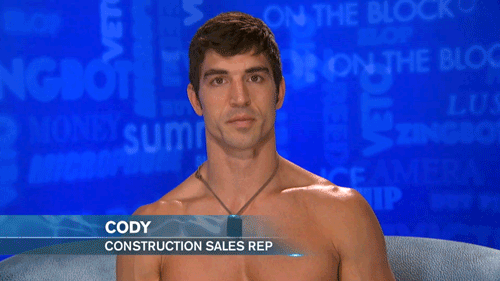 :: DWTS :: 
I love this show so much.
I am blanking on everything I have to say except
1) My crush on Nick Lachey has never & will never go away
2) Franki Munez' excitement about being on the show is the sweetest thing ever.
2) HOW THE H E DOUBLE HOCKEY STICKS DOES PETA HAVE THAT BODY POST BABY??!!
and trust me when I say these pictures don't even do her justice!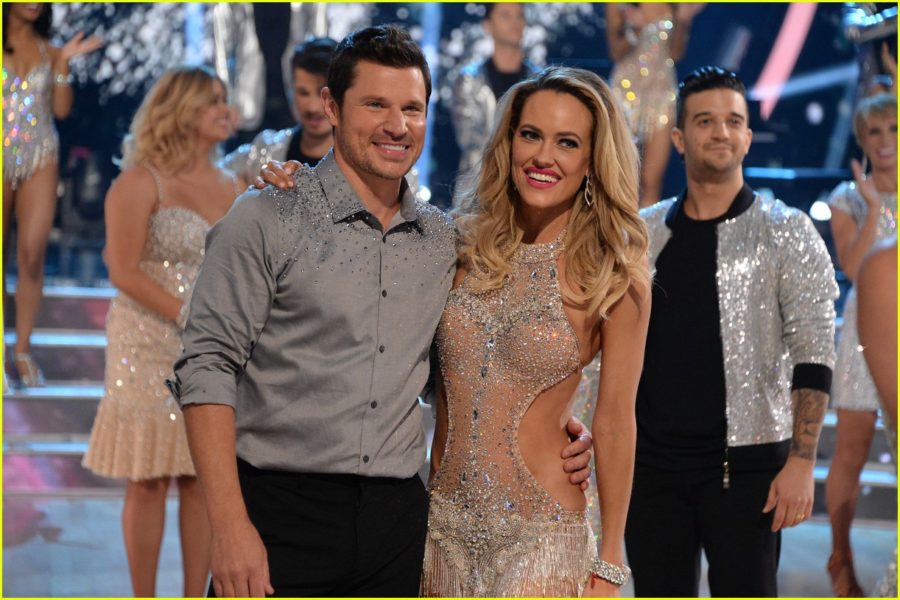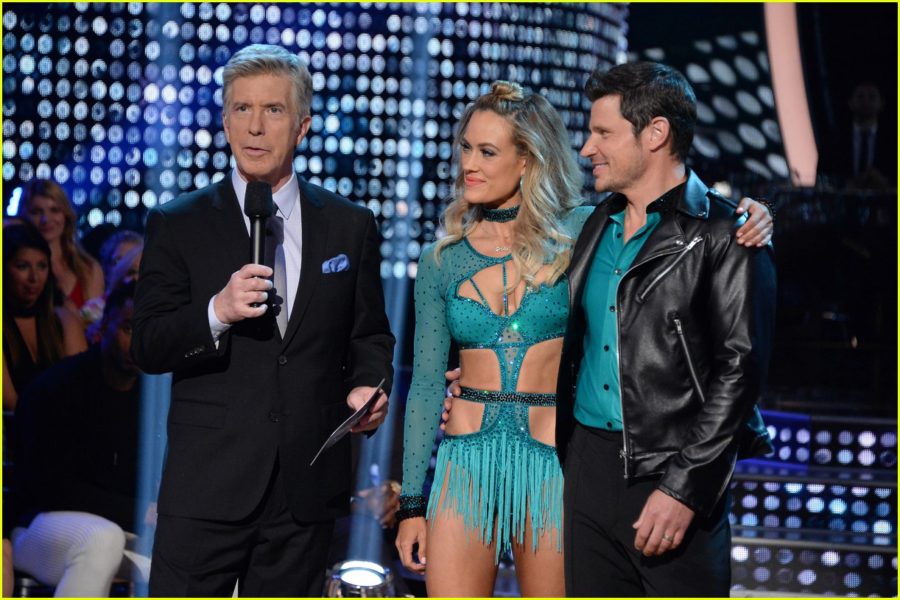 :: Kylie Jenner Preggo at 20 ::
I'm sure you know the news that Kylie is apparently pregnant with her boyfriend's baby.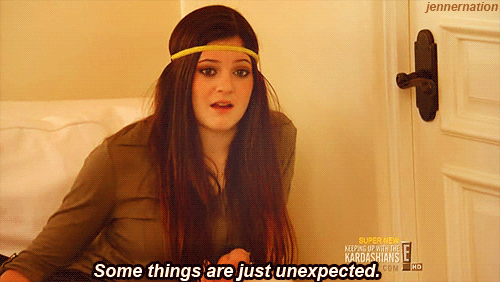 I know it isn't a rarity, but seriously, I just cannot imagine having a baby before being able to have a legal drink.  Call me a square, but yeah, I'd like to experience ordering wine at dinner before experiencing child birth.
:: Khloe Preggo now too?? ::
Forget Kylie, now the news is that Khloe is pregnant.
The more shocking bit of information I learned from this article was that her boyfriend had a baby December 2016 with his ex-girlfriend….. I mean…. weren't the two of them together already?! (update: Yes) He had a baby with another lady 9 months ago?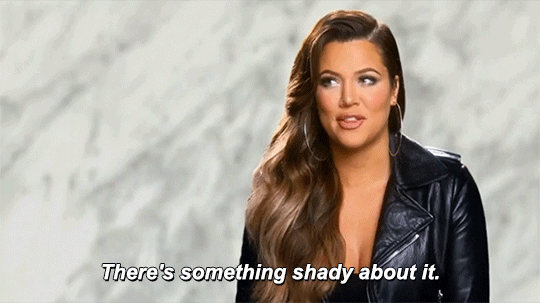 These Kardashians really know how to pick'em!
I mean….. was this common knowledge??
That his ex hadn't even given birth when he and Khloe got together?
I also then learned that the ex-gf-baby-mama is cousins with Kevin Hart's wife….. I just can't.
:: This Is Us ::
Cried 3 times.  SO happy it's back.
But, crazily enough, there was even a comment from Kevin's character about a bazillion more Kardashians being born in this weeks episode!  And this was obviously filmed way before any of this baby news so I found that to be hilarious.
:: Cardi B Bodak Yellow ::
While perusing my entertainment news yesterday, I saw that some song called "Bodak Yellow" had dethroned Taylor Swift's song "Look what you made me do" for the #1 spot. I was like "Oh goodness! I haven't heard of this song or this person! Let me look it up! Can't wait to hear it"
I wish I could take these thoughts and the moments that followed immediately.
SERIOUSLY PEOPLE? I have officially become a 60 year old housewife because WHAT IS WRONG WITH THIS WORLD?
How can that song even play on the radio!?
Never thought I'd be missing hearing "Look what you made me do" but I am.
If hating this song and everything about it is wrong, I don't want to be right.
:: End of Fixer Upper ::
I want to cry This Is Us tears over the news of this upcoming season of Fixer Upper being the finale.  I am truly devastated.  It is MY FAVORITE . What am I going to do without Chip's antics?! Even the re-runs that I've seen 97 times each are amazing!  Truly….. this kills me.  I am SO SAD.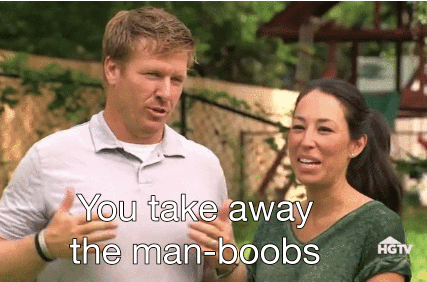 :: MAZEL OF THE WEEK ::
There will be no Jackhole this week, only MAZEL's! It's premiere week for so many shows – even my husband was excited about TV this week (never. happens.)
And the biggest of them all goes to Will & Grace



I cannot believe this is happening.  Truly.  Can't believe it.
I am so freaking excited
AND it already got picked up for a second season before the first episode even airs.
You know where to find me tonight!
:: Editors Note ::
As always, ignore my own blatant grammatical errors whilst I make fun of others poor grammar during Coffee Talk on a weekly basis.
#HYPOCRITE   #SORRYIMNOTSORRY
I write these posts late at night while simultaneously watching Bravo, taking snaochats of my snoring husband, and making to do lists of everything I was supposed to do and didn't do that day, and likely won't do the next day either.  Or the day after that.