DISCUSS AMONGST YA-SELVES……
:: Bachelor in Paradise ::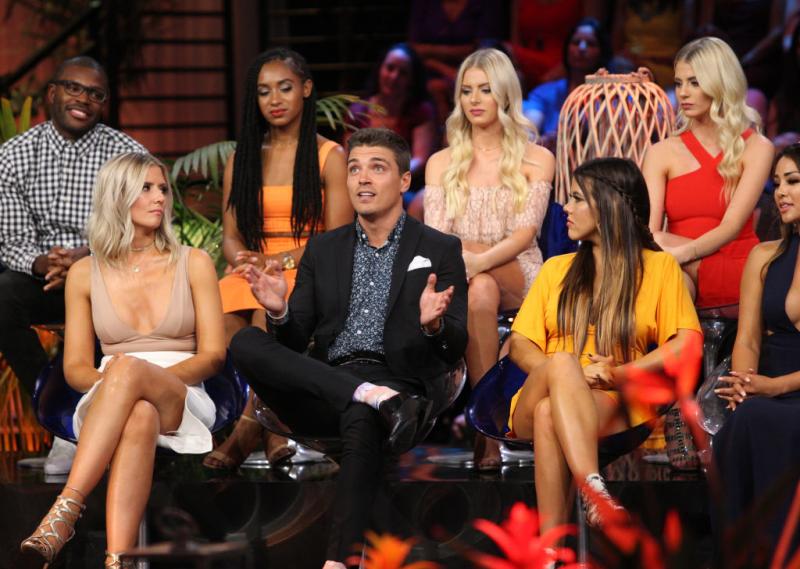 I'm very disappointed in myself that I was happy for this to be the final episode of BIP.   I'm exhausted.  I feel extreme shame and guilt over it – what has happened to me? It's definitely not maturity… and I am totally close in age to these 24 year old girls, so I can't possibly imagine what it is?
The ending is a little different this year, since it is pretty obvious that the only people actually into each other are Taylor and Derek (I had completely forgotten about Raven and Adam to be honest).
They are pretending that Lacey and Canadian Daniel are a couple though?  I just feel worse and worse for her with each passing episode of this show, and my comment from last week about her needing to read He's Just Not That Into You  still stands.  Daniel is a loser and an ass; she needs to be RUNNING from this kid not obsessing over him.
Everyone except those 3 couples breaks up; some are obvious but a few are quite surprising.
Dean dumps D.Lo!
After playing Kristina and acting like he wanted D.Lo,
he says he in love with Kristina and misses her and then cries over Kristina?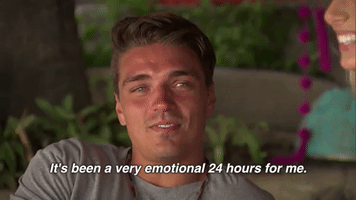 Pretty sure he's just crying because he realized his reputation is ruined.  Also pretty sure D.Lo couldn't care less and just wanted more air-time/publicity because she has zero reaction and is basically just like "Mmkcoolbye."
She walks off and we all see the HUGE BUTTERFLY TATTOS ON THE BACK OF HER ANKLES.   I meannnnnn. Obviously no opinion here… none.
Amanda (Baby Voice mother of children with gladiator sandals) dumps Social Media Influencer/Ken Doll Robby and it is AMAZING.  He makes me crazy.  He probably was ready to meet with Neil Lane and pick out a diamond ring, film solo shot of himself staring into the ocean and back at the ring, and ride this thing out as long as possible.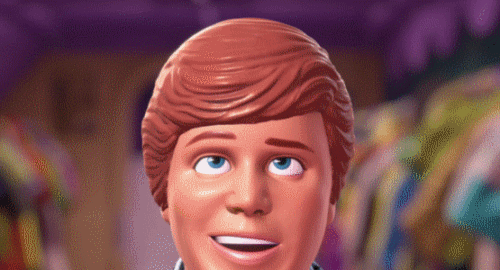 Scallop Fingers refuses to leave Paradise with Jack Stone and I fluctuate back and forth between feeling badly for him and wanting him to LOCK IT UP and quit asking 72 times to "leave holding hands, that's all, just holding hands." WTF does that even mean?
We find out about who is still a couple and who is not during the live studio session with Chris Harrison, but not before we bring out Corinne and DeMario ONE MORE TIME.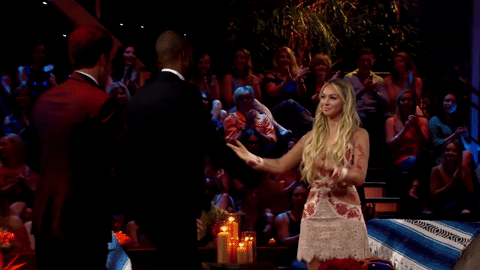 I am SO OVER this situation that I literally cannot even discuss any of it with words.  Done with it.
Dean has prepared for his witching hour and is brought to the stage to re-live his playboy love triangle with Kristina and D.Lo. He is crying, again, and seems so upset and hearfelt.  But right when I think and he thinks he's clearing his name, D.Lo and Kristina expose that he reached out to BOTH of them after the show and was trying to flip flop AGAIN between both of them.  SERIOUSLY?!?!
Amanda and Robby reveal that they got back together outside the show, but that it ended up not working out in the end.  That nice little bit of closure explodes when the twins reveal the real reason they broke up is a photo of Robby possibly cheating.
Robby full on denies this and I kind of love that he is called out and that there is proof.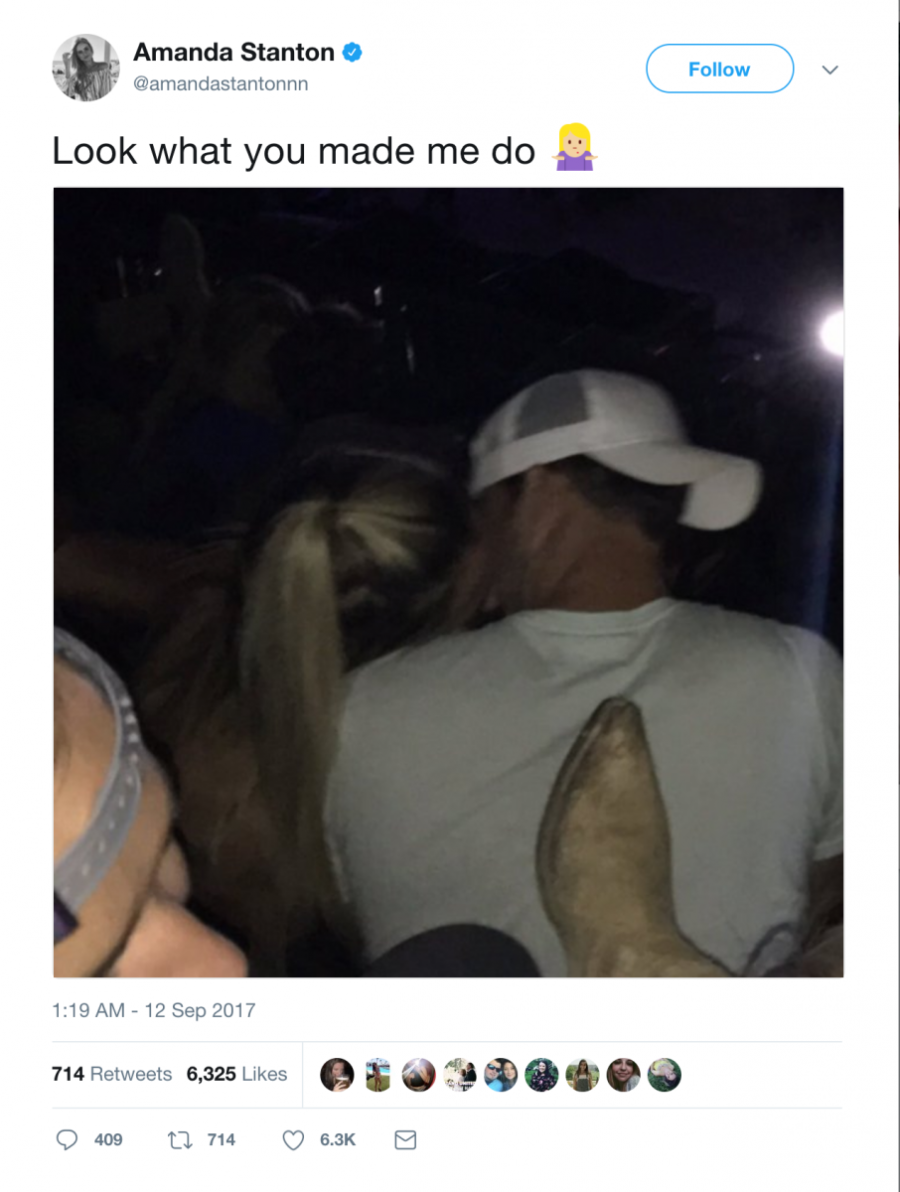 How can he say this is not proof?
Robby responded in a tweet with a lengthy social media attack that he begins by saying is not a social media attack.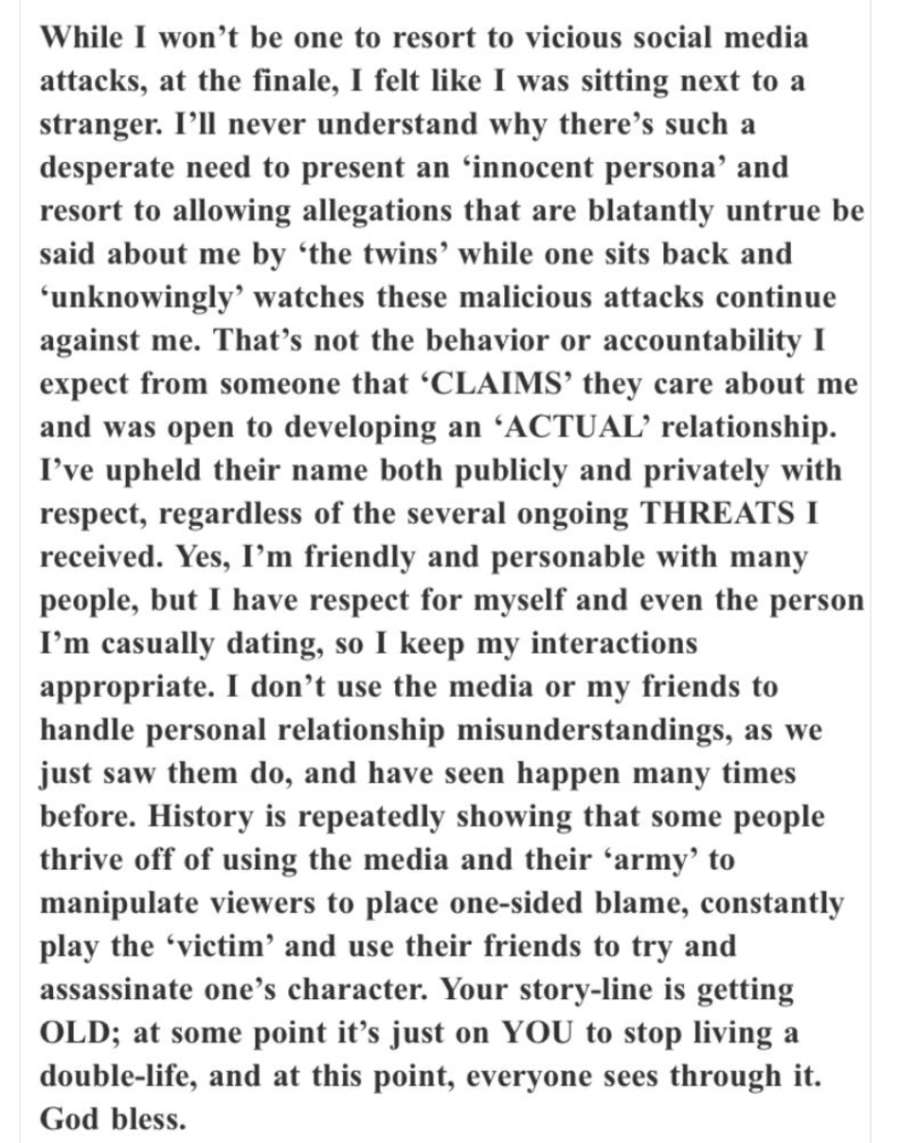 to which I say……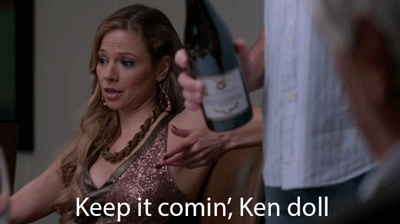 Lacey reveals that Daniel lied to her face about falling for her, and she got completely played.  (No shite Sherlock!! Seriously where are this girls friends to tell her to snap out of it!?)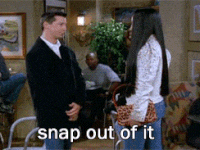 And then Daniel watches the entire recap of the date and what he said, and denies saying any of it. "What? I never said any of the things I just watched myself say?"
Raven and Adam are together and honestly they seem like the only normal couple to come out of all of this.  They're just dating and not pretending like they're soulmates after 8 days on a beach drinking their brains out, so, slow clap for you two.
Finally, Taylor and Derek.  Yawn.  Sorry, not sorry, but I really dislike Taylor.  Every moment of her this whole Paradise season was like nails on a blackboard.  She thinks she is so much better than these people, and news flash, you aren't.
There is all kinds of awkward commentary about how important it is to Taylor to, basically, get naked in the fantasy suite.  Derek even goes so far as to verbally say that sex that night is very important to her.  Can literally nothing be off limits or left to the imagination on these shows now?  It drives me nuts that someone that acts like she is so mature will 1. Go on Bachelor in Paradise and 2. say things like "I took in all of Derek in the fantasy suite" and stare at the camera all giggly to reinforce her meaning.
You. are. dis. gus. ting.   This was me :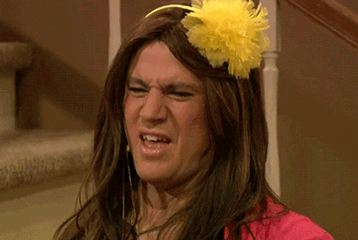 And then they get engaged.
And again…. this is me.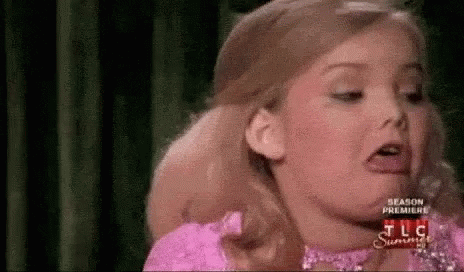 Can we please be done with the Canadian Daniel and Twins gimicks on this show next Paradise please? Can they be retired? I'm begging.  And Amanda.  Please.  No more.
editors note: One of the things that I realize has made me lose interest in this season, like I mentioned in the beginning: that I already knew that an engagement was happening and that Amanda and Robby had broken up.  It's not as fun when everything is spoiled before you see it!
:: RH of Dallas :: 
It seems as though Kameron's story line is not wavering and will be the exact same every week: constantly telling us she is a smart blonde despite acting dumb, and a never ending discussion of pink dog food.  Both of these are combined this week in her effort to pitch her dog food to her husband in hopes of him investing.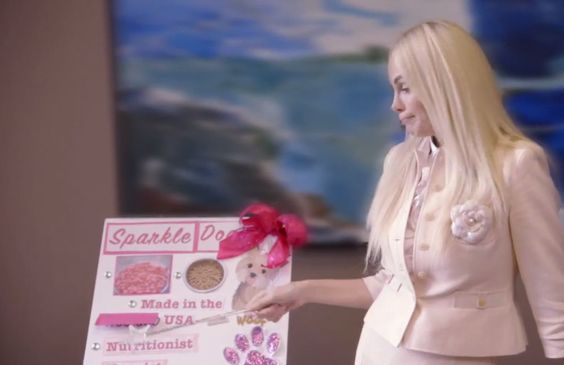 She makes a pink poster board (shocker) with random words on it like
Sparkle, Nutritionist, Chemist, Best ingredients, Woof.  Um…. What?
Cary and Stephanie join Brandi (and her two children that are just as wild as season one) in Memphis to visit her Grandpa.  Is no one going to the tell the man that just had a stroke to quit cooking up racks of ribs and drinking wine? No? No one?
Cary is just glad to be in Memphis and have a break from her husband, which leads to one of my pet peeves: When people on television are married and talk about all the sex they are having; and then even more so when they "complain" about how they do it nonstop.  It's so awkward.  It's like sooooo are you saying you have a great sex life with your husband or that it sucks that you have to constantly have sex with your husband and you hate it? Because either way GROSS! I DON'T WANT TO KNOW!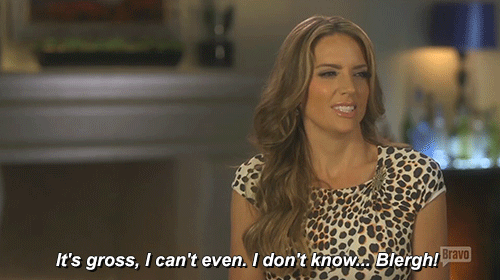 but I digress……
We don't see D'Andra in a very good light this week.  She is very upset that her step-son that moved in with them still has not taken any steps to find a job or go back to school or further himself in life.  He decides he's done living with them and wants to move back to South Carolina.  She kinda goes a little nuts…. I want to give her the benefit of the doubt that there is probably more to this story than we know, but when her husband says "you scare me when you get mad" and she says she wants to pluck her stepsons eyes out and put them on the table I'm like Ummm Deep Breath D'Andra…. Deep breath…. let's not go all "Sandpaper Death Threats" ala Crazy Carnie LeeAnne right now.  Also…. that was the calmest "upset" kid I have ever seen and I think D'Andra doesn't realize how big of a $#*t those lazy millennia's can be! She's lucky! Oh I jest…. kind of? Not really…..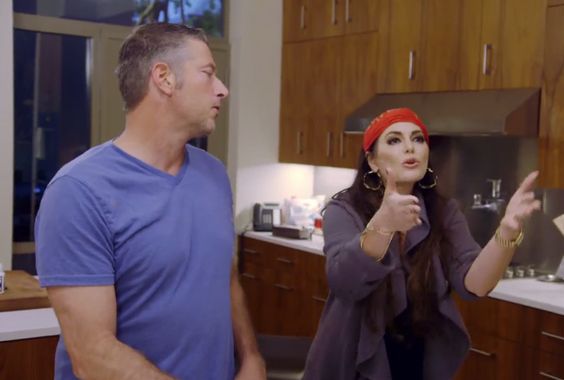 but seriously…. how was he not laughing in her face at what was on her head while she yelled at him? 
Much like LeeAnne herself, LeeAnne's closet and extreme collection of thigh high (and sparkly thigh high boots) greatly alarmed me.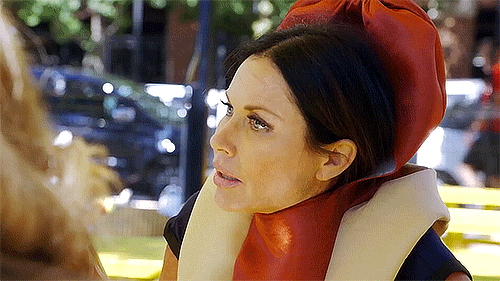 :: RH of OC ::
Meghan King Edmonds has a hormonal flip-out on a walk with Lydia when Lydia tried to say Meghan did the same thing as Kelly by asking if she was cheating on her husband.
I do agree that there is a difference between what Kelly did and what Meghan did, but not a difference so much that what Meghan did wasn't wrong.  She did the same thing, Kelly's was just a bit worse.
Was Peggy in this episode? Oh yes.
This time she pretended to not comprehend the phrase "does a bear shite in the woods?"
Shannon celebrates her birthday at home and reveals/claims that David has not held her hand in months. can't handle her story lines…. they are so sad!!!
 David makes the situation better the same way he always does: by not making it better and instead just staring blankly and slowly saying a few words in a deep midwest accent.  And then they both do what they always do which makes me so uncomfortable I squirm on my sofa: discuss their marital issues at length in front of their young daughters, this time in the prayer before dinner.
Vicki celebrates her birthday with a party at her house, and wants all of the attention so badly that she requests the guests wear black and white and she will arrive in red. Apparently she thinks she is Oprah.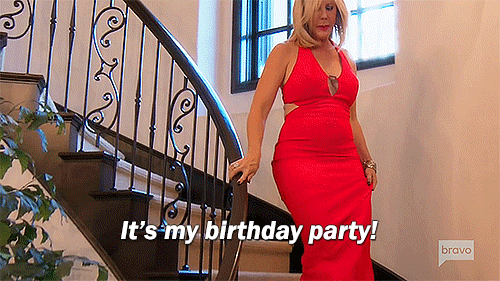 Watching her walk out onto the patio and have no one turn
and acknowledge her was the highlight of my night.
Also, this dress is not flattering in the slightest.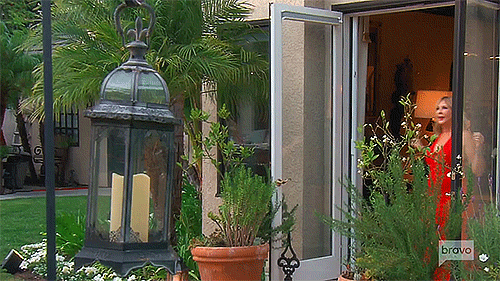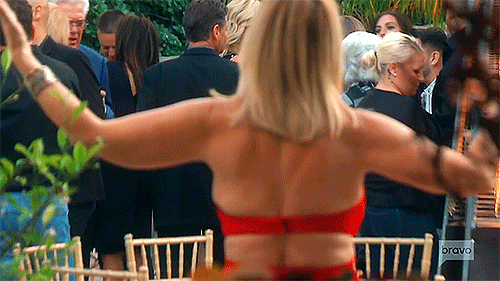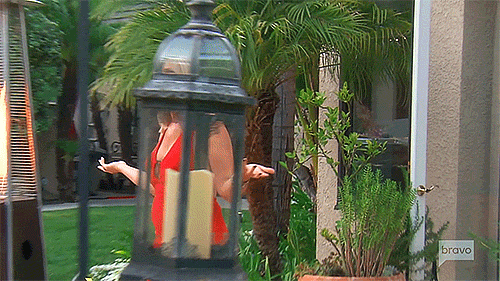 Are we really still talking about the Eddie being gay rumor? Is this really the best Vicki can come up with? Getting Tamra's former Man-of-Honor at her wedding to be like "uh, yeah, I saw him kissing a dude".
This dude is as hungry for air time as Gretchen and Slade.  (I laughed when I saw that Gretchen was described as "Vicki's Friend" and Slade as "Gretchen's Fiance".  I feel like it's been 10 years since those two "got engaged".  The rumor of it being a story-line for the show to save her spot on the cast, with no real intention of marriage, is clearly completely true).

:: WWHL : LuAnn One on One and NEW Developments ::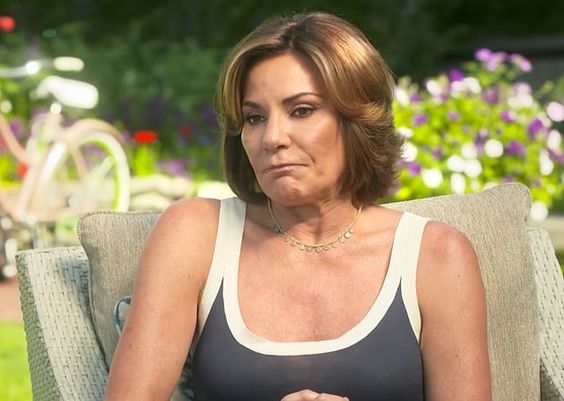 Similar to BIP Scandal with Corinne and DeMario, I feel like I got nothin'.
Nothin'. No new news, nothing interesting, nothing.
I enjoyed my-boyfriend-andy-cohen's dramatic intro though!.
and in more important recent news……
TOM IS APPARENTLY ENGAGED TO SOMEONE ELSE? 
and she is wearing a nearly identical yellow canary ring to LuAnn's?
WHAT IS GOING ON? And what is wrong with these women!?
Lu's ring at the top, the other woman's at the bottom: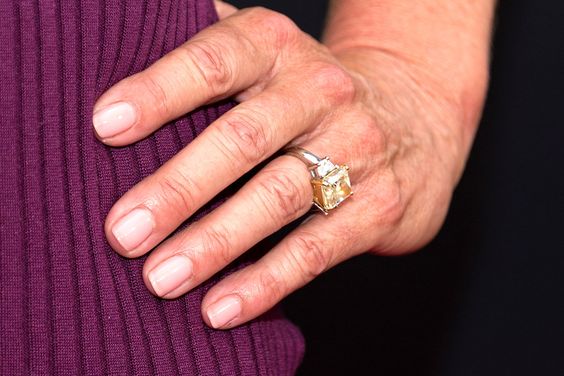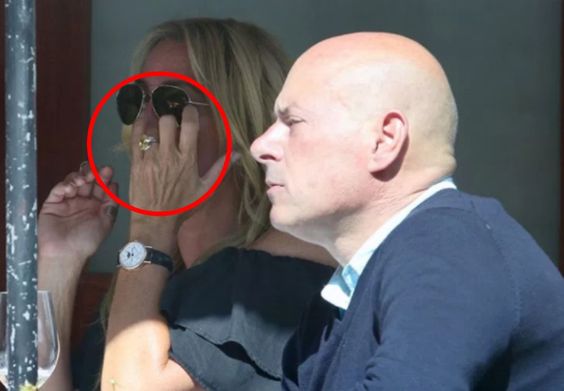 :: Mazel of the Week ::
I'm sure most of you watched Trading Spaces when you were younger, the design show on TLC where neighbors swapped houses and redid a room on a budget.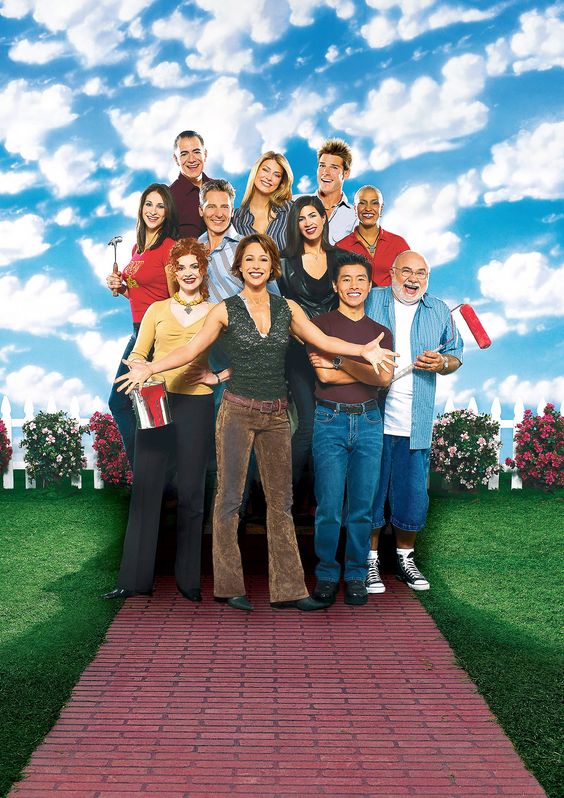 It was definitely one of the first hit design shows and aired from 2000 to 2008.  They are bringing it back, and almost every single person that was on the original is coming back with it!
:: Jackhole of the Week :: 
I like to keep everything on The Sarcastic Blonde as lighthearted and meaningless as possible.  I try to never talk about anything real world or heavy duty because I like it as an escape from daily life, and especially from the heavy and horrible things that occur.  But goodness, there's been so much lately that it has been hard not discussing it.  Especially with 9/11 falling this week at the same time as Irma and immediately following Harvey it was such a heavy, heavy week.
I just feel the need to say that of course I am sending thoughts and prayers (and donations) to those in Texas, Florida, and more who are going through so much with the Hurricanes.
I don't like using this platform to preach (except to PAH-REACH if you know what I mean) so I try to keep quiet about real life, but this week was such a doozy for everyone.  It's always amazing to see everyone come together in these times though, even when life feel so divided at others.
:: Editors Note ::
As always, ignore my own blatant grammatical errors whilst I make fun of others poor grammar during Coffee Talk on a weekly basis.
#HYPOCRITE   #SORRYIMNOTSORRY
I write these posts late at night while simultaneously watching Bravo, taking snaochats of my snoring husband, and making to do lists of everything I was supposed to do and didn't do that day, and likely won't do the next day either.  Or the day after that.