Hope you all had a great weekend + Monday!
I took a long weekend away from my laptop and it was a nice chance! We went to Lake Keowee with friends, spent some time with Kip before he gears up for more traveling, and helped with some last minute things for the screened in porch. Our summer has been go-go-go, and although I love the chaos and don't want summer to end, I am excited for some more time at home.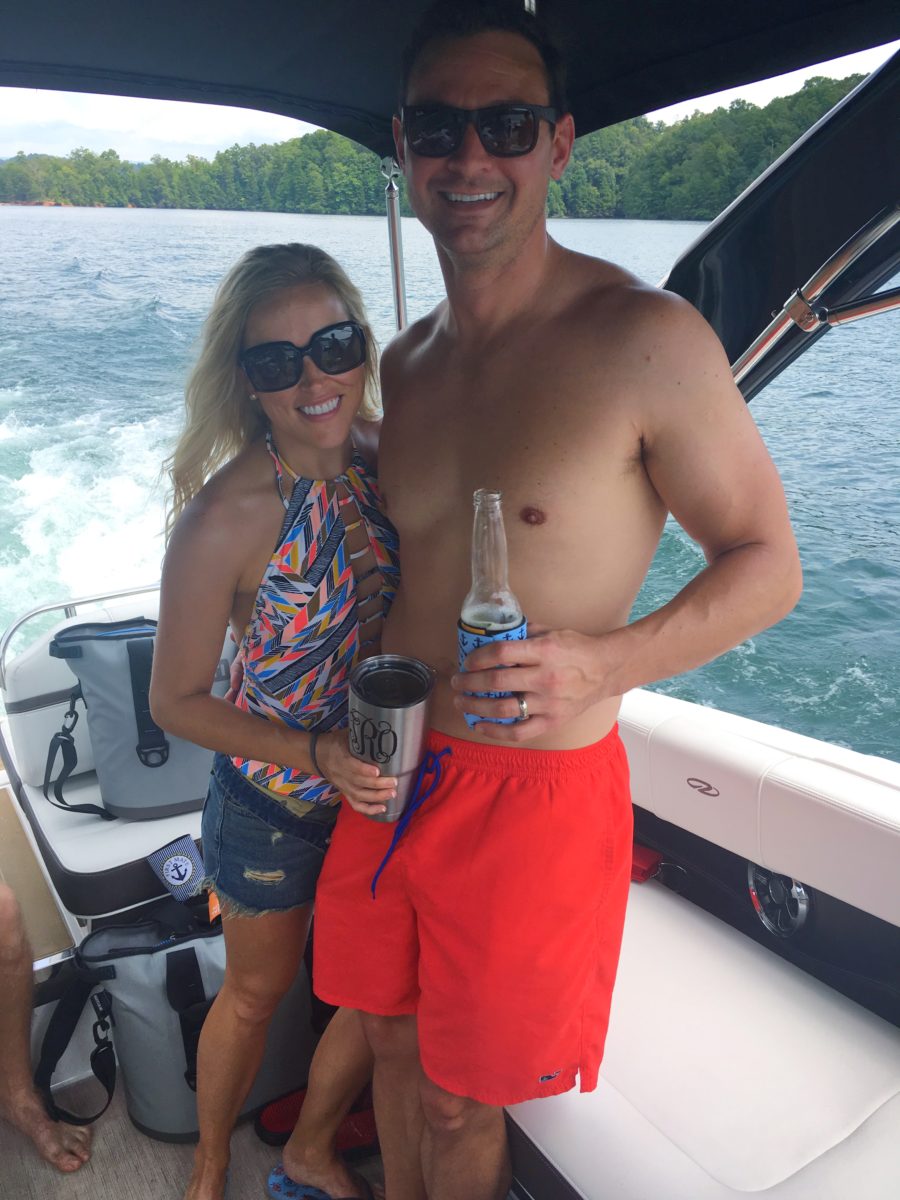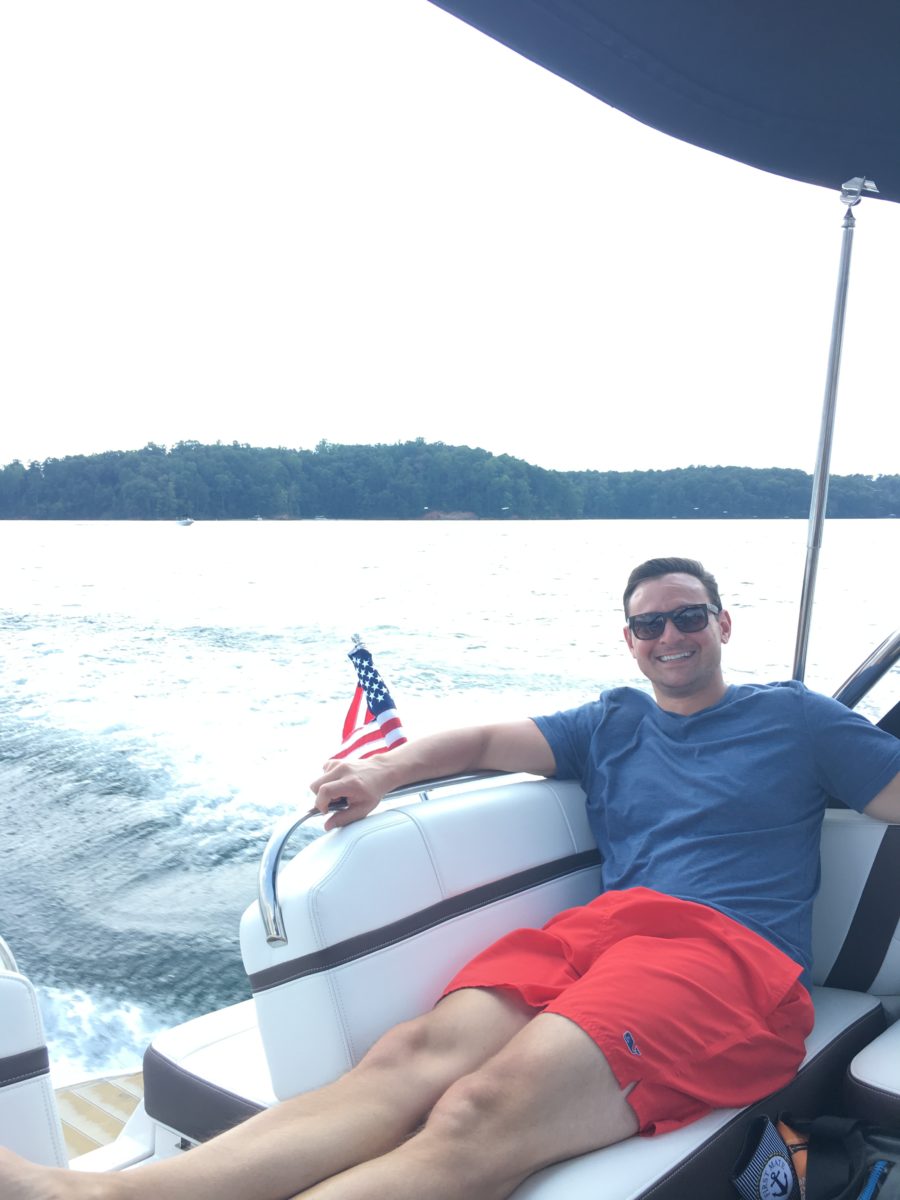 Our screened in porch is almost finished! I shared a sneak peek on instagram yesterday.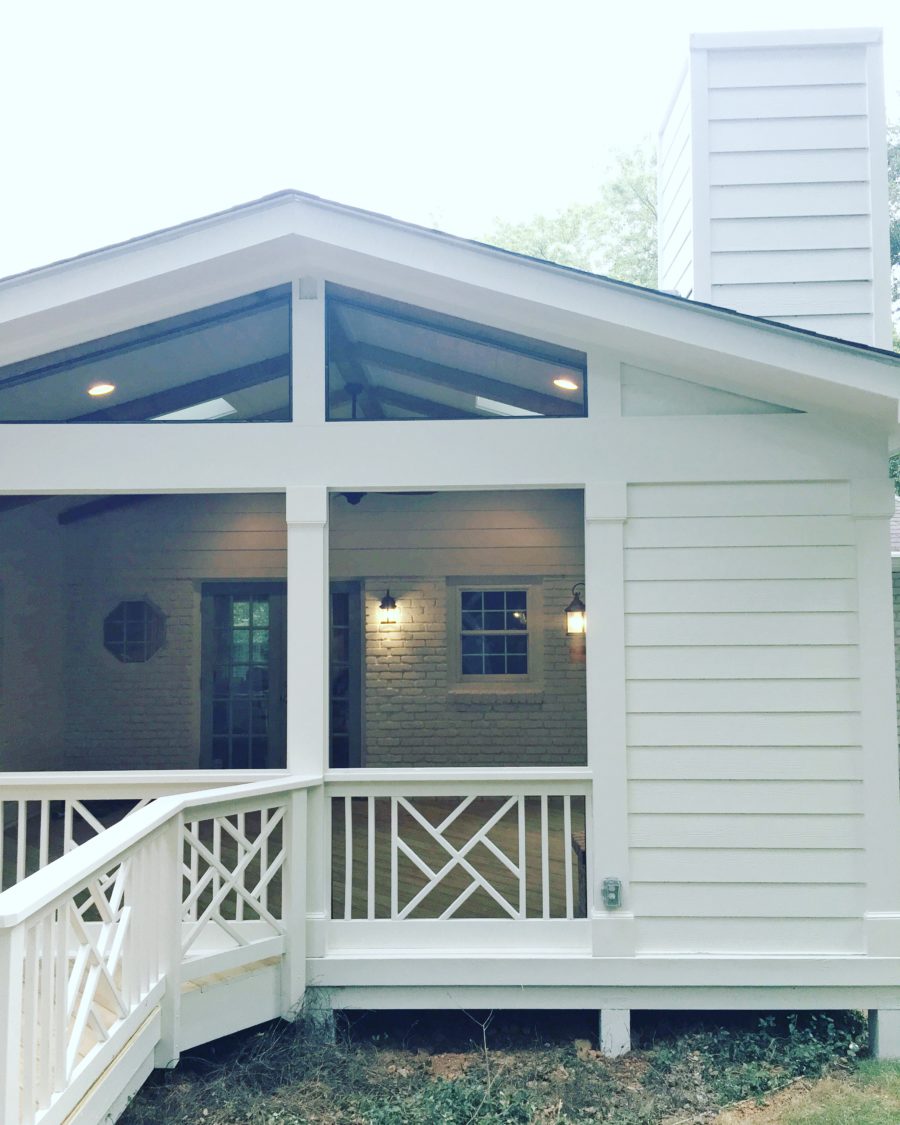 We moved the furniture out to see how we want to arrange it on Sunday night, and other than a few minor things and getting the TV hooked up, it is ready to go! I can't wait to share more of it – the fireplace turned out so great.  Kip has spent the last two nights sitting out there.  I can already tell he is going to claim it as "his space"! I can't blame him though!
:: A BLOUSE TO WEAR NOW AND LATER ::
We finally had a taste of slightly cooler temperatures yesterday, so I thought it was the perfect time to share some more fall/transitional pieces.
This blouse (that comes in solid colors as well as this print and floral prints) is perfect to wear now as summer ends, and will also transition all the way through fall.  I first spotted this top during the Nordstrom Anniversary Sale and it kept selling out immediately.  I finally got my hands on just this print, but since then they have restocked all the styles in all sizes!
It is super lightweight and has the perfect amount of volume in the sleeves without being too much.  Plus, the price is a steal!  When it came back in stock, I snagged it in the black floral print as well as the solid black since I know it will get so much wear.  I plan to wear it with dark wash jeans and OTK boots and booties when the weather cools off, or even my leather leggings. And the other colors and prints in this top would look great with white jeans now!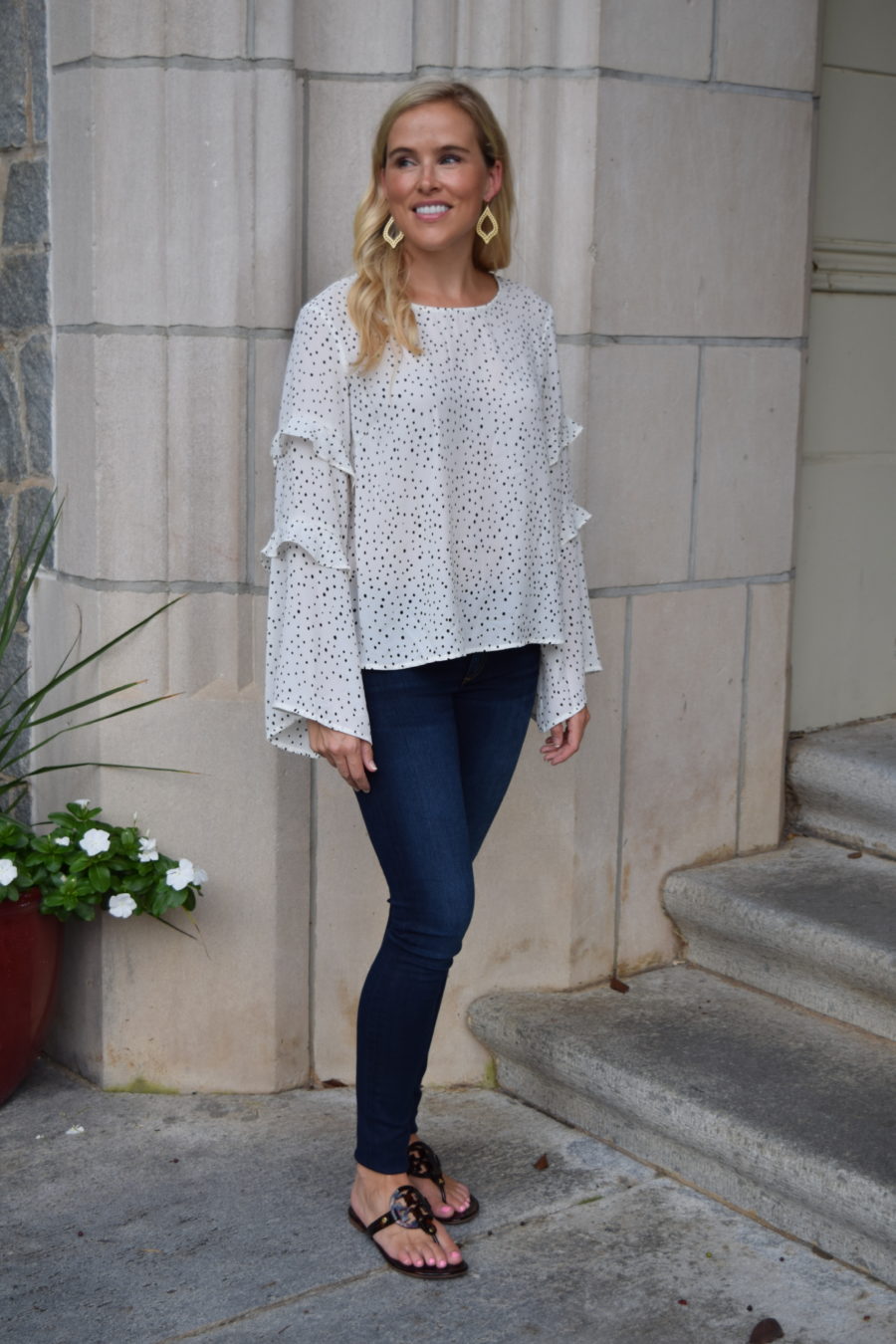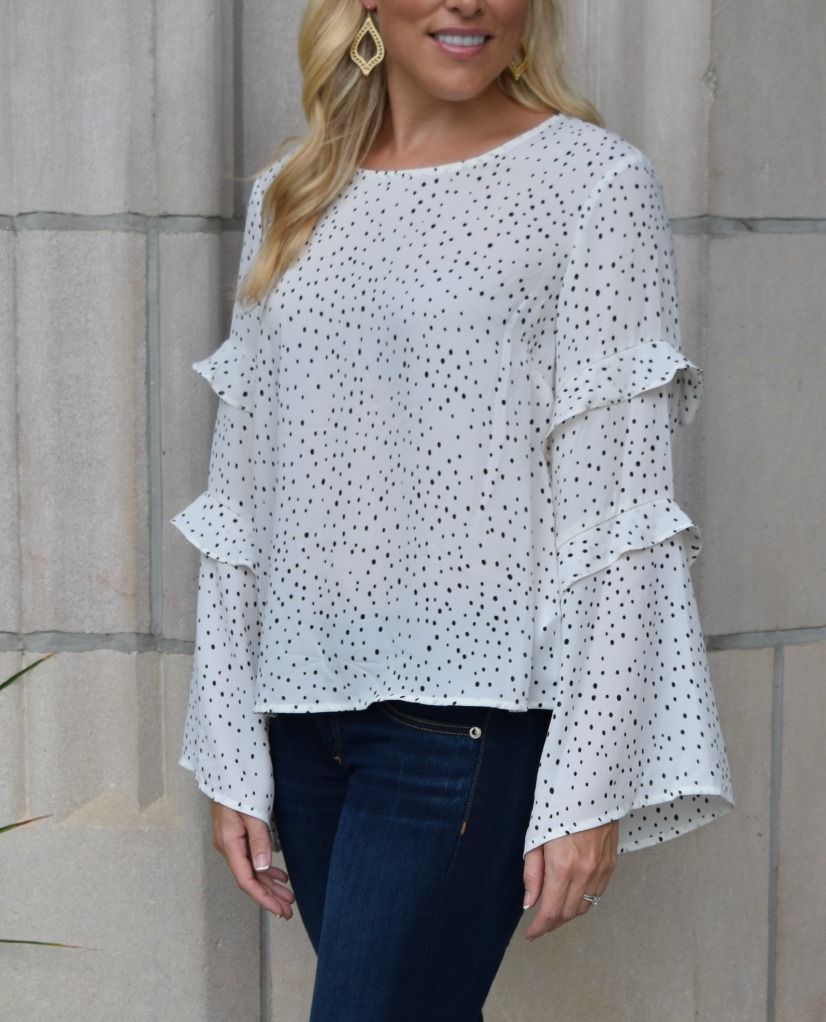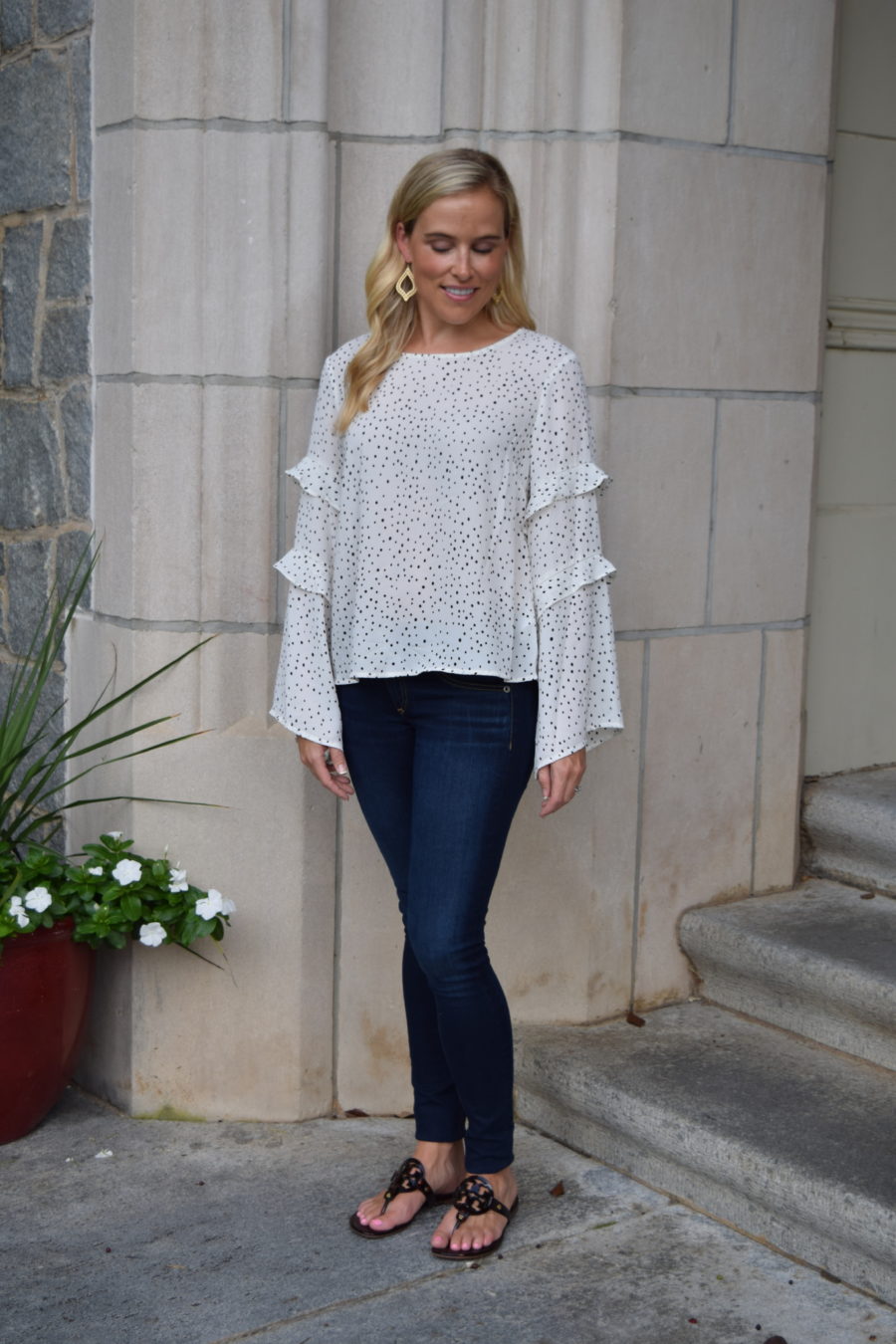 ………..annnnnd being attacked by mosquitos
(they seriously haven't stopped this summer!)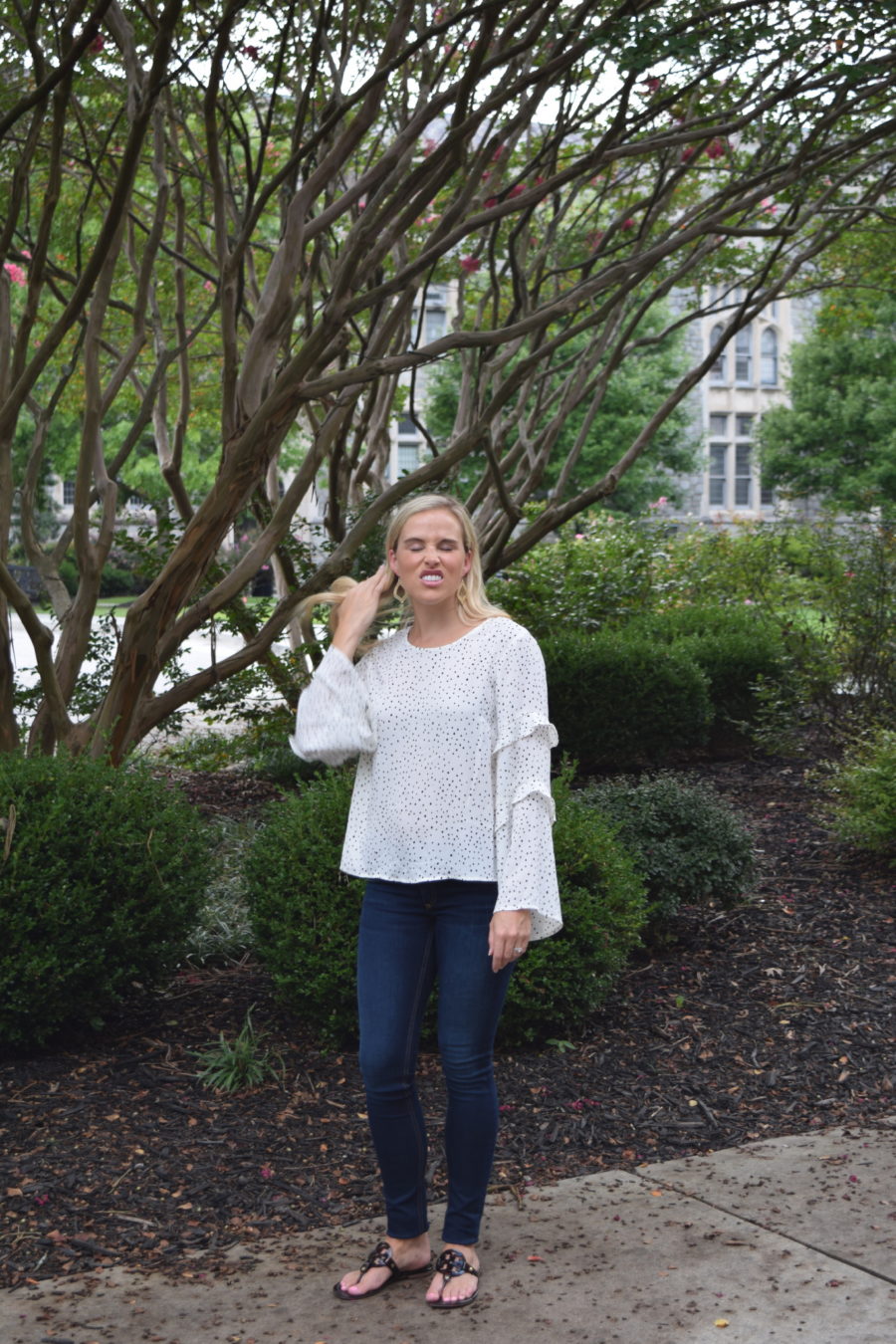 //  POLKA DOT RUFFLED SLEEVE BLOUSE   // JEANS //   SANDALS //  EARRINGS //
FYI for sizing : The top runs slightly short in the torso, but if you do go up in size, the sleeves will be a little more flowy! I recommend staying True To Size.


::::::::::::::::::::::::::::::::::::::::::::::::::::::::::::::::::::::::::::::::::::::::::::::::::::::::::::::::::::::::::::::::::::
I never ended up posting my link love for the weekend before heading to the lake,
so I thought I would share that today!
 I know this is usually saved for Friday's, but maybe it will feel like it's almost the weekend already….. almost…..
:: FASHION FINDS :: 
Some floral prints can be too overwhelming, but this lady like dress with button front + tie waist is perfectly soft and graceful.
This Y-Back camisole is the definition of simple + sexy, and the perfect go-to with jeans; all for only $38 and in 3 colors!
The ladder-stiched waist of this dress is the perfect detail, and the print and style make it a great dress to wear now and also transition into fall.
I love the long side ties and keyhole bak on this striped blouse.
Get holiday ready with this perfect foiled pleat skirt.
 and I am obsessed with this pleated yellow skirt for now!
The soft heather grey color of this under $100 dress gets amped up with the interesting fabric and flattering cut!
Navy & White Stripes + Bow Backs + Bell Sleeves = Yes Please. 
This floral print maxi dress would be great for a fall party or wedding.
On the hunt for something different for a fall handbag? This is a perfect staple! 
Raw hem jeans are all the rage right now, and both of these colors are perfect for fall.
This jersey skirt is a fun statement piece with the asymmetrical hem + pop of color.
I have lived in my mixed media plaid top for the past two years, and this sweater in 3 colors is a perfect price and has a fun zippered back detail. 
Pink + Scallops + Fit and Flare are all elements that make for a perfect summer party dress. 
With a name like "The Great" Sailor Tee, how could you go wrong?
A colder temp necessity: a thin, flattering lightweight puffer coat.  This one is under $100 too! This is way cuter than the North Face I lived in for 8 winters!
If you're ready to find your winter coat early like I always did in Chicago, I also love this maxi wrap coat in 3 colors. 
The long sleeves on this striped dress make it perfect for transitioning from summer to fall.
::  LINK LOVE ::
Whole Paycheck no more? Amazon slashed prices it's first day at Whole Foods.
12 Genius Travel Accessories you can buy on Amazon. Some of these are pretty aazing!
Most Bingeworthy Shows on Netflix. Is twin peaks worth watching? I ask this knowing I do not have time to binge another show…. but stll… my list keeps growing.
Yolanda is coming out with a book, and opens up about David.
I have no idea who this person Sarah Stage is, but I've never seen a fit pregnant woman with abs like this in my life!
In case you missed it,, I I updated Coffee Talk when a reader sent a link of the Dallas House Stephanie and Travis bought.
I'm not for nips showing, but I if you read regularly, you know that clothes I am able to go braless in (in an incognito manner) is my favorite.  Apparently braless is a trend – although these are much more revealing than I would ever do.