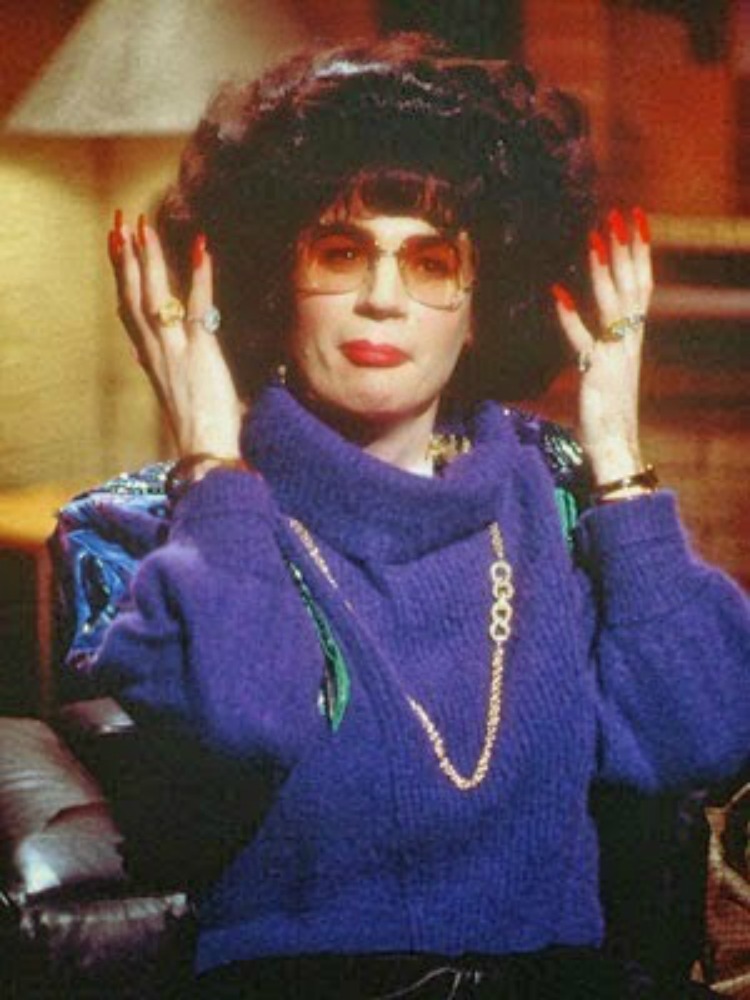 DISCUSS AMONGST YA-SELVES…….
:: RHONY Recap :: 
Of course the news of LuAnn came a few hours after last week's Coffee Talk.  Yes, "Can you believe it girls?!!??"…. Her and Tom are filing for divorce.  I feel like this equally shocks me and comes as the most obvious news ever.  I definitely saw it coming, just never thought it would come this soon.  I thought she was going to try to ride the Tom Train (no pun intended… just re-read that…) for as long as possible (at least a year!) and then finally be done with the public cheating or meet someone else and get divorced.
But we know the Countess…. when she falls, she laughs it off and picks herself right back up.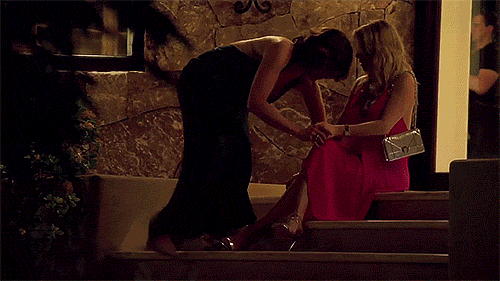 The finale aired last night, but I'm saving that bad boy for my full devotion later this week.  Last week's finale of the Mexico trip was just amazing.  I feel like this whole season of New York was glorious.  I forgot how much I missed train-wreck-trashed Sonja.   I just wish instead of ripping her clothes off and trying to make out with everyone in sight that she had done more of her stories of "yachting with John John" and "partying with Diddy at the white party."  But hey – I'll take Sonja any way I can get her!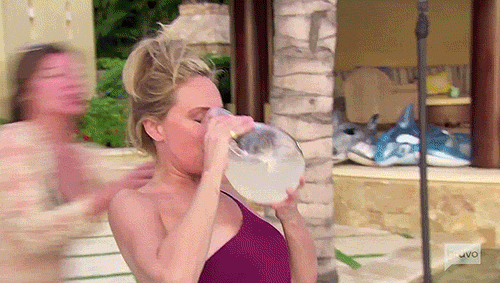 One drunk ( or two….. ) that I could take a little less of : Ramona.  And Bethenny.  And a little less nudity overall.  This whole scene made me want to pull my hair out.  Ramona was her usual apologizer, then woe-is-me self, with that awful tone and way of speaking that she does and it just MAKES ME CRAZY but on Tequila infused steroids.   She tries, and again fails, to actually cry tears, but instead makes botoxed-laser-pizza-faced scrunched movements resembling trying to cry.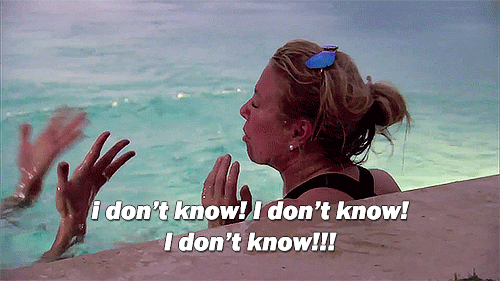 I never saw Drunk Dorinda causing fights coming!  I couldn't wait for Drunk Dorinda because she is my favorite drunk, but this trip her slurring self turn a turn for the dark side.  Luckily her + Bethenny were able to get over it the next day, and luckily she didn't sever her hand off with the knife at the dinner table.  I just kept staring at the beautiful monogrammed linen dining chairs and freaking out that she was going to get blood on them.
Seriously.  The staff at this Villa in Mexico deserve a trip and a giant paycheck from the people at Bravo for putting up with this insanity.  Can you even imagine?!?
I kind of loved drunk Tinsley calling out LuAnn for the West Palm vs. Palm Beach debate.  And Bethenny perfectly imitating her never ending "we're going to Palm Beach".  But I also love Lu for telling Tinz to lay off the eff-bombs like a lady and shutting her down with a "Where do you stay in Palm Beach? Your moms house." BOOM. Drop. Mic. I mean Lu has really won me over on this trip….. maybe I've been drinking too much tequila too?
But the perfect way to end the trip: bringing it full circle and back to, who else, TOM.
The girls are naming their "rose and thorn of the trip" and LuAnn says "My rose is Tom."
Ugghhhhhhhh.  Aw Lu…. we were doing so well…..
and also – this is another example that the people that constantly profess their love and how happy they are and how perfect their relationship is are absolutely full of it.  
Can't wait to see what jack-ass move Tom pulled in the finale last night (where the previews lead you to believe he is lusting after Missy and making inappropriate comments before saying he needs to take his mic off….. so…. that's probably what happened since they showed all of that already on WWHL :D)
I can't believe that the reunion was already taped and I can't wait to hear what LuAnn says and how it all goes down.  I imagine it will be a fairly large part of the reunion, because wether they were still together or not, he was a huge part of the season!
:: RHOOC Recap :: 
I feel so bad for Vicki's son Michael whenever they show him.  He just always looks like he wants to crawl out of his skin.  Can you imagine Vicki being your mom?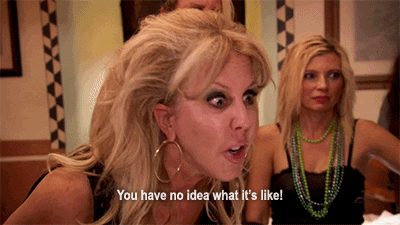 And then deciding to work with her everyday?  And be in charge of taking over her "legacy"?
….. an even more disturbing thought…. can you imagine being Michael's girlfriend and Vicki being your potential Mother In Law? I mean.  Wow.  Slow clap for this girlfriend Dani for being able to sleep at night.  Mazel.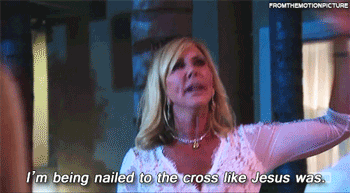 Speaking of mothers, Kelly took her wickedness out on her mom at the Senior Center this week, and decided to ruin the poor woman that runs the Senior Center's day as well.  The way that woman is reacting to Kelly doesn't even phase her.  I'm sure Kelly Dodd has no idea that on a daily basis everyone around her looks at her like they can't believe what is unfolding in front of them.  And how did I keep forgetting how …um…. crazy her mom looks!? And I mean that as nicely as possible…. I'd look crazy if I lived with Kelly. 
Peggy's Lamborgini (spelling? don't care.  sorry not sorry) party is supposed to be the excuse to get all of the women in one room since the reunion, but alas, Shannon declines.  It looks like it is going to be the Sip & See for Megan's baby Aspen instead.  Smart move…. let's make these lunatics all get together for the first time with a newborn present.  Genius idea. But really – when they all try to act like they refuse to see each other it is so ridiculous.  You are on A SHOW together.  Bethenny did this all the time when she came back to NY Housewives.  It's like – be on the show or don't!
but I digress…… 
I think that when I said I like Peggy, the new housewife, I really just meant that I like her husband Dino.  I'm into Dino – he seems like the real star.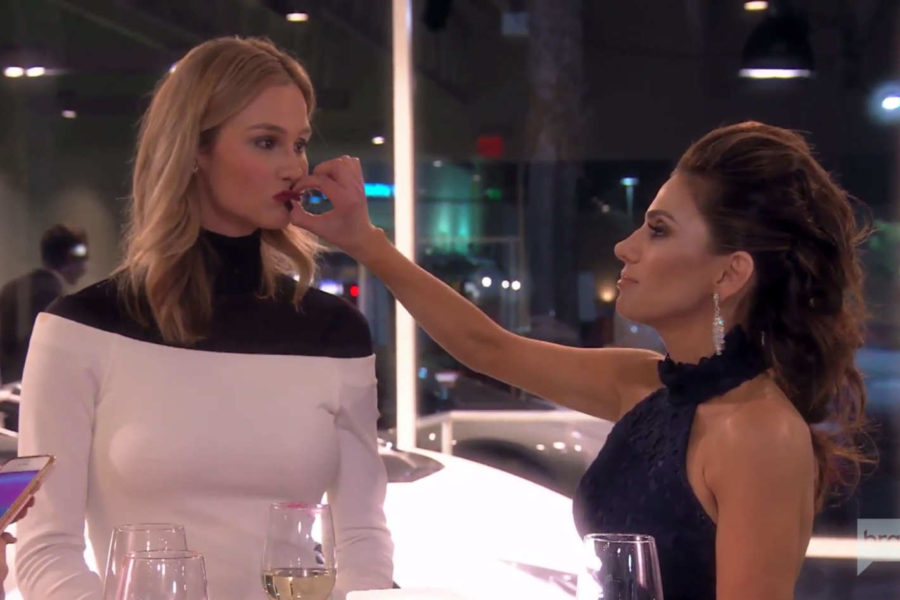 I'm fine with Peggy not being as warm and fuzzy or anything, but she needs to know her "place" as the new girl.  To grab Megan's mouth like that and completely intervene in a conversation that she clearly knows nothing about (which is why she is becoming friends with Vicki, because she has no clue what this OG is capable of doing and has done for all of these seasons) is completely inappropriate! Megan was even being nice about all of it to Vicki, not aggressive at all! So we'll see how this transpires… but Dino can stay.  He's adorable. And smiles.
:: Tamra's Troubles ::
The episode was nothing compared to Tamra's daughters Facebook announcement slamming her mom for being "no mother to her" and using her as her story line on the show.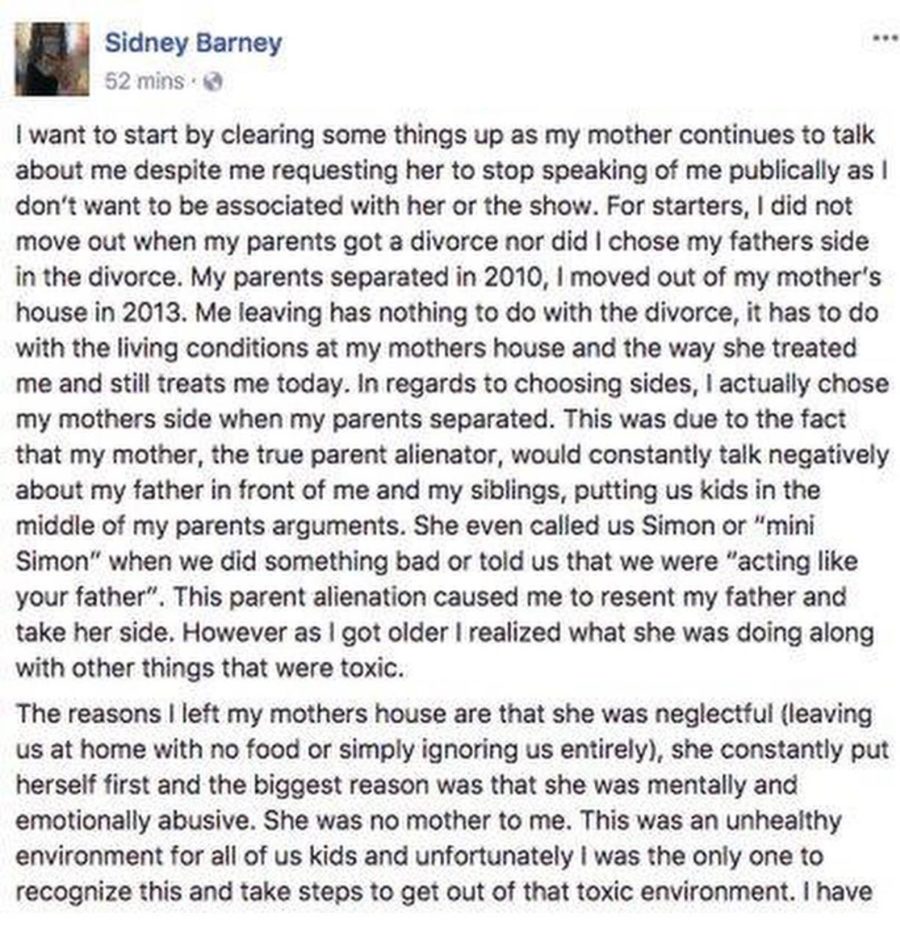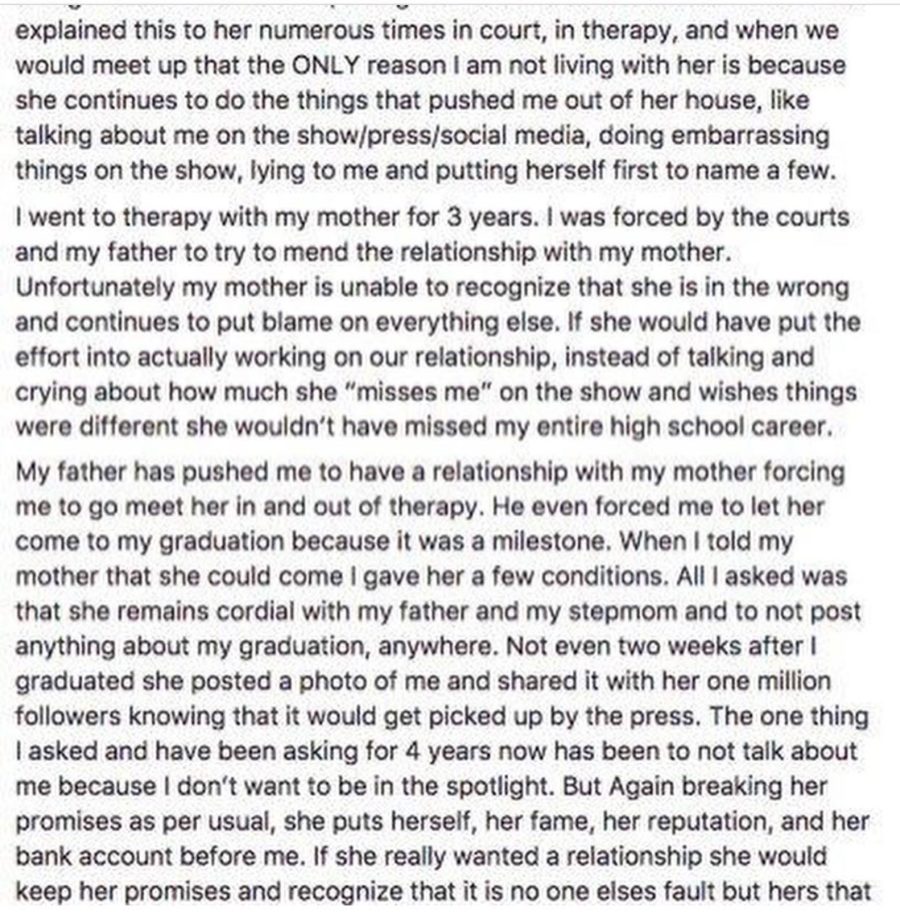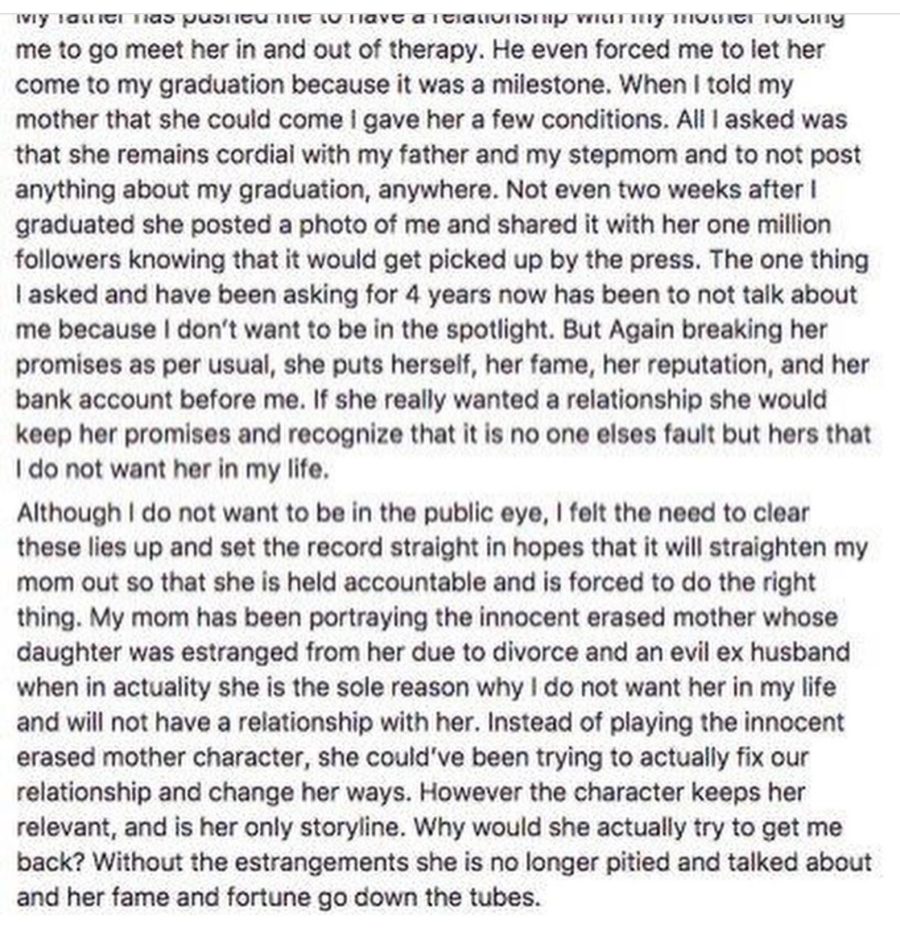 and THEN Gretchen commented on it, and Tamra went nuts on Gretchen.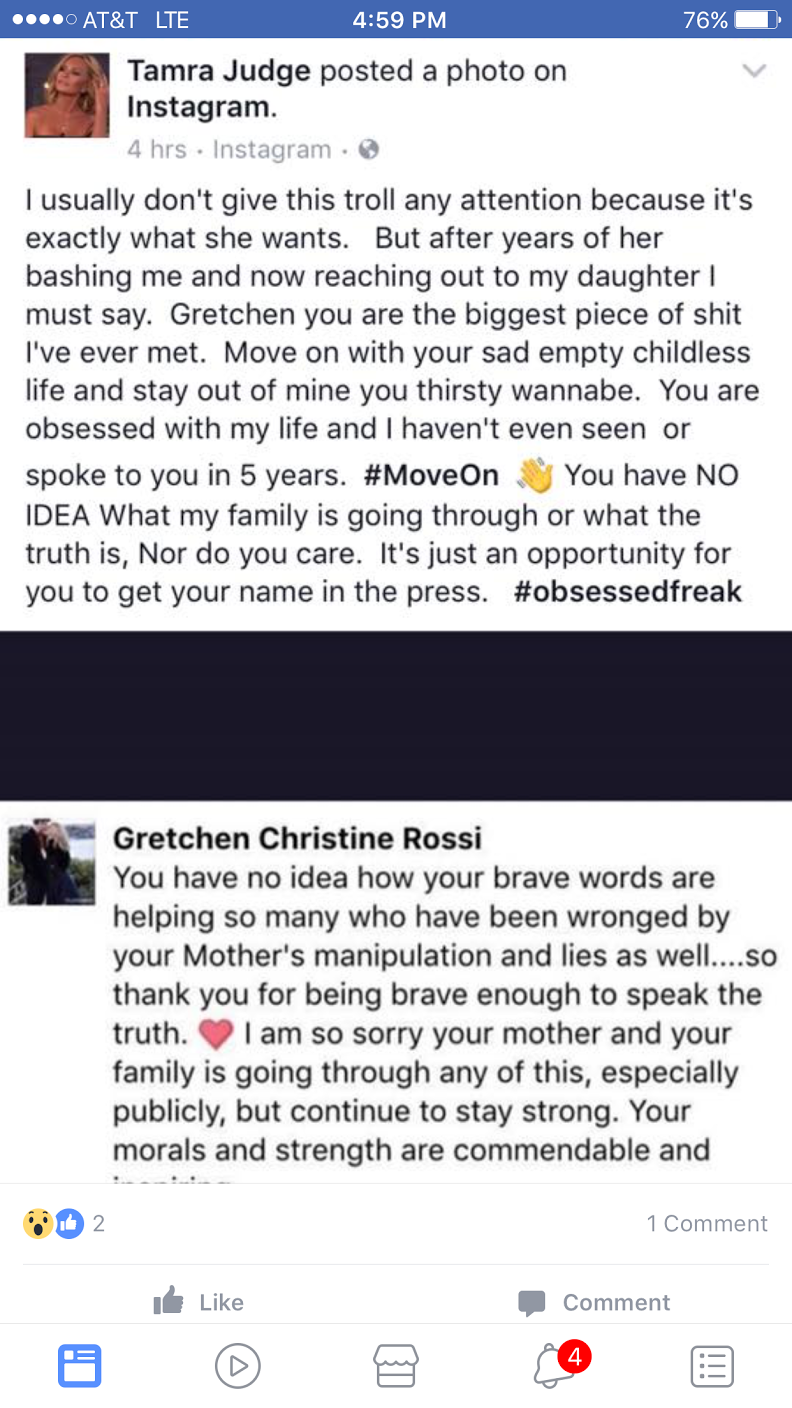 but really….. can Gretchen EVER not find an excuse to get her name involved in anything that will give her press?? Now these two are going back and forth and Gretchen posted some big huge thing and blah-blah-blah.
:: Southern Charm Update ::
Similar to Tom and Lu, this is the most surprising and least surprising thing to ever happen.
Kathryn and Thomas hooked up after this year's Southern Charm Reunion…… AGAIN.
She spilled the beans on a podcast.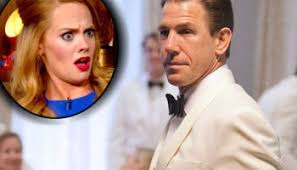 I mean really…. will these two EVER learn?
Just pray they used birth control this time around…..
:: Bachelorette Finale :: 
Ugh.
Can we not?
Why did she do this!? Whyyyyy?!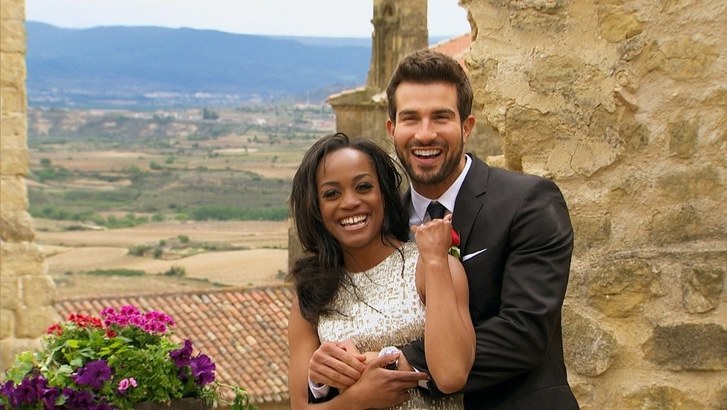 In the Bachelorette Finale this week, Rachel said goodbye to Peter before "final decision day" and it was all seemingly because he said he was in love with her but that he didn't want to propose; that he just wanted to be together.  And she kicked him to the curb and went to skeeze-ball Bryan! With the crazy mom who acts like she wants to marry her own son! RACHEL.  What are you thinking!? He has possible cheek implants?! He was on a reality show called The Player!?  Come on!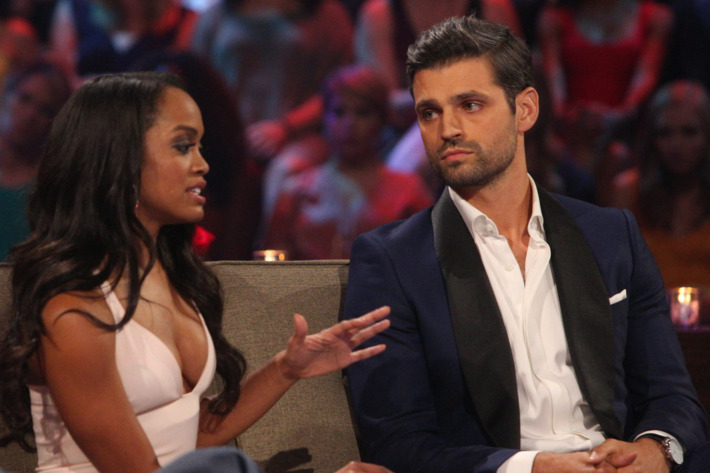 Apparently I am not the only one that is upset that Peter didn't get picked.  It seems like he was the favorite of the finalists.  I also think Rachel was a little harsh on him at the After the Final Rose – he didn't do anything but act like a sane human being saying he wanted to be together and not put a ring on it when they haven't lived one hour of "real life" together!?
Even the third runner up, Eric, thinks that she picked Bryan as a rebound and that it seemed like Peter was the choice.  I am fine with ALL of this if it makes Peter the next Bachelor because I wasn't in to any of the other candidates.  But seriously…. can we just get a NEW person FOR THE LOVE OF GAWD!?
I do feel bad for Bryan doing all of these interviews with his fiance and everyone asking about Peter, but that's part of the show (and Bryan is on TV again…. so I'm sure she doesn't care).

:: Bachelor Updates ::
Juan Pablo, of bachelor infamy, got married over the weekend.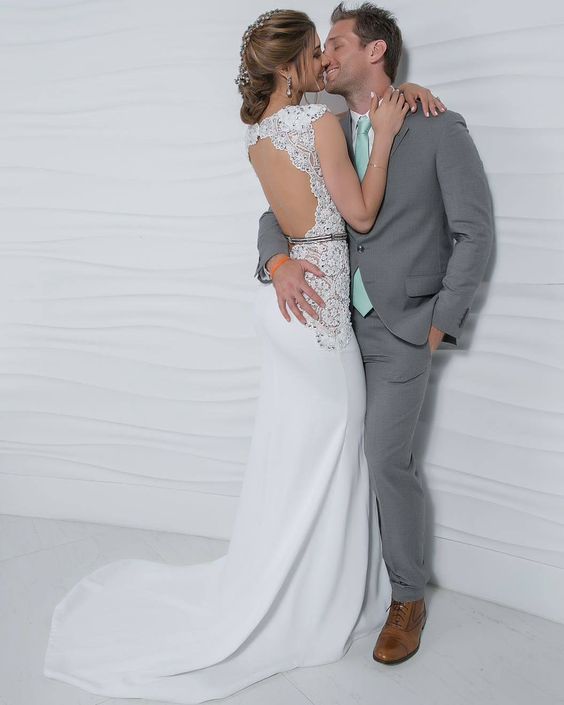 In true Juan Pablo form, he met by stalking the model's instagram like the perv he is.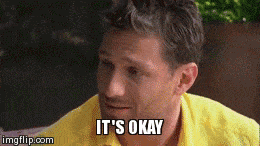 ….. but I kinda miss Juan Pablo….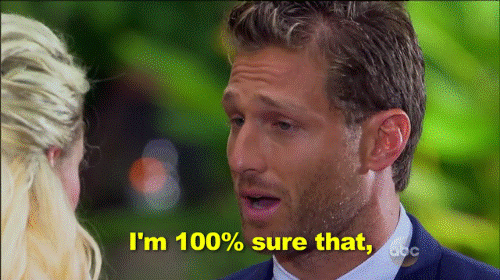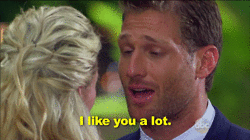 I'm like that annoying ex that doesn't appreciate you when you're here, and then when you're gone I realize how much I miss you.
I could really go for 2 hours of JP being an ass right now…… but luckily……
:: Bachelor in Paradise :: 
STARTS MONDAY.  SET THOSE DVR'S LADIES!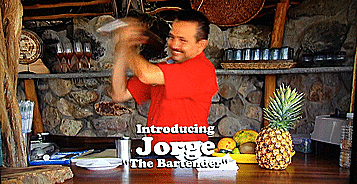 :: Below Deck :: 
Bobby needs to be thanking Adam big time for being such a maniacal psychopath this season on the boat.
I am just so blown away that someone could come onto the boat to make Bobby look like a good guy because they are the biggest douche in the world.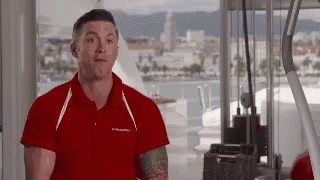 I mean sure, Bobby is still making out with the girl he matched on Tinder with that is made entirely of plastic and that came on the boat with 6 other girls-for-hire with a 60 year old man, but STILL, Bobby looks amazing compared to Adam.
Down to the last minute of the trip Adam is still obsessing over Malia, acting like he hates her and is over her, by going to Wes and showing their texts and telling him about their hook-up.
I don't understand how Adam gets away with hitting his co-worker?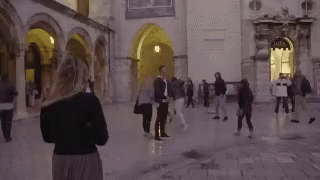 And I really don't understand how Wes can still be so obsessed with Malia?
Apparently Tom D'Agostino has a golden penis, and Malia has a golden vagine.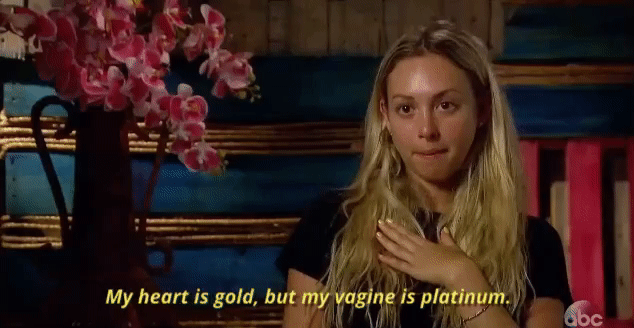 I am very, very much looking forward to this reunion.
:: MOTHERHOOD ::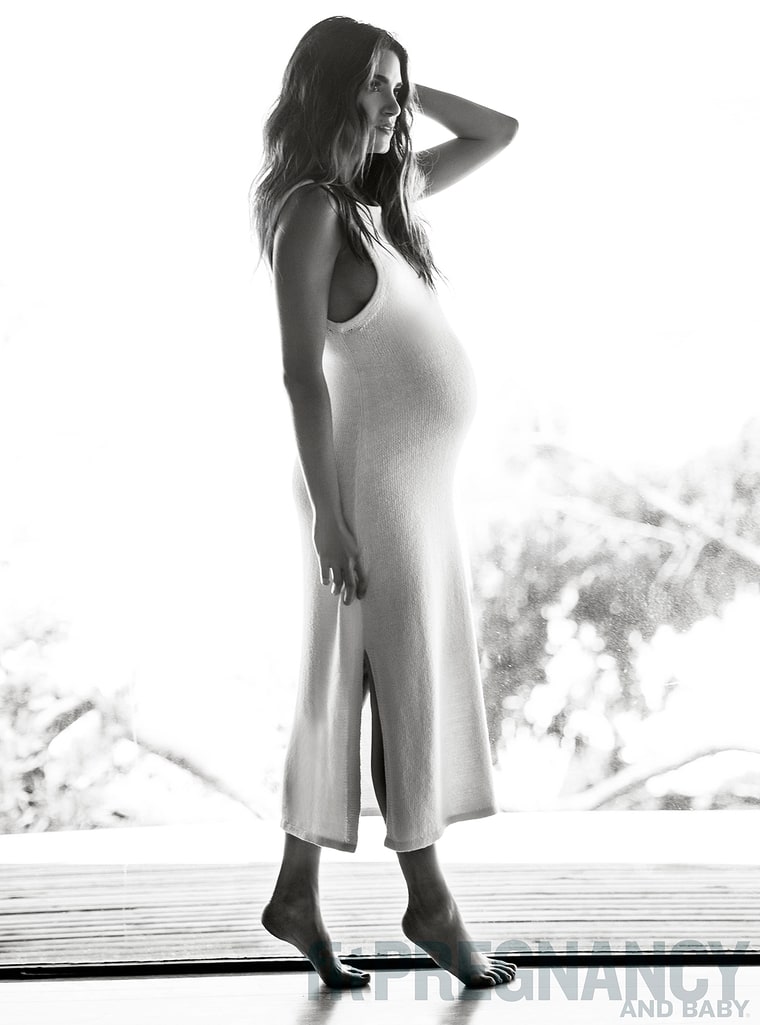 Nikki Reed and Ian Sommerhalder are having a baby later this month.  They are taking a "month of silence" when the baby is born and they won't be leaving the house or having any visitors for 30 days.  No phone calls, no phones period, nothing.  Now, I've never had a child, but this sounds like a bad horrible no good plan.  I get the idea of it…. and the idea is just lovely.  But I'm more like Vicki Gunvalson; I'm hoping that giving birth means that when my loving friends and family come to meet the new addition they may bring like, a casserole or something with them.
And a casserole is worth breaking a month of silence any day.
:: Mazel of the Week ::
The ladies of RHONY for their reunion ensembles.
Their reunions are usually some of their worst looks, and I really feel like they did great overall.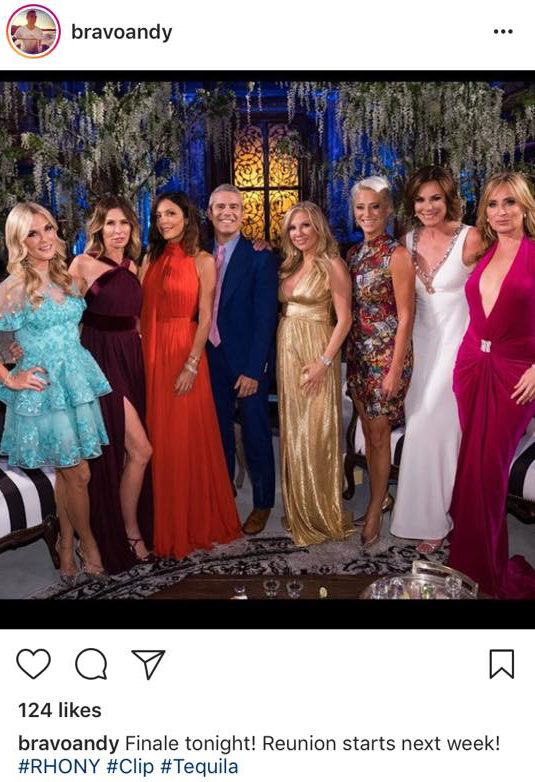 Well….. Tinz…. I mean…… wow.  But for all of the returning ladies it is some of their best looks.
and OF COURSE LuAnn is in a WHITE GOWN.  Are you freaking kidding me? I can hear her already "well you know I'm a newlywed so white doesn't stop being your color after wedding day I'm still a blushing bride!"

Oh, and Ramona apparently has a new man…. Good Luck and God Speed.  You'll need it.
:: Jackhole of the Week :: 
The horror movie Annabelle.  With that creepy doll.  For someone who fast forwards through commercials, that damn doll has been stalking me every time I look up at the television and it's creeping me out!!!
:: Editors Note ::
As always, ignore my own blatant grammatical errors whilst I make fun of others poor grammar during Coffee Talk on a weekly basis.
#HYPOCRITE   #SORRYIMNOTSORRY
I write these posts late at night while simultaneously watching Bravo, taking snaochats of my snoring husband, and making to do lists of everything I was supposed to do and didn't do that day, and likely won't do the next day either.  Or the day after that.