DISCUSS AMONGST YA-SELVES……
:: Bachelor in Paradise :: 
I somehow forgot AGAIN that this show is 2 nights a week for two hours, and I hunkered down Tuesday night to watch it and realized an additional 2 hours were taping. I wouldn't complain (yes I would, who am I kidding), except so much of it is BS recaps and "Coming up" and Chris Harrison "taking a look back."  WE KNOW CHRIS HARRISON.  IT'S ONLY BEEN TWO WEEKS.  It's not rocket science to recall who is sleeping with whom!
but I digress…….
As I mentioned previously, Jasmine and her "choking Nick" was only the tip of the ice-berg with her Crazy and she keeps proudly showing it off week after week.  The Jasmine and Christen drama over Matt is ridiculous. And as stupid as it sounds, I think the "scallop fingers" joke about Kristin is being taken too far with the giggling about her behind her back/directly to her face. A one off comment is fine, but it seemed like they all were "mean girl'ing" her, which honestly isn't surprising since the maturity level of this crew is likely that of high school girls.
Robby takes his douchery to the next level by speaking in third person:  "Robby might lean in for that kiss!"
I don't know what is worse, his hair or what comes out of his mouth.
Editors note: I feel like Robby must be furious about how little air time he is getting.
Not very good for a Social Media Influencer!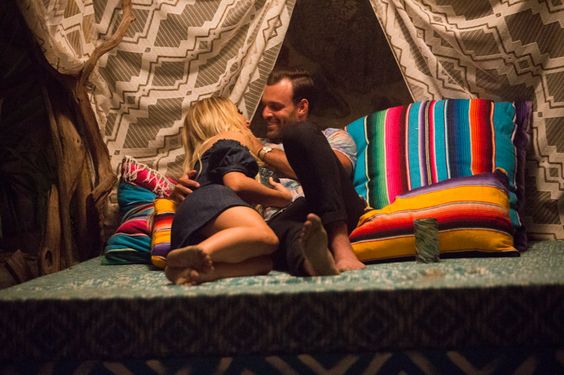 There's trouble in paradise for Derek and Taylor, the couple that is for sure being bribed and manipulated within an inch of their life to get engaged because they're the only real prospect so far.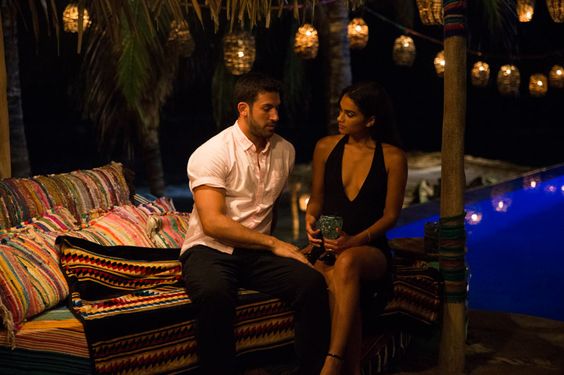 Derek says "F you" to Taylor, and you can bet someone with as much EMOTIONAL INTELLIGENCE (Drink!) as Taylor is never gonna let that fly! I mean…. and she shouldn't…. but still.  She did seem to drag it on and pout as much as possible for 24 hours instead of being EMOTIONALLY INTELLIGENT and just having the conversation.  Sorry not sorry, but I just can't stand Taylor.
Matt decides to really screw Jasmine and Christen over by – surprise! – just up and leaving.  They are crushed for all of two seconds before they both immediately go after Jack Stone for his rose.  Christen kissing him was superrrrrrrr nasty to watch; not only was he not leaning in for a kiss and she pounced, but they were missing each others mouths while trying to eat each others faces.  One of the worst kisses I've seen on TV in awhile, which is really saying something.
Daniel is back. With Canadian Bacon jokes and all.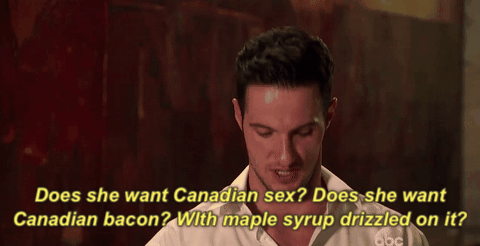 He is not impressed with the "scraps" remaining and literally says it straight to Lacey's face as she is hurling herself at him.  Poor Lacey.  She reminds me of Ginnifer Goodwin is He's Just Not That Into You.  So sweet and clueless and bad at playing this Bachelor game.  Someone needs to get her a copy of that book stat.
DEAN. Ohhh Dean.  Life was great for Dean post Rachel's-Season-of-Bachelorette. Everyone loved little Dean! But now…. now he's gone and become the Player of Paradise.  And to sweet Kristina!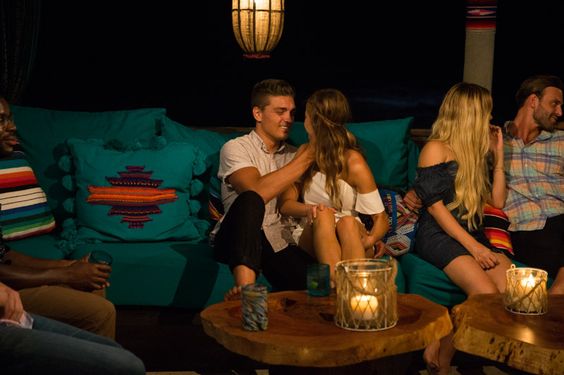 He is just playing both of them because he knows Kristina is the "right" choice but, sigh, HE'S A MAN (to be read in the tone of my mother Nance Pants whenever a man thinks with his Pants).   So, shocker, Dean is distracted by the T&A and overt sexyness of Danielle. What's a man to do!!??
I believe his exact words were "D Lo will never be as in to me as Kristina is.  Kristina is the right option, but D Lo is the more exciting option…"
in normal words, that means his mind says Kristina, but his penis says D.Lo. 
cue R. Kelly music….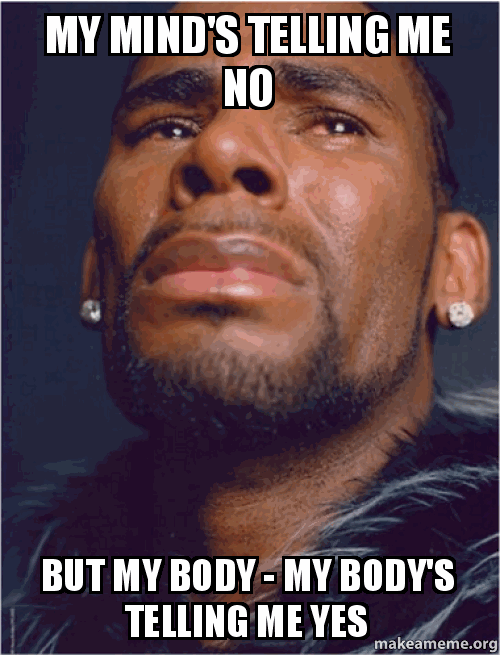 Dean decides the best decision is to spend the night and wake up with Kristina, and then that day make out and hump in the pool with D. Lo.
cue: R.Kelly again with "I don't see nothing wrong… with a little bit of bump and grind."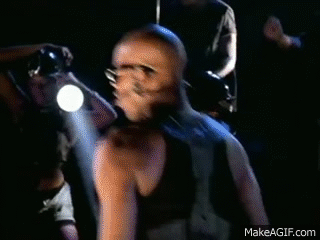 editors note: Sorry. I can't help myself. This is sadly what my spastic brain does; immediately playing an R Kelly song in my head or, more often, a Will & Grace scene. 
But wait. Did Kristina really say she'd rather be back at the orphanage over this!? WHAT!?
SIDE NOTE: What is going on with these puppets? Who started this?
But according to my research, Wells and all of his camera time is a test run for the next Bachelor…. 
Another man from Rachel's season with a lame intro enters paradise. "They'll all immediately recognize me as the Tickle Monster".  But apparently I am misinformed because he is a doctor and they all seem to be raving about him.   Only in the Bachelor franchise is your profession of being a Doctor completely overlooked and instead your job title every time you are shown on TV under your name is "Tickle Monster."
We now have an hour of recaps with Chris Harrison and commentary from contestants sitting on chairs.  BUT WAIT….. Matt looks really hot in this studio interview with Jasmine.  He never looked this good before!?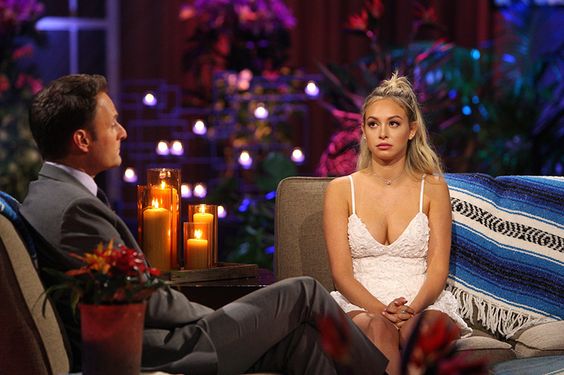 We FIN-A-LEE get to Corrine's interview.
I feel like I don't even want to comment on the Corinne interview because, AGAIN, we get NOTHING from this huge drawn out event.  (I do feel like they really skipped over her calling herself a victim and lawyering up and acting like she was going to go after ABC or Demario). 
I don't blame Corinne.  I don't blame DeMario.  I feel bad for both of them.  But I do blame ABC.  If this isn't proof that the show UnReal is more legitimately based on these awful producers on this show than I don't know what is.  They don't give an eff.  It's like they wanted to use these two people to destroy them in the media all for more publicity?! I've never seen so much coverage on something without EVER ACTUALLY SAYING ANYTHING.
I am SO ANNOYED.  If my CAPS LOCK didn't display it enough. CAPS. FREAKING. LOCK. I don't care that they aren't actually saying what happened, that is fine, keep it private to protect the people involved. But do not have us watch hours upon hours of you discussing it and interviewing people to NOT DISCUSS IT.
I know you're prob thinking that recap for BIP was a lot, but I left out about 75 % of what happened/who went home/who's making out.  There's just so much! I hate this show yet I love it so so much.
:: RHOD :: 
Kameron's tagline intro alone just kills me every week.
"Dumb blondes get noticed.  Smart blondes get everything"
In that voice!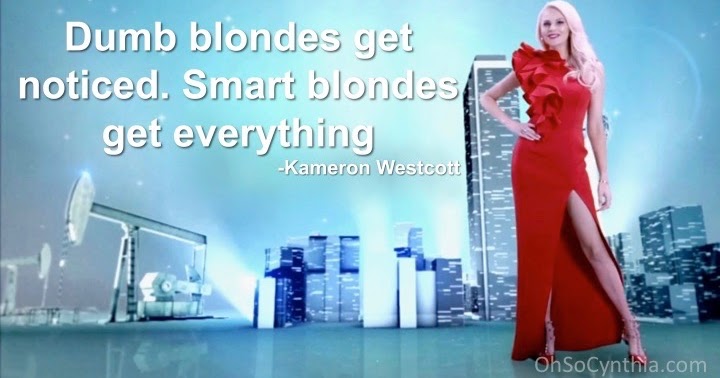 How does she talk like that? How does her husband handle her?
Stephanie is planning a Halloween party – her favorite Holiday ever.  Her planner suggests the theme "Bad Romance" which I kind of scoff at, but then I realize it is GENIUS once I see the Monica and Bill costume idea and think of how many great costumes could come from this.
editors note : How do I know this party planner, Rachel? Because I know her.  You all are great at this usually. Do I just know her from Stephanie's previous parties last season? 

We finally, finally have a sit down between Brandi and Stephanie! I really don't know why I am so attached to them and this friendship but I am.  Like I cried.  Someone send help. ASAP.
I still don't understand why Brandi didn't say months ago that what bothered her was Stephanie's blog/marital comments. This is so sad and silly that they went this long fighting because they clearly love each other so much.  Again…. someone send help. I am way too emotionally invested with this nonsense.
If Carnie Crazy Face breaks this friendship up, like we know she is going to try to, I will lose it!
Speaking of Carnie Crazy, LeeAnne Locken goes to see her therapist and tells her that she is dressing as Stephanie -aka- "Two Face" for Halloween.
When her therapist says the costume is a bad idea, and that's not who she really is, I'm thinking, UM yes it is? That behavior and pot-stirring mean girl shade is exactly who she is.
We arrive at Stephanie's Halloween Party.  And WOWZA does Cary make an entrance! She is wearing nothing but tiger body paint and a scarf to cover her nipples.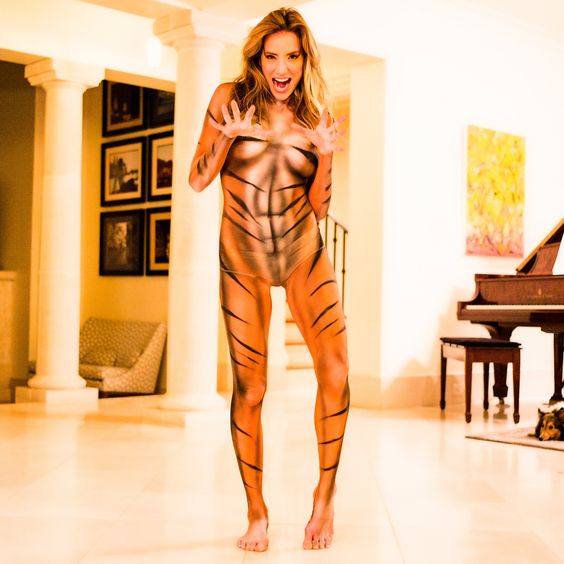 I feel like under no circumstances would this ever be appropriate for a party at someones home, unless it is the Playboy Mansion, but she does have one banging bod.  But still… the square in me is jaw on the floor.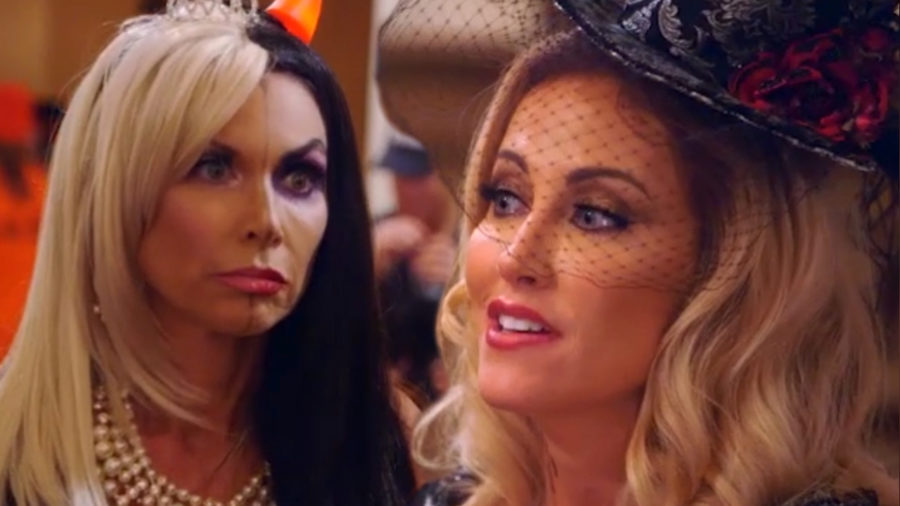 LeeAnne just cannot believe that no understands her costume!!!  Leave it to Cary's husband Mark to figure it out over a bracelet! She holds up a bedazzled wrist, mimicking the bracelet Travis gave Stephanie, and that Mark sure knows his jewels when he sees 'em!
We get a cameo from Tiffany, who was on last season, married to wannabe Keith Urban.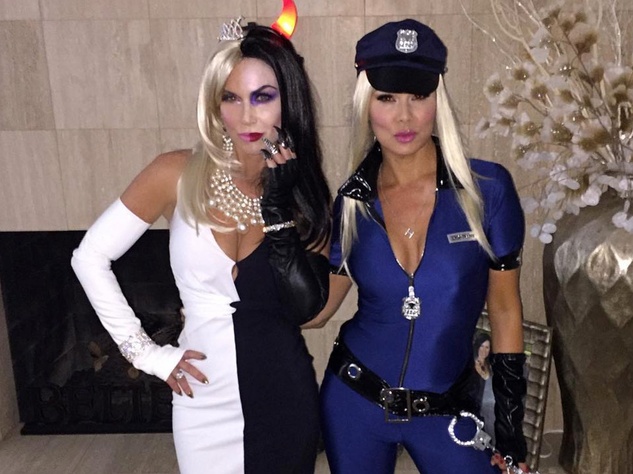 LeeAnne wastes no time in trying to continue to drive a wedge between Stephanie and Brandi while acting like she is all for Brandi being happy.   D'Andra is correct in saying that the costume and everything LeeAnne is doing is to test Brandi.  And then LeeAnne even verbally confirms it when she says to Brandi that she is concerned that if Stephanie and her become friends again that it will be everyone against LeeAnne.
:: Dallas Cowboys Cheerleaders :: 
i just love this show .  If you aren't watching, you should be.  BUT even more important than the show are the two former cheerleaders I've been chatting about: Brandi from Dallas Housewives and Jasmine from Bachelor/BIP. Brandi was already gone when the show started, but I remember Jasmine and she was definitely different than she is now!
I wonder more than anything what Kelly and all of the head people at DCC think of Brandi and Jasmine.  They are SO strict with the girls about any missteps in what they say or do publicly, and these girls are definitely doing everything that would make them squirm!
:: Jax and Brittany Take Kentucky ::
I haven't had time to consume this – my apologies – but I got about 10 minutes in to episode one and heard this: Brittany's mom is on her 4th Husband.  Whaaaaatttt?! I now am starting to see how Brittany can be with such a scum-bag like Jax
And then right before I stopped watching I saw a shot of the food at the table and ERMAHGERD that was the best looking spread I have ever seen.  For dinner? Quite disgusting and weird.  For a drunken tailgate or house party or something? Amazing! I wanted it ALL!
:: RHOC :: 
Sigh.  It's not good.  It's really pretty awful.  Feel free to skip this entirely because if you watched the show you know I'm just grasping at straws to find something to discuss.
editors note : Peggy "what is grasp at straw? what straw? are you drinking?"
Peggy and Shannon go to lunch and I agree with Shannon that I am a little confused yet who cares about Peggy and her double mastectomy.  Her story is a bit confusing with being negative for the gene and then I got lost, but still, good for Peggy for doing whatever she can to be preventative.  You can tell Shannon is dying inside to not dive into this more and interrogate.
Peggy and Dino go to dinner and her strange behavior is out in full force.  She tells Dino to "Do Butterfly".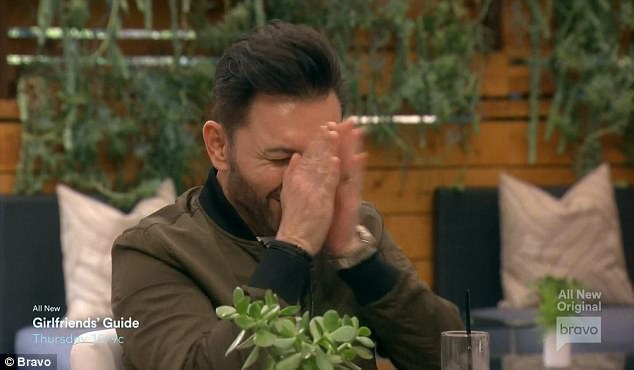 When the waitress comes up he claps his hands in front of his face and claps them really quickly, like a butterfly?  And then she just tells the waitress he is doing a butterfly? And he "learned to do it from his friend"
WHAT? Ok really…. what is going on here….. what am I watching?  Am I on the Truman Show? Is the joke on me that I am sitting here watching this and then typing COMMENTARY on "Do Butterfly?"
The producers continue to have no shame! (and in this case, I appreciate it).  Last week we had a full shot of Vicki waddling into a party, and this week we have a full unnecessary shot of her waddling down the street in heels and a wayyyyyy too short dress/skirt.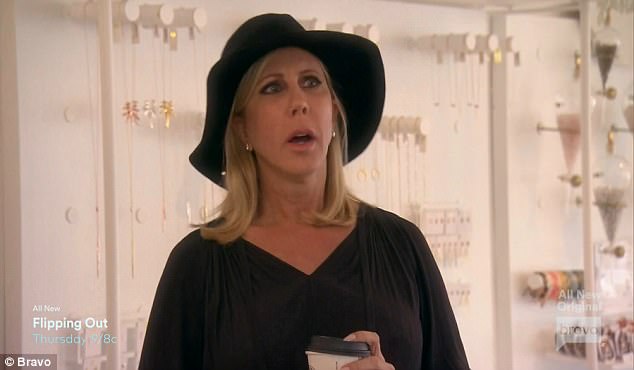 VIcki is getting her aura read, and the person tells her all of it is good and happy. She goes on and on about of course it is because her love tank is FULL! Oh please.
Half of this episode becomes about the Spartan Race: Shannon upset with David and his working out taking so much time away from the family, Lydia thinking her son is a prophet and having premonitions about the Spartan Racem Tamra continuing to think she is the hottest thing since sliced bread.
Tamra is shocked that Shannon wouldn't come to watch David.  Umm… I think she is the smartest one there because I, too, couldn't. care. less. 
But we learn an additional reason why Shannon is smart enough to not attend:  she's day drinking for St Paddy's Day!!! Thatta girl!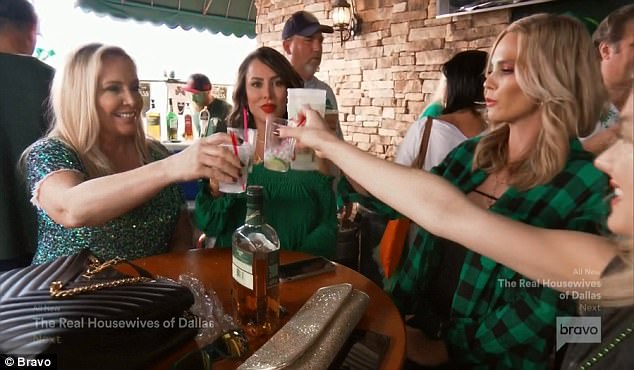 I said it last season and I'll say it again. Say what you want about Meghan King Edmonds, but she is constantly the voice of reason.  This week : "Vicki's MO is to have one person in the group to do her dirty work." YES.
I think this make up session with Kelly and Shannon is short lived….. but I'm still shocked it even happened!
Question: There was a Kelly moment and I couldn't tell if it was her being an idiot (again) or if I am misunderstanding what she is saying?
There's a moment where Kelly in her confessionals is says "Yeah right" about Shannon being strong and opionated.  So she says "yeah right!?" and then  "is the pope catholic!?" Um…. because what I am hearing with the Pope reference is  yes you think she's strong and opinionated, but I think you are meaning to say the opposite.
and me trying to explain that made no sense but hopefully if you watched you know! 
:: MAZEL OF THE WEEK ::
I don't know if you've seen these Katie Ryan/Ava Ryan videos yet, but I saw a few clips on instagram and now I am starting to take a dive.


Why couldn't I have been this hilarious at 7 years old?
:: JACKHOLE OF THE WEEK :: 
I channeled my inner Jeff Lewis Photobombing skills at the Lake last weekend when Kip fell asleep…..
not my best work, but it I tried…..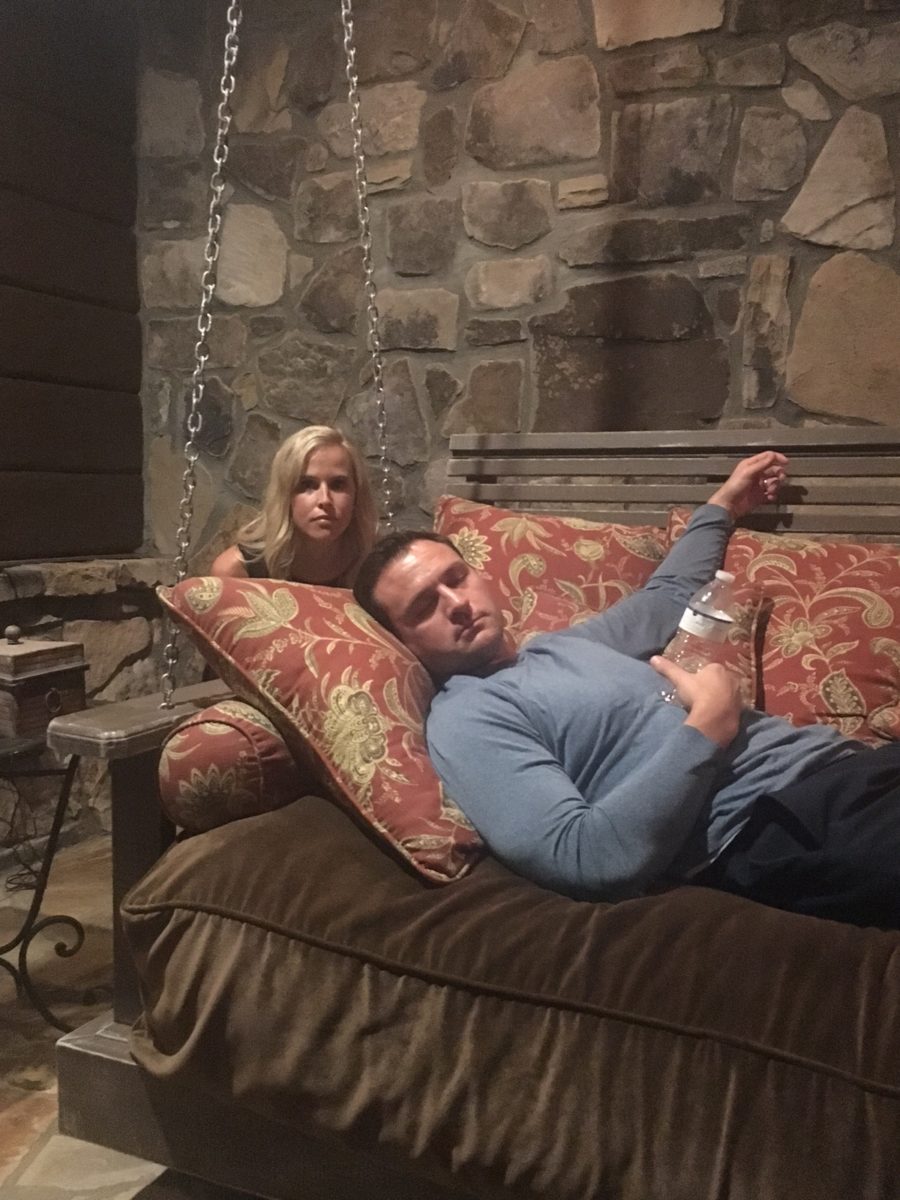 :: Editors Note ::
As always, ignore my own blatant grammatical errors whilst I make fun of others poor grammar during Coffee Talk on a weekly basis.
#HYPOCRITE   #SORRYIMNOTSORRY
I write these posts late at night while simultaneously watching Bravo, taking snaochats of my snoring husband, and making to do lists of everything I was supposed to do and didn't do that day, and likely won't do the next day either.  Or the day after that.