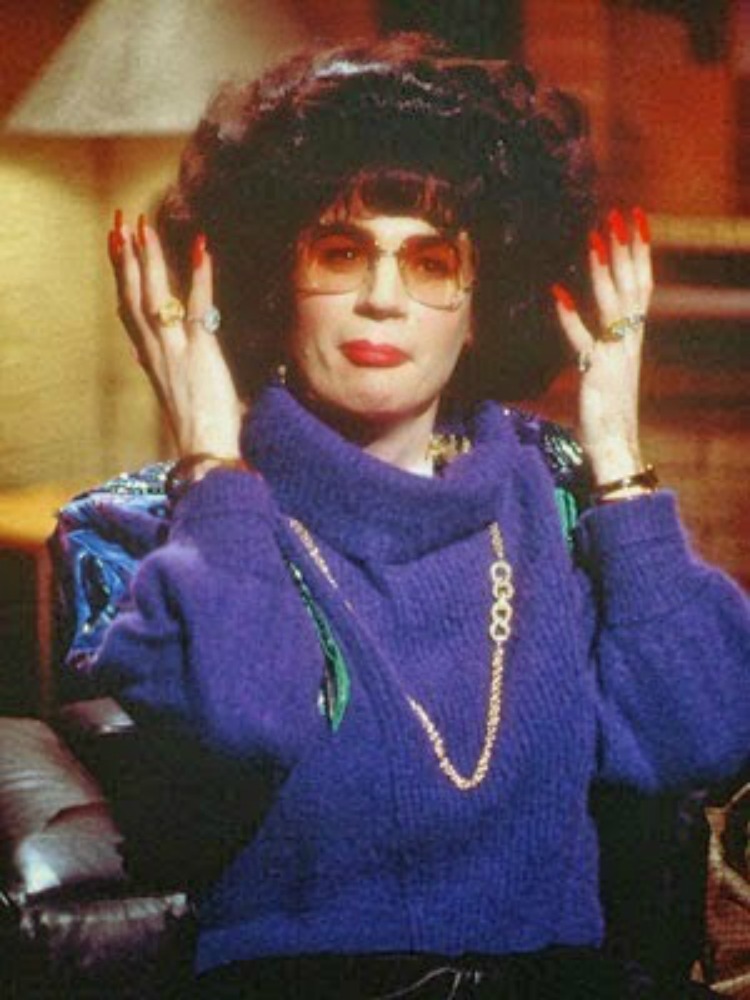 DISCUSS AMONGST YA-SELVES…….
:: LAST WEEK'S RHONY :: 
I have never been on the "Countess" LuAnn DeLesepps-now LuAnn D'Agostino's bandwagon.  She drives me nuts.  And especially ever since the engagement, and her turning their wedding into a Sweet 16/Quincinera/Bridezilla extravaganza with the 21 year daughter as flower girl, my feelings had not gotten any more favorable.  But I have to say, this Mexico trip is really turning me around on Lu. I feel like in one day she has me doing a full 180! She tries to give credit to Bethenny with a Thank You toast at dinner (that Ramona clearly ruins), she helps Dorinda to her room to try to get her ready for dinner (but Dorinda power napped until morning – hey, we've all been there) and she laughs her way through not one but two face plants on night one in Mexico.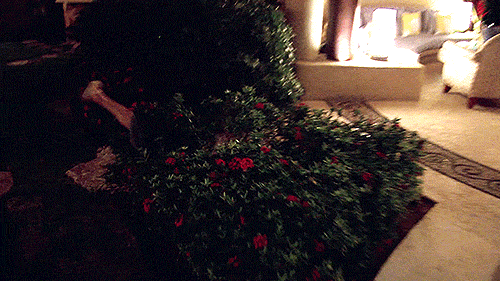 And perhaps the greatest fall in Bravo history.  At least the best come back in TV history from a fall because how she didn't break something in that one from the ledge onto the cement is beyond me! 
And in the morning….. she strolls right on out there and joins Dorinda for some morning yoga.  I meannnn.  Slow. Clap. For. Lu. I have so much more respect for her! And then she ackhowles that yes she is crazy hungover and laughs about the night before, but she is still up and at 'em and going surfing with the girls, all bright eyed and bushy tailed.
Note to self: Next Hangover…. play like a Champion…. play like Countess D'Agostino.
Tinsley clearly made an impression on Scott (I mean… a 5 day date with a flight to Miami? What's not to like!?) and he's so crazy over her that he sends her huge bouquets of flowers to the Villa in Mexico.  I think it's really sweet – and I'm happy for her and happy that they are still together – but this just such a Housewife thing.
If I were to go to out of the country with girlfriends for vacation and some guy sent huge bouquets of flowers to a friend where we're staying after one date I would be like "Listen, we have a serious stage 5 clinger, possible psychotic murdered on our hands.  You need to run."
The next morning, Ramona lives up to her name of "The Apologizer" and jumps into action to try to fix her poor behavior with Bethenny.   Clearly not because she is sorry for anything, but because over her fried crispy skinned laser facial'd face dead body is she not going on that tequila tour the next day.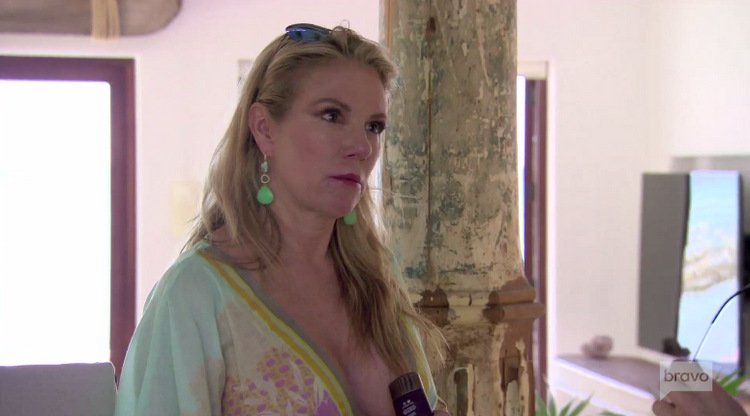 She has such a hard time trying to play nice.  "I don't not-not like you…." I mean come on Ramona.  Even you can lie through your teeth better than that!
Bethenny and her one liners have been SO. ON. POINT.  They always are, but I'm loving them lately. When they are surfing:
"The only thing that was missing was Ramona and her two floatation devices in case we were drowning to hang on her to her back."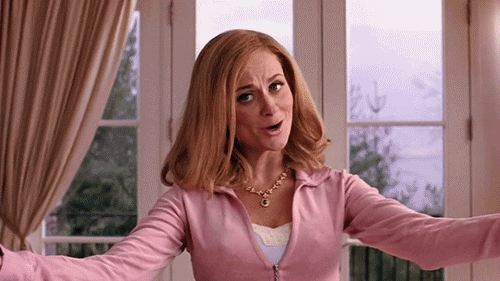 The gals head out shopping – and I must say all of these stores looked pretty great.  Ramona is buying everything that she see's Bethenny look at or touch that she can get her hands on in an effort to break Bethenny down and get invited to Tequila.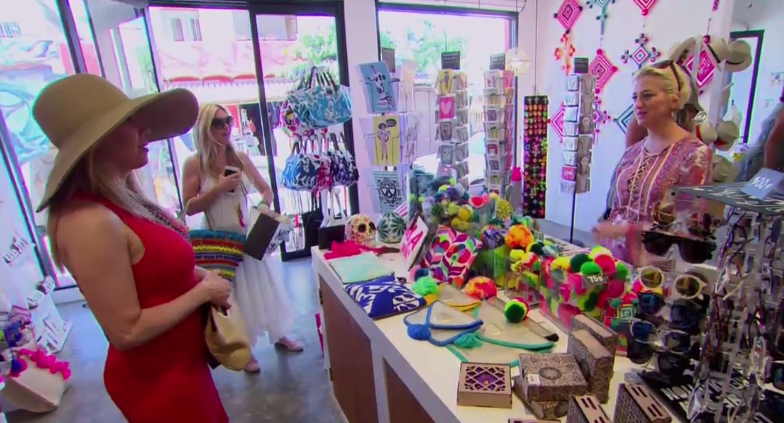 Well, Ramona isn't actually paying for any of it.  LuAnn is handing over all of her money, and she doesn't even get LuAnn a bag after all that!? Again,  I just can't believe how amazing and chill LuAnn is?!
After shopping, Ramona is exhausted and obviously needs the staff help lower her into the pool.  God forbid she use a stair or anything.  This woman in unbelievable.
I really love Tinsley…. I really do….. but just drop the Page Six blurb about being a bad houseguest.  Who cares and the whining is not a good look for you when your voice can get that high. She was bordering on Landon + Dolphin territory when whining at dinner the first night with that pitch, and then childishly sprinting into the pantry (and no one followed…..awkward….. so you just have to walk back out and sit back down at the table)
But seriously, everyone that watches knows you are not a bad houseguest!
…. I know I dropped it….. but do we think it was Sonja? or Ramona? I bet Sonja. 
We finally make it to the day of the Tequila excursion.  I was pissed Ramona got herself invited – because nothing would have been better than her having to sit at the Villa by herself but then I realized 1) The staff gets a break from her demanding ass if she is gone and 2) she gifted us the gem of her walking up to the helicopter.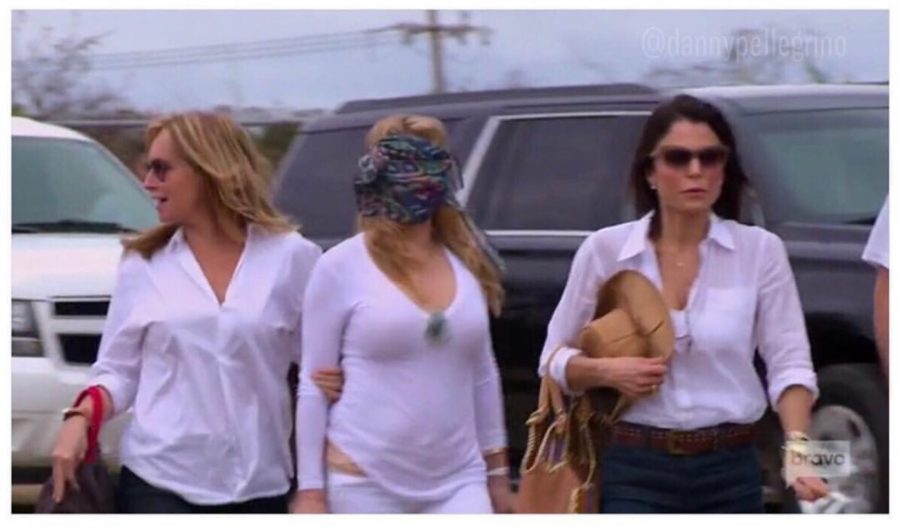 She gets out of the car with a scarf fully wrapped around her entire face as though she is a hostage – I truly don't know how she can see – and she also has her belly just hanging out over her white jeans. And when she gets out of the helicopter, she keeps it horribly wrapped around her head like she is in the desert riding a camel.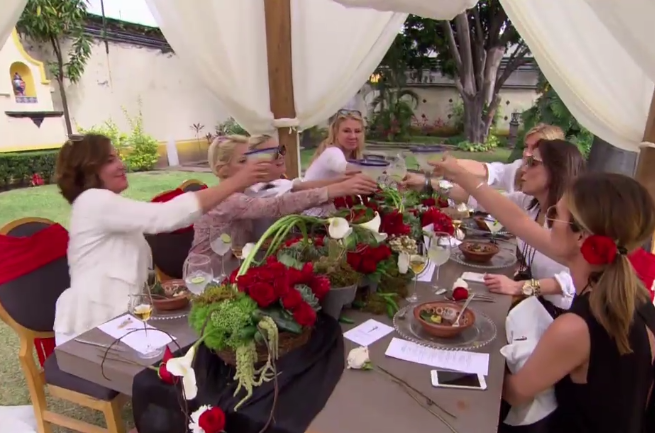 The Tequila Tasting menu and the whole excursion looked amazing.
When it ends, they head back to the Villa to continue the boozefest and give the viewers what they really want!
We only get to see the beginning before a to be continued, but Sonja has rediscovered the Sauce and is drunkenly trying to make-out with LuAnn and talk to Ramona about not being happy because Mario isn't having sex daily with her.
You know, because Sonja knows it was nightly sex because "she was there".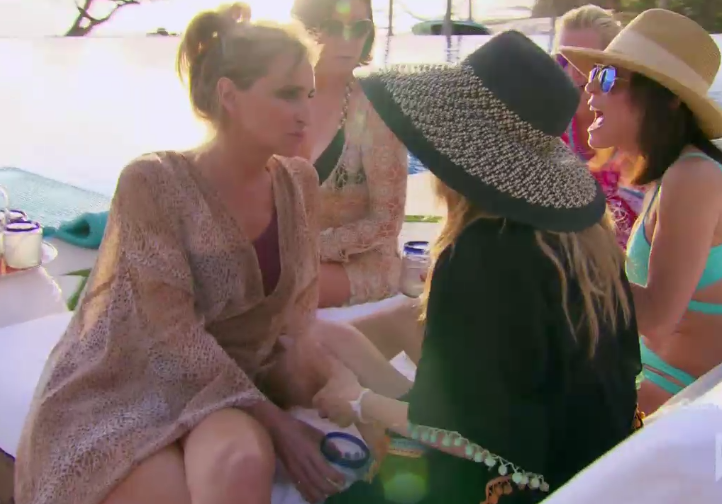 Next week it looks like Bethenny loses it on Sonja, gets naked in the pool, and we see 700-Margs Deep Drunk Dorinda.
:: Bachelorette The Men Tell All ::
I had forgotten about half of these people.  There is one hot guy I Swear I have never laid eyes on, and I totally forgot Jack Stone until they showed him and then flashbacks of his toothy-horrifyingly-awkward date flashed into my mind.
We barely had any time to reminisce about everyones disdain for Demario because his side-girl Lexi was a blip in the radar, because who cares about Lexi we wanted Bachelor in Paradise scoop, because compared to Lee and the racist and sexist twitter fest he has been having DeMario was nothing.
I must have been living under a rock because I had no idea about Lee and his insanely horrible twitter commentary.  I am so glad his ass got handed to him on National television.  What a loser.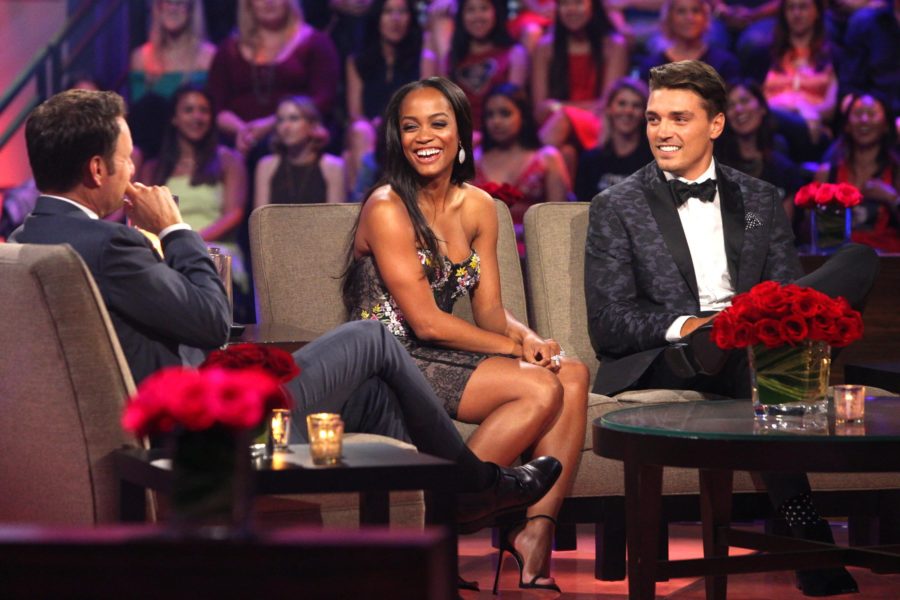 I am so sad that Dean is going to Bachelor in Paradise!! I know that he is too young and his pants are too tight and his tie is too skinny and he's just all wrong for the next Bachelor (PLEASE ABC I BEG YOU, CAN WE GET SOMEONE NEW!?
AN UNKNOWN HARDWORKING HOTTIE? IS IT REALLY SO MUCH TO ASK!?)
but I feel like he is too sweet for Paradise and it's just going to ruin him! I hope he's good and not a man-whore when he goes!
Side note : I just realized that everything I said about Dean, with the exception of age, was Nick and they picked him.  Too tight of clothes and went on BIP….. then still became Bachelor….. 
If she ends up with Bryan next week I will lose my mind……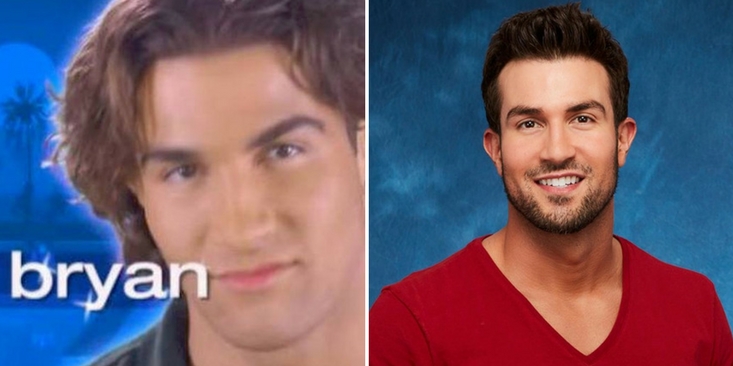 And then I'll get over it in 7 days, just in time for Bachelor In Paradise's premiere August 14th.
:: RHOC :: 
Kelly Dodd is talking to her gem of a husband (you know – the one she compared closely to Hitler and is only married to because she basically couldn't get divorced from him) about the fight at The Quiet Woman.
I will never get over how great that fight being at a restaurant with that name was. 
Michael keeps trying to chime in with "oh when she kicked you out of dinner" but he is confused about which housewife kicked them out when last season.  It is understandably confusing because, as the flashbacks lovingly showed us, Kelly has been kicked out of several occasions in her short time on Housewives.
Kelly tries to say that Shannon has Stockholm's Syndrome and when Michael explains that would means Tamra has her locked up and she takes on the traits of her oppressor Kelly is like "BINGO!!!" and just nods.
Sigh. I really, really, really just can't with Kelly.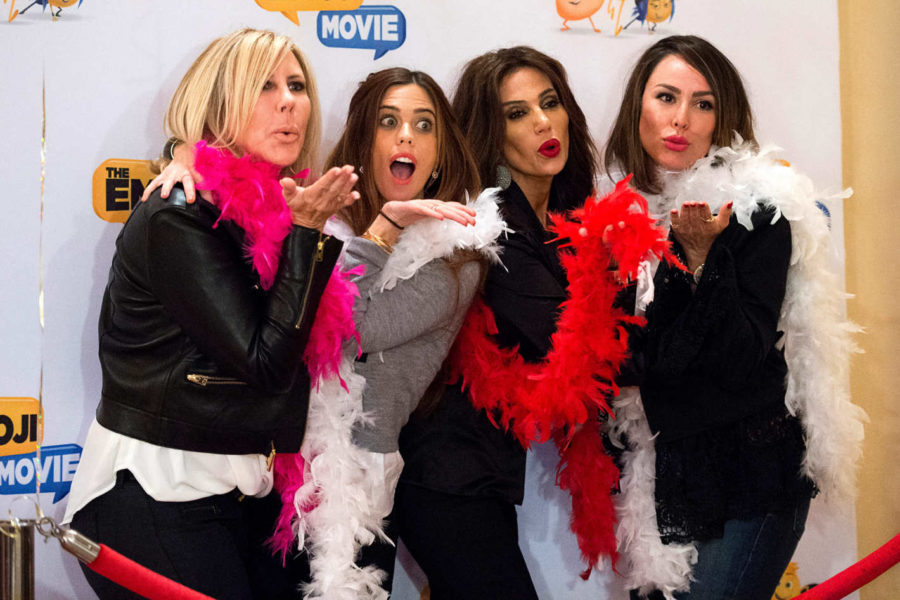 We see all of Sterling's absolutely thrilling not at all a waste of 15 minutes 8th birthday party, which is pointless except for seeing Lydia get caked in glitter, an then get one moment of Vicki discussing cancer with Peggy.
Of course Vicki has to give cancer commentary.  Similar to when she tried to start a cancer charity, the woman has no shame and has learned nothing,
"After everything that happened with Brooks, I think health issues should be kept private. I won't be asking for records and researching."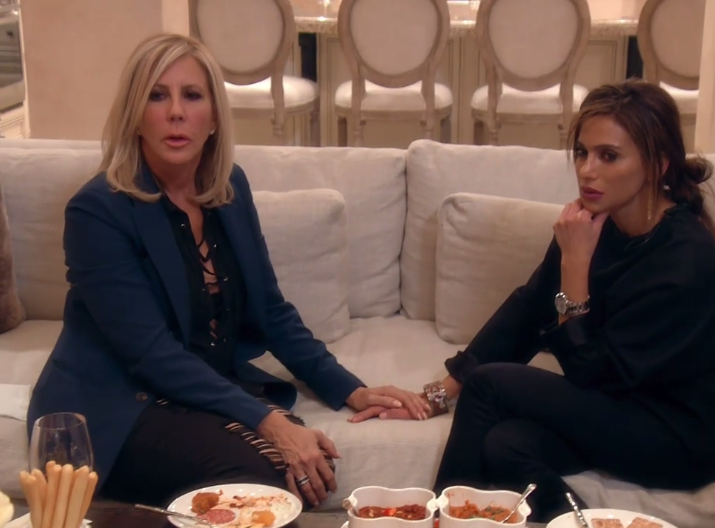 Well, Vicki, people only ask for medical records when they realize someone is faking cancer.
Not when someone has an actual medical diagnosis or health issue.
I see how that can be very confusing though.  Very conusing.
Shannon in the car with her 15 year old daughter is basically me but far more calm.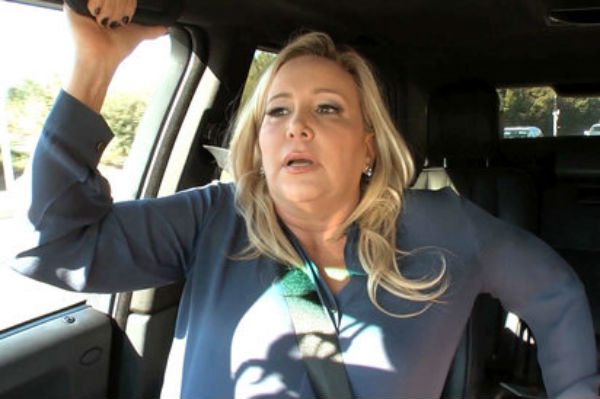 That's how I react to being in the passenger seat – it is like sheer terror.
I will never be teaching my children how to drive it will All be entirely up to Kip.
If I wasn't so focused on feeling bad for Shannon and her entire story line being about her weight gain, I would be feeling really bad for Meghan that her entire story line is trying to make her out to be clueless and helpless as a mother.  And acting like Big Jim is Dad of the Year.  Not buying it.
But Meghan is totally correct in saying that it is a hell of a lot easier to get along with Kelly than to argue with her.
And OF COURSE Kelly tells Meghan at 7 months pregnant that Jimmy has a mistress.  She is nuts.  I have never seen anyone on TV hit lower than Kelly Dodd.  Her and Michael deserve each other.
And then Peggy is getting chummy with Vicki! PEG'S!  You are warming up to the wrong person. RUN.
Dud of an episode compared to the weeks past, but I'll give things time to warm up – OC never lets us down in the end.
:: JACKHOLE OF THE WEEK :: 
Brandi Glanville.
The never-ending feud turned lawsuit between her and Joanna Krupa (about Brandi's foul words regarding Joanna's lady bits) has come to an end.  And of course, not in any sophisticated manner when dealing with Brandi.  She had to issue a public apology which is so blatantly not her words nor meant in any way that it basically doesn't even count, and the other details are sealed by the court.  I hope Brandi had to pay some cash to Joanna because she deserves it.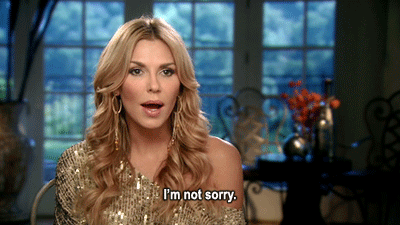 She is a double Jackhole this week because Brandi entered the Celebrity Big Brother house this week. (Why can't they ever pick anyone classy or decent? The last Americans I remember for this were Spencer and Heidi and they were awful!)
Apparently she is already showing her true colors of complete trash.
"Today, Brandi entered the Celebrity Big Brother house.  Before she even got in the door she started running her foul mouth on the live show. She wasted no time calling  Eddie dumb and referred to Leann as a f—–g c–t. British tabloids have been reporting on her foul  mouth and revealing clothing since then."
SHE IS THE WORST.
In other news … this season of American Big Brother has been AMAZING. 
:: BELOW DECK MED :: 
Speaking of THE WORST, Adam and Hannah are just unbelievable.
Adam : "I don't want the crew to think I'm this crazy, aggressive man…" ….. sooo let me prove it by constantly being completely crazy and aggressive and continuing to eff with Malia.
They are doing a Reunion Episode so I can't wait to watch Hannah act like she has never done anything wrong and Adam continue to be the stage-5 pathological liar that he is.
:: MAZEL OF THE WEEK :: 
To Jill Zarin! For her Annual Charity Luxury Luncheon.
I had read that Bobby was sick again so I am confused if this news came right before her event or after? But either way it looked amazing, raised a bunch of money, lots of bravo-lebs and housewives were present!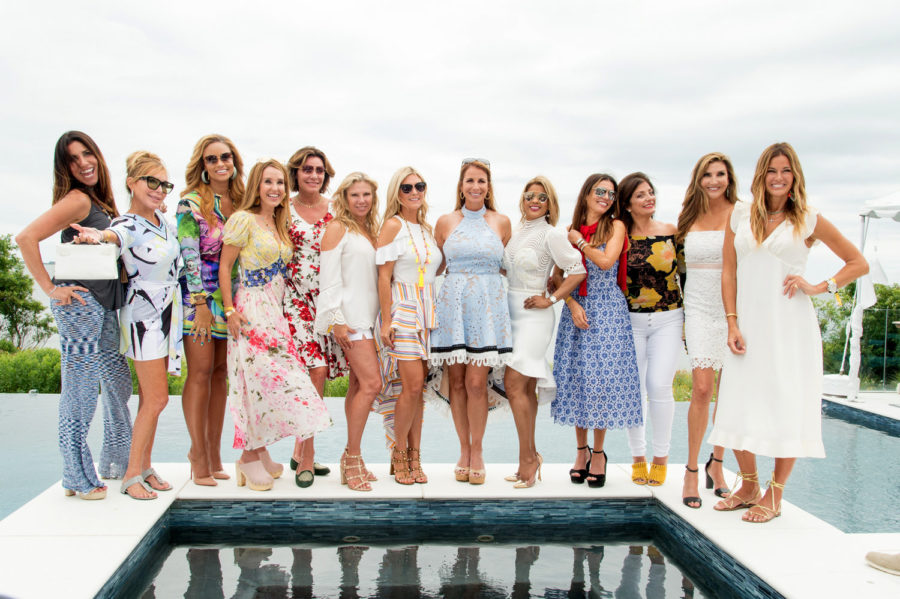 You can see a bunch of photos from the event here  along with a random old video tour of her NYC apartment?
:: Editors Note ::
As always, ignore my own blatant grammatical errors whilst I make fun of others poor grammar during Coffee Talk on a weekly basis.
#HYPOCRITE   #SORRYIMNOTSORRY
I write these posts late at night while simultaneously watching Bravo, taking snaochats of my snoring husband, and making to do lists of everything I was supposed to do and didn't do that day, and likely won't do the next day either.  Or the day after that.