DISCUSS AMONGST YA-SELVES……
:: Bachelor in Paradise :: 
Random thought from last week that I had meant to share:
How was Jade pregnant and able to go to Mexico to be a bridesmaid in Evan + Carly's wedding??
Mexico is one of the #1 places off limits, isn't it?  Am I missing something?
Because I know a lot of ladies that would love to hop on a plane to an all inclusive resort in Mexico
but have been told it's not allowed?
but…. I digress…..
Every time a new person enters paradise and they remind us "how we might remember them" I either
A. want to crawl into a hole for them or
B. remember why Rachel's season could not have been more boring for the first 5 weeks.
"You might remember me as the one with a doll…."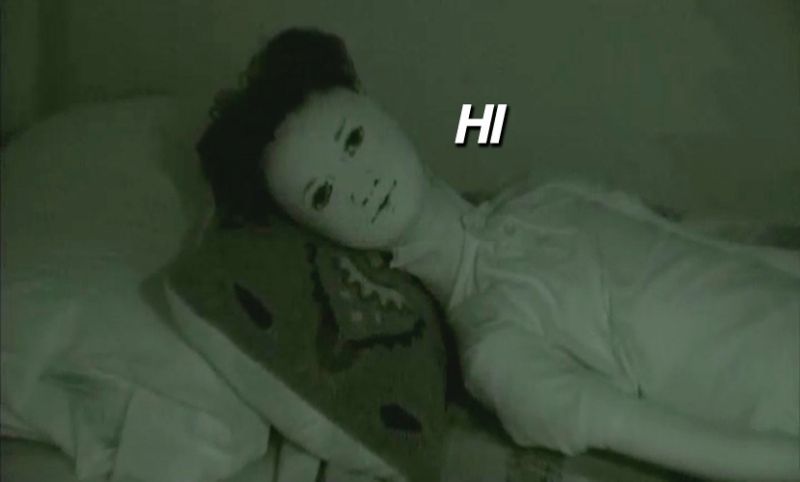 Seriously?? No.  We don't.  Not at all.  And that should be a good thing because you're getting a second chance now so don't remind us you were the creep with the mannequin!
At least Adam/Mannequin guy has Lacey there to take the cake for the intro.
"You might remember me as the girl that rode in on a camel"… um…. No.
Taylor and Derek bother me.  Mostly because I really liked Derek on his season, and I am really really not into Taylor.  I'm sure she is lovely in real life (and blah blah).  But if I'm honest, I'm sure none of these people are lovely in real life.  But Taylor really went above and beyond on Nick's season.  She acts like her career as a mental health counselor is just EVERYTHING and how dare someone try to ruin her name publicly (i.e. Corrinne and their battles). And then 1. you go on the Bachelor. Enough Said.  2. You make an ass out of yourself on the Bachelor and 3. You now have nothing but time to come to Paradise and get it on with cameras watching.
I meannnnn I know people can do more than one thing…. But being a Bachelor in Paradise contestant and Mental Health Counselor don't seem like they go hand in hand.  Unless you are spending your time counseling everyone there.  At least everyone else there owns the unemployment with job titles like "Dolphin Lover" and "Model".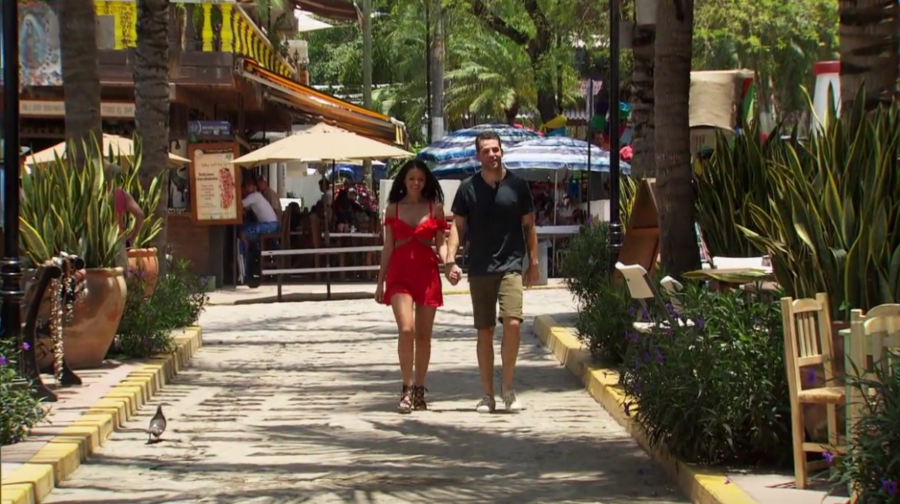 Adam decides to give his date card to, who else, Raven!! as she is mid stuffing her face with a giant spoonful of food.  These men really have a thing for Raven. (cough: insert inappropriate joke about how there's no pressure to perform because she's never…. ya know…. so they think she's a safe bet)
Robby goes straight from Raven to hitting on Amanda (baby-voice-with-two-gladiator-sandals-girls) .  Robby is concerned to go after her because his "bud" (Sweaty Josh) was engaged to her. But not concerned enough to not try to kiss her while sweating uncontrollably and not having spent any one-on-one time together.
In his defense….. he clearly knows the sweaty look does not deter her….
A rose ceremony finally happens. Praise the Lord.
Vinny's departure was the best ever and made me want him to come back immediately.
A new girl arrives : Danielle.  Or "D. Lo" as they keep calling her.
I can't with her in general, but HER CONSTANT LAUGH. I just can't.
Danielle bee lines it for Dean, who in case you are lost, is supposed to still be in love with Kristina the orphan from Russia because they both have had a rough family life.  D.Lo and Dean go on a date.  She laughs.  I roll my eyes.  They have an awfully awkward kiss. The end.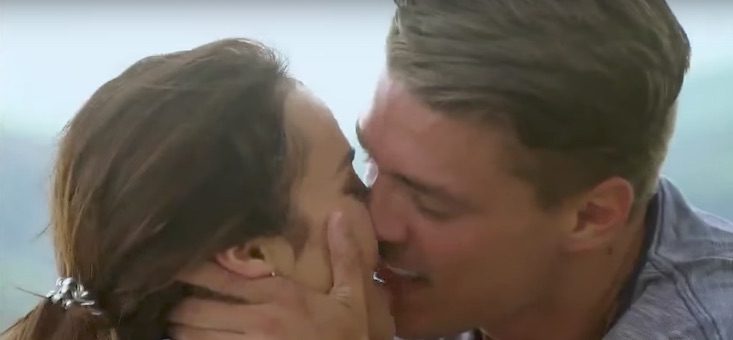 Dean is stunned that Kristina is upset and says that  "she lets her emotions get the best of her." Well, yeah, you just spent 10 days together on hiatus and she's watching the two of you come back in the house all giddy!
And just like that…. Sweet little Baby Dean is no longer the object of America's affection. Especially after he brought a half-birthday cake down to D. Lo. Because half birthdays 100% need to be celebrated.
ps. I love how much clearly went on between people when production was shut down and no one is hiding it.
Every new person that arrives had just hooked up with someone during the shut down!? 
Monday night's episode ends with Shark/Dolphin Girl crying over two freshly made pizzas being
spilled in the sand in  by none other than 'D.Lo'. UGH.  D.Lo!!!!
Can we discuss how annoying that nickname is? And that no one smiles that much? except Kayla…. and we all know she couldn't be trusted either?
But back to the the spilt pizza: I'm with Dolphin…. we need to focus on what's important here. That pizza completely deserved tears.
Tuesday night there's more crying from Kristina, awkward dates with Lacey, more fighting over men, a new girl coming in, but it's all really just leading up to DeMario's sit down.
Oh, and Ben Z really needs to lay off the dog talk.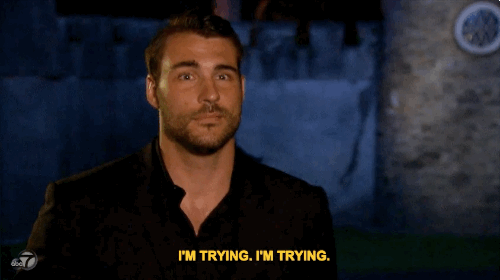 At first I thought the dog talk was just a fake/produced moment, but now it is past the point of seeming produced and just seems creepy.
We finally get a sit down with DeMario (FINALLY), but the sit down with Corinne isn't until next week.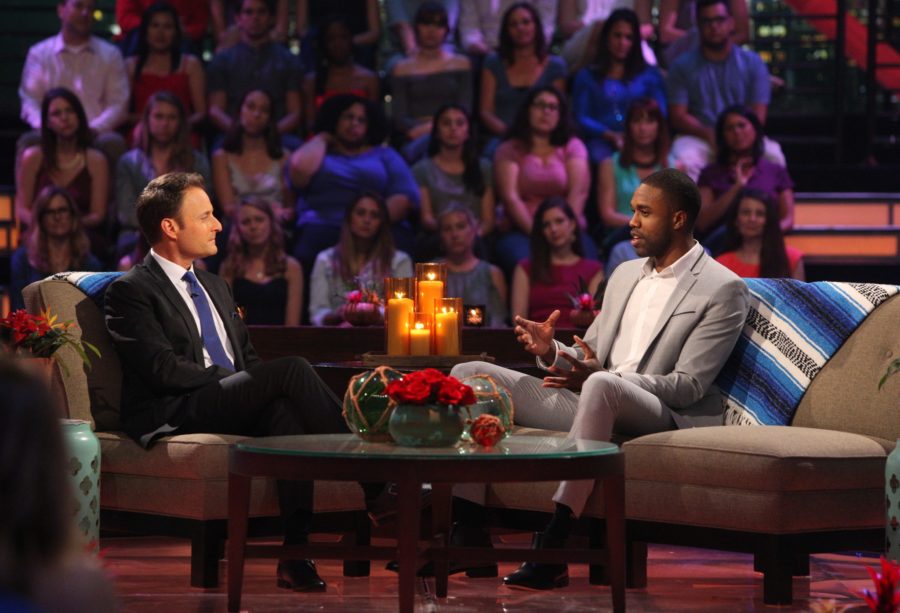 I feel like ABC/Production should really be ashamed of themselves for milking it the way that they have.  If this was something that was actually concerning to them, wouldn't you try to lock it up and set the record straight right away? Not continue for 3 weeks in a row, 4 hours per week, with episodes discussing it?
I did feel really bad for DeMario and was glad everyone stuck up for him.  Those tears were legitimate.
:: RHONY Reunion Part II ::
I wish I could recap reunion part II for NY but my eyes are closing as I type so it would be more like this than actual words :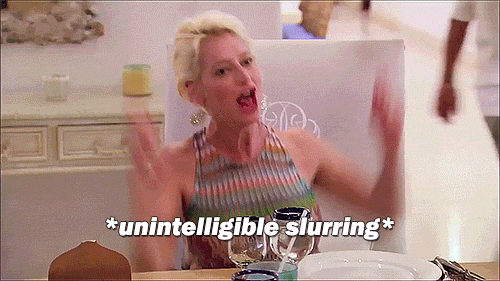 so instead, allow a few favorite gifs of the night, and one of my-boyfriend-andy-cohens face to come in part III, summarize the ladies.
And the boobs were even more distracting last night than part I – I couldn't look away from Sonja + Ramona's rack whenever they were in camera shot.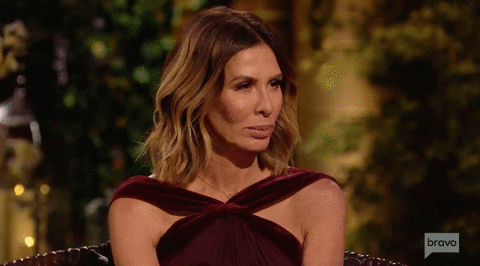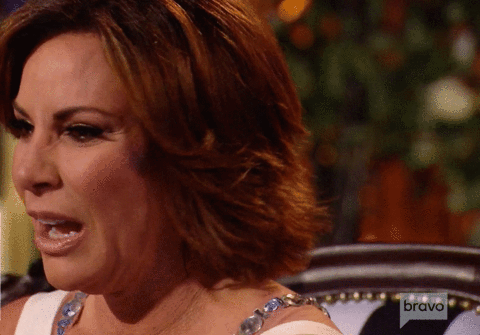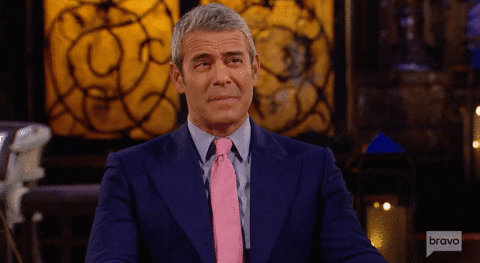 :: RHOD ::
Bless Dallas.  OC is giving me nothing, and with New York ending, this is all that I have.
Kameron, the new girl who is obsessed with pink and confuses us about how old she actually is, continues her "super smart" commentary.  I couldn't handle her with her kids and the Spanish teacher.
"Romy is the most sought after Spanish Teacher in all of Dallas"  Your kids are 3 and 6? THREE AND SIX? And need a highly sought after tutor?
But they need to be "trilingual" of course.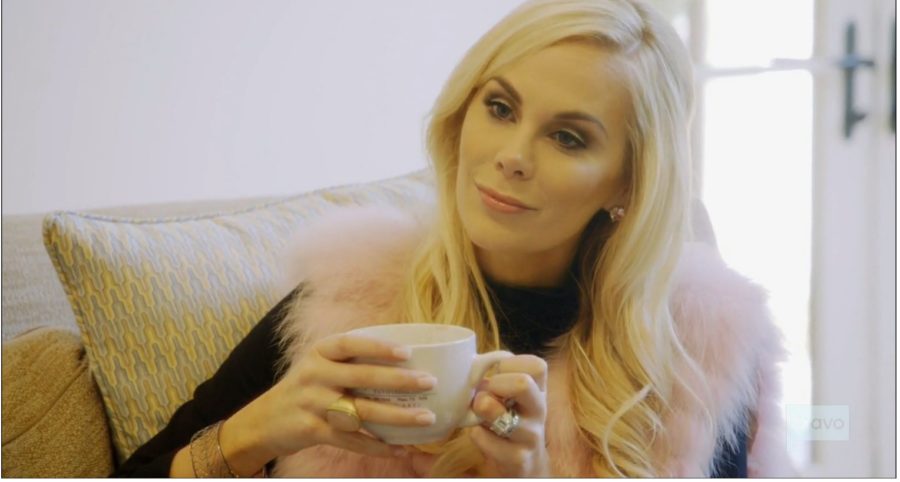 I don't care how smart Kameron is, or how obsessed with pink she is, or even that she actually thinks pink dog food is something to throw millions of her husbands money away on. Her intonation/cadence and just everything about when she opens her mouth is like she is TRYING to seem stupid.  It's like she wants people to think she isn't smart, even though she is? Why would you want people to think you are dumb?
Stephanie meets with her life coach and is still at the point of sobbing the second Brandi's name comes up.  I feel so bad for her.  Mostly because now all she has is Travis…. woof.
Travis takes Stephanie to see some (hideous) house that he wants them to move into.  Apparently, he has picked out every home they have ever been in, and Stephanie has never had a say in it.
link to the house here – thanks Judy!
Um. Ex-CUSE me!?  No wonder this woman is in tears with losing her sister/wife. 
I'm as shocked by the realtor (and her 7 combined accents?) as I am about the house…. this house is absolutely awful and this realtor needs a reality check. The realtor leads them around and Stephanie only sounds excited about one set of drapes hanging in a bedroom.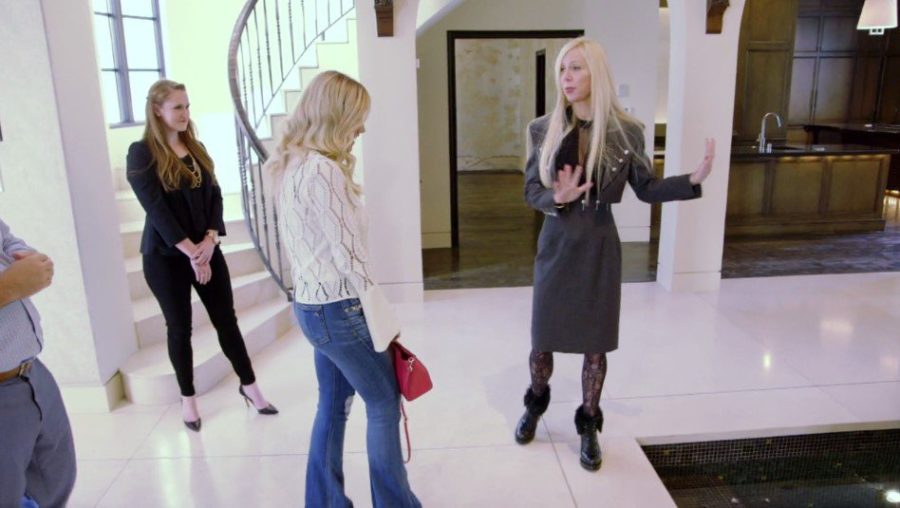 Towards the end of the tour, the realtor exclaims "you can enjoy this ah-mazing view from your steam room!"  Um. I see two gigantic office buildings – and a fair amount of cars driving.  So please explain how this steam room has the 8 million dollar view?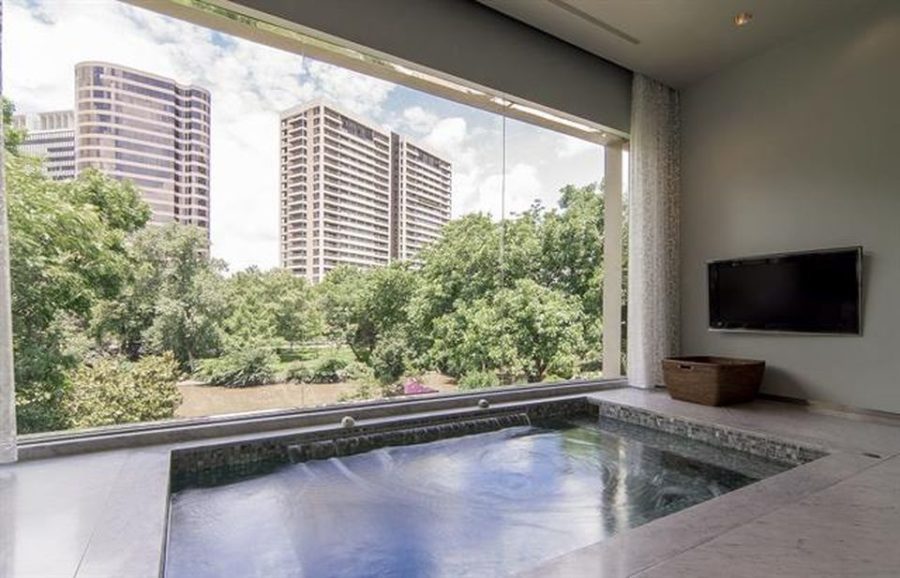 I mean?!? WOW.  What a stunning view!?
Listening to Travis exclaim how amazing the pool in the entry way/living room is, and every other awful detail, is proof that men should never be allowed to pick out a home (and also that money can't buy you good taste…..or class.)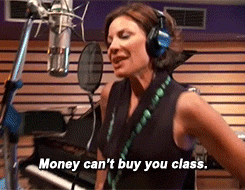 We later see Travis come home saying he put a bid in for the house without every telling her. And, SURPRISE, they got the house! I meannnnn.  I want to pull a LeeAnne Locken on this man.  I'm beside myself that a man would do this.
Mark, Cary's husband, is a top style finalist of the year for a Style Maker Award.  Shocker!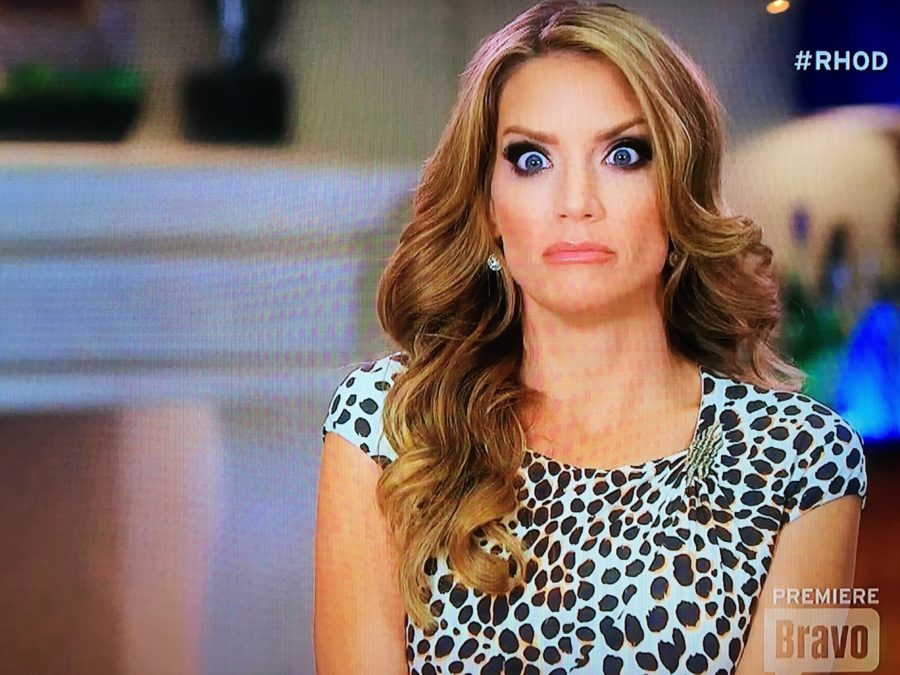 But in more exciting news, DEE IS BACK!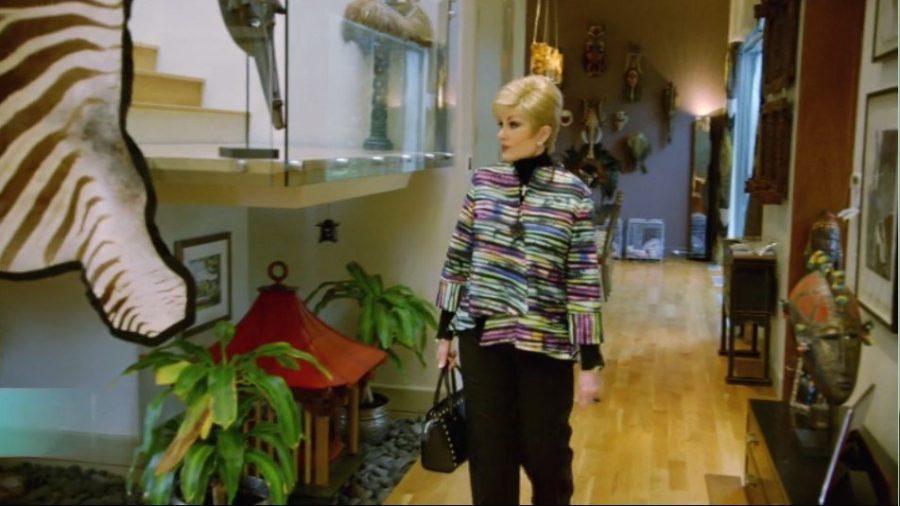 We're gifted another awkward mother-daughter moment between her and D'Andra when she returns from some kind of impromptu trip.  We learn a little more about Dee and her company, but most importantly we see lots of flashback photos of Dee and we also learn that apparently they do the majority of their sales on Christian TV. And SOLELY that.  We're in Texas now!  I'm all for Christian TV Dee, but take some notes from your daughter and simmer down, because marketing, a new website, and social media is necessary.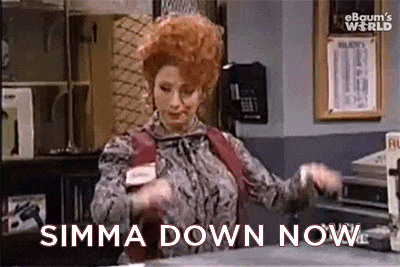 editors note : So I obviously (am a creep) and went to the Ultimate Living website to check out the goods, and then immediately went to find the Ultimate Living Instagram.  Looks like even with the show the instagram is struggling, but 
There is a dog halloween costume contest and for some reason it is decided that the contest is when Stephanie and Brandi should talk.  This is a horrible idea.  Get together just the two of you!! Away from The Crazy Carnie!
….. and whattaya know? Crazy Carnie LeeAnne Locken gets going and makes it somehow about her and is nuts towards Stephanie.
I still don't get by Brandi turned to LeeAnne after the fallout with Stephanie, but I'm sure if she hadn't, they would have made up months ago!
:: Flipping Out :: 
IT'S BACK! I love my Jeff Lewis and crew so much.  It's not a show I generally "recap" because there's nothing really to discuss except how freaking hilarious he is.  The most mundane moments become pure gold.  When he is driving in the car and discussing the name of the baby with his Grandma Patty, I laugh my ass off.  When they just shout questions at Gage through a wall, I laugh my head off.  When his client says "I realize you're just a big softie in the end" and he cracks " Sure, we'll go with that"  I just giggle my ass off.  When he laughs, I laugh so freaking hard.
:: RHOC :: 
I am tempted to stop watching this show entirely
(…. tempted…. but never gonna happen….) 
On the heels of the drama with Tamra's daughter Sydney asking her to not discuss her on camera, Tamra and Eddie go to dinner and spend the entire segment talking about Sydney.  I mean…. seriously.  She has made Sydney her entire story line this season!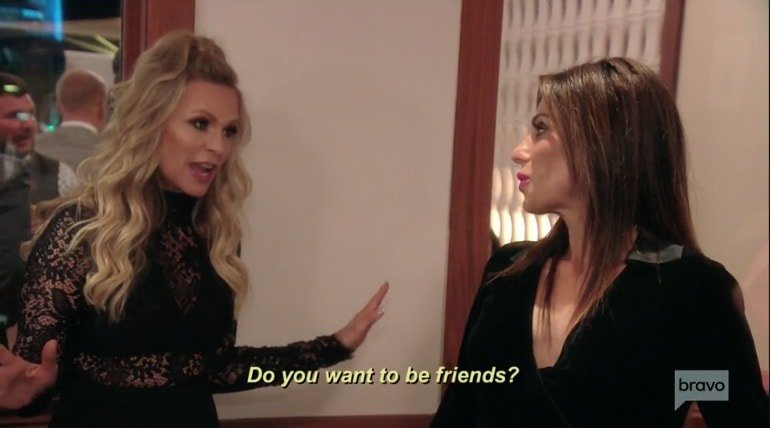 These scenes with Shannon and the food are uncomfortable to watch.  And perhaps don't tell your young girls how many calories are in the meal…not really sending the right message.   But I agree with Shannon that seeing your husband pounding chips while watching you finish up dinner really makes me crazy too.
You can really tell when Editors just have no shame.  When they show Vicki walking in to this party from the ground up, the waddle side to side, I mean – yowza. Although Vicki deserves it after the mean comment she made about Shannon.   Then the only audio and clips of Shannon since the show premiered are her discussing the food : Chasing down food + booze at the sip and see, and chasing down food + booze at the premiere of Nobleman Magazine.
I think Dico is so sweet; he walks up during Tamra and Peggy debating and says to Tamra "I'm so sorry I didn't get you a drink, take this one." My favorite was that he says 'It's vodka with club soda and a lime; it's really good!" As though that isn't the most basic female cocktail and tastes like heaven.  I mean we can all agree it's good but it's no strawberry daiquiri or pina colada anything……
Why is Tamra so pissed off with what Peggy is saying to her about Vicki? Tamra just likes to flip out on people I think.  Unlike some that have started to "know their role", I think instead of her knowing to play the bitch, she just IS a beyotch.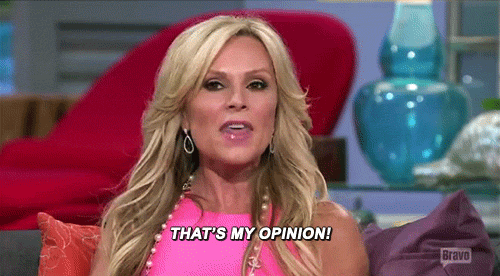 I don't know if it's because we are coming off of the high of New York + the new high of Dallas, but this could not be more boring.  I am like TRYING to find scenes and clips that I like.  And what is it I am commenting on? A 1.5 second clip of Vicki walking into a party.  I mean COME ON.  
:: Real Housewives of Auckland :: 
You're all telling me to watch…. and I trust your wisdom…. but I watched the first 20 minutes of episode one and immediately turned it off and went to catch up on the lat 6 episodes of The Great British Baking Competition.
I just….. ughhh.  Does it get better? I'm all for some International Housewives, I love me some Melbourne, but I just don't know…..
:: MAZEL OF THE WEEK :: 
To Project Runway.  For 16 Seasons.  For Tim just being the best.  For no more size 00 models only.  But mostly, for Heidi looker hotter than ever. I MEAN.  I will never understand her.  She looks AMAZING.  She (and J.Lo) have got it figured out.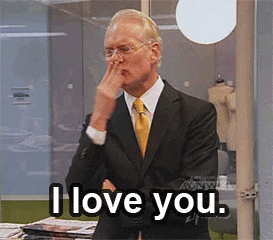 :: JACKHOLE OF THE WEEK :: 
Vicki Gunvalson and Kelly Dodd continue to be mean girls.
This time : mocking Shannon on a now deleted instagram, the same way they have been on the show.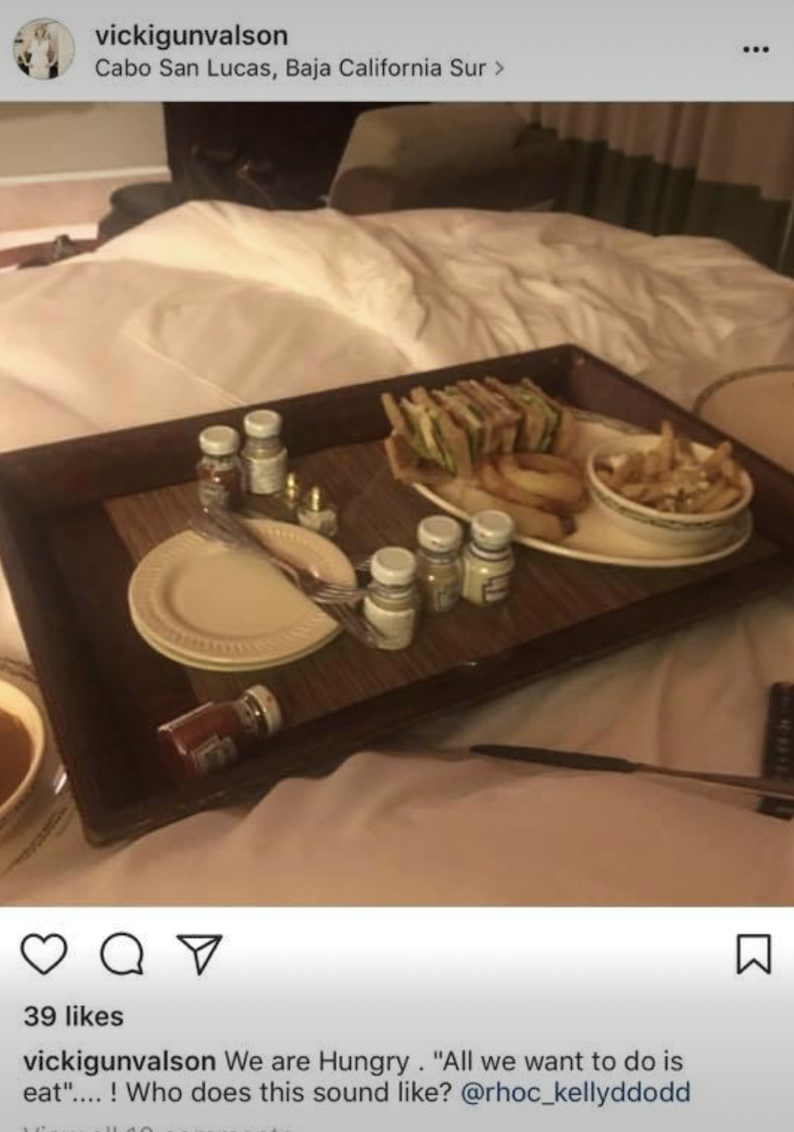 Is it just because I'm bored with this season that everyone seems so vindictive? Or is it just that Kelly and Vicki have always been that way?
:: Editors Note ::
As always, ignore my own blatant grammatical errors whilst I make fun of others poor grammar during Coffee Talk on a weekly basis.
#HYPOCRITE   #SORRYIMNOTSORRY
I write these posts late at night while simultaneously watching Bravo, taking snaochats of my snoring husband, and making to do lists of everything I was supposed to do and didn't do that day, and likely won't do the next day either.  Or the day after that.