DISCUSS AMONGST YA-SELVES……
:: Bachelor in Paradise :: 
IT'S FINALLY TIME FOR PARADISE.
I had no idea this week was going to be 4 hours of television, but I begged and pleaded for this not to be cancelled, so no complaints from me! Of course we have to start with Chris all alone on the beach, speaking slowly, discussing the scandal that was plastered all over the news.  And they tease us for about 3 hours until we finally get to see anything (spoiler: we see NOTHING. Not a damn thing). The way they are going about this makes me wonder how much of this was a publicity stunt? Because these people at The Bachelor are next level crazy when it comes to figuring out how to get the whole world involved in their franchise.  Speaking of, I wonder when UnReal Season 3 starts!? We don't even see Corinne and DaMario walk off to start any of this stuff that supposedly happened, so when they give us NO proof of anything, I am thinking it is fake?
But anyways…. we made it to Paradise.  And the cheesy intro. And no more Jorge as bartender (tear).  He is starting a business called Jorge's Tour-ges.  Take a moment and soak that name in. I may have died laughing a little bit.  But anyways…. we have sweet Wells instead.  Which is kind of perfect because I don't think he has the balls to make out with anyone.
I'm confused as to when Raven became like "the star" and spokesperson for all of the contestants? Am I missing something? Because I just recall a girl frolicking in the snow discussing her lack of orgasms to her family and all of America in a thick Oklahoma-drawl over and over again?
Dean arrives (YES PLEASE) and Kristina, the dental hygienist adopted from Russia, with some new hair and looking gorgeous.
More of the people with no jobs or career aspirations other than selling Skinny Tea on instagram arrive, including of course  DeMario and Corinne.  It is painful to listen to DeMario talk about how he's here to prove he's a good guy and get his reputation back in line.  Ruh roh…..
These people waste ZERO time getting absolutely hammered, which I appreciate!  No fluff and dragging it out like Chris Harrison and the rest of the show.  Wells clearly pours a mean margaritaTheir eyes in the commentary/diary sessions from day one are as glazed over as it gets, and Jasmine is leading the charge.  Jasmine's sexual awkwardness and chocking commentary on Nick's season was not a one off thing as we learn these next 4 hours – girl likes to booze and girl likes to make things seriously uncomfortable right away.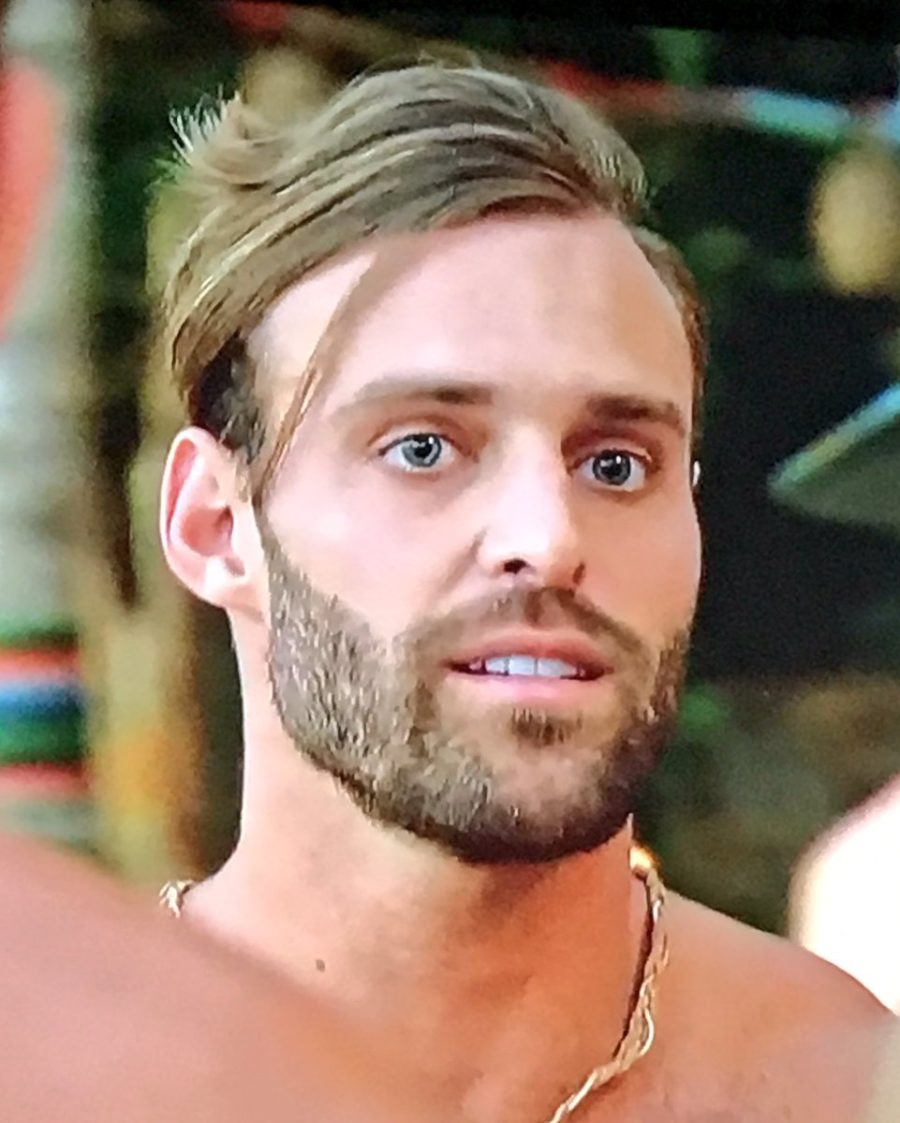 Things start to get exciting (who I am kidding, I was already on the edge of my couch eating all of this up!) when Robby arrives.  But in case you were worried Robby had changed his hair from JoJo's season, don't be alarmed, it's even more insane and makes him look more plastic and Ken-line than ever before.  Someone explain to me how a straight man – and I fully believe he is a straight man – can look like this and get a girl to make out with him, let alone sleep with him? AND THEN.  His profession changed from "former professional swimmer" to "social media influencer" .  You have GOT to be kidding me.  Robby.  You may have more abs that anyone there, but there's way more product-pushing-instagram-whores around you on that beach than you know what to do with!
Robby claiming to be a  "social media influencer"  is almost as bad as when Amanda says "I tried the dating app's but the celebrity one didn't even accept me! They had me on a wait list!"  I hate myself for watching this show and giving these people their 7 minutes of fame even more after that comment.  This is your 19th reality show, go home to YOUR GLADIATOR SANDAL WEARING CHILDREN. Who are probably 15 at this point.
I gained some respect for Raven when she got back from her date with Robby and said what everyone on their couch is thinking.  She made fun of the social media influencer title he kept talking about and said  "Every time he touches his hair I'm going to drink" .  She also said you shouldn't trust someone with 12 abs, anything over 6 means you aren't doing anything but working out and to that I say preach, girl preach.  2 points for Raven.
Why do all of the men here have necklaces on?  I really can't.  I've never been so happy to have left my twenties in my life – I wouldn't be able to find a single man in this group that I would want to make out with.  Sharing jewelry, especially stone and puka shelled necklaces, is not on my list of what I look for in a man.
Night one ends and I am super excited about Dean and Kristina, and super pissed we have seen nothing except drunk Corinne climbing all over DeMario's back.   All we see is Corinne get pulled aside and DeMario get pulled aside mid-afternoon the next day, and a sketchy "Shut It Down!" with everyone putting their cameras down (yet we still have footage and cameras rolling of everyone putting their cameras down and standing around…..)
Night Two of The Bachelor taking over my life begins….
But the first hour of the show is The Bachelor Wedding of the couple that no one ever saw coming  (including the bride herself)  because she was absolutely repulsed by her now husband to be and spent weeks discussing it on air.  Ah, yes, the true love that is Carly and Evan.  (Although seriously…. she seems obsessed with him now…. I don't understand how someone can do a 180 like that.  Repulsed day 1-7 , engaged to be married day 14).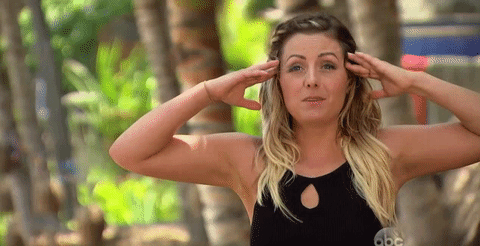 I had totally forgotten about her first run at BIP where we all thought she would end up getting engaged to Kirk. Yikes. That was a mess.
They replay the love story of Carly + Evan and it still makes no sense to me, but I do vividly remembered the spit string when they came apart after the habanero kiss – WOOF.
Okay can we move on?! I get it, there's 97 bachelor rejects in the audience for the ceremony, I don't have time for this and fast forward (sorry not sorry).  I need to get back to the current losers on the beach this season looking for "the one" and hopefully no crabs.  No crabs in many ways…... (They must test these people before the show? Anyone know this?)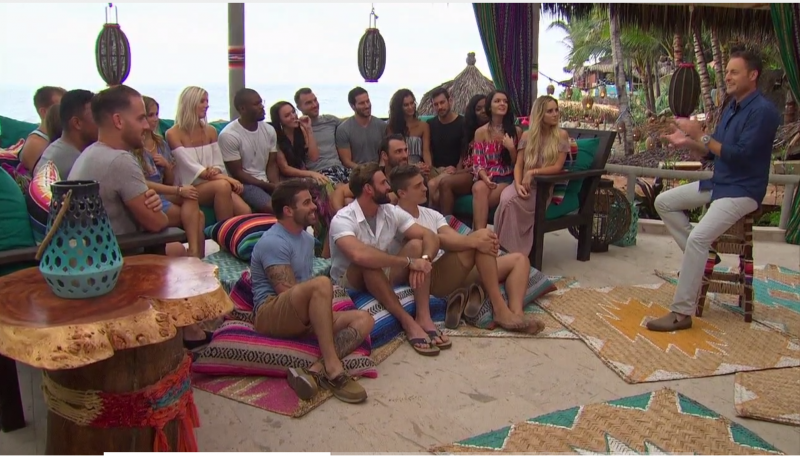 So paradise has been shut down.  They are showing us absolutely nothing of it.  And instead, we have everyone back together for an HR Lesson about consent that sounds like sex ed for pre-teens.  And Chris Harrison is the teacher.  ABC is really covering their asses and diving deep into "issues one faces in the beach-place".  They all stare blankly like anyone who has sat through a corporate sexual harassment meeting that just wants to know if it'll end early and they can go to happy hour after. But paradise can't resume until each person gives a verbal YES CHRIS YES! I WANNA MAKE OUT AND BOOZE AND EMBARRASS MYSELF ON NATIONAL TELEVISION!!!
Trust me ABC, they can't WAIT to disappoint their parents and make fools of themselves in front of the world.
But, even though we learn nothing about what happened, we do learn that everyone seems to be on DeMario's side.  Interesting……. And while they carefully add in things defending Corinne (when prompted) no one seems to be on Corinne's side at all.   It seems to me like Corinne was trying to make a big thing out of this…. threatening to sue….get some more time in the spotlight, and that it all clearly backfired big time.
A bunch more happens, but I'm exhausted already! Aren't you!? We're only two episodes in and STILL NO ROSE CEREMONY. Night Two ends with Jasmine trying to go have sexy time and Matt shutting it down and going to bed.  She is pissed.  I feel like perhaps he is the one person too ashamed to have sex on TV for everyone to see? Maybe it's more than that but I think he's done with her sexual aggression.
And Dean and Kristina, the "solid couple" of the group who spent 10 days together in Kentucky during the hiatus from shooting, are crumbling.  They're arguing about communication, and considering Dean seems like he would rather do anything than have to talk about his emotions on camera I can see why.  But because I am sad and pathetic and buy into all of this BS, I am rooting for these two – because we all know there are no other contestants with family/daddy issues for them to turn to instead.  Absolutely no one.
Favorite person : The Shark/Dolphin – her commentary with (who was it? Santa/Nick?) dubbing the conversation between Midget-Man-Alex and Amanda discussing "are you taller than my kids? could you share pants?" was absolutely incredible.
….. I mean it was 4 hours of my life I'll never get back, and I have zero complaints.  Well, just one : that we didn't learn anything about DeMario and Corinne.  But I for one am more excited than ever to see the rest of this season play out.
This show is truly a gift.  And I treasure it.
:: RH of Dallas :: 
Dallas is back, y'all! And for those of you that do not watch Dallas, let me tell you that you are doing your garbage-reality-television-loving-self a disservice.  It is so, so good. So different than all of the other franchises (and be sure not to jump right into season two but treat yo-self to all of season 1 on demand.)
but I digress…… 
I cannot BELIEVE that the two side-kicks Stephanie and Brandi are not friends any more! I am just shocked!  But I am equally shocked with how different all of these ladies faces are from the last time I saw them.  Am I crazy, or do they look different??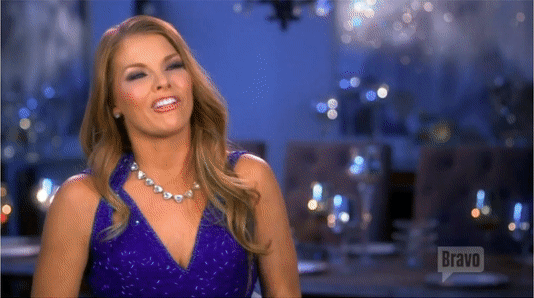 Brandi seems to be pulled tighter than ever to the point of losing her eyeballs.  Stephanie's face just looks all different to me (way too much filler? bigger?) and same with Cary's.  Leanne looks the same yet a thinner face and much better, due to her finally losing the Carnie Clown Blush on her cheeks.
But if I'm being honest, I am way too affected by the dissolution of the friendship between Stephanie and Brandi.  They are way too good of friends for this to happen! Stephanie is still crying at the drop of a hat over it 4 months later, and Brandi won't tell her why she just stopped talking to her.  At one point it is said that it's all due to Stephanie's Bravo blog saying that Brandi's marriage was like watching a slow motion car wreck last season.  But later, Brandi says it's all due to a Father's Day BBQ when Stephanie sat inside reading magazines all day and referring to Brandi and her husband as her husbands friends (aka not her friends?) What? Either way – this is stupid.  Get over it! 
What bothers me most about the ending of this friendship is that Brandi has turned to LEEANNE! Of all people! Seriously!? This is the worst idea EVER. 
There are two new girls this season.  Kameron, the tall blonde "barbie", and D'Andra who is "wealthy" not just rich.
We'll start with Kameron.  She is a tall blonde that is absolutely obsessed with pink.  There was much chatter about her being just like "Elle Woods" and being smarter than she looked and being the real life "Legally Blonde" I kept thinking that while I was watching I missed the story about Law School and that she was a lawyer? But after rewinding and googling I realized, no.  All of the talk is just about her being obsessed with pink. I mean, I'm sure she's smart, but that's not exactly the Real Life Elle Woods/Legally Blonde ladies, soooo maybe just stick with the barbie reference instead? Mmmk thanks.
She's been with her husband since college at SMU and he looks like an adorable little guy (I say little guy because she literally referred to her own husband as a Hobbit)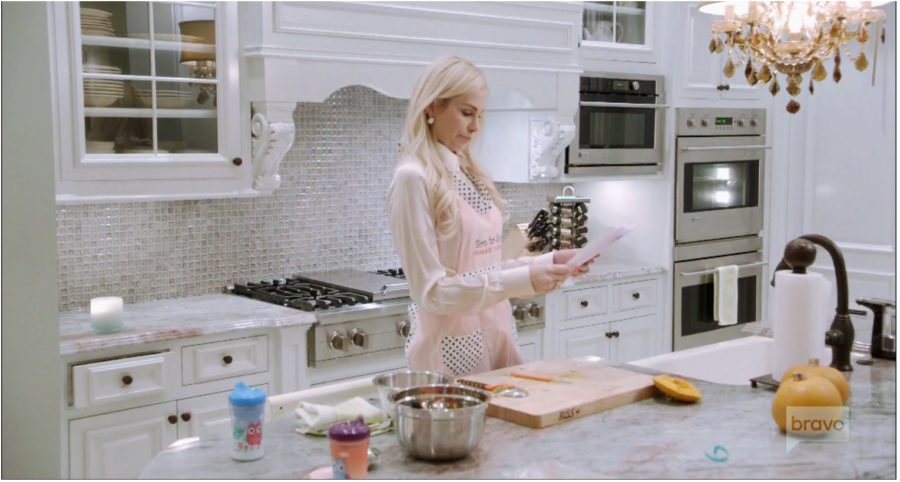 When her husband came in I was shocked…. because he looked so young! So I realized she must be young too.  Why do young girls get so much injectables/work done to their face? It only ages them! It took many a google search to find her age but finally this article clarified that she is 33 years old. THIRTY THREE.  I'm sorry…. but talk about a beautiful girl that has aged herself straight to 40.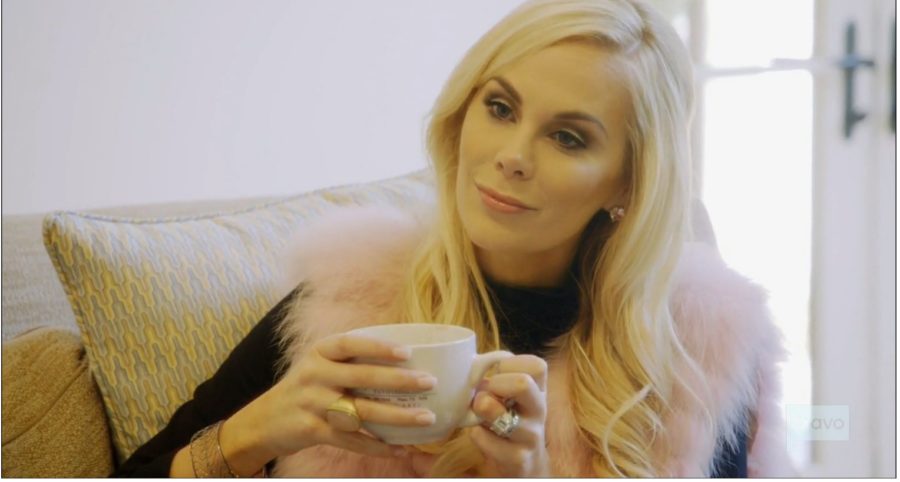 Anyways…. She likes pink because "with all of the horrible things happening in the world, it's a distraction…" and she is working on pink dog food.  Pink. Dog. Food.  And then blue.  Of course! For boys! 
I just don't think I'm going to be able to handle this girl.
I find none of this adorable or funny or anything of the sort, but we'll see. 
The other new girl is D'Andra. She came into her wealth through her family, married a photo journalist, and moved back to Texas to take over her mom's business.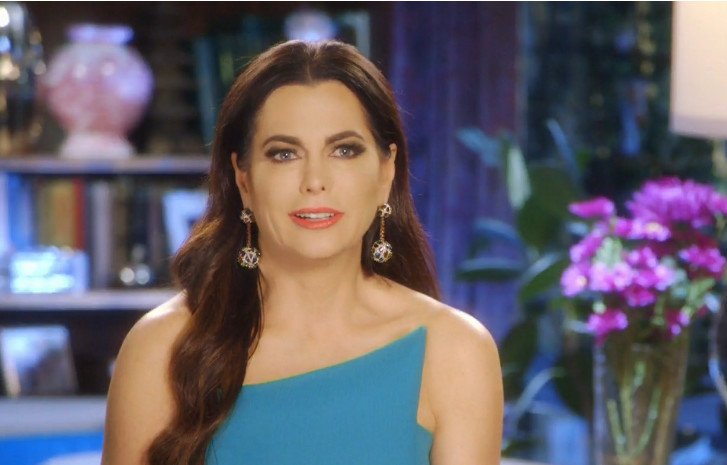 And lemme tell ya, her mom is the real star here.
First we had Dale (Tinsley's mom on RHONY) and now we are gifted Dee.
And wowwwwww.  Dee.  She's a gift from the Bravo Gods.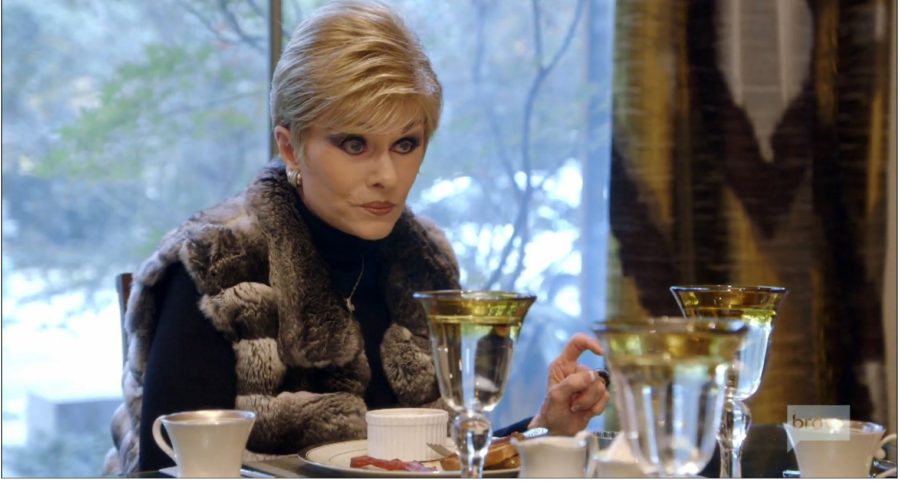 After only one scene with her,  I am already terrified of Dee based on how her daughter prepares for her arrival.  She's an absolute wreck about her mom coming over for breakfast.  BREAKFAST.  She breaks out the china, apologizes for not putting out the butter plates, and waits for her mom to scorn her, which she does. 
And do not even get me started on D'Andra's home. Oh.  My.  Lord.
Take a tour of the house here. 
One of the highlights of this premiere episode is LeeAnne pretending she is a calm, sane, changed woman thanks to her therapist and anger management.  We are gifted with the police report of LeeAnne threatening/trying to kill someone with a knife and sandpaper (a supposed "Fake police report" according to LeeAnne, because that's just so simple to do??) Sandpaper!?! Thing is, if you have seen LeeAnne fly off the handle, and saw that Lake Trip Episode last season, I can fully see her crazy pants doing this. Also, she never actually denies it?  Just does some Texas-Side-Talk around it. 
LeeAnne in therapy, pretending to be such a changed woman, does nothing but remind me of Monster In Law with Jane Fonda pretending to be all ashamed of who she used to be and a changed woman all calm and ready to go home.
It cracks me up.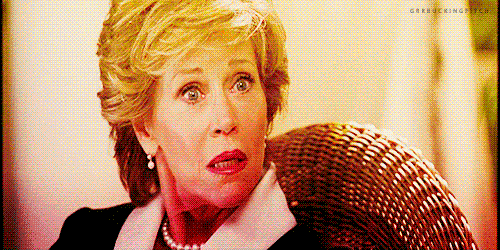 Again…. Monster In Law has been and always will be one of the greatest movies of our time.  Preach.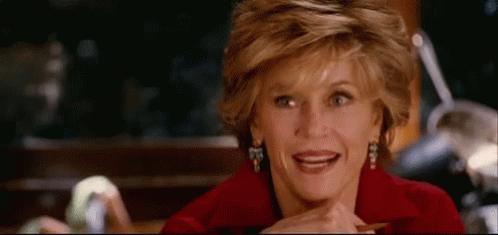 As she goes on and on about how calm and wonderful she is, all it takes is one comment to get her all riled up.  Brandi mentions in the limo on the way to Mark's party "Stephanie texted that Cary said LeeAnne was up to her old tricks".  And from that alone LeeAnne is ready to open a giant can of whoop ass.  Ohhhh I can't wait to see how the new blush-free LeeAnne remains all calm and anger-free this season!
and for the record, Cary is right. LeeAnne cannot stay out of anything if her life depended on it.  She is addicted to the drama!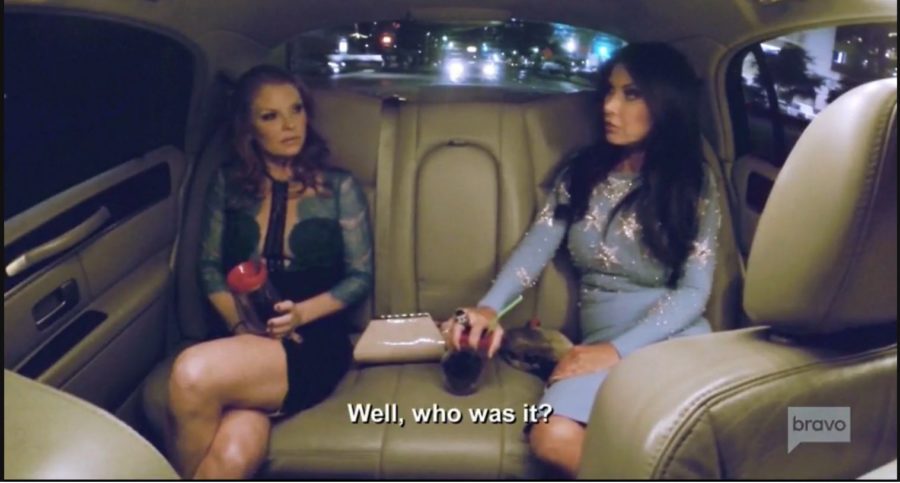 When LeAnne sits there speaking for Brandi at the party, when all Stephanie is asking is "can we talk now or later or whenever works for you", I was STEAMED.  How dare Leeanne get all involved in this! And answer for her 3 times in a row!? She is crazy! And we all know it! And Brandi knows it! What is the world coming to!?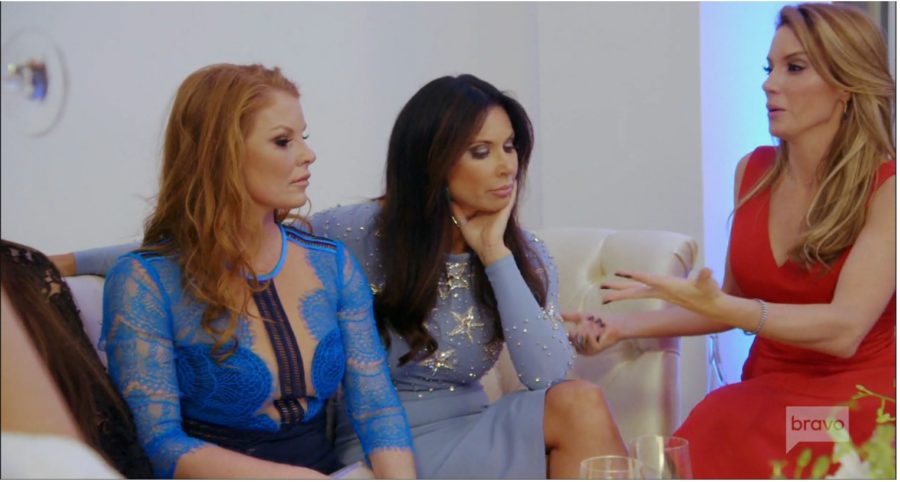 And a final note on LeeAnne: Did she say charity this episode? If she did, I barely noticed.  And therefor, my Dallas Housewives Drinking game is RUINED.  Thanks a lot LeeAnne! 
:: Below Deck Med Reunion ::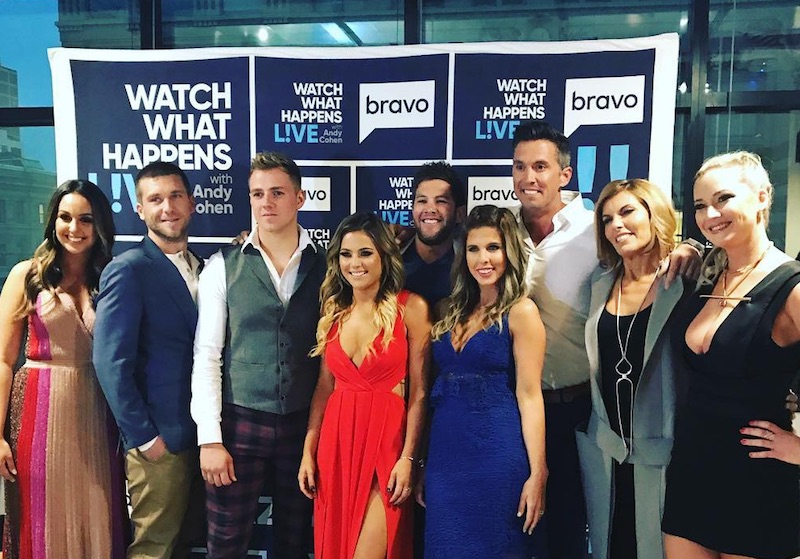 The joy that was brought to me through Dallas and Bachelor in Paradise this week came to a screeching halt with the Below Deck Med Reunion.  It was horrible!  It was just my-boyfriend-Andy-Cohen pushing the same questions about Adam-Wes-Malia for an hour and everyone stepping around it.   And the fashion….. my goodness… don't even get me started on the wardrobe choices.  Thank goodness these people are in uniforms on the boat when we see them.
Hannah has on an awful outfit with gold necklaces/metal pieces everywhere and her boobs shoved together within an inch of their life.  Malia has awful hair extensions and a red gown on with slits rivaling Angelina Jolie Leg-Gate.  Wes's hair and facial hair look awful.  And Bugsy looks alright, but I like her ten times better as a blonde.
And when they pan to Bobby, all I can think is that Bobby's teeth are 10x better since he did Invisalign.  There is a serious problem when Bobby is the person I am complimenting in this group.
Nothing is really resolved with the Adam and Malia thing; it just continues to be so awkward.  It's clear things have happened that are not being said.  I love that my-boyfriend-Andy-Cohen wouldn't drop it and finally said "well you said you were in love with her? how do you define sex?"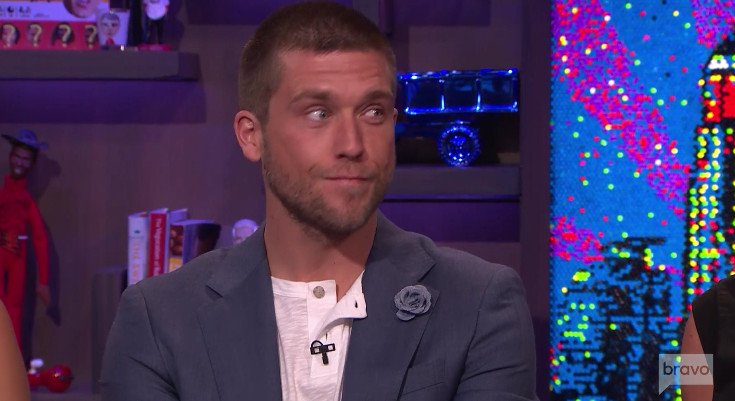 Wes and Malia even try to deny that they are together as a couple and leave that all up in the air.  They are acting like they are not, but they have a planned trip to South Africa together? Again, thank you Andy for calling it out.  Meeting each others families is kind of a thing couples do.  But hey…. what do I know.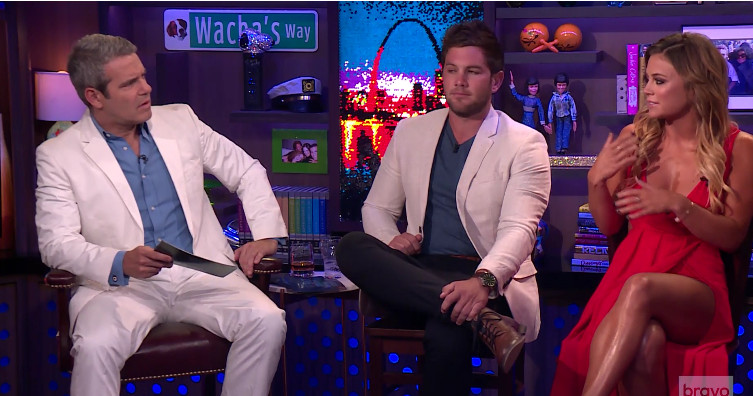 Hannah is way nicer to Bugsy than I expected, so slow clap for that.
And again, after each new subject is introduced, Andy won't drop it and keeps going back to Adam about Malia.
VERY UNEVENTFUL.  On to the next season of Below Deck……I need some Kate Chastain back on the boat.
:: RHONY Reunion Part I ::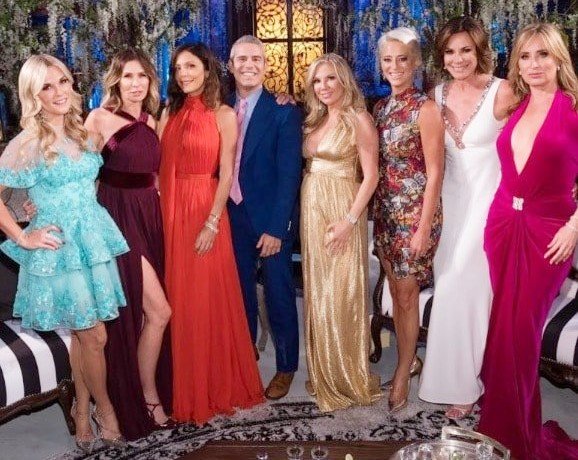 Last night's Part I was SO GOOD.
And despite wanting to feel nothing for LuAnn because she chose all of this, I actually felt really bad for her.
A few CliffsNotes version of some thoughts:
– Even the opening introduction is great when Andy thanks them for trekking from the UES to the location and Sonja exclaims "Seriously…..".  Kicking it off with a bang.
– Andy's facial expressions are spot. on.
– Why did Bethenny's dress look so big on her? When she is standing in the group photo it looks great, but it's swallowing her up on the couch?  And looks like the neck is untied? On the opposite end of the spectrum, Sonja needs to borrow Bethenny's extra fabric, because her boobs are eating her dress and it's a full nip-slip the whole show!
– Bethenny calling Ramona out for her treatment of staff and people beneath her was great,
especially when Ramona loves professing "she came from nothing".
– I had completely forgotten about all of the gems this season like the Italian Mob Dinner and The 'Put and Easy Pass on that Vagina" Dinner.  This season was truly one of the best.
– Ramona…. ohhhhh Ramona. I have 25 minutes worth on Ramona… but this was already a 9 hour post.
Sorry as always for my delayed NY chat! 
:: Mazel of the Week :: 
RHOC: Mazel to Meghan King Edmonds for having a Cardboard Cutout of her holding Baby Aspen and guests get to put their head as the baby's head.
Of course I can find zero images of this….. but it was the most genius thing I have ever seen in my life.
:: Editors Note ::
As always, ignore my own blatant grammatical errors whilst I make fun of others poor grammar during Coffee Talk on a weekly basis.
#HYPOCRITE   #SORRYIMNOTSORRY
I write these posts late at night while simultaneously watching Bravo, taking snaochats of my snoring husband, and making to do lists of everything I was supposed to do and didn't do that day, and likely won't do the next day either.  Or the day after that.