We have been go-go-go since meeting up with Kip's family in Lake Como! I'll work on having my other prepared posts ready for you all for the rest of the week (I have an incredible skincare mask I have been wanting to share!) but for today I have a great healthy recipe. (If you missed last week's not-so-healthy Tres Leches Cake make sure you check that out!)
Creamy peanut butter sauce, crunchy water chesnuts, and scallions are all I needed to see to know I would love this Healthy Asian Broccoli Salad.
This is a perfect side dish or would be a great lunch with the addition of some grilled or rotisserie chicken! It definitely makes a large portion so it was perfect for me to meal prep and bring to work!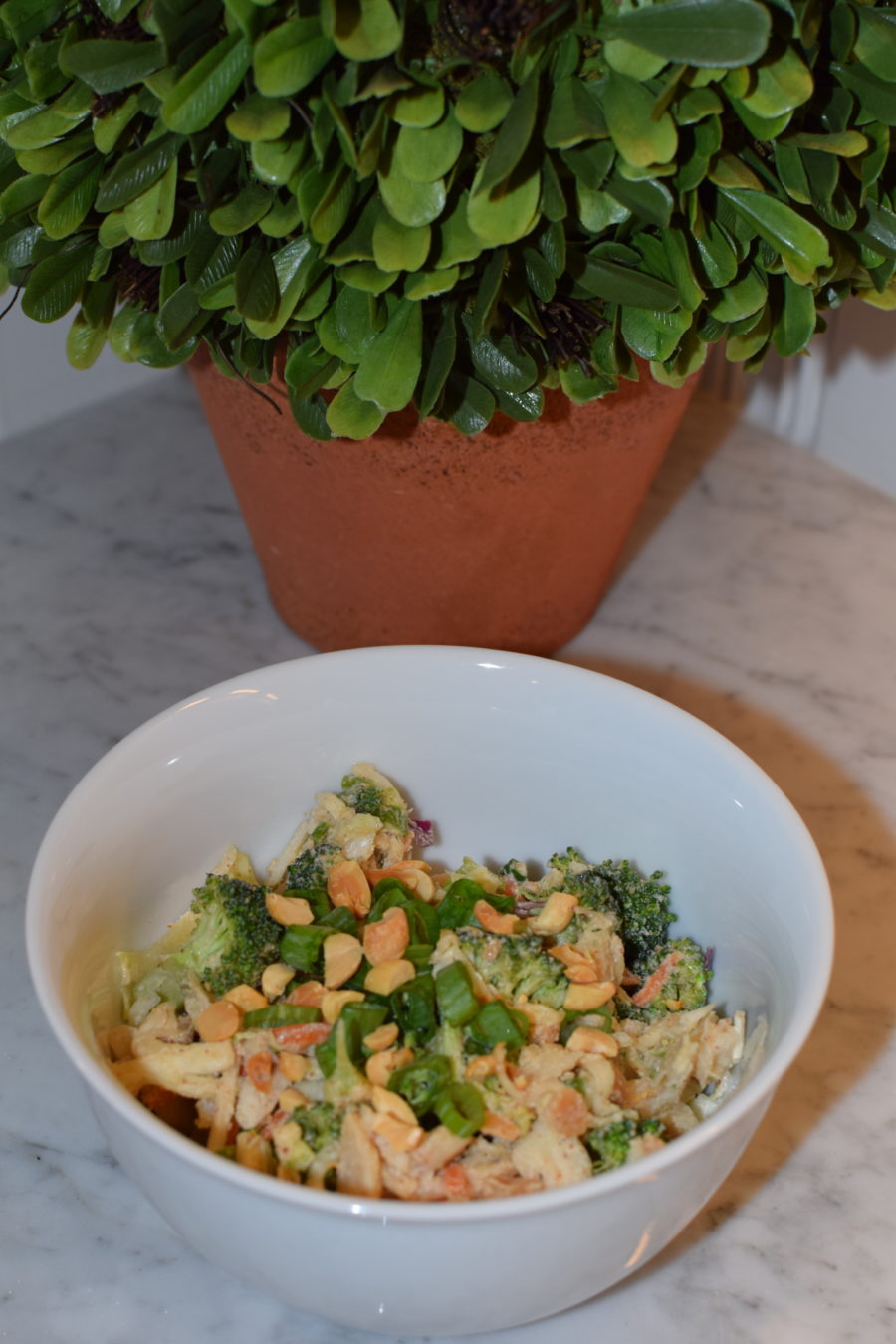 recipe originally from Food Faith Fitness
:: Healthy Asian Broccoli Salad ::
Author:
Taylor :: The Sarcastic Blonde
Prep time:
Cook time:
Total time:
This crowd-pleasing healthy broccoli salad is a no-cook side dish, loaded with creamy peanut sauce! It's quick and easy, gluten free and vegan with a paleo option!
Ingredients
For the salad:
5 Cups Broccoli, cut into small florets
2 Cups Colelsaw mix (just the cabbage part, no dressing)
½ Cup Water chestnuts, roughly chopped
⅓ Cup Green onion, sliced
6 Tbsp Roasted salted peanuts, roughly chopped (almonds for paleo)
For the dressing:
½ Cup Natural peanut butter (Almond butter for paleo)
3 Tbsp Coconut oil, melted
3 Tbsp Fresh lime juice
2 Tbsp Reduced-sodium soy sauce (Coconut aminos for paleo and use GF soy sauce if needed)
2 tsp Agave (honey for paleo)
2 tsp Rice vinegar
1½ tsp Fresh ginger, minced
Sriracha, to taste (optional)
Salt and pepper
Instructions
In a large bowl, mix together all the salad ingredients.
In a separate large bowl, whisk together all the dressing ingredients until smooth and creamy. Add a pinch of salt and pepper.
Pour the dressing over the salad and mix very well, until the dressing evenly coats the salad. Season to taste with a pinch of salt and pepper if needed.
Cover and refrigerate for at least an hour to let the flavors develop.
Devour!