We leave tonight for out trip!!
Are you ready for me to stop talking about it yet? At least the packing/planning discussion can be over….. 
Over the last few weeks I have ordered a ton of dresses for Italy and all but one have been sent back.  Most were awful (very cheap fabric in person), and others were cute but I felt I wouldn't wear it again.
Then I came across this blue + white striped maxi number.
Amsterdam will be warm during the day and cooler at night (I think.)  Plus the style is so different for the two areas that it has been extremely difficult to pack this time and try to fit everything into a carry on.  I am packing much more casual attire for Amsterdam and more feminine and a bit fancier for Italy.  So when I came across this dress it seemed to fit the bill perfectly for Amsterdam.  It can work for daytime and could be a casual nighttime look with my jean jacket.  It is crazy soft and comfy.  I actually debated wearing it on the flight (I actually prefer to wear maxi dresses on planes they are like big blankets and don't dig in or leave lines like jeans do!)
And the Angelina Jolie side slits are totally appropriate – promise 🙂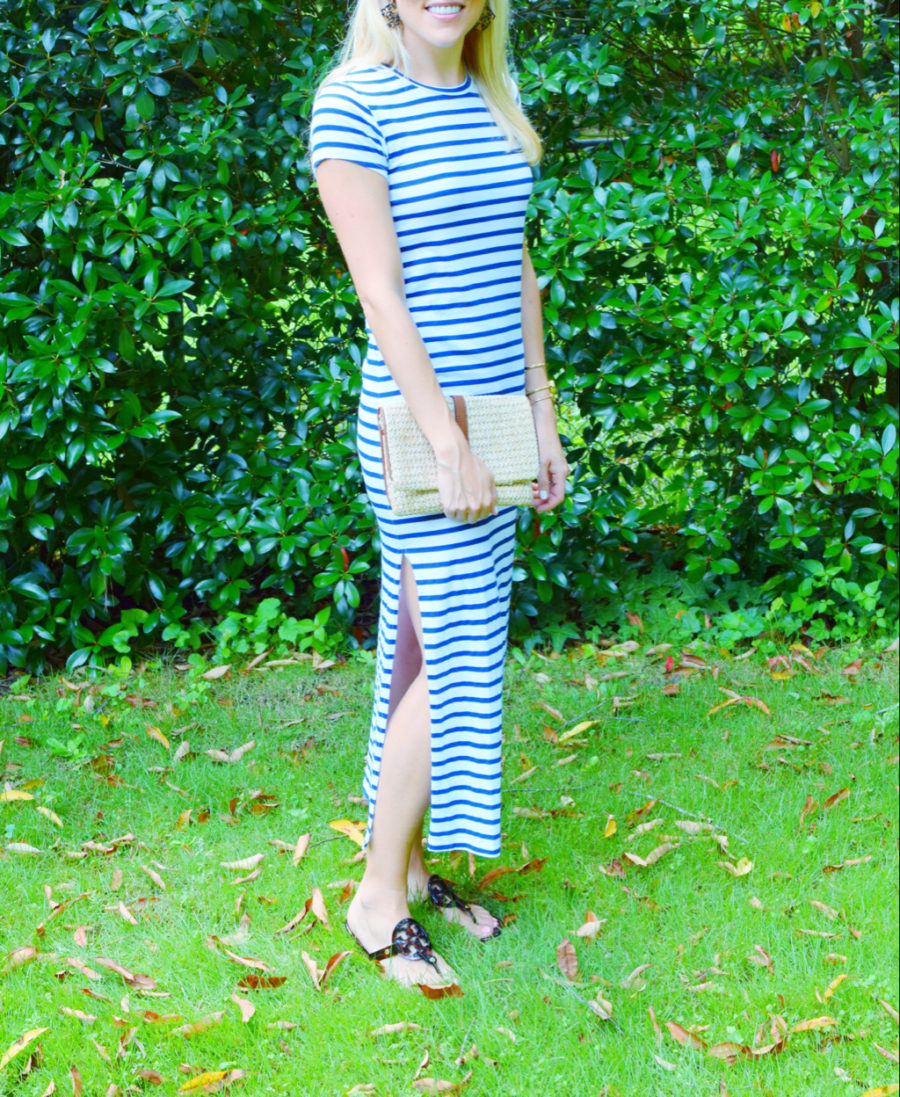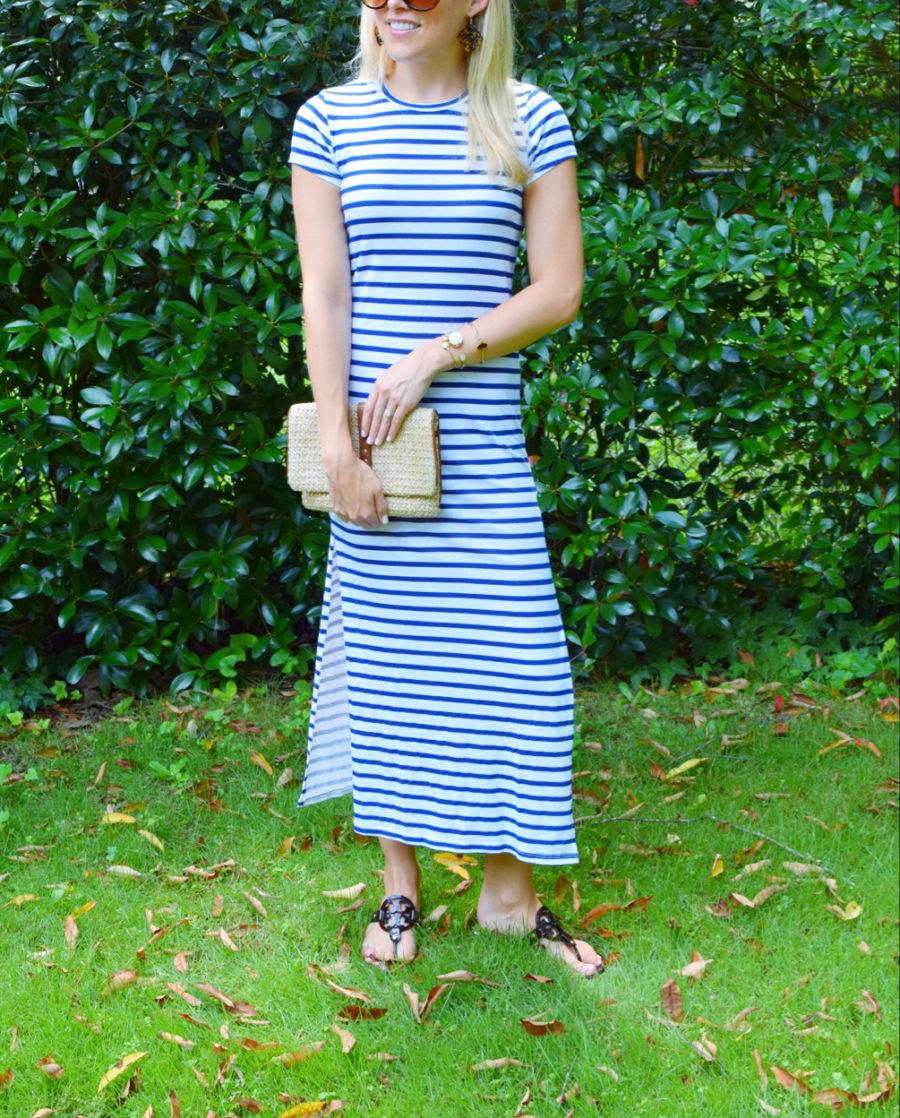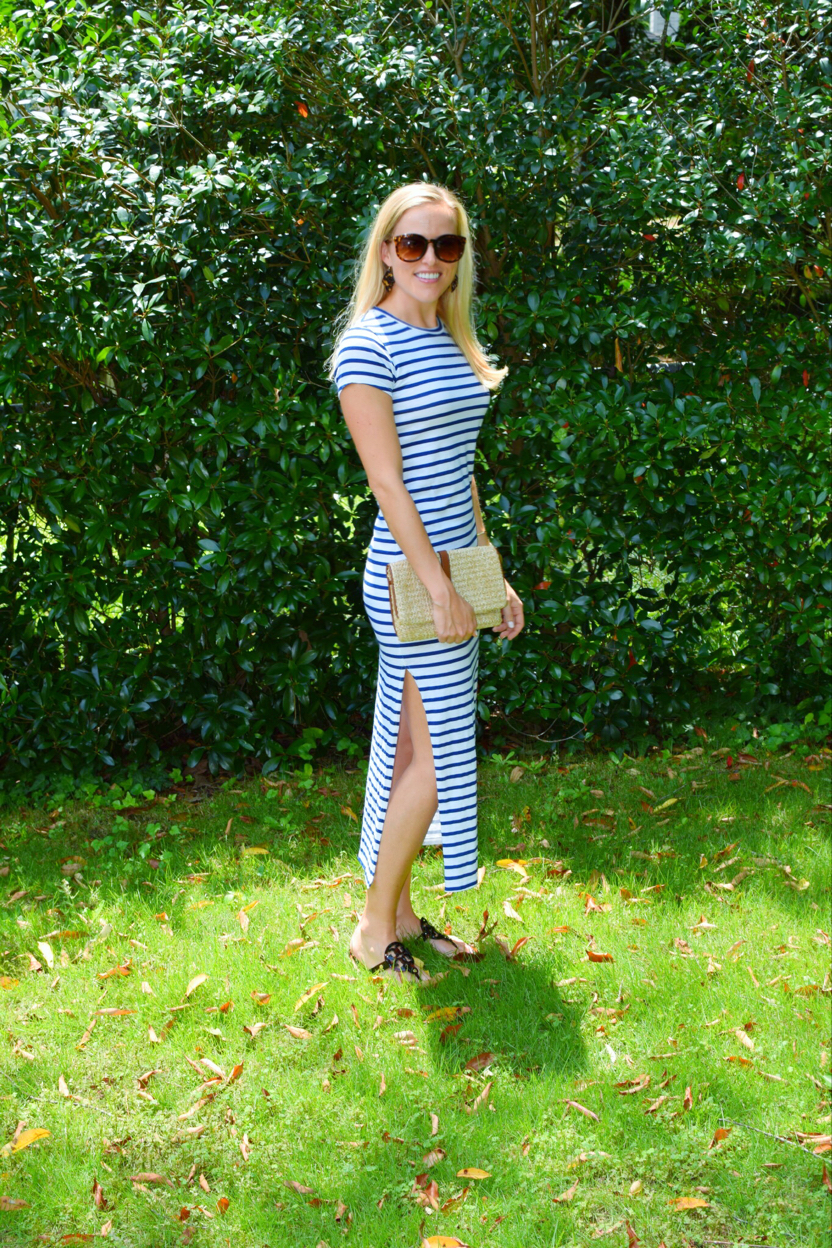 // STRIPED SUNDRY DRESS //
here is the same dress in a different stripe  and a  black sleeveless version
I mean I don't know what lens my husband was using or what angle my body was at, but my chest looks about 15 times it's real size in that last photo so I need to find out how to recreate that exact stance in all aspects of my life.  I swear I am not wearing a teenage girl padded bra (I used to really rock 'em back in the day though. Boobs one day, flat as a wall the next, I was great at keeping everyone guessing!)
I am kicking myself that I forgot to order this version to try.
Because I am OBSESSED.  The cut looks like it would be super flattering.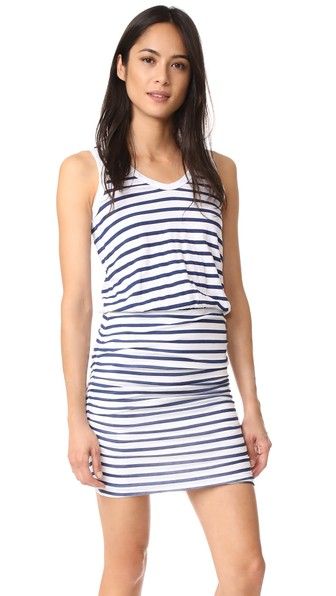 // STRIPED U-NECK DRESS // 
and I also love this 3/4 sleeve option!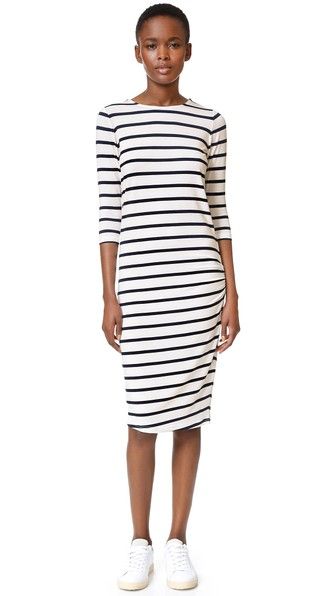 // BASIC STRIPED DRESS // 
:: RHONY ::
Quick thoughts since I won't have a Coffee Talk next week on this week's episode that I just caught up on!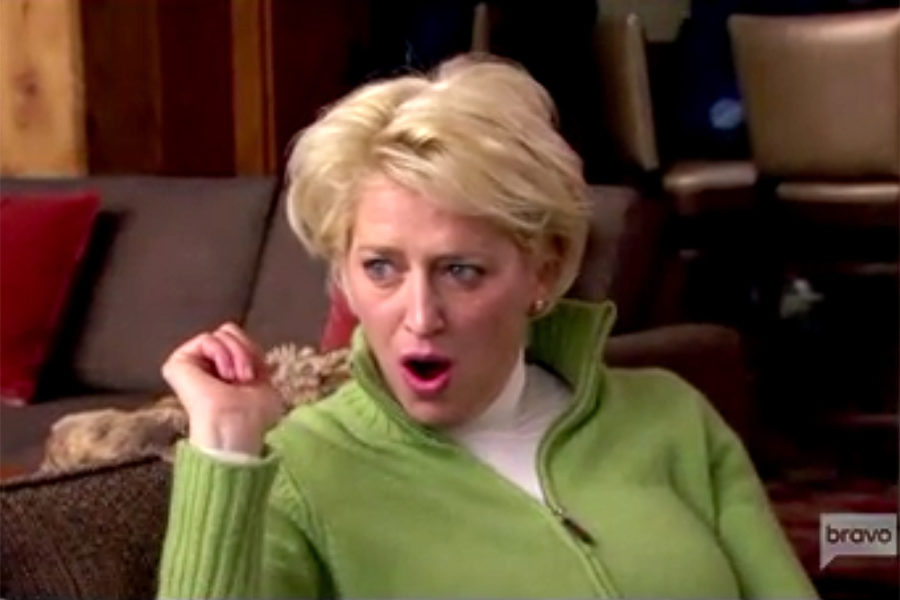 I think it's nice that Bethenny has apologized twice to Tinz for jumping on her at dinner. We learn that this was when the stalking charges were being made public with Jason Hoppy, so clearly she had a lot going on.
WHY CAN'T CAROLE SAY TITO'S (the vodka). It's SUPER easy. She says Tea (pause) Toe's . Driving me nuts, it's like Ramona trying to say Reggae music.
I love Dorinda so much.  Even her talking to Ramona's (poor trapped) ski instructor is just amazing.  It's like she knows exactly where he is from the moment he sits down.  She's just the best.
When Dorinda says you are an Olympic Day Drinker is that the biggest compliment in the world or the biggest nightmare? Hmmmm……
Dinner conversation gets REAL.  I MEAN. REAL. I can't believe this whole thing is filmed and happening and there are men int he kitchen for all of it! Dorinda talking about "it" is the most hilarious thing in the world. "That is not appropriate behavior. There is a stop sign there." (It's not appropriate to say, so just watch the episode.)
Preview for next week: I can't believe Tinsley just makes out with people like that and tries to eat their face.  And I can't (slash can) believe that Ramona flips out on Bethenny when she is actually trying to kindly invite her to the trip. She is certifiable.
:: HAIR GODDESS ::
I haven't seen it yet but I've been alerted by 2 TV addicts (my mom and friend that has met my-boyfriend-andy-cohen several times and been to clubhouse more than once – not to brag or anything) that the show Hair Goddess on TLC is a great reality pick to add to the list!
:: LINK LOVE ::
The tag-lines for RHOC  have been released, and they are – as expected – terrible.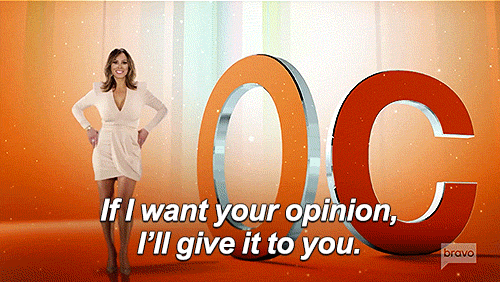 Also as expected, Kelly sounds dumb and makes no sense.
Is she trying to make fun of herself? Or reference the puppet master/puppet thing?

I wish I had seen this maxi dress to order for our trip – looks perfect for Italy and is under $50.
Beauty Gurus share 24 Beauty Tips for "Older" Women
Are these skirts really back in style? Because I am all over it but have yet to see everyone wearing them?
these however, I am not okay with coming back in style. 
6 Easy + Healthy Salad Dressings
Ginham + ruffle + bow ties!? Yes, please! 
The perfect wedding guest dress for summer – still in tons of sizes! 
Do you believe the Amelia Earhart Rumors?
A romantic off the shoulder option for under $50. 
Such a cute printed mini – another one I never saw while doing last minute Italy shopping!
and this perfectly easy printed swing dress! 
Where were all of these when I needed them!? 
Crazy Charleston Mansion. Not Patricia's House, but close!
I meannn this jumpsuit in this color?! Love. My-boyfriend-Andy-Cohen would be all over me. 
Christina from Flip or Flip was wearing the same bikini as me for the 4th of July while boating with her boyfriend. Does anyone else think it's weird her and Tarek are still doing the show? When it's kind of known they don't get along?
The cutest earrings – with a different take on the popular summer style – in tons of colors for only $35! 
love this option too! 
:: VACATION TIME :: 
I'm off to finish packing my beloved travel bag that has seen me through every trip for the last 3 years, and hop on our flight to Amsterdam!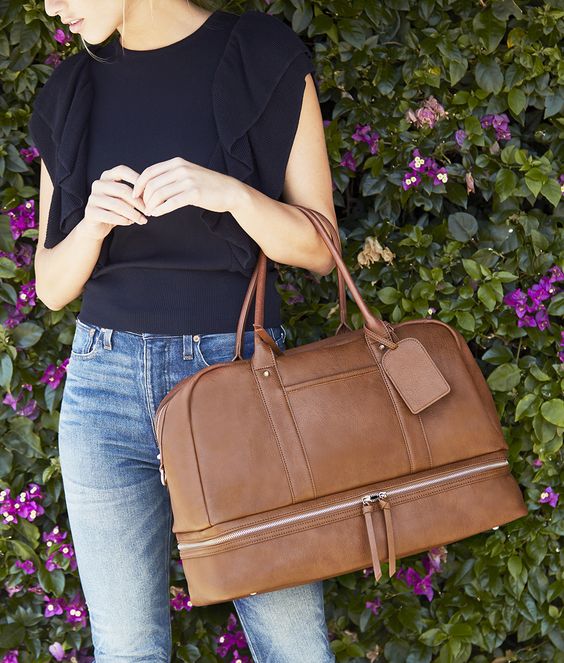 Our flight leaves tonight at 8 PM (so, if you know me, I am begging Kip to get to the airport at like 4 o'clock since it's international…. I'm an extremely reasonable traveler.)
Follow along on instagram to see all of our adventures for the next two weeks! 
I also have blog posts scheduled so that you all don't forget about me or miss me too much, so keep coming to The Sarcastic Blonde daily!
…. and feel free to e-mail me at any hour of the night with salacious celebrity gossip or Bravo happenings to keep me in the loop.
I am the only person in the world who goes on a trip like this and is extremely upset about missing television, but what can I say, I know what is important and matters most in life.
Will I look back and remember the TV shows or the memories I made with my husband?
I mean…… it's a tough call……
Thank you all for all of your recommendations in planning the trip – you all are always SO helpful with everything!