DISCUSS AMONGST YA-SELVES…….
:: LAST WEEKS RHONY ::
Bethenny arranges lunch at an Italian joint in the Bronx and these Mafia dudes have no idea what's coming.  Dorinda is extremely hungover showing up to this lunch and it is incredible.  2 bottles of wine just to kick things off is definitely the right way to go!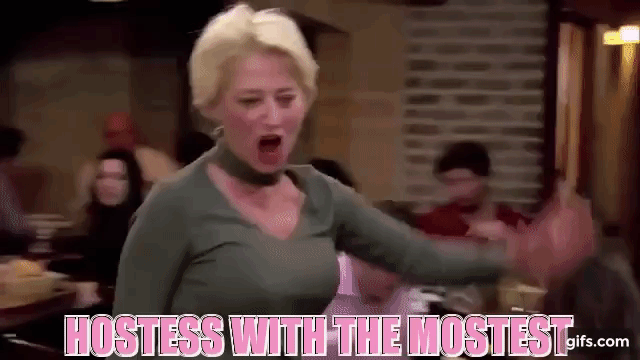 It gets heated at lunch when Sonja tries to say that Dorinda and John had been parting of backing the Tipsy Girl line of Prosecco.  This really gets hungover/newly re-toxicated Dorinda going.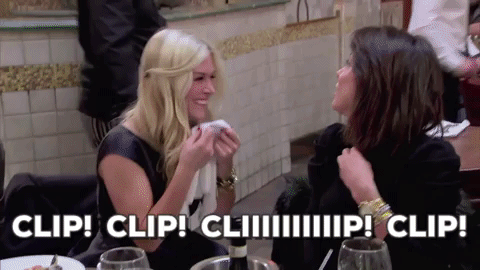 And Carole is correct in saying that when Dorinda is bad, she really is so good.  These mobsters could learn a few things from her.
I completely disagree will all commentary regarding Tinsley and her outfit.  It's not a costume party – who cares if she is in a different neighborhood of New York, that's how she dresses.  Only Bethenny changes her ensemble to some $4,000 thing she'll never wear again for any occasion as though every day is halloween.  (Insert image of her ludicrous Halloween ensemble this season…. she is nuts.  Love her but nuts.)
We make it to Vermont where Bethenny has rented a log cabin for a skiing/half of them probably not skiing weekend.
Dorinda forgets all of her luggage – she really IS the gift that keeps on giving.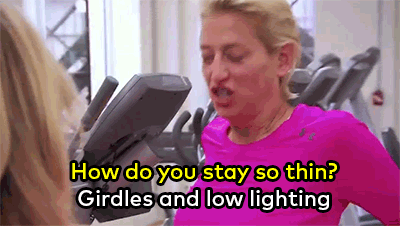 Ramona arrives and the episode is just obnoxious from that point on.  Kidding, but not really.  I just can't stand her.  She gets going right away about the room situation and her and Sonja not having the best room and not having the double sink.   Why does she always have to get the best room? And does she really think Bethenny would give her of all people the best room?
She slinks up to Carole and does her breathy Valley Girl interrogation she's been doing all season "uhmmm can i ask you a question….."
Ramona, you are lucky Bethenny even allowed you to step foot into this mansion of a log cabin, so seriously shut up about the damn bedrooms! This place is like a palace in the woods.
SOMEHOW LuAnn takes the cake over Ramona for childish and bitchy room complaints!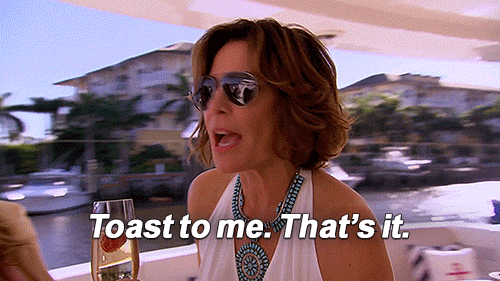 Didn't you all hear? LUANN IS MARRIED!
MARRIED!
So shouldn't she be getting the best room? A "bridal suite"?
"I just got married! And nobody gave me a nice room?!" THE HORROR.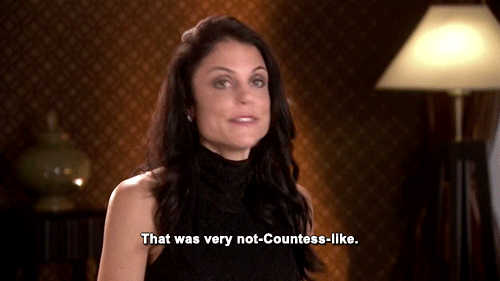 I swear to God if she brings up this wedding and treats it like a Sweet 16 and acts like a spoiled teen one more time.
She is DELUSIONAL.
Bethenny is hilarious this episode in her confessionals. I really love when she is on fire.
Ramona and Sonja are of course fashionably late to the dinner because they "only had one sink so it took us a little time to get ready."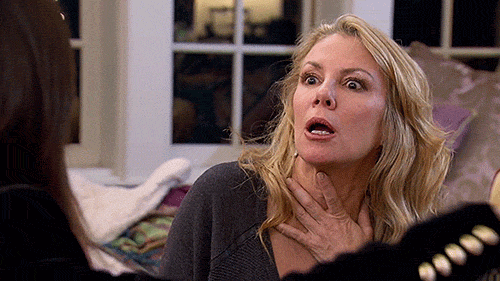 YOU'RE ALL IN TURTLENECKS.  And all you had to do to get to dinner was WALKL DOWN A FLIGHT OF STAIRS.  What do you have to do??? Throw some leggings on and push your boobs up to chin and go downstairs already.
Tinsley + Sonja's roommate situation becomes a topic of conversation, and I must say ,I love the phrase "chaos in the townhouse".   It's like the name of a movie or a thriller I've been wanting to read "Chaos in the Townhouse"
I don't quite understand what the heck is going on with Tinz that she is crying and keeps having these meltdowns?  I really like her, but I'm with everyone else that she needs to lock it up.  She makes jokes about the arrest from the ex-relationship, yet talks about her ex and the relationship as though all of these super traumatic things happened to her (hence therapy).  But in terms of the living situation, Bethenny is correct, although her delivery isn't always wrapped in warm fuzzies.  Live with Sonja and abide her rules or get out.  Seriously.  You're 41.  Enough.
Last night was Vermont Part II which I shamefully have not seen yet, but
CAN WE GET TO MEXICO ALREADY!
AND SLURRING DORINDA!
AND LUANN FALLING OFF THE HOT TUB?!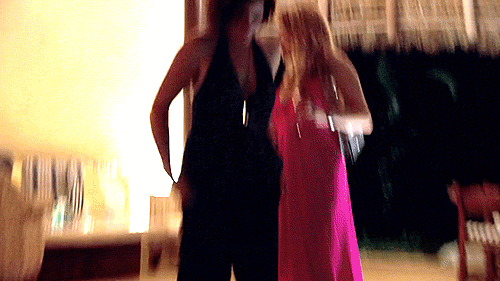 I'm sorry. I know it's wrong to laugh.  But she wasn't hurt….. so I'm not really sorry that I am cracking up.
:: Big Brother :: 
I shockingly can't believe how good it has been for only one week in! I am loving it! The Rodeo Clown guy looks exactly like Matthew Lillard from all of the 90's movies to me.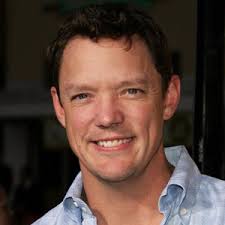 Cody is such a freak.  He doesn't say anything and has no emotion.  No personality.  He just stares.  He is terrifying.
His VIP Cocktail Waitress Show-mance is equally as obnoxious.  Jessica, take a jealousy chill pill.  You are stage 5 clinger right now.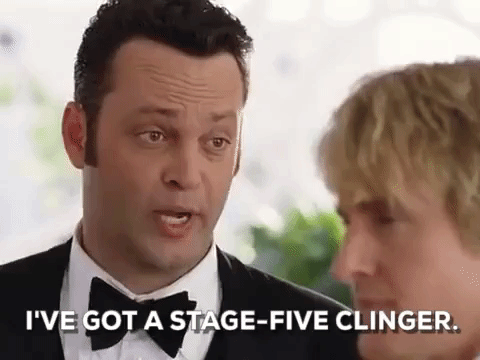 Clearly she isn't crazy in thinking that he may be into Alex, because he called her "Alex" while they were lying in bed together….
Why is everyone getting into show-mances one week in? It was more like 24 hours in actually…..
and most importantly – the Stone Cold Silver Fox is going after RAVEN!?! Never saw that coming
:: Rob Kardashian ::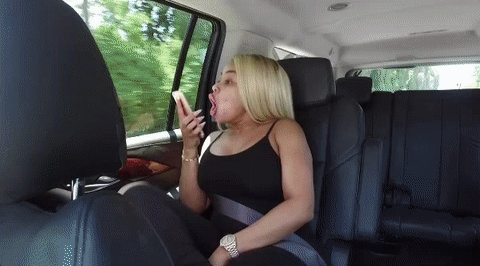 I'm sorry that I don't have much to say this week, but luckily you can keep yourself busy with all of the latest updates from Rob + Chyna and him humiliating himself and his family.  (Although…. for the Kardashians, do they consider anything bad press?) I really don't understand what goes on in this man's head for a number of reasons – too many to list – but especially the fact that he thinks putting these things out there publicly and saying the foul things he says is in any way okay.  He has made every one of his family members look like completely average + sane Americans compared the stuff he pulls.
This was my 4th edit of this…. trying to keep it as kind as possible…. you can only imagine what I really want to say 🙂 
Articles for your consideration (although I'm sure there's been 15 updates by the time this post goes live Thursday Morning):
Rob + Chyna throw down and dirty on social media
Rob + Chyna – a Timeline of Dramatic moments
Rob shut down on Instagram for posting (I mean…. really Rob?)
Soooooo…… when does the "make-up" twitter and instagram happen? These two are like Kathryn and Thomas but on some seriously Illegal Steroids.
:: JACK HOLE OF THE WEEK ::
I feel like nothing was on this week! No Southern Charm Reunion Part I, no Below Deck, no Bachelorette.
Everything good is going to be on while I am gone!
It's probably for the best because I have no time for TV this week anyway as I try to run all of my errands after work.  Tonight I went to Target and went all the way up to the cash register and started putting everything on the belt and said "Wait…. who put all this stuff in my cart??" NOPE.  I had completely TAKEN someone else's cart, shopped for a few more things with it, and brought it all the way up to the register.  I am seriously delusional lately.  I randomly brought the cart to an area I had been in and just dropped it there and ran.  Whoops.  

:: MAZEL OF THE WEEK :: 
We got Ambien for our flight tomorrow night to Amsterdam! PAH-reach!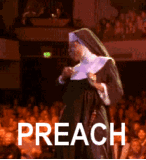 We got the doctor prescription and it was doctors orders to test it out one night so Kip took one and then I look over and he is doing some serious online shopping on Amazon.  Like, he might as well have been a girl who just gained access to a credit card from her parents and just discovered free one day shipping.  I caught him trying to buy some insane neck pillow but then he went to sleep.  To my surprise, tonight I go onto Amazon to order a book and what do I see in our cart?
These beautiful bracelets.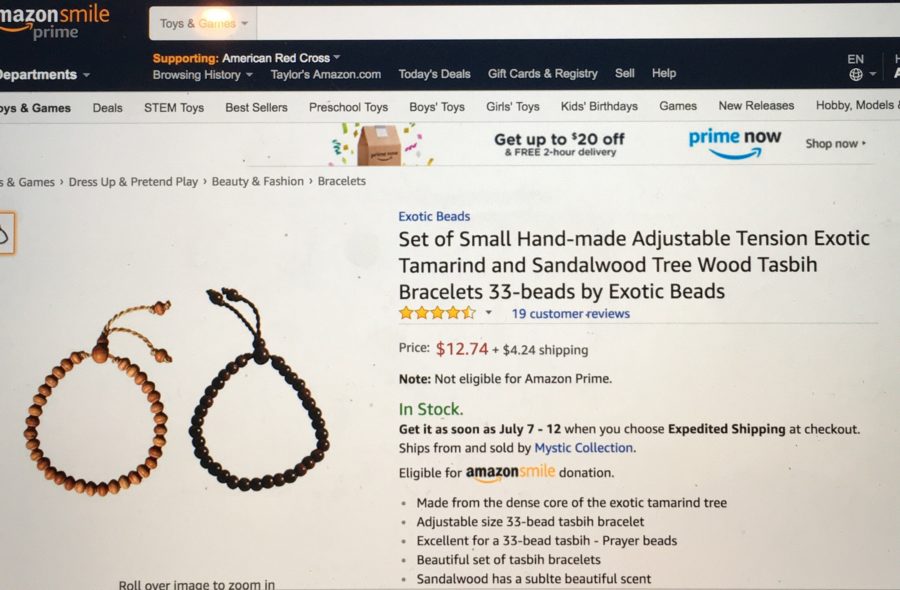 He says he has no recollection….. I kind of wish he had ordered them.  I'm still laughing at the title/description alone.
:: Editors Note ::
As always, ignore my own blatant grammatical errors whilst I make fun of others poor grammar during Coffee Talk on a weekly basis.
#HYPOCRITE   #SORRYIMNOTSORRY
I write these posts late at night while simultaneously watching Bravo, taking snaochats of my snoring husband, and making to do lists of everything I was supposed to do and didn't do that day, and likely won't do the next day either.  Or the day after that.