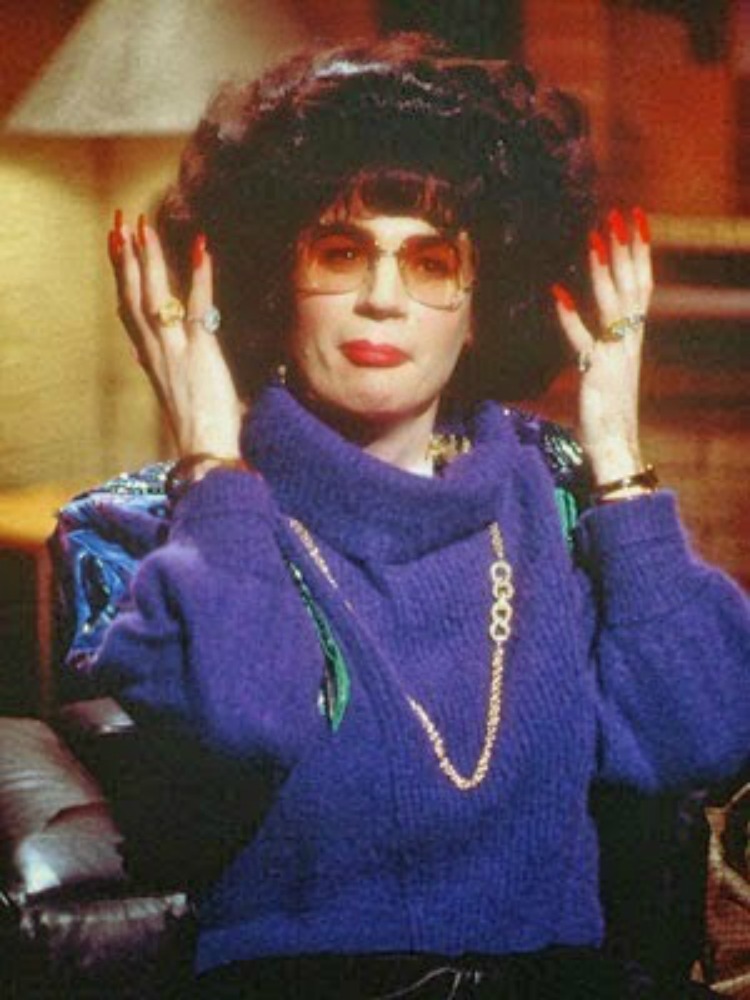 DISCUSS AMONGST YA-SELVES…….
Bear with me while I am still playing catch up on all of the shows!!!
Some of my commentary is from things you may have seen two weeks ago – sorry!
:: RH of OC :: 
My jaw hit the floor when I saw the intro.  I had seen the preview of the intro with all of their (horrible) tag-lines but there was something I hadn't noticed in the past.  
Don't even get me started on Kelly Dodd's tagline….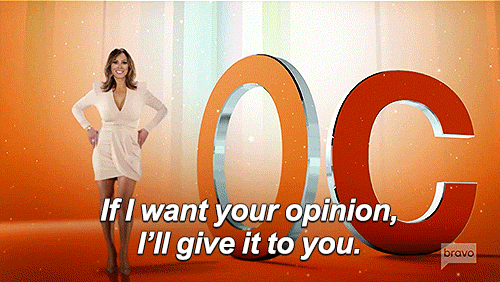 or Lydia's for that matter….. the others are bad but those are the worst.

When they get to Vicki's tagline and show her family in the background, HER BOYFRIEND STEVE IS THERE.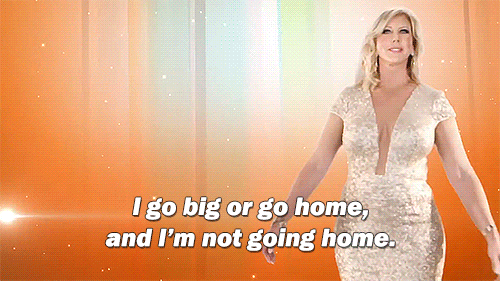 Are you serious?!?! You have your kids and grandkids and SOME GUY YOU JUST STARTED DATING?!
She is SO DESPERATE.
The other big shocker was that Vicki is not front and center with the orange…… nay nay.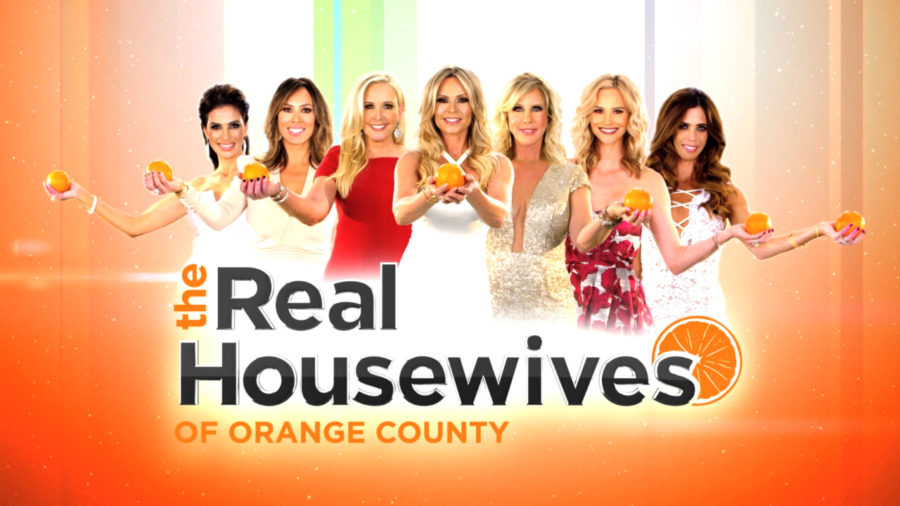 There is no OG of the OC getting the center of the V-Formation.
Instead it is Vicki's friend turned nemesis front and center.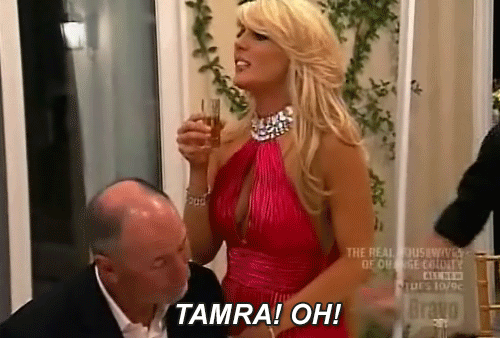 There are so many things that make me nuts about Vicki, and believe it or not, helping Brooks fake cancer is further down the list than you'd think. She is such a hypocrite about women and criticizes women constantly for their jobs mostly.  For someone so judgmental about a woman who stays at home with her kids and relies on the man working, she can't function without a man.  She can't even walk out the door without a man giving her words of affirmation every 10 seconds.  She puts the man IN HER INTRO PACKAGE?  And she cares SO much about what everyone thinks that at the age of 55 she will admit she cares about being cool and popular.  That was as nicely as I could vent on Vicki….
Why does Tamra have a guinea pig? Really? Why? Why?
……. Why?
Shannon is a bomb ready to erupt
(edit: I wrote this prior to seeing all 3 episodes…… she erupts…. again… and again).
What begins with being visibly irate over David's disinterest in Quinoa for dinner turns into lashing out at everyone over everything and storming off.  Her reaction to Lydia? Screaming and crying and running to the limo over sweet little Lydia?? She's wound so tight she is ready to implode at any moment. She needs to calmmmm down.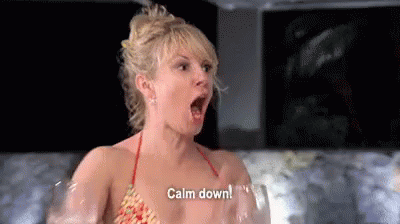 Even the dinner (at The Quiet Woman!) with the new girl she is ready to pounce at everything she says about not wanting to build her own house (for 6 years! because that is crazy!)
And then Kelly Dodd comes in to the restaurant… and you know it won't be becoming a calm situation.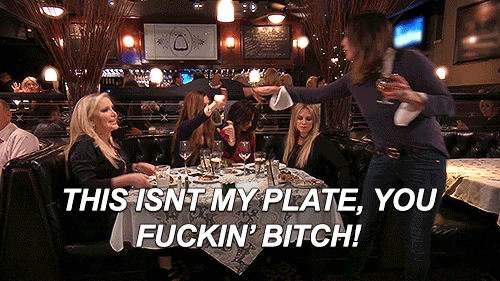 She seriously is horrible.  Simply AWFUL.  She goes right for the jugular every time.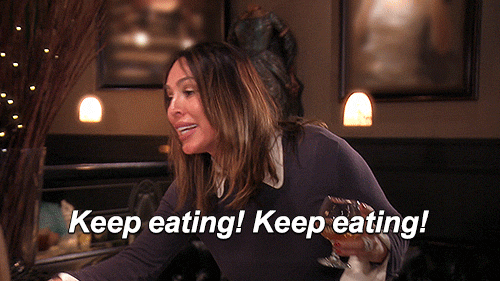 We see in mere minutes that Kelly Dodd is exactly the same as last season – cackling in her face as Shannon leaves crying out the back door of the restaurant, and then pushing her mouth and face up against the clear glass of the restaurant door while the ladies are outside because of the scene that just ensued.

I cannot believe this whole dinner scene.  And that is all occurs at The Quiet Woman.  Incredible.
I like the new girl so far! Her husband is adorable and they seem very happily married which is refreshing for a change. She is mortified by everyone's behavior at dinner.  And she's bringing breast cancer awareness to women on top of it all!
I just can't believe that Shannon's entire story line is her weight gain…. I feel awful for her…..I'm sure she never realized out of everything being filmed and everything she said that it would be all the focus was?
but seriously…. it's not all Vicki……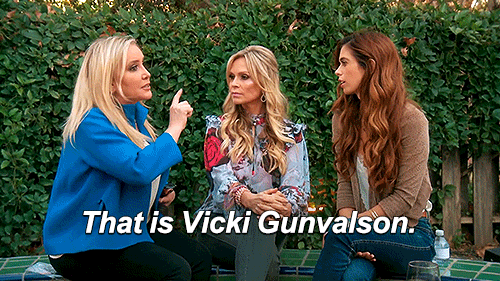 But maybe she's on to something…..
when I stepped on the scale this morning I shouldn't have thought "well, Italy was worth it"
I should have yelled "DAMNIT VICKI! LOOK AT WHAT YOU'VE DONE TO ME"
:: LAST WEEKS RH of NY :: 
Prior to heading to Mexico, I could not believe (slash can totally believe) Ramona's behavior at Steakhouse dinner.  If you are trying to be invited on a trip, perhaps don't yell at the person hosting you?
And then when Bethenny says she isn't inviting her, Ramona just says she is going anyway! I understand that these trips are overall Bravo Trips and she kind of has to be invited, but since this is a Skinny Girl trip I really feel like it is Bethenny's trip and she  can't just show up?! I guess I just was her not invited…..
Tinsley goes on her first date with Mr. Coupon Cabin and WOW is she a bad first dater. Talking about ex husband and pointing out that you are still wearing the wedding ring? and then just shoving your tongue down his throat? Although it must work, because then they spent the next 5 days in Florida together.  So, hey, what do I know?
We finally make it to Mexico ! FINALLY !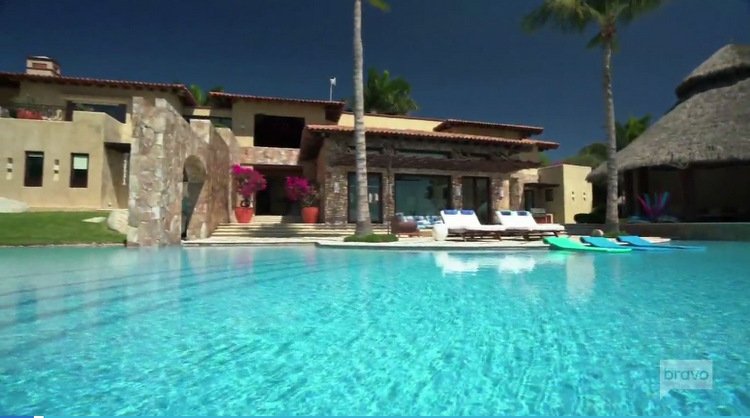 And Ramona, the genius that she is, decides to get a facial laser or some treatment of some kind rind before the trip.  Great idea before any trip but especially before a trip to lay in the Mexican sun.  Did she learn nothing from Samantha Jones and Sex & The City?
A version of marry shag kill is brought up in the cars on the way to the Villa and the ladies say that they would all kill Tinsley because she unmarry'able and un-shag'able. Wow that's mean!?  And Tinsley gets out of the car and immediately shakes the mans hand that works there, so I'd marry and shag her every single time.  SHE'S A LADY.  Which clearly these thankless betches with no manners know nothing about.  I get so mad watching these trips when they behave the way they do to the staff!!!
For some reason, I, like Bethenny, was trying to give Ramona the benefit of the doubt about being a selfish brat about rooms for this trip.  Especially when she wasn't even invited, I didn't think she would try to pull the same crap.  But nope, she doesn't even make it to the view of the pool and the ocean before she sneaks off trying to find the best room.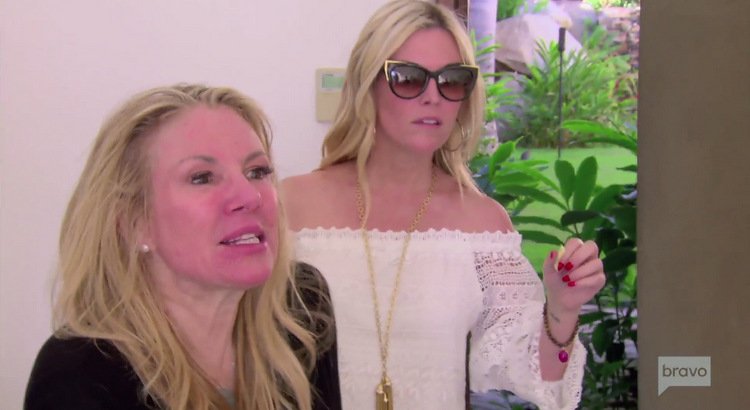 I would kick her out.  Bethenny can pull rank on anything with Bravo and Mf-Bf-AC and I REALLY want her to.
Sadly that wasn't the worst part of her behavior.  She immediately starts cruelly bossing the staff around and acting like they are her personal servants for the week.  "Send someone to do all this because Im just not in the mood" she says as she hurls a shoe into the closet shelf.  And then when another staff member is there she is telling her what to do and  SNAPS HER FINGERS at her.
She makes me so sick.  Karma is NOT a big enough bitch to her.

WHAT in the HELL is Carole wearing to this dinner?  Dark jeans, sneakers, and pulled down the mosquito net from above her bed and tied it around her top into a tube top?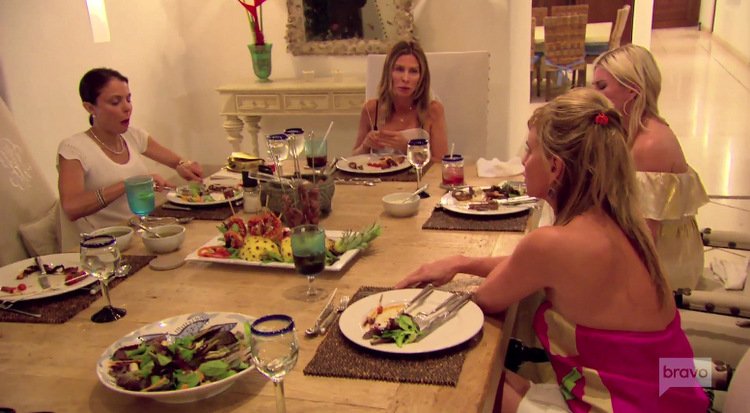 Bethenny's one liners continue to kill me.  Regarding Ramona putting on make-up for dinner:
"putting make up on Ramona's face today is like throwing an extra deck chair on the QE2"
And finally…. the highlight of the night.  Drunk LuAnn.  And drunk LuAnn's falls.  Plural.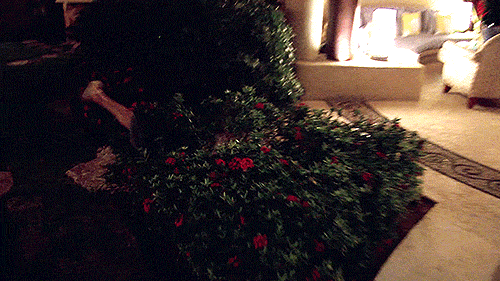 I would just like to thank the producers at Bravo for only showing us the fall from the cement landing, because the fall into the bushes made me the laugh the hardest I have laughed in a very, very long time.  It was AH-mazing.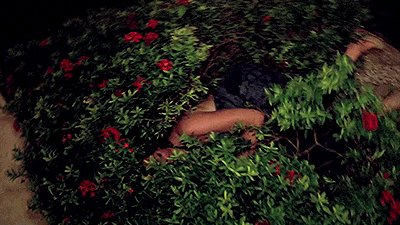 And typical Ramona just bitches and criticizes and related it back to herself for at least 6 sentences
before ever checking if she was okay.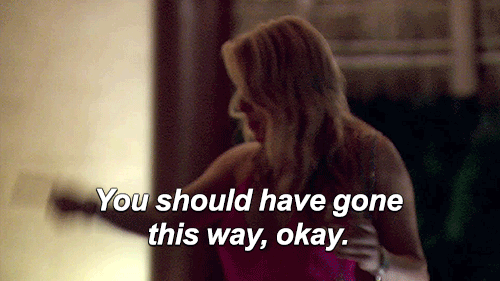 :: Southern Charm Reunions :: 
I was proud of how much better behaved everyone was this year versus last.  Although it seems like Kathryn only stayed well behaved after Thomas threatened and did all of her rebuttles through whispers knowing she would be mic'd and they would be picked up?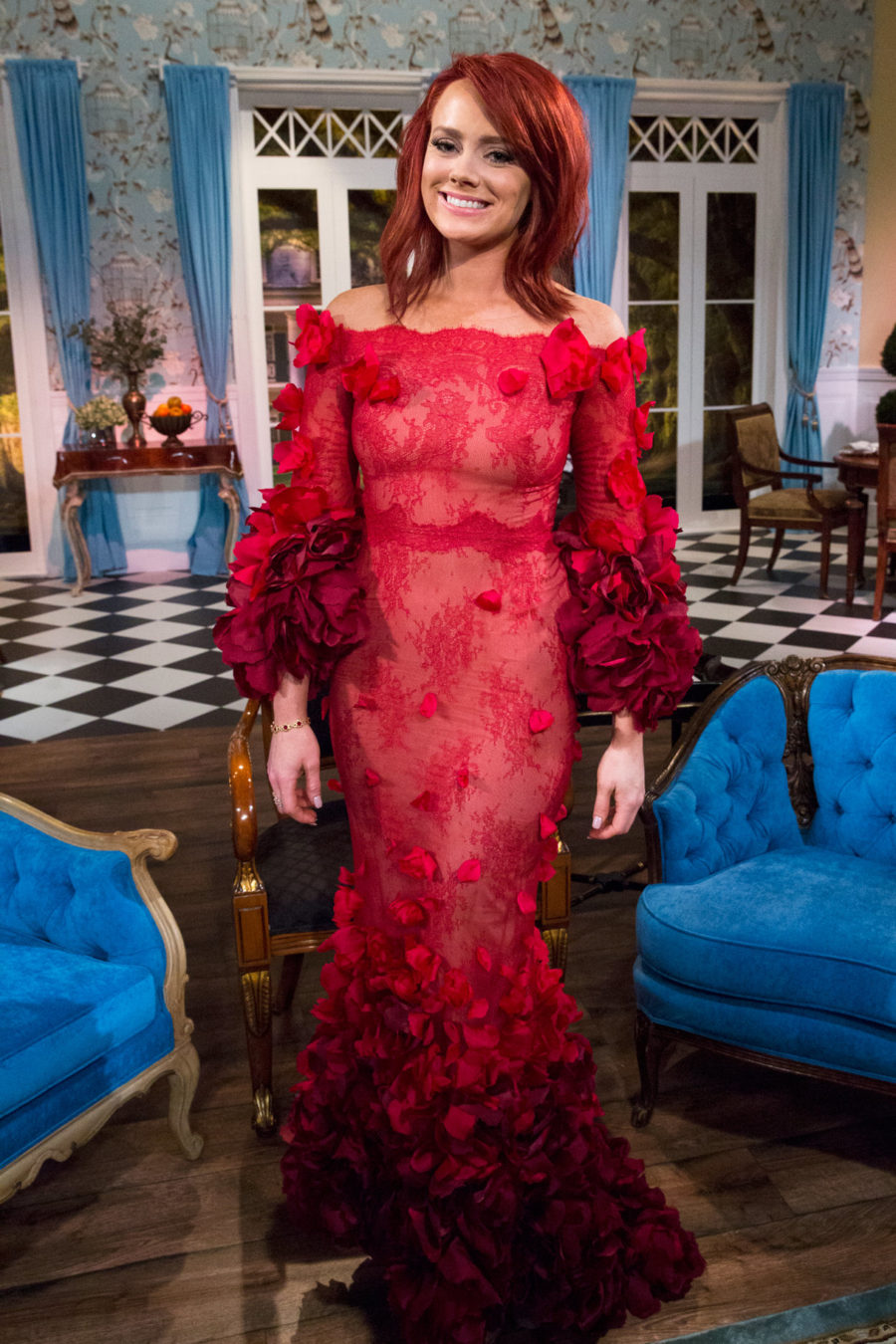 Even Kathryn's
fash-un
was more demure! Still bad and Gone With the Wind "fabulous". But nothing insane like last year.  I do love her hair that length but you can't have fire engine red hair and then want to wear giant fire red dresses.
I really just want the ring that Cameron had on…. I am salivating over it!
Truly my dream ring with the quatrefoils and the sapphires.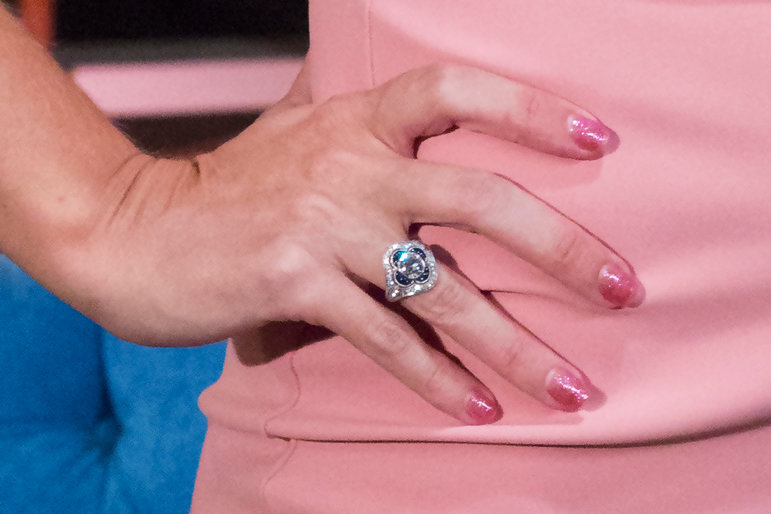 :: Bachelorette :: 
I really love her and Peter and their gap teeth chemistry together.  I feel like it's going to be Bryan, but I really love Peter.  What's wrong with being sane and realistic and saying that not putting a ring on it at the end of only knowing each other a few weeks doesn't mean you don't not want to be with them.
Bryan's biggest red flag is obviously his mom.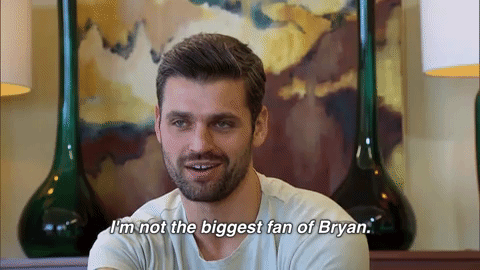 The last girlfriend dumped him because of the mom.  The mom looks like she is going to vomit throughout the entire date.
However, the mom chugging that glass of wine while she does her fake-cheers to the couple is competition with Jojo's mom for best chug….. so in that sense….. I like her and she wins possible amazing mother-in-law of the year.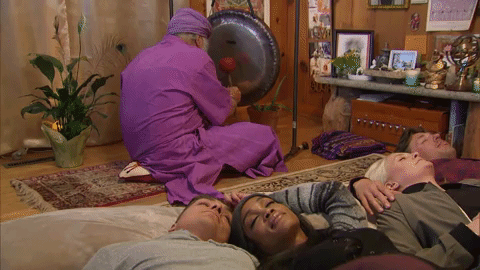 And Oh. My. Gahhhhh.  Dean's Hometown.  For once, it really was the most dramatic hometown of all time.  No amount of build up and dramatic music could have prepared me for Dean's father.
Rachel handled the situation SO well.  I would never have been able to handle it or say all the things in commentary that she did.  Slow clap.
And don't hold your breath for cutie-pie Dean being the next Bachelor…. he says he isn't ready.   Which I would agree with…. but I just think he's precious.
:: Shahs of Sunset ::
The previews for this season left me speechless.  I don't know that I have the energy to recap it, but I will say that seeing the sister from People's Couch appear as party planner Destiney made me just want to watch all the past episodes of Peoples Couch immediately.

:: Bachelor In Paradise ::
The countdown is on and I am SO excited!
Chris Harrison said not much has changed "post-incident"…. but I wonder what that means for what we actually see in episodes of the show?
I can't wait to see if they play any of the things that were taped "pre-incident" or if they somehow just start the season "post-incident" or what?  which leads me to my Jackhole of the week….
:: Jackhole of the Week ::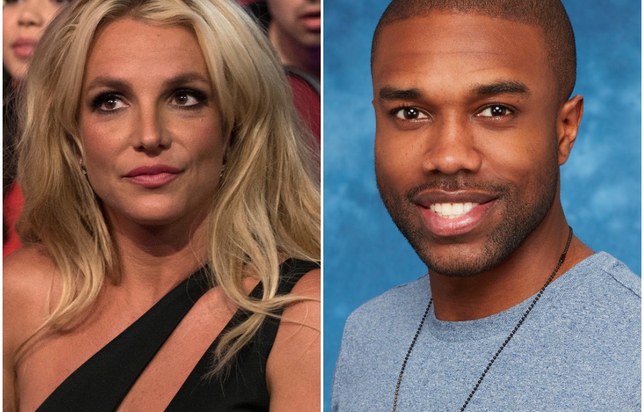 Demarius was being a Jackhole long before his Bachelor days, hitting on Brit Brit and causing a scene in the street in 2008.  Whoever saw this video and immediately identified Demarius, or remembered Demarius from a video from 2008, needs to be my BFF.
:: Editors Note ::
As always, ignore my own blatant grammatical errors whilst I make fun of others poor grammar during Coffee Talk on a weekly basis.
#HYPOCRITE   #SORRYIMNOTSORRY
I write these posts late at night while simultaneously watching Bravo, taking snaochats of my snoring husband, and making to do lists of everything I was supposed to do and didn't do that day, and likely won't do the next day either.  Or the day after that.