DISCUSS AMONGST YA-SELVES…….
:: LAST WEEK'S RHONY ::
Carole and Tinz have lunch and they are hitting it off.  This is the most Carole has talked about anything other than Baby I II and III….. but this scene is ridiculous.  I do think Tinz needs to go from the tight curls to the loose waves.  No need to cut it – but beachy waves intead of the shirley temple/Disney princess curls.  Now I'm talking about this annoyingly at length just like Carole.
Sonja acts like she can't wait for Tinsley to get out of her house, but now Sonja doesn't want Tinsley to leave? "She shouldn't rush! She needs to be ready! And comfortable!"  Sonja is so nuts.
We are back to seeing more of Ramona's revamped "all by Me Myself and I" apartment.  "I did a phenomenal job redecorating the apartment!" – things only Ramona would say (and that only Ramona think).  When they showed the other part of her apartment re-done earlier this season I felt like the before's and after's looked super similar too?
Ramona is upset she isn't invited to Bethenny's things, so she's going to show Bethenny how you handle things maturely and invite her to her newly-finished-apartment party.  I really think the only reason she is even attempting all of these reconciliations and olive branches is because she's caught the Jill Zarin Castoff Fear over all of it.  We all know Ramona doesn't care about anyone except "Me Myself and I".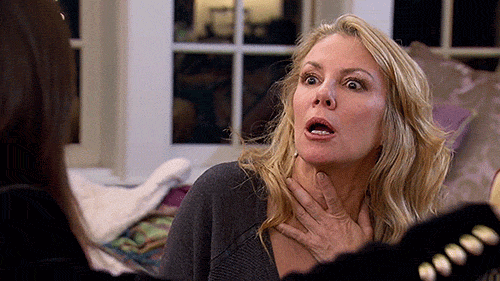 Tinz and her mom Dale are apartment hunting!  I really love Dale.  I feel like if you name a girl Dale, she's just immediately cool.  I know cool isn't the appropriate word for a 70 year old, but you know what I mean.  Tinsley says she can afford 9K a month because of family money and working in business development…. I want to know more about this business development? No judgement over it – straight jealousy – who cares if it's all family money! – but what business development? All of you always are in the know and e-mail me answers, so if anyone knows what this "business development" is let me know.  I'm thinking the current "business development" is the current rich boyfriend….  Anyways, the apartment back in her mom's preferred neighborhood of the Upper East Side is INSANE with those skylights!? Ugh. Amazing.
Carole is meeting with an interior designer – PRAISE THE LORD – and she is FINALLY re-covering that disgusting couch.  Although the interior designer's first words were "what an amazing couch" – what is wrong with you people!? NO IT IS NOT. Also, she is wearing a navy cropped velour jumpsuit? Are my eyes deceiving me? I see cropped capri Juicy Couture velour and it is not okay.
The Bethenny + Frederick Real Estate pre-show is back in action! I really do laugh at Bethenny though.  "Frederick made me simplify…. so I guess we're selling the condo to people who don't have kids, don't have sex, don't eat, don't live, don't do anything so these people owe me a lot of money….."
HOW. THE HELL. COULD THAT UGLY. BAR COST 40. THOUSAND. DOLLARS. I almost spit my drink across the room! FORTY? Oh my Lord.  I can't.
Cut to the highlight of the episode : Ramona's Apartment Reveal Party:
Oh. My. Gahhhhh.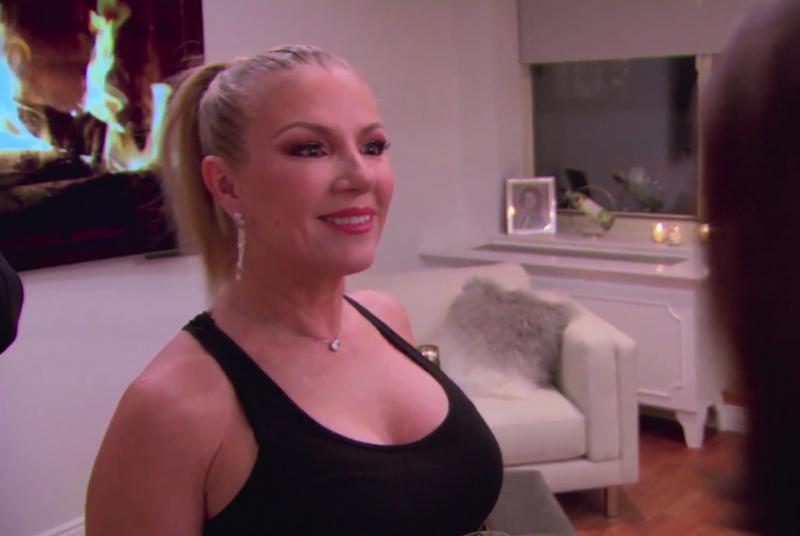 What is that hair? I am speechless, as Ramona says.  Her hair. Her dress. Her shoes.  HER CHANDELIER. all of it.  I finally figured out what her boobs remind me of.  The mom in Mean Girls.  They are high as hell, hard as rocks, and always out.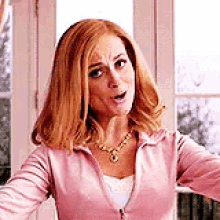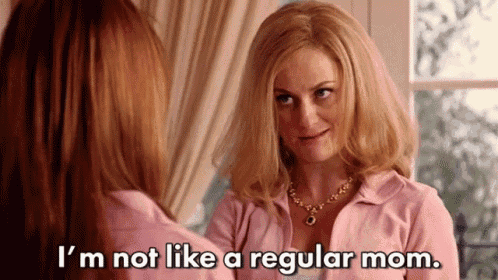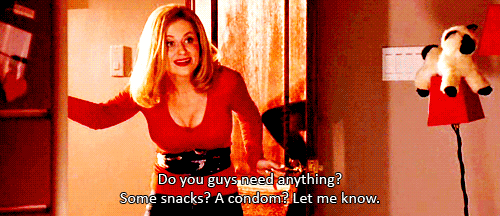 She also acts exactly like this, trying to be BFF with her daughters kids and act like she is young and they want to hang out with her.  How did I not make this reference sooner?!!??!!
She throws the worst parties.  In the Hamptons everyone has to play their own bartender, and this party she had drinks at the entry way, except it's like a rosemary disgusting something that no one wants to touch with a ten foot pole.  Worse than that is that she keeps the coat rack in the hallway for her guests where anyone could just snatch a coat? Who does that? I realize she probably is in a nice building and that wouldn't happen but that is so rude to me.  And you know she would never hang her own coat in a hallway! But I digress….
Dorinda enters the party with immediate commentary: "Ramona look at this look.  It's very severe.  I am not quite sure what to do with it." and then "She looks like she should have a heavy Russian accent and whip."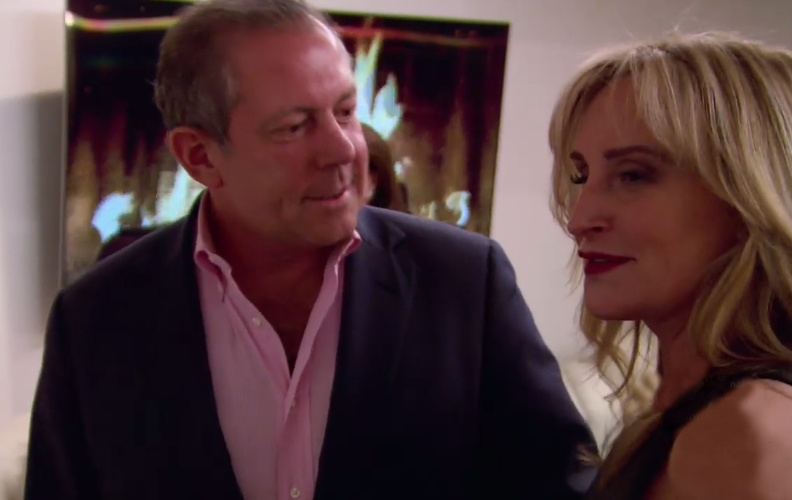 The high I am on over Ramona's hair and Dorinda's comments is quickly cut short by the sight of Harry walking through the door. (And ew Tinsley! You are friends with Kelly Bensimon? Posing in bikini photos with her?! -1 for you for that!)   Ramona is such an ass.  Having this combo at her party:  Missy – Tom – Harry – Sonja – LuAnn – Sonja. And then she acts like "Okay so I don't know what I was doing when I made this list but I have a lot of mixing of ex's and currents and pasts…. I wasn't really thinking.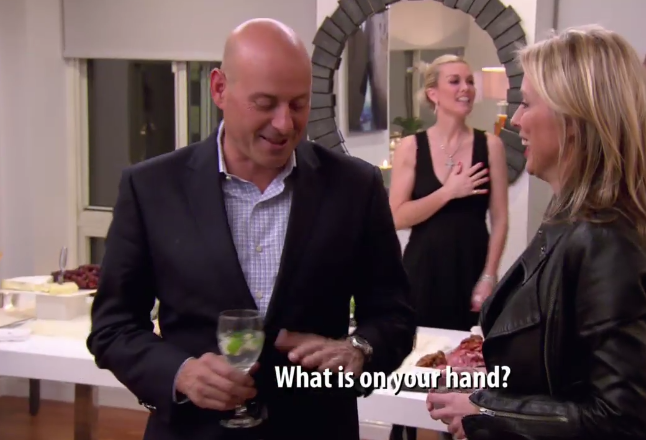 Tom has lots of highlights at the party, introducing LuAnn to "Oh this is Missy you met at The Regency".  Seriously what is up with him and The Regency? And then in regards to his wedding ring "Tell me about it – it's like a dog with a collar." This man is awful.  I do not understand it.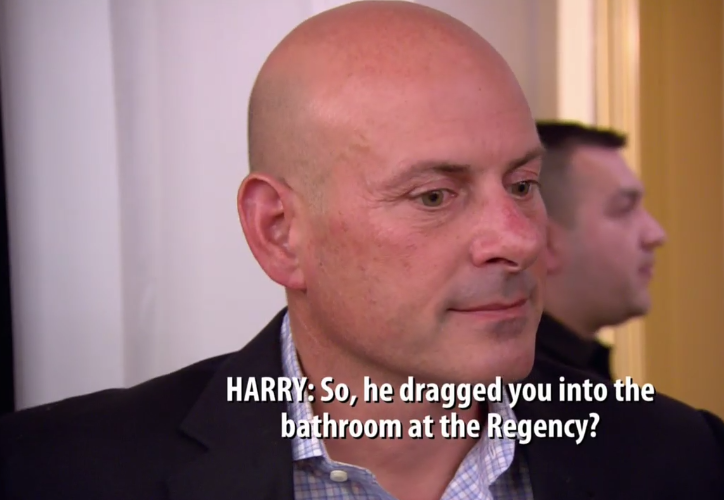 Then Harry and Missy are whispering about all of it and LuAnn in her confessionals continues the charade she has so neatly constructed of everything being amazing and normal. She's all "it's all cool! I'm cool! I'm friend with my ex's! It's healthy" but in person she's up in Tom's ear "who is that? is that the girl you dated?" staring like she wants to kill someone with a fake stiff smile forced across her face.
I laughed MY HEAD OFF when someone broke something and Sonja yelled "Don't worry about it! It's $12.99!" and cackles.  It was incredible.  And Ramona, I hate to say it, but your apartment looks like it was done by "you yourself and you" and like most of it was $12.99 throw pillows hurled everywhere.  Just saying…..
:: JASONHOPPY MORE STALKING ::
I saw an article today that there is more stalking stuff with Jason and Bethenny! I will never understand this! How did he get so crazy!?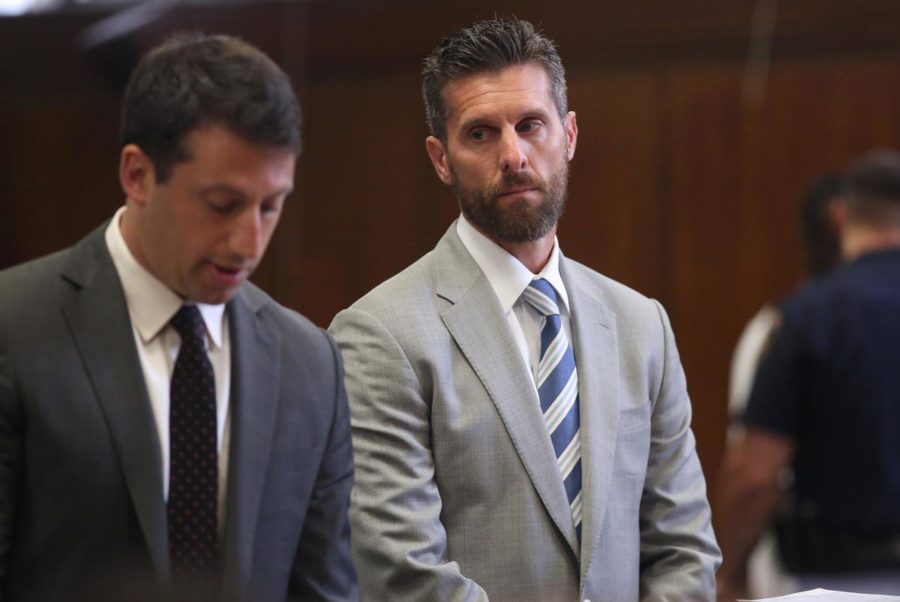 This photo of him….. yikes.  They really know how to get a bad angle and use it in these articles.
:: BACHELORETTE : LAST WEEK :: 
 I never included my notes from last week (I swear I am like a chicken with their head cut off lately!) and this week was 4 HOURS of nonsense because ABC wants to kill me, so I'll keep it to some bullet points.
Eric's resting bitch/butch face is out of control.  It takes resting bitch face to a whole new level.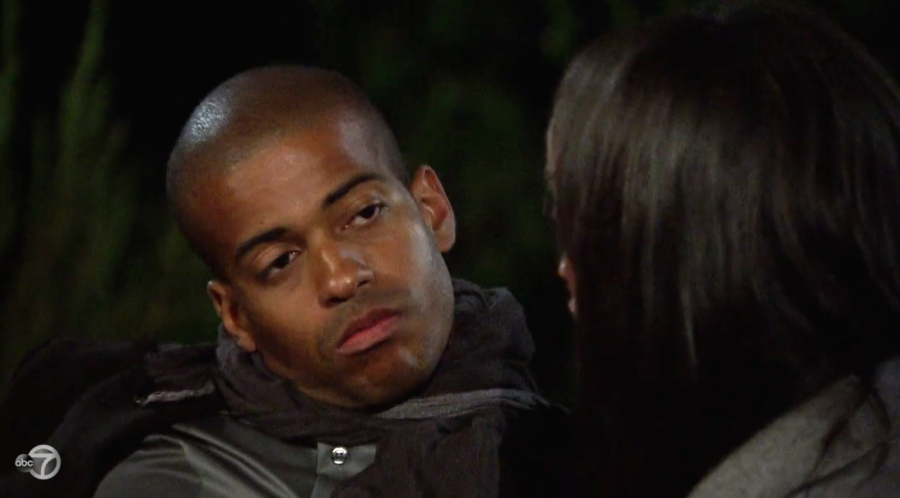 Why does Dean, Jesse McCartneys' adorable doppelgänger have to dress in a Hawaiian pineapple shirt under his blazer for a rose ceremony?  Are you trying to point out that you are the youngest one there? I felt so bad for him on their Blimp date.  Of course he is the one with the fear of heights (the producers will NEVER stop with that one will they!)  You could not pay me a million dollars to go into that blimp, and I have no fear of heights.  That looks like a death wish!  
Eric/Resting Butch Face can't spell FACADE.
And Peter can't spell coitus!!! Maybe I watch too much Big Bang Theory (Sheldon only refers to sex as coitus) but that seems pretty easy to spell???
:: THIS WEEK – 2 PART EVENT :: 
4 Hours Bachelor? Ugh.  Buckle Up.  I like that Brian the Chiropractor is 37 years old.  I feel like she needs someone her age or older.  And that's where the stuff with cutie pie Dean is just a huge red flag to me.  He is a little baby! Age is just a number…. sometimes.  But perhaps not this time.
These dude fights between Nashville Country Singer boy Lee and Kenny the Wrestler are so stupid.  "You're a snake! Bye Snake'y."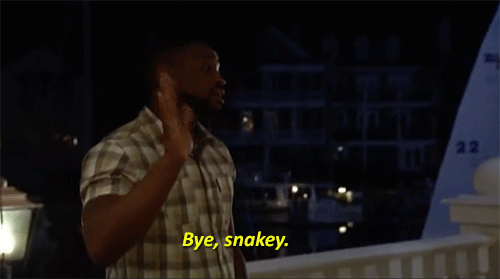 Ugh. You both are children (as hashtag carpenter craig would say). He then says "I want to lay my (bleep) on your (bleep) and something else (bleep)."  Ummmm what the heck is he saying? It sounded sexual which I think is opposite of what he wants?
RACHEL. What are you wearing.  You are in Hilton Head South Carolina – why are you wearing ALL black!?  black lace, sheer black, and a black leather jacket.  WHAT?!? No! Your gowns have been so spot on who the heck styled this?
Someone from LA that has never been to the South?
Her date with Jack Stone is the highlight of the date.  But why are we seeing his full name Jack Stone? What happened to the first initial last name Bachelor pastime? They have a date shucking oysters and learning the dance style of Shagging.

  He goes in to kiss her and she pulls away saying she's contagious and will get him sick and he's like "WOW that first kiss was AH-mazing. "  We know from that comment alone he is going home.  And this was before his creepy facials
Kip walked in during the quote of "He just wants to lay in bed and talk.  It takes away from all of the shucking and shagging we did today." and was VERY confused as to what was going on. 
Gotta say Jack Stone (who I just keep wanting to call Captain Jack Sparrow) … I never saw this creepiness coming! You had such great teeth!! But then you just sat started doing this…. over and over…. and over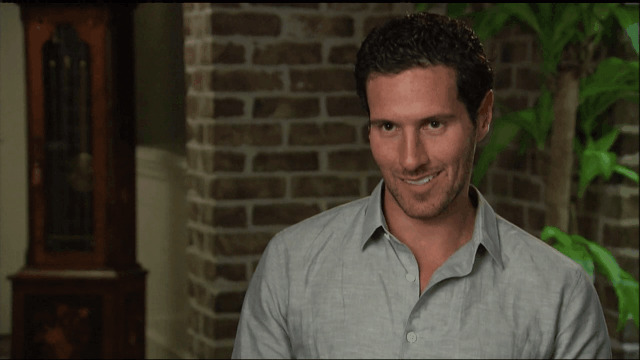 At the rose ceremony, Kenny is sitting there doing snake movements.  LOCK IT UP KENNY.  It's not a good look.
PART TWO
The Two on One is Kenny and Lee – SHOCKER – the two people that hate each other.  Kenny, note to self, if you don't want to come off as angry or aggressive, let's not have every word out of your mouth have to be bleeped and then end it with "eat sheyite and die".  Maybe? No? But hey, what do I know?
Resting Betch/Butch Face got a one-on-one and was crazily jumping around and all enthused….. he is all over the place.
I was only able to watch the beginning of the group date where they are dressed like this.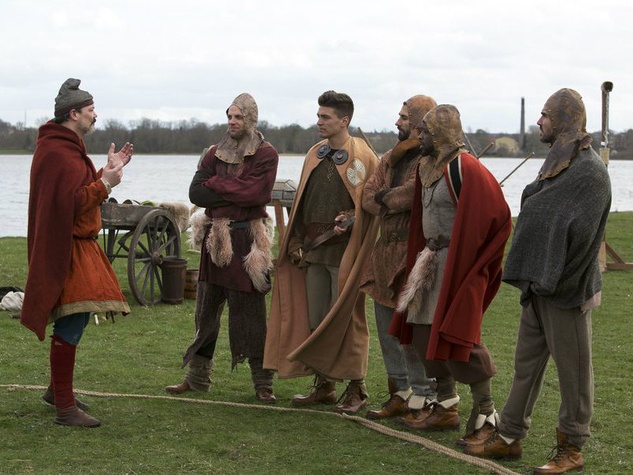 No surprise that the bloody eye preview they have been showing all week had nothing to do with any actual fight between the men.
:: SOUTHERN CHARM ::
It's finale night on Southern Charm. tear. Kathryn is reading a book with a chapter titled with the bible verse "Strike the Shepherd and the Sheep will scatter."   She's really trying I give her that… and if she really read that far into the book it looks like she's gotten pretty far.
Dani and Elizabth are down at the beach and Elizabeth is as thrilling and fun as ever. "No Sun for Lizzy today!" she exclaims. Oh Lizzy! You're such a blast!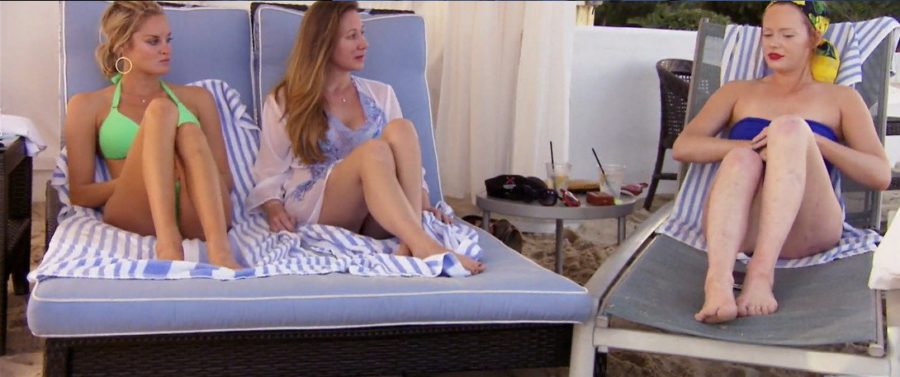 "Lizzy" and Kathryn must have both used the same awful red lips for the beach day. Nothing says a day at the beach in the hot sun like blood red lipstick melting off your face.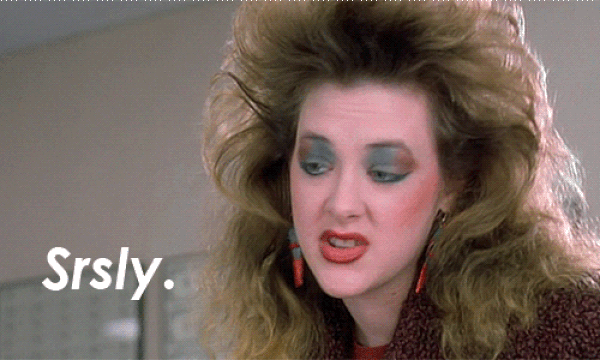 Hasthag Carpenter Craig poses a serious stumper to the boys: Cheese or Oral Sex? He doesn't comprehend that no man on earth is going to pick cheese over oral sex. He's like "What!? Wait!? Why wouldn't you pick cheese!"  Out of all of the things Craig has said to make himself seem like less of man, I think this takes the cake.
Craig gives the baby onsie he had made to Cameron –  which would be the cutest gift ever, so sweet, if he wasn't such an ass that I want to tell him HE IS THE CHILD. So instead I'm on Shep's side, critiquing it and saying the letters are off center.  Guess you should have stopped chatting with Gizmo and focused a little more, Craig!
The final morning arrives.  Chelsea's bod.  Wowza. And an ocean make-out with Austen! Aw!
Cameron is talking to Craig about how "He needs to be aware of how he speaks to (Naomi) in public."  Craig is taking no blame.  He's like "She didn't even say bye when she left! But I had a better time after she left…. and that's not how it should be."
I truly can't stand this kid. He pouts LIKE A CHILD constantly.
We're back in Charleston….
I know I always say I love the little intro clips with glimpses into everyones lives but I mean it.  Moments like Whitney saying to his mother "You look like Joan Crawford" just kill me. KILL ME. Craig talking to Gizmo and a shot of Bourbon Gentry however, I can do without.  Same with the entire scene involving MR. Bourbon Gentry and Thomas.
Landon and Thomas are arguing via text through quoting Jane Austen Pride and Prejudice. Oh puh-lease.  Even if you didn't see the episode I'm sure you can vividly imagine Thomas' ever-important voice slowly reading the quotes with his southern drawl as though he is still some State Senator giving an important speech.  And ever the amazing supporting character, JD gives a head nod and an "mmmmmmmm".  Ugh these two are such idiots.
I don't understand why Landon is suddenly acting like she is all on Kathryn's side and totally against Thomas?
We are graced with another LEWK from Kathryn this week!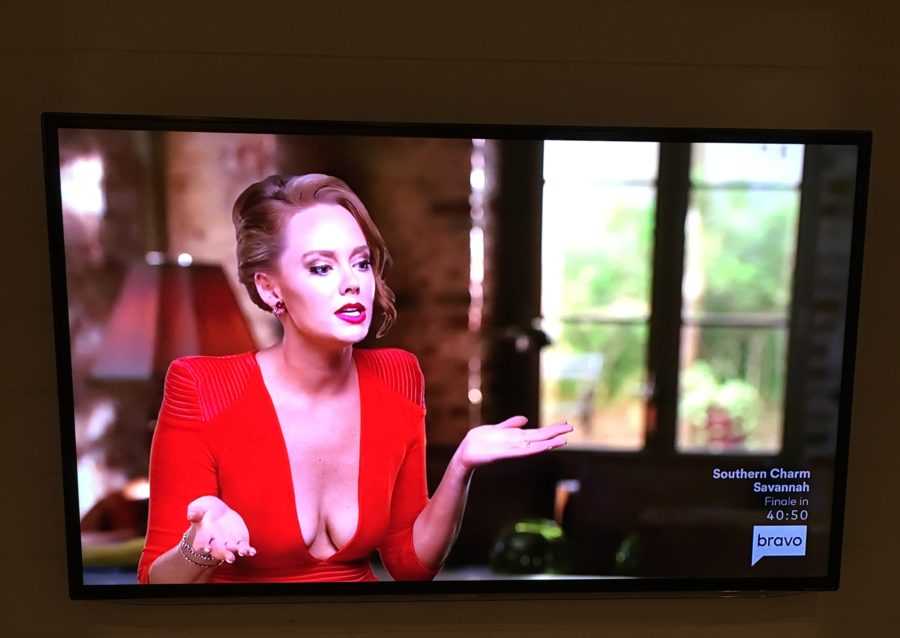 SO MANY LEWKS! Even new ones in the FINALE confessionals! I love it!
Landon and her have more in common than just Thomas, they both don't believe in bras AND NEED TO.  Please don't say this is what I look like when I find something I can go braless in and no one is telling me?! Because these two girls should really know when one is required and apparently they don't.
Naomi gets home to pouty Craig who is acting like his life is so hard because he printed out study sheets for the bar and is going to have to actually start studying now that he graduated and is eligible.  Why is Naomi taking all the blame for this!? Also, Naomi, do not take relationship advice from KATHRYN.
Party at JD's. Barf. Gentry Bourbon Gentry Bourbon Gentry Bourbon.  Can we get Shep's hot friend Beau to be a sidecharacter inside of JD? Or that other friend of Shep's that is straight out of Hot Tub Time Machine in the printed track suit jacket? Or ANYONE for that matter? Kathryn's cousin in the red bikini and stilletos poolside from episode one? Anyone but him.
Rumors of a Kathryn and Thomas make out session the night before begin to swirl.  These two are NUTS. I mean, is her vagine platinum??? What is it with these two??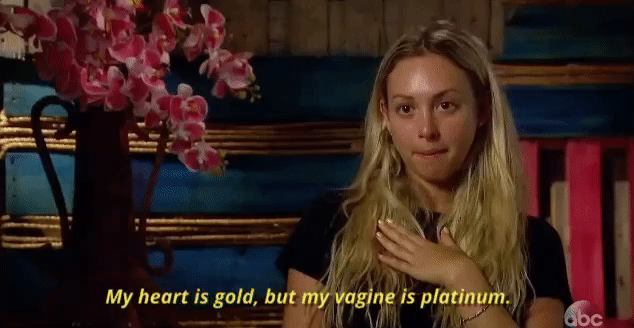 And that long embrace that we saw on camera (apparently moments before said make out) made me very uncomfortable.
Landon is in a backless dress with no bra and looks gorgeous. Now THAT is how you wear a dress with no bra girl.
Thomas walks in looking like the Uncle Fester from The Adam's Family…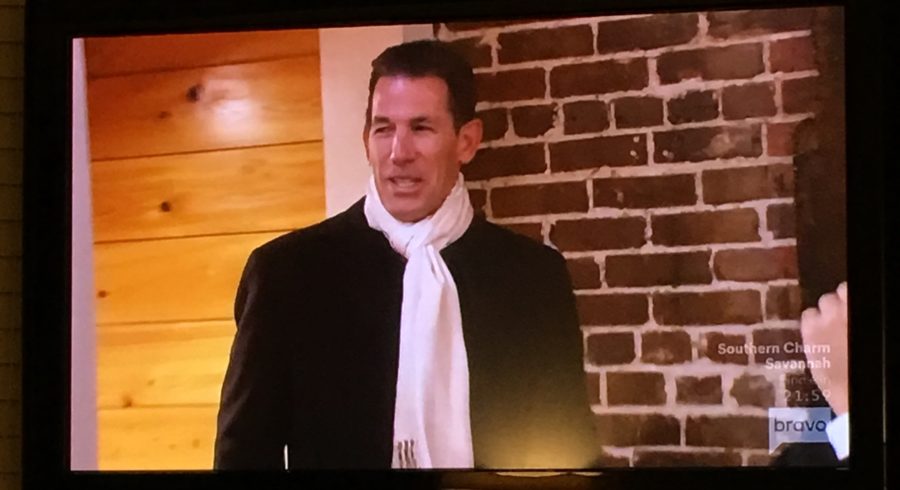 ……which is actually very fitting for Kathryn's dark look!  It's like they planned it after their make out session. Oh, and Thomas of course thinks the black lipstick is super sexy.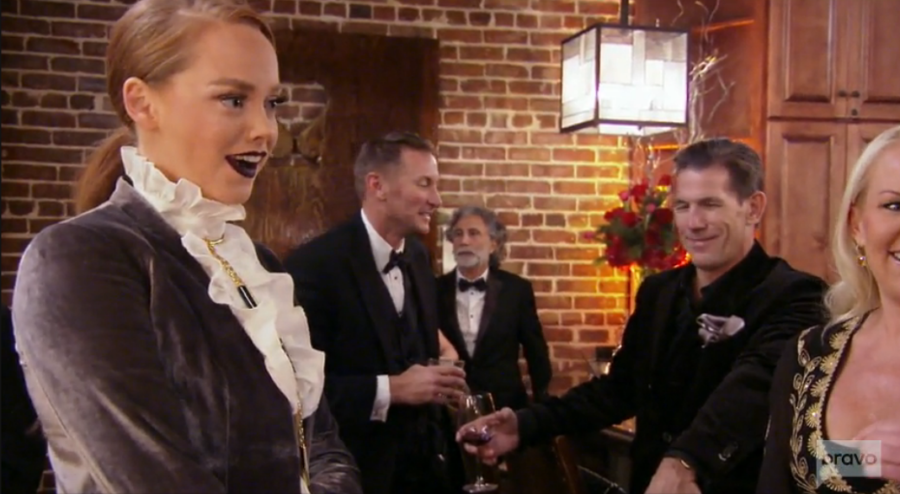 COMMERCIAL BREAK:  This preview for Odd Mom Out is giving me life.  I love Jill Kargman so much.  In the Odd Mom Out commercial her husband is saying she looks like Edward Scissor Hands which is NOW what I am changing my mind to thinking Kathryn's lewk looks like.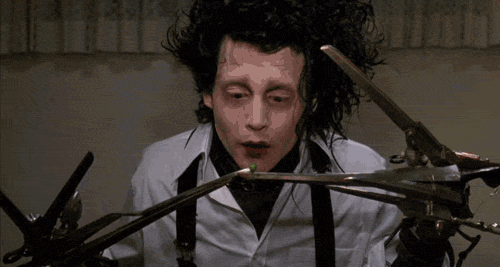 Oh.  Kathryn gives me comparison herself! She says it looks like Austin Powers threw up on a girl.  Thanks Kathryn! You are so spot on! Keep reading and doing yoga it's really working!
We learn more about Shep being drunk leaving Charleston and missing the plane/being kicked off the plane.  It involved him choking on a chicken wing? And spilling water and yelling at a guy? He is SUCH a degenerate. (yet this story cracked me up….and made me think of a story of a guy friend being kicked off a plane home from Vegas which was just hilarious).
Okay I really really really really really want Chelsea and Austen to be lovah's. This is cute. (to be read in the voice of the annoying yet great song "I really really really really really really like you.. and blah blah blah and you want me too". )
Hashtag Carpenter Craig is ready to ruin another moment where everyone is getting along for once, similar to Key West, so he steps in to take things up a notch.  Landon is correct – everyone is happy with her and Kathryn's relationship except him, so LOCK IT UP.
Shep cracks a joke about Craig not knowing about the Bay of Pigs and Craig punches his leg and is so dead in the eyes making a really creepy face that it's a bit terrifying.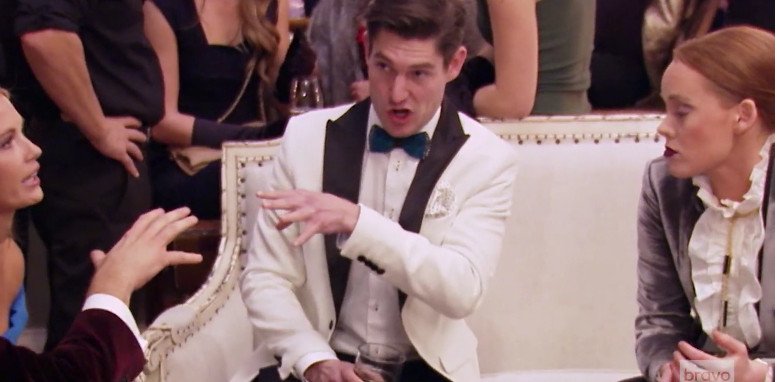 The world is for sure coming to an end because first Kathryn is giving relationship advice, and now she is mediating arguments!? Who does she think she is!? That make out session with Thomas last night has her going crazy already!
They are so nuts to ever even try to act like they are into each other and it could work.
I'm sure the reunion will show this was short lived…..like all of their romances…. just pray these short lived flings never lead to baby #3!
:: MAZEL AND JACKHOLE ::
Big Brother is Back!
This so amazing and horrible…..
Best part : it's 3 nights a week.  Worst part : it's 3 nights a week.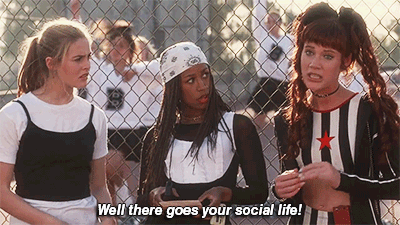 I always don't like the start of every season because I feel like no one is as great as previous seasons but then a few weeks in I get in to it.
And I realize all of 5 of you watch this show so I'll keep it to a minimum!
This 3 nights a week thing made me realize that the two weeks we are away on vacation is going to leave me with hours upon hours of not just BB, but LOTS of Bravo to catch up on.  And REUNIONS! I'm going to be missing Mexico for New York and Southern Charm Reunion!
HALP!
I may need to cancel this trip…… I jest.
But I may need to take an extra few days off work to wok on the DVR and prep for Coffee Talk!
:: Editors Note ::
As always, ignore my own blatant grammatical errors whilst I make fun of others poor grammar during Coffee Talk on a weekly basis.
#HYPOCRITE   #SORRYIMNOTSORRY
I write these posts late at night while simultaneously watching Bravo, taking snaochats of my snoring husband, and making to do lists of everything I was supposed to do and didn't do that day, and likely won't do the next day either.  Or the day after that.