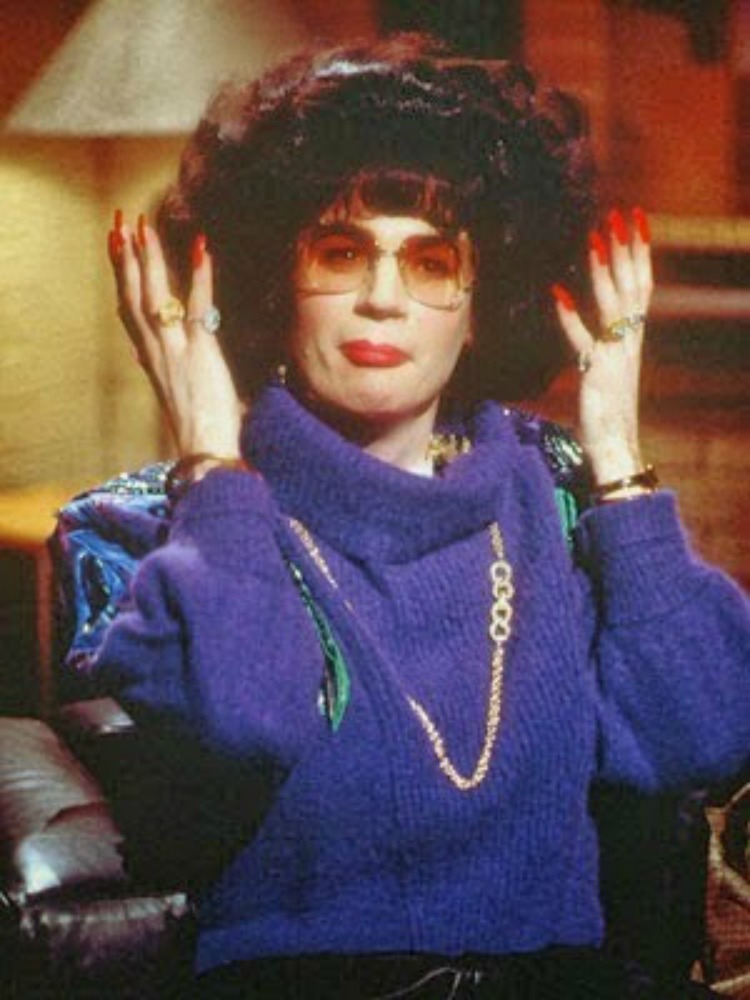 discuss amongst ya-selves…….
:: LAST WEEK'S RHONY ::
We're on part two (of  three! Can I get a Halleluajah-Preach-Amen! ) of The Berkshires and it picks up right where it left off.  The ladies continue the whole "Let's tell Luann about Tom" saga, where LuAnn will say that's enough, the ladies will say "okay great you're happy we will leave it alone" and then one pinot grigio (or pinot noir, there was a lot of red going down) later they forget and are like 'LuAnn, now about Tom…."
LuAnn does a horrible job defending her relationship.  And always has?  She never says it's not true flat out. She says things like she's always with him when would he have time. And she mainly just says things like "He is who he is and I am who I am he's not going to change."
Uhmmmm.  That doesn't make me feel good for you.  But then again, she also doesn't seem to care.  They "ski in Aspen in the winter and go to Palm Beach and have a condo" and that literally is her response to them talking about her soon-to-be-husband galavanting about Manhattan with his tongue down every womans throat.
I think the only reason she wont come right out and say "I don't care." is that she still tries to act like she is The Classy Countess and a person who pretends to be the judge on manners and class shouldn't accept her fiance cheating all over town.
Tinsley tells the ladies she is so done with 30 year olds….. yet was just on dates making out with 23 year olds? Luckily now she is apparently dating a rich almost 40 year old  so at least she finally seems to have LOCKED IT UP.
I don't get why Bethenny cares about any of this LuAnn stuff but I think it's just when she is super emotionally broken down by other things that she gets like this.  Because I don't think The B would cry any tears for LuAnn.  I will say I think the term "trick guy" is weird and you can't really name something that everyone has always discussed, it's just a guy that never used to be cute or get laid getting money and suddenly getting laid.    It's not a new concept by any stretch of the imagination.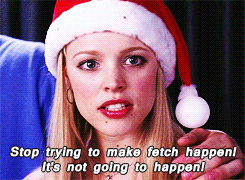 ALSO, all of this stuff with Jason is just horrible.  I know a lot of things have been in the press for months now, but I had hoped it wasn't as bad as it seemed and things were blown out of proportion for tabloids because he seemed so normal on Bethenny Ever After….. but unfortunately I now am thinking he really went off the deep end and is as horrible as it seems.  There's two sides to every story….. but I believe every word that Carole is saying about him leaving the voicemails and calling Bethenny her mother's name.  Yikes.
But Bethenny being emotional and falling off the rails is also when we get the best of Sarcastic B Bethenny.  Like her explaining to Tinsley why none of them are invited to LuAnn and Tom's wedding (as if the hours of accusing him of cheating that night didn't give anything away…… or the hours of past episodes of RH of NY that Tinsley is pretending she has never seen or read about).  She succinctly explains that Carole was sleeping with/now dating her niece's ex and they fought about it, Bethenny accused him of cheating and brought about all of the Tom Scandal, Sonja used to sleep with Tom and he was her maybe soul-mate or at least sex-soul-mate, Ramona dated him and is on a mission to take him down calling people from East to West to get dirt on him.  All up to speed, Tinz?
There is so much going on in this episode that it's hard to know where to look.  But the best place to look: Ramona.  Oh, Ramona.  She's gone from me thinking she is a caricature of herself this season to just full blown manic.  She makes Sonja look like the most level headed person ever.  (Which, when Sonja says, "I ate the whole plate of cheese I feel great!" happens I was truly thinking she was the most sane person there. Get it girl. But I'm ready for sonja trying to snag that bottle of liquor we see in the previews too!)
First Ramona of course has to make the LuAnn and Tom thing about her and Mario and be as dramatic as humanly possible hurling her body and flipping her hair around and crying with no tears ever falling in her efforts to explain how concerned she is about LuAnnn (about herself….. my line through the text thing isn't working! ah!)
Dorinda is so calm during the ladies trying to blow up the house with a non working fireplace. She is so calm when Ramona spills chicken juice all over the place and then acts like she is all hopped up on pills trying to apologize for it and then talk about how incredible her home cooking is.
Ramona thinks everything is fine between her and Bethenny because A. she's had 17 bottles of wine and B. Bethenny hasn't gone ape-sheyite on her yet like she did to LuAnn last year.  Dorinda correctly informs her that she is crazy and Bethenny is definitely not fine with her.  So Ramona uses that as an excuse to sneak onto the chair next to her and put her face within millimeters of Bethenny's, apologizing a fake apology because she doesn't want to be called "The Apologizer".  It. Was. Great.  But Ramona decides she needs more.  We end with Ramona sitting down in one of the 7 living rooms with decor upon decor upon decor and fur sofas galore with Bethenny. Ramona was just warming up to the level of drama that is about to ensue.  Bethenny sits there calmly and rationally, as she has all season with Ramona and her spaz-attacks, which only makes Ramona look more crazy.  All Bethenny says is "I don't think you've been a good friend to me" and suddenly it's like all the adderall in the world entered Ramona's bloodstream at once.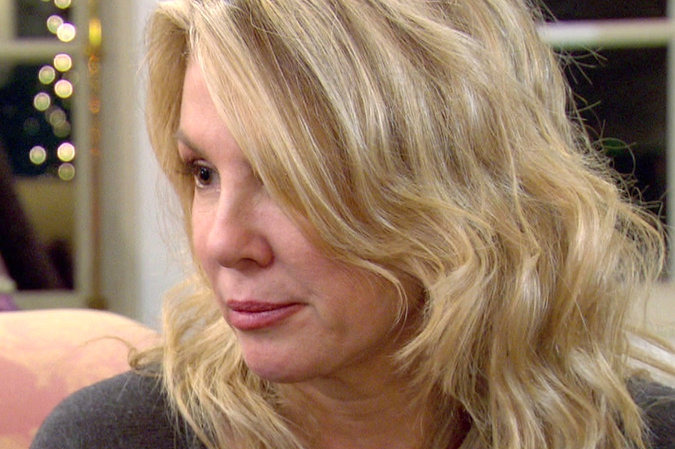 She's standing up and sitting down, flipping her  hair, eye rolling,  shaking her head forwards and backwards shouting "ARE YOU KIDDING ME BETHENNY !!?? ARE YOU KIDDING ME BETHENNY ??!! ARE YOU KIDDING ME BETHENNY??" It's just pure Real Housewives Gold.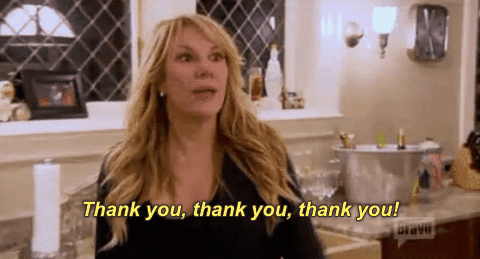 If only it had happened at Dorinda's dinner table (although it did start there with the attack on her shoulder) it would have been a perfect Bravo Dinner Party From Hell.
I can't wait to see how this one ends.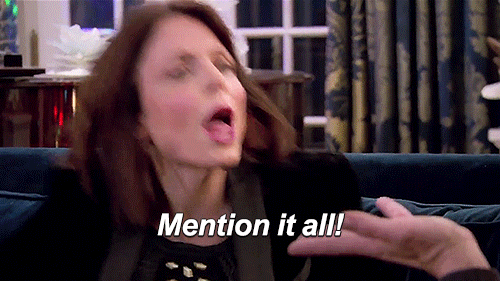 I know the final Berkshires part aired last night when you are reading this, but again, the husband keeps not traveling on Wednesday nights lately and, unlike Tom, won't let me lay in bed with the TV on at 2 AM, which is how much longer I would be awake if I could watch and write about it!
I can't wait to watch Jill Zarin return and say "You know what? Not gonna lie, I kind of missed the drama."  What!!??? No way Jill!!!? I'm shocked! No one has heard about you begging over and over to try to get back in the graces of the show.  We all are shocked! (I mean if Jill getting the kabosh on the show isn't the prime example of "Don't Mess With The B" I don't know what is.)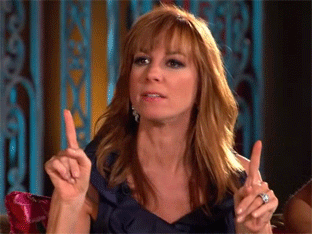 :: THE BACHELORETTE :: 
We saw the conclusion of the staged return of DeMario and Rachel shot it down as quickly as the producers could set the scene.  Yawn.

Whaboom guy and his Ketogenic Diet No Bananas Enemy BOTH get kicked off.  I must say I never saw that coming.  I thought we for sure had another week of their stupidity, but clearly Rachel isn't putting up with the antics for the sake of entertainment so slow clap for Rachel.  The two guys really got into it during their exit interviews, which means they will 100 percent be attending Bachelor in Paradise.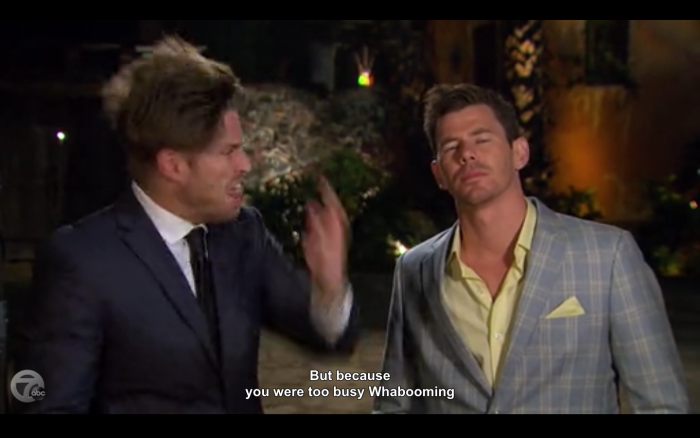 I love that they go on Ellen!  First Ashton and now Ellen! They seriously are taking these dates up a notch this season!  Ellen expertly notes that the Tickle Guy should be next to go and that he is a horrible dancer.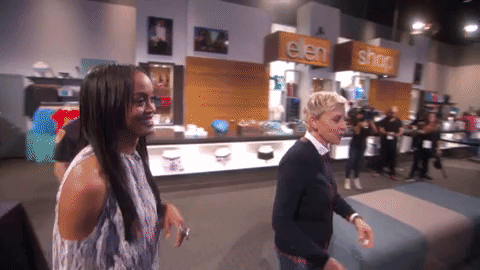 Wait…. the one on one date is riding horses on Rodeo Drive.  I take back the next-level dates comments. This is so stupid.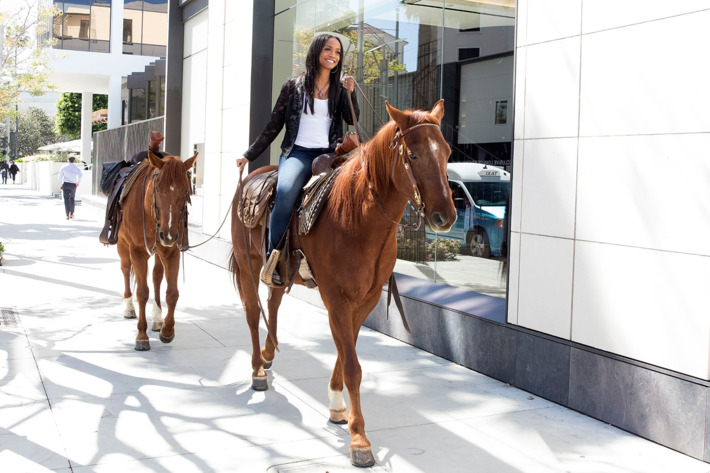 The Raven-Corinne-and-Whatever-The-Others-Are-Named are back to promote Bachelor in Paradise (as if it needs promoting…. it is hands down the gem of the whole franchise) and I'm sure are not back for the last time.  However, if Rachel refers to the Bachelor rejects one more time as "her girls!" I will lose my damn mind. "My Girls" should have been the drinking word of the night.  Atleast she didn't say "squad" like she did the first night.  I pray to God you have actual girlfriends with more sense than these women Rachel.
This mud wrestling date is absolutely disgusting…..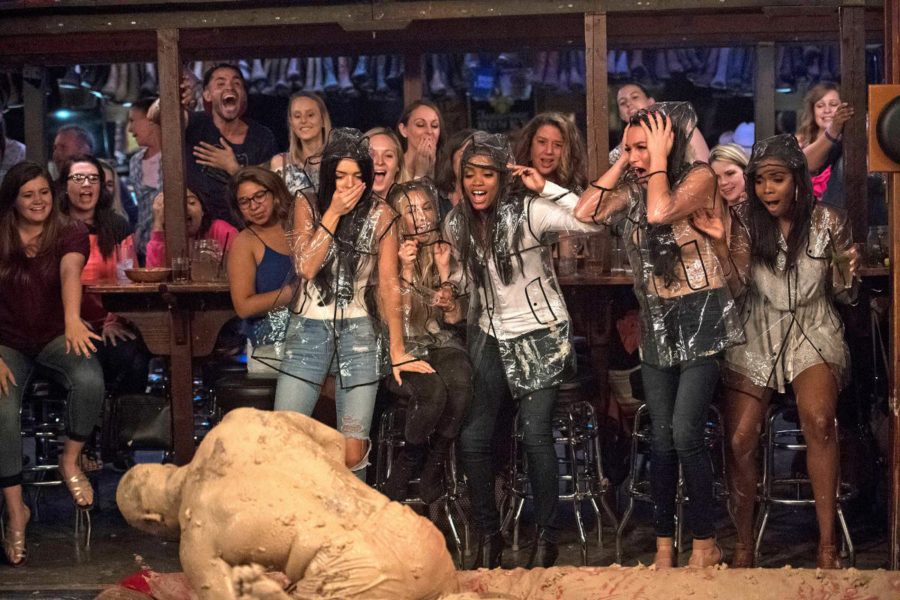 and yet….. I vote that this is a genius date idea.
Rachel doesn't hold back with her #NotImpressed reactions to the men acting like idiots and I for one really appreciate it.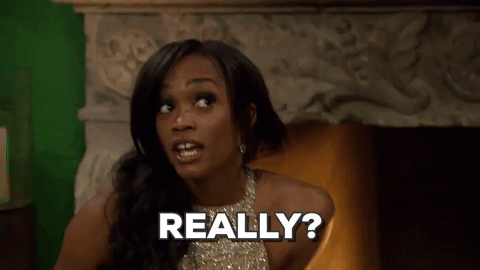 :: BACHELOR IN PARADISE ::

Sorry I'm not sorry, but the announcement of the cast of Bachelor in Paradise this week is taking priority over the show.  The Bachelorette it's never as entertaining as when there are a bunch of girls after one guy.
So, this season we have all the people we suspected, and "The Girls" are all in attendance.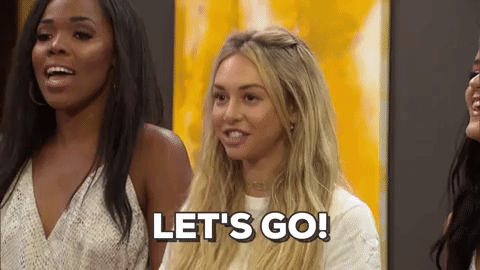 One not surprising addition that somehow still has my jaw on the floor.
AMANDA.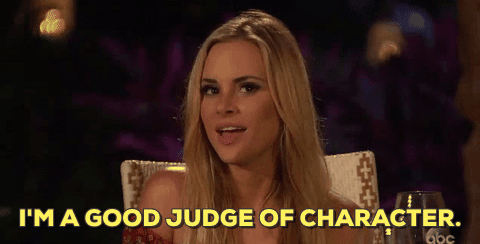 I mean really!!! You have two kids!  You have done this way too much already!! I know you have a baby voice that is nails on a chalk board, but you are nice and very attractive with a banging bod so any guy will overlook that.  Meet a nice, normal person in California (cough, yeah right) and stay home with your kids!
Look at where dating sweaty, permanent sheyite eating grin face Josh got you? Covered in sweat and nothing else!
As long as Jorge is back, all is right with the world.

:: RHOC : SEASON 12 SNEAK PEEK ::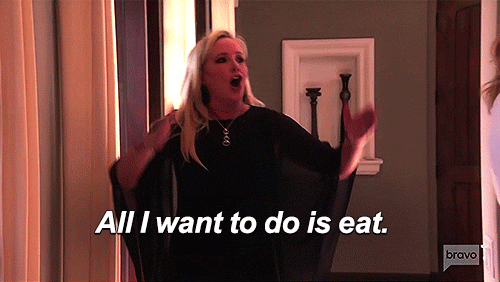 I am so excited for this season that I, too, just want to eat!!!!!
See the full trailer HERE

:: SOUTHERN CHARM :: 
We kick off this episode by giving Hashtag Carptenter Craig a dose of masculinity he has been lacking all season by having Naomi give him a pedicure at home.  Sigh.  Now, this is equally Naomi's fault.  But when Craig is saying "don't do it wrong" and actual NAIL POLISH, although clear, is going on his toes I am very concerned.
It's the week of Saint's first birthday and Kathryn says it will be the first time her and Thomas have seen each other in a year.  I guess I didn't realize that other than the birth of the baby it was completely separate quarters from that moment on.  Like, was the hospital it??? These two really are the example of love-hate relationship.
Kathryn's style is ALL over the place this season.  Does she have like three stylists, one at a time that she keeps firing, because we go from Herve Ledger Las Vegas look in her commentary to full on Mom of Two in a baggy beige camel sweater with a button down underneath.  Can we not find something in the middle?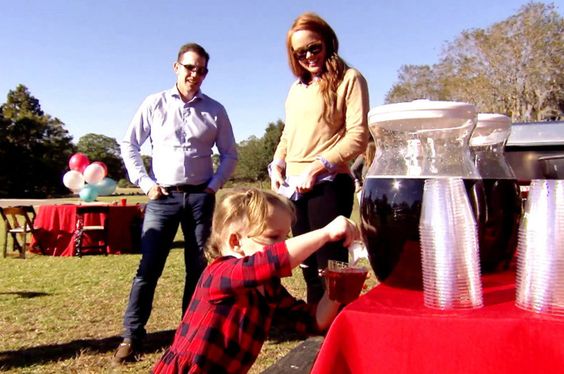 There is commentary about there not being any booze at the birthday celebration, and yet Elizabeth rides to the party with Kathryn and has a red solo cup in her hand walking up to the party? Now, it very easily could not be booze, and I would think she of all people wouldn't, but why the heck are you arriving with a red solo cup otherwise?
Patricia – surprise surprise – won't even say hello to Kathryn and instead comments on how embarrassing it must be to attend your child's birthday party as a guest.  I mean….. Kathryn is awful, but so is Patricia.  Just freaking say hello! She is the mother of the child whose birthday is being celebrated!  Aren't you supposed to be the classy lady? With the manners?  It's so pathetic. (I'm sorry to keep using the phrase caricature of themselves, but she is another perfect example, like Ramona.  She got the Bravo Fame and decided to take the personality characteristics that people use to make gif's out of them and then only behave in that manner from then on.  Not okay.)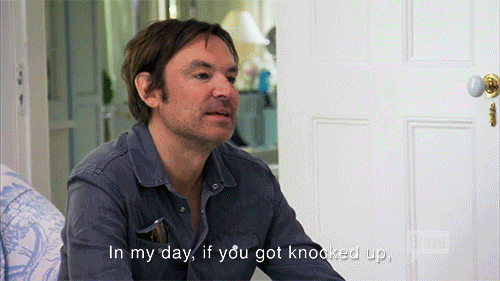 Speaking of being rude and not saying hello, how rude of Kathryn to not say hello to Jennifer and her son that she hasn't even met!  The nerve of Kathryn never ceases to amaze me.  Still, this isn't even close to Patricia. She knows better. 
Kathryn has a bottle to give Thomas and he doesn't have a free hand, so he says to put it in his back pocket and then adds "be careful… you might get pregnant."  I mean.  In that moment, I saw what she and others must see in him.  Because I laughed harder that I would like to admit.  And also because with the two of them, one moment of kindness and 2 seconds of touching leads to immediate pregnancy.
I'm. so. over. these. scenes. with. Patricia. discussing. Thomas. and. his. dating.
And the scenes with him and Landon.
And on a note of people "becoming their Bravo characters" in the worst possible sense, we are back to Shep.  He is just so disheveled all the time this season.  I don't think he even brushed his hair before that baby's first birthday party. The way he is stuffing his face with food whilst talking to Chelsea is making me very uncomfortable.  I know you have those giant porcelain 85 year old denture teeth, but please Shep, slow down! Chew!
And then it's back to fully boated, bed head, hungover Shep missing his appointment with Cam sleeping til 1.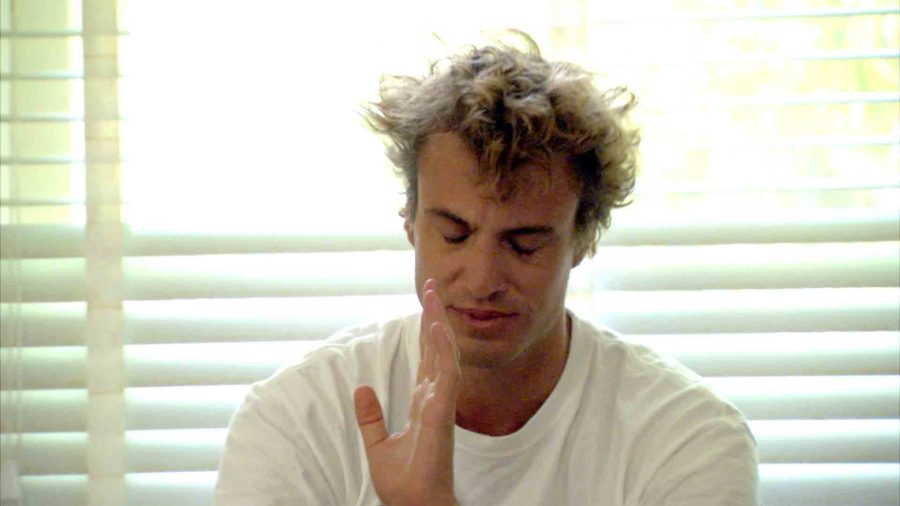 I say all of this with love for Shep.  Because I know how he feels.  I, too, am passionate about Leisure.  But no good girl in her right mind, no matter the amount of family money, can look past the lack of any semblance of adulthood and want to date and marry a man like that.  If it was cute, we'd all still be doing it.  I'd much rather be staying up until morning having fun and sleeping until noon and going through fast food drive through windows.  But unfortunately for you and me, you graduate college and then most adults and most of society frown on things like that.  Life just sin't fair.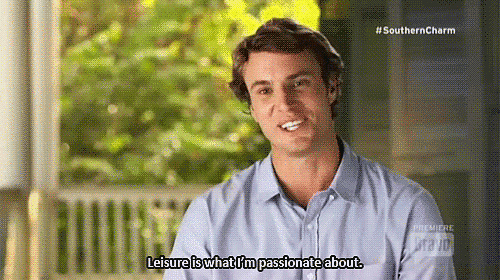 editors note: my strike though/crossing out words button isn't showing up for me anymore – one of about 75 technical difficulties I am currently having this week with the blog – and there have been so many comments in this post I have had to erase because I can't use the line through the text of what I want to say with the more politically correct thing afterwards.  It's driving me nuts because I feel like my hilarity is very limited without this tool and I never realized it until now.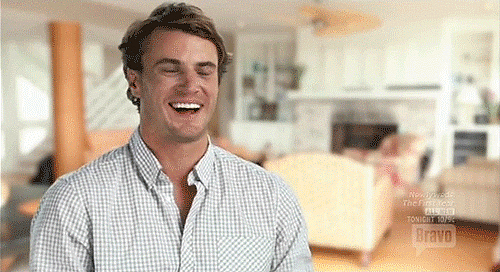 :: JACKHOLE OF THE WEEK :: 
Eric from The Bachelorette.  I don't blame the guys for ganging up on you.  You're a little crazy and your constant RBF (resting bitch face) should be left for the ladies.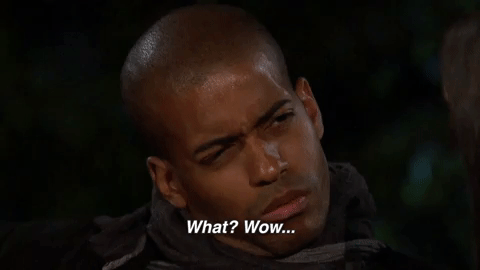 I also have never seen a sympathy rose be handed out to anyone but a lady as well……
:: MAZEL OF THE WEEK :: 
I'm just giving it to Corinne and her return to BIP.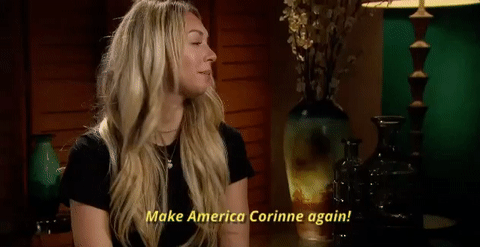 I don't like when my Bravolebrities become caricatures of themselves, but I pray that Corinne continues to be. What can I say, I'm a hypocrite.  And seriously I'll stop using the word caricature; you aren't alone in your annoyance, I'm greatly annoyed with myself as I type this. 
:: Editors Note ::
As always, ignore my own blatant grammatical errors whilst I make fun of others poor grammar during Coffee Talk on a weekly basis.
#HYPOCRITE   #SORRYIMNOTSORRY
I write these posts late at night while simultaneously watching Bravo, taking snaochats of my snoring husband, and making to do lists of everything I was supposed to do and didn't do that day, and likely won't do the next day either.  Or the day after that.