Cheers to Friday!!!
I wanted to share a new outfit with a fun pair of shorts for summer.
Stripes + Florals are two of my favorite trends for Spring and Summer, so I decided to combine them into one look!  These shorts can easily be dressed up, and they definitely make more of a statement than just your regular pair of shorts.  I also love that you can tie the bow off to the side of in the center and give it an entirely different look.
The pearl studs are my new go-to earring for every day.  They feel fancier than my tiny gold studs and I get compliments on them every day!   Also, my brown leather clutch (that comes with a chain to make it a cross-body bag) is on sale for 50% off!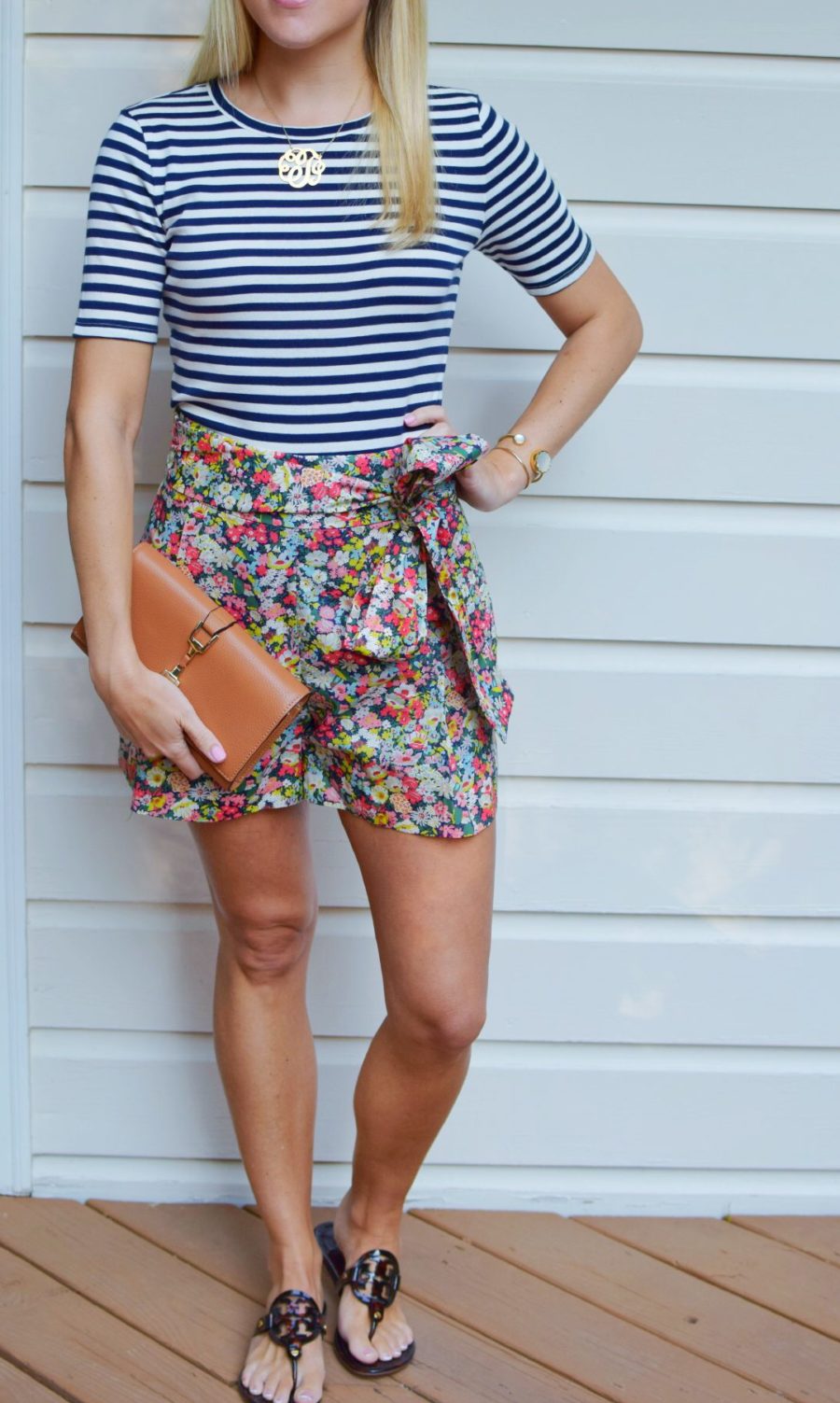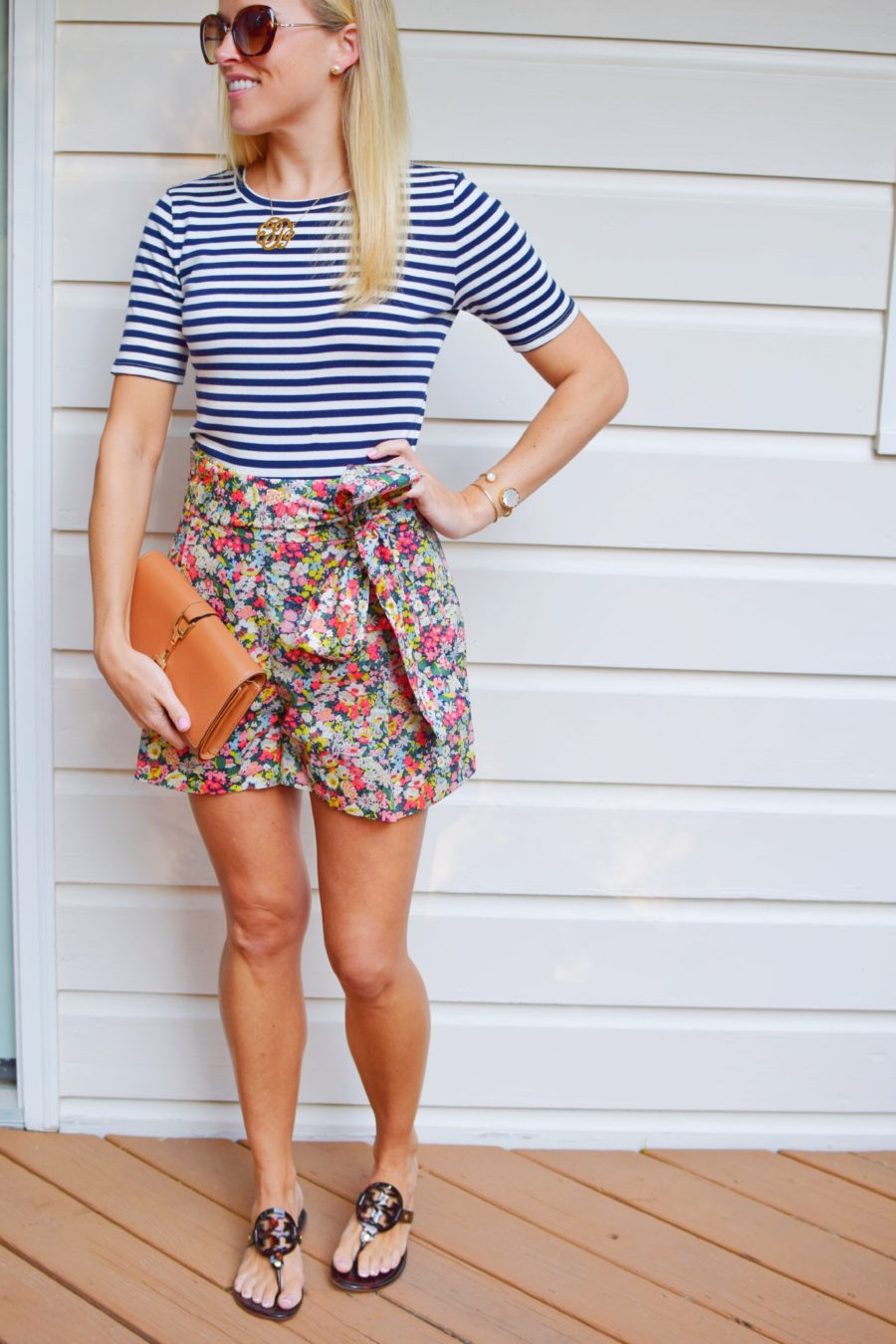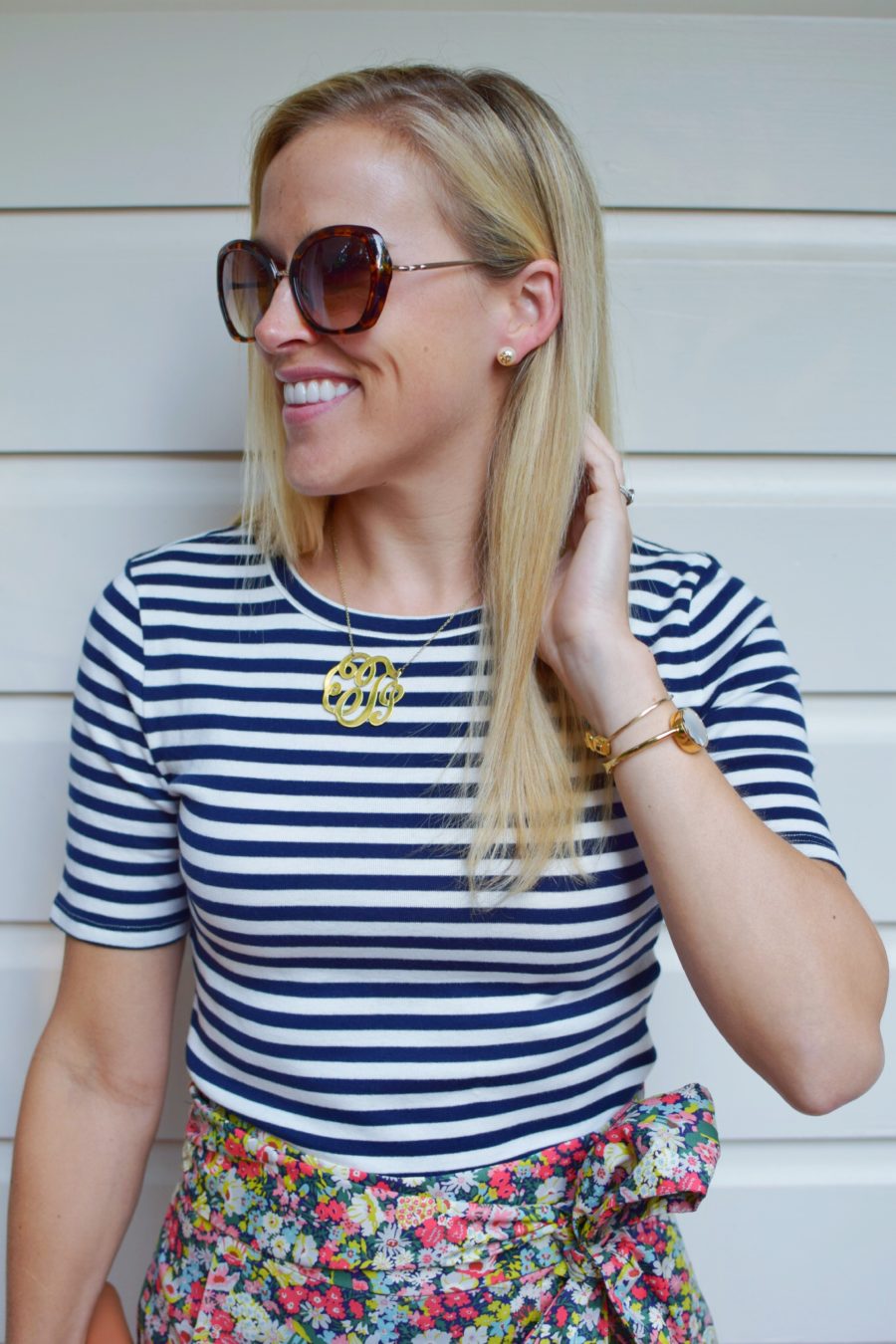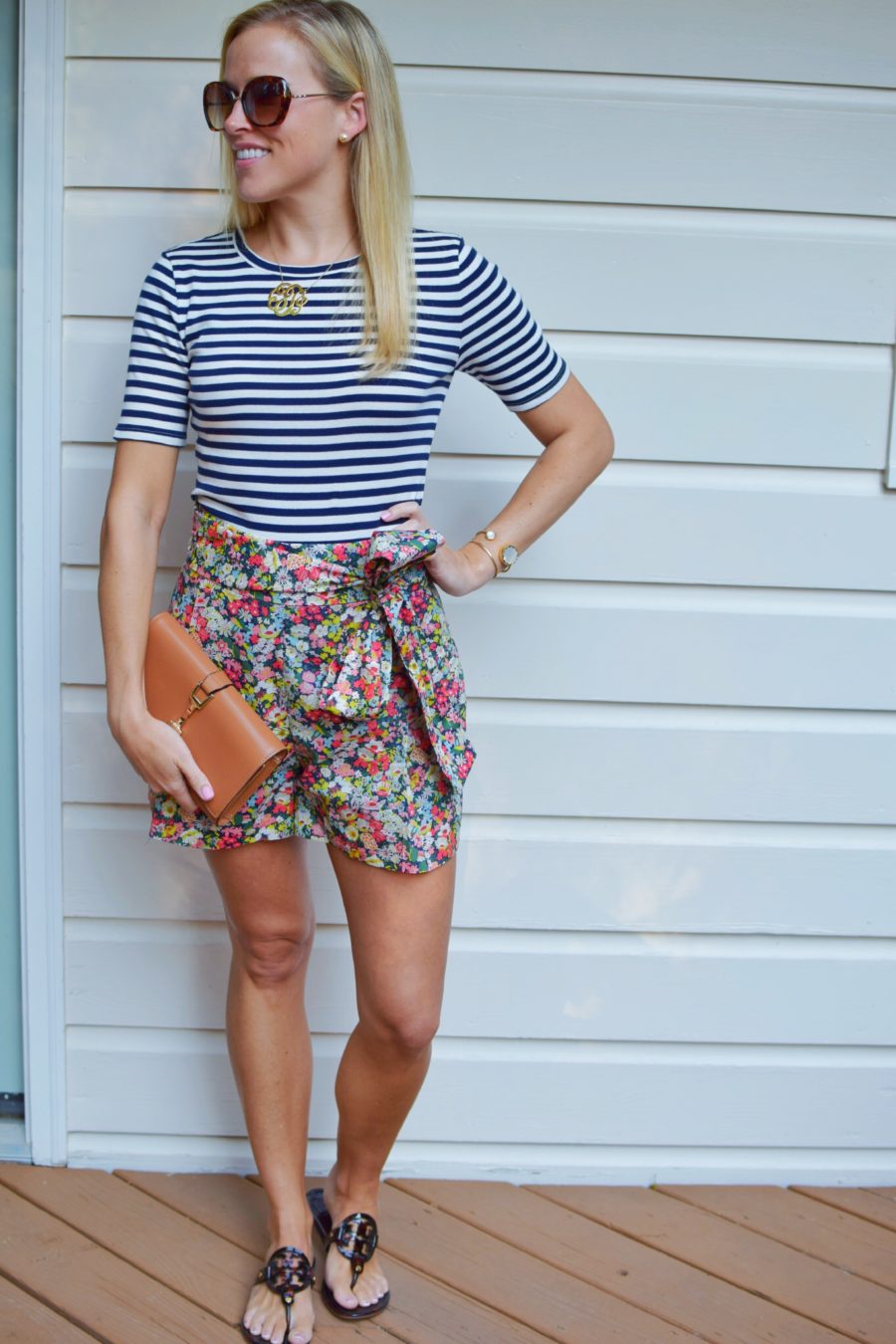 // TIE WAIST FLORAL SHORTS // fit true to size or slightly small, I am wearing a 2
// STRIPED TOP //  runs true to size or slightly large, I am wearing S
// PEARL LOGO STUD EARRINGS //        // SUNGLASSES, same in a different color, $12 //
// SAM EDELMAN CLUTCH //   on sale for 50% off!!      // TORTOISE TORY BURCH SANDALS // 
necklace is super old and from a random website about 9 years ago – I always get asked so I'm trying to find the name! Moon & Lola has great similar options (and a million places now really!) 
I am going to City Winery tonight with friends to see Heather McDonald!
I have never been to City Winery so I am excited about that, and I have also listened to Heather's podcast for a long time so I'm looking forward to her stand up!
Speaking of Heather McDonald, Kate Casey posted this image in the Heather McDonald "Juicy Scoop"  Facebook group and I laughed so hard.
Harry Dubin (of RHofNY) is even on Southern Charm! How does this guy get around like that!?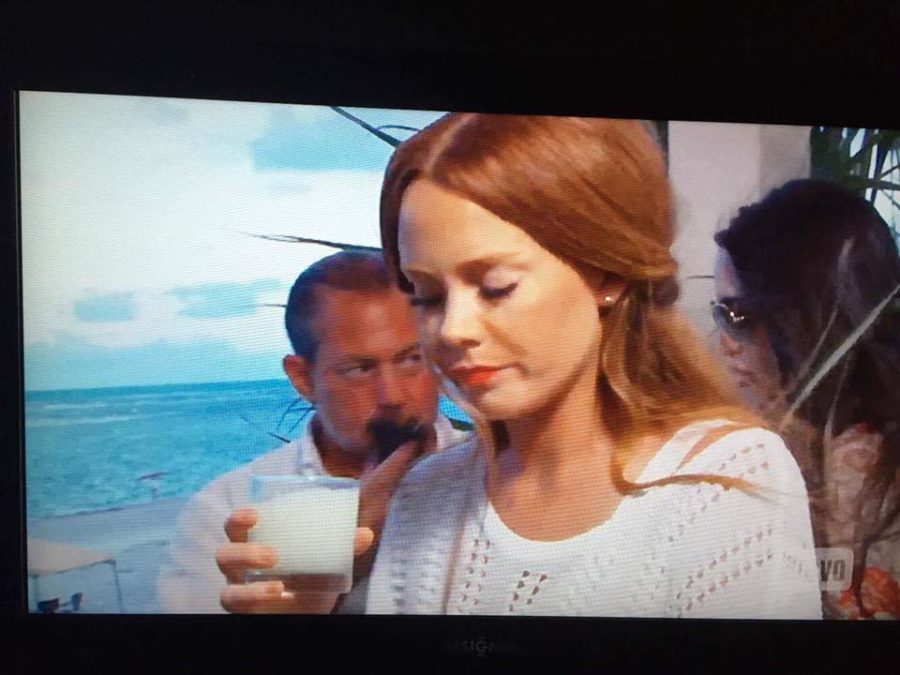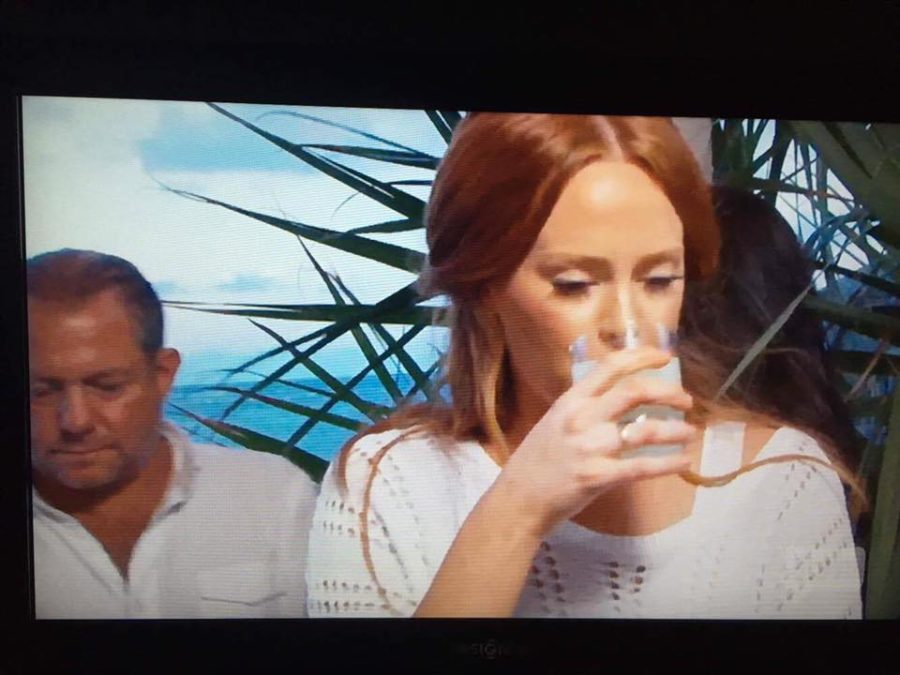 :: LINK LOVE :: 
9 summer cocktails under 200 calories.  Drink up! 
 I am never one to miss the USA Pageant (or any pageant for that matter!) Tune in this Sunday and check out the contestants here.
The hunt for the one piece suit just doesn't stop, y'all.  Sorry not sorry… I have more to share.  I just keep finding cute suit after cute suit! Including knock off's of the Marysia Scallop suit! 
ONE  //  TWO //  THREE  //  FOUR  //  FIVE  // SIX  //  SEVEN  //  EIGHT
I really want to make GP's chicken salad – the spice blend sounds like it gives it so much flavor. 
Oh em gee! Revenge co-stars Josh Bowman and Emily Van Camp are engaged!
Gimme this under $90 printed caftan to wear beach or poolside! 
Did you see Steve Harvey's memo to his staff? Wowza. Worth a read.  Yikes.  (and his follow up comments after it leaked here.)
I am in. love. with the ombre bottom of this maxi dress. 
For any fellow Dancing with The Stars fans, Peta discusses her post-baby bod.
A pastel gingham cold shoulder dress to die for, for a complete steal! Even the waist detail is perfect. 
I'll read anything involving Ina, including what she eats for breakfast (which actually shocked me! So plain?!)
I have an old dress version of this blue romper in grey, and have worn it for over 8 years;
this color blue is piercingly beautiful! 
This necklace would add a pop of color and dress up any outfit. 
Demi Lovato collaborated with Kate Hudson for a Fabletics Collection.
This blue and white printed maxi is uber romatic. 
What a 20 something who has her sheyite together cooks during the week. 
Rumors are already swirling about Ryan and Kelly Ripa fighting (but I don't believe it!)
also, I had no idea Ryan had a serious girlfriend! She is a chef and apparently just moved in! 
Ladylike and cream gingham for only $100 
A guide for how often you should clean everything in your house. (Oops. But I do make the bed every morning!) 
Meghan and Harry made their first public appearance! Smooching and all!
I love this romper that is on sale for 30% off; can we get a leeetle more of a discount please!? 
Jimmy Fallon, Chris Stapleton, and Kevin Bacon perform a version of ZZ Top. 
Striped dresses for days!!  All at or under $100 ! 
ONE  //  TWO  //  THREE  //  FOUR  //  FIVE  //  SIX  //  SEVEN
Ludacris suprrised his mom and renovated her house for Ashton Kutcher's show My Houzz. (I have a love for Ludacris and don't know why? But I really love him.) 
I hope you all have a great weekend
and a great Mother's Day!