DISCUSS AMONGST YA-SELVES……. 
:: SOUTHERN CHARM ::
I appreciate Lady Elaine's Whitney's "baggage" metaphor with T-Rav.
"You've got your baggage, then your overhead baggage, then the baggage that doesn't fit in the overhead bin, and so you have to check it outside the gate."   It might as well be Shakespeare.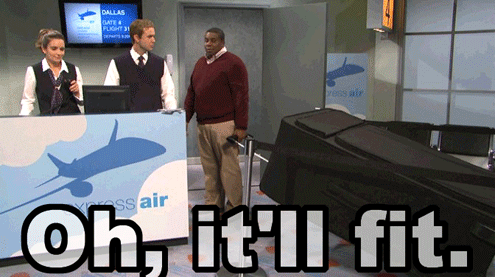 Hashtag Carpenter Craig is not helping to change anyones opinions of him when he orders a sewing machine and says he loves to sew.  But I guess it's a better distraction than talking to Gizmo the cat.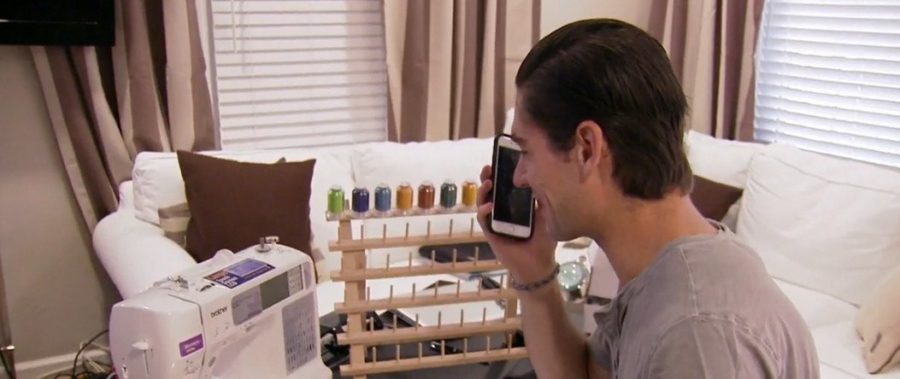 Kathryn hasn't talked to Jennifer in 7 months because….. oh, right: because Thomas passed her a hankerchief when she was crying at the reunion taping. Seriously. That's what all the anger from her is based on.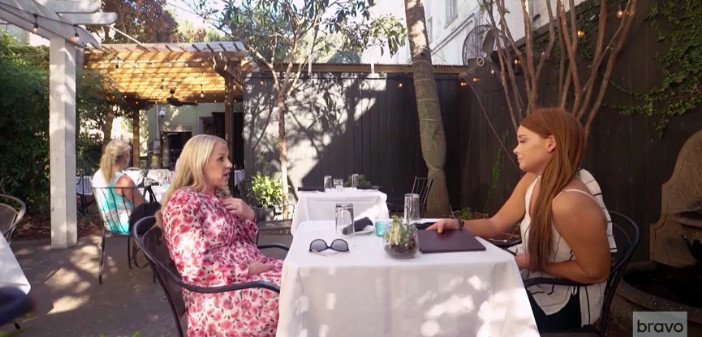 Jennifer is saying she has been a little preoccupied with things in her life.
"I was pregnant with a baby that may live or die."
To which Kathryn responds…..He handed you a hankerchief!
It's unbelievable. It's all about Kathryn.  The way she sits there with that smug face while Jennifer talks about her son crying is horrible to watch.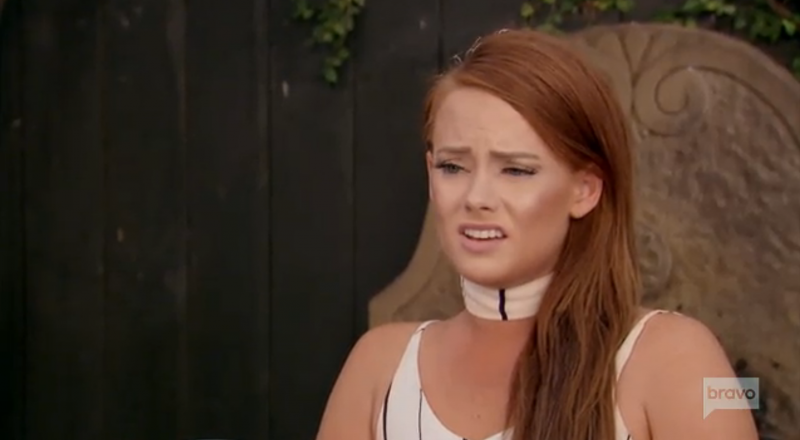 In response to Jennifer discussing her son and his birth defect:
"Of course I feel sympathy for her but after seeing what happened between her and Thomas this just seems fishy as well"
WHAT!!???? 
"That is manipulation in the purest form."
No words for her.
Landon and Austen go to lunch together, where she makes it clear to Austen that he has to hide her "Roam" status so that she is treated just like everyone else and not like the big restaurant-travel-critic the world knows her to be.  She is so delusional lately? I love that he calls her out on the pretentious stuff.  Only Aspen is high class enough for her; she scoffs at Vail. Why is Landon acting like that this season?  If you think that taking a date to Aspen is how you decide if you like them, you probably shouldn't have divorced your rich ex-husband sweetie.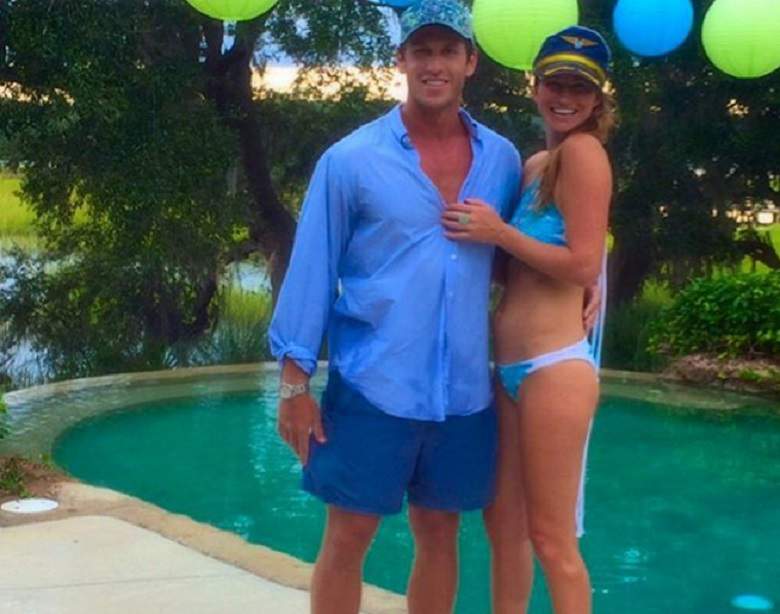 She is super concerned over a conversation between her and her 9 years junior boy-toy Drew when she mentions New York:
"Whats' the big park there?"
"Central Park?"
"Yeah that one!"
Yes, I realize the stupidity of this comment, and the clip with his facial and tone and all of didn't do him any favors in making him seem any more intelligent, but of course this is why Landon can't date him…. not because of the million other obvious reasons.
Carpenter Craig is trying to buy a home as a rental property, because he thinks his sewing habit and lack of license to practice law somehow means he has extreme expendable income.
The delusions of this boy! I swear!
Craig takes his gardening skills into the kitchen to recreate his favorite scenes from Rom-Com's.  He tells us that he's a pretty good catch and that Naomi should consider herself lucky.
Riiiiiiight…. she is the lucky one.
He then decided to tell Naomi that on top of still not taking the bar he is going to start a clothing line.
Craig then says  "I want to have a rental property by the end of the week. I want to check that off the list.
This is how I work; as soon as I write something down I need to work towards it."
Um……
…. silence….. and laughter from Naomi…..


Craig, I know you think you're some huge successful grown-up, but even your big romantic gesture for Naomi is AT HER PARENTS HOUSE.  I meannnnnnn.
Naomi is like "DO YOU WANT TO BE A LAWYER YES OR NO" and his head just starts spinning! How dare she ask a question like that!   And then he acts like a spoiled bratty teenager and says Naomi is being stupid for telling him straight up facts about his lack of motivation and his ludicrous beliefs about his success.
:: PATRICIA'S CAFTANS ::
Oh. Em. Gee.
I caught up on about a weeks worth of WWHL with my-boyfriend-andy-cohen this week and saw the episode with Patricia from Southern Charm (and Kelly Osborne who we just won't even discuss because I barely made it through the episode. I can't with her.)
Patricia showed up wearing a personalized dog caftan, and now has a line called Patricia's Couture.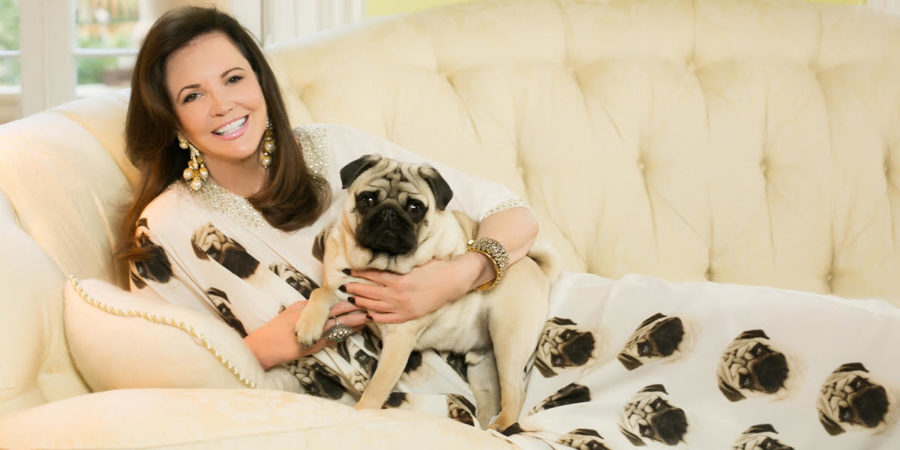 Yes, that is real.
And yes, she is acting like this is couture.
How on earth could this woman think that is couture?
I of course went straight to the website and LOOK WHO ELSE.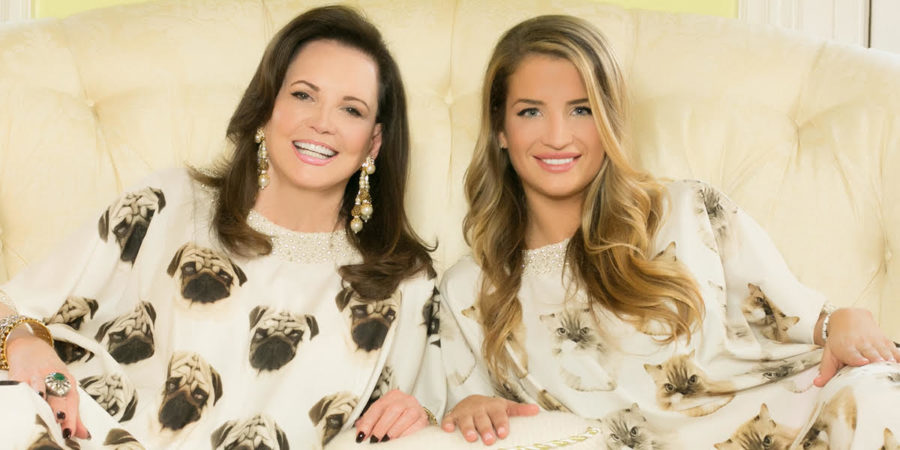 GIZMO THE CAT ON NAOMI.
I really can't.
I just wish it was Craig in Gizmo pajamas like the Wacha pajamas she made for my-boyfriend-andy-cohen. 
PLEASE go to the website and check everything out.  Here is the product description:
Patricia's Couture by Sherina combines crystal and pearl embellishments
in a custom caftan featuring your very own pet
(dog, cat, horse, bird, even fish). So versatile, this caftan, handcrafted in India,
can be worn from the beach to a barbecue to a cocktail party or black tie event.


Did you hear that!? A Black Tie Event! Your wedding dress hunt is OVER LADIES.
And all for only $299.
I mean…. $299 for COUTURE?!
It's a STEAL.
:: REAL HOUSEWIVES OF POTOMAC ::
Let's break this weeks episode down….
ohhhh I jest.
Seriously, who of you watches this? I know there must be some, and I promise it's no judgement! You are a better woman than me. I just can't.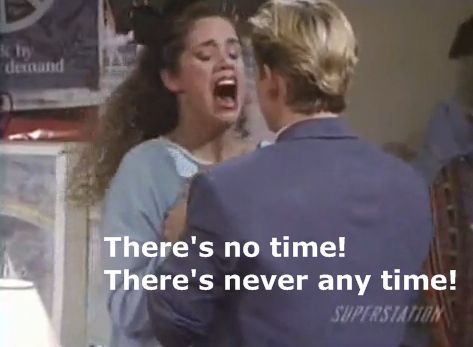 :: REAL HOUSEWIVES OF ATLANTA ::
I also don't watch this show…. but I think I am going to watch the reunions.  I feel like Atlanta reunions always hit another level, and not gonna lie, the commercials really do grab me.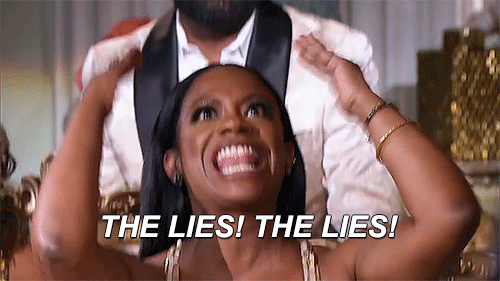 or maybe I'll just watch the gifs instead…..
:: REAL HOUSEWIVES OF NY : LAST WEEK'S EPISODE ::
I hate that I keep missing or barely commenting on NYC because it airs Wednesday nights when I am trying to wrap this post up!  When my husband is in town, it's just too hard to watch because he makes me go to sleep like a parent instead of letting me stay up watching TV in bed all night and selfishly pretending he can't hear it 🙂 Also, I've been trying to work on this whole thing called "sleep" which is just obnoxious.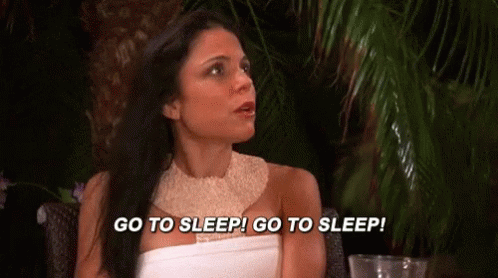 But I'm hoping that I can do "last weeks housewives" and it'll work.  Kind of like in college at Miami of Ohio when the lunch spot uptown had "yesterdays soup : because it's always better the next day".  Hopefully this will be better the next week?
editors note : I know I know….. we'll just pretend. 
So last week we pick up at Ramona's dinner party.  The dinner that Ramona ENTIRELY made herself obviously.  Because she won't even fetch her guests a drink, they have to make their own at the bar, but she'll totally slave in the kitchen over a full meal for 20? Riiiiiiiight.
The show doesn't waste a minute and goes straight into Dorinda going NUTS on Sonja for the things she has said about her over the past year, but most recently what was just printed in the papers.
I love Sonja's full delusion about life.  I kind of want to be as delusional as she is.  She is going on and on about being invited to LuAnn and Tom's wedding but not being able to attend.  The BRIDE is sitting DIRECTLY ACROSS from her and saying "No, Sonja, you are not invited and you were never invited." And Sonja will just keep rattling on "of course I'm invited I just sadly can't make it!"  It's hilariously entertaining.
However, despite how delusional Sonja is, or how much sheyite talking behind Dorinda's back she did, I do not think anyone deserved to be attacked the way that Sonja was.  I mean, some of it is just natural Dorinda, but even for Dorinda it reached a whole new level!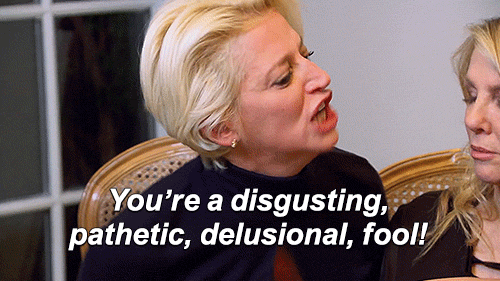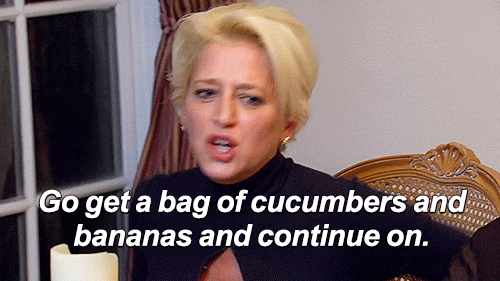 It was baaaaaad.  Carole was trying to calm her down at the end of the table saying she was hitting too low and Dorinda would agree and then go straight back into it.  I did laugh at the Grey Gardens "Edie upstairs" comment, and laugh really hard, but it was mean and unnecessary.  (I meannnnn, I may still be laughing about it, but IT WAS WRONG)
Through it all, Sonja remains calm as a cucumber.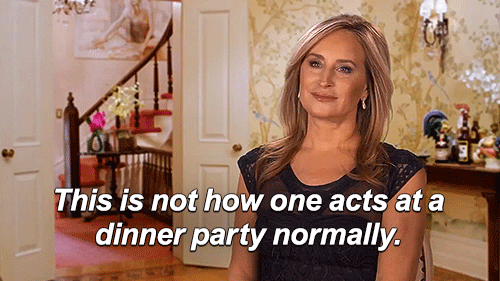 I love how Bethenny just gets to decide to do or not do whatever she wants.  It's like be in it or don't be in it.  Be on the show or don't.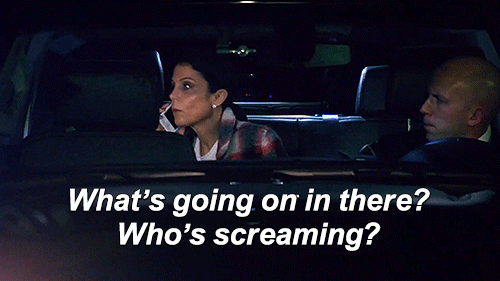 The whole point is for you to be involved in it, not to get to pick and choose what you will and wont participate in based on when it's on your turf or you feel you have the upper hand. Only Bethenny (and NeNe and Teresa) are able to have as much as control as this.
I couldn't believe that Candace Bushnell of all people played such a role in this episode.
She was the lucky recipient of this gem :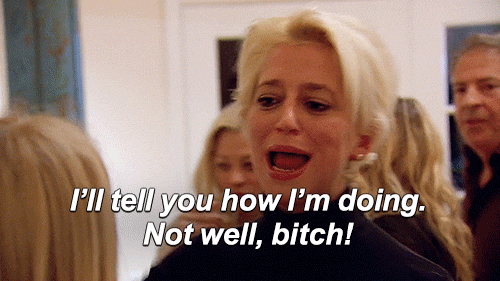 And she was also part of the green vest brigade at LuAnn's brunch at her house.
The next morning, at LuAnn's brunch, it's as if all that Dorinda said was "this bothered me" and they both are like "Yeah! Past in the past! Over it!"
WHAT? But I mean…. good for you?
Tinsley and Sonja have their first spat over Tinsley hanging out with Sonja's friends without her.  I sense a struggle coming.  But Tinsley has nowhere else to live, so I think she'll just keep bowing down to Sonja.  Who knows, maybe she'll even wash Sonja's lingerie in the bidet for her.
Next week (slash last night since it will have already aired) is Carole's election party (that she uninvited Ramona to after judging Ramona for uninviting Sonja from staying with her in the Hamptons)
and SPOILER ALERT : TRUMP WINS.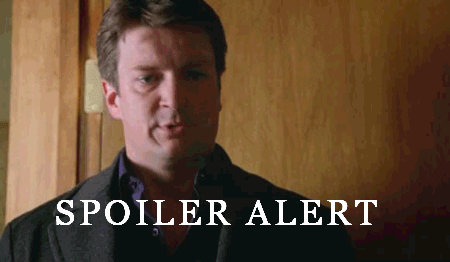 :: BRAD PITT in GQ ::
Brad Pitt opened up about his divorce + more in the new issue of GQ.  And lemme tell ya, it was weird.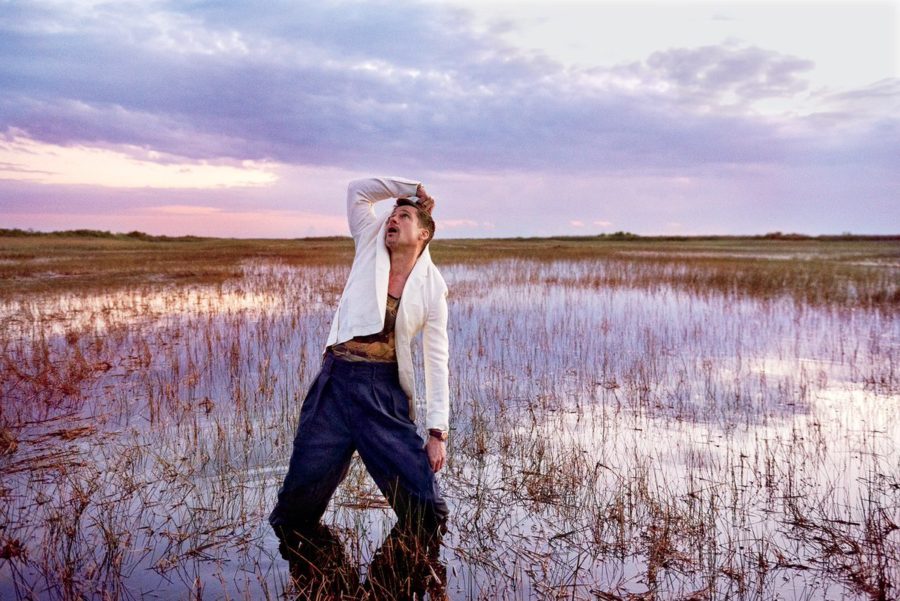 Please see 12 Funny Twitter Reactions to it for pure comedy.
My favorite is "he sounds like Hansel from Zoolander" because YES.
:: THE MET BALL ::
In case you didn't hear, the place to be at the Met Ball was the bathroom.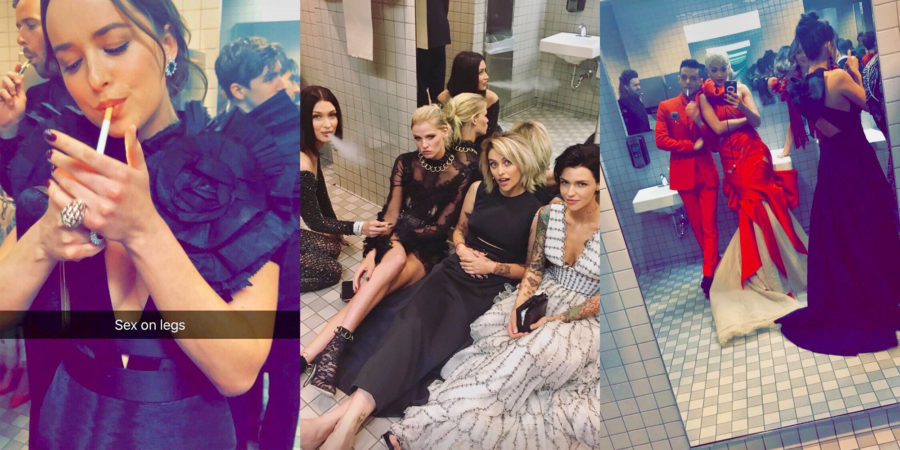 I mean…. this seems like the whole party alone.
:: SECOND WIVES CLUB ::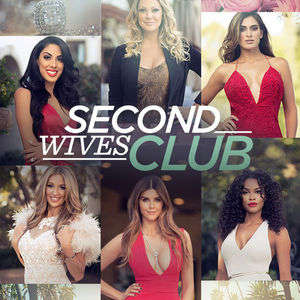 Starts tonight on E!
:: SWEET HOME OKLAHOMA :: 
The finale was this week…. BUT I was excited to see that more episodes are coming back in July.  I like it for a silly, quick, light-hearted show where the women are actually friends and love and support each other.
:: JACKHOLE OF THE WEEK ::
I have not been a fan of Nancy Kerrigan all season on DWTS because, well, I'm not a fan of Nancy Kerrigan.  When she got kicked off this week and Grandpa Rossy stayed her face was SO BITCHY.  Looking straight at Rossy her face said "are you kidding me? he is staying? what a joke!"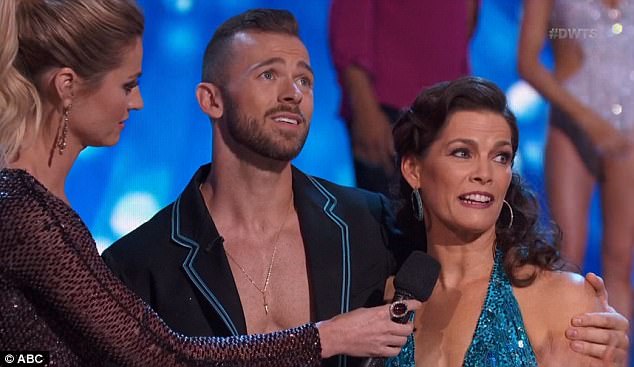 Listen Nance.  In no world are you Maks and Heather, not even close, and they got kicked off last week. So consider yourself lucky you get the one extra week and save the 'tude.  Mmmk thanks.
:: MAZEL OF THE WEEK ::
To my-boyfriend-andy-cohen for getting THE BUNNY!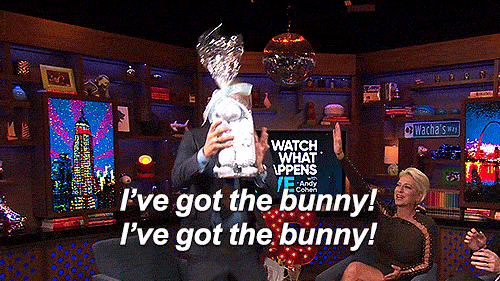 Editors Note :
As always, ignore my own blatant grammatical errors whilst I make fun of others poor grammar during Coffee Talk on a weekly basis.
#HYPOCRITE   #SORRYIMNOTSORRY
I write these posts late at night while simultaneously watching Bravo, taking snaochats of my snoring husband, and making to do lists of everything I was supposed to do and didn't do that day, and likely won't do the next day either.  Or the day after that.