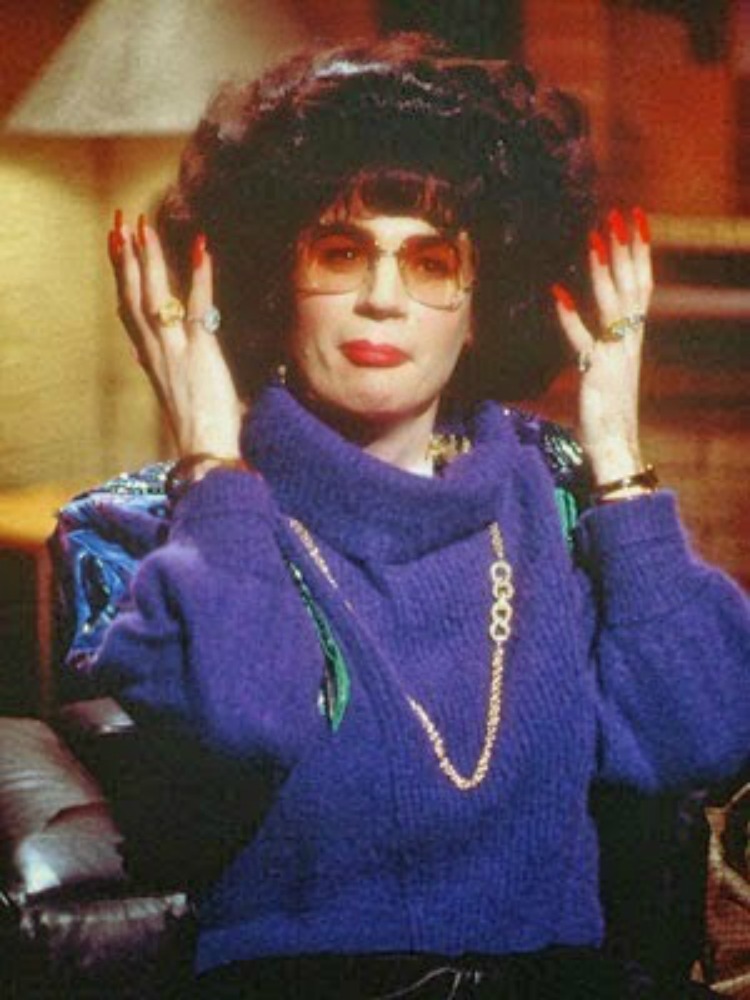 DISCUSS AMONGST YA-SELVES……. 
:: LAST WEEK'S RHONY ::
I forgot to comment last week on "last weeks" RH of New York.  So Sorry!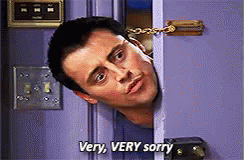 So, on to last weeks episode!
I want to scream every time we enter into a scene in Carole's apartment, because we all know we are about to witness nothing. And I love watching nothing, but not like this!  Carole and Adam are sitting in the what must be filthy and smell horrible apartment discussing their litter of cats and dog all named baby. "Baby baby baby, which baby did that? Uh it was baby. You never blame the original baby."  SERIOUSLY?
End scene.  Literally.  That was it. She needs to give part of her paycheck to my-boyfriend-Andy-Cohen and her BFF-Bethenny because there is NO reason for this girl to EVER remain on this show.
Also, (to be read in the voice of Joey from Friends saying "Look I'm Chandler, Could I BE wearing any more clothes") :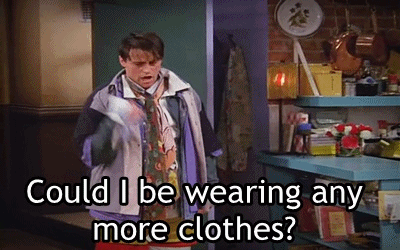 Could there BE a more annoying name to give all 17 of your animals other than Baby?
Sonja is the kitchen preparing for who knows what…. cocktail hour?  She is putting absolutely hideous flowers into a vase and thankfully comments on how horrible they are, because at that moment I was really thinking Sonja had lost it.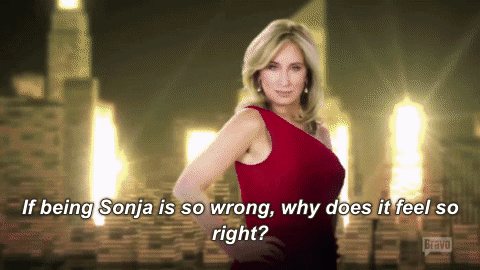 They really were horrible. And then when I think all is right with Sonja, she pulls out the ice bin of the freezer to reveal a tub of straight up BROWN ICE CUBES.  Oh Sonja.  Those flowers are looking lovely now……
Dorinda really looks amazing this season.  I have always thought she looks great, but particularly this year. Even when they do a flashback to her from Real Housewives 2015 she even looks so much more amazing now.  What is her secret!?!
The highlight of the episode for me was Tinsley's friend Anisha driving her mini dog down the sidewalks of New York in a children's remote controlled Mercedes SUV.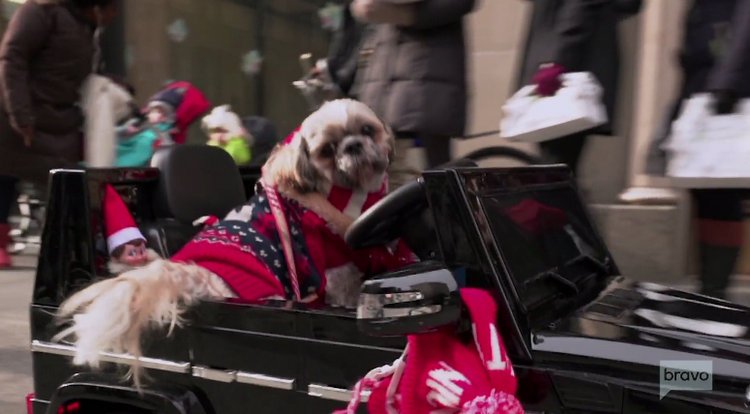 Seeing that this is who Tinsley's friends are puts her friendship with Sonja much more into perspective.
Oh crap! We're back at freaking Carole's apartment!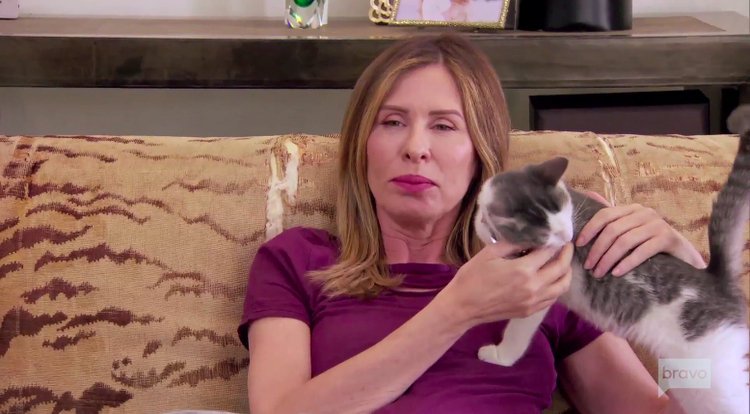 Her couch….. there truly are no words….. it is absolutely disgusting.  I wouldn't even sit on that! Bethenny, Miss Queen B of Type A CEO of OCD says, regarding all of the rips and tears and shreds of fabric: "Yeah it looks great!  It looks totally intentional!"  EXCUSE ME? You were just OCD'ing over doll accessories for a 5 year old for an entire scene.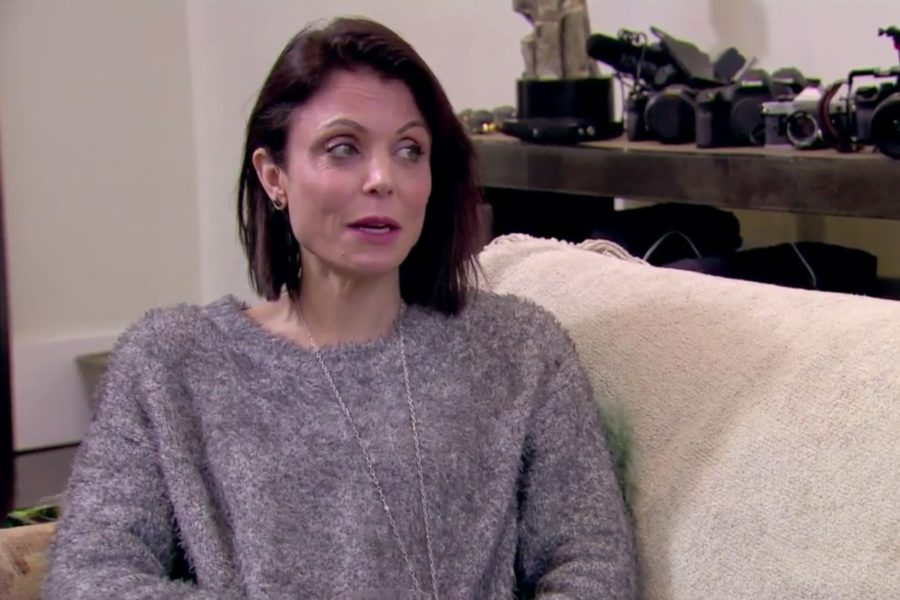 If this were ANYONE else other than Carole you would be having a heyday going on for 5 minutes in the "diary" part with sarcastic one liners destorying them.  She would be annihilating them with insults about it!
But yeah.  It looks "great" and "intentional".

just came across this photo with an article about her OCD lunch packing and it just seems the perfect juxtapositon to Carole's "great and totally intentional" apartment 
update: apparently she has removed the couch since filming and it having it recovered. Hallelujah! so I give it about a month until Baby Cubed/To the Fourth Degree destroys it again.
"Bethenny is an island" – okay Ramona.
Ramona has become so insane that it's like she's a caricature of herself?
The ladies head out for dinner and drinks.  Bethenny decides she will join this time.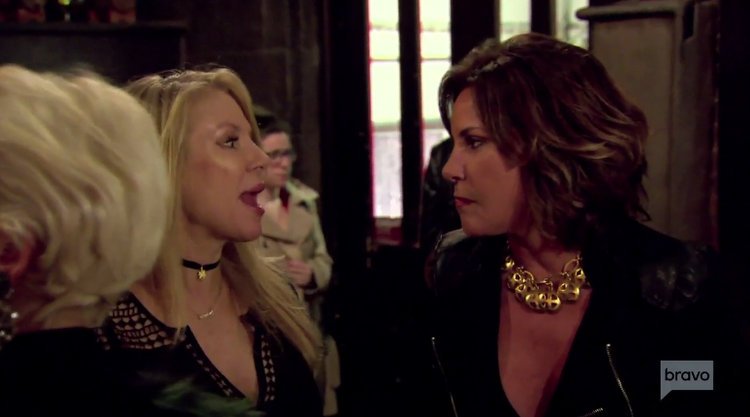 Ramona to LuAnn "People are still placing bets as to if you'll get married."
Which she immediately follows up with "Why am I not invited to the wedding?"
Hmmmm….. let's think on that one.
Then Ramotional does a 180 and goes from saying all of that to sqealing "Mrs. D'Agostino!!!" and doing a song and dance hugging her and saying she's "really really really happy for" her.
I mean…. people say Sonja is crazy????
Oh wait….. nevermind.  Now Sonja is just straight up farting at the bar.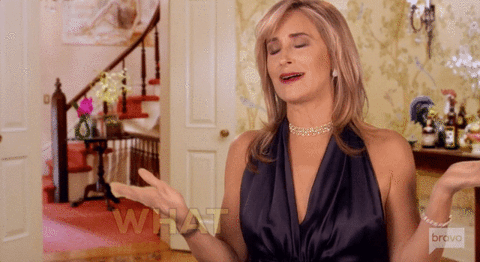 I see Carole with her phone in hand showing something and I know before she even speaks – I say outloud to my empty living room WONDER WHAT THAT IS! – knowing that it is freaking baby cubed videos (baby to the third or fourth degree? how many are there? I forget. Nor do I care.)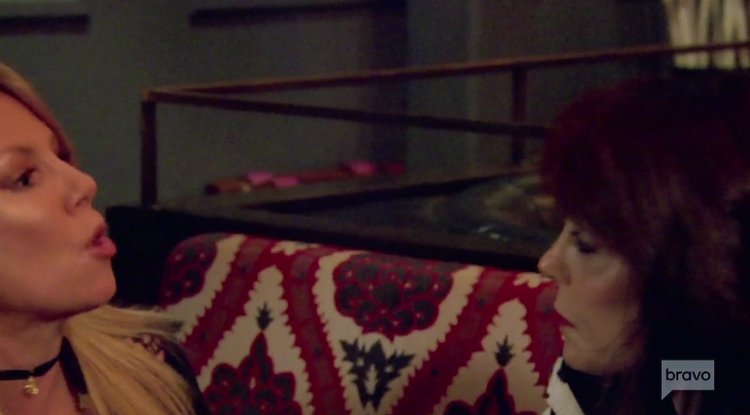 Ramona sits down next to Bethenny, right as Bethenny announces that she is leaving, and speaks to her in the most condescending asshole tone.  I feel like it was one of most obnoxious things I've seen Ramona do, which is really saying something (I know it will be trumped by her talking to Avery and all of Avery's friends about being like Avery's age and hanging out at Avery's college and being all young and youthful with Avery!!!!)
But I digress….. it was quite the bitchy moment for Ramona.
I actually applaud Bethenny for the way she handled the situation, because Ramona was being a lunatic and I think I would have lost it.
She ends it with sitting on the sofa after Bethenny leaves doing all the spastic motions and crazy big eyes and eye twitches and "whatever okay whatever twitch twitch twitch" siting up moving spots and then acting drunk and teenagery.  (That is a sentence that I should delete because it makes no sense, but as Housewives fans I trust that you are picturing Ramona perfectly right now :D)
:: WWHL with MBFAC ::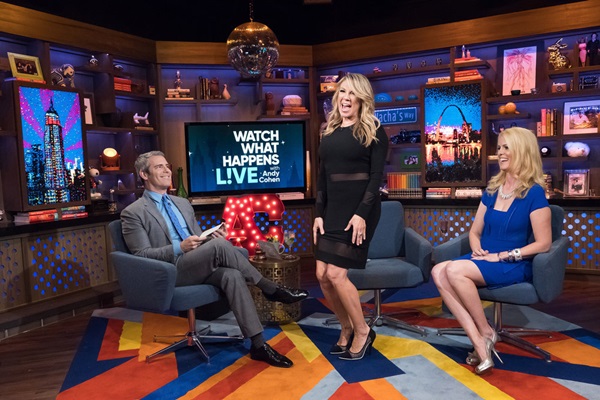 Speaking of Ramona, did you catch her on WWHL last week? Talking about how she gained 15 pounds and that must be why she looks different/better.  She stands up and starts turning side to side rubbing her hands all over herself like "I don't know how do I look how do I look what do you think how's it look huh huh huh?" turning side to side – perfectly displaying the twitchy'ness described above – and just waiting for compliments.
UGH she makes me crazy. I'm shocked she didn't follow it up with "Everyone thinks I look like Avery's friends! They think I'm Avery's age! Avery's friends ask me for tips!"
:: BETHENNY on SHARK TANK ::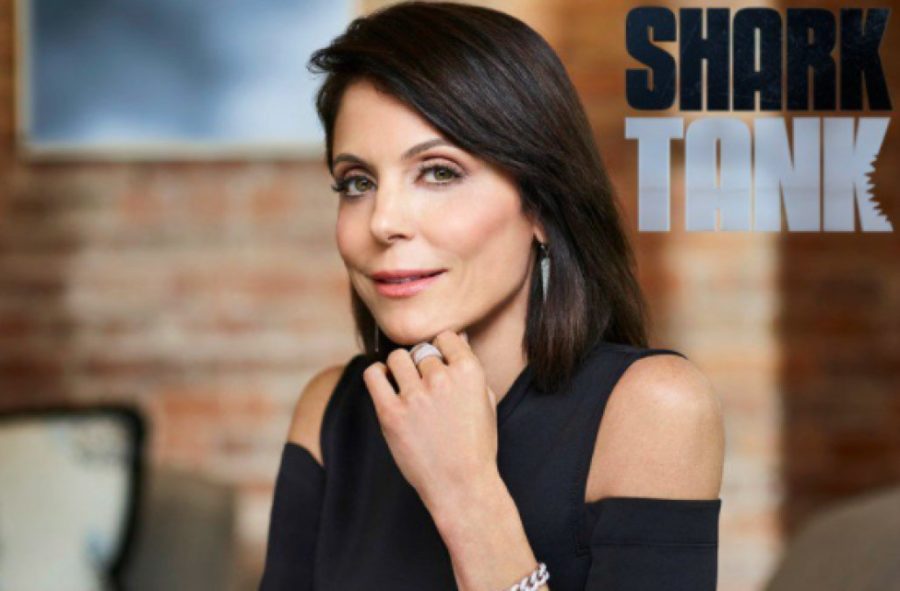 UM.  IS THIS TRUE? Because I am equal parts eye roll and equal parts super duper into it.  I love Shark Tank.  It is one of the few on our "mutually exclusive allowed TV shows" list!
Apparently A-Rod is another guest shark.  So maybe when they say 'Guest Shark' it only means an episode or two? Not that she will be filling in for Lori or anything?
:: DINA MANZO'S BURGLARY ::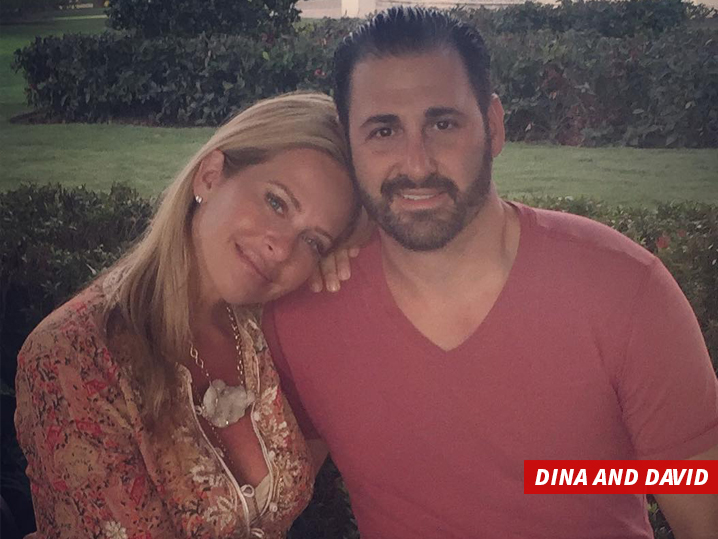 Dina Manzo, previously on Real Housewives of New Jersey, went home after Teresa's daughters first communion over the weekend and her and her boyfriend walked into their home being burglarized! They were beaten and bound during the burglary and had to go to the hospital.
:: RH of OC :: 
Kelly Dodd is CONFIRMED for next season.
This excites me greatly.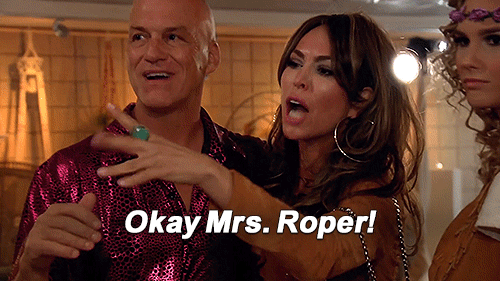 There was just so much Housewives gossip to discuss this week! Thank goodness I still haven't seen the Atlanta Reunion thing that everyone is talking about or else this Housewives gossip would never end.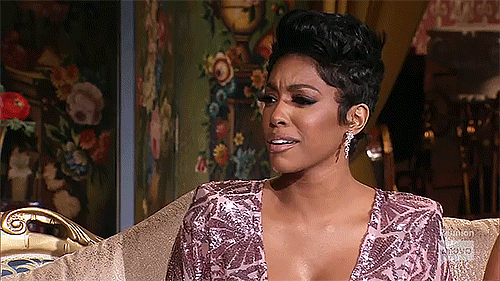 (I don't watch Atlanta but hope to watch part 4 of reunion because I just have to see what all of this fuss is about!!
:: BEN AND LAUREN ::
Break out the tissues.  Ben and Lauren announced this week "with heavy hearts" that the engagement was over.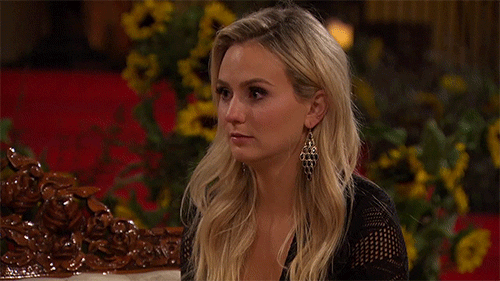 Another one bites the dust for the Bachelor franchise.
I wonder when the relationsip actually ended? Because they had their awful spin-off, and then earlier in May were doing a Disney Fairy Tale Weddings special, and now the Bachelorette premieres next week.
So seems like this was just the perfect time to announce – the week between Fairy Tale Wedding and Bachelorette premiere.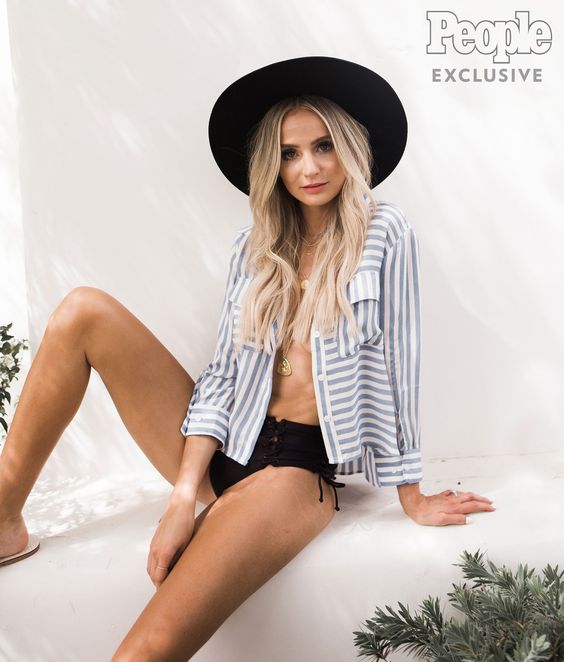 No surprise, Lauren has already announced her plans to move back to LA and pursue modeling.
:: SOUTHERN CHARM ::
I loved this weeks episode so much.
We start with Kathryn doing what she does best this season, driving in her car by herself, either calling someone to say they are in the neighborhood or just stopping by their house because she is in the neighborhood.
This weeks lucky recipients : JD and Elizabeth,  the Godparents who are just DYING to be on television since being demoted as main players. Kathryn is their only hope, and man will they run with it!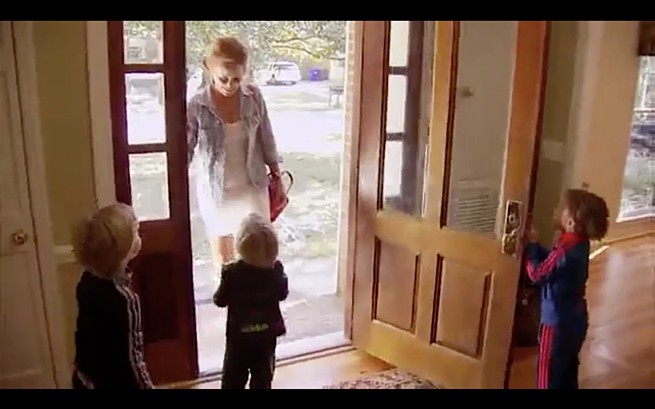 Kathryn enters in a skin tight white dress (don't worry! not another Herve Leger! Just a skin tight white dress!) and her hair in two Pippy Longstocking buns on either side of her head with a bouffant teased rull high on top.  Let that soak in.  And then…. that huge thick black braided mesh choker.  A vision!
JD makes sure to dress for the occasion as well, repping his Gentry Bourbon vest.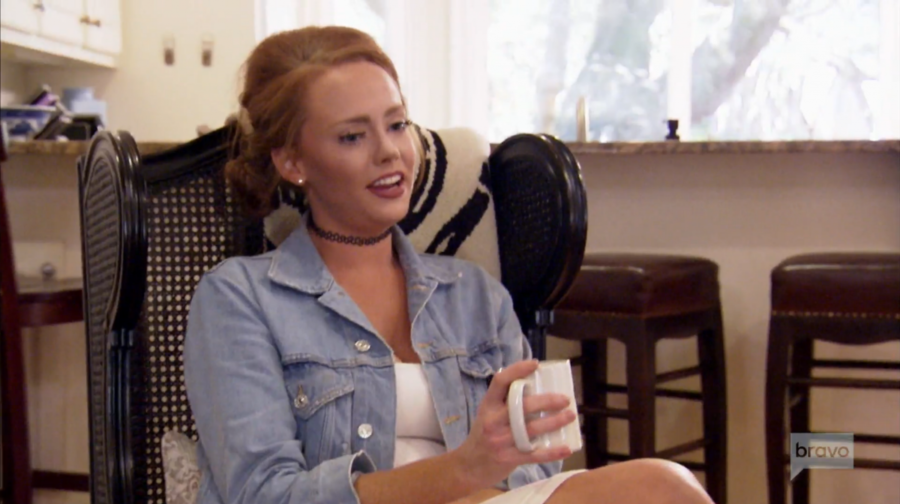 Kathryn can't understand why she wasn't invited to Jennifer's Sip and See? All she did was completely ignore that her friend just gave birth to a baby that had to have immediate brain surgery, not ask about how him or her were doing, and instead treat her like crap for accepting an hanky from Thomas.
Kathryn states how she can't believe she would invite Thomas and not her and how dare she! Elizabeth doesn't even know what to say, knowing how quickly Miss Kathryn can spiral into craziness, and not wanting to ruin her meal ticket, so she just sighs and turns to JD like HALP HALP HALP.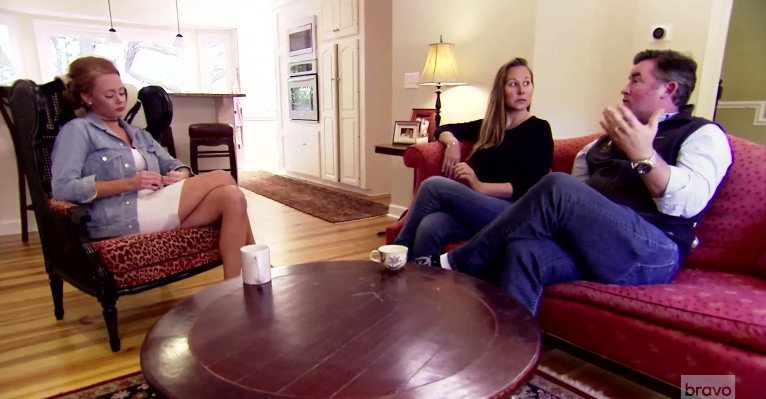 Jennifer just keeps listening with big eyes, doing deep sympathetic sighs, and saying "wow" "oh, wow".  Well played Jen, how can she gets pissed at that?
"In a perfect world we'd be able to do things together, but I don't really know how to navigate his ………." hand gesturing and incompletion on sentence.

His what? I'm not saying Thomas is perfect, but his what?
You don't know how to navigate his extension of a hanky to a pregnant woman crying over her unborn sons health issues?
Riiiiiiiight.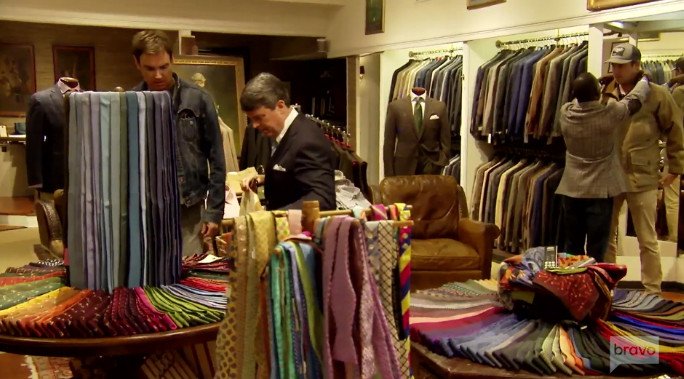 Shep is taking the gang quail hunting!
This store that Whitney and Shep are at buying the hunting clothes at looks like about as expensive and designer as hunting can get.  Whitney is literally dressed in like cashmere vests with leather detailing, and then Craig call's from Dick's Sporting Goods to ask about boots.  I laughed so freaking hard. It just was perfect timing.
"Part of hunting is looking good" – Whitney.  No, no it isn't but go do your catwalk!
I did really appreciate the "puts the douche in fiduciary" joke from Shep….. like, laughed out loud. Don't judge.
Hashtag Carpenter Craig is at home talking to Gizmo…. again… when Naomi gets home from a full day of adulting.  Craig continues to act as though he has done NOTHING wrong and doesn't even want to deal with talking to her because "he has work to do" and she was "out of control".  What work is that Craig?
We cut to Patricia on her patio.   I am just so disappointed in her.  Isn't the whole point of being this rich southern socialite for us to see you and your life as something we low life commoners cannot ever attain but aspire to?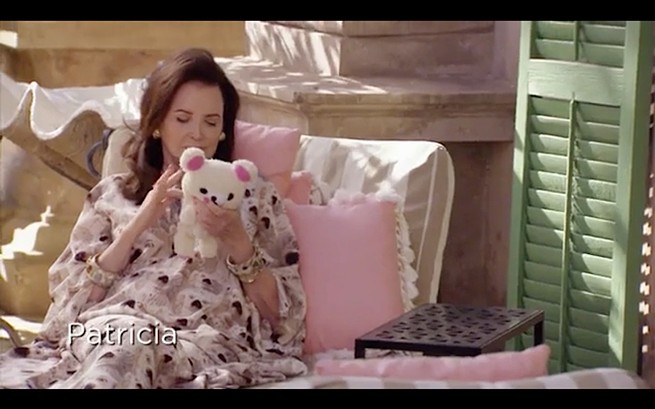 Last week it's your caftan.   This week it's her iPad or iPhone holder WHILE in the caftan.  It's like a furry stuffed animal that my nephews iPad sits in.  WHAT IS GOING ON IN THIS WORLD?
Also….. my eyes are adjusting …… this is a different caftan than seen previously
This is like a dog with Crazy Ramona Eyes, even creepier than the initial caftan of Chauncey's face.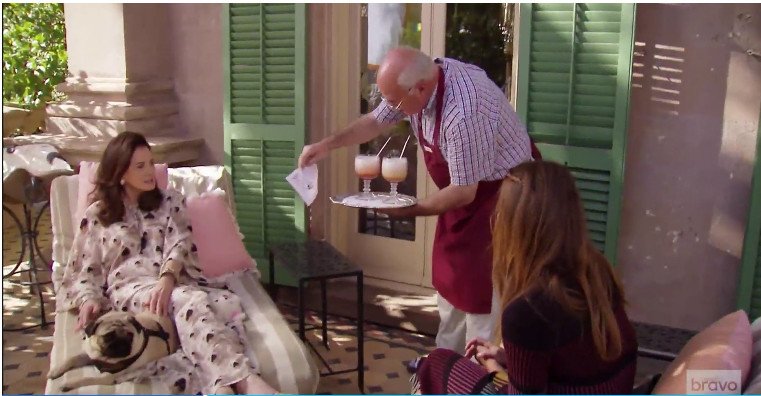 I am cracking up that Thomas can't go on the group trip hunting because of his felony.  Kip was home and actually half way watched while working this week and explaining this show to him was hilarious.
The hunting trip has arrived, and Whitney has his Louis Vuitton bag all packed next to his probably $1200 hunting boots.  They were gorgeous.
 Craig arrives on the trip not in his designer hunting duds, but in a neon frat tank top.  Spot on.  They also had to stop at Wal-Mart to get Craig a new pair of boots because he forgot his. This is even better than the Dick's thing this is killing me.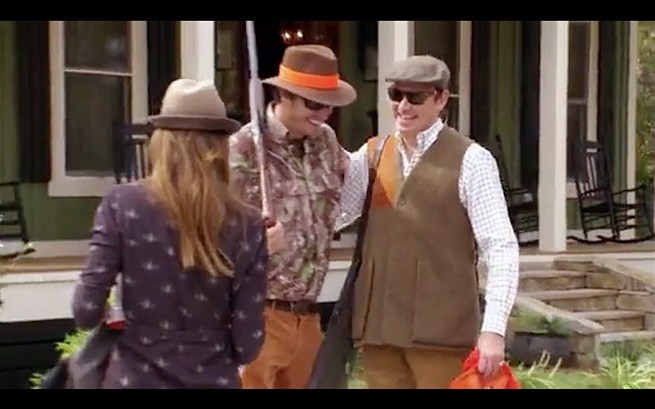 Shep is ready to go with his monogrammed mahogany gun, and Craig heads out in his Wal-Mart boots and a bright orange construction worker vest, and Whitney walks out in his $5,000 ensemble.  I love this so much. This episode is pure gold to me.
OH. and there's more.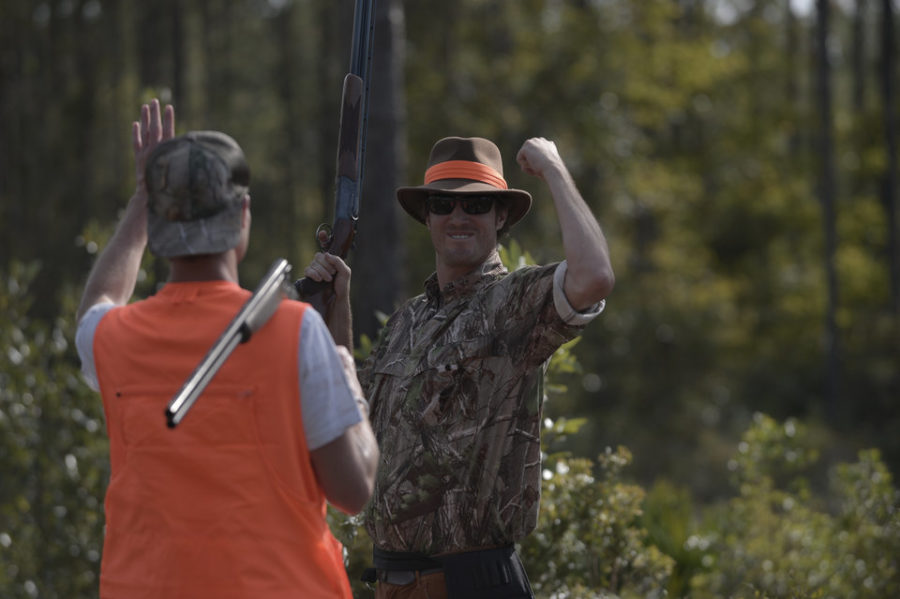 LANDON IS IN WHITE JEANS. SERIOUSLY???
With like a designer fedora and scarf?? I mean, do you think you are at a castle on Ladies of London right now?
Chelsea looks cute and normal, and I actually love Austen's sweater.
Luckily, they catch some quail and Craig BARELY misses killing a dog by shooting the qual when it's like knee level right next to the poor dog.  He also has a huge cut/bruise on his cheek so something equally as amazing happened and they must have missed getting that gem on camera.  So it was a successful hunt.
They have dinner and it's all about the love triangle around Chelsea and Austen and Shep and Landon.
After the hunt the highlight was watching them wake up hungover in morning and Craig dropping his deoderant while trying to put it on and having the reaction time of a just-fed baby.  I'm telling you….. pure gold.
They show a preview of what is to come later this season and unfortunately my DVR cut off right when they showed Kathryn in her black lipstick, but the freeze frame ending on that made me not even care to hear what she said.
HAVE I SAID THAT THIS EPISODE WAS GREAT???!!! BECAUSE IT WAS GREAT.
:: BAD NEWS FOR CARPENTER CRAIG ::
So apparently Craig has found himself in some hot water this week.  A guy is suing him for hitting him when he was riding his bike years ago.  Check out the story here.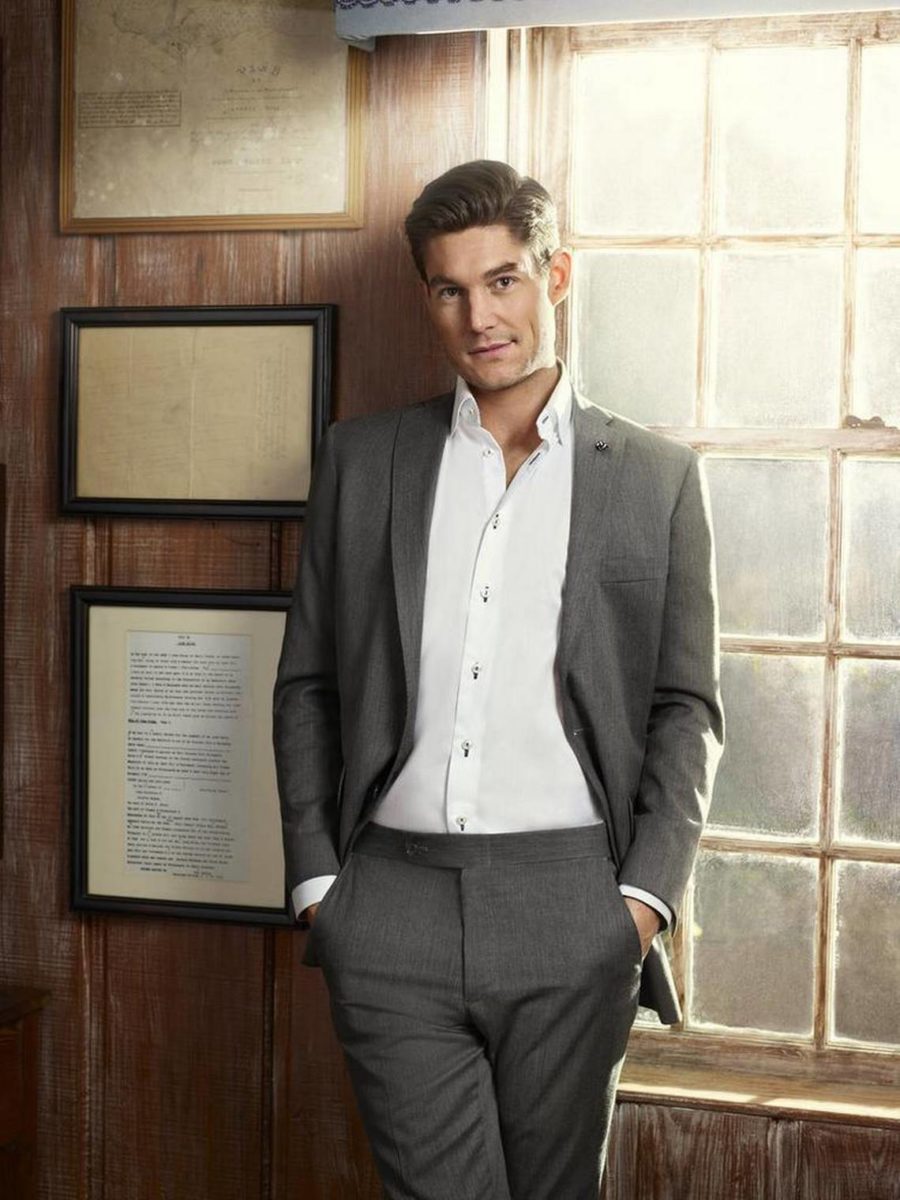 This happens all the time coming out of Chicago alleys.  You can't see anything so you honk your horn. You wait and honk and slowly inch out.  It's pretty simple. This biker's as moron. He was also at night with no lights or anything.
I feel like Craig did absolutely nothing wrong (for once) and clearly the person wasn't injured and nothing happened and now two years later he is trying to sue?  Break out that law degree Craig! (CRAIG HAS PASSED THE BAR!!!) Time to PROVE YO SELF.
:: SOUTHERN CHARM SAVANNAH ::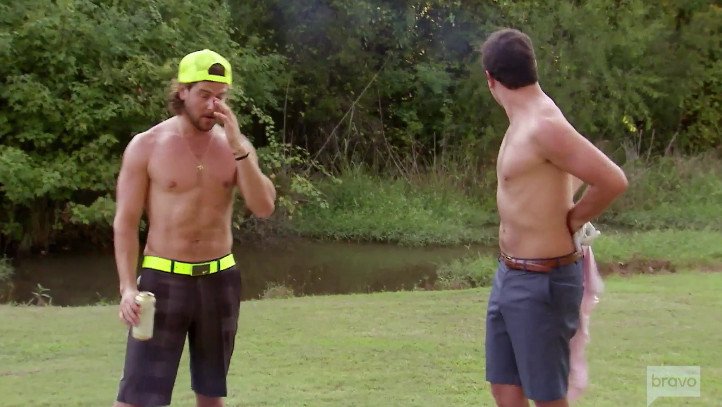 I just don't know that I can comment on this show…. I want to… so I am still debating.  I think I would be commenting on every single solitary thing that happens because so much of it just drives me NUTS and where is the fun in that?
What do all of you think about the show?
I don't even know where to start……
Ashley is the worst.
Okay so I know where to start……
 Editors Note :
As always, ignore my own blatant grammatical errors whilst I make fun of others poor grammar during Coffee Talk on a weekly basis.
#HYPOCRITE   #SORRYIMNOTSORRY
I write these posts late at night while simultaneously watching Bravo, taking snaochats of my snoring husband, and making to do lists of everything I was supposed to do and didn't do that day, and likely won't do the next day either.  Or the day after that.