Cheers to Friday !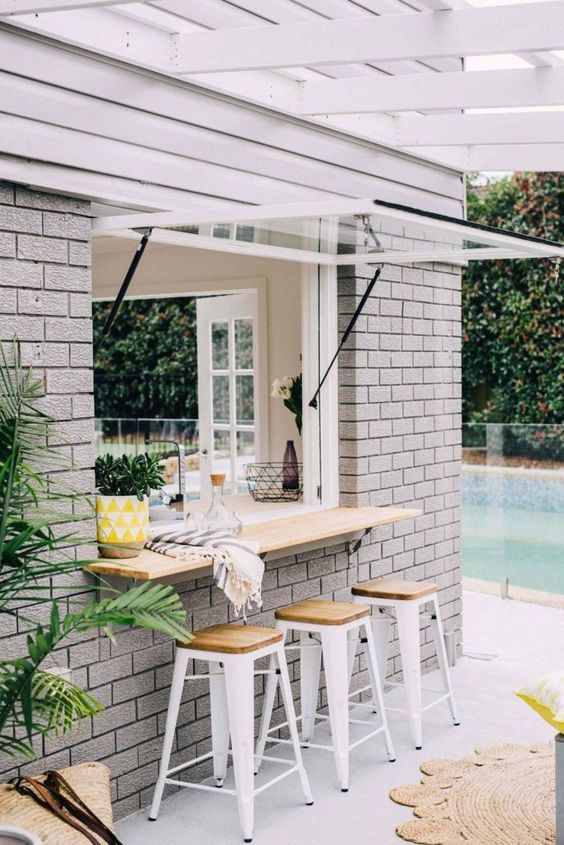 Have any of you seen Nate Berkus' new show with his husband Jeremiah (of Rachel Zoe infamy)?
It's called Nate and Jeremiah by Design.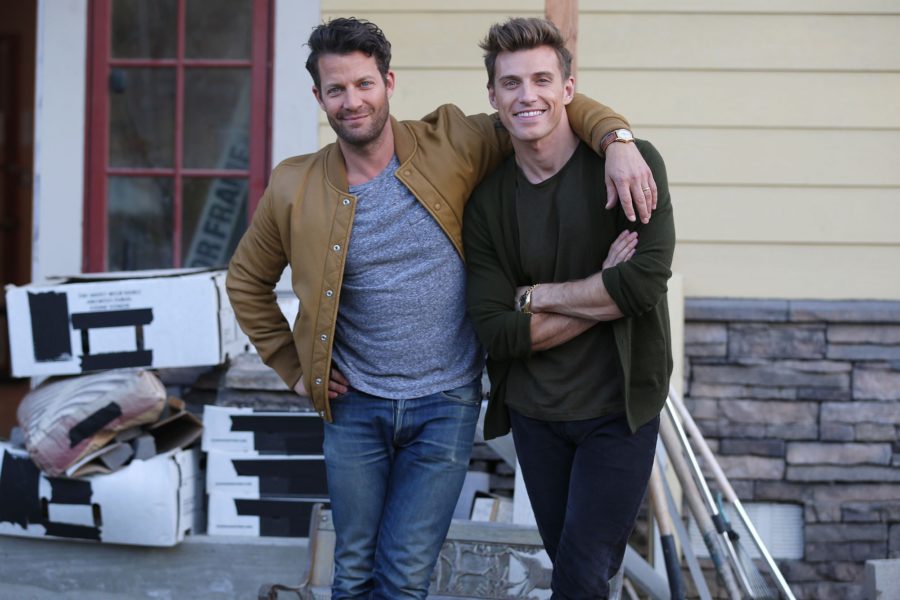 It is really good – the first episode is a must see just to see the way this crazy family was living in a pure construction zone.
I really like it, and they are super cute together.
I'm also loving the new HGTV Show Home Grown ! But I still miss Fixer Upper of course!
I'm all about budget buys, and Zara really knows how to crush it in the shoe department.
Their latest?  A wrap sandal with interchangeable ties!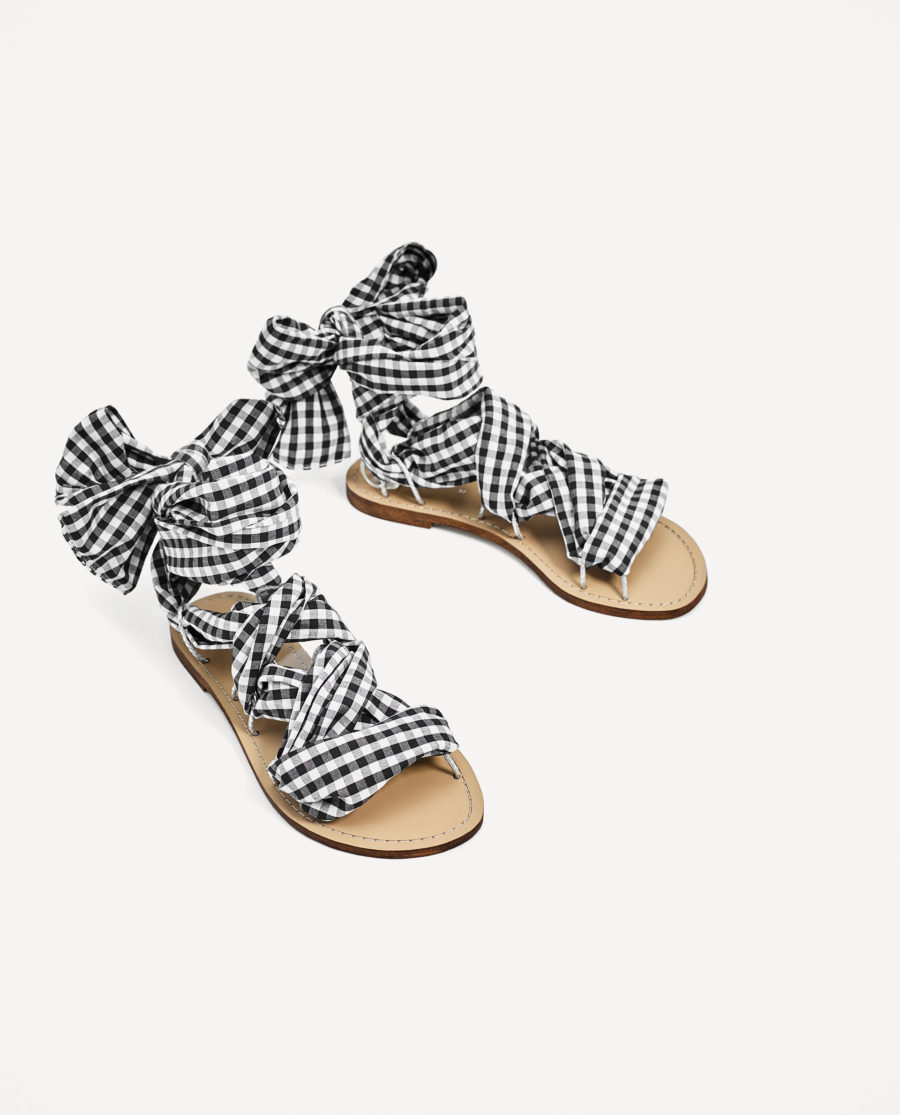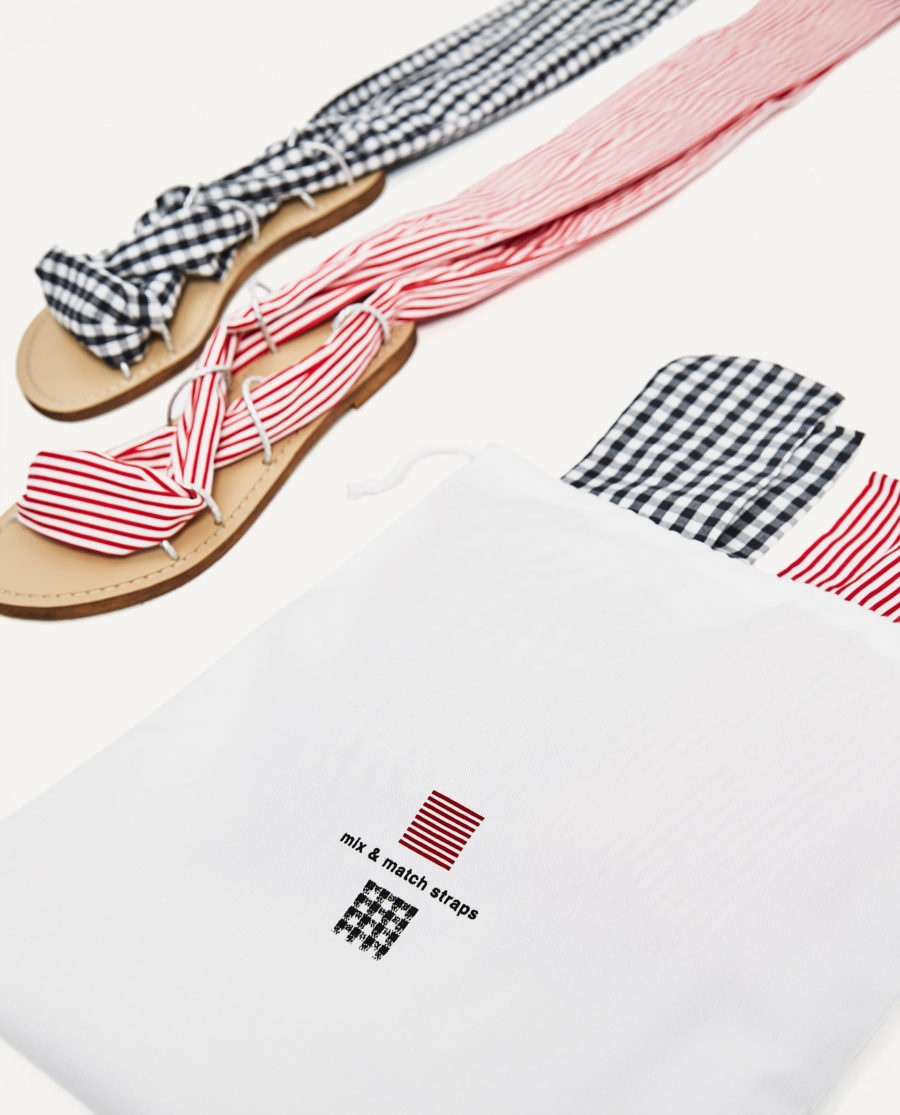 So stinking cute!!!
Sorry I'm not sorry for the overload of gingham lately – it has been accidental I promise.
I'm sharing another favorite gingham piece of Monday, but wanted to share my Easter gingham from last weekend.  The skirt is an old find from Club Monaco from years and years ago – they really do have such good wardrobe staples; I feel like everything I bought there years ago is still in my closet and still gets worn often.
The blue + white Kate Spade purse was a TJ Maxx score.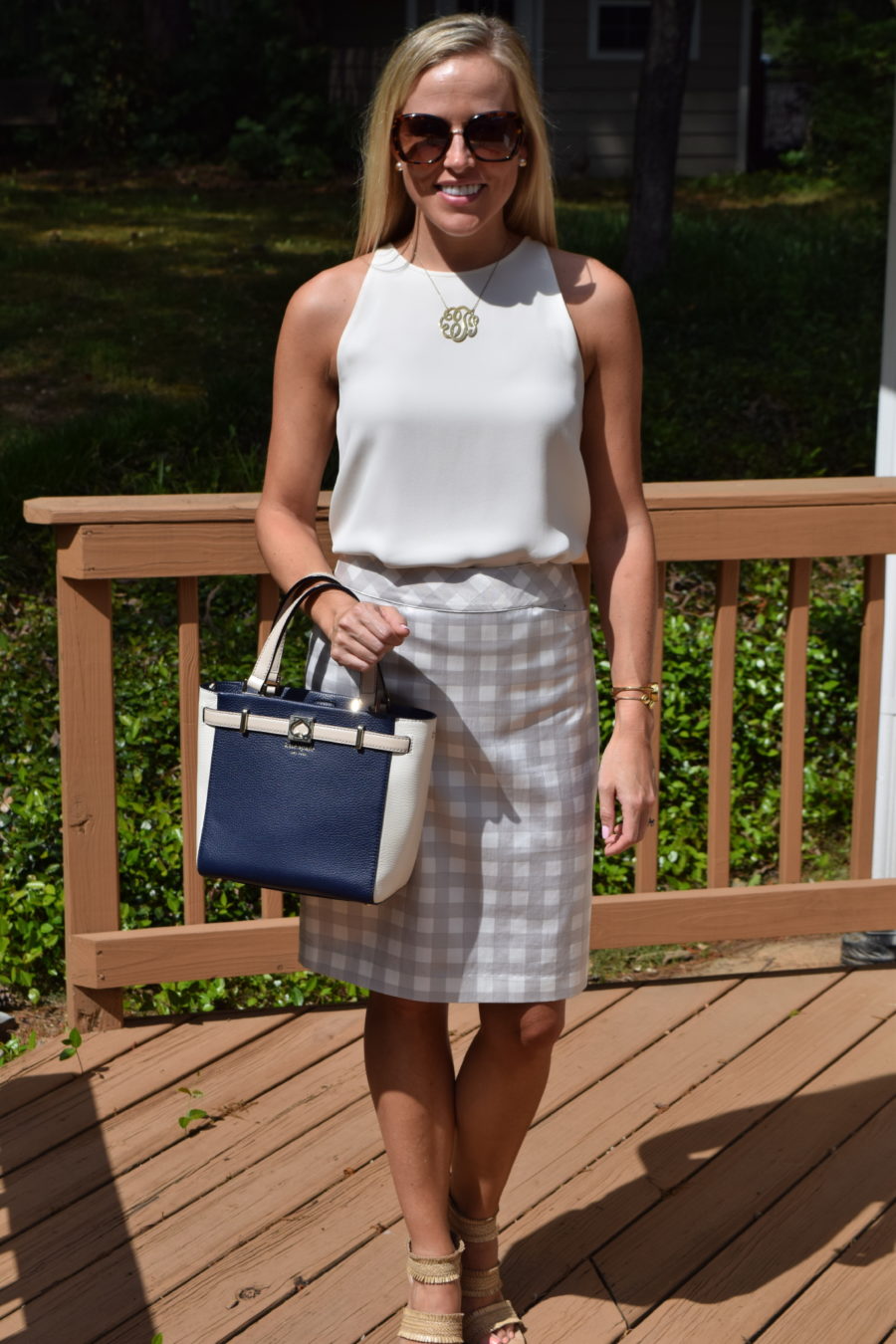 I've been wearing these heels with everything lately – they are so cute and even more comfortable – and I came across this gorgeous blue pair with a similar style!
Love, love, love these.  They also come in black and white.  =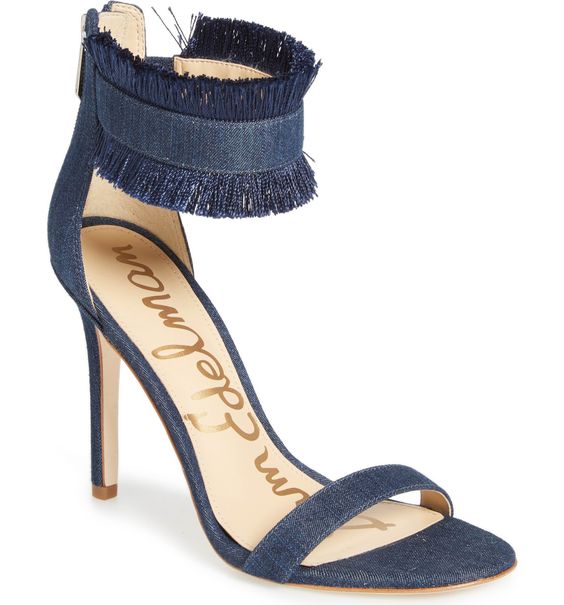 // SAM EDELMAN FRINGE HEEL // 
The best thing I learned this weekend that has already saved me several times : using an egg shell to get a broken piece of egg shell out of the bowl.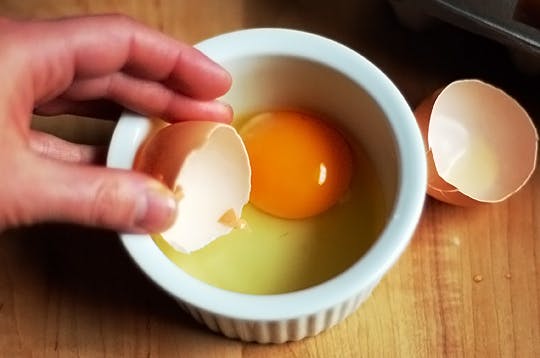 How did I never know this before?  I feel like EVERY time I break an egg,  I get shell in the bowl! Especially the cage-free or organic eggs – those really break easily. Hopefully this tip can help you as much as it has helped me this week!!
Question for the Atlanta readers :
I have friends coming into town next weekend and one of them has Celiac disease.  If you know of any great restaurants that can be trusted with the gluten-free foods, let me know! I have gotten recommendations and made some reservations but would love to know of any place I hadn't heard of yet!
I am determined to get myself one of the Starbucks Unicorn drinks this weekend.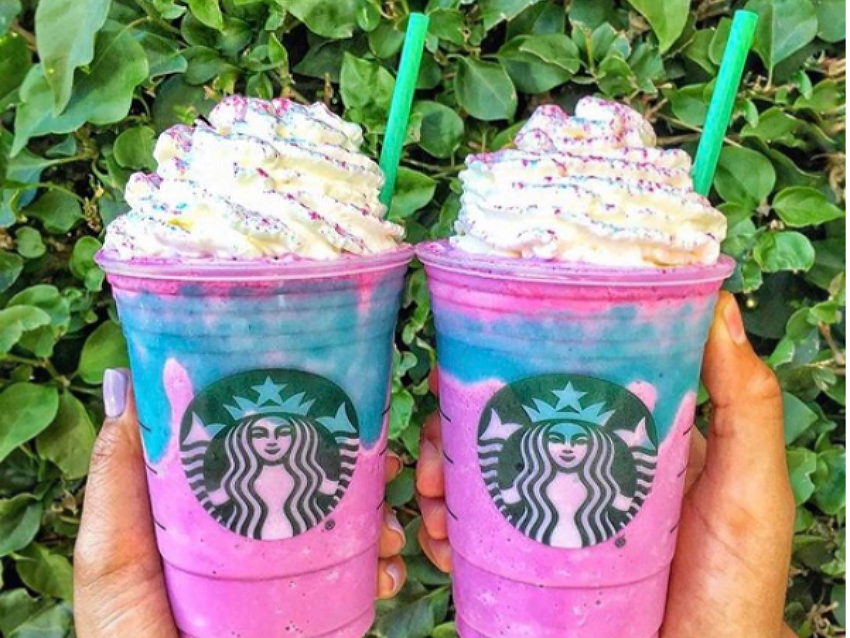 Do I drink Coffee? No.  Hate it.
But do I want this drink to stare at this and take a picture of it? Yes. Naturally.
:: LINK LOVE :: 
Speaking of Unicorns,  this dress is what I picture a "unicorn" dress being, but in a pretty + classy way! (because that makes total sense, right?)
I backed out of joining my husband and his friends at the 420 Music Festival this weekend (can't. hang.) but if I was attending : this floral romper is too cute  and I love this white lace romper.
I just was re-reading this post realized a romper would be the WORST idea? It's porto potties!? Perfect example of how I am clearly NOT a music-festival-er. 
Do you need to go on a protein Detox?    I have been hitting the protein (pancakes) hard lately. Whoops. 
Who knew Ellen made cute shoes? I love these knotted slides, especially the striped pair!
A pretty dress perfect for showers (and white if you are a bride on the hunt!)
How a mom of 5 manages to work out every day. 
Gorgeous, timeless gown for weddings or formal events in my favorite : Navy.
Southern Summer Heat calls for minimal clothing – like an adorable top + short set. 
The concealer everyone is raving about – and bonus : AmazonPrime!
A fun pleated party skirt, under $100. 
I have no plans of leaving my Tracy Anderson workouts, but I would never follow the diet plan that comes with her Metamorphosis/Continuity DVD Sets.  It is so strict and would never happen.  I really like Body by Simone, and I always just love reading about what people eat in general, and her diet tips are much more manageable!
Striped + Bow + Mules + Under $50 = Perfection
This could be the reason why you're always hungry.   (I think I'm just always hungry).
The perfect striped cotton tank, under $20.
How to apply self tanner like a pro.
One of my favorite floral maxi's is on super sale! 
33 Spring Cocktails to Enjoy this Weekend . I'll drink to that!
Love the color + simplicity, and price, of these sandals. 
Sundays can quickly go into Hashtag Sunday Scaries territory for me, so a Sunday Routine really helps calm my crazy.
An adorable bikini top with a high neck. 
20 Healthy Slow Cooker Recipes for Meal Prep Sunday!
A great wedding-guest dress, in an unexpected print and color. 
Mint green isn't just for chocolate chip ice cream. 
Hope you all have an amazing weekend!!!