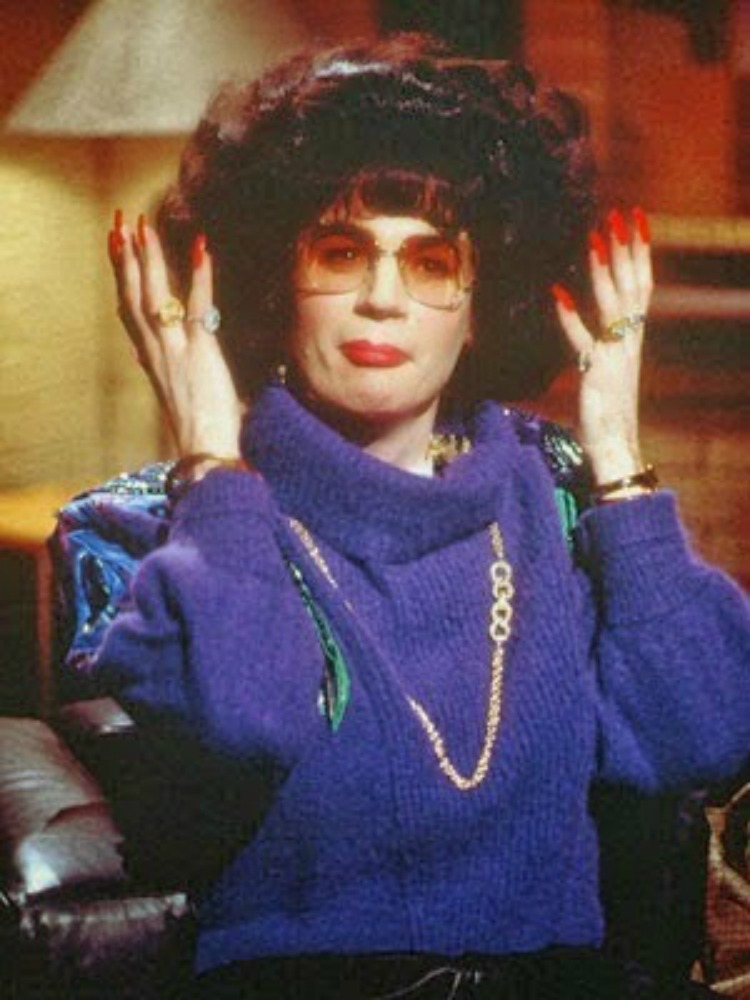 discuss amongst ya-selves…… 
Since I was at the beach last week + missed so many premiere nights and finale's, I tried to recap the shows from last week too! Warning – it's a long one!
:: SOUTHERN CHARM ::
Episode 1: 
 The teaser last season was a clip from "Thomas' Dinner Party from Hell"  then the season kicked off with "three months earlier" …. and in that case, the tease lived up to its promises. BIG TIME.  Man was that dinner party incredible. 
But this season, they have this whole "Thomas and Landon: are they or aren't they?" and then  "three months earlier?"…..Um.  No thank you!  It's either A) totally fake and they have no interest in one another romantically or B) them acting like morons because they should NOT be interested in one another like that.  There is so much going on with this show, and that is the best tease they can do?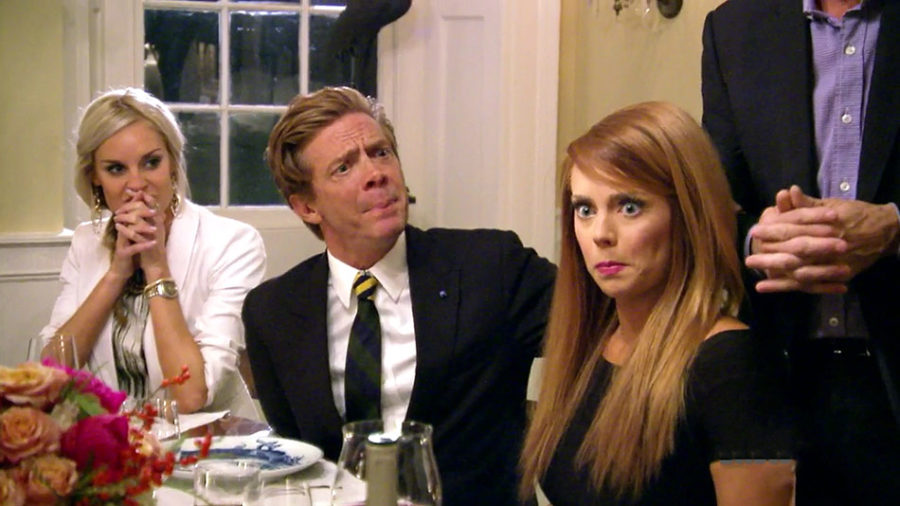 If it can't top Thomas' Dinner Party From Hell… best to just not do any tease at all!
I love the intro every week to this show so much, with the music and the showing of daily activities and peeks into their Charleston homes.  Thomas' house and property are truly unbelievable.  We see more than we saw last season because Thomas now has full custody of the kids at his house.  Well…. not his house – the guest house! So we get to watch him leave his house walk across to the huge carriage house in the back.
Why was there such a fight over the kids Periwinkle bedroom color if he was just going to toss them in the guest house?
I love how everyone is applauding Thomas on really stepping up.  I'm hoping he has, and sure he has in some ways, but has Thomas really stepped up, or has Nanny McPhee? Because the Nanny is the one living under the same roof with them in the Guest House?
I am not into Landon's hair cut. It is not good.
Also not good, Landon dating a 24 year old.  She doesn't seem to make the smartest choices, and my guess is that he is very interested in her very interested in her getting him screen time. But hey, whatdoIknow?
Hashtag New Craig is now Hashtag Landscaper/Carpenter Craig.  How many years can delaying the bar go on? And since we learned he didn't really finish law school, when did the finishing of the law school actually occur??  Oh.  And it is the end of summer, but he doesn't plan on taking the bar until February, so he still has months of backyard projects to pass the time.  (editors note : Dear Naomi, your credentials tell me you are intelligent, your choices tell me otherwise.)
The pinnacle of this premiere episode is a pool party at rich new girl Eliza Limehouse's home parents home, who is Kathryn's age, and whose father is friends with Thomas, so of course she is hanging out with Thomas (?)  The span of ages that hang out with one another on this show never cease to amaze me.  This pool party is 19-24 year olds mixed with mid-thirties mixed with old-folk-Thomas age.  Huh?
We still have yet to catch a glimpse of Kathryn, who has been in rehab in California all summer but in struts Kathryn's cousin Shelby.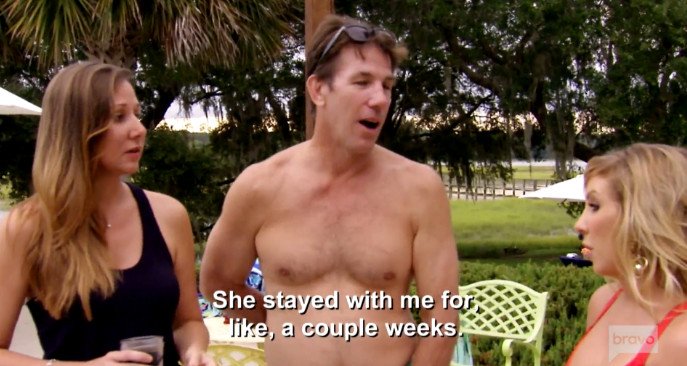 When Craig turns to see Shelby walking in, his face turns to such pure disgust that I laughed out loud.  Rarely have I seen emotion like that come out of a man in terms of dislike for someone else . Shelby seems just as classy as her cousin.  She is wearing an ill fitting red bikini with sky high stilettos poolside.  Class all the way.
Shelby is not saying very kind words about her cousin Kathryn. "Just because she finished rehab doesn't mean she's stopped doing anything."   I think Shelby is real thirsty for some screen time and will do anything, including wearing a bikini with those heels poolside whilst trashing her cousin, to get it.
Also, I thought Whitney wasn't coming back?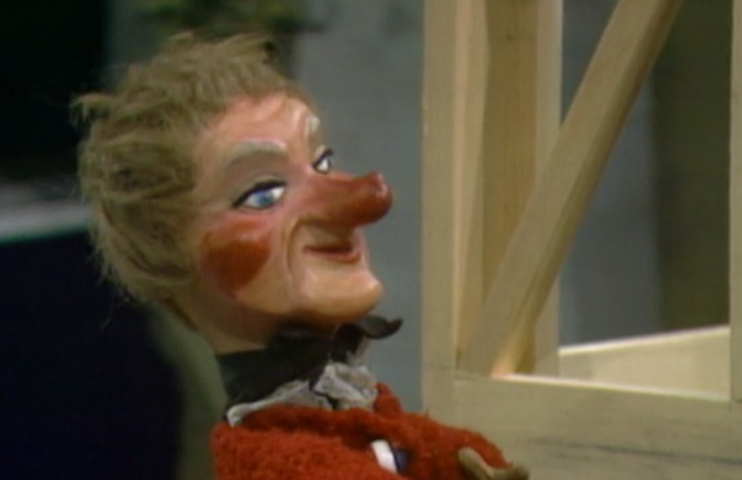 He doesn't even live in Charleston, he lives in LA? Can we just have Patricia and not him?
Kathryn's back….. and going to take her drug test…..
Episode 2 :
Kathryn is bacccckkkkk.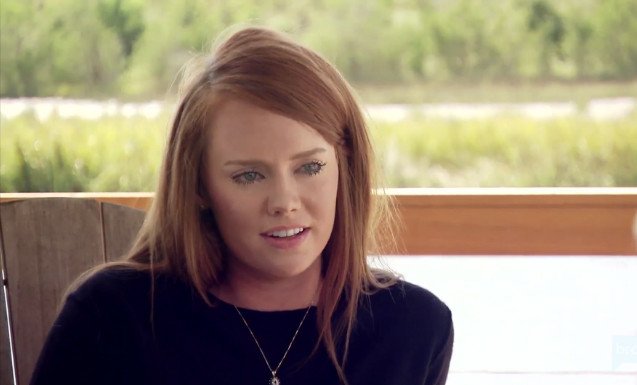 Her interview outfit is a purple Herve Ledger…. and while not quite as awful of a choice as her last reunion ensemble, this is a horrible pick.  Especially for something that will be shown in every episode.  Bless her heart. (I will up my iPhone photo taking because of course I cannot find an image of this.)
Cameron goes to visit Jennifer and her sweet little boy that was born with a birth defect. I just can't imagine and I'm so glad they are including this in the show.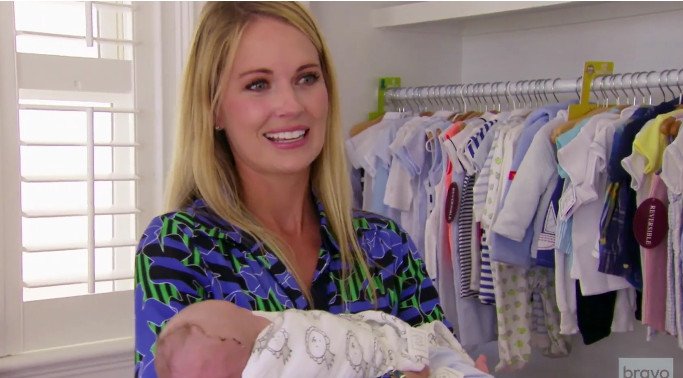 I am a fan of Shep's and always have been.  But…. I'm starting to struggle with him and his constant nagging of Craig.  Why is it Shep's place to say all of these things to him about not working and what's his plan and yada yada yada?  Shep doesn't work? Just because Shep doesn't have to work doesn't mean he can point fingers at others who don't have money and don't work. Am I wrong?
I agree with Hashtag New Craig (slash is he still Hashtag Landscaper/Carpenter Craig?) that he shouldn't have to prove himself to his friends.
Then Shep takes it to a whole new level!
"We have a separate text chain. You used to be on the text chain."
WOAH WOAH WOAH.  Talk about the meanest thing you can say to someone in 2017.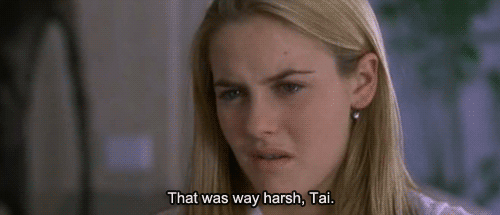 Get it, clueless reference? Because Landon's ex husband is Dion's ex husband?
Shep learns some not so flattering news about Landon and a business meeting she had with some tech guys.  If the people from Yacht Me are telling the truth about Landon's comments at the meeting – WOW. "I don't care about money, because everywhere I go everything is paid for." Yikes. "I don't hang out with millionaires I hang out with billionaires." WHAT?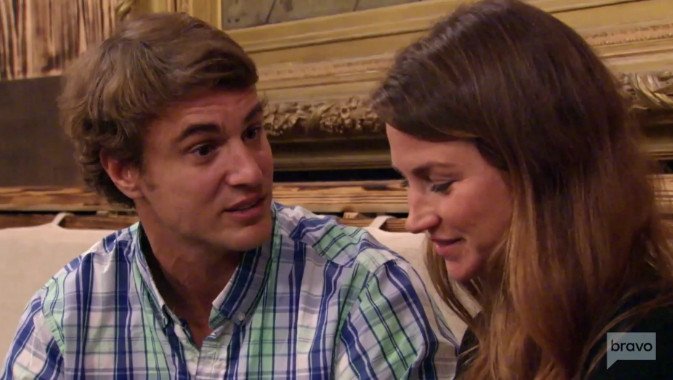 When Shep confronts her about it (at her ROAM launch party…… where you can see the website on a laptop in the corner……) she seems deny part of it but not all of it.
Who is this wasted chick at Landon's website opening? Is this Whitney's new foreign girlfriend?
HASHTAG I LOVE SOUTHERN CHARM. 
:: VANDERPUMP RULES ::
Part One :
I enjoy the reunions, it's just that they drag them out so much.
The best part of the whole thing was James, who was quite funny, talking about Stassi coming CRAWLING back to be on the show from NYC.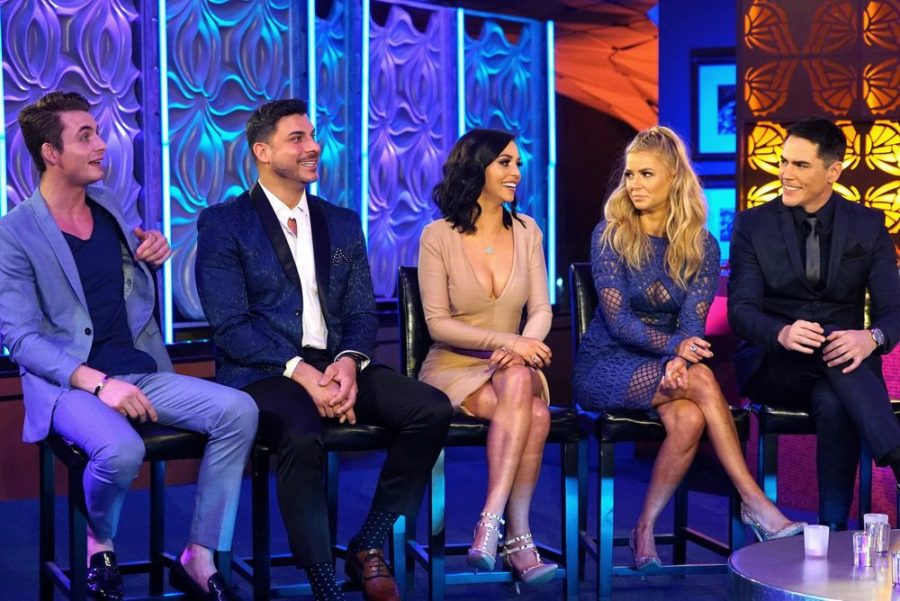 I don't think that group has ever collectively laughed harder – my-boyfriend-Andy-Cohen included.
Part Two :
I get that Stassi's little brother is cute and funny, but really?  Bringing him out on the reunion?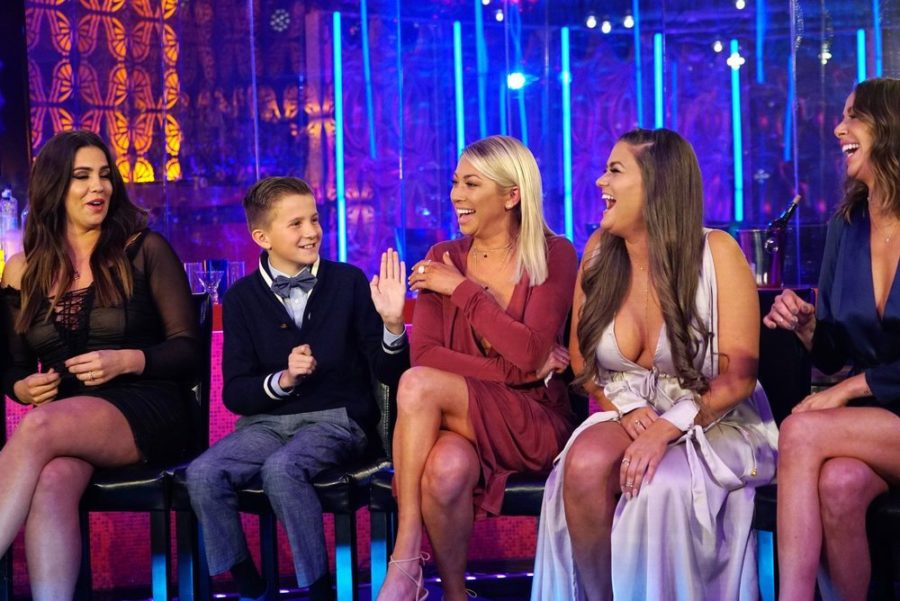 Also, this disturbs me to no end because clearly he watches the show and knows everything that is going on.  I mean…. episode ONE this season I could barely watch because of the brittany-kristen rumor that NEVER stopped being discussed with 45 different filthy "muffin" metaphors.  My goodness!! He is WAY too young for this!
:: JAX AND BRITTANY TAKE KENTUCKY ::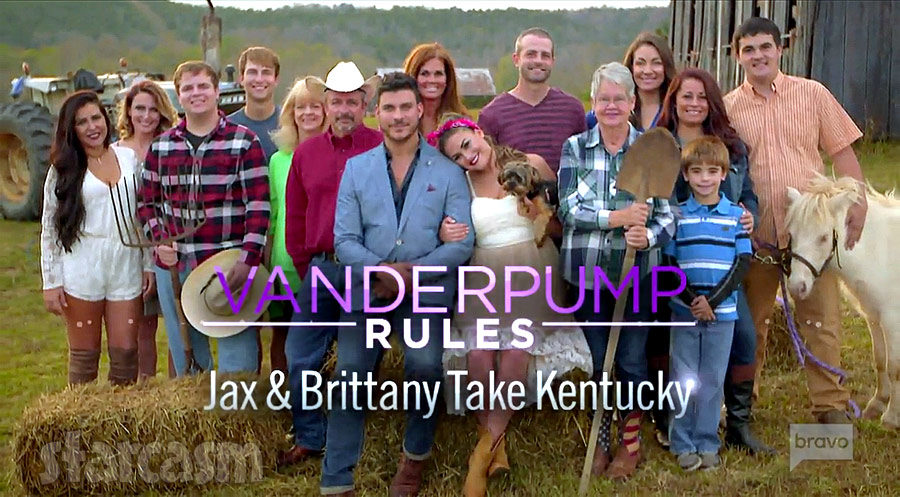 The trailer for Jax and Brittany's new Kentucky Spin Off  has been released.
Ugh.  Of course I'm going to watch it (loser), but I really hope this is only a few short episodes – 3 max – because it's going to be so bad. And I really hate giving Jax the satisfaction of this much attention.
:: RHOBH Finale ::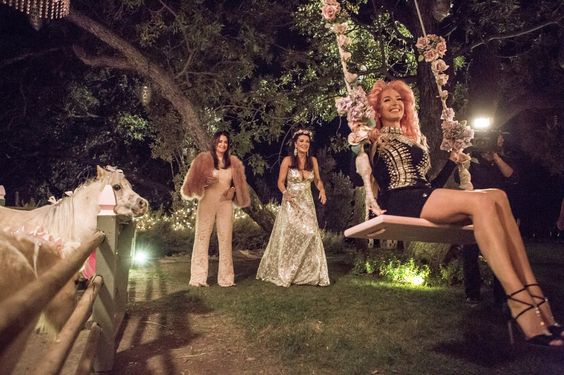 LVP's parties just never cease to amaze me.  It looked like it was Pandora's wedding all over again.  The budget for this night was more than a down payment on a house I bet, and a really nice house at that!
What are some of the people wearing at this party?  Forget Dorit and her golden-goose-poop-head thing;  Is Eden in a wedding dress? Is Pandora in a wedding dress?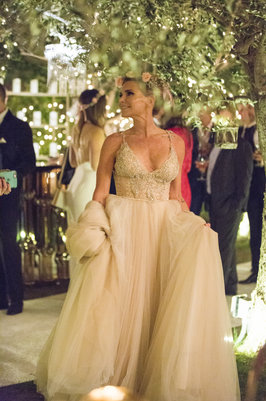 I said it previously but Camille in that blue dress at pink party…. I LOVE IT. She gives zero effs.
LVP is such a sheyite stirrer:  "If Erika can keep her legs closed, and Rinna can keep her lips closed, we'll all be fine."  Rinna does need to keep her lips shut, but ENOUGH with Erika she did NOTHING.
When arugment 947 of the evening is beggining, Dorit is drinking bottled water.  All I kept thinking is "I'm surprised there isn't fancy bottled water? its like, regular old plain-jane bottled water??"  HOW LOW CLASS LISA.  I mean seriously Kevin Lee….. that's like party planning 101.  I'm shocked she doesn't have VILLA ROSA labeled waters on stock at all times.  Sad part is I am not kidding.  I was shocked to see a regular old bottled water with the extent to which she does things.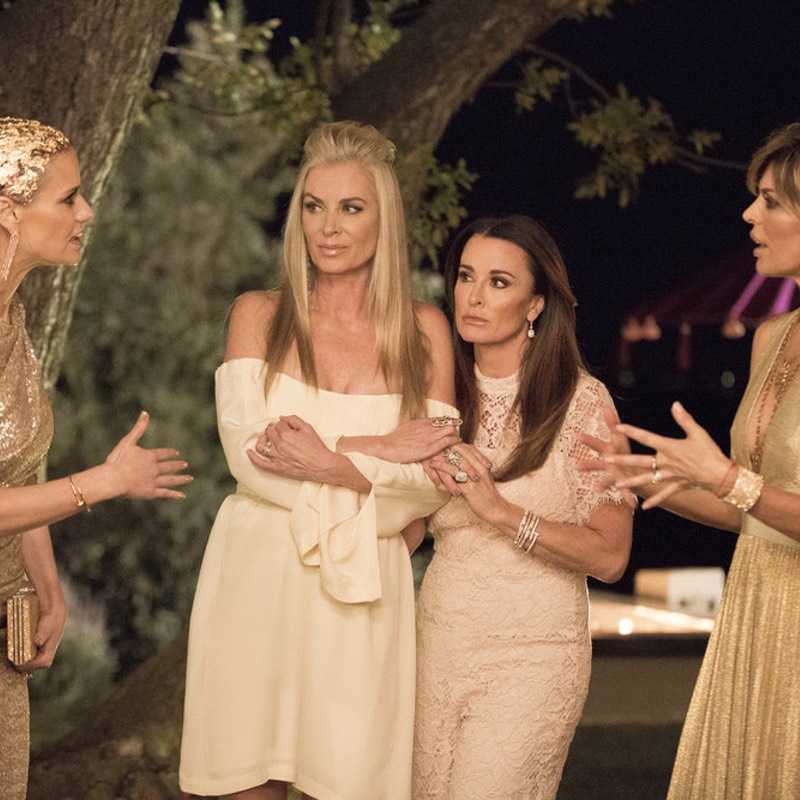 Kyle's main role on these episodes is to have crazy wide shocked eyes and ping-pong back and forth between whoever is going at it during all of these fights, as if she hasn't ever witnessed them before.  Her eyes go from Dorit and Rinna over to Dorit and Erika Jayne.   When Erika Jayne imitated Dorit doing the finger waving I was like UH OH.  She is STEAMED. RUN DORIT.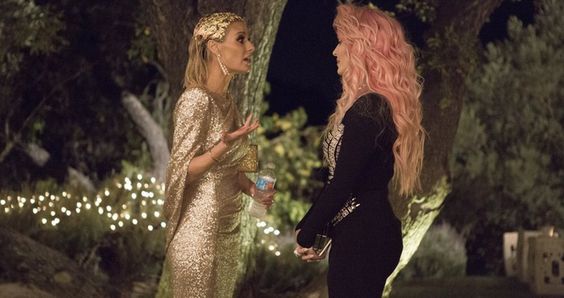 After walking back and forth within earshot of the argument involving Dorit 10 times – and of course within camera shot –  here comes the 6th Housewife, PK!!  There is no housewife more in need of attention than freaking PK.
I wish Erika had done more than say "don't call me Honey" when PK called her that.  He makes my skin crawl. When even Eileen is ready to kill you, PK, its time to roll over and play dead.
We cut to another inappropriate, unfunny husband: Ken!
PK says, in relation to Erika and PantyGate :  "What you think I'm interested in shagging you?!"
Then Ken says, "You could have invited me to change places when you had a clear view of the ____ ____."
They are both disgusting.
Time for someone else to flip out! Crazy pants Eden.  When Eden stands up flipping out screaming "I've given you so much of my energy, my heart, my time,  you bitch!"  I love how everyone just stares are her.  There isn't one person to even attempt anything because no one gives a damn.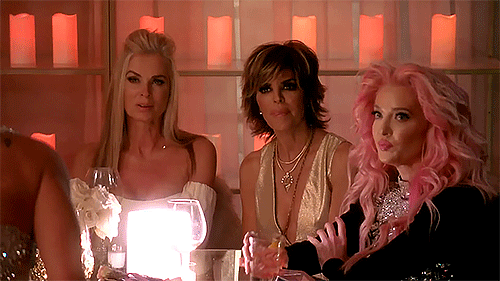 For all of the awful things that come out of Rinna's mouth, all she said was she put her gaurd up.  I mean….. she says worse things between every breath – and this is what elicits that response from Eden?
LVP : "It's all going according to plan, (Eden) likes me more than Rinna".
Um. Congrats? You won Eden! Enjoy the crazy! You're so lucky!
Just like the first ever OC Housewife finale, they always end it with sappy music and a 1-2 sentence upate on what the latest is.   I really laughed at Dorit's ending facts:  "Dorit's son Jagger is speaking a handful of words…. it's still unclear what accent he has…. but he will learn the lyrics to "Karma Chameleon"
I MEAN.  SLOW CLAP.
:: Beverly Hills Reunion Part One :: 
I love the "pre-reunion" package, and it was much longer this year. I love seeing them pre-hair and make-up in their casual clothes talking about their anxiety for the day and what they expect.
What on earth are Dorit and Kyle wearing.  It is simply horrendous.
Kyle, whom I love, makes these mistakes frequently, despite having a clothing store.
But Dorit for the most part looked fabulous all season? What is she thinking?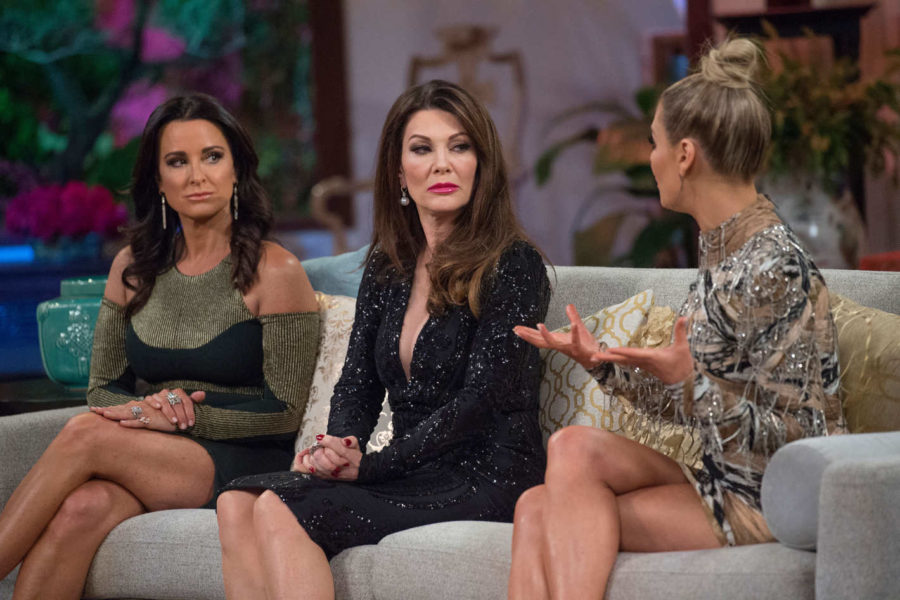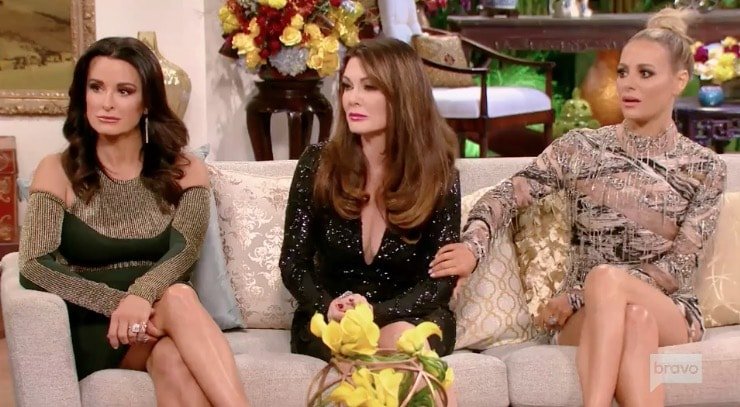 Similar to what I said about Vadnerpump Rules Reunion, it's not that I don't enjoy it, it just is that they are all so so drawn out.   I do appreciate the recaps though because I had forgotten so much about the beginning of the season! Dorit having 3 housekeepers? And her getting the Birkin for jumping off of a boat into the ocean.  Goodness.
And I appreciated the re-iterating of Erika apologizing to Eileen for going nuts on her and overreacting.
The best part was the end, when the additional new Housewife, PK, proudly struts himself out there onto the couch.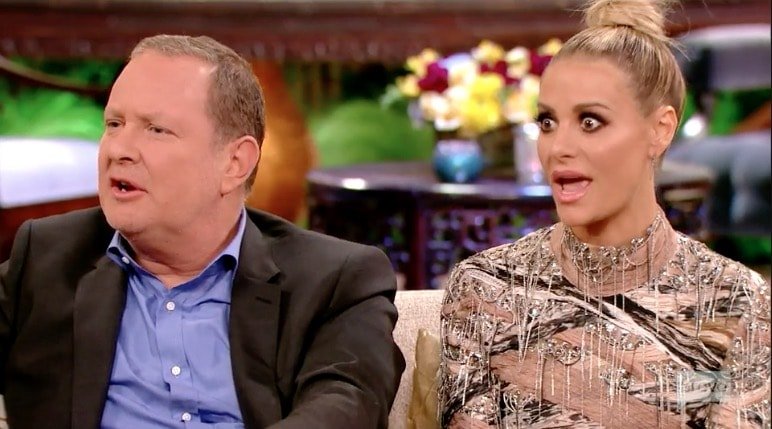 Ugh.  Again, I just want Erika to annihilate him.   How can he act like he can just say "sorry, I looked once and that was the end of it".  The things he said – and said to Dorit's face even – over and over again were repulsive.  There's a reason it was the main thing of the entire season and that reason is PK.
PS. Can I become a fabulous gay man who is a talented hair/make-up/clothing stylist so that I can fly Business class all around the world?
PPS. Wait…. but really, did anything even happen in part one of that reunion?
:: Real Housewives of New York :: 
I love the intro style this season, where they show a snippet of each person before diving in. (ala Southern Charm?)
editors note : I realize now that I have started each show with loving the intro, but I can't help it! I am loving the changes they are making! Taking it from Southern Charm all the way through.  Bravo, Bravo. (see what I did there?) 
I especially love Dorinda saying "$4 for water? What's the profit margin on that? Four dollars? Yeah…."
Also, Dorinda looks amazing.  Glowing.  I have missed her.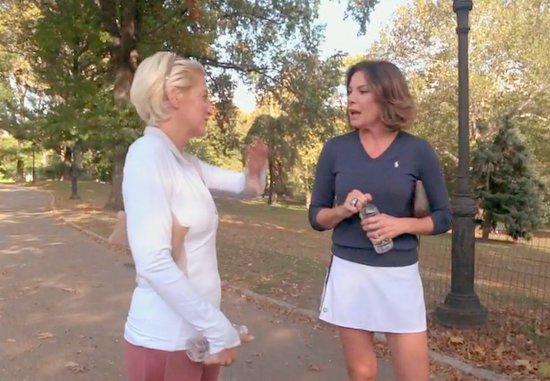 Carole and her boyfriend Adam (really? more of her and Adam? his voice! at least his hair is a little better this time around).  But I digress…. Carole and her boyfriend Adam kick it off with ZERO story line just like last season.  It's ridiculous with their puppy "baby" (don't even get me started on the dog being named "baby") and now they have two kittens.  Whoop-de-do.  This is Housewives people! We don't care about "Baby" and kittens!
Cut to Sonja at her townhouse.  Did she just put what I think she just put into the dishwasher????
Am I seeing things correctly? It's Sonja, so I must be! Her tagline is about no Grey Gardens this year afterall.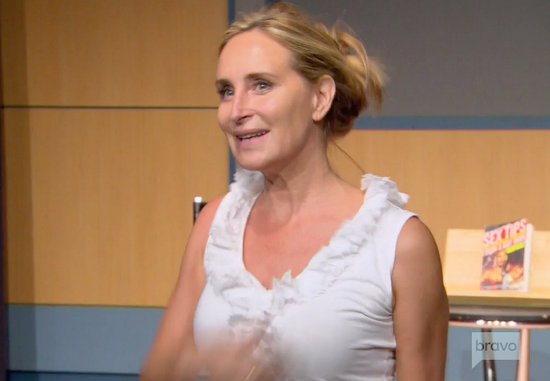 On the sex toy in the dishwasher note, Sonja is doing an off broadway play called "Sex tips for straight women and gay men." I MEAN. (hashtag thank goodness she is part of this show.  she kills me.)
Cut to Ramona.  How much can Ramona discuss divorce, boyfriends, husbands, being single to this poor contractor? Oh, and the poor man's name is MARIO of course.
She answers the door in a neglige! And then sends him out the door with a bear hug and puts her forehead against his as if they just finished making out and are looking into each others eyes.  I mean….. is she on menopause meds that give her 10x too much estrogen? Each year she is getting more and more horny and answering doors to men in less and less clothing.  (Last season, during "We Got The Yacht" she was ripping her shirt off when the yachtie brought her luggage down. Now, a silk teddy.)
I miss Frederick and Million Dollar Listing (thank goodness it is back soon!)
I do not miss seeing Bethenny video-tape herself crying her eyes out walking around her old apartment and saying "get this" while she walks into the closet wailing.  That was weird then, and it's even more weird now.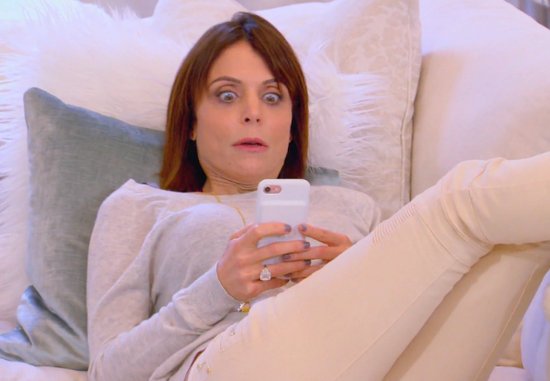 Cut to LuAnn standing on her outdoor space on the Upper East Side! WHAT! This place looks insane!
Also, I thought Tom wasn't rich? So this is Tom's place? Is it a rental?
She did a video tour of the apartment for People Mag that you can see here (spoiler alert: the entryway has an umbrella stand with about 17 umbrellas and I couldn't take my eyes off of it the entire intro)
They don't show a whole lot in the video unfortunately, but the terrace at "Casa D'Agastino" is incredible.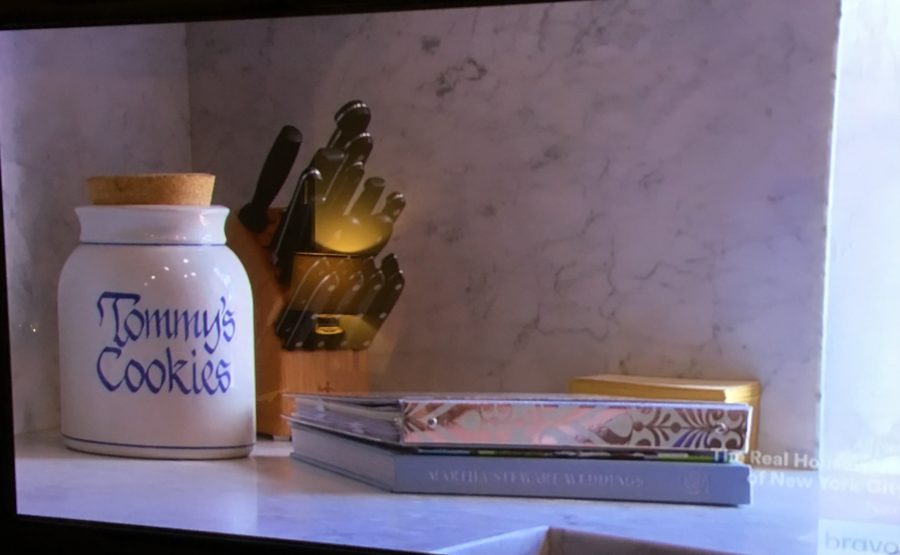 Most notably missing : a shot of TOMMY'S COOKIES cookie jar.
Did you die when they showed a full shot of that in the show? Or was that just me?
Do you love my iPhone pics of the TV?  Good.  Me too.
I really did laugh at Bethenny exhausted by Carole and hiding out and whispering "OH MY GAWD I KNOW CAROLE" about the constant election talk.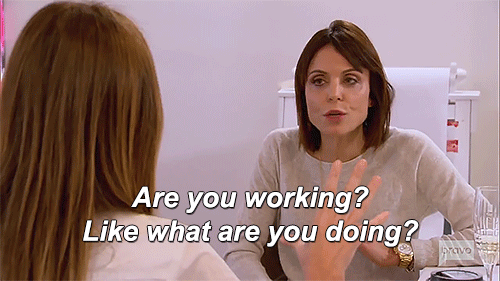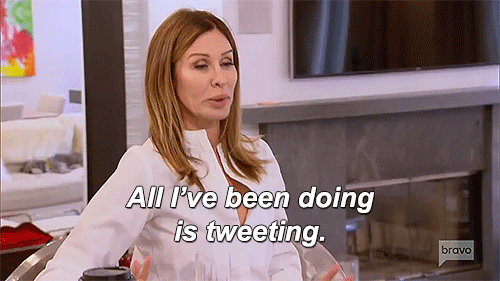 editors note : Nevermind. I now see what Carole-I-Have-No-Story-Line's story line will be for the season.
Well played Carole, you found an angle other than Bethenny's side kick from last season.
Ramona goes to lunch with LuAnn to ask why she wasn't invited to the bridal shower and that it upset her.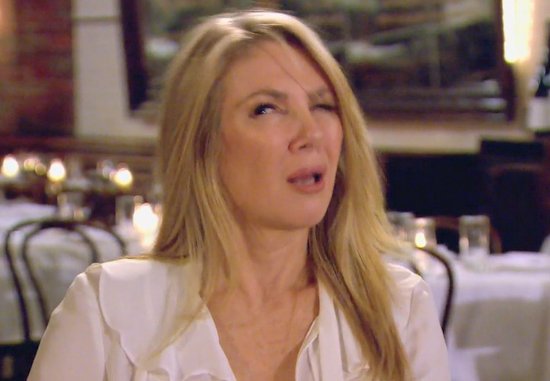 Perhaps the reason that you aren't invited to the bridal shower is because you are sitting at lunch discussing him cheating and saying "I hope you don't fall on your face with him."  I can't imagine why she wouldn't want you around for the celebrations?
Episode 2 :
Bullet points for last night's episode because it's past my bedtime and I'm just now watching!
I wish this wasn't on Wednesday nights!
– We meet Ms. Tinsley Mortimer, Sonja's new houseguest.
– Bethenny "Today I decided I'm in a good mood….." Oh. That's nice.
– And now it's a competition of Carole "I just got 2 cats" and Bethenny "I just got 2 dogs." And back to Carole's only story line being the election.
– I love Tinsley making fun of her own mugshot and her eyebrows looking like they are flying off of her face… because they do! At least she OWNS IT (to be read in LVP voice).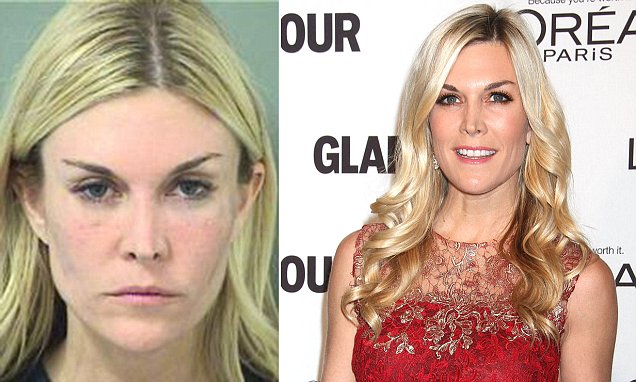 – When is Ramona not going on a date? She shows up at Cryotherapy ready for a date?
-Speaking of Ramona, did her apartment look that different last week? I mean it did, but I had to rewind the before and after twice because at first glance all of the colors and everything were the exact same.
– Only Ramona continues to say she doesn't know someone when someone is insisting they have met several times.  And for goodness sake : why do you keepyour sunglasses on indoors everywhere now?!?!
-Dorinda and Sonja just need to make-up, this is ridiculous.  She missed nothing but a sheyite show in the Berkshires.
– Oh thank Goodness Ramona has a hickey! Between the sunglasses AND that awful thick neck scarf I was wondering what the heck was going on.  I should have known it was just her raging hormones.
– Is Bethenny walking in to this party with a GIGANTIC saran wrapped Skinny Girl basket? Of course she is!!! I mean Mauricio had to have learned his THE AGENCY promotion from someone. I'm shocked she isn't wearing Skinny Girl red to top it all off.
– I think these women are going to eat Tinsley alive; she seems far too friendly and optomistic for this New York bunch.   Plus, the new girl always seems to have a rough time.
– The Sonja-LuAnn-Tom love triangle is so awkward.  And even if Sonja does wish she was with Tom, it reflects poorly on LuAnn for saying it.
– Bethenny always says something each episode that makes me cringe and then something that makes me do a hands-up-PREACH. "Three things Sonja needs to let go of :  Tom, The Townhouse, The Berkshires.   We all wore pajamas, I called LuAnn a whore, we called it a night.  That's what you missed".  PREACH BETHENNY.

:: SWEET HOME OKLAHOMA :: 
When this show first started, I had said I wasn't quite sure if I liked it or not.  I've decided that I definitely do, but that I wish it wasn't so "produced". It's like Chrisley Knows Best in a way.  The first season of that show was hilarious and then it became more and more staged situations/produced things instead of just having it just being them talking and being funny.
This isn't at all "staged" the way Chrisley is, but I definitely enjoy the random nonsense more than the "pulling pranks" and such.  I think the women are clearly funny enough on their own.  AND I love a show where the women are all friends and get along. (Like the AMAZING show Secrets + Wives with the Jersey High School friends all grown up.  Why don't I remember that being the name of the show? I had to google it. I must be losing my mind.)  
The one woman, Pumps, wearing a rubber glove every time she lights a cigarette – slash at all times – is hilarious enough to me. 
:: MAZEL OF THE WEEK :: 
I don't know if this is a real Mazel, but for these two to make it this long, why the heck not.
Spencer Pratt and Heidi Montag are expecting a baby.
Who would have thought these two would still be together after all this time?
I wonder if Spencer has already bought crystals for the baby? Or if his crystal collection helped her get pregnant?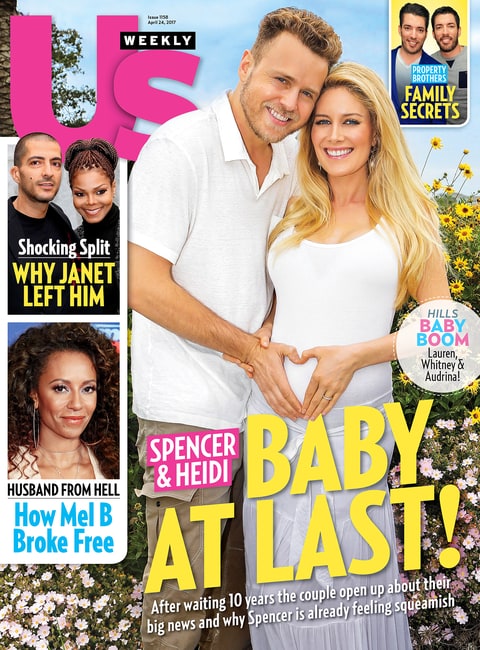 Editors Note :
As always, ignore my own blatant grammatical errors whilst I make fun of others poor grammar during Coffee Talk on a weekly basis.
#HYPOCRITE   #SORRYIMNOTSORRY
I write these posts late at night while simultaneously watching Bravo, taking snaochats of my snoring husband, and making to do lists of everything I was supposed to do and didn't do that day, and likely won't do the next day either.  Or the day after that.