discuss amongst ya-selves……. 
Unfortunately, I have to keep it short and sweet this week.
I was babysitting my niece and nephew for two days straight, and HOLY COW.  I don't know what being tired is.  Shout out to all the moms who function on a daily basis…. because I am struggling today.
:: VANDERPUMP RULES ::  
My compliments for Katie and Tom's wedding keep flowing. who am I? It's a very pretty wedding in every way.  The ceremony space was beautiful.  The flowers looked so gorgeous for the "alter".   (NO way did she not get help with this floral budget. )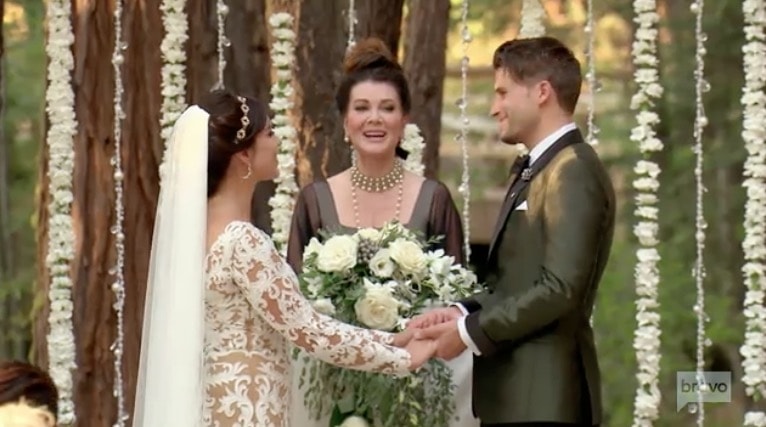 LVP looks amazing,  Not the clothes, her.  The clothes and hair are horrible.  I can't stand the clothes she picks (see: this week's RHOBH. awful).  But her face looks perfect.
There are a lot of tears during this wedding ceremony…. Tom Sandoval even needs to wipe his on the dog.  Literally using the dog as a handkerchief.   Maybe he's just doing it to show off those sweet highlights?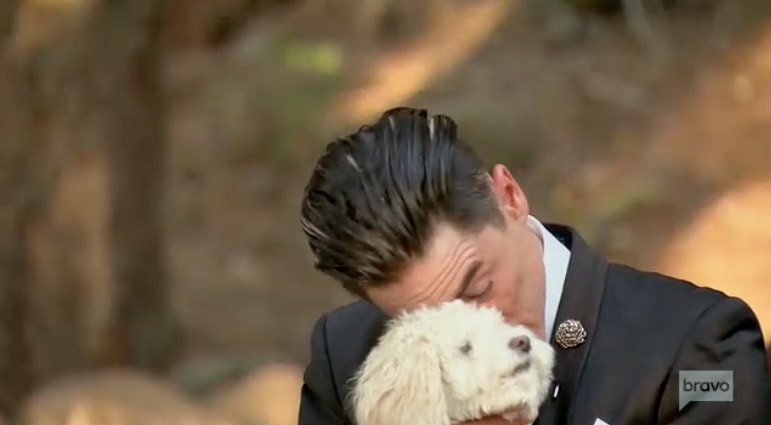 How many eff bombs are going to be dropped in these speeches?  Keeping it classy as always.
Somehow, everyone is being so nice to each other? even Jax? is my heart melting? is my brain fried? am I in Dorit's "Two Babies at Home" Drug Den and PK has slipped me something?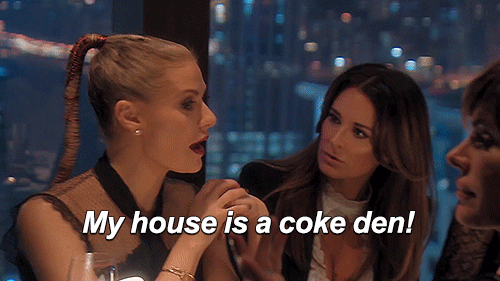 These people just spent weeks screaming and yelling (technically years.  week after week.) and I am just shocked that they are all locking it up enough to be nothing but lovely to one another.  I bet Scheana Shay is pissed.  Remember all the crap that went down at her wedding? Like Kristen throwing punches?  Everything is smooth sailing all night long.  Not even Tom's brother giving 4 speeches about absolutely nothing (and more eff bombs) can ruin this.
Slow Clap to the Vanderpump Kids for keeping it together.  I never thought I'd see the day.
Why on earth is LVP talking about opening a bar called Tom Tom with Tom and Tom? This is the strangest thing I have ever heard in my life, for a million reasons.  I should do a whole blog post listing them.  First to come to mind is when Tom and Tom attempted to be "wine reps" and "run" her wine company.  Remember that sheyite show? Check out last season if not, because their "sales pitch" was pure gold.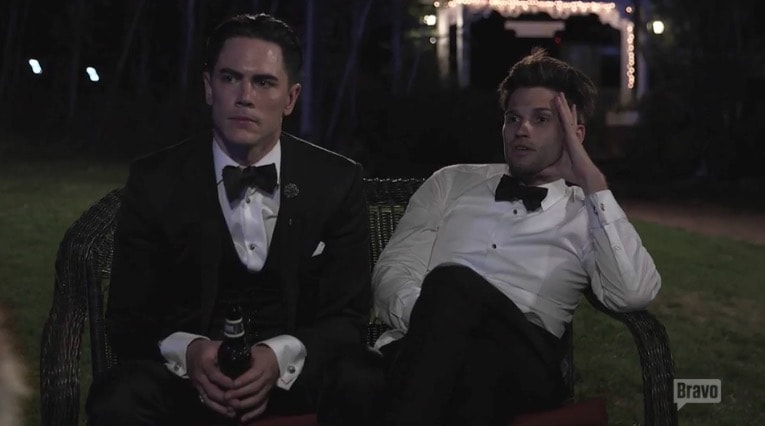 But if Lisa's legitimate idea for a bar is Tom Tom, then perhaps these morons are her best bet, because that is the worst name I have ever heard of.
Of course this entire wedding Shay is nowhere to be found.  We see him once eating by himself at a table with Scheana in the forefront of the camera shot.  And then we see him once again at the end of the wedding looking as lackluster as ever in a tie dye t-shirt.  He was probably saying "alright I gotta get back to my fan and pillow over my face now."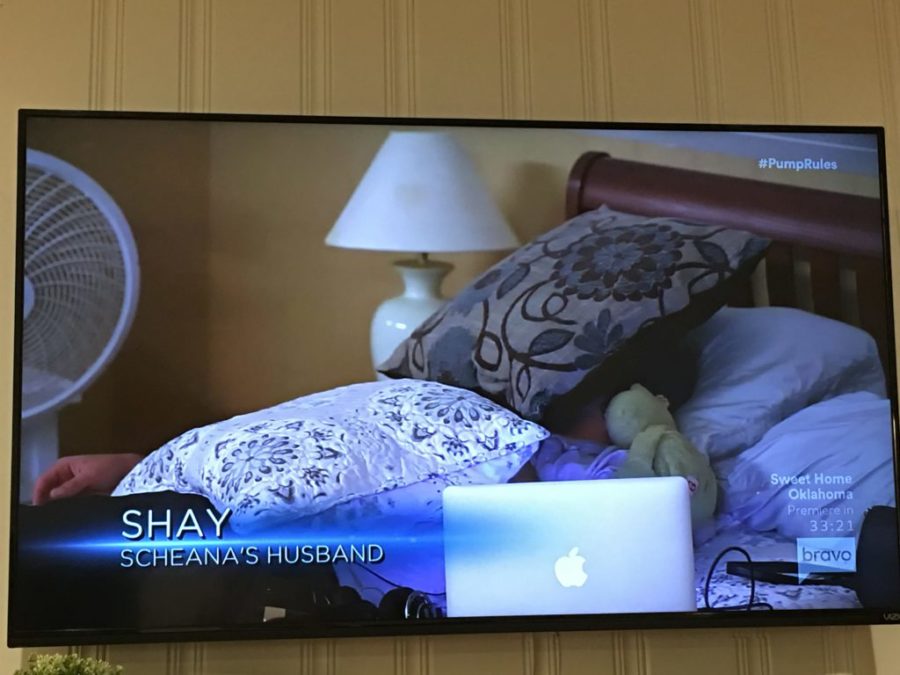 had to repost this photo…. gotta use every opportunity for my TV iPhone pictures.
Also, Katie finishing the wedding events talking about how she hopes everyone looks at them and sees their amazing relationship is high-larious.
We fast forward to three months later, when everything has hit the fan with Scheana and Shay.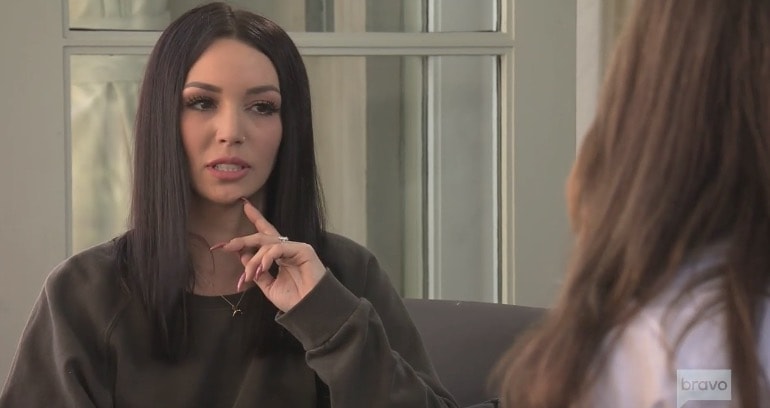 This was actually super sad and difficult to watch.  I felt bad for both of them.  But do we really think adderall is the culprit here? Because as someone who attended college, I am familiar with people taking adderall.  Shay acts…. hmm… NOT at all how anyone acts taking adderall.  Other than the staying up for freaking forever, he doesn't appear to be on adderall.  But I guess I appreciate him choosing adderall as the cover-up drug of choice? It would technically explain the all nighters?
But, as he informs us, when you are PASSIONATE about something YOU STAY UP ALL NIGHT. Ummm… no Shay.  I don't think that's how it works? But okay.
One thing I did thoroughly enjoy: First words
Scheana : "Did you pierce your ears?"
Shay:  "It was kind of a dare"
I was laughing out loud at this.  Exactly how everyones divorce sit down begins…..
Okay, two things I enjoyed: Scheana starting to say "I was talking to Lisa today" and he says "I don't give a damn about Lisa, she has her own kids, I have my own parents."  I mean, it may be drugs talking, but Pah-reach Shay.  Pah-reach.  I don't know why on earth these people act like Lisa is their mother and they don't have their own mothers and treat her like such an absolutely God (well…. I guess everything they have is because of this damn TV show, so technically I know exactly why they do it).  It cracked me up because I thought it was so true and LVP needs to quit acting like she is their mothers telling them what to do.  The relationships between everyone at that restaurant, her included, are just all sorts of messed up.
I lied…. they give me too much material…. three things : Shay admits that she pays for everything he does. But other than taking all her money she like, never cooks for him anymore, so she is, like, useless and totally to blame.  She points out that COMING HOME is a requirement of her to be able to cook him a meal. He forgot about that part.
Okay, you know me, they keep coming to me:  four things I enjoyed: the hot purple suitcase he packed in.
Scheana needs to lay off the botox BIG TIME.  She's too pretty for that botched face and wonky eye look.
But really, this was so sad to watch and I feel horrible for her (and for him.) I can't believe they actually filmed the real conversation…. and it had to have been the real conversation because he was really crying.
Then he seemed numb again with the purple suitcase…..again, no signs of adderall.  He would have packed that purple suitcase in under 2 minutes, perfectly folded, no wrinkles, and then used the extra time to clean the room that Scheana just said was a pig sty like always.  Then he would have vacuumed his way right out that front door, perfectly covering his footsteps. AMIRIGHT? Nope…. I call bull shit….. no adderall in that man's system.
TO BE CONTINUED…… REUNION NEXT WEEK!!!!!
:: REAL HOUSEWIVES OF BEVERLY HILLS :: 
This weeks episode seemed super slow, but it's probably just because last week was moment after moment of insanity.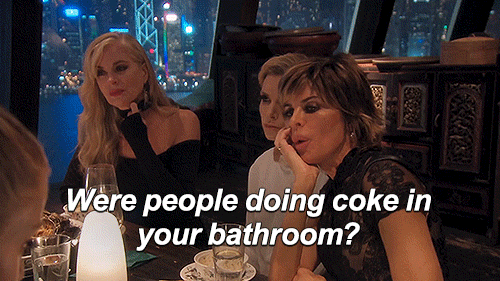 What on earth are these women wearing shopping?
Dorit in this torn up grey track suit?
Eden is so coo-coo.  She has been silent all trip, but the editors knew to put in her dying for love before she freaks out on someone in the finale next week.
She buys Erika a ring and basically demands an I Love You in return. "Just take the ring and say I love you too."  Eden…. out of all of the women here, Erika is the LAST one to give you an "I love you".
PK disgusts me more than any house-husband.  Ever.  I am trying to think…. and there must be someone…. but truly he is THE WORST.  Speaking of PK… and the never ending mentions of Boy George…..
Mauricio isn't wearing The Agency hat when he drops by Kyle's set.  But not to worry, the next scene he is in a THE AGENCY T-SHIRT front and center.  PHEW.  I was worried about the PR for The Agency.
There are a lot of 'lewks' for this diamonds and rose party (and of course the horses are named diamonds and rose)
I dlislike pretty much of all of them, starting with the Hostess.  And Eileen has really not been doing herself any favors these last few ensembles.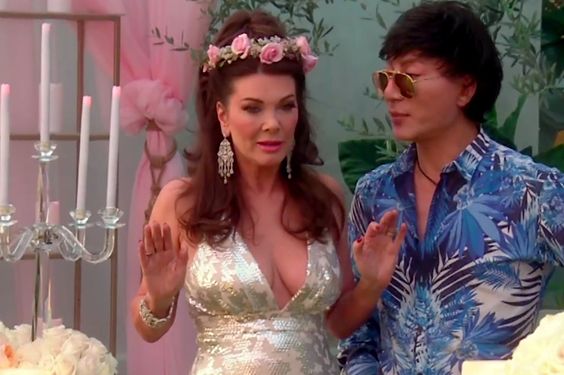 Which was worse : Erika's pink wig or Dorit's gold skull cap?
Best dressed: Camille. Who shows up in blue when the invite requests pink, diamonds, and wedges.
HA! I love it. Hashtag Bring Back Camille.
It was a fairly boring episode,  but it all comes to a head next week. And then, again,  A REUNION.  I can't wait.  And then Southern Charm…. and RH of NY….. it's getting good people.
I apologize for my lack of photos + shows this week! 
Editors Note :
As always, ignore my own blatant grammatical errors whilst I make fun of others poor grammar during Coffee Talk on a weekly basis.
#HYPOCRITE   #SORRYIMNOTSORRY
I write these posts late at night while simultaneously watching Bravo, taking snaochats of my snoring husband, and making to do lists of everything I was supposed to do and didn't do that day, and likely won't do the next day either.  Or the day after that.