Today I have a fun Crack of the Week to share with you, along with a little Oscar commentary.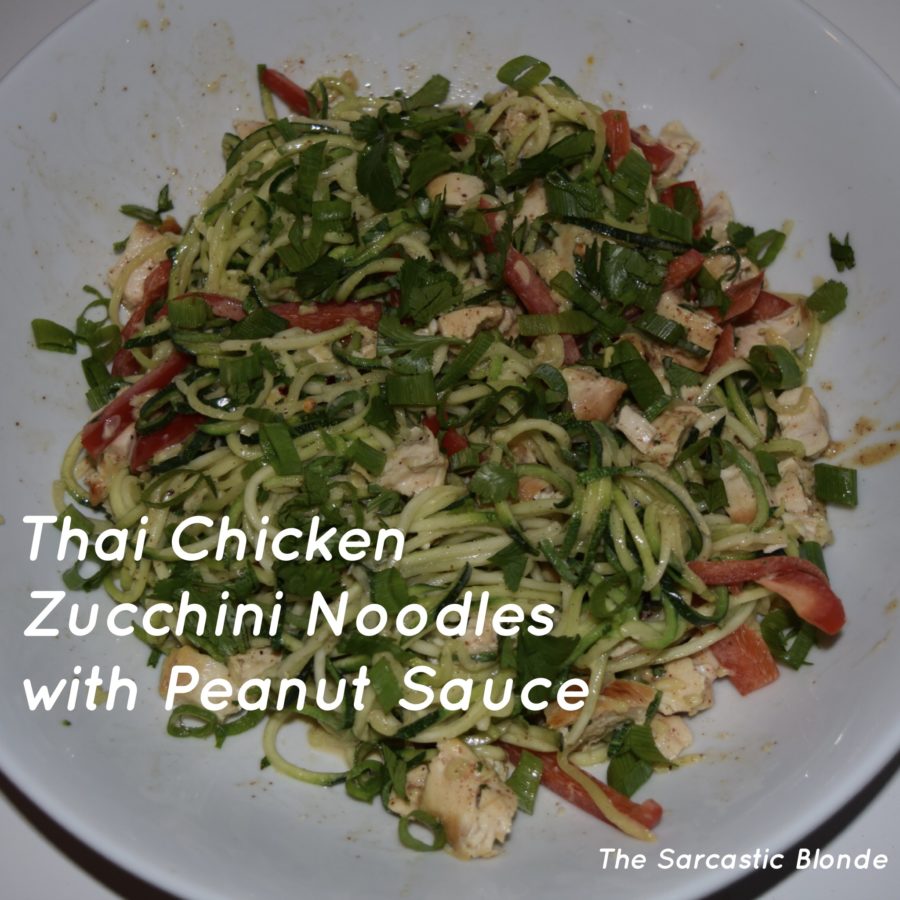 I love noodles of any kind, and my husband loves all Asian food, so this was a perfect recipe to combine the two.  It has all of the flavor without any of the guilt, loaded with veggies and a creamy sauce.  There is some prep work involved that you can do in advance to get all the veggies chopped and spiralized and cook the chicken, but after that it comes together easily!  I love when a dish is super colorful too and this is one definitely met that criteria.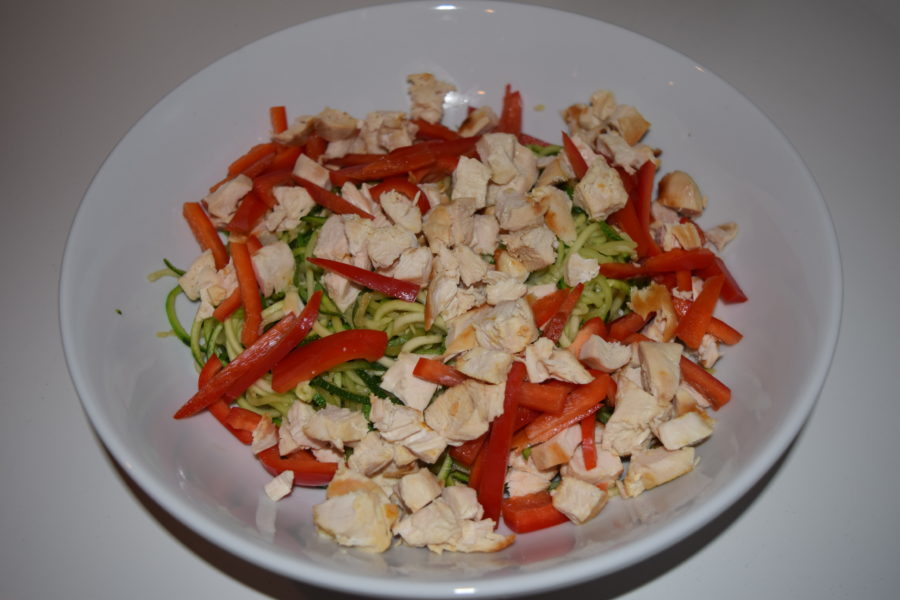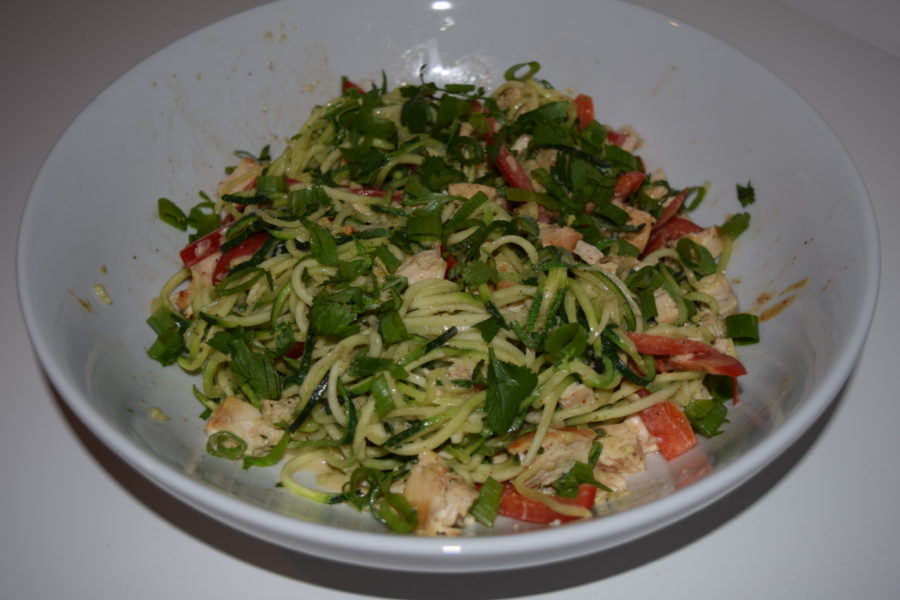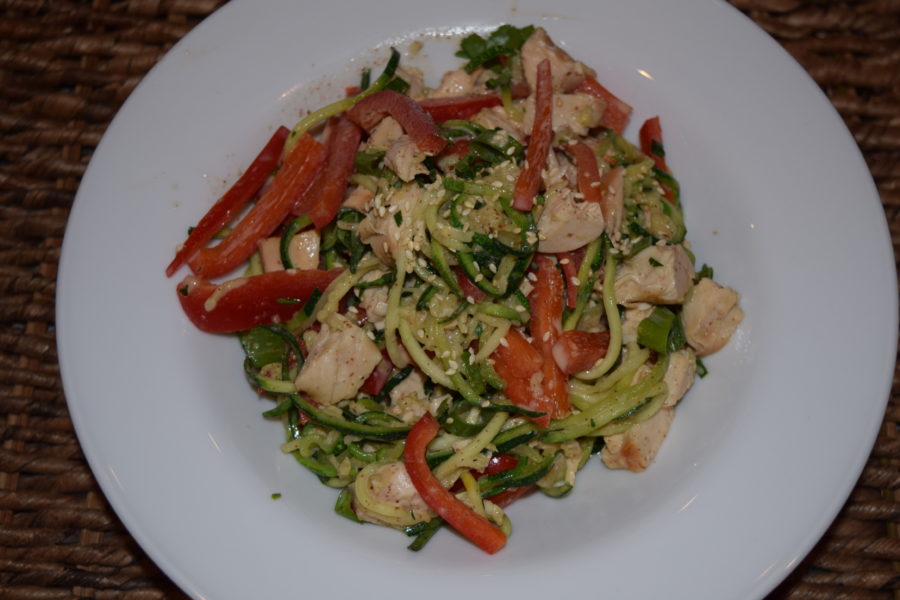 recipe via Joyful Healthy Eats

:: Thai Chicken Zucchini Noodles w. Peanut Sauce ::
Author:
Taylor // The Sarcastic Blonde
Prep time:
Cook time:
Total time:
A Delicious and Healthy take on Thai Peanut Noodles
Ingredients
2 tablespoons of grape seed oil
1 pound of chicken tenders, diced
2 tablespoon of grape seed oil
2 zucchini, inspiralized
1 large carrot, inspiralized
1 red pepper, julienned
⅓ cup of bean sprouts
¼ cup fresh cilatro, diced
¼ cup green onions, diced
sesame seeds (for garnish)
FOR THE SPICY PEANUT SAUCE :
1 garlic clove, minced
4 tablespoons of peanut butter
juice of 1 lime
3 tablespoons of coconut aminos (or tamari sauce)
2 tablespoons of fresh cilantro, diced
½ teaspoon of ground ginger
¼ teaspoon of red pepper flakes
Instructions
In a small bowl, whisk together garlic, peanut butter, coconut aminos, lime juice, ground ginger, and red pepper flakes. Set aside.
Heat a large skillet to medium high heat. Add grape seed oil and chicken tenders. Saute each side for 3-4 minutes. Remove from the heat and let sit. Dice when cooled.
In the same large skillet over medium high heat, add 2 tablespoons of grape seed oil, zucchini noodles, and carrot noodles. Flash stir fry for 2 minutes, stirring constantly.
Remove noodles and place in large bowl along with chicken, red pepper, bean sprouts, fresh cilantro, green onions, and spicy peanut sauce. Toss until all noodles are coated.
Serve and garnish with sesame seeds.
What did you all think of The Oscars? I think that Giuliana Rancic did a good job with her dress (because I normally am not a fan of her picks) but that her spray tan was WAY too intense.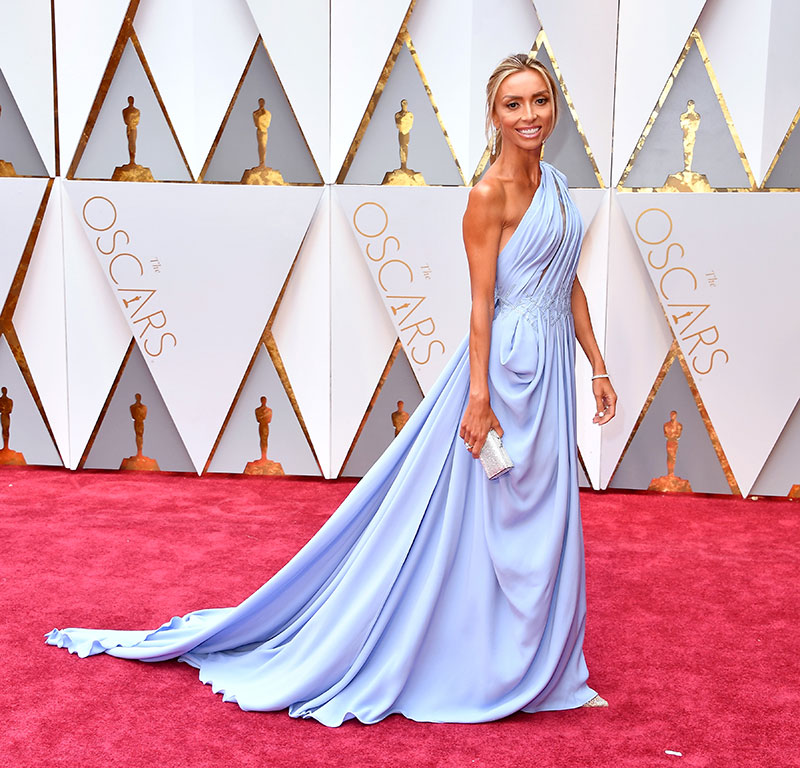 But…. then she said that she had NO spray tan and it was all from Cabo? I mean….. damn.  It just didn't look good to me? I love me a tan…..but looked like a spray tan?
There was a TON of black/white/gold on the red carpet!!
Dresses I Liked : To be honest, I found the majority of it extremely underwhelming.  I mean….. I liked all of the dresses below, but but there wasn't really anything special?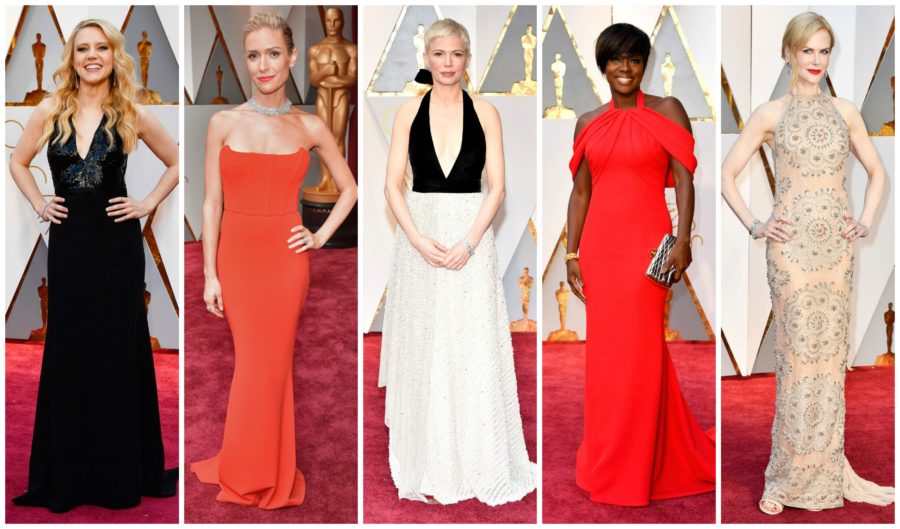 Dresses I Like : BUT did not like her hair at all or her make-up (you could'nt even see an eyelash!), and definitely did NOT like Justin's hair.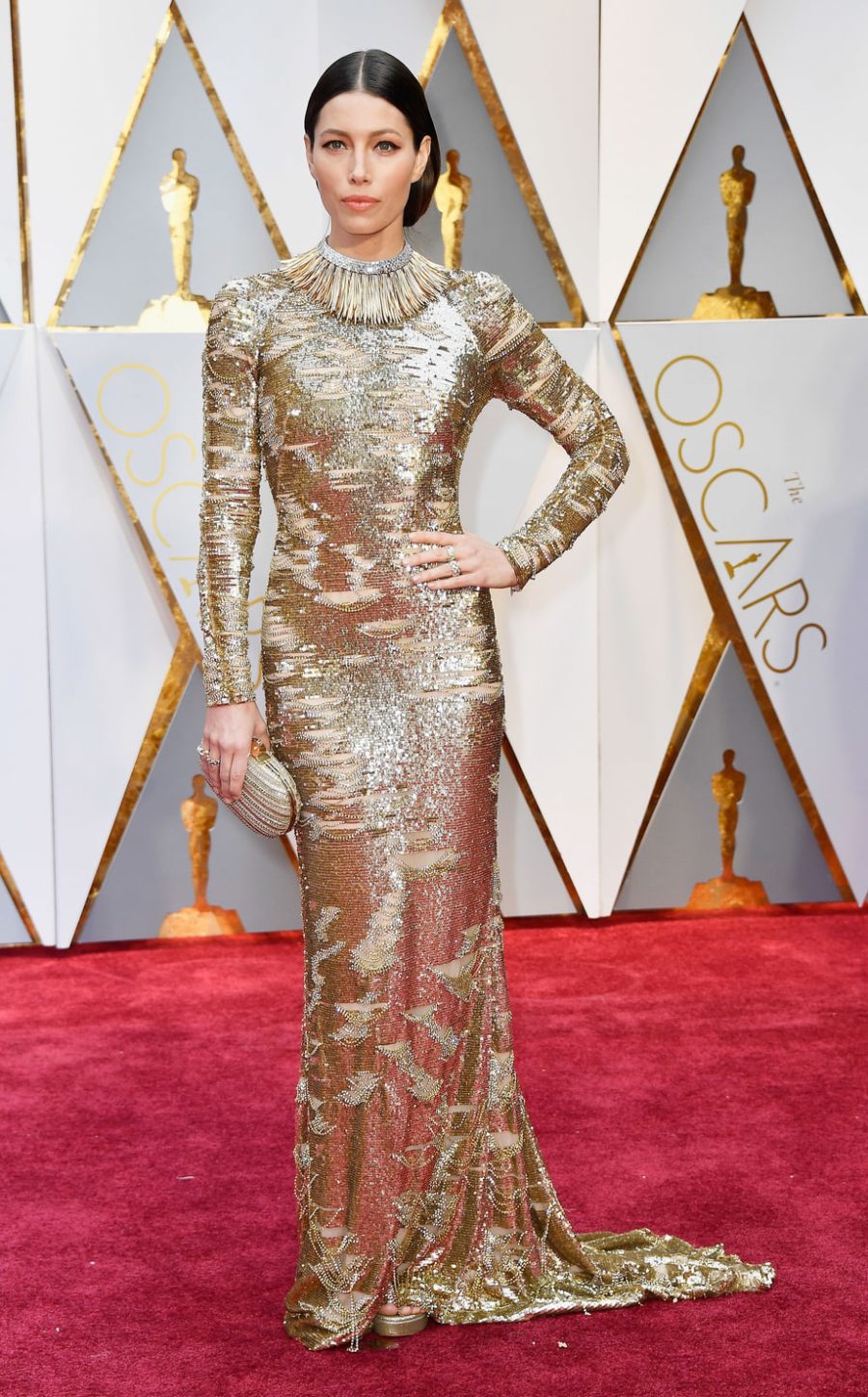 Dresses I Did Not Like :   Emma Roberts hair color was so bad (hopefully for a role?) and her side boob made me extremely nervous – in the photo it looks fine, but on TV it was as though only her nipples were covered and it was awkward (and this is coming from someone that loves a boob). Janelle just looks silly – her makeup is perfectly flawless though! And I never really care for Scarlett Johansen's looks, last night included.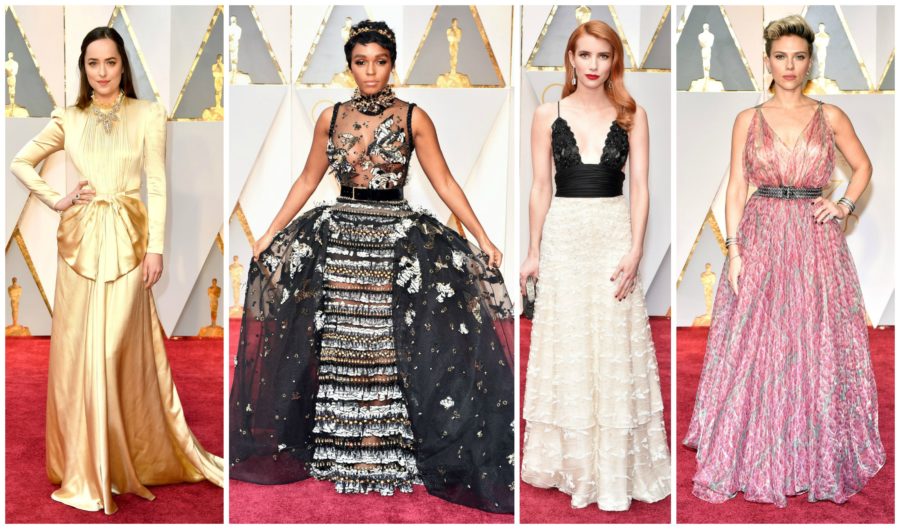 But hands down, Dakota wins for worst dress.  I think she has the same stylist as the Bravo ladies do for their reunions? When your dress is worse than the bridesmaids dress meant to be hilariously ugly on Odd Mom Out, I think it is a miss.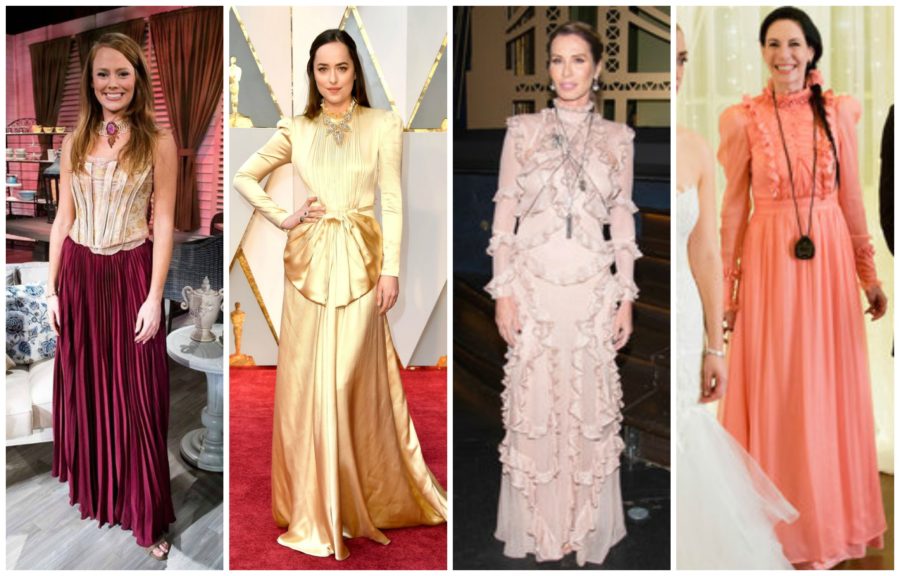 and an honorable mention for the vagine-slit dress. How does one not realize that this is what is going to happen when the slit is placed ABOVE the vagine?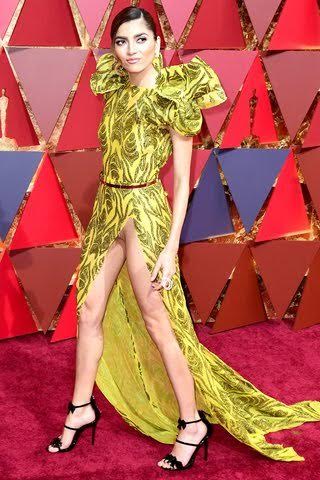 As I was going through the galleries online to see the dresses, I saw a photo of Mel Gibson and his daughter girlfriend/wife and had to google because she looked so young.  She is 26!!! He is 61!!  I mean…. there is a line where it is nothing but wrong, and I think they are so far past it they can't even see the darn line.  I mean : LOOK AT HER!!??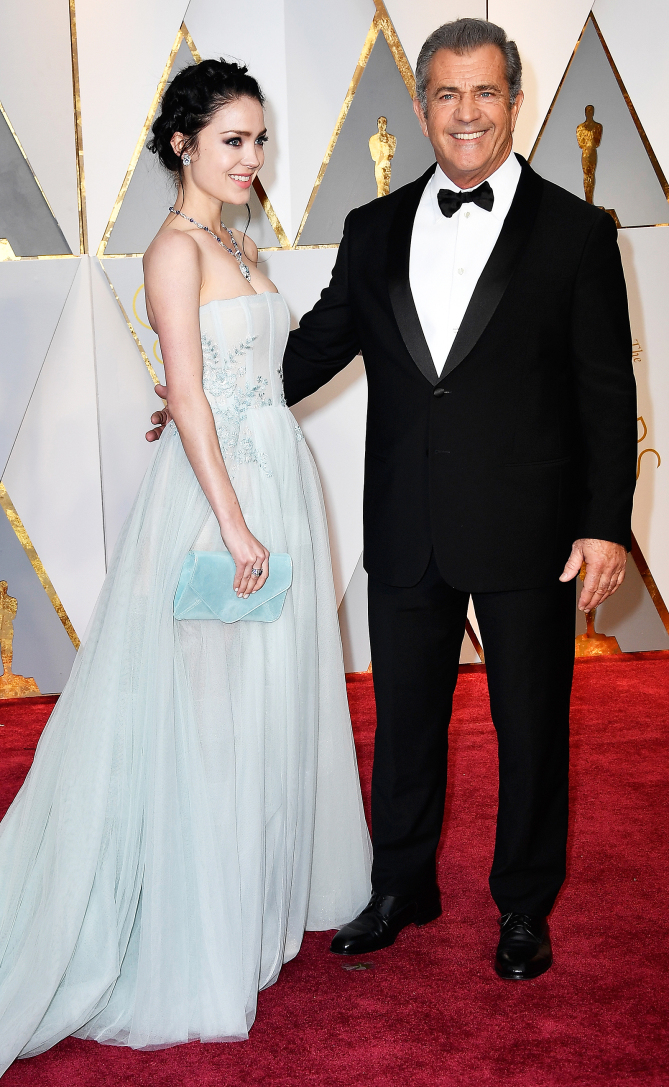 Happy Monday! Hope you all have a great start to your week!!!