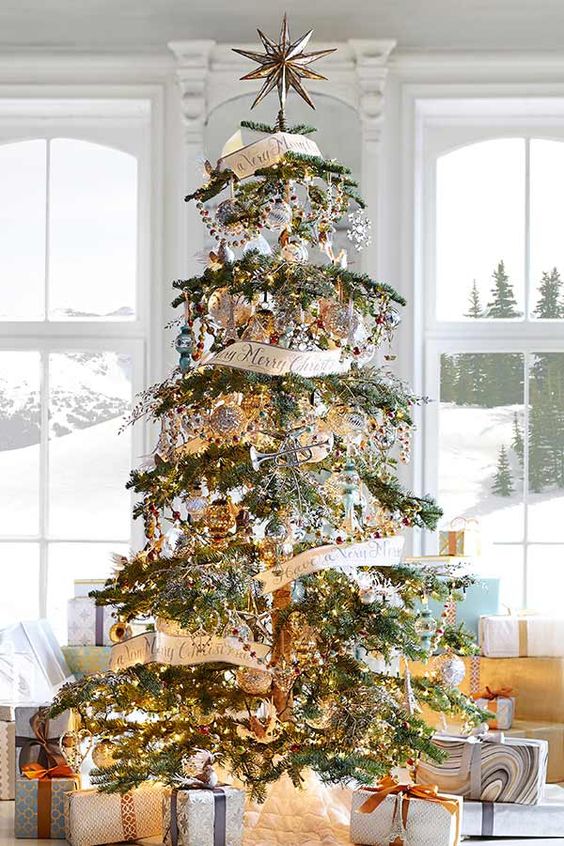 Hope you all had a great weekend!
I'm getting my Monday post in just in time.
I may have had a little freak out not being able to find my passport Sunday night, so I was unable to work on a post. But not to worry. It was safe and sound at my mom's house. So to the Caymans tomorrow I will go. Hallelujah!
We had a great weekend overall! We had tacky sweater + white elephant parties on Wednesday and Thursday which were a fun change to the normal worknight/weeknights in.
One of the girls brought Graham Cracker Toffee and I was uhb-sessed.
I would have walked away with the entire plate if no one was watching.
I have made a version of this, but with saltines instead of graham crackers and usually with some chocolate too, but I am definitely switching over to the graham cracker.
// GRAHAM CRACKER TOFFEE //
crack, I tell you people! CRACK!


First of all, I felt very fashionable last week because the queen of fashion blogging herself Julia from Gal Meets Glam did a post wearing my favorite J.Crew Sweater.
image via gal meets glam
I meannnnn.

I'd ask who wore it better…. but HA!!!!
that would be like asking whose blog or photography or anything else for the matter is better…. so I definitely won't be asking 🙂


It was a rainy weekend but we ended up with some high temperatures so that was a welcome surprise.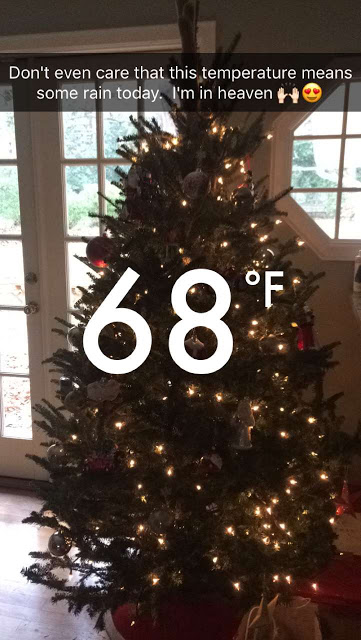 I apologize for snapchat screenshots but I took zilch photos this weekend.
I prepped for the beach by sucking it up and going to get a wax. UGH.
I am NOT one of those people that thinks it doesn't hurt – I think all of you are liars or completely insane – but it's the little things that make it worth it: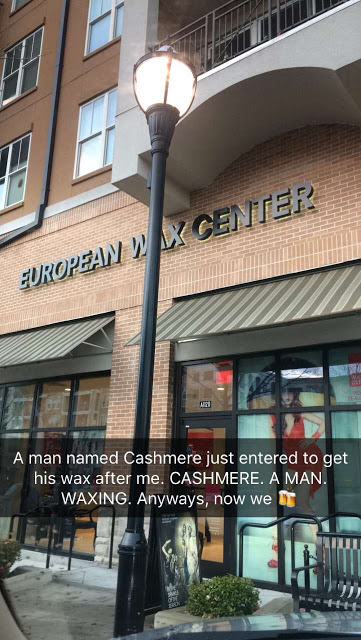 Made my day. It was great.
and then I just keep thinking…. WHAT body part were you waxing? Because I know there can be the simple chest or back or something but I don't know…….
But in all seriousness, I do highly recommend the European Wax Centers. Their wax is the only one that my skin doesn't have an awful reaction too, and they don't use the white strips that pull off your skin right along with the hair.
Plus the pricing is much better than I've seen elsewhere.
Sunday we went to our first Falcons game with friends which was a nice change for a Sunday Funday!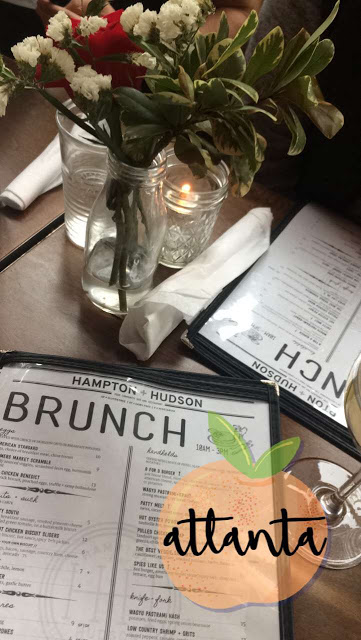 brunch at Hampton + Hudson before the game!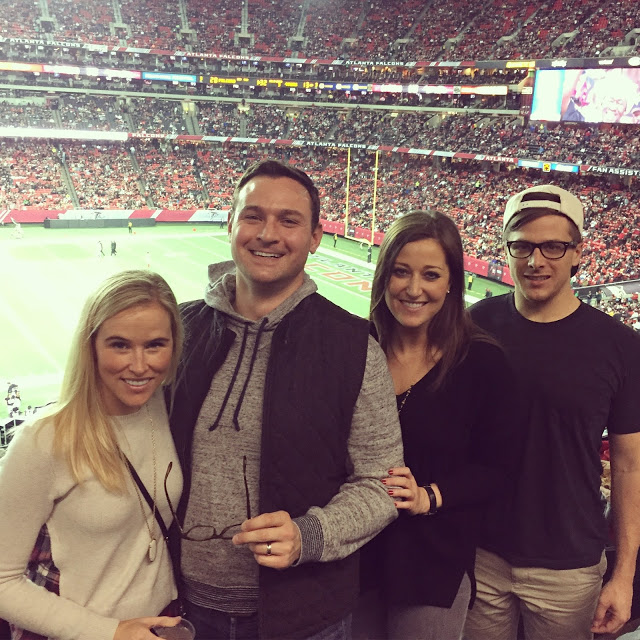 Some weekend wears:
For our sushi date Friday night I wore one of my go-to top's that I have in 4 colors. They are cheap and super flattering and go as easily with white jeans in the summer as they do tucked into skirts or with dark denim now.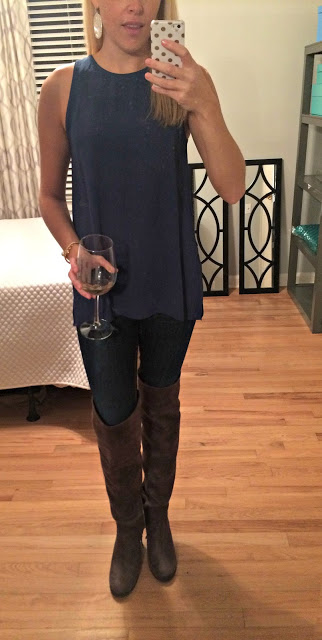 // LUSH SIDE SLIT TANK AND MORE COLORS HERE //
// OVER THE KNEE BOOTS available in four colors //
I've been living in this navy quilted jacket with the leather details; it's perfect for the cold weather that isn't absolutely freezing and keeps me warm without making me sweat like my other coats can do. And this is one of my favorite scarves to wear during the holidays.
The sweater is Trouve and their sweaters are always SO soft and cozy for the cold weather.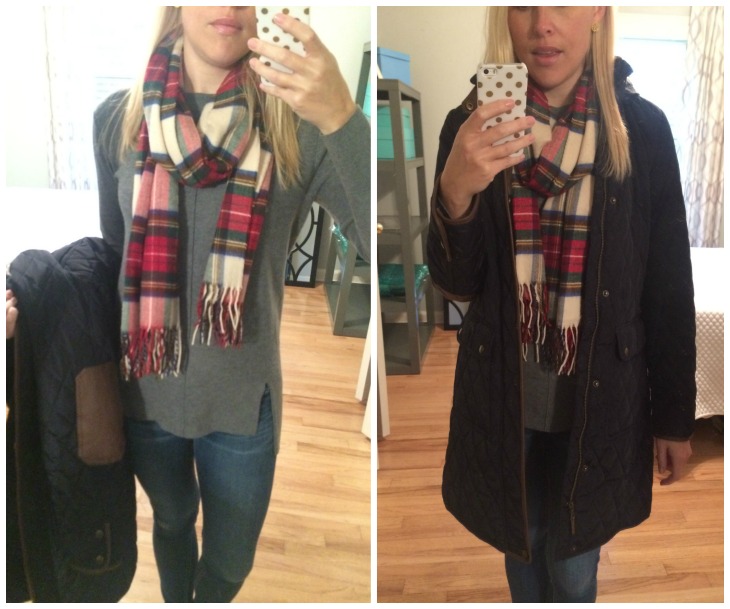 // RL RALPH LAUREN JACKET on sale 33% off // old scarf, love this PLAID SCARF // TROUVE SWEATER //
ALSO, I finally got my hair cut and colored.
This is the shortest it has been in years and I was a leeeeetle freaked out when I looked up from the chair and saw that…..gasp…..
she had layered me.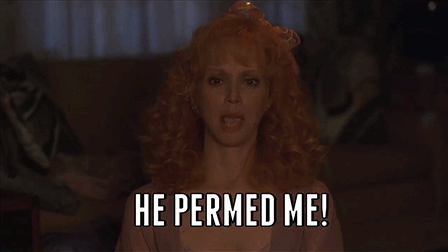 I think all of my dead ends confused her so much that she thought my hair was layered, which in her defense is a fair assumption, but nope. But it's okay; it looks very healthy now so I'm trying to focus on that and not fear that it will take 2 more years to grow back like it has in the past.
everyone still reading: wow. great story. glad I took the time to read it.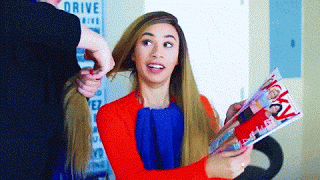 For those of you with kids
(or those of you without kids that just think these look freaking adorable and yummy like me)
you must make these Buddy the Elf Cookies for Christmas!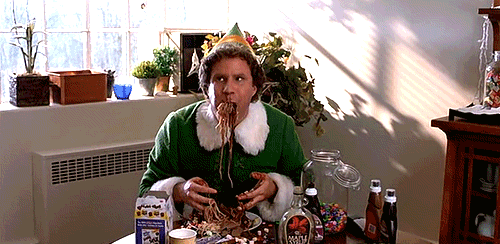 I can't believe the time has come where we are almost to Christmas!!
My family and I leave tomorrow for our annual Cayman Christmas, so follow along on Instagram for an unnecessarily selfish amount of I'M AT THE BEACH BETCHES photos.
Save
Save
Save
Save